These savory caramelized onions and mushrooms are the perfect topping or easy side dish for steaks and burgers, and leftovers can dress up quesadillas, sandwiches, and more.
I make this earthy, savory, and naturally sweet dish basically every time my store has mushrooms marked down. They're so easy and simple to make, and add so much savory flavor to so many different dishes. They of course are the perfect side dish for steak or pork chops, and aside from maybe cheese nothing makes a burger better. This recipe makes a pretty large batch so that there's extras to use in tri-tip sandwiches, add into crescent sandwiches, make french onion soup, or toss into a pasta dish later in the week.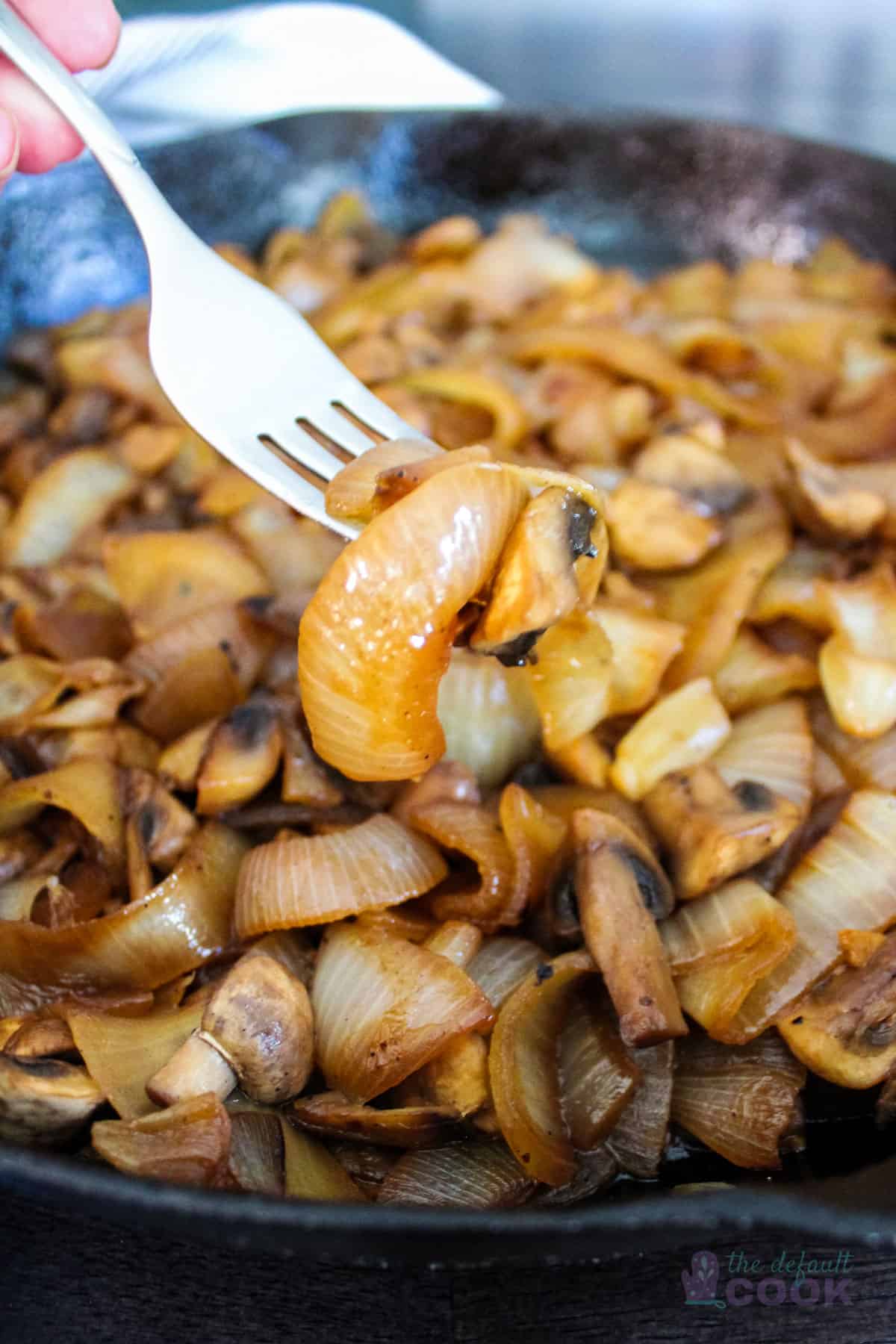 This post contains affiliate links, which means I receive a small commission, at no additional cost to you, if you make a purchase using this link.
Why you'll love this recipe:
One-pan- minimal dirty dishes for the win!
Versatile side dish- a big batch can add flavor to a few different meals to save future you some time.
Easy recipe - while this side does take some time, it's definitely not a difficult one to make.
Simple ingredients- produce, wine, butter, and spices
Let's get started! Here's what you'll need: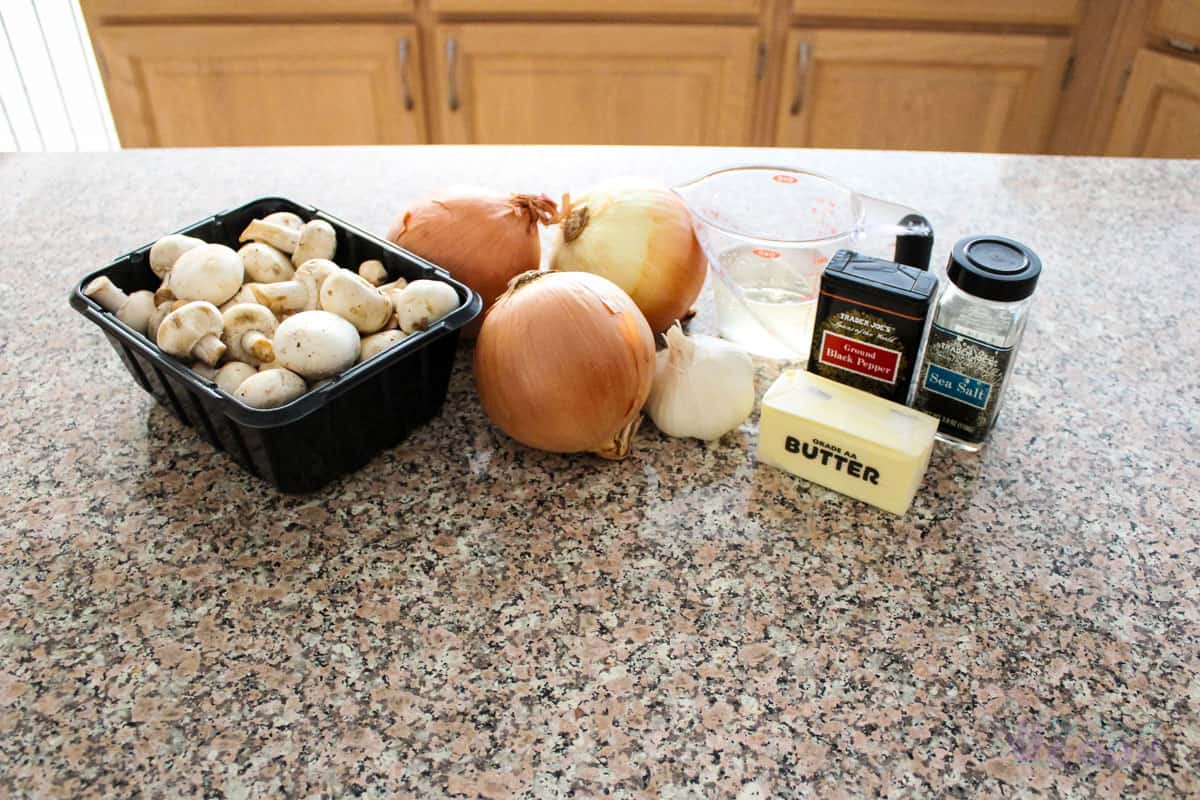 Ingredients:
Onions - I typically use regular yellow onions, but white onions are another staple choice. Red onion has more natural sweetness than the other types, while maintaining the higher sulfur content that gives an earthy flavor once caramelized. Sweet onions have less sulfur, but not a ton more natural sugar despite the name.
Mushrooms - Small quartered or sliced mushrooms are easiest for this dish, either white mushrooms or baby bellas.
Butter - The flavor that butter gives caramelized mushrooms isn't easily replicated, but if you're out or cooking dairy free you can use olive oil.
Garlic - Fresh is best in this, I know it takes a bit more prep but if we're going to stand at the stove for an hour, those extra few minutes chopping are time well spent.
White wine - While onions have a lot of water in them that will need to cook out, there comes a point where the pan starts to dry up and the pan needs deglazed, and the touch of acidity from the wine gives a nice balance cooking. If you don't keep wine in your home you can use water instead, try a bit of balsamic vinegar with the water to give a different flavor boost.
Salt and black pepper - Because without them it'll taste like somethings missing. I used a teaspoon of salt and half of pepper, but this is definitely a season-to-taste ingredient.
Equipment:
We're going to need a large sauté pan- I like my cast iron skillet, but if you want a bit more cushion space for stirring a dutch oven would be a great choice too. Other than that you only need a knife, cutting board, measuring stuff (or your heart), and a spatula.
How to make this savory side:
Step 1: Slice and start
Slice your garlic and onions, then heat butter in a large skillet until it melts and toss in your garlic. To melt the butter quickly you can use medium heat, but you'll want to reduce it when you put in the garlic. After a minute it should be fragrant and just starting to brown.
Step 2: Partially caramelize the onions first
Add your onion slices to the pan, and stir, making sure they're well separated (first image), then cook down over medium-low heat until there's not much excess moisture in the onions or pan. Meanwhile clean mushrooms and cut them so they're ready to go. After about 20 minutes the onions should look like the second image, and you want to add the white wine, salt, and pepper to the hot pan.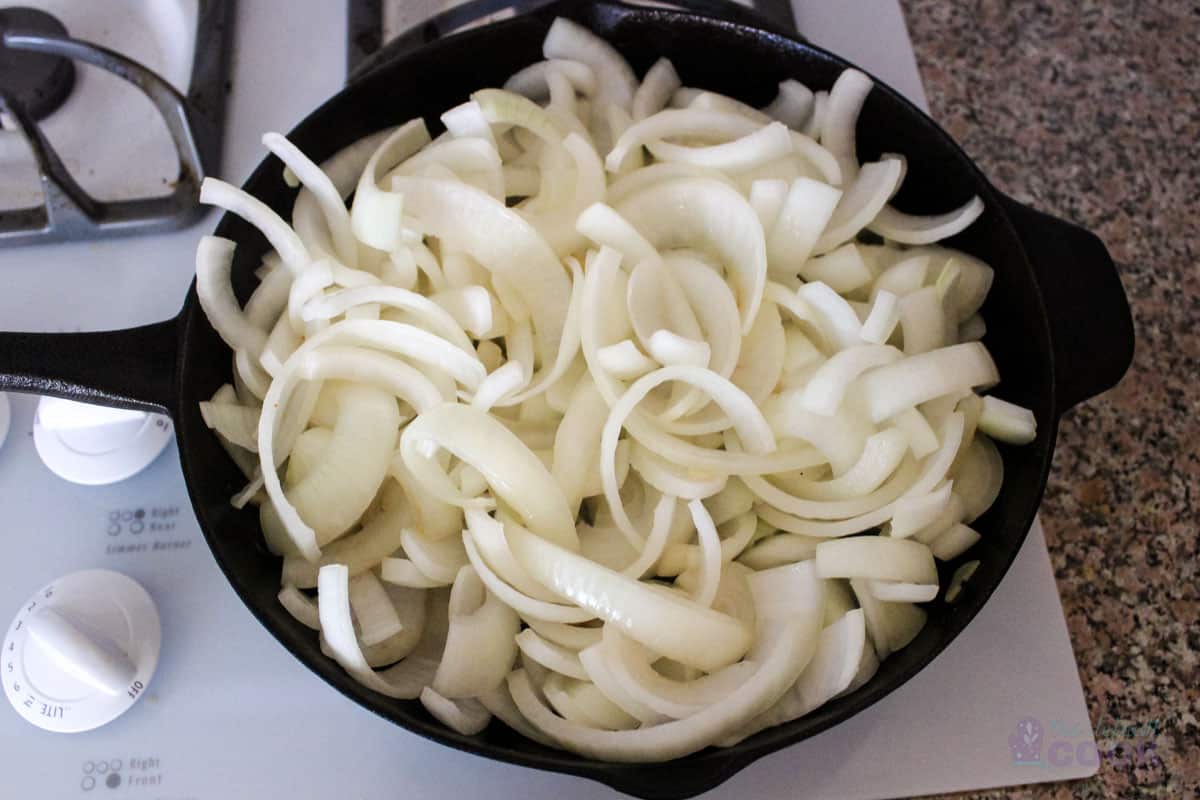 When you initially add the wine some will boil off immediately, stir it around well scraping the bottom of the pan to deglaze those golden brown onion bits.
Step 3: Add the mushrooms
After another 5 minutes or so when the liquid from the wine has mostly evaporated add the mushrooms.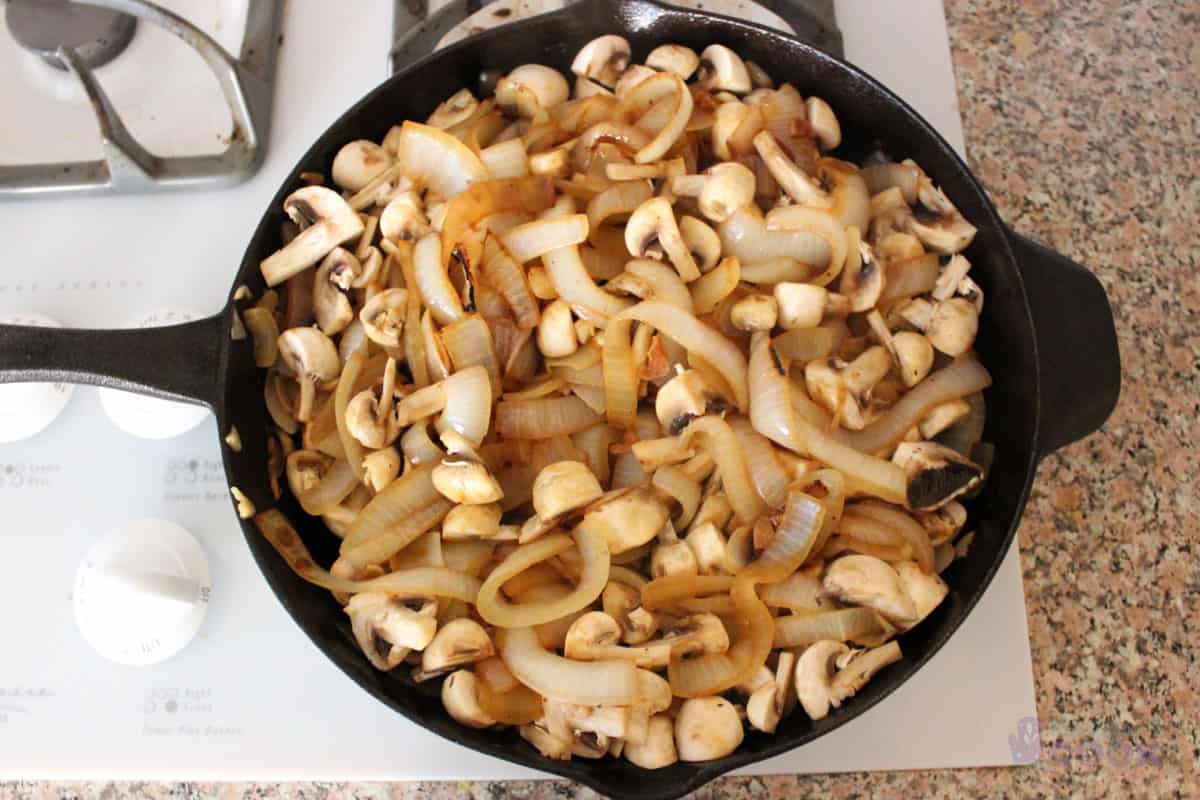 Cook the mushrooms and onions together for 10-15 minutes, until the mushrooms look like sauteed mushrooms. The onions should deepen in color a bit as well.
Step 4: Serve and enjoy
Serve in a quesadilla, with steak, pork chops, or roast! Leftovers can be stored in an airtight container for 3-5 days, and this mushroom mixture can be added to other dishes anywhere you need some earthy delicious flavor.
FAQs
Can I make this in my slow cooker instead?
Yes and no. You can, and I have, but the best way is definitely on the stove top. The mushrooms add a fair amount of moisture and the dish feels more watery and less flavorful when only cooked in the crock pot. However, you can do the majority of the cooking in the crockpot and then finish them on the stovetop. It's less time spent hands on, but more dishes, so that's the trade off there.
What's the difference between sauteed onions and caramelized onions?
The short answer is cooking time and heat. Sauteed onions are cooked at a higher temperature, usually medium-high heat, for just a few minutes. The caramelization process requires lower, slower cooking and takes 45-60 minutes. Caramelized onions are brown throughout rather than just on the exterior, and have a sweet, rich flavor.
More favorite recipes you may like:
Pair this simple recipe with sous vide tri tip, pork chops, or crock pot ribs for a delectable dinner! These mushrooms and onions also go great in a leftover steak sandwich or baked crescent sandwich.
Looking for more vegetable recipes? These roasted sweet potato slices are an easy oven option, or you can make them mashed in a slow cooker for another one-pot side.
Want a speedy, healthy side? Try this air fryer zucchini and squash.
Enjoy!
I hope you love these savory mushrooms and onions, if you do be sure to leave a star rating below!
📖 Recipe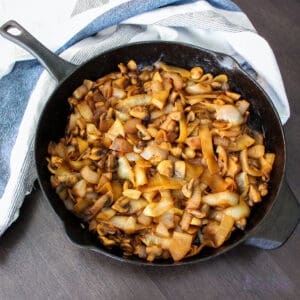 Caramelized Onions and Mushrooms
These savory caramelized onions and mushrooms are the perfect topping for steaks and burgers, and a great addition in eggs, quesadillas, and sandwiches.
Ingredients
2.5

lb

onions

24

oz

mushrooms

4

cloves

garlic

¼

cup

white wine

2

tablespoon

butter

1

teaspoon

salt

½

teaspoon

pepper
Instructions
Slice up your garlic and onions. Melt butter in your skillet over medium heat and cook the sliced garlic until fragrant, about 1 minute.

Add onions to the pan and stir occasionally- if your mushrooms need cut up do that during this time. When the excess moisture from the onions has evaporated off, about 20 minutes, add the white wine, salt, and pepper.

Continue to stir occasionally, and after 10 more minutes (half hour total cooking) add the mushrooms. Cook until mushrooms are cooked down and the liquid from them has mostly evaporated.
Notes
We don't want the onions to burn- while they'll sizzle a bit when first hitting the pan, if they sizzle after cooking down before the 15 minute mark, turn the heat down and add a bit of water (or extra white wine) to the pan.
Nutrition
Calories:
110
kcal
Carbohydrates:
17
g
Protein:
4
g
Fat:
3
g
Saturated Fat:
2
g
Polyunsaturated Fat:
0.3
g
Monounsaturated Fat:
1
g
Trans Fat:
0.1
g
Cholesterol:
8
mg
Sodium:
324
mg
Potassium:
493
mg
Fiber:
3
g
Sugar:
8
g
Vitamin A:
92
IU
Vitamin C:
13
mg
Calcium:
41
mg
Iron:
1
mg
Nutrition information is provided as a courtesy and is an estimate. It is recommended to use your preferred calculator with the actual ingredients you use for optimal accuracy.