Got some leftover pot roast in the fridge and wondering what to do with it? Look no further than these delicious beef pot roast quesadillas! With just a few simple ingredients you can transform your leftovers into a mouthwatering meal in no time.
So why not give your leftover pot roast a second life with these delicious quesadillas? In just a few minutes, you'll have a delicious weeknight meal the entire family will love.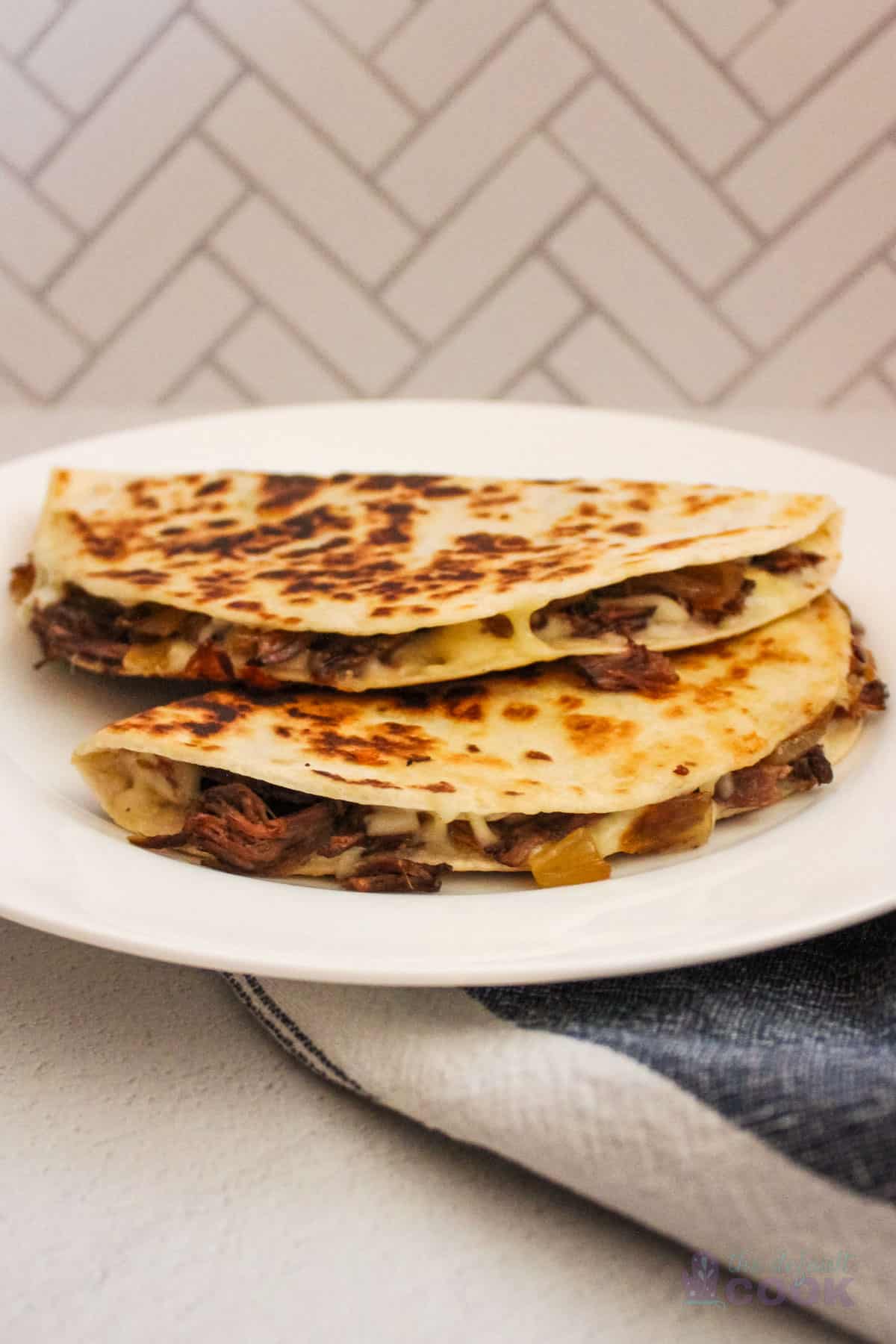 This post contains affiliate links, which means I receive a small commission, at no additional cost to you, if you make a purchase using this link.
Why you'll love this recipe:
Easy and quick: With just a few ingredients, this recipe is incredibly easy to make and can be whipped up in no time, making it perfect for busy weeknights.
Budget-friendly: Using leftovers is a great way to save money, and this recipe is no exception. With just a few simple ingredients, you can make a tasty and satisfying meal without breaking the bank.
Kid-friendly: Quesadillas are a popular and kid-friendly meal, and this recipe is no exception. With its cheesy goodness and familiar flavors, it's sure to be a hit with the whole family.
Versatile: While this recipe calls for beef pot roast, you could easily swap in other leftover meats like chicken or pork, or even add in some veggies or other ingredients to make it your own.
Let's get started! Here's what you'll need: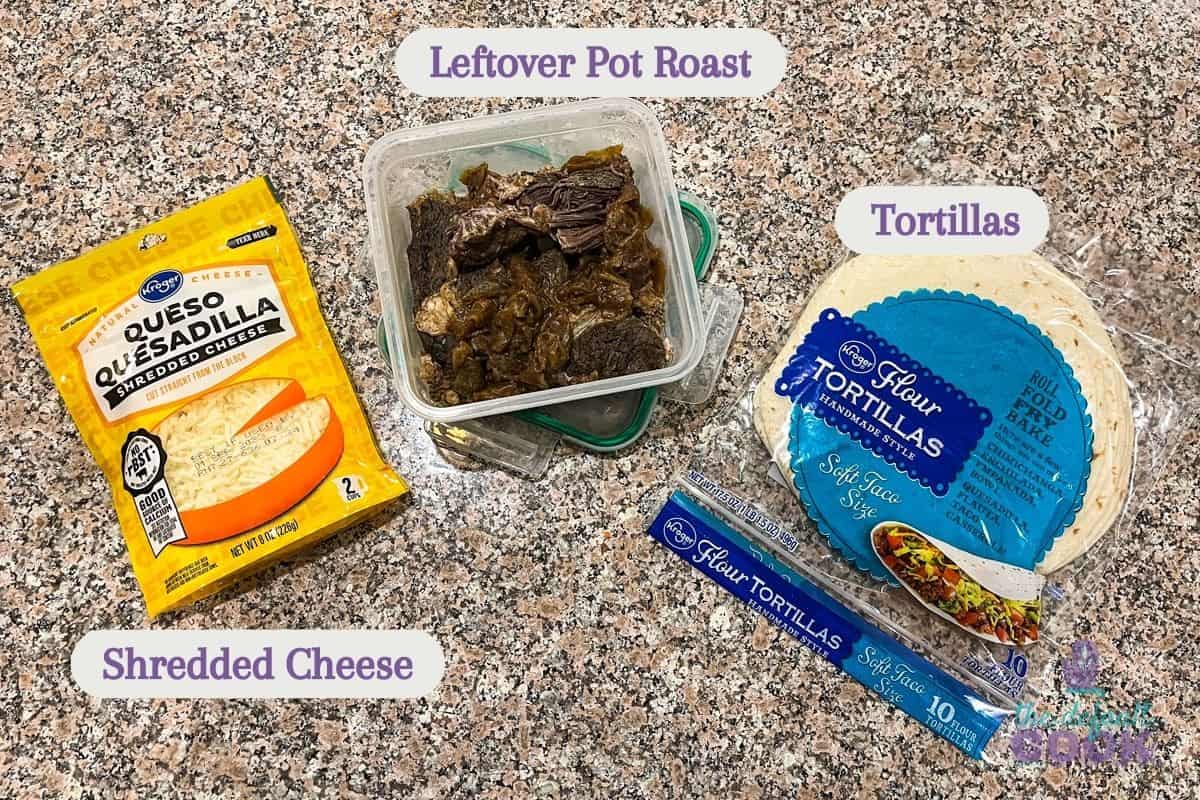 Ingredients:
Leftover pot roast- the star of the show, any pot roast recipe should be fine from your grandma's chuck roast recipe to the crock pot favorite Mississippi pot roast.
Quesadilla cheese- A type of shredded cheese that melts easily and is commonly used in quesadillas, with a mild and creamy flavor. You could also use a taco blend, monterey jack, whatever your family likes.
Onions- the easiest option here is if you have onions that cooked with your roast, that's perfect. Otherwise you can saute some up or caramelize them low and slow- my friend Susan does it in her slow cooker and then freezes them in portions for meals like this.
Flour tortillas- you can use corn if you prefer, but my family enjoys the flour ones. You could also opt for uncooked tortillas since we're frying them up.
Oil or butter- To get that crispy golden brown exterior on a quesadilla we need some fat in the pan. It can be just a little bit with a nonstick cooking spray, or you can pour in some olive oil or use butter.
Equipment:
You'll need a large skillet or nonstick pan- I like my cast iron- and a spatula. You will also want a fork to shred your pot roast, and if your roast didn't have onions a knife and cutting board for those.
How to Make Leftover Roast Beef Quesadillas:
Step 1: Preparation
Shred beef and cut onions. Cooking goes very quickly so we need to make sure all our ingredients are ready to go so we don't burn our dinner. I recommend portioning out the meat into small piles, one for each quesadilla.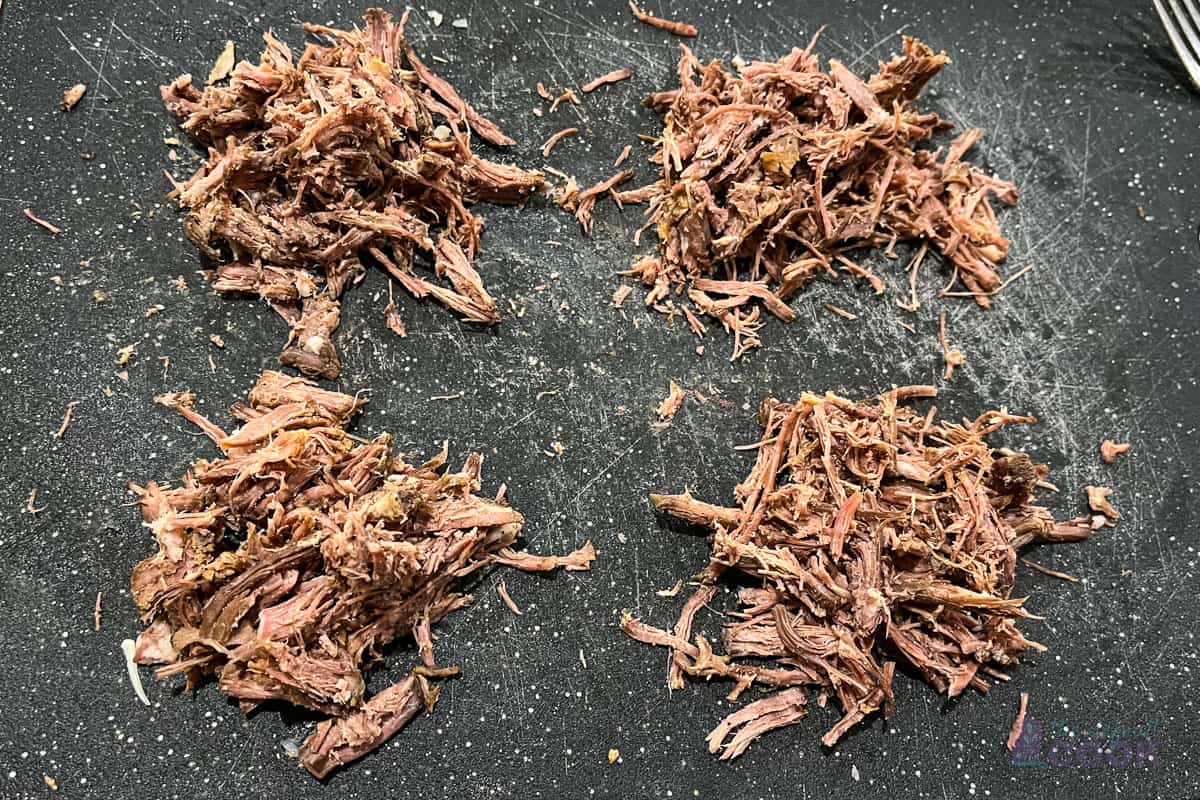 Step 2: Saute onions if needed
Ideally you'll have some that are already cooked (caramelized onions freeze well) either ahead of time or along with your pot roast, but if not you can give them a quick saute over medium heat to your preferred doneness. Feel free to add anything else you like as well- if you're already sauteeing, bell peppers or mushrooms are great additions.
Step 3: Assemble and cook
Spray your skillet with oil or coat it with some melted butter, then add your tortilla and sprinkle cheese on one half of the tortilla. Add your shredded beef and onions, then top with another bit of cheese so that cheese will stick to the other side of the tortilla.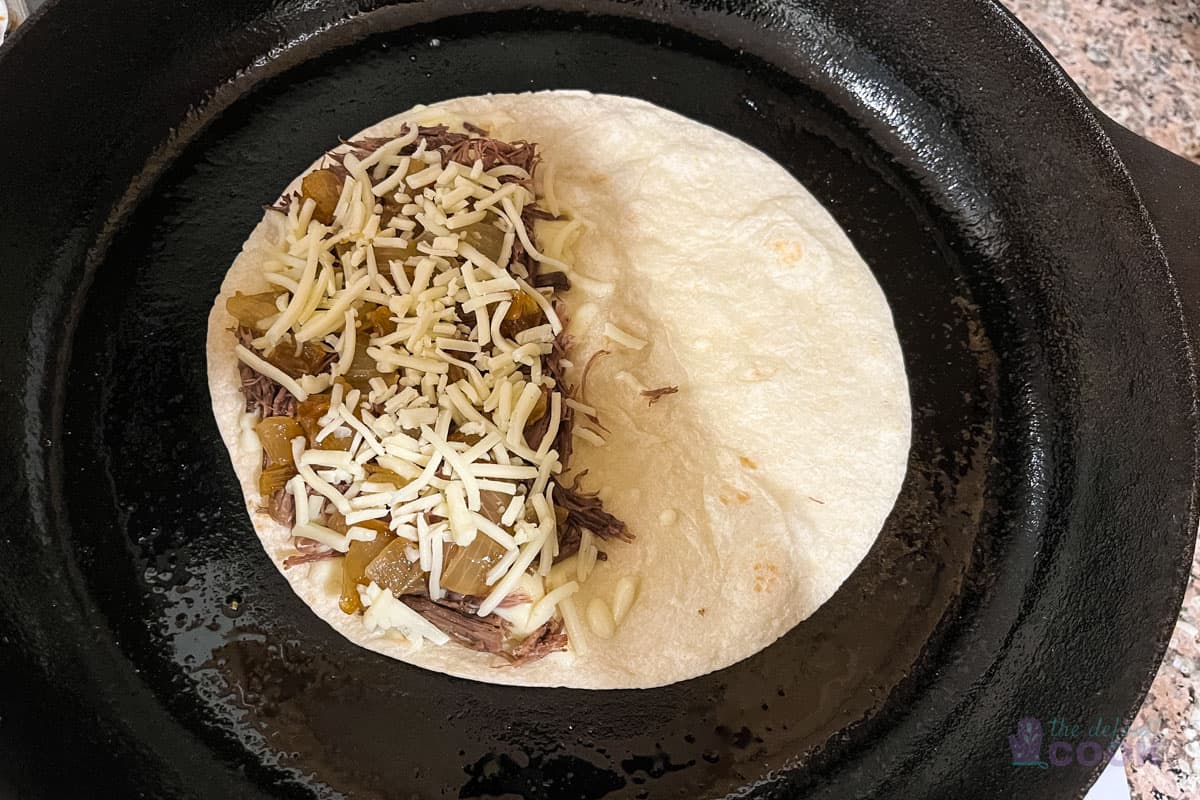 Fold over the quesadilla and press it down, and after about 10 seconds flip the quesadilla.  Cook another 30 seconds or so on the other side to get the tortilla crisp and the cheese melted.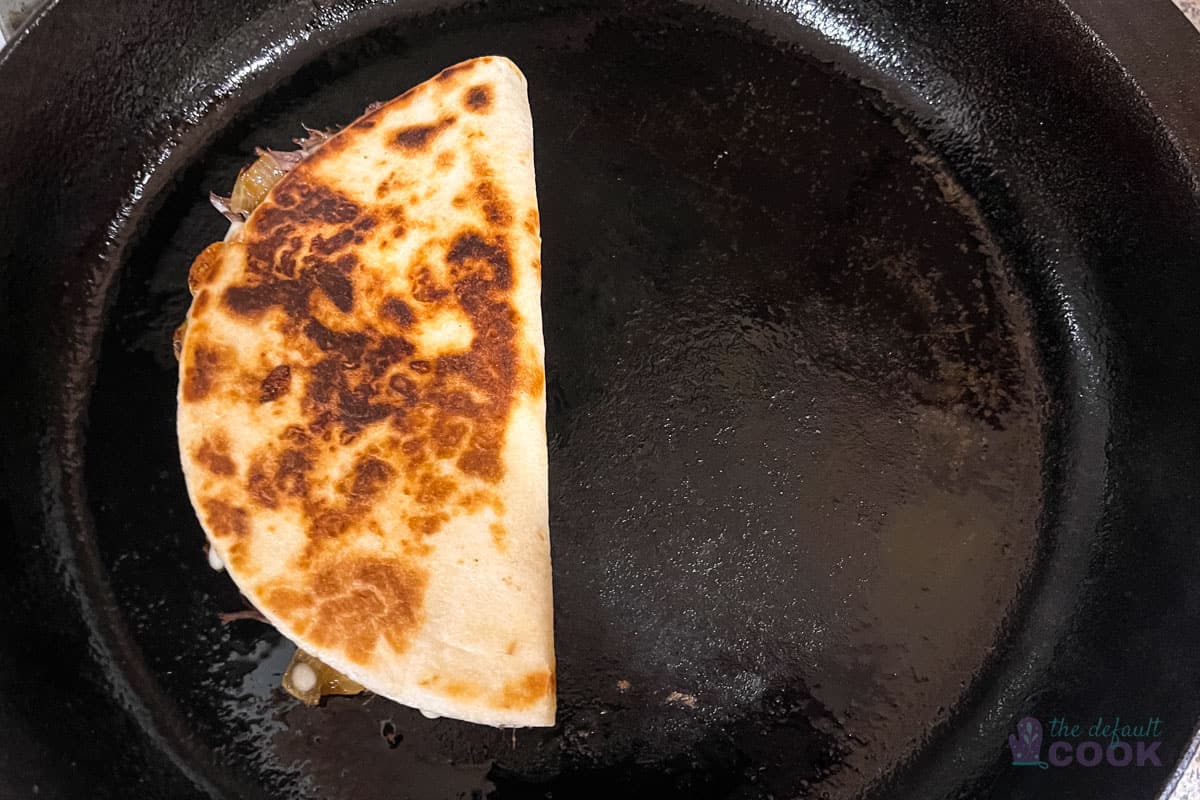 Remove the quesadilla from the pan and then repeat this step to make all your quesadillas.
Note: If your tortillas are burning, turn the burner down to low. They can go from perfectly crisp to burned very quickly on higher heat.
Toppings
Like these pulled pork tacos, the topping options are plentiful. Some favorites include:
Sour cream
Avocado
Guacamole
Pico de gallo
Adobo sauce
Salsa verde
Diced tomatoes
Cilantro
Lime wedges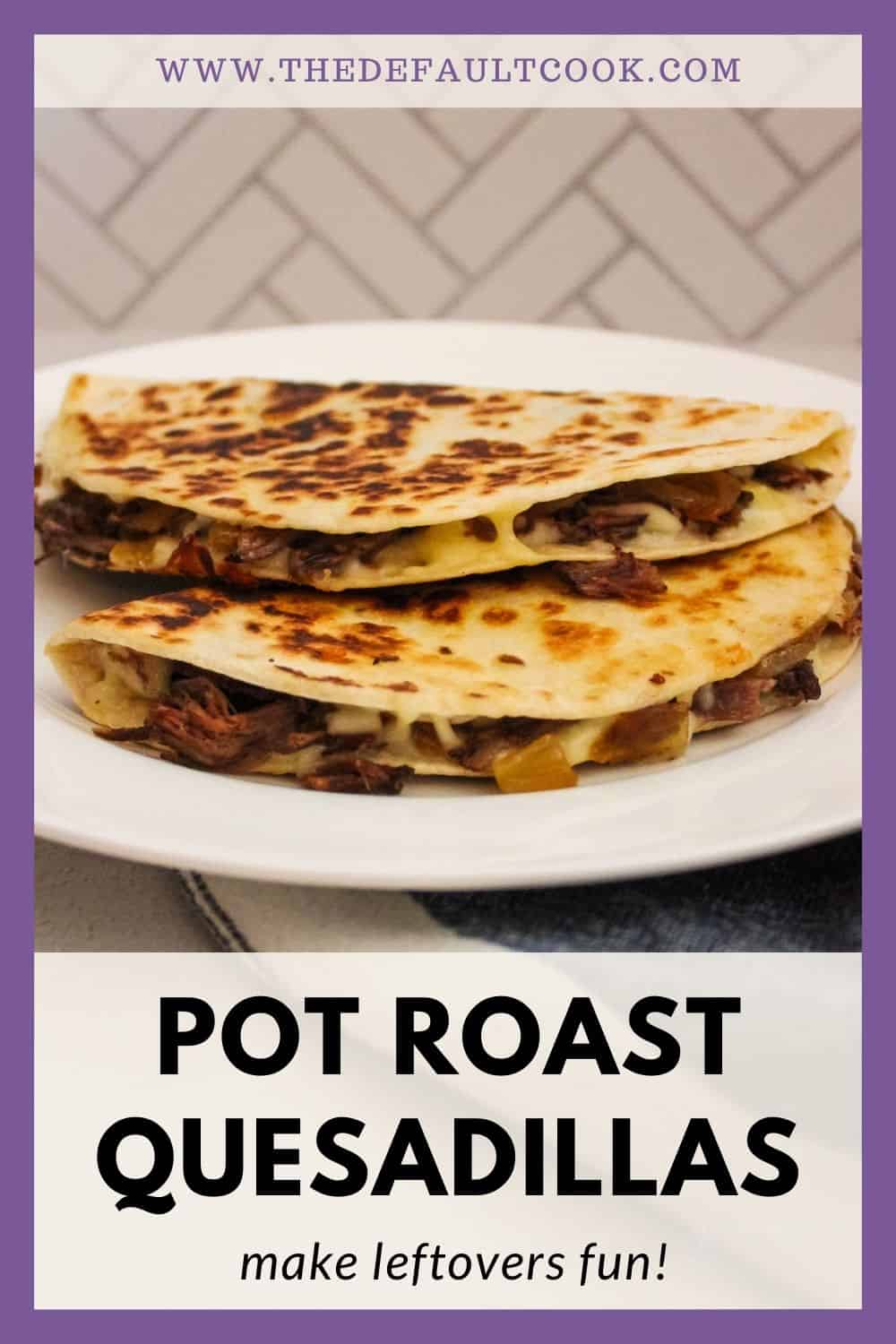 FAQ
Can I use another kind of meat?
Of course, these can easily be steak quesadillas if you have leftover steak or leftover prime rib instead. Just make sure whatever cut you use is already cooked beef- these don't cook long enough to use raw meat. If you don't have much meat leftover or are trying to stretch what you have, you can also supplement it with black beans.
Do I need any other seasoning?
It's not necessary since starting with leftovers means our meat is already seasoned from the first time it was cooked. That said, if you want to spice yours up with some extra flavor you can absolutely do that. Some ideas for you are: green chilies, chili powder, taco seasoning, steak seasoning, garlic powder, black pepper, or red pepper flakes.
Can I use two tortillas for one quesadilla?
Absolutely! I like the method of folding the quesadilla because there is less area for the toppings to escape out of when flipping, but you can instead cover the entire tortilla and add a second tortilla instead of folding over the empty half. Just be careful flipping!
Other recipes you'll love
Looking for other ways to use up leftovers? Try these leftover pulled pork tacos, steak pasta, or crescent roll sandwiches!
Got rotisserie? This pesto pasta is a great way to use it. During winter a family favorite here is this chicken potato chowder.
I hope you love these tasty quesadillas! If you do be sure to come back and rate it.
📖 Recipe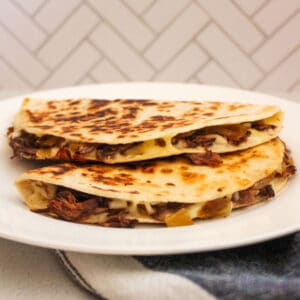 Leftover Pot Roast Quesadilla Recipe
Transform leftover roast beef into delicious quesadillas for a quick and easy weeknight meal that doesn't taste like leftovers.
Ingredients
4

ea

flour tortillas

4

oz

leftover pot roast

2

oz

caramelized onions

6

oz

quesadilla cheese

1

teaspoon

cooking spray
Instructions
Shred leftover roast beef. Set aside onions from pot roast or dice and sauté if needed.

Grease skillet with oil or butter, and turn heat to medium. To a hot skillet, add tortilla and one one side approximately one ounce of shredded cheese. On top of cheese add approximately one ounce of shredded beef and a half ounce of onions, then another half ounce of cheese. Fold tortilla over and press down for about 10 seconds, then flip and continue cooking until second side is crisp.

Remove quesadilla to plate and repeat previous step with remaining tortillas and fillings. Serve with your favorite toppings!
Podcast
Notes
Serves 4 with other food (salad, etc) or 2 hungry adults.
Nutrition
Calories:
194
kcal
Carbohydrates:
2
g
Protein:
17
g
Fat:
13
g
Saturated Fat:
8
g
Polyunsaturated Fat:
0.2
g
Monounsaturated Fat:
1
g
Cholesterol:
64
mg
Sodium:
242
mg
Potassium:
116
mg
Fiber:
0.3
g
Sugar:
1
g
Vitamin A:
0.3
IU
Vitamin C:
1
mg
Calcium:
313
mg
Iron:
1
mg
Nutrition information is provided as a courtesy and is an estimate. It is recommended to use your preferred calculator with the actual ingredients you use for optimal accuracy.