These carnitas-inspired leftover pork tacos are a great way to use up extra pulled pork- just heating them up with some extra spices gives them a whole new flavor with hardly any work.
When a pork shoulder goes on sale, it's hard to pass up!
After all, pulled pork is so easy and delicious! But it tends to make lots of leftovers, and the family can only eat so many pulled pork sandwiches the next day or two.
That's what makes this simple recipe a great recipe- it's the perfect way to use leftover meat! Reheating on the stove with a few extra spices turns leftover pulled pork into yummy leftover pork roast tacos that have a whole new flavor to beat the leftover blues. The best part? We're going to be eating this easy meal in 15 minutes.
No time to read now?  Pin it for later!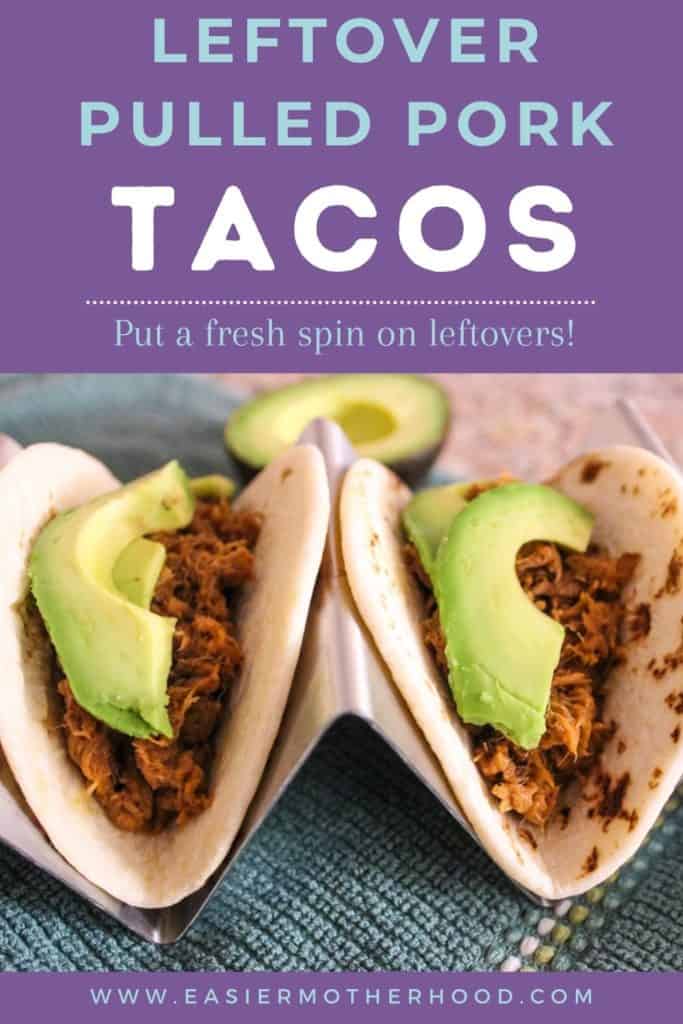 This post contains affiliate links, which means I receive a small commission, at no additional cost to you, if you make a purchase using this link.
Is it pulled pork, or carnitas?
Both pulled pork and carnitas are shredded pork, but the flavor profiles are typically a bit different.  Pulled pork is often associated with barbeque in American dishes, where carnitas are usually cooked with mexican spices like chile and cumin and served with lime in Mexican dishes.
True authentic carnitas are braised or simmered in oil or lard for hours and then crisped at the end- we're going to be skipping that.  Since we're starting with leftover pork, we're just simmering for 10 minutes with some spices and water- though the pork has some of its' own fat that will contribute to the dish.
Let's get started!  Here's what you'll need: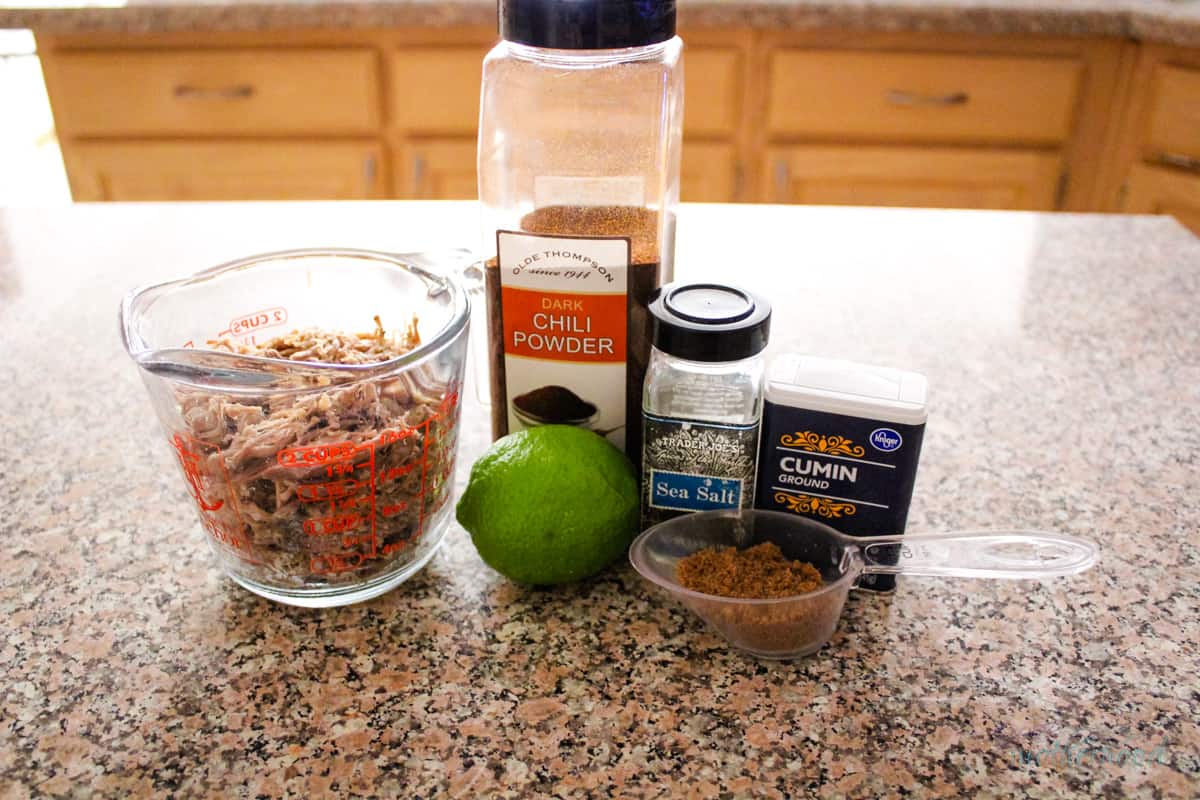 2 cups leftover pulled pork

1 tablespoon chili powder

1 teaspoon cumin

Juice of ¼ lime (approx 1-2 tsp)

½ teaspoon salt

3 tablespoon brown sugar

½ cup water
You'll also need a saucepan or pot to simmer everything on the stove, and a fork or two for stirring and shredding.  If you started with a particularly lean cut of pork, you may want to add a teaspoon or so of olive oil to help everything mesh together.
How to Make
Leftover Pulled Pork Carnitas
Preparation
Add all of the ingredients to your saucepan or pot and stir together.  I like to add the lime juice first so that if I get any seeds in the pot they're easy to see and pull out.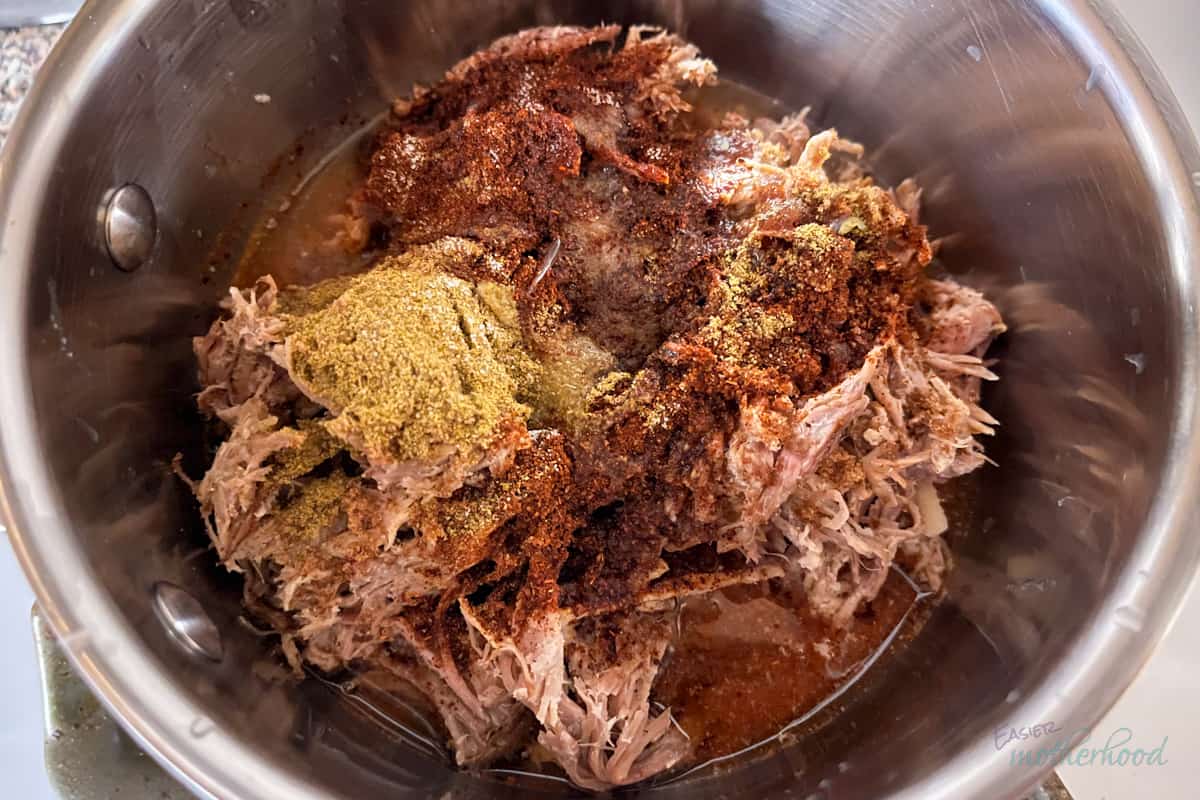 Cooking
Bring the mixture to a low simmer over medium heat and stir with your fork so the spices get evenly distributed, and your pork continues to shred.  Cook about 10 minutes, or until the taco filling is at your desired consistency.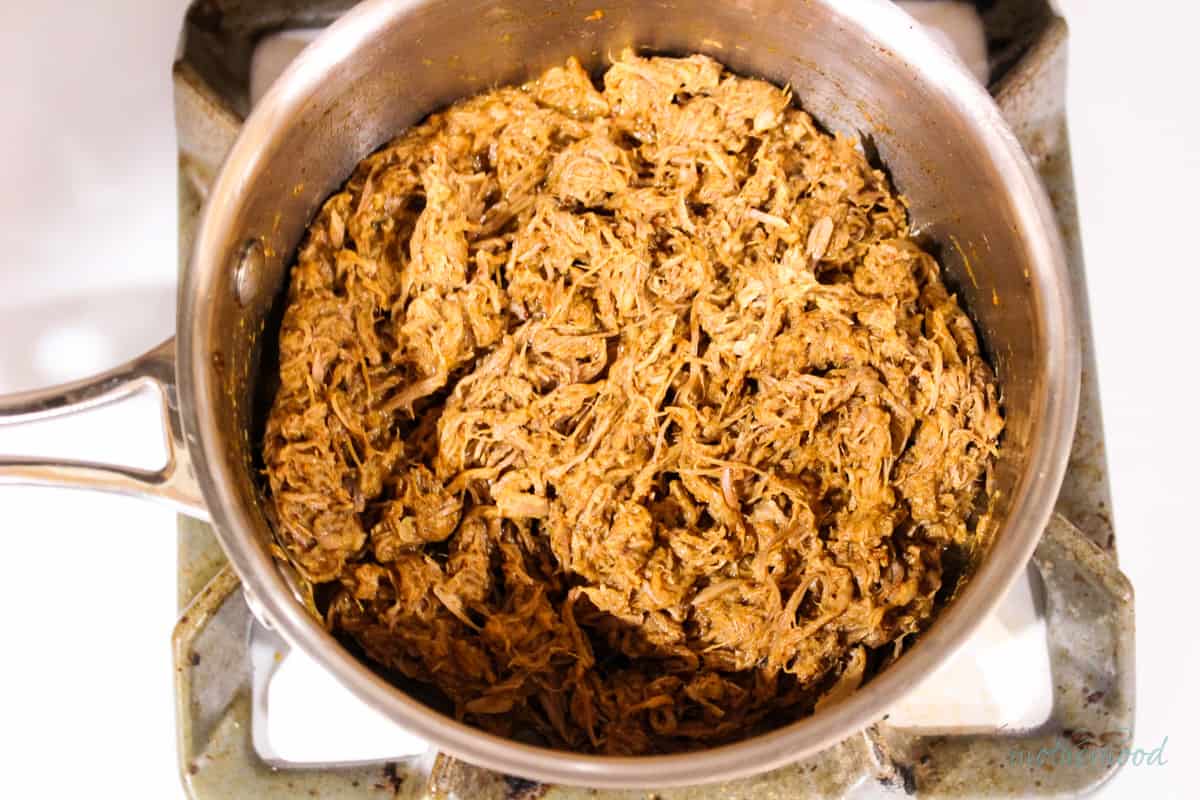 If you like your leftover pork carnitas crispy you can optionally transfer them to a baking sheet and roast them for few minutes to crisp the ends.
Taco Toppings
Now that your filling is ready, serve in soft taco shells with your favorite toppings for a quick meal!  Some popular favorites:
Avocado slices
Guacamole
Salsa verde
Sour cream
Lime wedges
Shredded cheese
Onions (diced white onions or thinly sliced red onions)
Diced tomatoes
Cotija cheese
Cilantro
Pico de gallo
Red cabbage
Bell peppers
Cole slaw
Jalapeño slices
Enchilada sauce
Queso fresco
BBQ sauce
You can also mix up the base with crunchy taco shells or lettuce wraps, use tortilla chips to make pork nachos, or serve them over roasted or mashed sweet potatoes.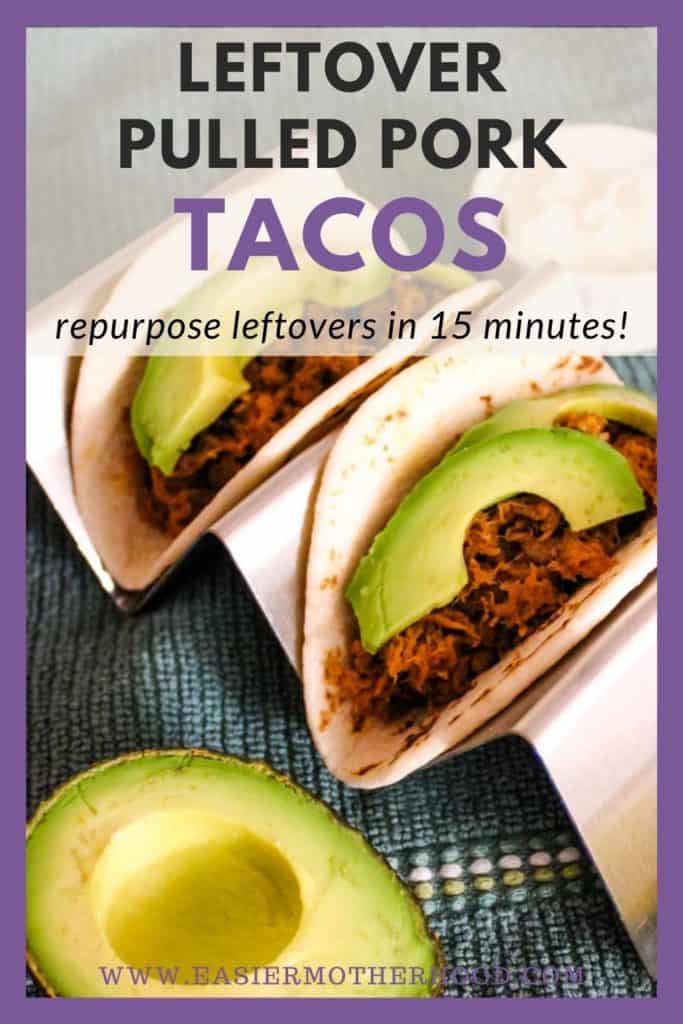 Questions about pulled pork carnitas
Can I freeze leftover pulled pork taco filling?
Yes. To freeze leftovers allow them to cool and place in a freezer bag. Then remove as much air from the bag as possible and freeze. Do make sure you freeze them in portion sizes you'll use- since we've already reheated this dish once (we started with leftovers after all) I don't recommend reheating it more than once after, so you may need to portion it into multiple freezer bags. If you had previously frozen the leftover pulled pork, I do not recommend refreezing it.
What's the best cut of pork to use for carnitas tacos?
Pork shoulder or pork butt is the traditional and most flavorful cut to use in your pulled pork.  Sirloin pork roasts have worked well for me before too- they're leaner but still have enough fat to work with, and sometimes that's what's available at the grocery store.  Pork loin and tenderloins make for very lean pulled pork, and while they can still be used, it won't be the same.
Is this recipe gluten free?
As written, yes, both my slow cooker pulled pork recipe and these leftover carnitas tacos are gluten free. Of course, be sure to use gluten free corn tortillas or a low carb option like a lettuce wrap. You could also turn them into burrito bowls- perhaps with cilantro lime rice, red onions, red pepper, and black beans.
Other Recipes You'll Love
Don't have any leftover pulled pork?  Try this easy crock pot recipe for a delicious meal!
In the mood for more traditional tacos?  Here's my DIY seasoning so you can skip the packet.
Don't forget to come back and let me know how your leftover carnitas style tacos turned out, or what other leftover pork recipes you'd like to see!
📖 Recipe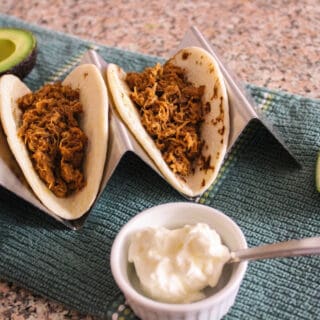 Leftover Pulled Pork Tacos
These easy carnitas style tacos give new life to pulled pork so you don't feel like you're having leftovers.
Ingredients
2

cups

leftover pulled pork

1

tablespoon

chili powder

1

teaspoon

cumin

½

teaspoon

salt

3

tablespoon

brown sugar

¼

ea

lime
Instructions
Juice the lime, add the juice and all other ingredients to a saucepan.

Simmer for approximately 10 minutes, mixing and shredding as the pork heats.

Serve with your favorite tortillas and toppings.
Podcast
Notes
As written this recipe generously fills 8 street tacos.
Nutrition
Calories:
130
kcal
Carbohydrates:
16
g
Protein:
8
g
Fat:
5
g
Saturated Fat:
1
g
Polyunsaturated Fat:
0.1
g
Monounsaturated Fat:
0.1
g
Cholesterol:
25
mg
Sodium:
516
mg
Potassium:
30
mg
Fiber:
0.4
g
Sugar:
13
g
Vitamin A:
388
IU
Vitamin C:
1
mg
Calcium:
39
mg
Iron:
1
mg
Nutrition information is provided as a courtesy and is an estimate. It is recommended to use your preferred calculator with the actual ingredients you use for optimal accuracy.