These easy 5 ingredient crockpot mashed sweet potatoes are a simple one pot side dish that is sure to please any time of year.
It can be hard to get toddlers to eat vegetables.
My two have pushed their plates or my ill-fated fork airplane away while saying "no" more times than I can count. Even these took a bit of negotiating to get them to try the first bite.
But once they tried it? Magic. When we ran out of the leftovers three days later, my son cried.
Let me teach you how to make these slow cooker mashed sweet potatoes that are so delicious my kids will pick them over mac n cheese.
No time right now? Pin it for later!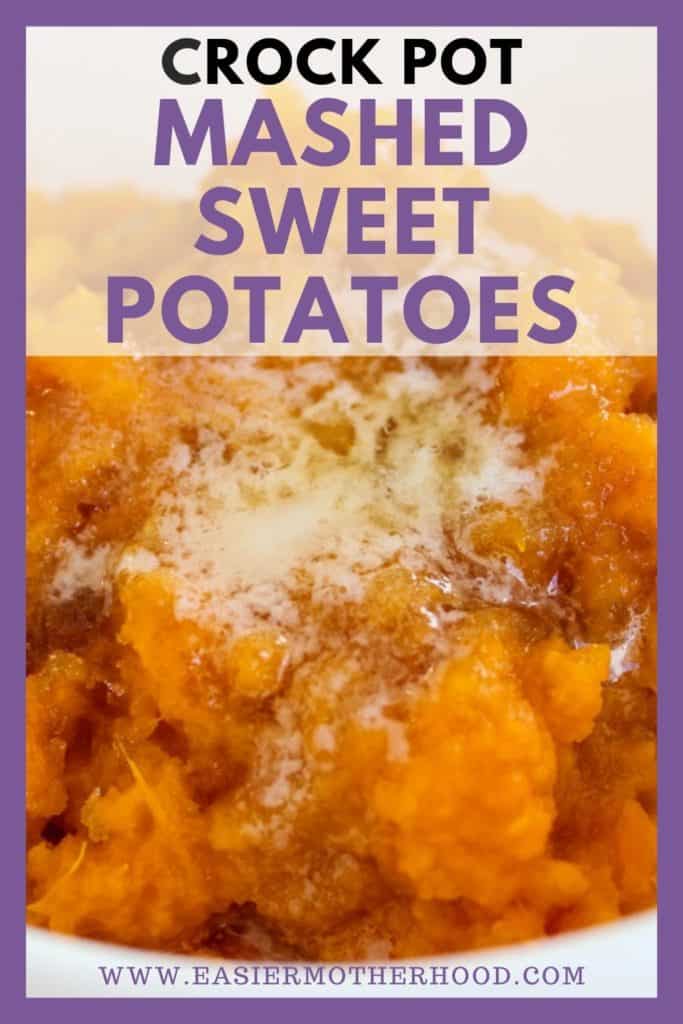 This post contains affiliate links, which means I receive a small commission, at no additional cost to you, if you make a purchase using this link.
Why You'll Love These Mashed Sweet Potatoes
One-pot
Kid-friendly
Doesn't use your oven (great for summer and thanksgiving)
Easy dump-and-go, just mash at the end
Let's get started! Here's what you'll need:
3 lbs sweet potatoes
½ cup (1 stick) butter
½ cup brown sugar
1 tablespoon cinnamon
1 teaspoon salt
You'll also need your trusty slow cooker, a vegetable peeler, knife, and cutting board at the get-go. Then at the end, you'll need a potato masher.
Instructions for 5 Ingredient Crockpot Sweet Potatoes
Step 1: Peel and Cut
Rinse and peel your sweet potatoes. Once peeled, cut them into quarters. Or halves if they're small, or half and cut each half into quarters if they're huge. You want them small enough that they layer ok in your crockpot, but there is no need to make them bite size. They'll have plenty of time to cook through and we'll be mashing them later, so excessive dicing is just unnecessary work. And, in case my website name choice wasn't a tip off, I dislike unnecessary work.
Tip: Peel your sweet potatoes over a kitchen towel, and then you can pick the entire towel up from the corners to take it to the trash. Potato peels are terrible for garbage disposals, so make sure to toss them.
Step 2: Layer and Season
Put about two-thirds of your cut raw sweet potatoes into the crockpot, arranging them to minimize open space between the sweet potato pieces. Slice half of the butter stick into pats and place them on top of the potatoes, then sprinkle on roughly half of the cinnamon, brown sugar, and salt. Add the rest of the sweet potatoes, then before topping them again check that the lid fits. Once you have the potatoes arranged so the lid fits go ahead and top them with the remaining butter, brown sugar, cinnamon, and salt.
Step 3: Slow Cook and Mash
Turn your slow cooker onto the low setting for 6 hours. Once they've cooked, remove the lid and mash them right in the ceramic crock. Viola, they're ready!
Yum!
Questions about Slow Cooker Mashed Sweet Potatoes
I work outside the home and need this to cook more than 6 hours. Will these sweet potatoes be ok?
Yes, they should be fine to go longer than 6 hours. If you'll be gone over 8 I would recommend using a crockpot that switches to warm automatically when done. You could also use a smart plug to turn them on 6 hours before you'll be home instead- since there is no meat in this dish it can sit on the counter for a few hours before cooking.
Can I make these in the instant pot instead?
I haven't tried it yet, but you'll need to add liquid for the instant pot to come to pressure. No liquid is needed for this crock pot recipe.
What should I serve with my crockpot mashed sweet potatoes?
Honestly they go well with most proteins, but especially well with chicken and pork. If you have a second crockpot you can make these 3 ingredient ribs and come home to a full meal!
Is this dish gluten free? Dairy free?
This crock pot mashed sweet potato recipe is naturally gluten free. To make it dairy free you can use a butter alternative or oil in place of the butter.
I want to make more than 3 pounds- can I?
This round crock pot is pretty near the limit at 3 pounds, but you can of course use a larger one. My oval crock pot handles 5-6 pounds of sweet potatoes.
Other Kid Friendly Recipes You'll Love
Let Me Know Below How Your Crockpot Mashed Sweet Potatoes Turned Out!
Yield: 6
Crockpot Mashed Sweet Potatoes with Brown Sugar and Butter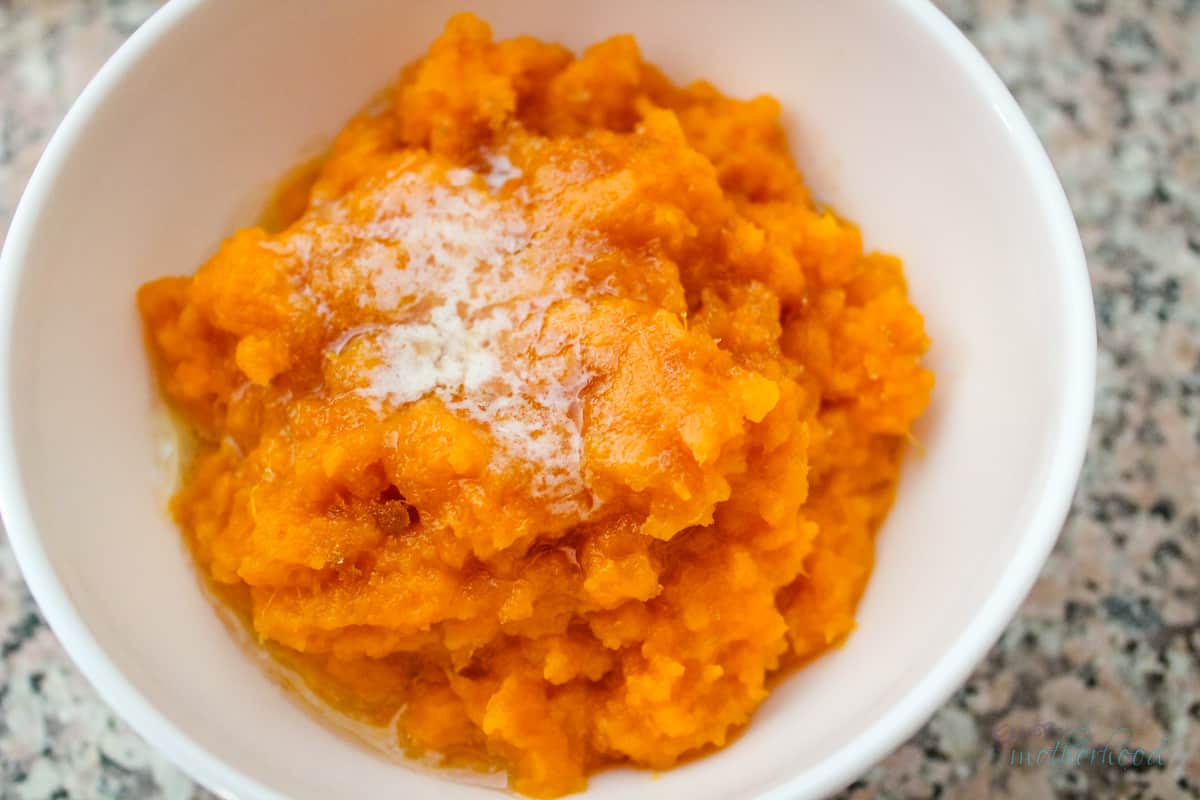 This simple, 5 ingredient, one pot dish is easy and kid-friendly- quite possibly the perfect side.
Total Time
6 hours
15 minutes
Ingredients
3 lbs sweet potatoes
½ cup butter
½ cup brown sugar
1 tablespoon cinnamon
1 teaspoon salt
Instructions
Peel and cut sweet potatoes into chunks.
Layer ⅔ of potatoes in crock pot, then top with half of the seasonings. Add remaining potatoes and top with remaining seasonings.
Cook on low for 6 hours. Mash when finished.
Notes
A crock pot liner is not recommended for this dish as it may tear during mashing. Nonstick spray can be used on the insert.
Nutrition Information:
Yield:
6
Serving Size:
1
Amount Per Serving:
Calories:

401
Total Fat:

16g
Saturated Fat:

10g
Trans Fat:

1g
Unsaturated Fat:

5g
Cholesterol:

41mg
Sodium:

560mg
Carbohydrates:

63g
Fiber:

8g
Sugar:

30g
Protein:

5g
Nutrition information is provided as a courtesy and is an estimate. It is recommended to use your preferred calculator with the actual ingredients you use for optimal accuracy.