These delicious Ribs in the Slow Cooker are perfectly tender with minimal work
I grew up in the greater Cincinnati area, where Montgomery Inn is "world famous" for its ribs. These are better. And they're SO easy.
The truth is, if you want super tender, borderline fall off the bone rib meat, nothing beats a slow cooker.
While I am usually a fan of true dump-and-go methods for crock pot recipes, this is one where it's worth the effort to brown the meat first, In fact, we're not going to brown it in the traditional sense, we're going to put it under the oven broiler and really give it a nice crust on the top before putting it in the slow cooker.
This post contains affiliate links, which means I receive a small commission, at no additional cost to you, if you make a purchase using this link.
Let's get started! Here's what you'll need:
1 slab bone-in ribs (3-5 lbs)
Old Bay seasoning
BBQ sauce (for serving)
You'll also need a knife and cutting board to cut the slab into crock-pot size portions, a pan to broil them on, tongs to transfer them with, and your trusty crock pot (I have this one). Oh, and of course potholders to remove the ribs from the oven. Plus half a cup of water, which I don't count as an ingredient because hey, it's water.
Instructions
Preparation
First, take a good look at your crock pot and your slab of ribs to determine how many cuts you'll need. If you have an oval crock pot you may only need to cut the slab in half, but if it's a longer slab or you have a round crock pot you'll likely need to cut it into thirds. Make your cuts and trim off excess fat if you need to- this slab I'm showing here needed a bit on the smallest section.
Season generously on both sides with the Old Bay and transfer to a baking sheet.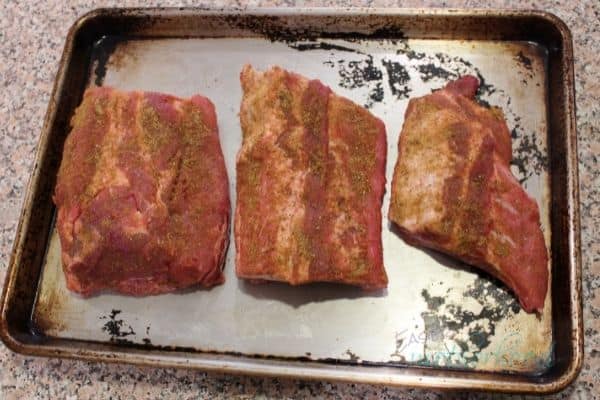 Turn on your broiler, and pop them in the oven for 3-8 minutes; the exact time will depend on size and how close you can get the ribs to the broiler.
A few notes here. First, before turning on your broiler make sure your rack is in the right position. Normally to broil that's the highest position, but if your ribs are tall they may not fit there and have to go in the second highest. Second, make sure the thickest (usually middle section) of the slab is in the middle of the sheet so that it gets the most heat. I had to pull these out and rearrange because the smaller pieces were crusting much faster than the end piece. If you look closely you can see that the switch I made between the last photo and this one.
Cooking
Add half a cup of water to the bottom of the slow cooker, then place the ribs into the slow cooker. Then turn on your crock pot, and cook them on low for 7-8 hours.
Finishing
When the ribs are nearly done or have finished cooking, you can add BBQ sauce on top so the sauce gets warm. I use Sweet Baby Ray's, but whatever you like is what you should use. Once the sauce is warmed through, serve and enjoy!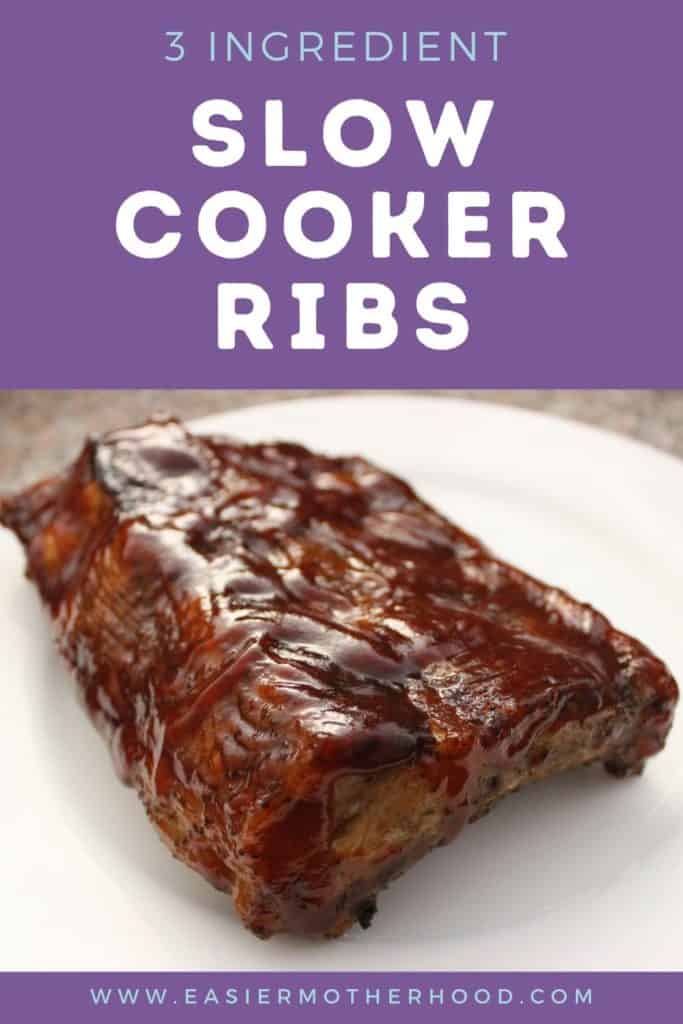 Frequently asked questions about slow cooker ribs
Can I sear the ribs after slow cooking instead of before?
You absolutely can, and I've done it when pressed for time in the morning. However, because the ribs are SO tender they can be difficult to handle after cooking. So if you want to broil them at the end, be sure to use long tongs to fully grab each section so that they don't fall apart on you.
What if I need to cook the ribs longer than 8 hours?
7-8 hours on low tends to be the sweet spot for ribs. They can go longer, but they may be more difficult to handle when you go to remove them. You can see in the photos these still stayed together well, and while the meat pulled away easily from the bone with a fork they weren't literally falling off the bone. When they get to that point they are technically overcooked, but honestly still quite delicious.
If you need to cook them longer because of your work schedule (the most common culprit!) I recommend using a crock pot that automatically switches to warm when the cook time is up.
Is this dish gluten free?
As written, yes. Ribs and Old Bay are gluten free, as is Sweet Baby Ray's BBQ sauce. However not all sauces and rubs are, so if you go with a different seasoning or sauce be sure to check those.
Do you need to add the water? Can I use something else instead?
I find the ribs to keep more of their moisture with a bit of water added, but you don't want so much that the meat is sitting in it, which is why I only recommend half a cup. You can use a soda like Coca Cola or Dr Pepper instead if you prefer- some folks swear by that!
Looking for more slow cooker meals?
Try my favorite soup crockpot chicken potato chowder, or this tasty slow cooker chicken caprese pasta!
I hope you enjoy these slow cooker ribs! Let me know in the comments what your favorite side dish to have with ribs is.
Yield: 8
Ribs in the Slow Cooker- Only 3 Ingredients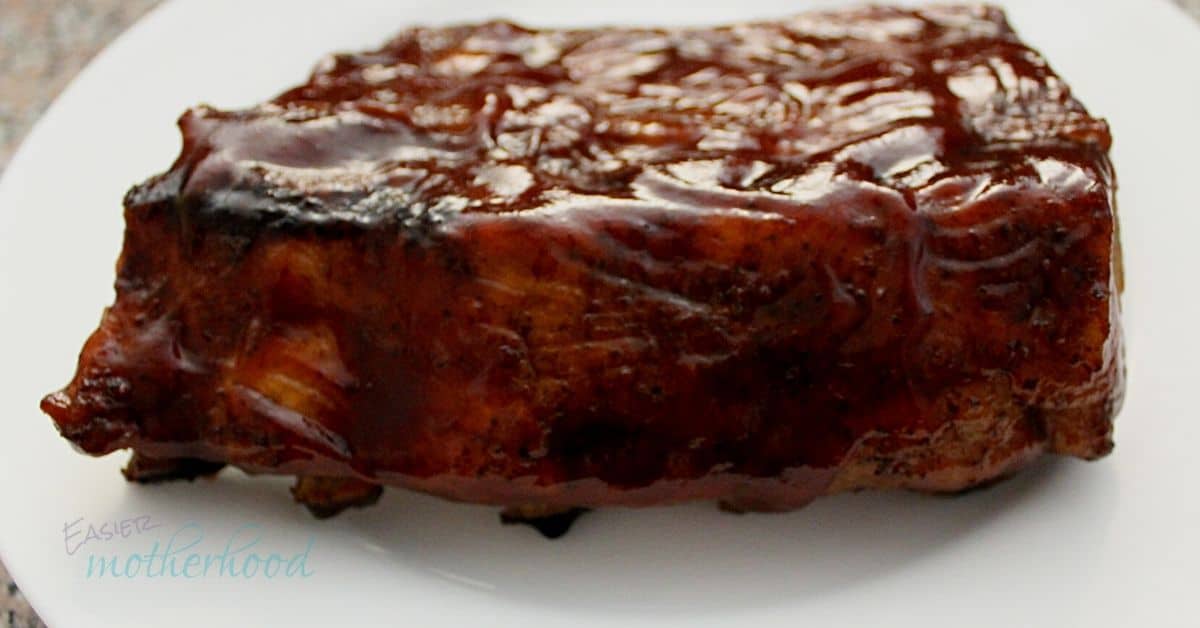 These mouthwateringly tender ribs are so good and so easy, you'll never want to pay restaurant-prices for them again!
Total Time
8 hours
15 minutes
Ingredients
4 lbs bone-in porkback ribs
¼ cup Old Bay Seasoning
1 cup BBQ sauce
½ cup water
Instructions
Cut slab of ribs into portions that will fit into your crock pot, and season generously with Old Bay.
Broil slabs for 3-8 minutes until your desired level of browning/crust is formed.
Add ½ cup water to slow cooker and transfer slabs to crock pot. Cook on LOW for 7-8 hours.
Add BBQ sauce and allow sauce to warm, then serve.
Notes
When browning, place the thickest segment in the middle of your baking tray for more even crust formation.
Nutrition Information:
Yield:
8
Serving Size:
1
Amount Per Serving:
Calories:

884
Total Fat:

70g
Saturated Fat:

21g
Trans Fat:

1g
Unsaturated Fat:

31g
Cholesterol:

238mg
Sodium:

1491mg
Carbohydrates:

15g
Fiber:

1g
Sugar:

12g
Protein:

48g
Nutrition information is provided as a courtesy and is an estimate. It is recommended to use your preferred calculator with the actual ingredients you use for optimal accuracy.