These creamy, garlicky mashed potatoes skip the boiling and use your air fryer to give them a great roasted flavor. Garlic roasted alongside them takes this delicious side dish to the next level!
Mashed potatoes are quite possibly the perfect side dish. We eat them a LOT, and I've reached for the premade refrigerator section mashed potatoes a LOT in my life. While there is no beating the convenience that offers, the best way I've made them is in the air fryer. Essentially roasting the gold potatoes gives them a better flavor than boiling, and can be done ahead of time which is handy on busy holidays.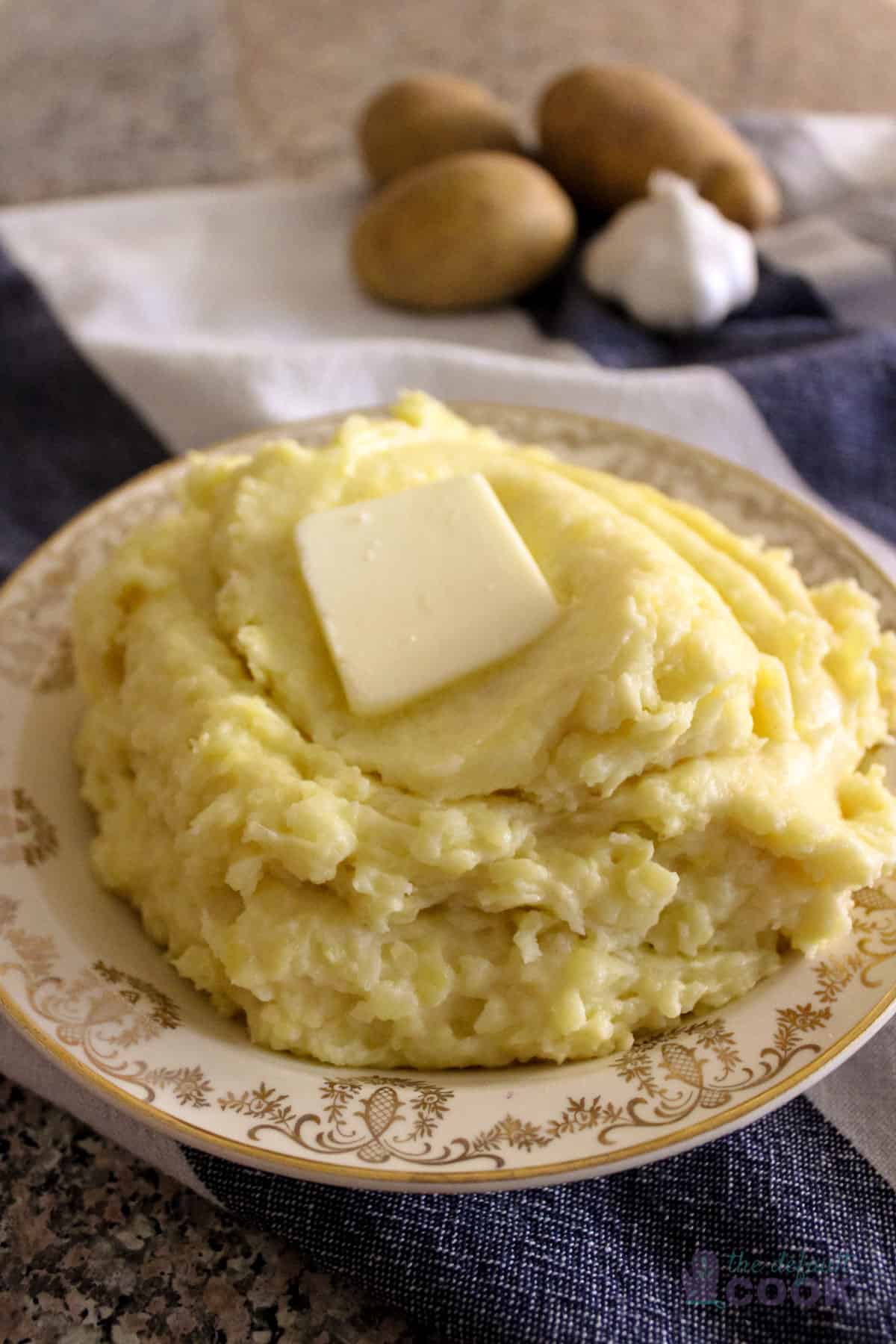 This post contains affiliate links, which means I receive a small commission, at no additional cost to you, if you make a purchase using this link.
Why You'll Love This Recipe:
Simple Ingredients- Nothing complex or crazy here- in fact you probably have most of them in your kitchen already.
Low Prep- We roast with the skins on, then easily peel them off after they've cooled. This also makes them perfect for roasting ahead of time!
Flexible- There are a few ways to roast and mash these potatoes depending on what you have available to use, and the ingredients are honestly pretty forgiving too.
Let's Get Started! Here's What You'll Need: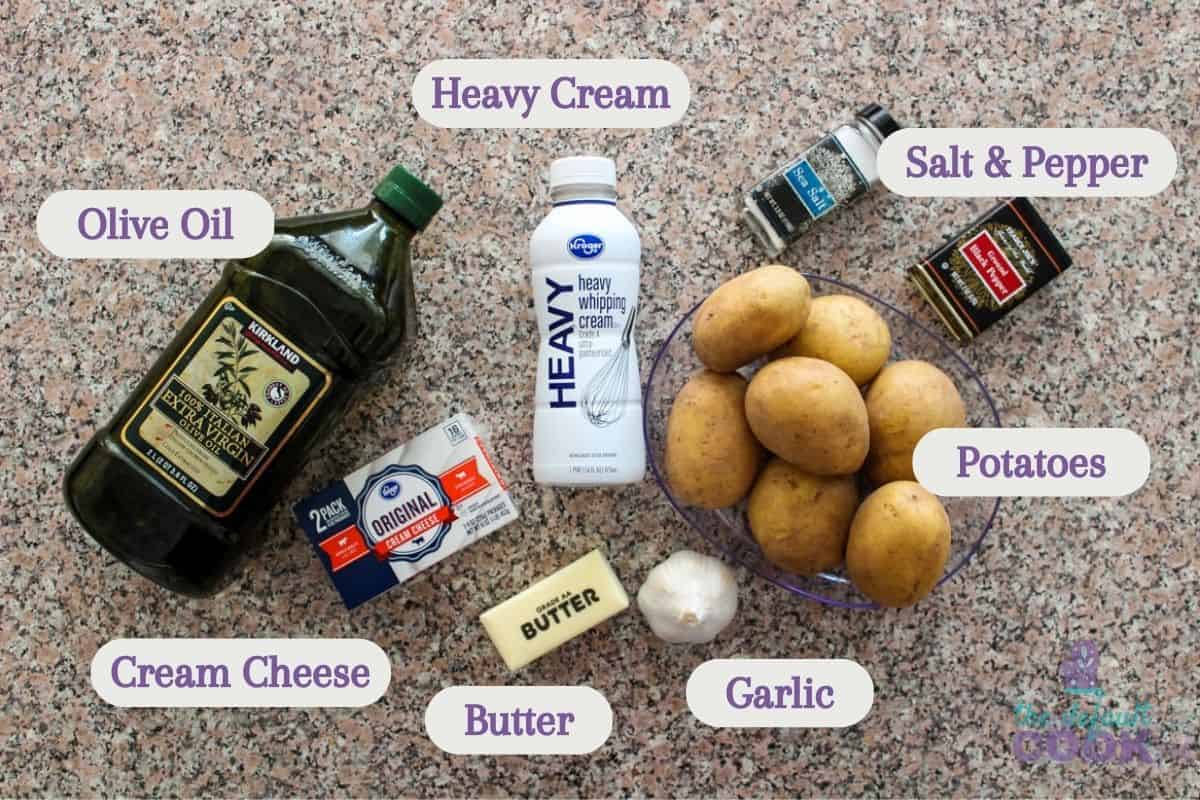 Ingredients:
Potatoes: I'm using yuokon gold potatoes, but baby potatoes or red potatoes work well too.
Olive Oil: Almost anything that's being roasted is improved with a bit of salt and oil. It's especially important for roasting the head of garlic in, but if you're out you can reach for avocado oil or vegetable oil.
Garlic: Yes, we need a whole head. Don't worry, the roasting makes the flavor mellow out! If you don't have any fresh you can stir garlic powder in when mashing.
Butter: More butter, more better! Salted and unsalted butter are both fine- you'll probably just use less salt to taste at the end using salted butter.
Cream Cheese & Heavy Cream: These are both for creaminess. If you prefer you can use sour cream and milk.
Salt & Pepper: Salt we'll use when roasting the potatoes, and again seasoning them to taste. Black pepper will just be seasoning at the end.
Equipment:
We'll need our handy dandy air fryer of course, although you could use your oven instead since an air fryer is essentially a countertop convection oven. You'll also need some aluminum foil and a knife for the garlic. Once we get to mashing we'll need a pot (or a crock pot), and something to mash with. I like this oxo potato masher, but you could use a hand mixer.
How To Make This:
Step 1: Prepare Potatoes & Garlic
Wash your potatoes and season them with a little oil and salt. Place them in your air fryer basket in a single layer. This is where it's helpful to have a rack made for your air fryer, my set came with this rack I'm using here.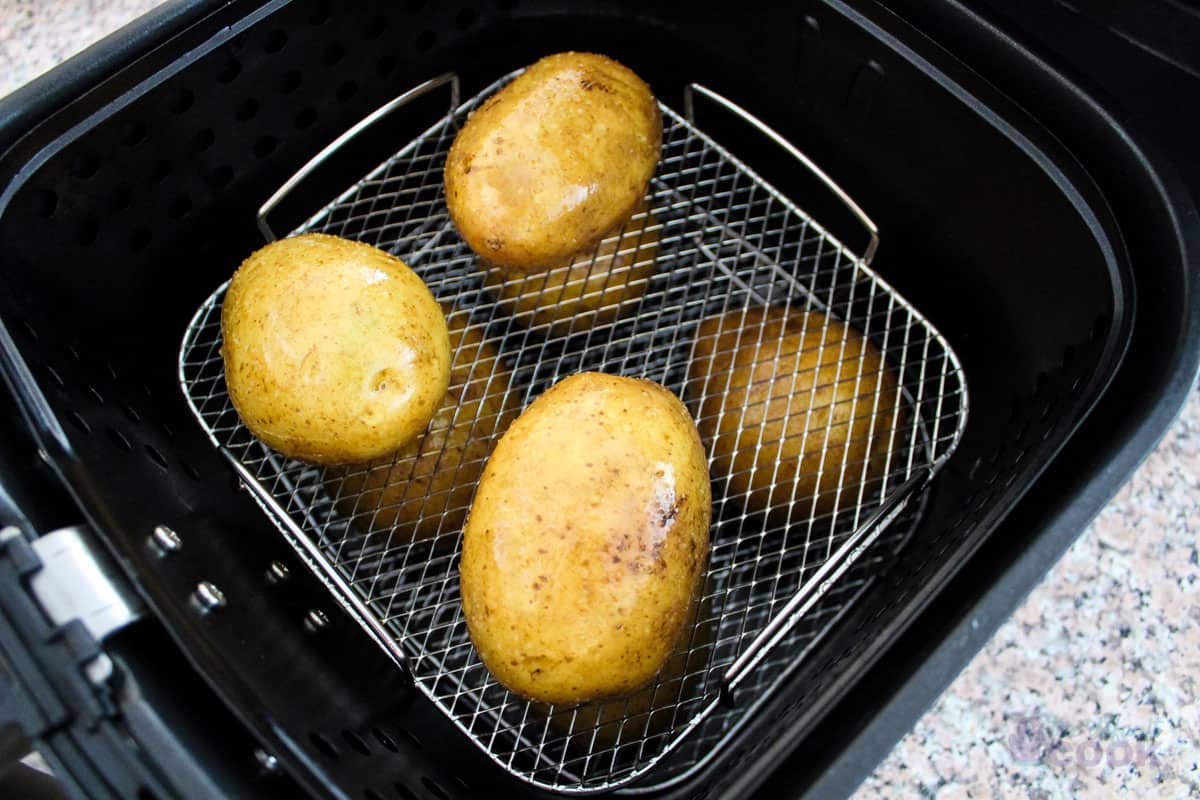 Cut the top off your head of garlic and place it in the middle of about a square foot of aluminum foil, pushing the garlic down to create a pocket or cup so the oil won't run out. Top with a glug of oil, then wrap it up tightly and place it in the fryer with your potatoes.
Step 2: Cook, Cool & Peel
Air fry at 350 for 30 minutes, after which you can remove the garlic and check the potatoes- they should pierce easily with a fork all the way through. The exact cook time will depend on their size, baby potatoes should be done at 30 minutes, these yukons needed another 10 minutes.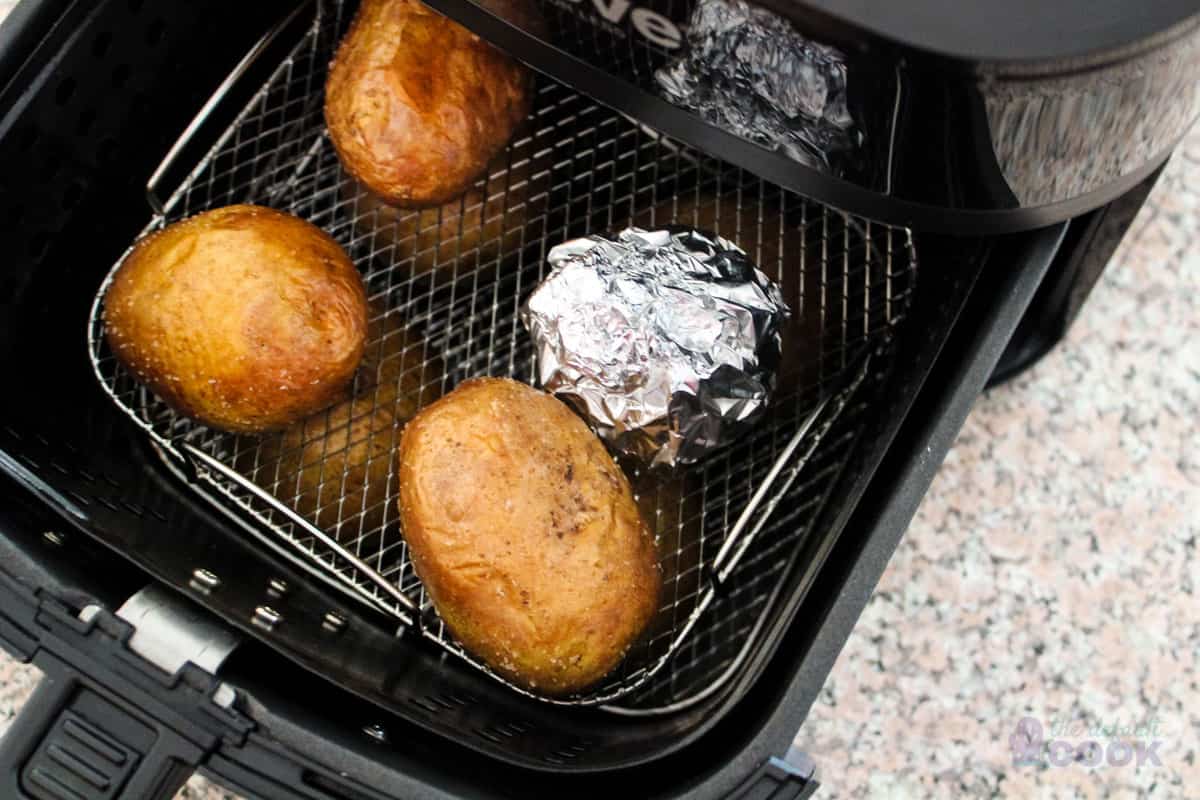 Then let the potatoes cool enough that you can handle them, and peel the skins off. They should be easy to remove by hand, and don't need to be perfect.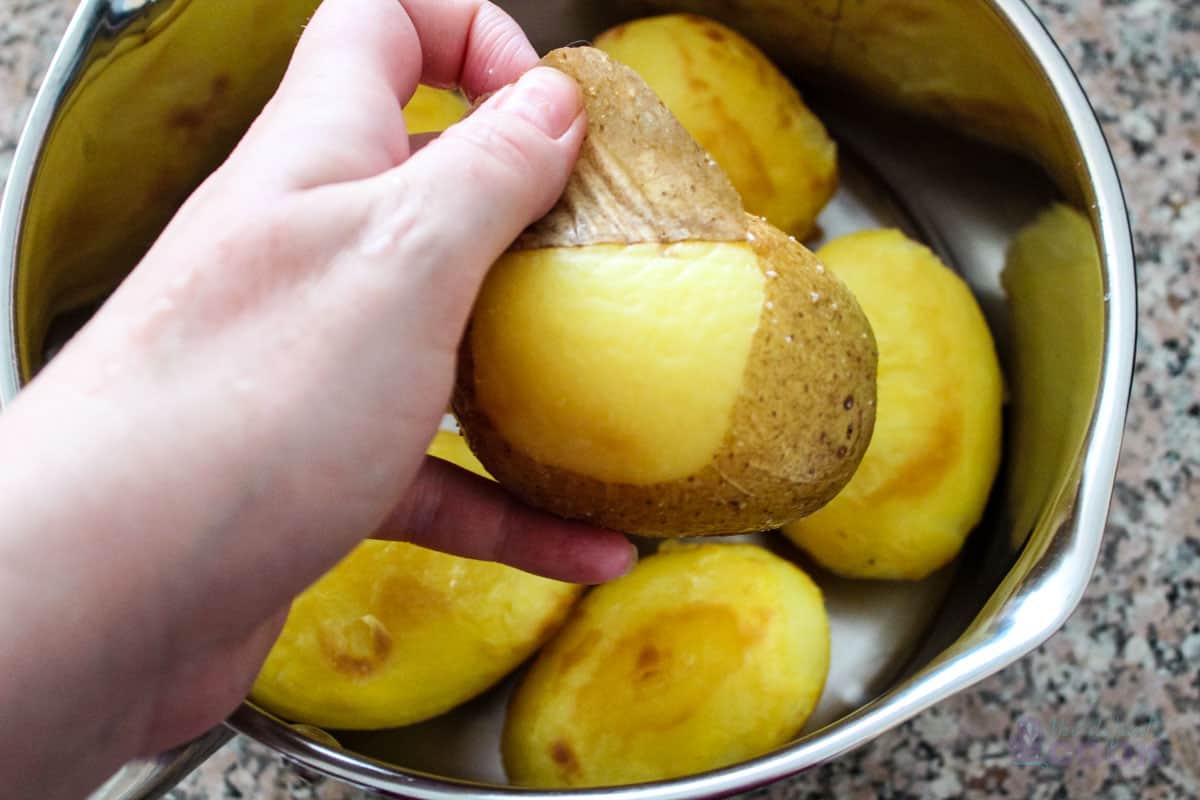 Step 3: Heat & Mash
Since the potatoes are cool now, we need to reheat them for serving- plus that butter and cream cheese needs to melt! I'm using a pan here, but you could also use a crock pot. Another option is to warm them in the air fryer again, then mash in a large bowl and serve immediately.
Add your warm potatoes and squeeze that roasted garlic out of its shell. Then add the rest of the ingredients and mash until you get the texture you want- less for a bit lumpy, and longer for silky smooth potatoes.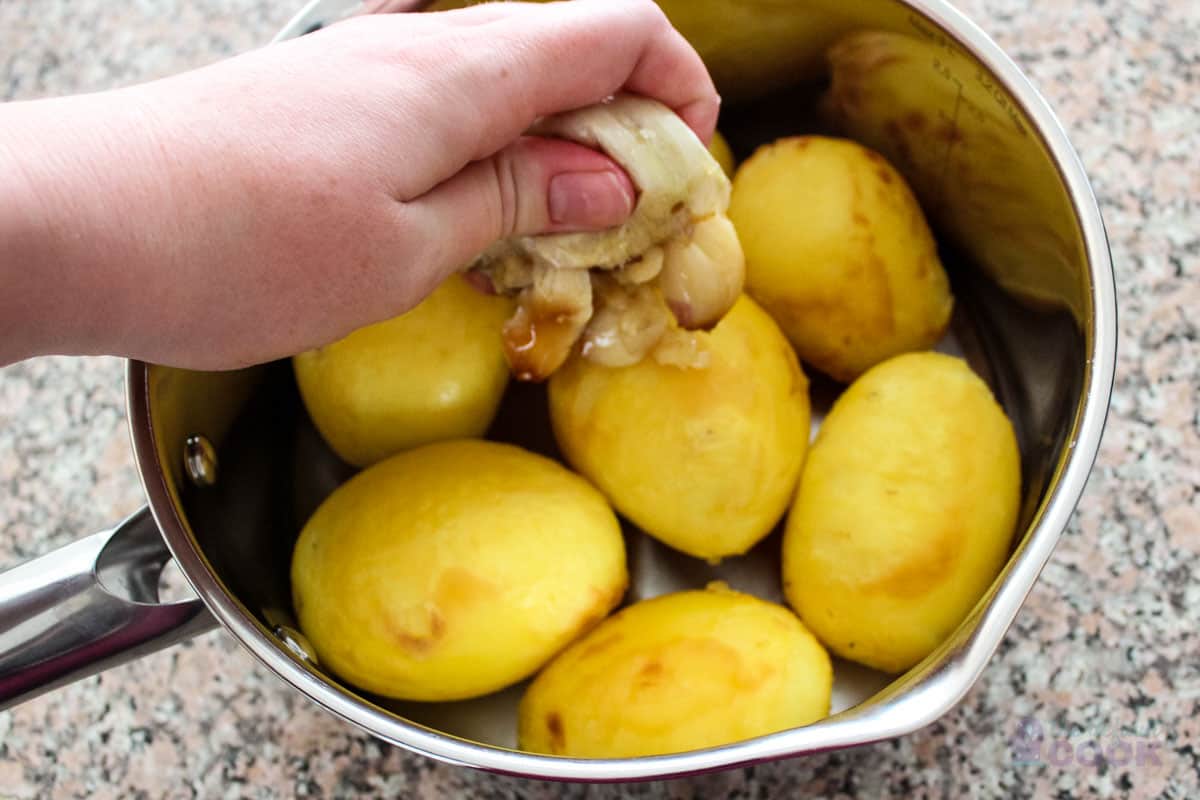 Step 4: Serve
Enjoy! If you want a pop of color on the dish you can sprinkle some green onion on top. Store any leftover mashed potatoes in an airtight container in the fridge.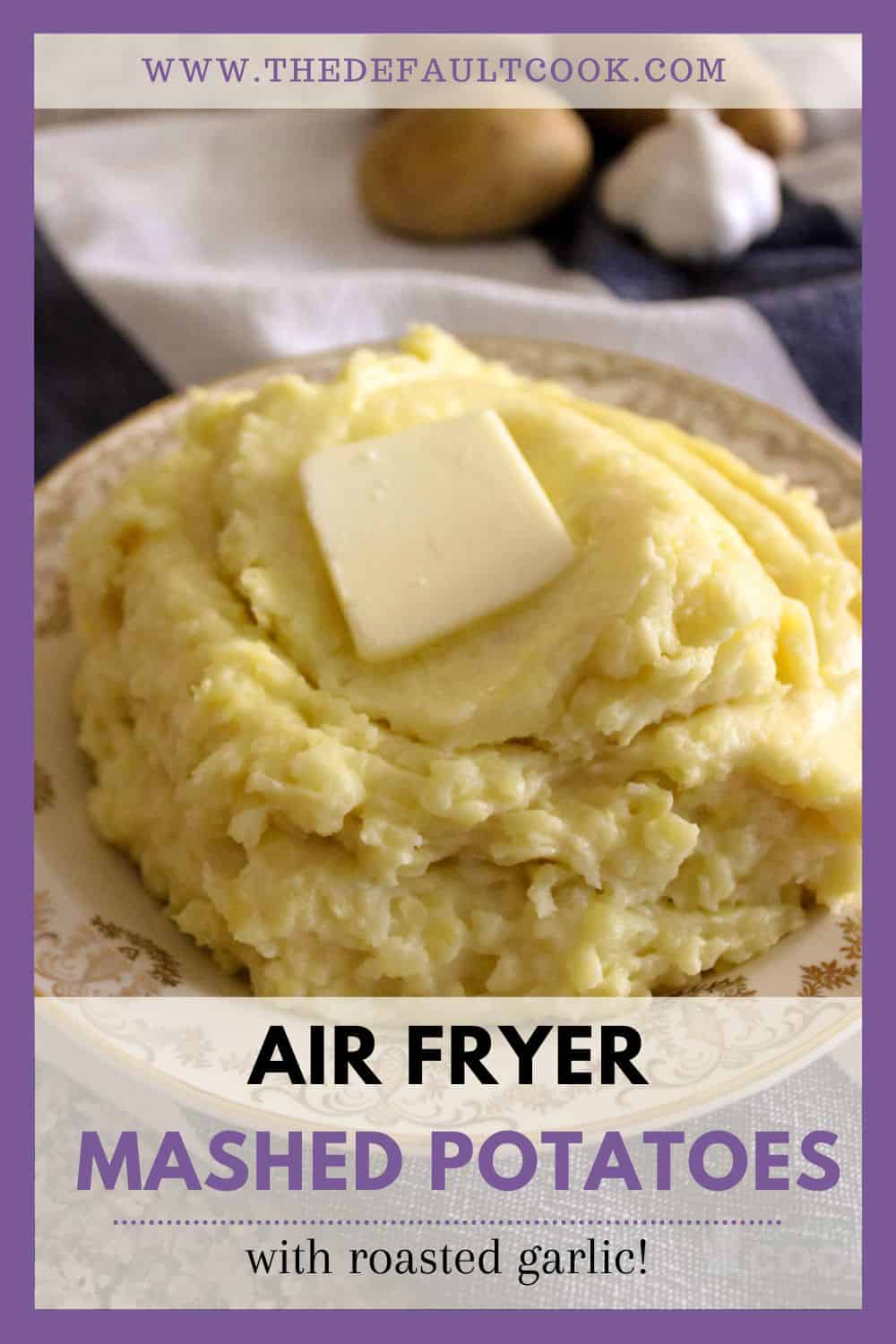 FAQs
Do I really need to peel the potatoes?
That depends on your personal preference. You can skip cooling and peeling the potatoes if you don't mind the skins. I actually enjoy them that way as well- I just call them smashed potatoes instead! The skin of russet potatoes can be more bitter, so I'd only recommend this for baby, red, or gold potatoes.
How do I reheat this mashed potatoes recipe?
The fastest method is the microwave in 30 second increments. My preferred method is to reheat them in a pan on the stove and add water, milk, or cream if needed for additional moisture. Another great option is to use an instant pot- place a rack on the bottom along with a cup of water, then set a pressure cooker safe bowl of potatoes on the rack and pressure cook for 5 minutes. The steam keeps everything fluffy, and you can walk away from it.
What else can I add to this dish?
Potatoes go really well with cheese, and with the garlic some fresh parmesan cheese on top is really nice. You can also melt in some cheddar cheese. Bacon bits would also be an indulgent and delicious addition.
How else can I use the leftovers?
Have you ever had mashed potato balls? Essentially, you just roll up 1 inch balls or so of leftover potatoes, dip them in egg and panko breadcrumbs. Then cook the potato bites on a baking sheet or in your air fryer until the panko crumbs are golden and the potatoes are hot, about 15 minutes.
More air fryer recipes you'll like:
For another vegetable try roasting red peppers in your air fryer.
Want an easy snack or appetizer? Try using it for your freezer section pizza rolls or tempura shrimp.
Need more of a meal? Salmon comes together fast and is air fried quickly!
Want sweet potatoes instead?
Give these crockpot mashed sweets a try! Or roast them in slices for an easy weeknight side.
Enjoy!
I hope you love these- if you do, please be sure to come back and leave a star review! Let me know what other potato recipes you'd like to see. I'm a fan of them in all forms from potato cakes to fries to crispy smashed potatoes.
📖 Recipe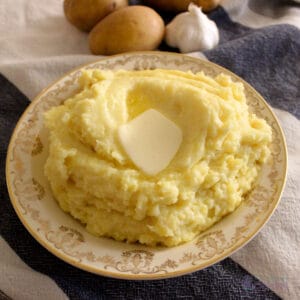 Air Fryer Mashed Potatoes
These air fryer garlic mashed potatoes skip the boiling water for roasting alongside fresh garlic in your air fryer. A delicious side perfect for both busy weeknights and holiday meals!
Ingredients
2.5

lb

potatoes

1

ea

head of garlic

3

tablespoon

olive oil

4

tablespoon

butter

½

cup

heavy cream

2

tablespoon

cream cheese

1

teaspoon

salt

season to taste

½

teaspoon

black pepper

season to taste
Instructions
Rinse potatoes and lightly coat with half the olive oil and salt, then place in air fryer so they're not touching.

Cut top off garlic head and place on about 1 sq ft aluminum foil and cup the foil so oil won't run out. Use remaining oil to cover garlic and pinch foil closed at the top. Add garlic foil packet to fryer with potatoes.

Air fry at 350 for 30-45 minutes depending on potato size, removing garlic head after 30. Let cool enough to handle and remove skins.

Mash in pot over medium heat with remaining ingredients, discarding the garlic head casing. Taste to ensure salt and pepper are to taste, and serve warm.
Notes
To reduce time you can keep the skins on for air fryer smashed potatoes- this allows you to skip the cooling and peeling step.  I recommend gold or red potatoes if leaving the skins on.
To prepare ahead, do steps 1-3 the day before and store spuds and roasted garlic in the fridge. Heating and mashing can be done on the stove or slowly in a crock pot the day of serving.
Nutrition
Calories:
359
kcal
Carbohydrates:
34
g
Protein:
5
g
Fat:
24
g
Saturated Fat:
11
g
Polyunsaturated Fat:
1
g
Monounsaturated Fat:
9
g
Trans Fat:
0.3
g
Cholesterol:
47
mg
Sodium:
480
mg
Potassium:
826
mg
Fiber:
4
g
Sugar:
2
g
Vitamin A:
594
IU
Vitamin C:
37
mg
Calcium:
44
mg
Iron:
2
mg
Nutrition information is provided as a courtesy and is an estimate. It is recommended to use your preferred calculator with the actual ingredients you use for optimal accuracy.