Salmon Milano may sound fancy, but with just 4 ingredients it's an easy and delicious meal, no matter if you are cooking Costco's take and bake version of this pesto butter salmon dish or are making it yourself.
If you're going to Costco it's probably a hectic day, and take and bake dinners are a great way to make the evening a little easier. Ready in under half an hour this basil pesto salmon is perfect for busy weeknights. Pair it with this air fryer squash to keep it low carb or serve it with this lemon butter garlic pasta for a more filling side.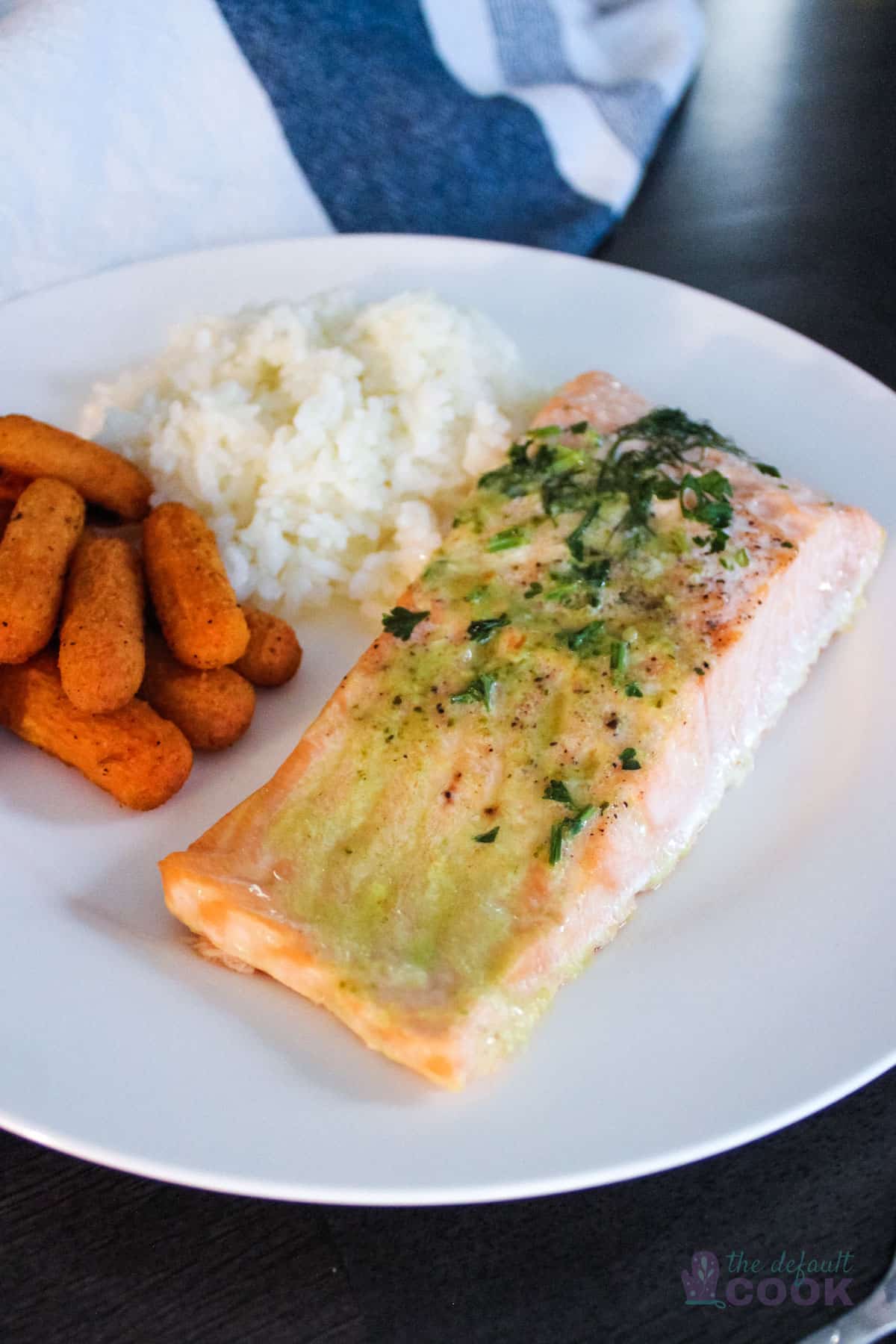 This post contains affiliate links, which means I receive a small commission, at no additional cost to you, if you make a purchase using this link.
Why you'll love this pesto salmon recipe:
5 minute prep- or zero minutes if you have the take and bake.
Only 4 ingredients- or just 1 if you have Costco's salmon milano
Cooks fast- in either the oven or air fryer
Easy to scale- the pesto to butter ratio is an easy one, so this works for those portioned individual fillets or a whole salmon fillet
Let's get started! Here's what you'll need: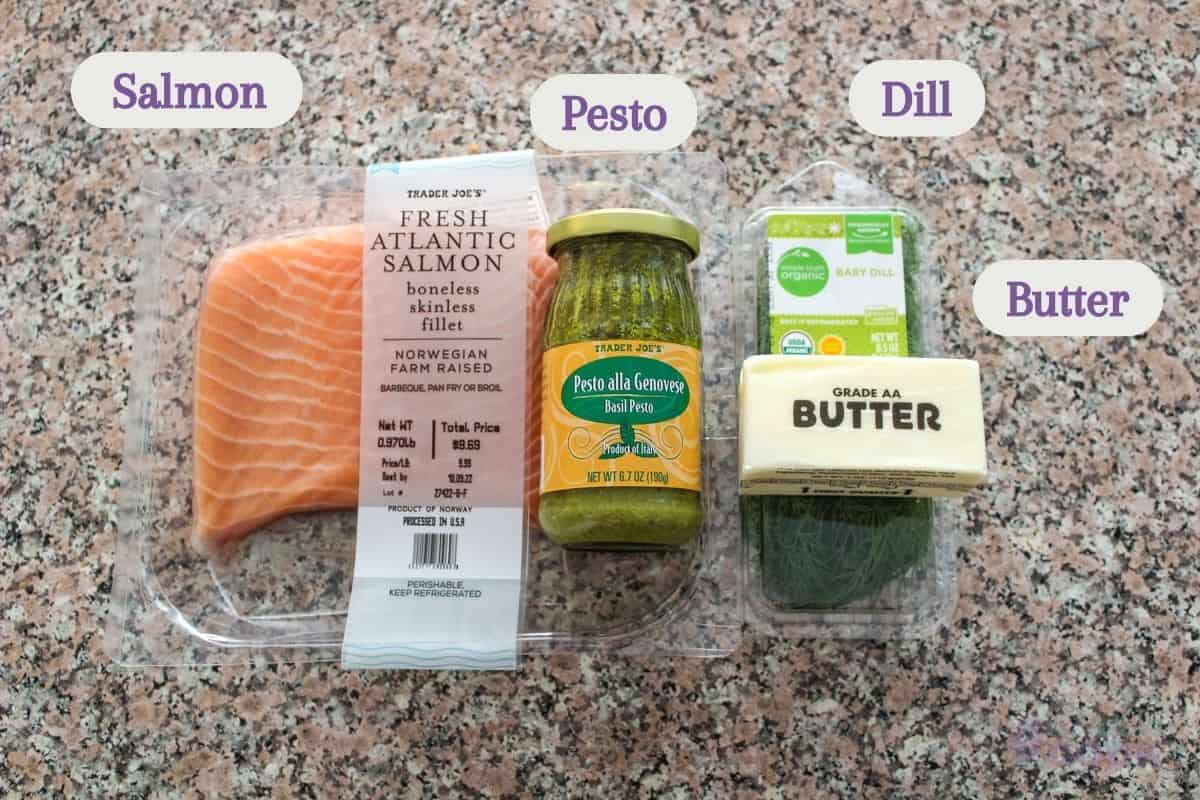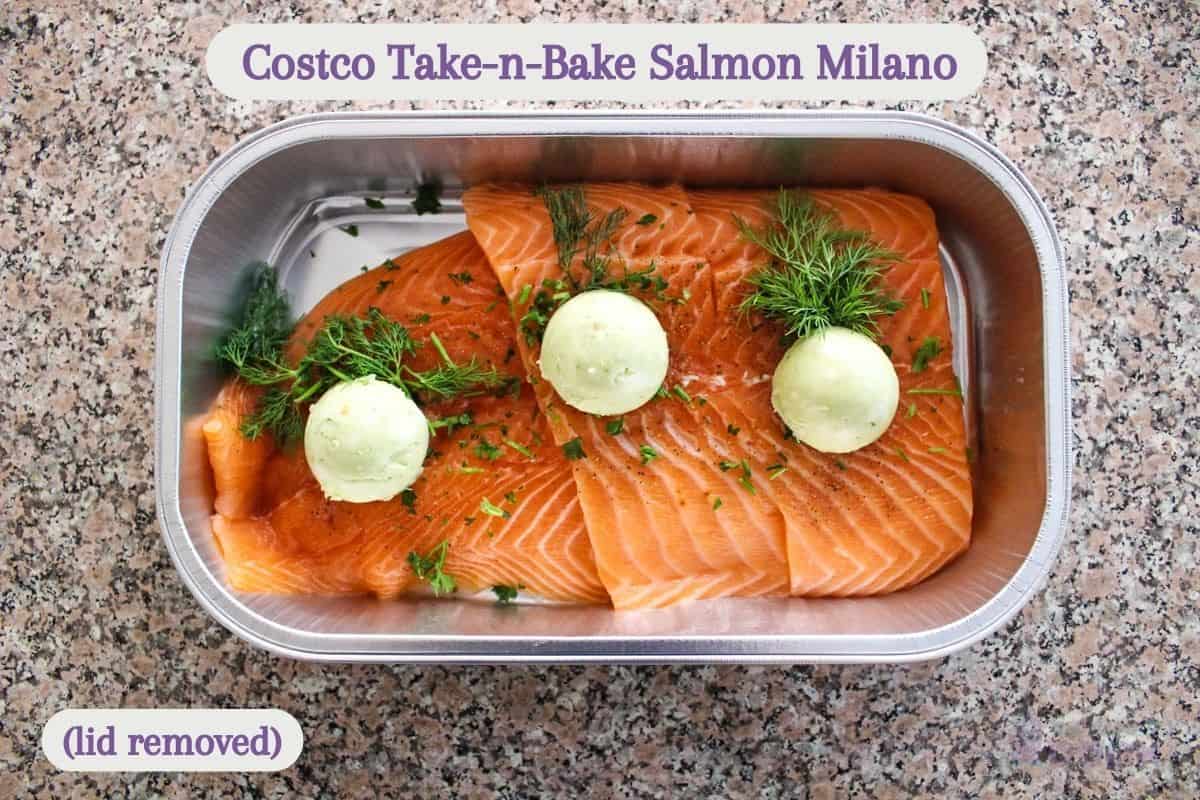 Ingredients:
Salmon- if you have the kirkland signature salmon milano take and bake, this is the only ingredient you'll need. Otherwise, you'll want to start this dish with a piece of your favorite salmon. Atlantic salmon, sockeye salmon, or coho salmon filets are all good choices. You can use fresh salmon or frozen, but be sure to thaw the frozen salmon first.
Pesto Sauce- you can use any brand here, or homemade basil pesto if you have some. If you grow fresh basil my friend Ginain has a great fresh pesto recipe, but I usually reach for Trader Joe's.
Butter- it's hard to make basil pesto butter without, well, butter. I use salted butter but as long as your pesto has salt in it, unsalted should work just fine. If you're dairy sensitive you can use olive oil or avocado oil instead, but be aware most pestos contain parmesan cheese, so be sure to check carefully for that if you need to.
Dill Weed- this is optional, but the Costco take and bake dish has it, so it wouldn't be a true copycat recipe without it, plus fresh herbs add a nice flavor to the fish. The Costco dish also has a touch of parsley, so that's a good substitution if you don't care for dill.
Equipment:
If you have the take and bake, all you'll need is your oven or air fryer, and a meat thermometer if you like. If you're making pesto butter with me, then you'll also need a baking dish or pan, measuring spoon and a small mixing bowl, as well as a fork to mix with. I like to spread it on with the brush from this set.
How to make this easy salmon dish:
Step 1: Preheat the oven and prepare your pesto butter
Preheat your oven (or air fryer) to 400 degrees. If you have the take and bake dish, you can skip the rest of this step. We want to mix a jarred pesto with butter at a 1:2 ratio, so twice as much butter as pesto. Depending on the size of your salmon you'll want to use 2-4 tablespoons of butter and 1-2 tablespoons of pesto. Use a fork to mash them together until you have a nice consistent pesto butter paste. If you want it super smooth you can use a food processor instead.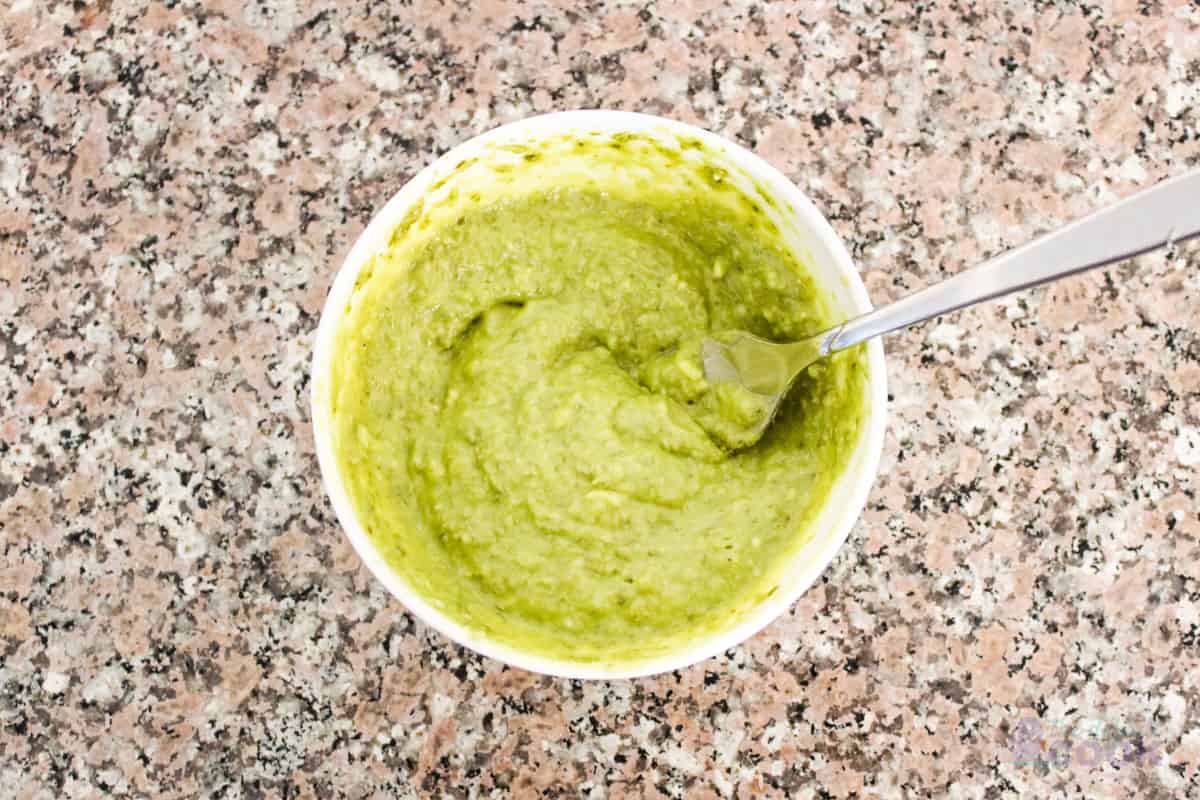 Step 2: Spread the pesto butter on the salmon
Grab a pan to cook your salmon on and line it with aluminum foil for easy clean up. The Costco take and bake meal can be cooked right in the aluminum pan it comes in if you're cooking it all at once, just remove the cover. Place your salmon fillets on the pan skin side down, then coat the top of the salmon with your pesto and butter mixture, and top with the fresh dill. Optionally, you can stick your meat thermometer in if you have one that is meant to stay in during the cooking process.
Step 3: Cook the Salmon Milano
Bake for 12-16 minutes in the oven, depending on thickness. Salmon is a fatty fish so it has a little more leeway than some others, but for best results you'll want to avoid overcooking.
Oven Baking
For food safety we want an internal temperature of 145 for salmon, but it will continue to rise a few minutes after cooking, which you can see in my nerdy temperature tables if you're so inclined. The takeaways from that table are that if you wait for it to be 145 to come out of the oven, it'll rise to about 160 with a few minute rest. I pulled out the largest piece at 136 degrees, and it still got to 151 with a five minute rest, comfortably above the safe temperature of 145. If you don't have a thermometer, you'll want to look for white protein (a lot of people think it's fat) to start to gather along the edges of your baked salmon.
| | | | | |
| --- | --- | --- | --- | --- |
| Time | Costco Piece 1 | Costco Piece 2 | Copycat Piece 1 | Copycat Piece 2 |
| 0 minutes | 61 F | 63 F | 55 F | 57 F |
| 2 minutes | 64 | 63 | 59 | 61 |
| 4 minutes | 72 | 77 | 64 | 70 |
| 6 minutes | 86 | 93 | 77 | 82 |
| 8 minutes | 102 | 109 | 90 | 99 |
| 10 minutes | 115 | 122 | 104 | 113 |
| 12 minutes | 129 | 135 | 116 | 124 |
| 14 minutes | 144 | 149 | 129 | 136 |
| 15 minutes | 145 - removed | 151 - removed | 136 - removed | 144 - removed |
| 17 minutes | 158 | 162 | 144 | 153 |
| 20 minutes | 162 | 165 | 151 | 158 |
Nerdy Temperature Table 1: Oven Baking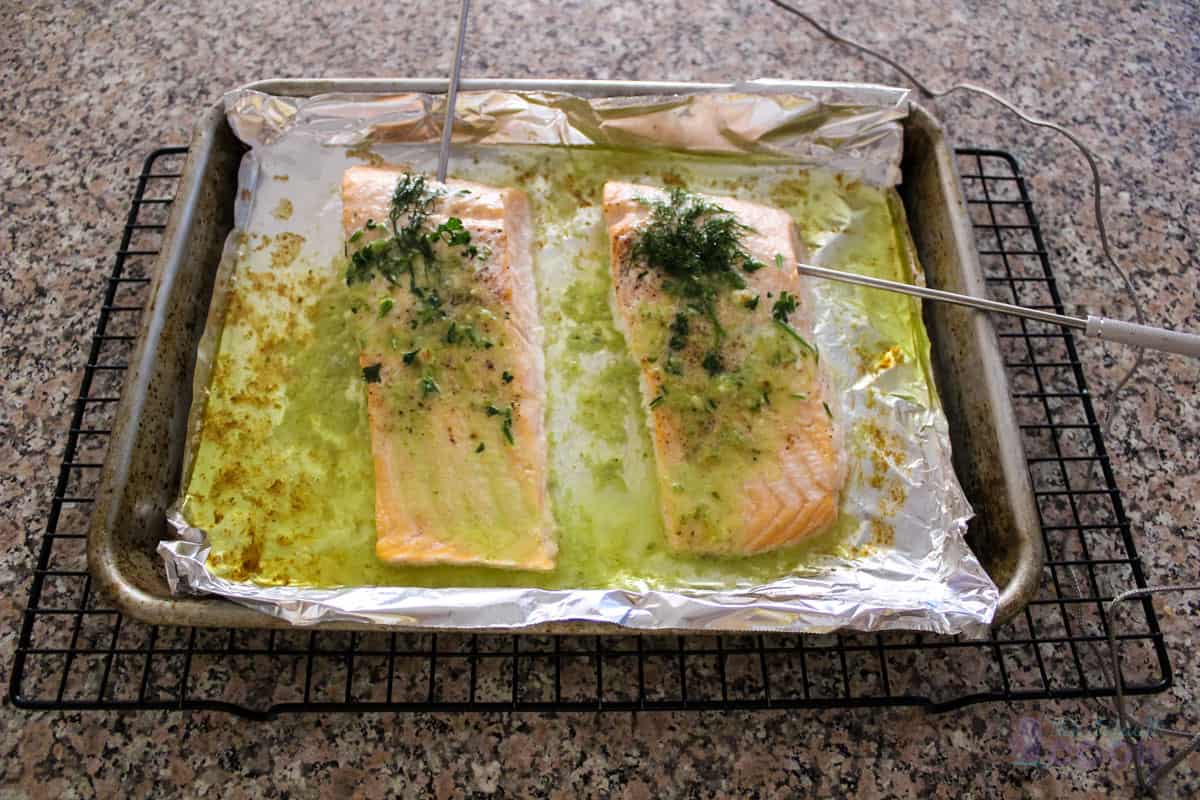 Air Frying
Place salmon in your air fryer and cook it for 5-10 minutes, depending on thickness. The piece I air fried was thin and done in just 5 minutes, but a thicker piece will take longer.
You'll also see I used aluminum foil for easy clean up- if you preheat your air fryer, make sure the foil is NOT in the fryer during that time. Foil needs to be weighed down by food so that it doesn't blow around in your air fryer and damage the heating element.
| | |
| --- | --- |
| Time | Temperature (Air Fryer Costco Piece) |
| 0 minutes | 78 degrees F |
| 1 minute | 93 |
| 2 minutes | 104 |
| 3 minutes | 116 |
| 4 minutes | 129 |
| 5 minutes | 143 - removed 15 seconds later when the temp hit 145 |
| 8 minutes | 168 |
Nerdy Temperature Table 2: Air Frying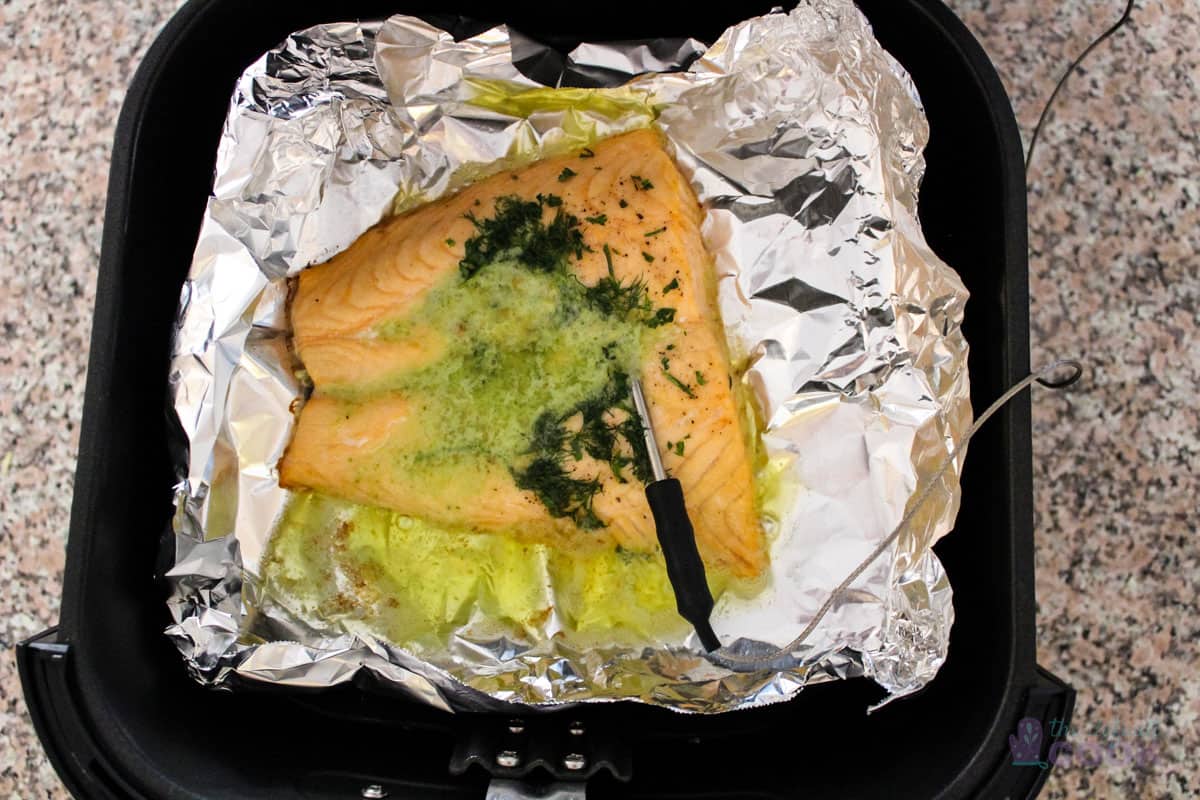 Step 4: Serve and enjoy
Serve while it's warm and enjoy! Costco has a great recipe, and thankfully it's pretty easy to replicate!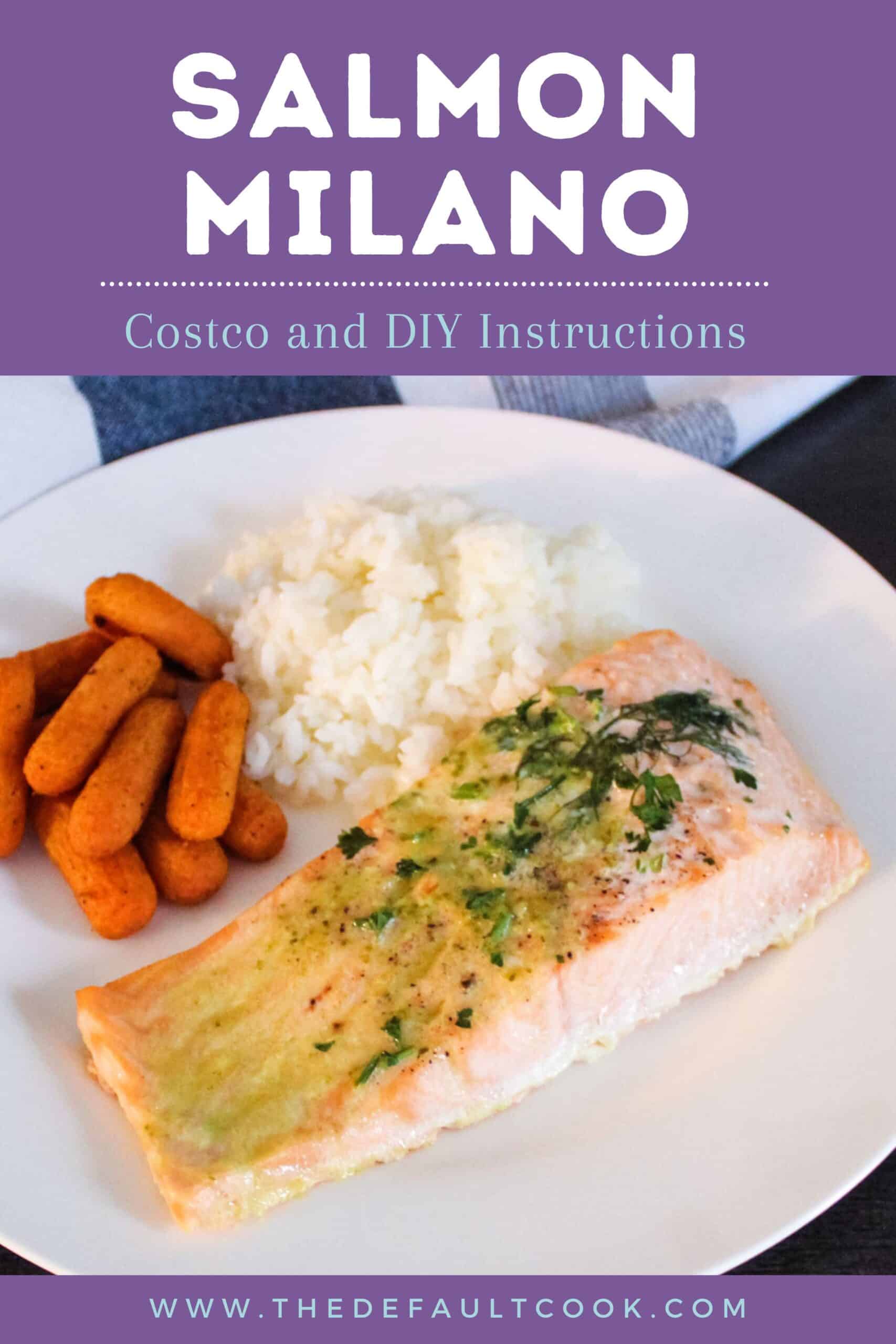 FAQs
How do I handle leftovers?
Leftovers can be stored in an airtight container for up to 3 days in the refrigerator. Salmon is delicious cold on a salad or in a wrap. It can also be reheated in the oven or air fryer as well, you'll want to cut the time down to about ⅔ of the original cook time for reheating. I don't recommend putting it in your microwave- the smell of fish reheated that way tends to linger, and not in a good way.
What else can I add to this dish?
Some great additions to the pesto butter are lemon juice, garlic powder or garlic cloves, black pepper, or italian seasoning. If you have the take and bake you can just sprinkle extra seasonings or even some panko crumbs on, or serve with lemon wedges after cooking.
How can I speed up prep?
This is a pretty quick meal to get ready, but if it becomes one of your go-to weeknight dinners, you can make a larger batch of the pesto and butter mixture and freeze it in ice cube trays so it's ready to go next time.
More Costco recipes you may like:
If you like their salmon milano take and bake, you'll probably love their stuffed salmon too!
One of my favorite things to make in the air fryer is the kirkland tempura shrimp.
Enjoy!
📖 Recipe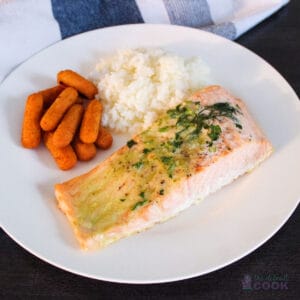 Salmon Milano (Salmon with pesto butter)
This take and bake Costco main dish is a family favorite, and is easy to make yourself with just a few ingredients!
Ingredients
1

lb

salmon

2

tablespoon

butter

1

tablespoon

pesto

.1

oz

dill weed
Instructions
Preheat your oven or air fryer to 400 degrees. For copycat dish, mash together the butter and pesto in a small bowl with a fork.

Copycat: Place salmon skin side down on a baking pan, and spread the pesto-butter mixture on top, then add fresh dill.

Costco take and bake: remove lid.

Bake for 12-16 minutes in oven, or 5-10 minutes in air fryer, depending on thickness. Enjoy!
Podcast
Notes
Salmon should be cooked to 145 degrees, but will continue to cook for a few minutes after being removed from the oven, so generally pulling it out at 135 degrees will give you fully cooked but not overcooked fish.
For easy clean up, line pan with aluminum foil.  Do NOT preheat air fryer with foil in it.
Nutrition
Calories:
226
kcal
Carbohydrates:
0.4
g
Protein:
23
g
Fat:
14
g
Saturated Fat:
5
g
Polyunsaturated Fat:
3
g
Monounsaturated Fat:
4
g
Trans Fat:
0.2
g
Cholesterol:
78
mg
Sodium:
130
mg
Potassium:
563
mg
Fiber:
0.1
g
Sugar:
0.1
g
Vitamin A:
351
IU
Vitamin C:
1
mg
Calcium:
23
mg
Iron:
1
mg
Nutrition information is provided as a courtesy and is an estimate. It is recommended to use your preferred calculator with the actual ingredients you use for optimal accuracy.