Take and bake dishes are one of the greatest things ever invented- most of the ease of takeout and no worries about food getting cold on the drive home! Learn how to cook a favorite Costco take and bake dinner, their stuffed salmon.
I'm convinced that take and bake meals are the most brilliant thing modern grocery stores offer. They're one of the simplest ways to get dinner on the table- the perfect compromise between takeout and scratch cooking, and are usually healthier than your standard takeaway. Costco has a variety of take and bake options, and this stuffed salmon is one of the best.
Sometimes the instructions leave a bit to be desired though- so I picked one up and cooked it in both the oven and air fryer. Here's how to cook your Costco stuffed salmon perfectly!
No time to read now? Pin this Costco Stuffed Salmon for later!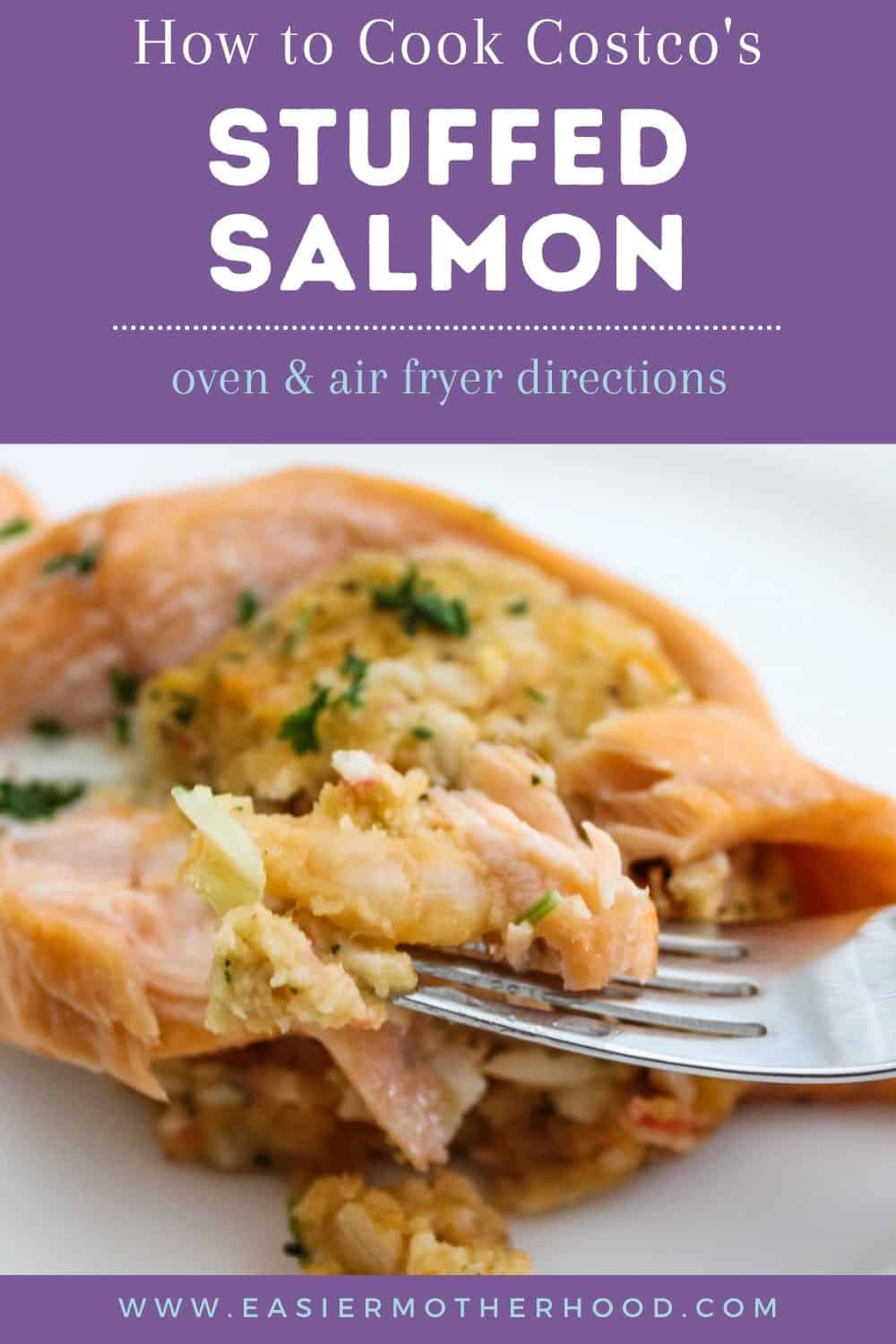 This post contains affiliate links, which means I receive a small commission, at no additional cost to you, if you make a purchase using this link.
Why you'll love this fresh salmon with crab stuffing:
Done in under 30 minutes!
No or low prep
Generous portions
Looks fancy- great for a special occasion.
Let's get started! Here's what you'll need:
This dish is already prepped for you thanks to the staff at Costco, but here's what's inside. Each filet is skinned and has a slit cut in the thickest section where the crab meat mixture is placed, and then the full dish is sprinkled with fresh parsley.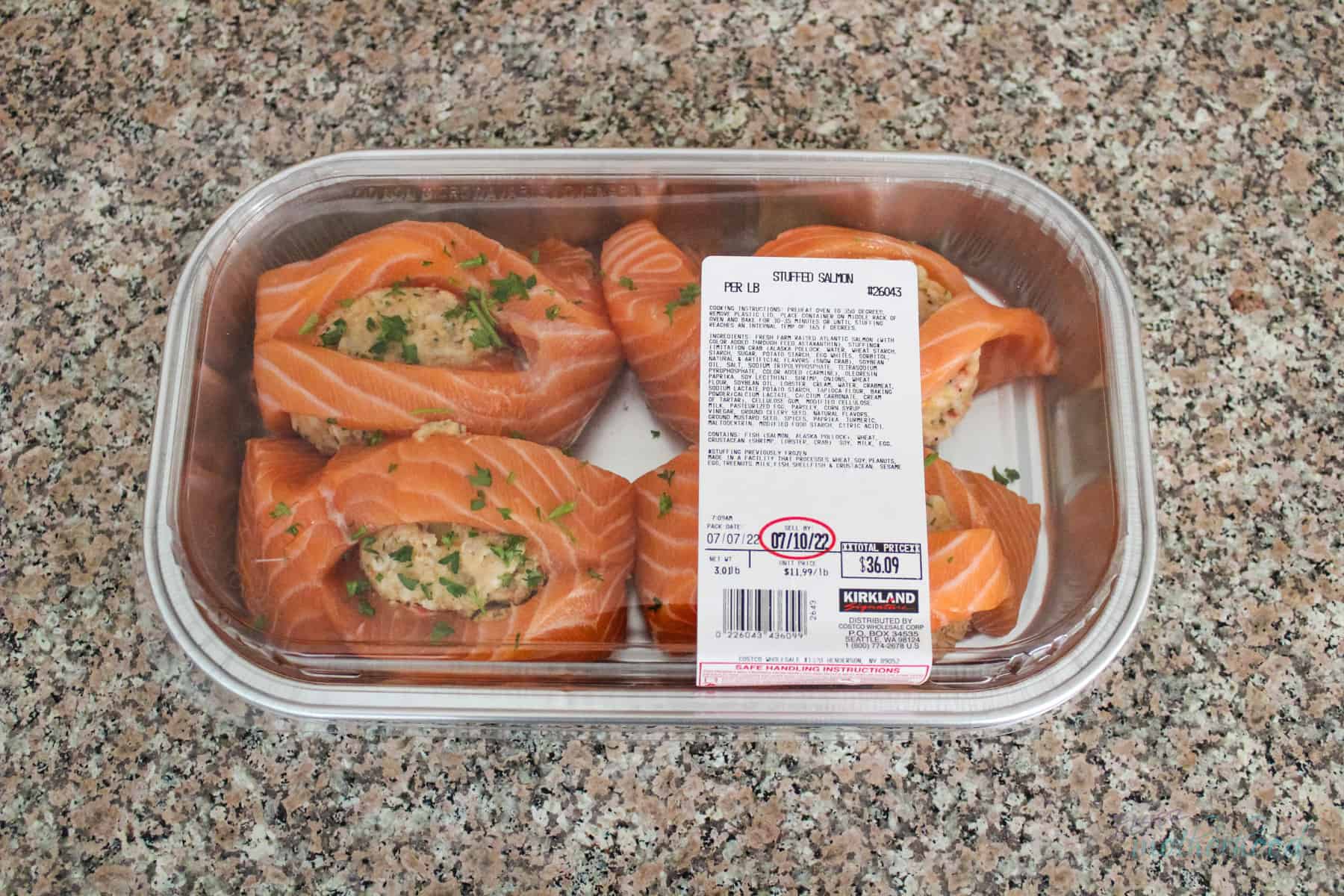 Ingredients:
Fresh Farm Raised Atlantic Salmon
Stuffing:

Imitation Crab [Alaska Pollock, Water, Wheat Starch, Starch, Sugar, Potato Starch, Egg Whites, Sorbital, Natural and artificial flavors (snow crab), Soybean oil, Salt, Sodium tripolyphosphate, Tetrasodium pyrophosphate, Color added (Carmine), Oleoresin Paprika, Soy Lecithin]
Shrimp
Onions
Wheat Flour
Soybean oil
Lobster
Cream
Water
Crabmeat
Sodium Lactate
Potato Starch
Tapioca Flour
Baking Powder (Calcium lactate, Calcium carbonate, Cream of tartar)
Cellulose Gum
Modified Cellulose
Milk
Pasturized egg
Parsley
Corn Syrup Vinegar
Ground celery seed
Natural flavors
Ground mustard seed
Spices
Paprika
Turmeric
Malodextrin
Modified Food Starch
Citric Acid
As you can see, most of the ingredients are in the filling mixture placed in the middle of each salmon filet.
Equipment:
This recipe really only needs an oven large enough to fit the tray. You don't even need your own baking dish if you're making it all at once!
But if you're not using all of it- I typically make two of the four at a time- then you'll want a baking pan OR an air fryer. You can also use parchment paper or aluminum foil for easy clean up, or a non-stick pan.
Let's talk about internal temperature
Costco's directions on the container lid say to bake for 30-35 minutes until the stuffing reaches 165 F. However, I find that's a bit longer than necessary.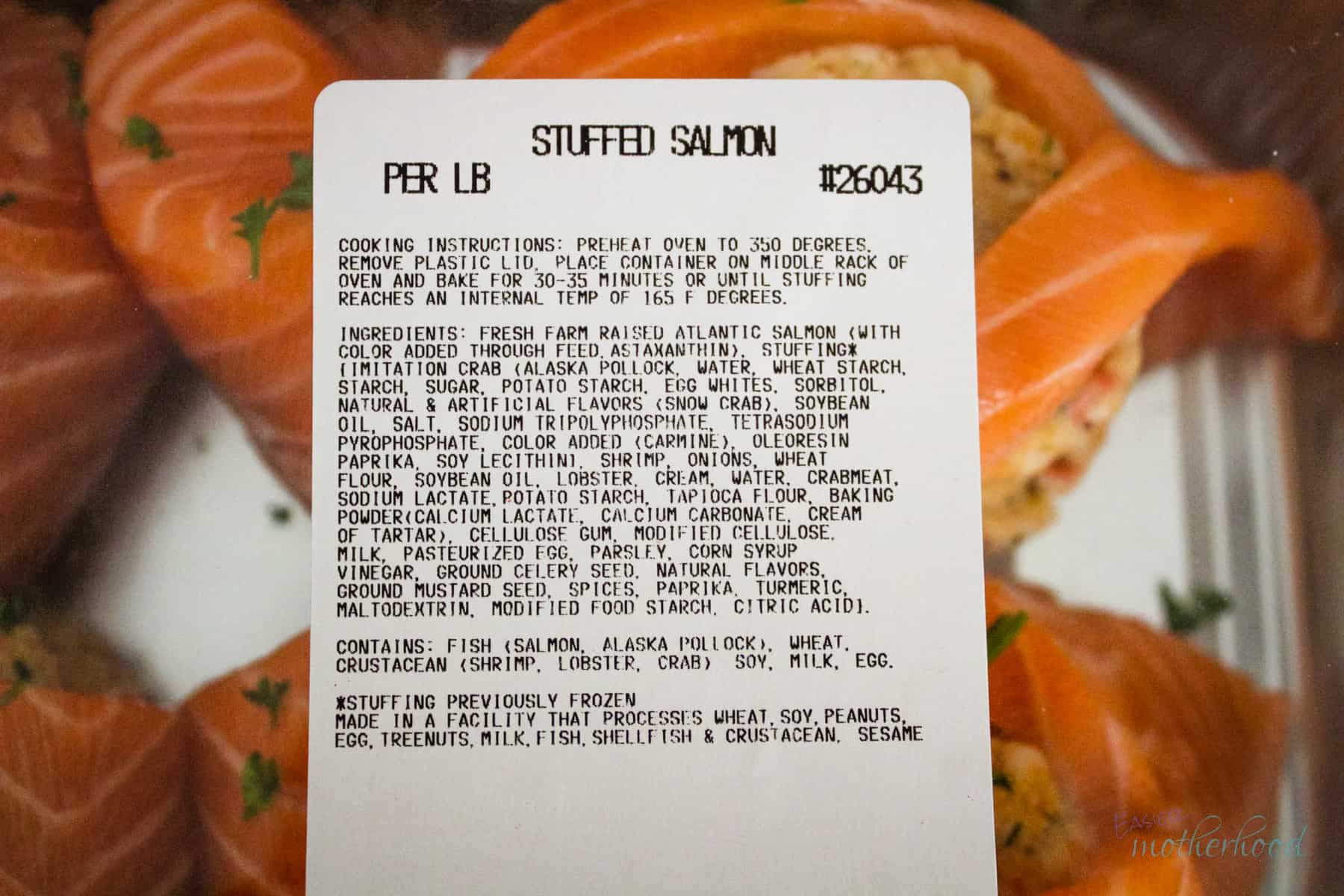 The USDA's recommendation for fish is 145 degrees, so I personally only cook this dish to 145 (though it does rise a bit beyond that as it rests). Costco is being conservative in their recommendation because of the small amount of wheat flour in the stuffing mixture. While I certainly understand that logic, as someone who also uses sous vide cooking I've familiarized myself with the time and temperature charts they have. The short version is that the USDA recommendations are based on only 1 bacteria of 10 million surviving- at 165 degrees that happens instantaneously, but it still happens at lower temperatures- just not instantly.
So if you're not pulling out your fish until it's 145, it will continue to cook as it rests- mine reached 150. With the amount of time it spends over 145 I'm comfortable with that for myself and my family, but that's obviously an individual decision. The USDA doesn't put out time based guidelines for home cooking the way they do for industrial because among other things, no one is calibrating our kitchen thermometers.
Alternatively, you could remove the stuffing and cook it on a baking tray separately and start it about 10-15 minutes before the raw salmon, which would ensure your stuffing mixture gets plenty hot enough without overcooking the fresh fish. This doesn't look as pretty served since the stuffing isn't perfectly nestled in the fish, but since the salmon cooks faster than the stuffing it's a practical way to get perfectly flaky salmon and still follow the 165 recommendation for the seafood mix. This is actually my perferred method.
How to Make The Stuffed Salmon in the Oven
Step 1: Preheat your oven
Set your oven to 350 degrees. If you're using a separate baking sheet, place salmon on the bakeware while the oven preheats. If you're using the original container, just remove the lid.

Step 2: Bake!
For 25 minutes, or until the inside of the crab mixture reaches a minimum of 145 degrees. If you don't have a thermometer, look for the white fat of the salmon to start to congeal just outside the fish, and for the meat to flake easily with a fork.
| | | |
| --- | --- | --- |
| Time cooking: | Probe 1 (Stuffing): | Probe 2 (Salmon): |
| 8 minutes | 70 degrees F | 88 degrees F |
| 14 minutes | 100 degrees F | 117 degrees F |
| 20 minutes | 127 degrees F | 142 degrees F |
| 24 minutes | 144 degrees F | 157 degrees F |
| 25 minutes | 145 degrees F | 160 degrees F |
You can see the stuffing consistently trailed the salmon by about 15 degrees, so to get the stuffing to 165 we would overcook our fish even more.
How to Make The Stuffed Salmon in the Air Fryer
Step 1: Get out your fryer and salmon
If you have a temperature probe, that's very helpful in making sure you don't either undercook or overcook your meal. Cooking times may vary based on a variety of factors- I did not preheat my air fryer here but my model may heat up faster than others. I used the grill pan but the regular basket is fine too.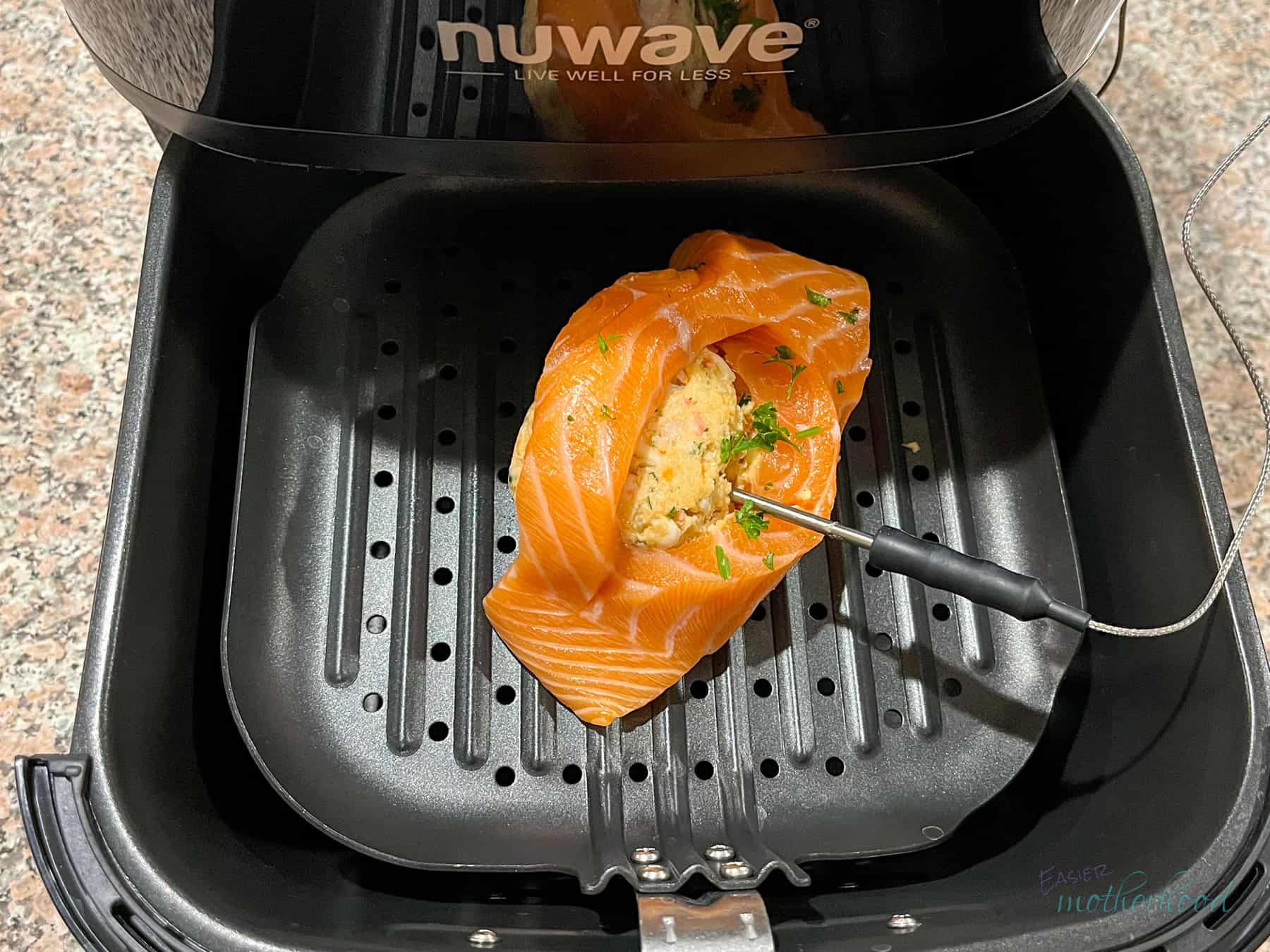 Step 2: Cook!
Air fry at 350 degrees for about 15 minutes, or until the inside of the crab mixture reaches a minimum of 145 degrees. You can use parchment paper or aluminum foil under it to reduce cleanup, however this will also reduce airflow a bit so may extend cooking time modestly. Do NOT use a paper towel.
| | |
| --- | --- |
| Time cooking: | Probe 1 (Stuffing): |
| 8 minutes | 98 degrees F |
| 12 minutes | 123 degrees F |
| 14 minutes | 136 degrees F |
| 15 minutes | 143 degrees F |
| 16 minutes | 145 degrees F |
This is definitely the fastest way to prepare this dish!
How to Cook The Salmon and Stuffing Separately
Step 1: Prepare the two baking dishes
Preheat your oven to 350. Then remove either the salmon or stuffing to another oven safe dish. Make sure both will fit in your oven- you can use two racks, or a quarter sheet pan combined with the original pan will fit on one rack in most cases. Here I removed the salmon to a pan and cooked the stuffing in the original container.

Step 2: Cook!
Place the stuffing mixture into the oven first, then 10 minutes later place the salmon into the oven as well.
| | | |
| --- | --- | --- |
| Time cooking: | Probe 1 (Stuffing): | Probe 2 (Salmon): |
| 5 minutes | 84 degrees F | Not yet cooking |
| 8 minutes | 93 degrees F | Not yet cooking |
| 10 minutes | 102 degrees F | Placed in oven |
| 14 minutes | 126 degrees F | 73 degrees F |
| 16 minutes | 136 degrees F | 93 degrees F |
| 18 minutes | 145 degrees F | 109 degrees F |
| 20 minutes | 154 degrees F | 127 degrees F |
| 22 minutes | 163 degrees F | 144 degrees F |
| 23 minutes | 167 degrees F | 151 degrees F |
This method gives you the best of both worlds temperature wise, and if you want it to look nicer you can take the crab out at about 10-12 minutes and then add the salmon on top of the crab. Then place everything back in the oven assembled so it cooks together for the remaining time.
Leftovers and Storage
Salmon should be cooked within 3 days of purchasing it, or by the best by date on the package, whichever is sooner. Usually they're packed and sold the same day, but not always.
Leftovers should be stored in an airtight container for up to 3 days.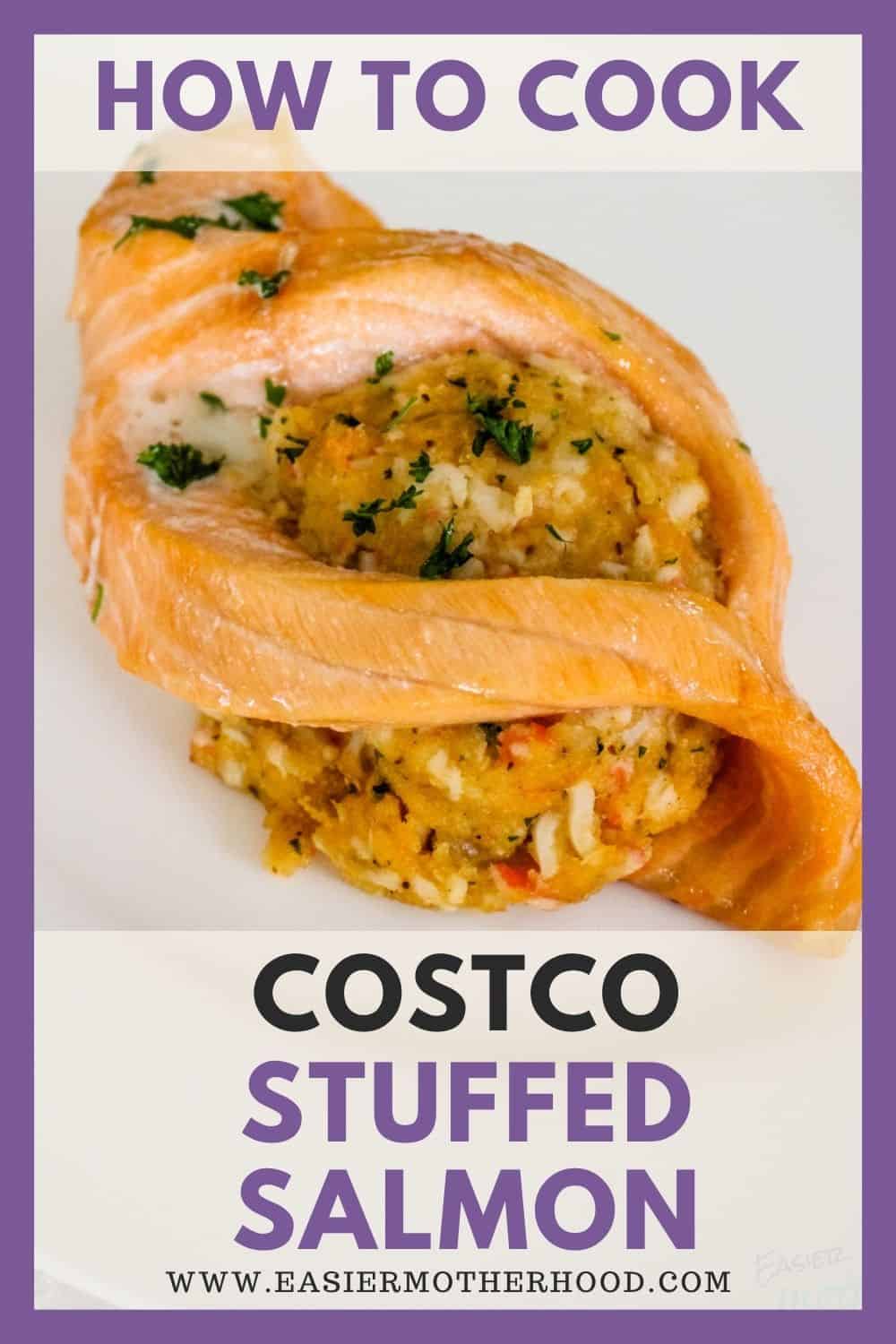 Questions about Costco Salmon
What can I add to this dish to improve it?
If you want to add a little extra to the dish to make it your own, you can brush some butter or olive oil on the fish before cooking. Try mixing the butter or oil with a bit of lemon juice for some extra flavor, or serving it with lemon wedges so your guests can squeeze fresh lemon juice on top of their meal. You could also add some garlic cloves into the stuffing, or season the salmon with a little bit of salt and black pepper.
What allergens does this have?
Imitation crab contains wheat, and there is wheat flour in the crab mixture as well, so the dish is not gluten free. In addition, the dish obviously contains seafood and the crab mix includes shellfish. The packaging notes that it contains fish, wheat, crustacean, soy, milk, and egg.
While not ingredients in it, Costco does process the crab mixture in a facility that also handles peanuts, tree nuts, and sesame, so it may be a dish to avoid if you are highly sensitive to any of those.
What other salmon does Costco sell?
There are two types of take and bake salmon dishes- this stuffed salmon, as well as their salmon Milano with basil pesto butter. These take and bake meals are a great way to get a healthy meal on the table fast.
Additionally they sell salmon filets by the pound in the fresh seafood section, and have frozen salmon in the freezer section as well. The exact options available at your local costco may vary, but generally you'll see a kirkland signature farmed atlantic salmon in individual portions as well as wild salmon filet portions. These are super convienient since they're vacuum sealed so you can easily defrost them in a large bowl of cold water the same day you want to cook them.
For cooked salmon my costco offers two styles of smoked salmon in the refrigerated section near the cheeses and deli meats. They also have canned salmon along with other cooked fish like canned tuna and pre-cooked shrimp.
What sides should I serve with this dish?
Fish pairs really nicely with white or brown rice- just heat 1 part rice to 2 parts water over medium heat to medium-high heat until boiling. Then simmer on low heat until the water has absorbed into the rice.
Most vegetables are delicious with salmon- if you're using the oven for your fish try this zucchini and yellow squash in the air fryer.
Looking for more salmon recipes?
For a simple and easy salmon dish try this baked salmon with 3 glaze options that range from 1-3 ingredients.
Interested in a copycat of this dish with simple ingredients? Let me know below! I'm thinking of a gluten free crab mixture that would skip the imitation in favor of real lump crab meat, and maybe some cream cheese instead of the milk and cream in this store bought version.
📖 Recipe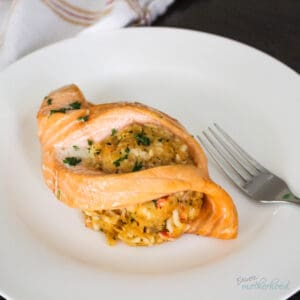 How to cook Costco Stuffed Salmon
How to perfectly cook your take and bake salmon from Costco
Ingredients
1

container

Costco Stuffed Salmon

1

lemon

optional
Instructions
To bake separately (preferred method): Preheat oven to 350 and set salmon aside. Bake only crab mix stuffing for 10-12 minutes. Then add salmon to oven and bake an additional 15 minutes, or until fish reaches an internal temperature of 145 degrees and stuffing reaches an internal temperature of 165 degrees.

To bake together in oven: Preheat traditional oven to 350 and bake for 25-35 minutes, or until stuffing reaches preferred temperature of 145 to 165 degrees F.

To cook together in air fryer: Place salmon portions in air fryer and bake at 350 for 15-20 minutes, until stuffing reaches preferred temperature of 145 to 165 degrees F.
Podcast
Notes
Costco recommends cooking the stuffing of this dish to 165 degrees, but the USDA recommendation for salmon is 145, so to avoid overcooking the fish it is preferable to give the stuffing a head start which is why the preferred method is setting the salmon aside for the first 10 minutes of baking.
Nutrition
Serving:
264
g
Calories:
510
kcal
Carbohydrates:
25
g
Protein:
40
g
Fat:
27
g
Saturated Fat:
7
g
Cholesterol:
135
mg
Sodium:
1030
mg
Fiber:
1
g
Sugar:
4
g
Nutrition information is provided as a courtesy and is an estimate. It is recommended to use your preferred calculator with the actual ingredients you use for optimal accuracy.