This simple, delicious, air fryer squash is a fast, easy, and healthy way to turn fresh zucchini and squash into the perfect side dish.
Zucchini and squash are one of my favorite vegetables- and one of the best things about summer. But the trouble is that sometimes squash gets well, soggy. While I also enjoy it sautéed soft, the whole family doesn't agree with me.
Cooking it in the air fryer makes that problem a thing of the past- it's the perfect way to cook them!
Plus, we're shaking everything together right in the air fryer for minimal dishes. In my lazy opinion, a great side dish doesn't need a lot of clean up.
No time to read now? Pin this simple side dish for later!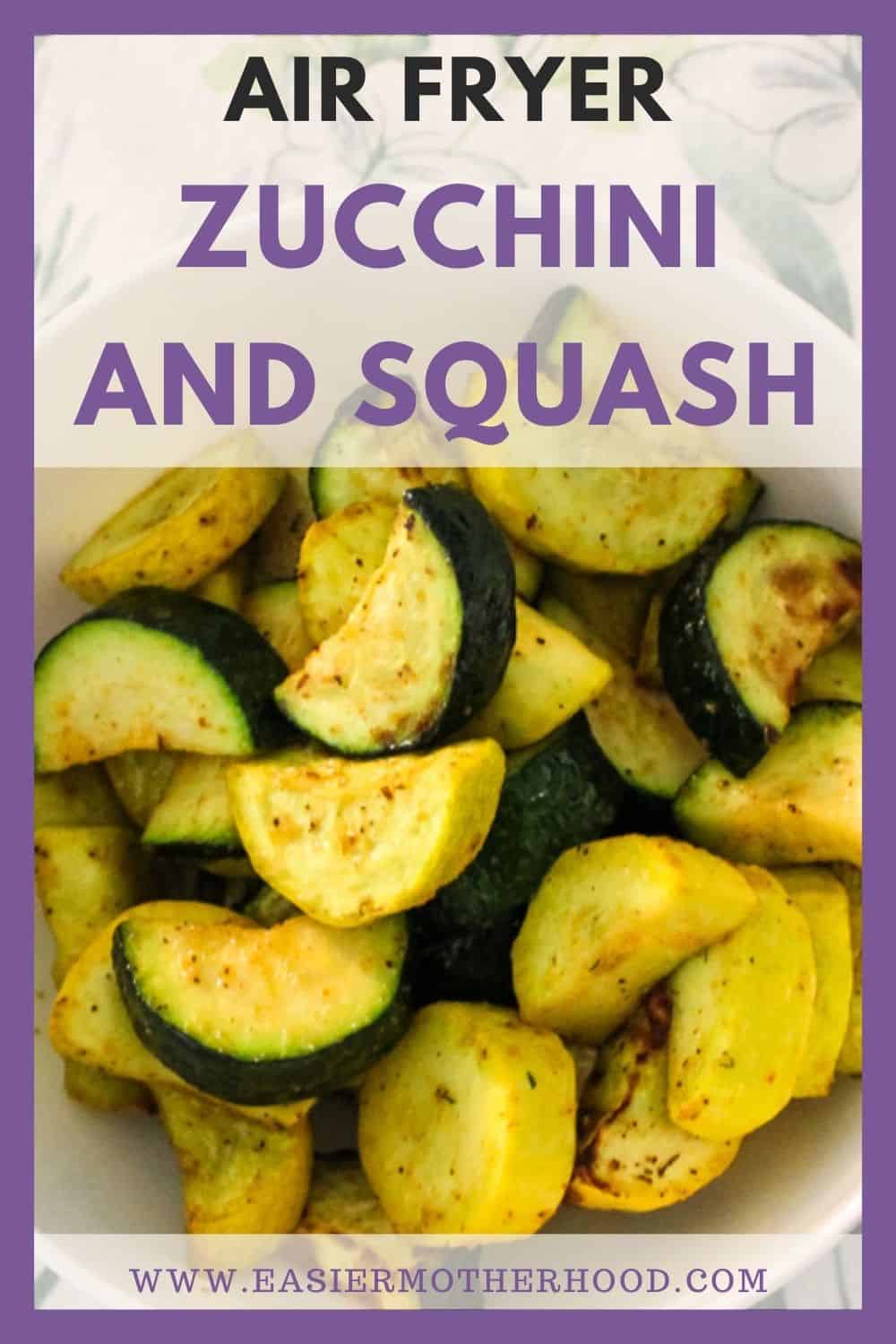 This post contains affiliate links, which means I receive a small commission, at no additional cost to you, if you make a purchase using this link.
Why You'll Love This Squash Recipe
Firm roasted texture
One pot side dish
Fast cooking
Easy recipe
Healthy- no breading
Let's get started! Here's what you'll need:
2 fresh zucchini
2 fresh yellow squash
¾ teaspoon garlic powder
¼ teaspoon salt
⅛ teaspoon paprika
⅛ teaspoon pepper
Cooking spray
Just simple ingredients for this delicious side dish! You'll also need your handy dandy air fryer, a cutting board, and knife. If you'd rather use liquid oil than a cooking spray you'll also want a large bowl to get everything well coated. Using spray uses minimal oil and creates minimal dishes, which is why I prefer it. However, cooking sprays with propellants and additives can harm your air fryer, so I always use one without like Trader Joe's Avocado Oil Spray- you can also use a hand pump spray bottle you fill yourself.
How to Make Air Fryer Summer Squash
Preparation
Cut each squash into half lengthwise, then cut into about ½" half circles. Yellow squash has a gourd shape so at the neck you may want to skip slicing it in half and have full circles to keep the size more uniform throughout the dish.
Side note: you don't need to salt the squash or press out water with paper towels, but if you like your
Toss the squash slices into the basket of the air fryer as you cut them, keeping in mind that for smaller air fryers it may take two batches (or you can halve the recipe). The squash doesn't need to be in a single layer, but you want to be able to see the bottom of the air fryer basket.
Spray the squash with cooking spray and shake the basket to coat them, then add your seasonings and shake again. I like to use avocado oil cooking spray, but olive oil or canola oil are fine too.
Cooking
Cook at 375 degrees (190 C) for 7 minutes, then shake. Cook an additional 5-8 minutes, for a total of 12-15 minutes cooking.
Serving
Serve hot and right away. If they stand too long with the warm function they'll continue to cook and the exterior texture will soften.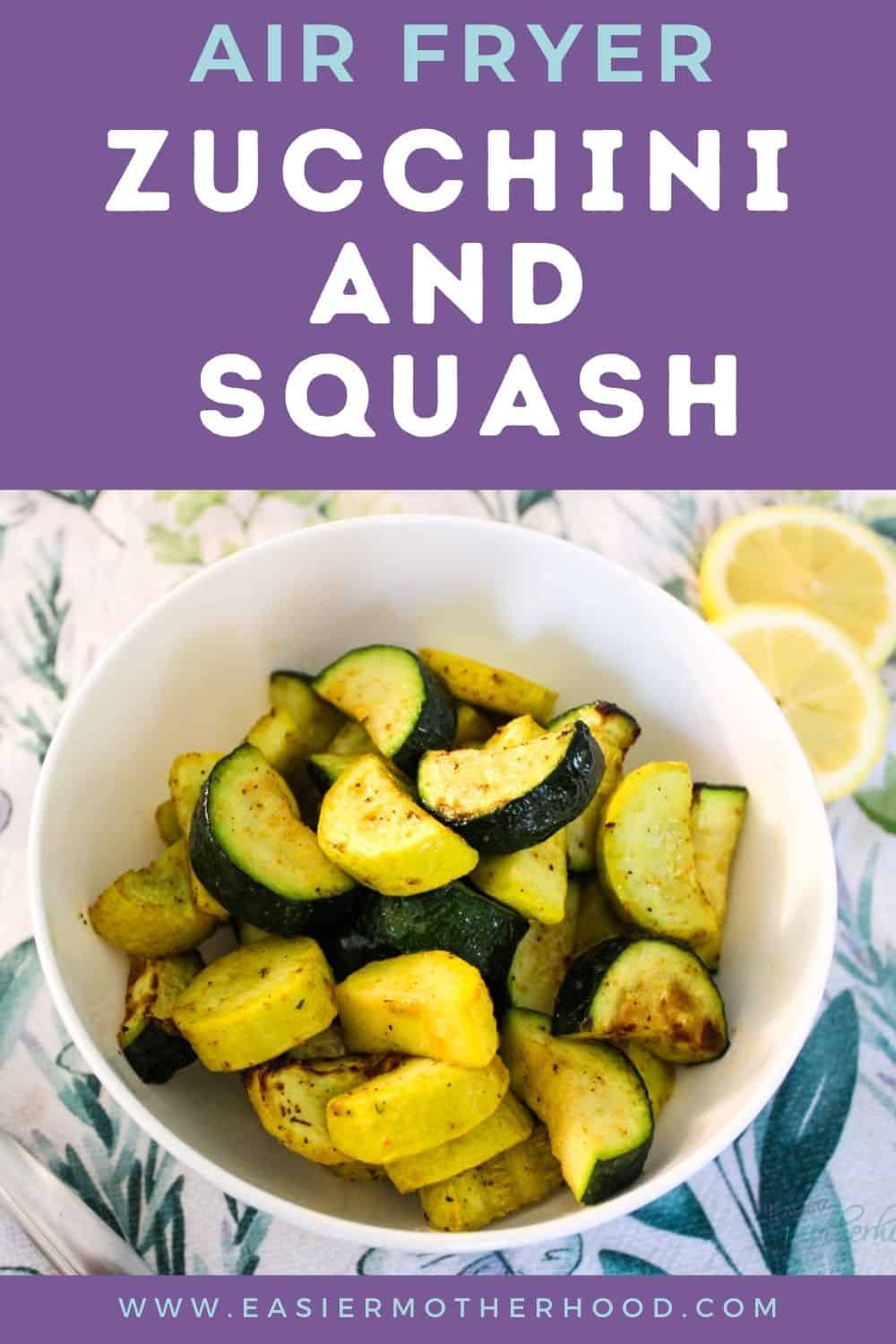 Tip: If you know they're going to finish before your entrée, go ahead and stop cooking at the shake point. Then when your meal is about finished you can resume cooking so they're nice and crisp. Depending on how long they're paused at the shake point, you may need to shorten the active cooking time.
Store leftovers in an airtight container for up to 5 days. Leftovers go great in a pasta salad or on their own as a healthy snack!
Common Additions and Substitutions
Add Parmesan Cheese
Parmesan goes beautifully with this air fryer zucchini recipe, if you want to add it it's best to do so after shaking the basket so it cooks the last few minutes. This keeps you from loosing as much cheese to the bottom of the air fryer, while still getting the cheese warm and melty.
Add Panko Breadcrumbs
You can optionally add bread crumbs to the dish during the halfway point as well- of course, the dish won't be low carb with that alteration- always consider your own dietary needs.
Mix up the Seasoning
If paprika isn't your favorite, you can opt for Italian seasoning or onion powder instead, or add fresh herbs and a lemon squeeze to finish them.
Dip in Ranch Dressing
When you can't get a picky eater to try a vegetable, offering them with ranch or their favorite dipping sauces can be helpful.
Frequently Asked Questions
Why half circles? Can I just cut rounds?
I cut half circles to make the dish more kid friendly- round foods can be a choking hazard for younger children. If that's not a concern for you then cutting them into round zucchini slices is fine. They may take another minute or so to cook at the same thickness.
What are the advantages of air frying summer squash?
There are two main reasons to air fry squash instead of using other cooking methods. The first is time- it's faster than traditional oven roasting. The second and best thing is texture. Since the zucchini and yellow squash don't sit on the bottom of the cooking appliance- the basket has holes and allows air flow- the bottoms don't get soggy.
If you're ever without an air fryer, the next best way is to use a wire rack on a baking sheet so there is airspace between the squash and pan.
Recipes to Serve with Air Fryer Vegetables
These air fryer vegetables go great with baked salmon, crock pot ribs, or leftover pulled pork tacos!
Want more air fryer recipes like this? Comment below to let me know what else you're interested in trying!
Yield: 4
Air Fryer Zucchini and Squash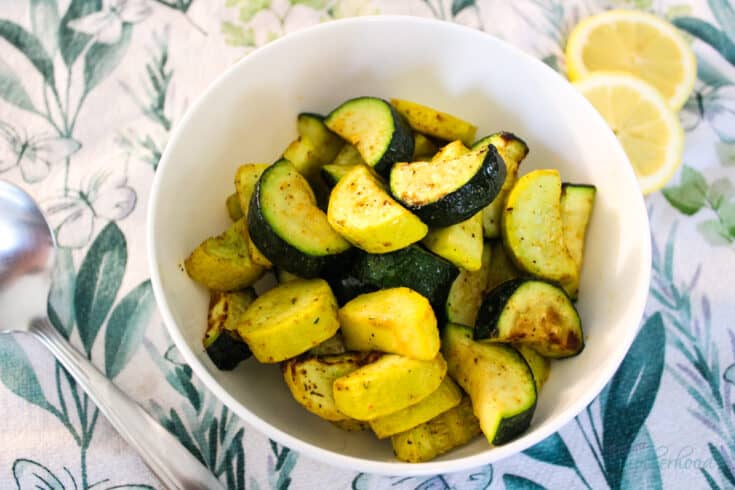 This super easy and healthy side dish is a great way to use summer squash!
Ingredients
2 medium zucchini
2 medium yellow squash
¾ teaspoon garlic powder
¼ teaspoon salt
⅛ teaspoon paprika
⅛ teaspoon pepper
Cooking spray
Instructions
Slice squash in half lengthways, then into ½" semi circles.
Coat with cooking spray and add seasoning; then toss.
Cook at 375 F for 12-15 minutes, shaking your air fryer basket halfway through.
Notes
Dish is best when served right away, so ideally wait to start your air fryer until your entrée is 12-15 minutes out.
Nutrition Information:
Yield:
4
Serving Size:
1
Amount Per Serving:
Calories:

52
Total Fat:

1g
Saturated Fat:

0g
Trans Fat:

0g
Unsaturated Fat:

1g
Cholesterol:

0mg
Sodium:

151mg
Carbohydrates:

11g
Fiber:

3g
Sugar:

6g
Protein:

3g
Nutrition information is provided as a courtesy and is an estimate. It is recommended to use your preferred calculator with the actual ingredients you use for optimal accuracy.