This easy lemon pasta, or pasta al limone, can be made in your instant pot or as a one pot dish on the stove in minutes for a delicious side or quick dinner.
On busy weeknights, I find there's nothing easier than a simple pasta recipe. While I'm no stranger to jarred sauce and frozen meatballs, sometimes you want something with fresh ingredients. This garlic lemon pasta is a great meatless meal, but also works as a side dish with some zesty flavor that pairs well with chicken or fish.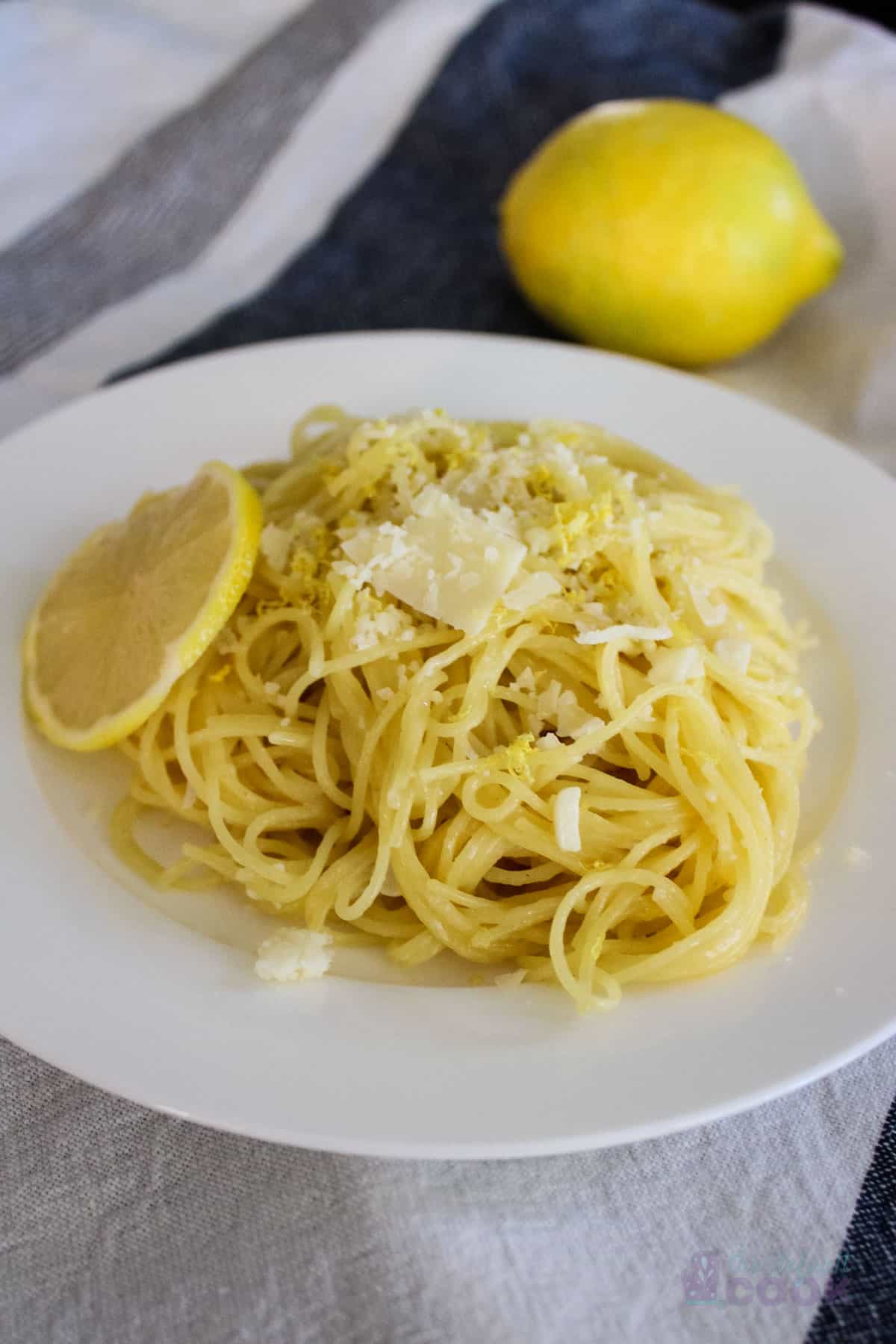 This post contains affiliate links, which means I receive a small commission, at no additional cost to you, if you make a purchase using this link.
Why you'll love this recipe:
Simple ingredients- if you have parmesan in your fridge and a lemon on your counter, you probably have everything to make this without even hitting the grocery store.
Fast- The instant pot doesn't pressurize instantly, but once it does the cook time is under 10 minutes. Or you can make it on the stovetop, which only takes a 1-2 minutes longer.
One pot- I have directions for on the stovetop or in your instant pot, but we only need one dish either way.
Let's get started! Here's what you'll need: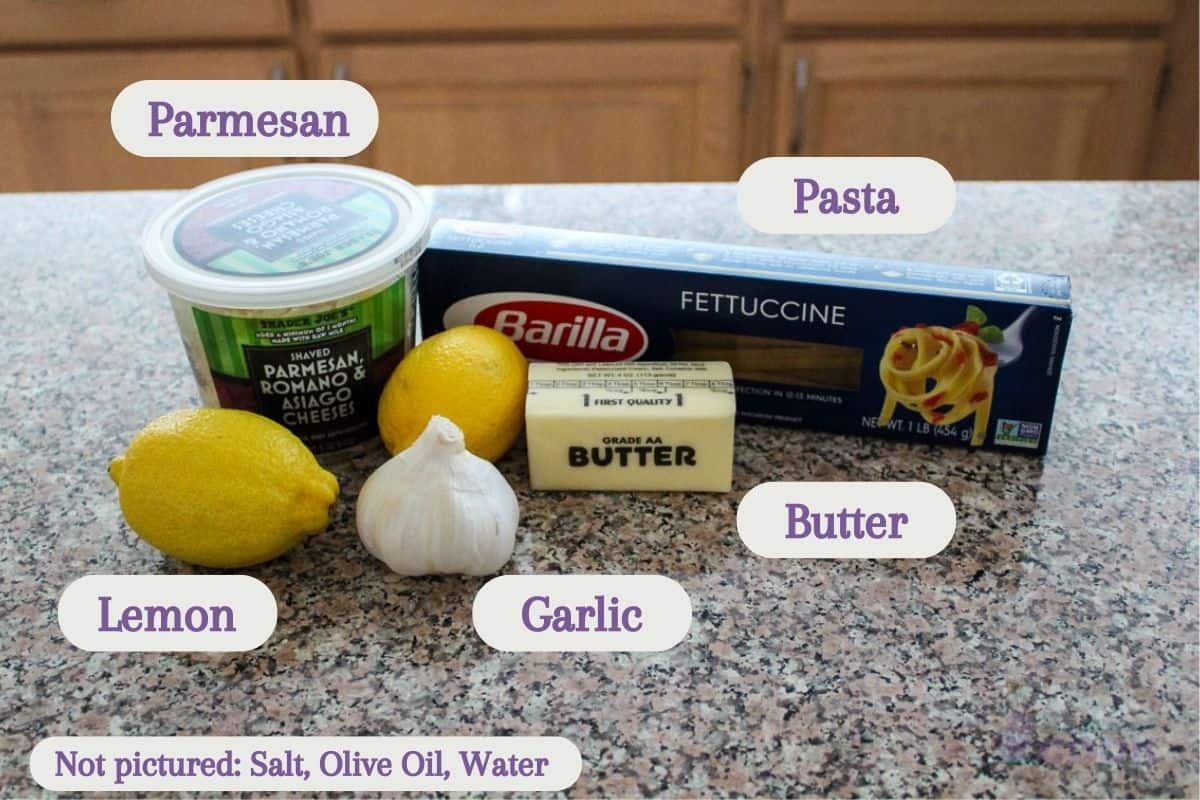 Ingredients:
Garlic: Fresh garlic is ideal, but I'm not going to judge you for using the jarred minced garlic.
Lemon: Here I'm still not judging you, but the fresh lemon juice is the primary flavor of the dish and using the bottled stuff just won't give you a great result. Plus we need a bit of lemon zest from the peel.
Linguine: Here you can substitute your favorite pasta shape- I used regular spaghetti when making it on the stovetop to speed up that method. Keep in mind that your cook time will change though, thinner ones like angel hair pasta will cook faster and thick pasta like rigatoni will take a bit longer to cook.
Butter: We need a fat to saute the garlic in for a minute, and the flavor of butter compliments the lemon and cheese, but you could use olive oil or vegan butter if you prefer. I used salted, but unsalted butter is fine too.
Parmesan: This adds great cheesy flavor, as well as helps to thicken up the sauce in this dish.
Salt: Helps balance the acidity. Feel free to add some black pepper to taste as well.
Equipment:
For this lemon pasta recipe, you'll need either an instant pot OR a covered pan (I used a large frying pan), plus a knife, cutting board, measuring cup, and zester. A small grater is fine if you don't have a zester, but it's well worth having one.
How to make this easy recipe:
Step 1: Preparation
Go ahead and zest your lemon, then juice it. Do not juice first and then attempt to zest- or ask me how I know that's a bad idea. Also slice or mince your garlic so it's ready to go.
Step 2: Get the garlic fragrant
Melt your butter and toss in your garlic, then stir until fragrant. In the instant pot you'll use the saute mode for this, on the stovetop use medium-high heat.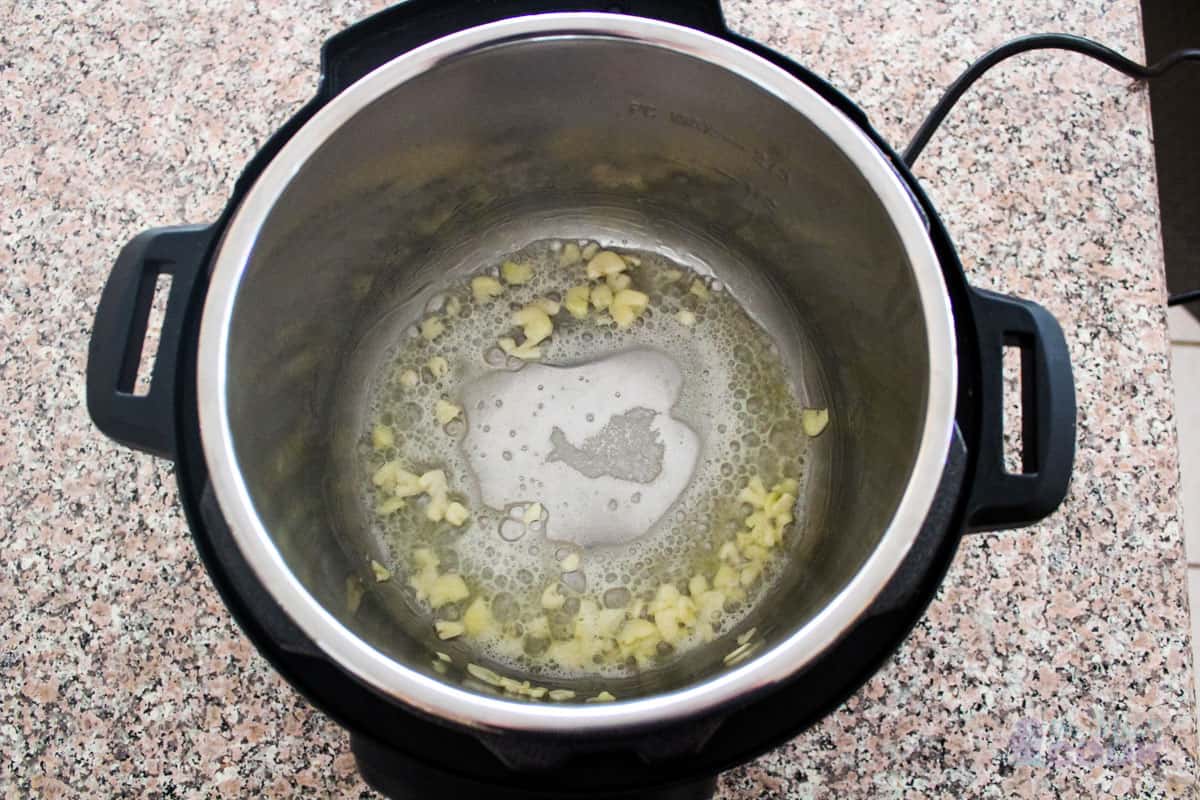 We don't want the garlic to burn, so as soon as it's fragrant add your water, lemon juice, and salt to the pan or pot. If you're using the instant pot turn it off, and for the stovetop turn it down to medium-low heat.
Step 3: Cook the pasta
Add the pasta noodles to your pan or pot. For the instant pot break the noodles in half and scatter them in a criss cross fashion so they don't all stick together when cooking. Do not stir once you've added the noodles. Put the lid on and the vent to sealing, then set your pressure cooker to high pressure for 5 minutes for al dente noodles, 6 if you prefer softer. Allow a 3 minute natural release before venting.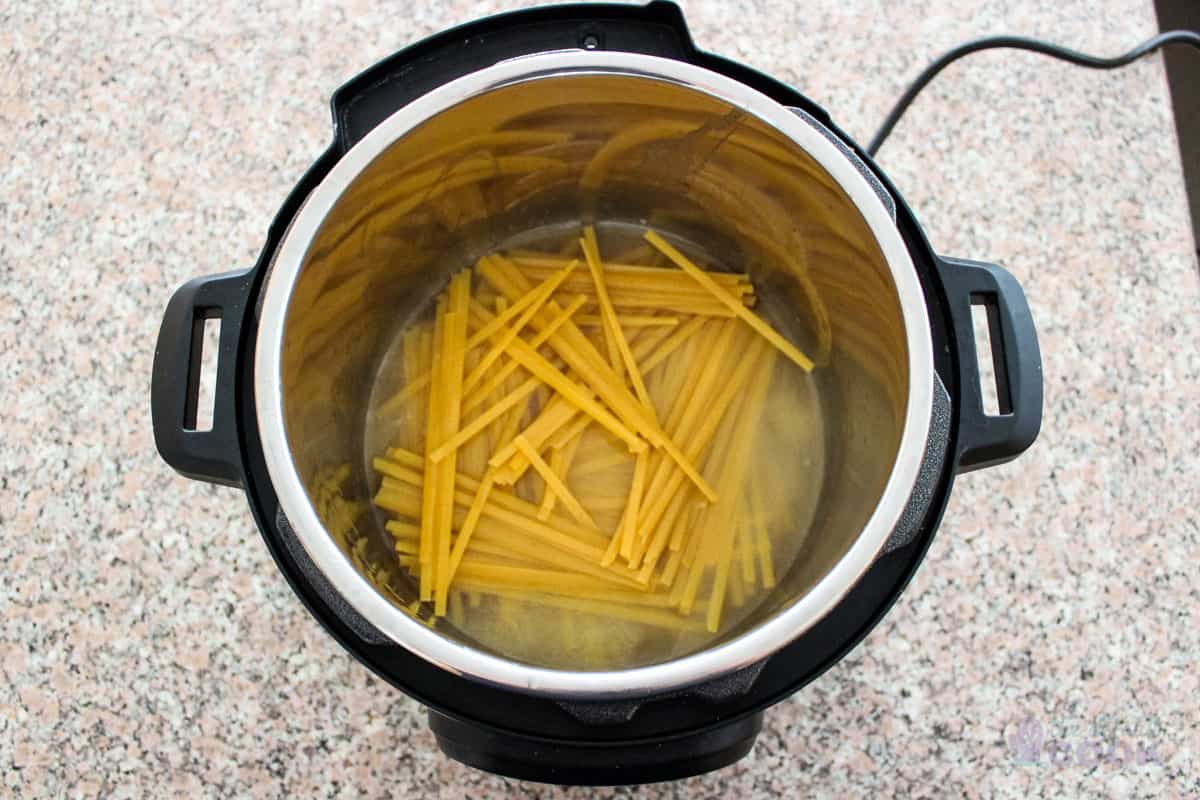 For the stovetop you'll be stirring them, but depending on the size of your pan you may still need to break them in half. Cover your pan with the lid, lifting it occasionally to stir, and cook until the pasta is to your liking. Depending how quickly your water comes to a boil and how al dente you like your pasta this should take about 12-15 minutes for linguine, or 10-12 for spaghetti.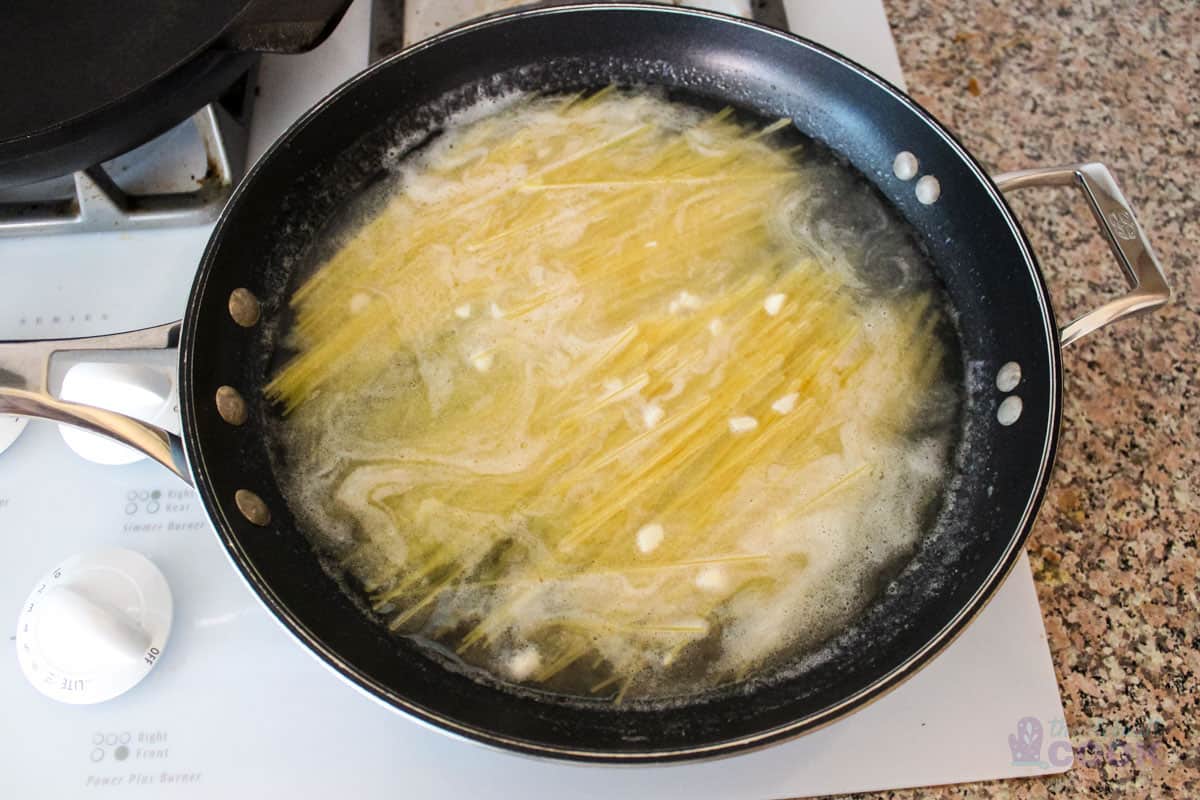 Step 4: Add Extras and Serve
Go ahead and remove the lid and stir in your parmesan cheese and lemon zest to the cooked pasta, reserving some for garnish if you'd like. Store any leftovers in an airtight container in the refrigerator for 3-5 days.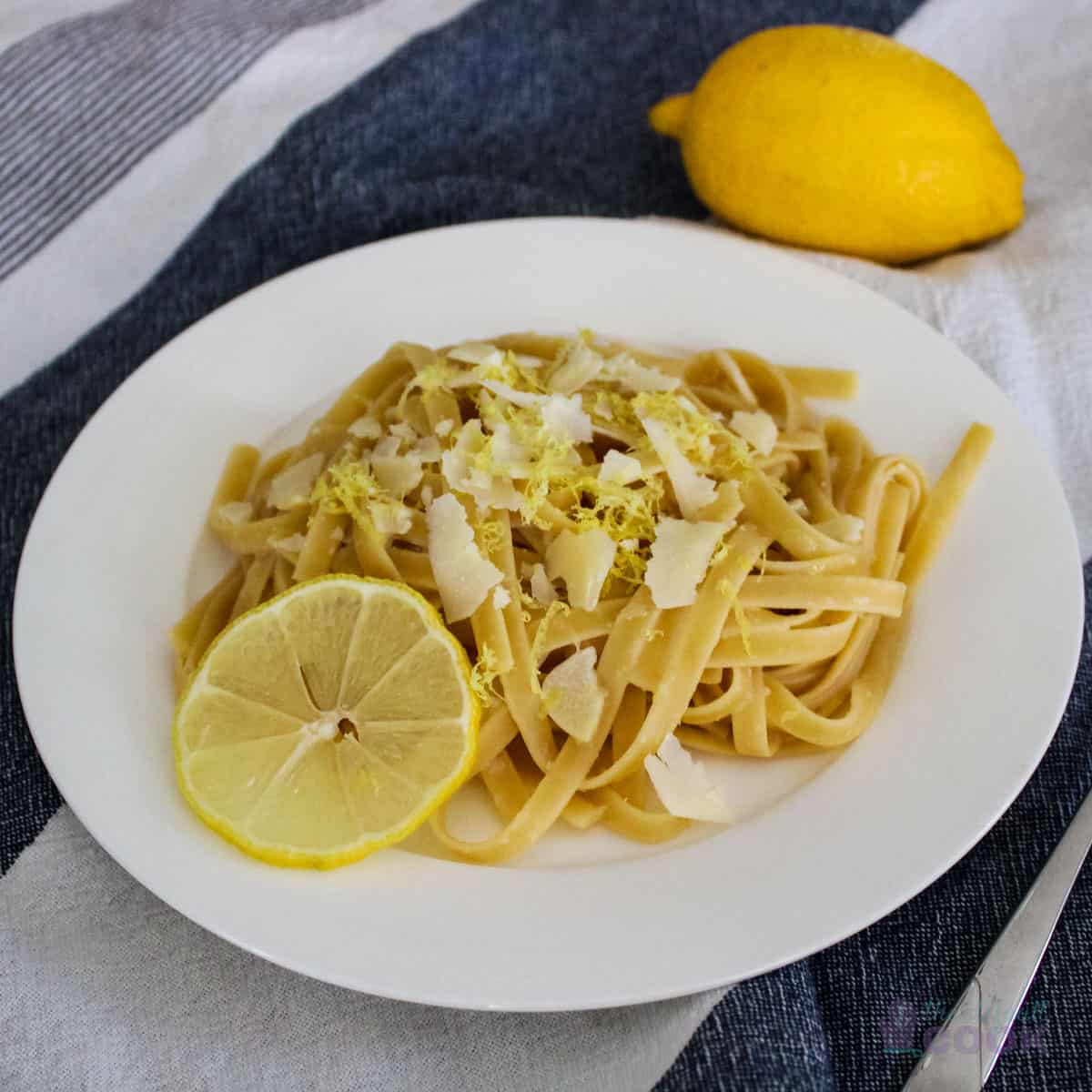 FAQs
Why is this cooked in one dish instead of making the pasta separately?
There are two main reasons for this. I'm not going to lie to you, the number one reason is so there are fewer dishes to wash. If you'd rather make the pasta separately or have leftover pasta you want to jazz up with this, you certainly can. The other reason is that instead of needing to reserve a cup of pasta water we are keeping all of that starchy water right in the pan with the pasta which makes it feel a bit thicker. With the parmesan added it takes on a bit of creaminess and while it's not a true creamy sauce, it's on the thicker side for a recipe that doesn't use heavy cream.
What else can I add to the dish?
This is meant to be a really simple pasta dish so I kept the ingredients list pretty short, but you could easily add cherry tomatoes or wilt in some fresh spinach, add red pepper flakes if you like some spice, or fresh parsley for color. I actually was going to include fresh basil originally, but my living basil plant was well, not. You can also replace ¼ cup or so of the water with white wine if you have a bottle open.
More easy pasta recipes you'll love:
Looking for another one pot dinner? Try this chicken pesto pasta that's ready in minutes.
Prefer a more Mediterranean take on your pasta? Try this baked feta pasta that adds balsamic and olives to the viral tiktok dish.
Or maybe you have some packaged ravioli you want to use- in that case I'd recommend this caprese ravioli.
Enjoy!
📖 Recipe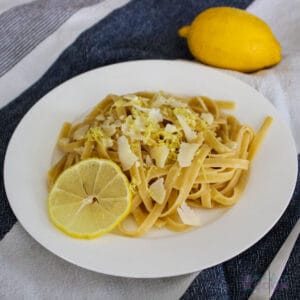 Lemon Butter Garlic Pasta
This simple lemon pasta makes for a light entree or flavorful side dish, and can be made in your instant pot or on the stove top.
Ingredients
8

oz

linguine

3

tablespoon

lemon juice

approximately the juice of one lemon

1

teaspoon

lemon zest

approximately the zest of ⅓ a lemon

2

tablespoon

butter

¼

cup

parmesan cheese

4

cloves

garlic

¼

teaspoon

salt

1 ¾

cup

water

2 cups for stovetop
Instructions
Prep: zest and juice your lemon, and mince the garlic.

For instant pot: On the saute function, melt the butter and add the garlic. Once fragrant, turn instant pot off and add lemon juice, salt, and water to pot.

For stove top: Melt butter in pan and saute garlic until fragrant on medium heat. Add the lemon juice, salt, and water.

For instant pot: Break pasta in half and add it to the pot, layering them criss cross so they don't all stick together when cooking. Submerge into the liquid but do not stir.

For stove top: Add the pasta to the pan, breaking it if need be to fit. Cover your pan with the lid.

For instant pot: Set pressure cooker to sealing and pressure cook on HIGH for 5 minutes. Allow a 3 minute natural release and then vent.

For stove top: Cook until pasta is tender, about 12-15 minutes, stirring occasionally.

Stir in parmesan cheese and lemon zest. Garnish with more if desired and serve.
Podcast
Notes
Cook time will vary slightly with pasta type.  5 minutes is for al dente linguine, use 6 for more tender noodles.  Reduce by 1 minute for penne and by 2 minutes for spaghetti.
Nutrition
Calories:
294
kcal
Carbohydrates:
45
g
Protein:
10
g
Fat:
8
g
Saturated Fat:
5
g
Polyunsaturated Fat:
1
g
Monounsaturated Fat:
2
g
Trans Fat:
0.2
g
Cholesterol:
20
mg
Sodium:
309
mg
Potassium:
164
mg
Fiber:
2
g
Sugar:
2
g
Vitamin A:
230
IU
Vitamin C:
6
mg
Calcium:
79
mg
Iron:
1
mg
Nutrition information is provided as a courtesy and is an estimate. It is recommended to use your preferred calculator with the actual ingredients you use for optimal accuracy.