Sweet cherry tomatoes, tender fresh mozzarella balls, and basil leaves have always been a delcious combination- adding ravioli transforms it into a delcious meal, and a drizzle of balsamic glaze takes it to the next level!
I love a good cheese, and fresh mozzarella is one of my favorites. Caprese salad has always been a great use of it, but the dish is usually found on appetizer menus. Since I'm not exactly serving my family a multi-course meal on the regular, putting caprese in the rotation meant bulking it up from an appetizer to an entree. What easier way to do that than adding packaged ravioli?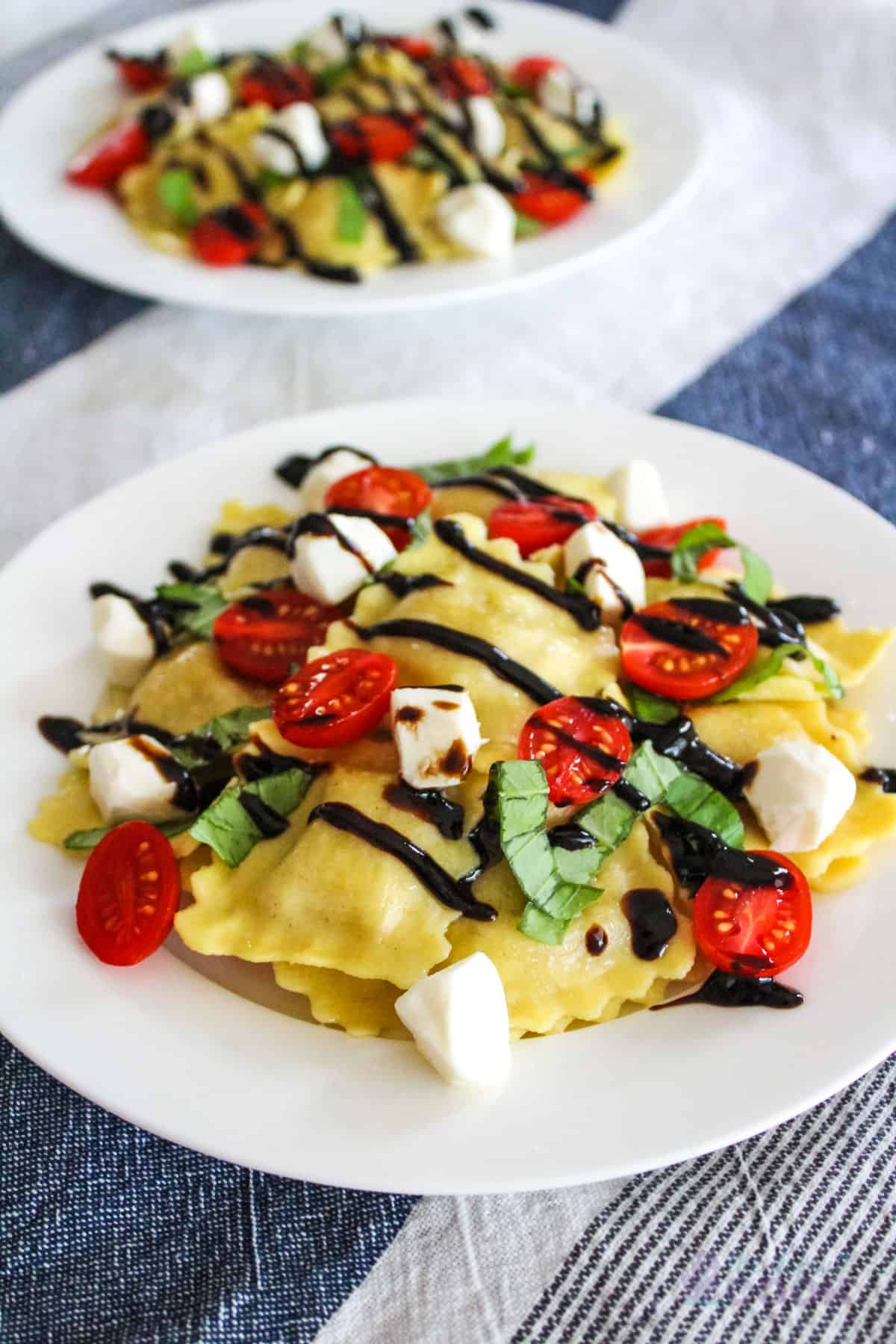 This post contains affiliate links, which means I receive a small commission, at no additional cost to you, if you make a purchase using this link.
Why you'll love this recipe:
Fast- Truly, the longest step is waiting for the water to reach a boil.
Easy- The pasta is the only thing we're cooking today, the rest is just a quick assembly.
Flavorful- The fresh caprese flavors are highlighted with a balsamic glaze.
Let's get started! Here's what you'll need: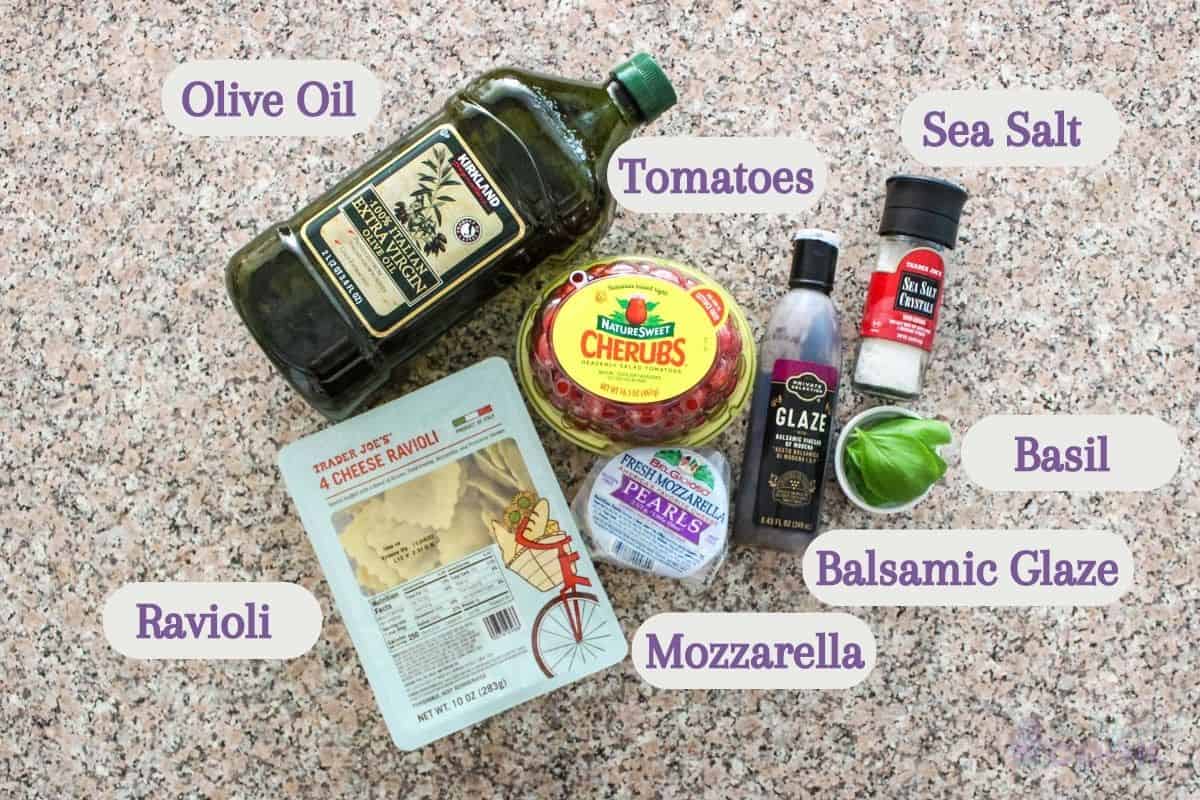 Ingredients:
Packaged ravioli- any cheese ravioli will do nicely, I'm using Trader Joe's 4 cheese blend, which contains primarily ricotta cheese along with mozzarella, provolone, and "hard grating" that I assume is similar to parmesan cheese in the ravioli filling ingredients.
Balsamic glaze- this sweet and tangy balsamic sauce is the perfect compliment to a caprese salad. I recommend store bought, both for time and because boiling a pot of vinegar is not fun for your eyeballs.
Fresh mozzarella cheese- if your store has them these little mozzarella pearls are the perfect size and avoids the need to cut them up into bite size.
Cherry tomatoes- or grape tomatoes, which we'll slice in half.
Fresh basil- this is one recipe where you really want to use fresh herbs over dried basil.
Extra virgin olive oil- To use in the pasta water and drizzle on the ravioli so they don't stick together.
Sea salt- a pinch for the dish, you'll also want some for your pasta water. Optionally, you can use a bit of black pepper or diced garlic clove as well.
Equipment:
All you'll need for this is a pot for boiling water, a knife, and cutting board. You can measure the oil and glaze if you want, but there's no need to dirty more dishes.
How to make this easy meal:
Step 1: Slicing and boiling
Before doing anything else, you'll want to get a pot of water on the stove on at least medium heat. While the water heats up, gather your ingredients, then rinse and slice your cherry tomatoes and basil. If your mozzarella isn't already bite-sized, go ahead and cut that as well.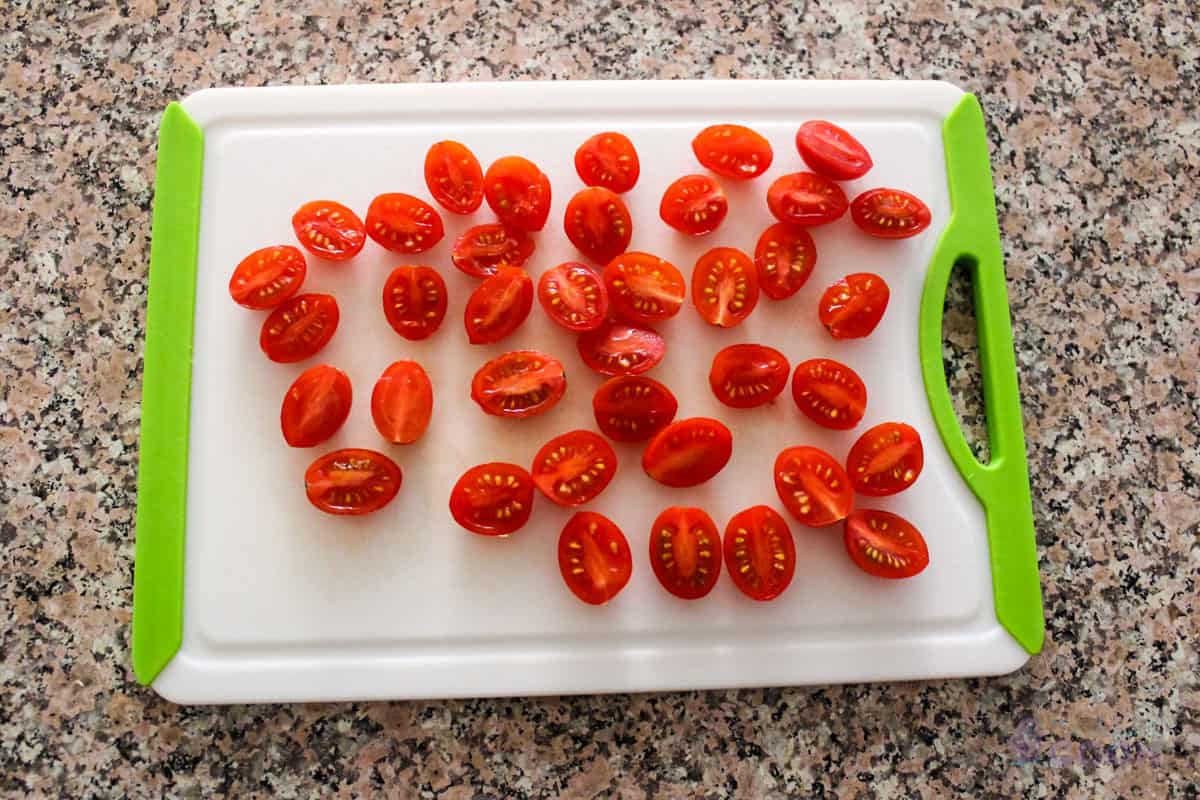 Step 2: Cooking the pasta
Add the ravioli to the boiling water and cook according to the package directions- typically refrigerated ravioli only needs 3-4 minutes. Ravioli often floats right away so needs stirred gently, and is done when the dough is tender, which often happens when the pockets look more like pillows. Drain the pasta and drizzle with about a teaspoon of olive oil and a few pinches of salt, then gently stir.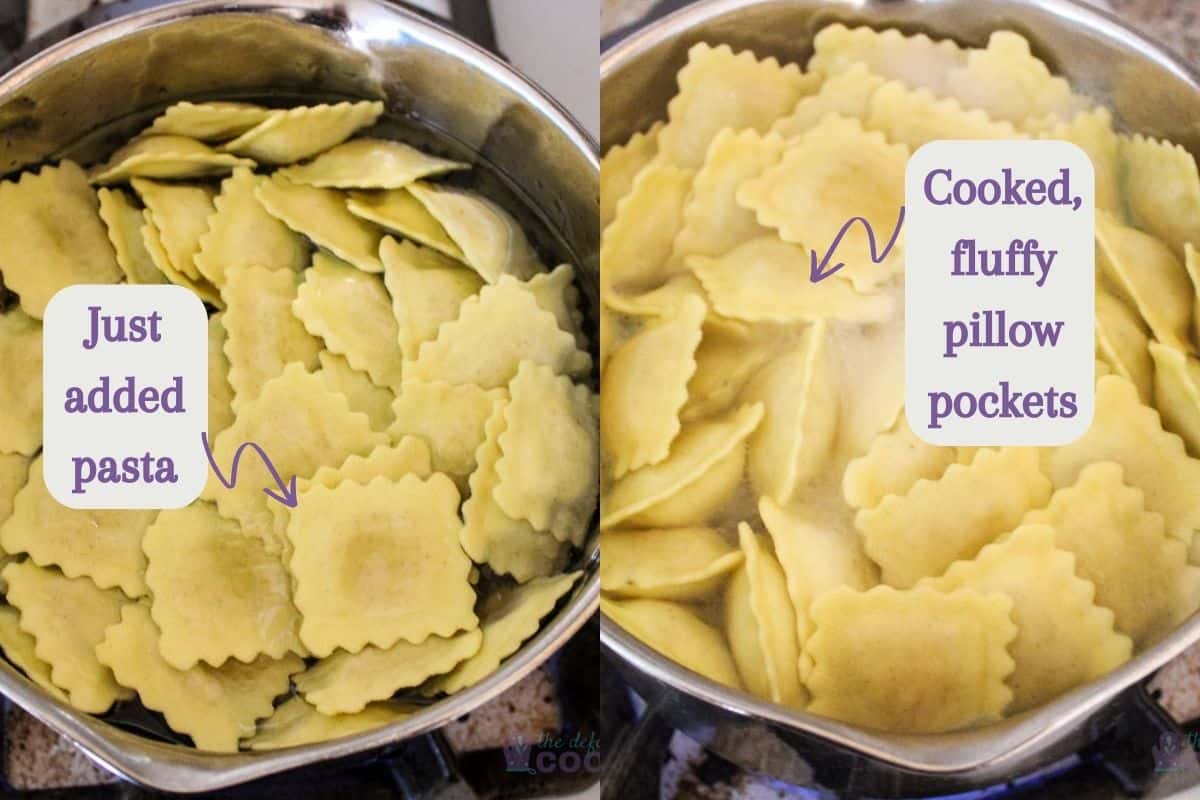 Step 3: Assemble and Serve
Add about half of the tomatoes and mozzarella to your plates and top with your cooked ravioli, then top the ravioli with the remaining tomatoes and mozzarella. Garnish with the basil and drizzle your balsamic glaze. Serve immediately while the dish is warm.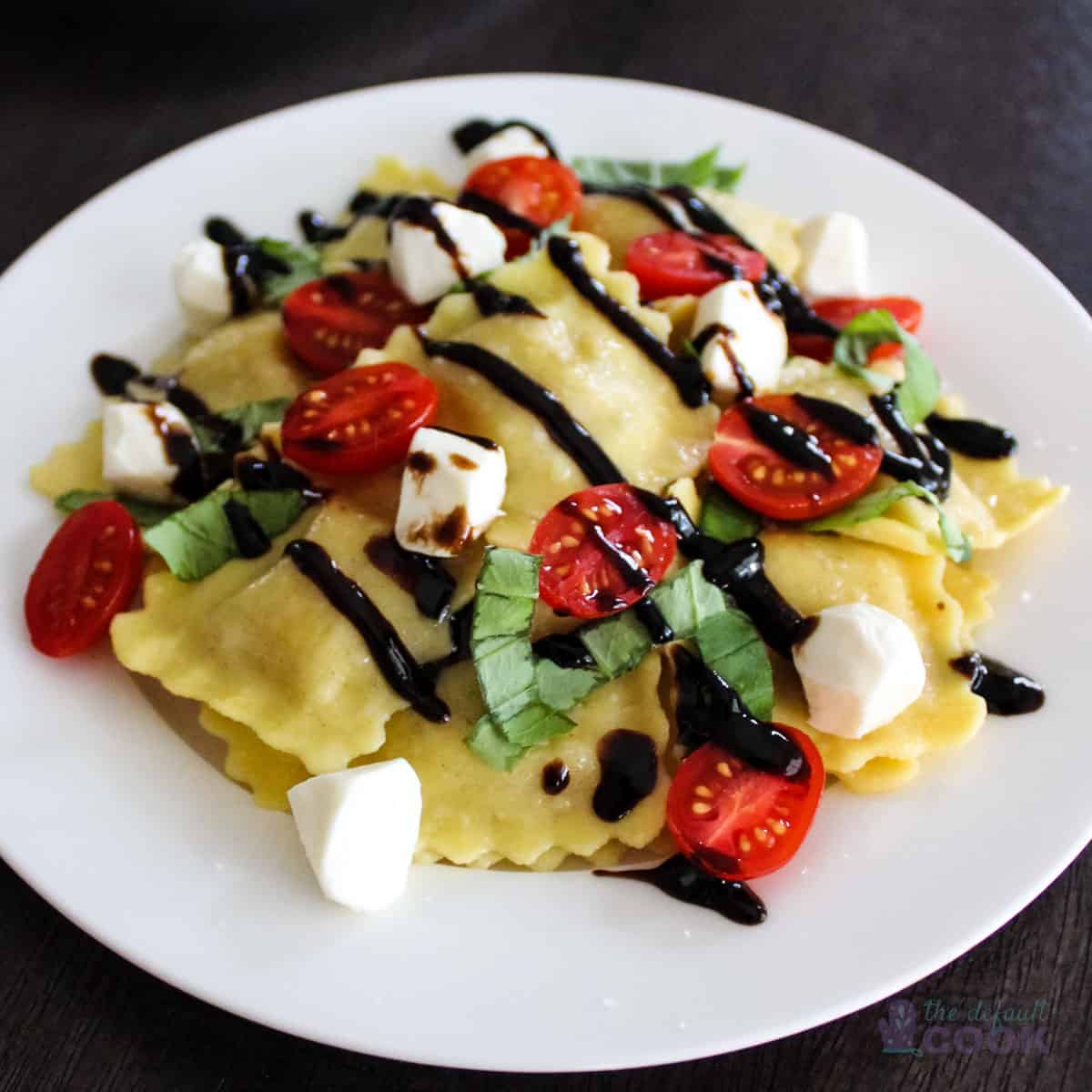 FAQs
Can I use homemade ravioli or a different pasta?
Of course! I haven't made homemade pasta dough since having kids- in fact I have a ravioli cutter with the tag still on it- but that doesn't mean you can't. As far as other pasta options this is great with tortellini too, particularly if you're planning on having leftovers. I find tortellini hold up better as leftovers, which can be eaten as a caprese pasta salad. If you use an unstuffed pasta you might want to be more generous with the mozzarella.
Where does caprese salad come from?
Caprese is an Italian food that is named for the island of capri. With the contrasting red, green, and white it's really a quite beautiful dish and one story of origin is that it was created to honor the Italian flag, as it shares the same colors. Salad is the most common form of the dish, but it's also served as pizza, sandwiches, and of course, as pasta like in this caprese ravioli recipe.
What goes well with this dish?
Pasta always goes well with a garlic bread or a side salad, and this is no exception. This pasta would be a great meatless Monday meal as the entree, but it can also be used as a side dish to some grilled chicken or sous vide tri tip.
More easy pasta recipes you may like:
Looking for a one pot dinner? Try this chicken pesto pasta that's ready in minutes.
Prefer a Mediterranean take on your pasta? Try this baked feta pasta that adds balsamic and olives to the viral tiktok dish.
Or maybe you'd like a restaurant copycat- this Four Cheese Pasta is a simple take on the Cheesecake Factory's popular dish.
Enjoy!
📖 Recipe
Caprese Ravioli
This delicious dish uses store bought ravioli along with fresh ingredients for a meal that comes together in the time it takes to cook the pasta.
Ingredients
10

oz

ravioli

2

oz

mozzarella

4

oz

cherry tomatoes

.1

oz

fresh basil

8-10 basil leaves

1

tablespoon

balsamic glaze

1

teaspoon

olive oil

½

teaspoon

sea salt
Instructions
Put your pot of water on the stove and while it comes to a boil, rinse and slice your tomatoes, basil, and mozzarella.

Cook ravioli per package directions, then drain and add a drizzle of olive oil and sprinkle of sea salt.

Plate pasta with the tomatoes and mozzarella, and garnish with the basil and balsamic glaze.
Podcast
Notes
Tortellini also works well for this recipe, if you substitue a regular dry pasta you may want to use additional cheese.
Dish is an entree for 2, or side dish for 4.
Nutrition
Calories:
598
kcal
Carbohydrates:
65
g
Protein:
28
g
Fat:
25
g
Saturated Fat:
10
g
Polyunsaturated Fat:
0.5
g
Monounsaturated Fat:
3
g
Cholesterol:
99
mg
Sodium:
1640
mg
Potassium:
149
mg
Fiber:
4
g
Sugar:
6
g
Vitamin A:
544
IU
Vitamin C:
13
mg
Calcium:
181
mg
Iron:
15
mg
Nutrition information is provided as a courtesy and is an estimate. It is recommended to use your preferred calculator with the actual ingredients you use for optimal accuracy.