This delicious Baked Feta Pasta comes together in 45 (real life) minutes with little hands-on time
I'm always looking for a little inspiration to mix things up so we don't end up eating the same thing over and over again, so when I stumbled across this recipe on Grilled Cheese Social I knew I had to make it.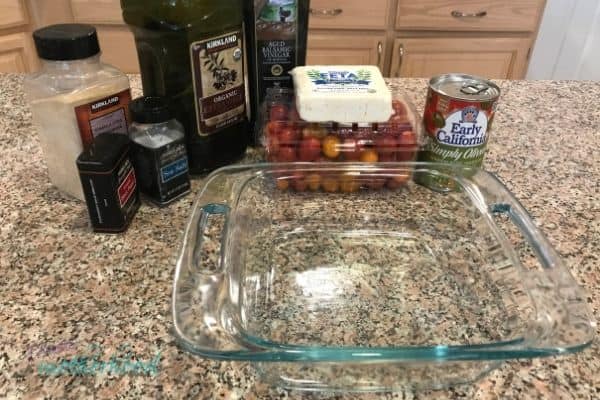 Over time, I made a few changes to MacKenzie's recipe, keeping the Mediterranean feel and easy factor. I've added some balsamic vinegar and a can of green olives to roast along with the tomatoes and feta, as well as some leftover chicken to add extra protein.
Now, I will skip the chicken if my husband isn't eating it as I enjoy vegetarian pastas, but since he doesn't seem to appreciate meatless mondays I generally toss it in. Though not pictured, I've added a can of artichoke hearts before as well and enjoyed that very much.
This post contains affiliate links, which means I receive a small commission, at no additional cost to you, if you make a purchase using this link.
Let's get started! Here's what you'll need:
1 lb pasta (I typically use penne, but anything that holds sauce well is a good choice!)
1 block Feta, 8 oz
2 containers of cherry tomatoes, 10 oz each (20 oz total)
1 can pitted green olives, 6 oz
1 teaspoon garlic powder (or three cloves fresh, or 1 tablespoon minced garlic)
Approximately ⅓ cup olive oil (but we aren't measuring)
1 tablespoon balsamic vinegar
Salt and Pepper to taste
Basil (about a handful of fresh is ideal, but it's still tasty with between a teaspoon and tablespoon of dried)
1-2 cups leftover chicken breast (optional)
You'll also need an 8x8, 8x9, or similarly sized pan for baking the feta, along with a large pot to make the pasta in. I use my big 8 qt stock pot because it gives me plenty of room to cook the pasta and then stir the dish all together in the same pot.
Other kitchen tools you'll need are a colander or strainer to drain the pasta, a spatula to mix everything together, and of course potholders to remove the baked feta from the oven.
Instructions
Rinse your cherry or grape tomatoes and drain the liquid from the can of olives (and artichoke hearts, if you opted for them). Then combine them in the 8x9 or so pan, season with salt and pepper and the garlic powder. Drizzle some olive oil over them along with the balsamic vinegar, then mix them up with either your hands or a spatula. Also, go ahead and preheat your oven to 425 degrees F.
Add the brick of Feta cheese on top and ensure it is relatively even, then season it with pepper and cover it with a generous pour of olive oil.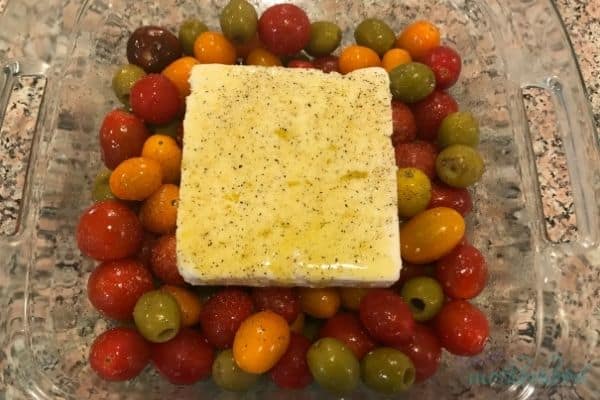 Place the feta and tomato mixture into your preheated oven, and set a timer for 25 minutes. Meanwhile, boil water for your pasta, but don't add the pasta to the water until the timer goes off. The 25 minutes plus your pasta cook and drain time should run in the 35-40 minute range, which is how long we want the feta and tomato mixture to bake. If you have fresh basil, use some of your 25 minute timer to rinse and chop it so that it will be ready to go.
If you are adding chicken, then do so after straining the pasta while it is really hot to warm the chicken. Once the pasta is strained, check that the feta is brown on top and the tomatoes are starting to burst. It should smell AMAZING in your kitchen at this point, and you can take the feta and tomato mixture out of the oven.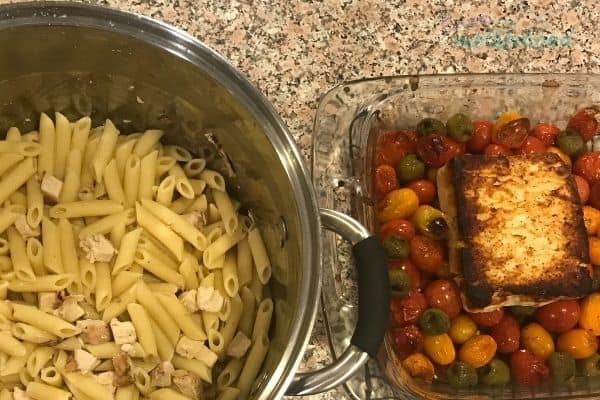 Carefully add the contents of the baked pan to the pot with the drained pasta, then stir. Next, add your basil, and tell your family to come eat!

Yum!
I hope you enjoy this Baked Feta Pasta! Let me know in the comments what your favorite thing to roast with the tomatoes and feta is.