This delicious one-pan mediterranean inspired chicken dish adds cherry tomatoes, feta, bell peppers, and potatoes for an easy weeknight dinner.
I adore one pot dinners, I mean, what's not to love? Simple, easy, and minimal clean up is a delightful combination made even better when the food happens to be delicious like with this feta baked chicken. This was loosly inspired by the viral recipe of baked feta pasta that was all over social media a couple years ago that is almost one pan (the cooked pasta is prepared separately). I have my own spin on that dish and love the feta and tomato combination enough that I opted to create this similar dish that is a complete meal, sides and all, in just one pan. Both are perfect for busy weeknights!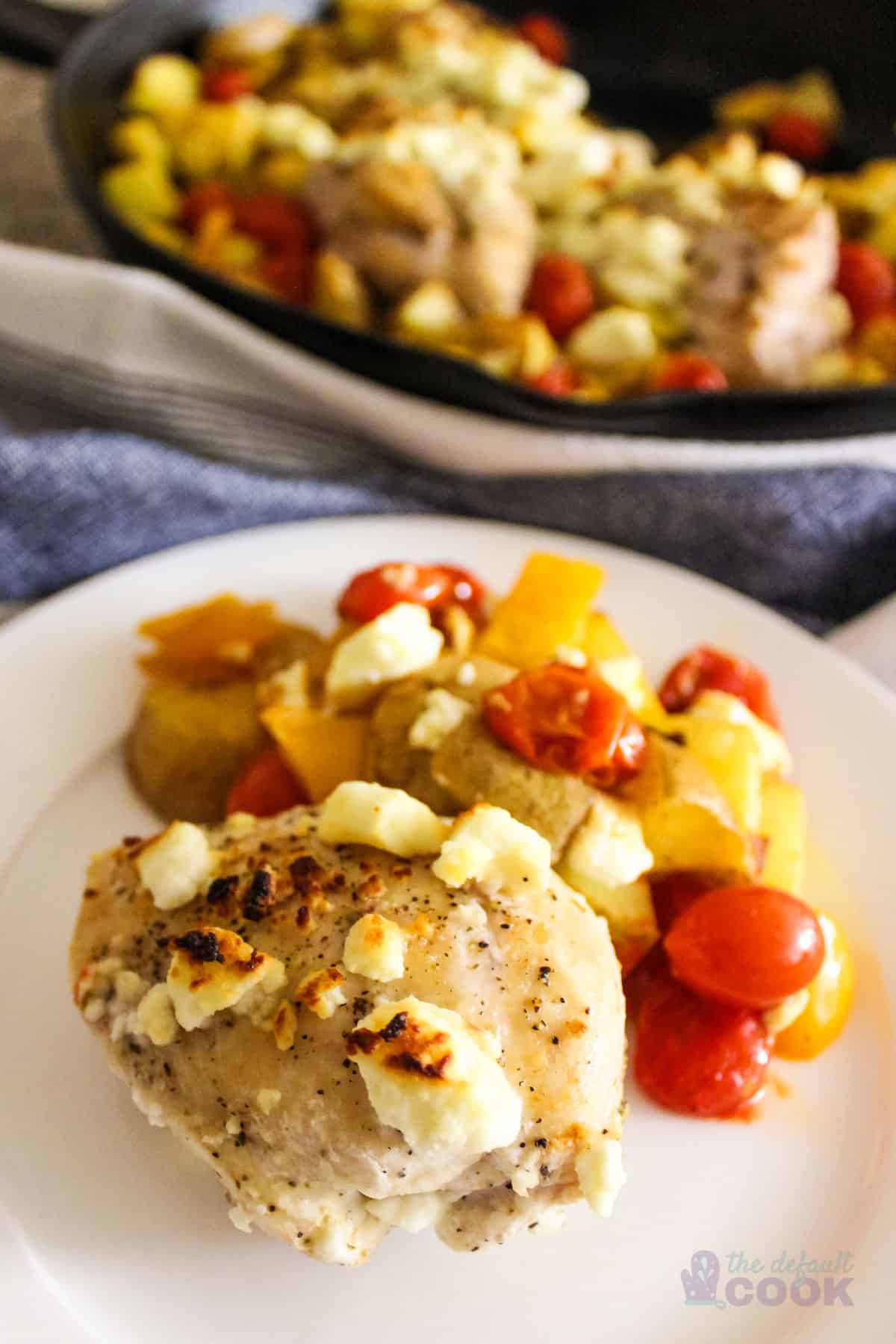 This post contains affiliate links, which means I receive a small commission, at no additional cost to you, if you make a purchase using this link.
Why you'll love this recipe:
One pan- keeping it simple for prep AND for cleanup.
Flavorful and colorful- fresh ingredients and a few spices help give this dish great flavor.
Cheesey but healthy- we're only using about an ounce of cheese per serving, and have several servings of veggies.
Easily adjustable- need to make it low carb? Omit the potatoes. Have a dairy free guest? Leave off the cheese.
Let's get started! Here's what you'll need: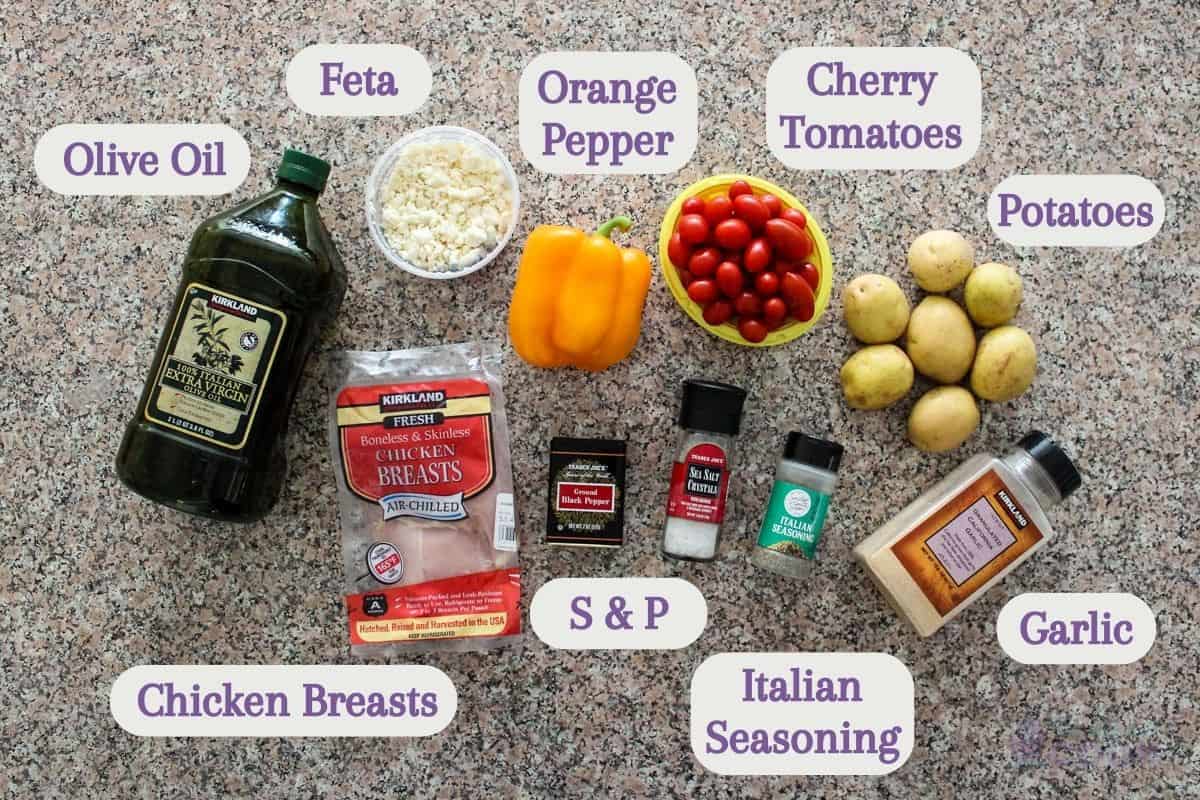 Ingredients:
Chicken- I used boneless, skinless breasts here. You can use whatever you like, but the cook time will vary a bit with different cuts, so be sure your chicken is cooked through.
Potatoes- Gold potatoes are ideal here, but red potatoes would be a good second choice.
Tomatoes- Cherry tomatoes or grape tomatoes are perfect here.
Bell pepper- I like the color of an oragne pepper with the red tomatoes, but red or yellow peppers work great too. In my haste I also forgot to grab fresh basil at the store the week I was testing this, but if you feel like another pop of color fresh herbs are a great way to add some more flavor.
Feta Cheese- The flavor of tangy feta cheese pairs so well with chicken and vegetables, but if it's not a favorite of yours you could substitute parmesean cheese or even goat cheese,
Olive oil- You could also use avocado oil if you prefer.
Seasonings- Garlic powder, italian seasoning, sea salt, and black pepper. You can substitute fresh garlic cloves if you have them on hand.
Equipment:
You'll need an oven safe pan- I like to use a cast iron skillet- along with a cutting board, knife, tongs, a spatula, and spare plate.
How to make this baked feta chicken recipe:
Step 1: Prepare and start potatoes
Cut your potatoes into bite sized pieces. Go ahead and toss them into the cold pan, and use it as a bowl to season them with about half of the salt, pepper, garlic powder, and olive oil. You could also do this in an actual bowl, but using the pan makes for fewer dishes. Once the potatoes are well coated with your oil and seasonings, add the tomatoes and turn the stove on to medium heat, stirring occasionally as you get the chicken and bell pepper ready for the pan.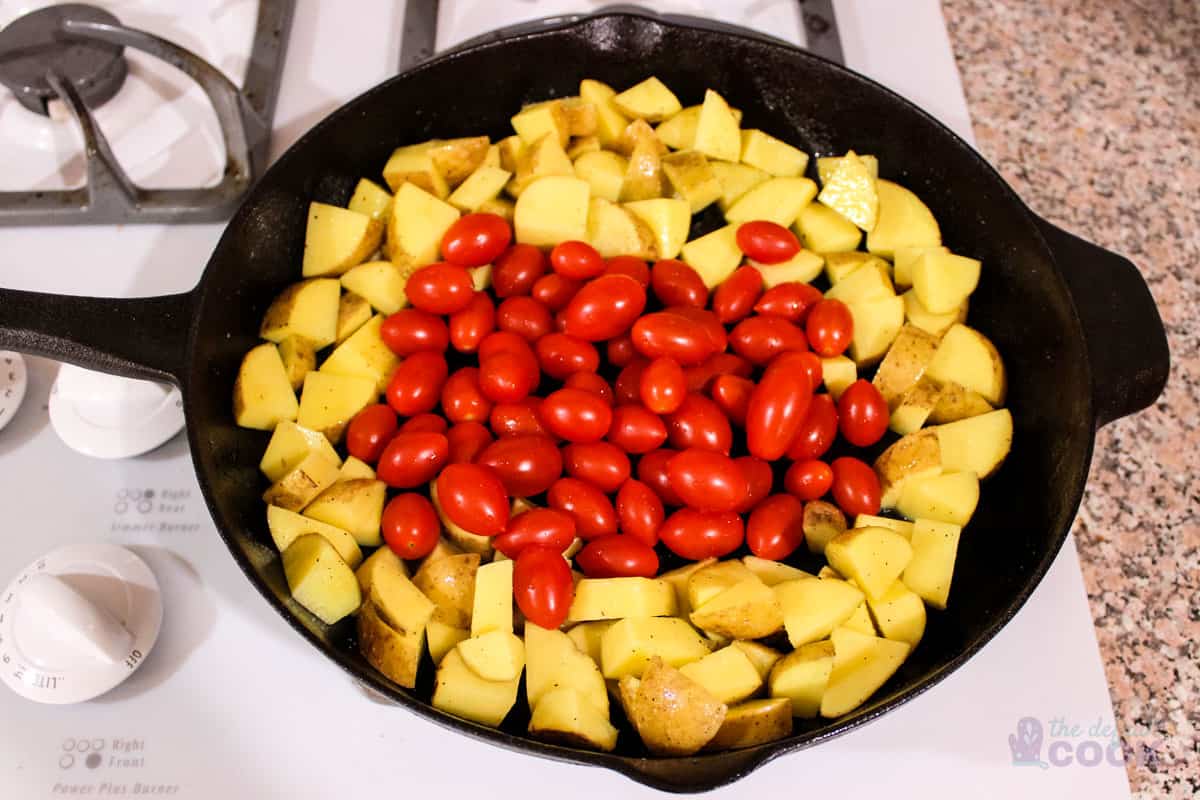 Step 2: Finish prep while occasionally stirring potatoes and tomatoes
While the potatoes and tomatoes are starting to cook, chop your bell pepper into bite sized peices, discarding the top, seeds, and membranes. Once that's done go ahead and season your chicken with the rest of the spices- you can cut your breasts into individual portions to make serving easier at the end.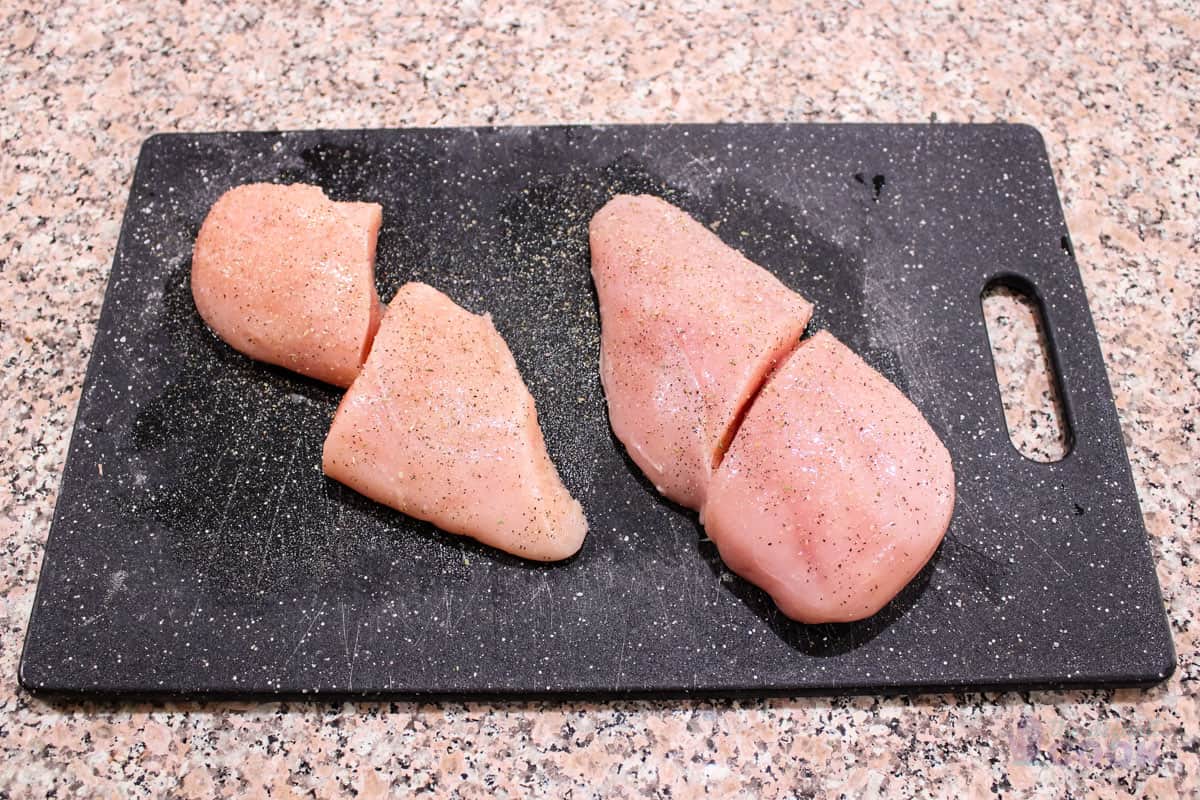 Also go ahead and preheat your oven to 350 F.
Step 3: Sear the chicken
Push the tomatoes and potatoes to the outside portion of the pan, creating an opening in the middle for you to sear the chicken. To the open area add a drizzle of olive oil, then sear the chicken on both sides.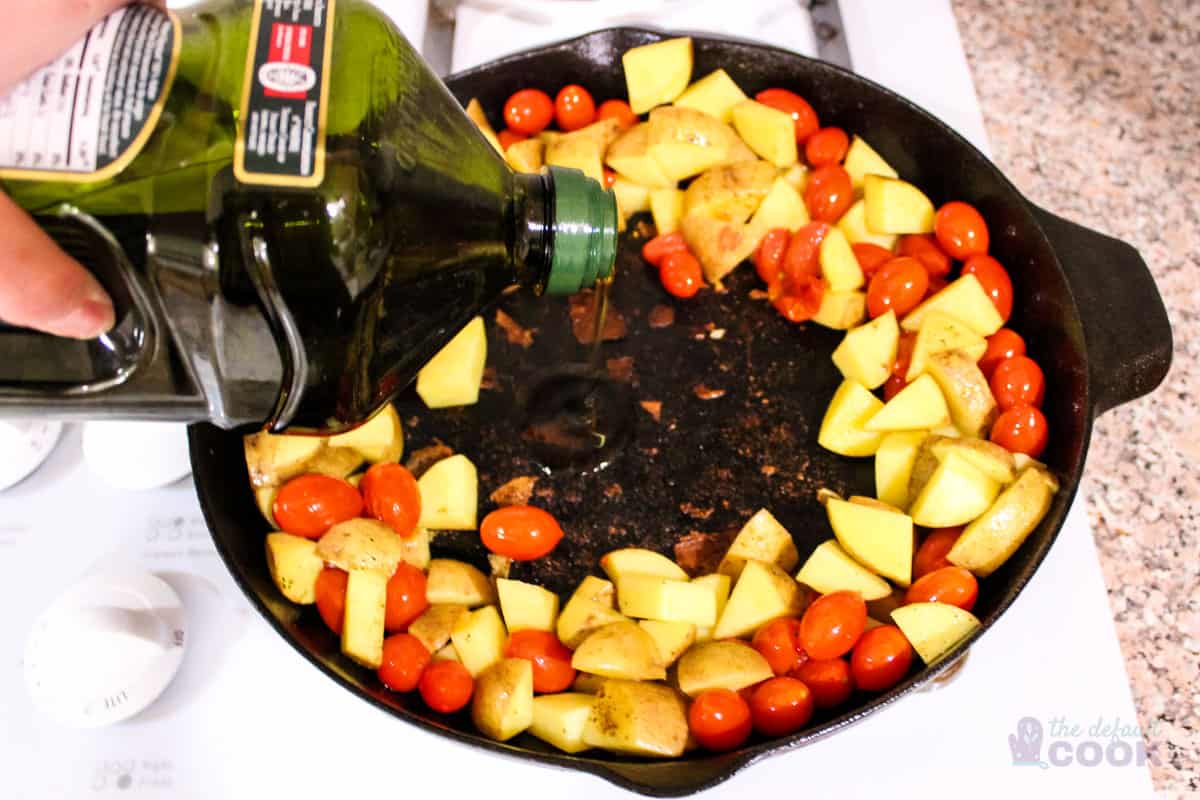 Once it's seared, remove it to a plate for a minute so you have space to stir the bell pepers in to the other veggies.
Step 4: Assemble, bake, and broil
Once the vegetables are well combined, add the chicken back to the dish and cover it with the crumbled feta cheese.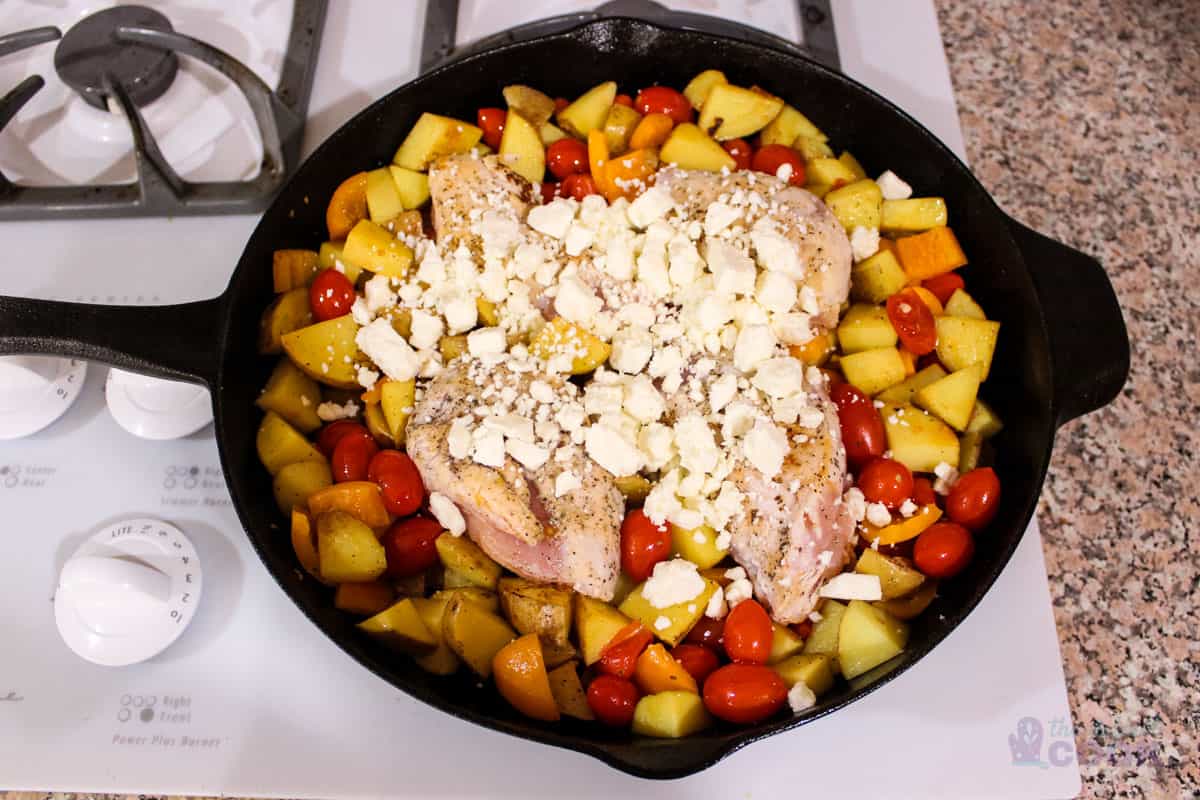 Stick that into the oven and bake for 20 minutes, then broil for another for a few minutes. You're looking for the cheese to be browning and your tomatoes to be bursting open.
Step 5: Serve and enjoy!
Remove the pan from the oven and serve immediately- you can garnish with fresh herbs or lemon wedges if you'd like. Leftovers should be stored in an airtight container for up to 3-5 days in the refrigerator.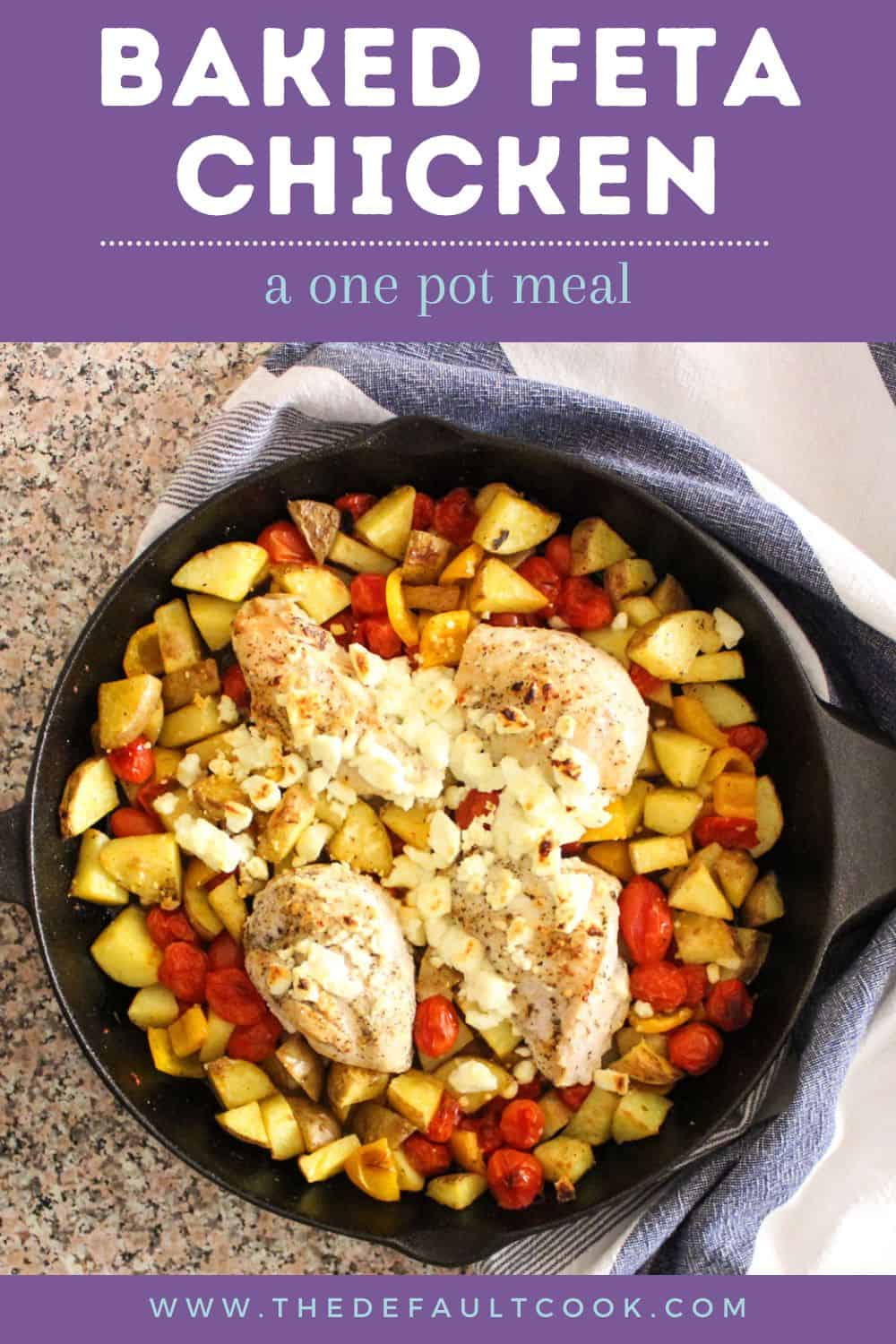 FAQs
Can I use chicken thighs?
Yes, but the time here is for boneless chicken breasts. If you're using bone-in plan on about 15 minutes longer to cook the chicken, so you won't cook the potatoes and tomatoes before searing the chicken. On the flip side if you're using smaller pieces like chicken tenderloins you will want to cook the vegetables 5-10 minutes longer on the stove and reduce the oven time. No matter what cut you use be sure the chicken is cooked through. You can double check that you've reached an internal temperature of 165 F with a meat thermometer.
I don't like peppers- what else could I use?
You can of course switch up what you make this chicken with. Artichoke hearts, green or kalamata olives, or winter squash would all hold up well with the cooking time. If you use artichoke hearts a little lemon juice or white wine would help that flavor shine.
Can I make this in a casserole dish and not use my stovetop?
Yes, still cook the potatoes and tomatoes partway first in a baking dish or on a sheet pan, just using your oven instead of the stovetop. You won't get the same sear on the chicken, but it'll still be delicious.
More easy chicken recipes you may like:
Crock pot chicken potato chowder
Instant pot chicken pesto pasta
Slow cooker chicken caprese pasta
Enjoy!
📖 Recipe
Baked Feta Chicken with Potatoes
This one-pan dinner is full of mediterranean flavor, combining chicken breasts with tomatoes, cheese, peppers, and potatoes for an easy, satisfying, and complete meal.
Ingredients
1

lb

boneless skinless chicken breasts

1

lb

gold potatoes

1

ea

orange bell pepper

10

oz

cherry tomatoes

4

oz

crumbled feta cheese

2

tablespoon

olive oil

1

teaspoon

salt

season to taste

½

teaspoon

black pepper

season to taste

1

teaspoon

garlic powder

season to taste

½

teaspoon

italian seasoning

season to taste
Instructions
Cut potatoes into bite sized pieces, and season them in the pan with half of the salt, pepper, garlic powder, and olive oil. Add the tomatoes and cook on medium heat, stirring occasionally for about 10 minutes.

Meanwhile, season your chicken with the remaining spices, and cut your bell pepper into bite sized pieces. Preheat your oven to 350.

Move potatoes and tomatoes toward the outside of the pan, clearing the center for the chicken. Add remaining olive oil and sear chicken on both sides. Add the bell pepper and stir the vegetables together, removing the chicken to a plate temporarily if space is tight.

Top chicken with feta cheese and transfer skillet to the oven for 20 minutes, then broil for 2-5 minutes depending on preference and how far the pan is from the broiler. Look for cheese to be browning on top, and tomatoes to be bursting. Serve and enjoy!
Podcast
Notes
If using bone-in chicken, eliminate pre-cooking on the skillet aside from searing the chicken, and extend oven cooking time by approximately 15 minutes.
Nutrition
Calories:
378
kcal
Carbohydrates:
26
g
Protein:
32
g
Fat:
16
g
Saturated Fat:
5
g
Polyunsaturated Fat:
1
g
Monounsaturated Fat:
7
g
Trans Fat:
0.01
g
Cholesterol:
98
mg
Sodium:
1053
mg
Potassium:
1147
mg
Fiber:
4
g
Sugar:
4
g
Vitamin A:
1440
IU
Vitamin C:
78
mg
Calcium:
175
mg
Iron:
2
mg
Nutrition information is provided as a courtesy and is an estimate. It is recommended to use your preferred calculator with the actual ingredients you use for optimal accuracy.