Juicy, tender chicken thighs infused with the zesty goodness of lemon and the contrast of pepper.
Some of the easiest weeknight dinners are made in the slow cooker, and these crockpot lemon pepper chicken thighs are a family favorite.  It's a simple, no-fuss dinner that's perfect for busy families in need of a tasty meal without all the kitchen hustle. These chicken thighs are a comforting meal that still fits into those busy days, because your slow cooker does the heavy lifting.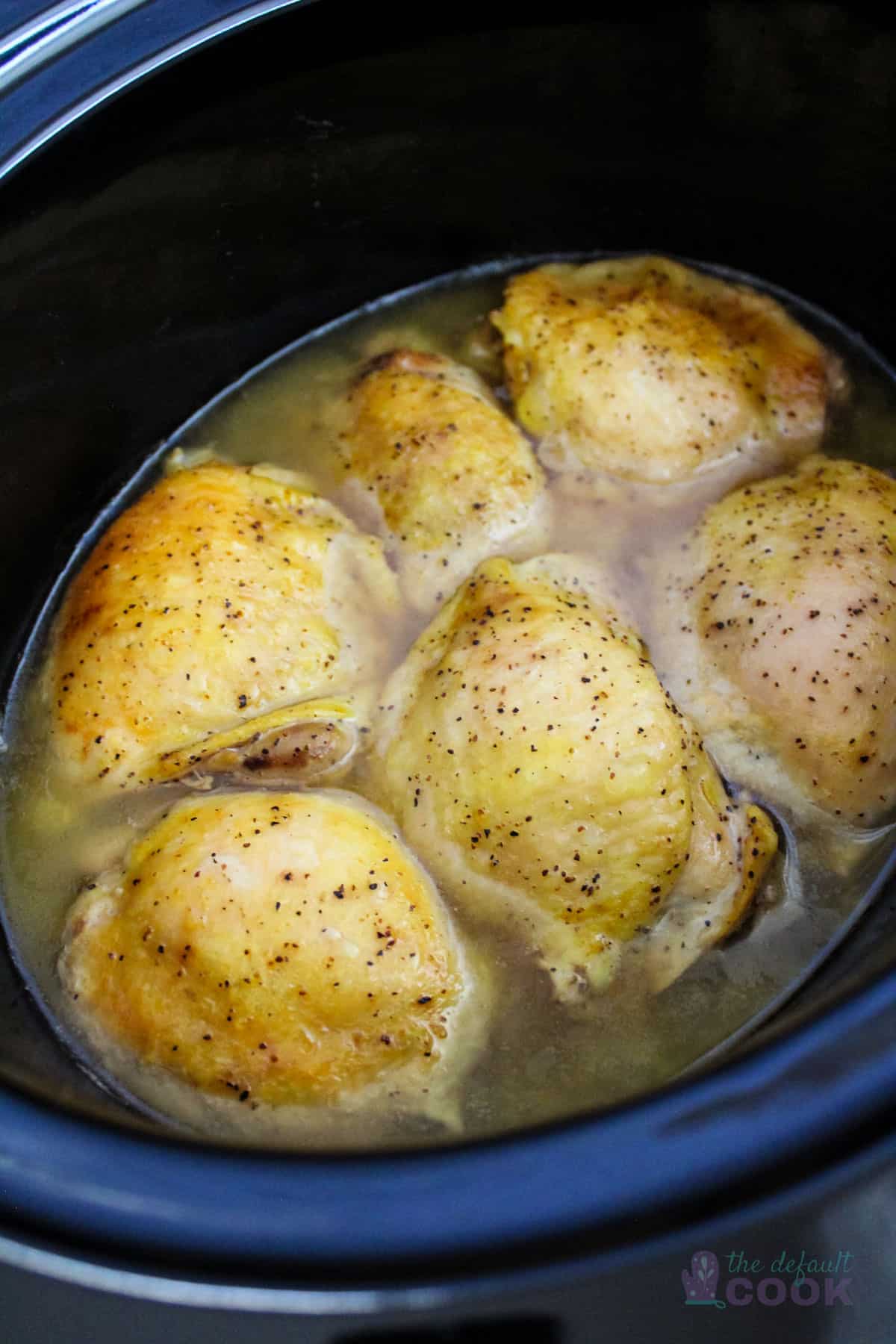 This post may contain affiliate links, which means I receive a small commission, at no additional cost to you, if you make a purchase using this link.
Why You'll Love This Slow Cooker Lemon Chicken:
Low Prep: We aren't browning anything, and are mixing everything right in the crockpot for a quick prep and minimal dishes.
Minimal Ingredients: This easy meal just takes 4 simple ingredients that are easy to find at your local grocery store.
Delicious: Lemon is such a great flavor punch that the seasoning plus the juice creates a really flavorful meal with very little effort.
Let's Get Started! Here's What You'll Need: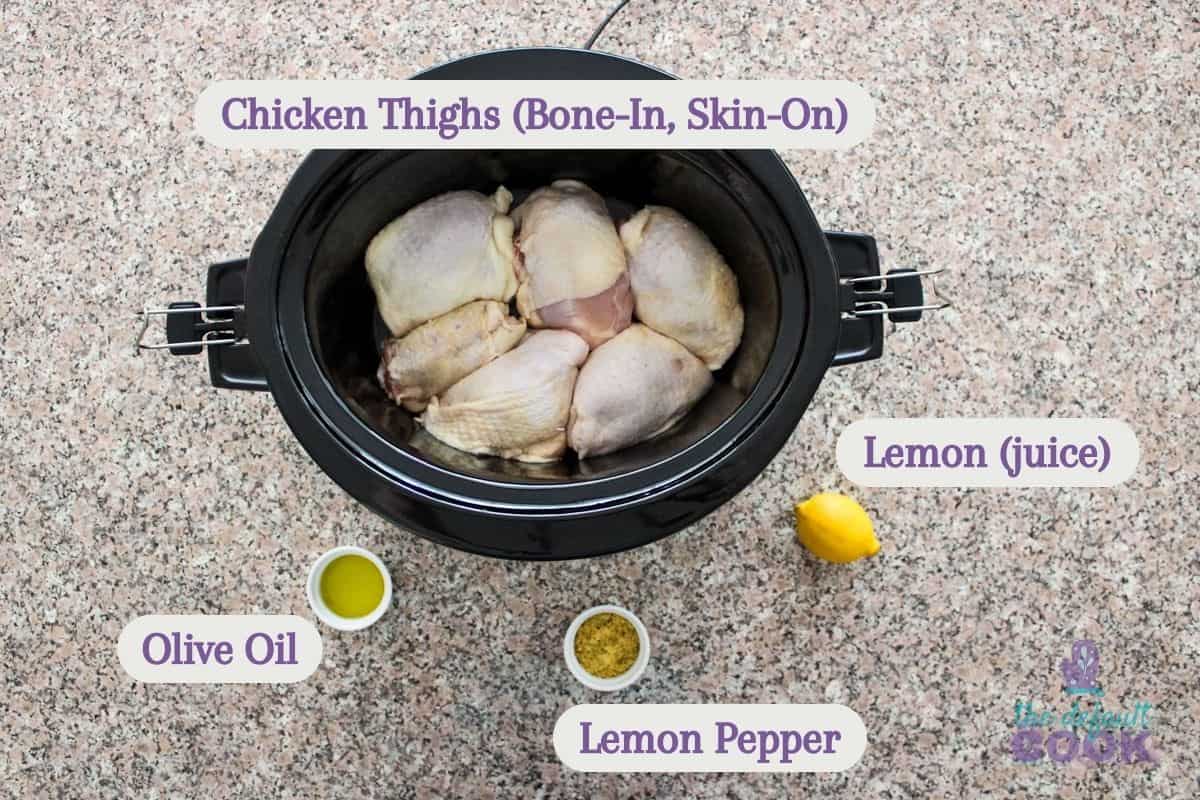 Ingredients:
Chicken Thighs: You can use as many chicken thighs as needed for your family, but you do want them to fit in a single layer on the bottom of your slow cooker.
Lemon-Pepper Seasoning: You can use any brand, or make your own if you're fancier than me.
Olive Oil: Any neutral oil works here, so you can also use vegetable oil, canola oil, or avocado oil. This helps our seasoning spread over the chicken more easily, and when we stir greases the crockpot a bit so we don't need nonstick spray.
Fresh Lemon Juice: While fresh is ideal, bottled lemon juice works too.
Equipment:
You'll need your trusty slow cooker, a spatula, and measuring spoons. If you're using fresh lemon juice or need to trim your thighs, you'll also need a knife and cutting board. Optionally, you can use a slow cooker liner for even easier cleanup. That's it! If you want to brown your chicken in a large skillet first I can't stop you, but it's not needed for a delicious dinner.
How to Make These Crockpot Lemon Chicken Thighs:
Step 1: Prepare Ingredients
Go ahead and get everything out. Squeeze your lemon if you're using a fresh one. Also see if you want to trim your chicken thighs, sometimes there's more fat and skin than we like so I'll take a portion of it off the bottom.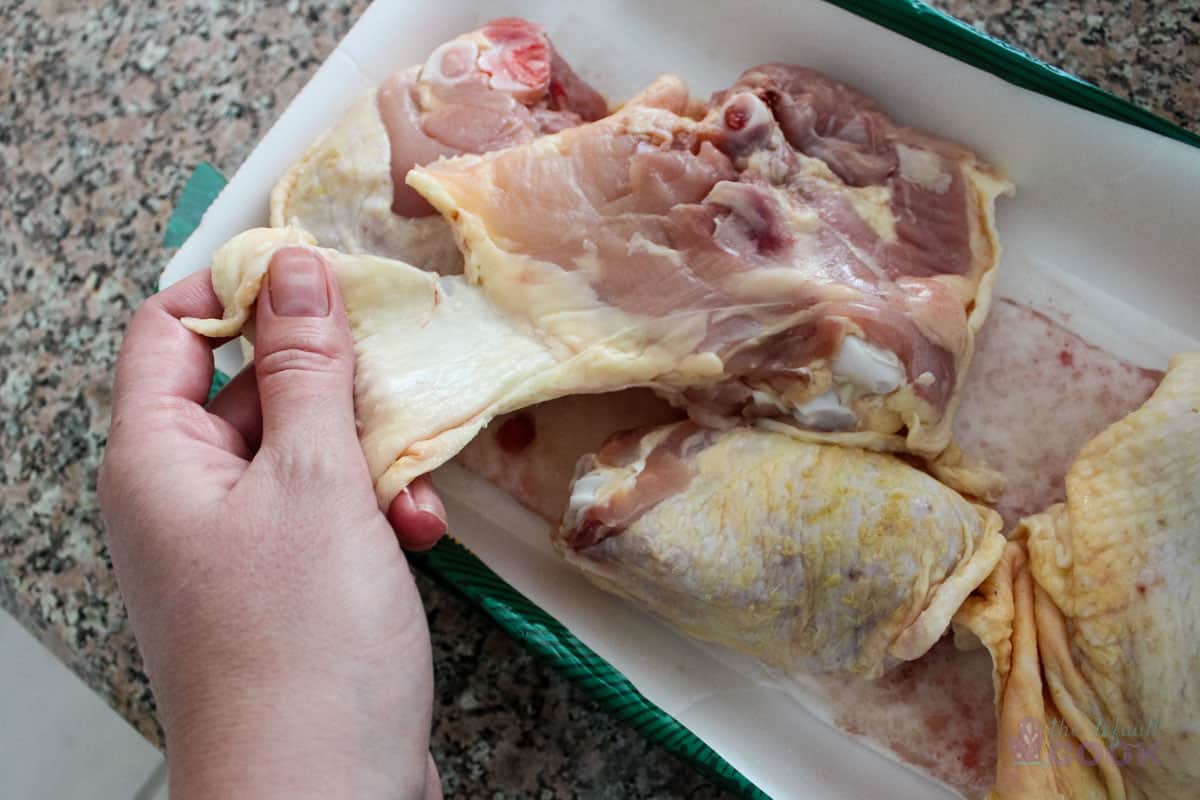 Step 2: Mix Ingredients
Place the chicken in your slow cooker, making sure the thighs are in a single layer. Sprinkle them with the lemon pepper seasoning, lemon juice, and oil, then stir gently with the spatula until they are evenly coated. Make sure the chicken is in one layer, with the skin facing up.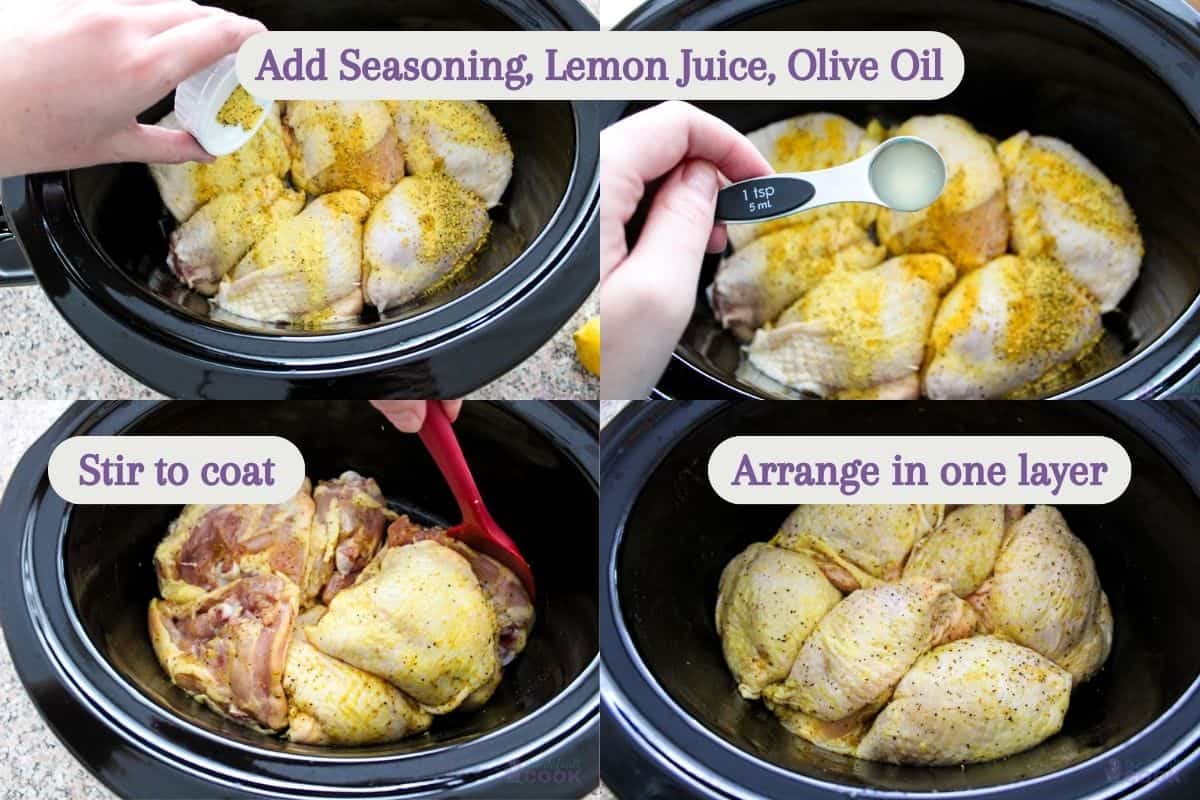 Step 3: Slow Cook
Turn your slow cooker to LOW for 6 hours, or until the chicken reaches an internal temperature of 165 degrees. On high this should take about half the time.
Step 4: Serve and Enjoy
Once the chicken thighs are tender and fully cooked, it's time to eat! If you have any leftovers be sure to store them in an airtight container in the fridge. If you used fresh lemon feel free to add some lemon slices to the top of the chicken for a pretty presentation, or cut up some wedges for people to squeeze on their individual portion.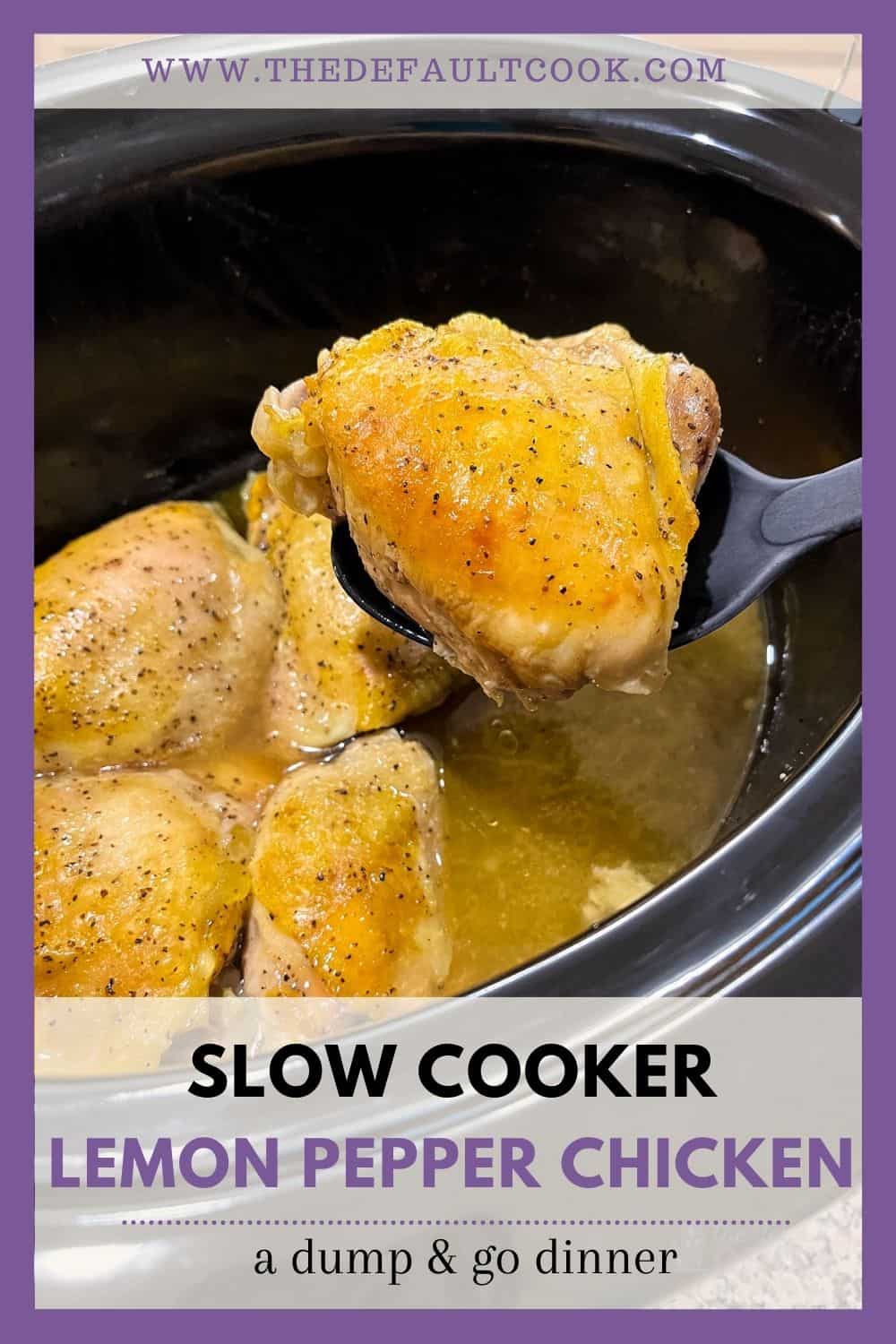 Side Dish Ideas
To make this a complete meal you can add long cooking vegetables like potatoes, carrots, or onions under the chicken.
For sides made on the side to go with lemon chicken, white rice, egg noodles or another pasta, or bread (like this focaccia) are great carb options. Light roasted veggies like summer squash, broccoli, or green beans are also great!
FAQs:
Can I use a different cut of chicken?
Yes! Depending on how much chicken you're using you might need to adjust the seasoning amounts, but this will work with almost any chicken cut. The cook time may need to be adjusted as well- another dark meat like chicken drumsticks will take about the same amount of time as thighs, but boneless skinless chicken breasts will be done faster. A whole chicken will take longer to cook through.
What all is in lemon-pepper seasoning?
Each brand will have it's own exact blend, but most include black pepper, salt, and dried lemon peel or lemon oil. Many also include onion powder, garlic powder, and other spices that they may list out or just include as "spices" on the ingredient list. I used a store brand here, but if you need salt-free, this one is a good choice.
Can I cook this in the oven?
Absolutely! Oven roasted lemon pepper chicken is also a great weeknight meal. Use a baking dish and roast it at 400 for about 45 minutes.
Can I make this in the instant pot?
Yes, just set your pressure cooker to 10 minutes on high pressure for one layer of fresh bone-in thighs. Allow a natural release after pressure cooking.
Looking for more easy recipes?
Both this crockpot pulled pork and slow cooker pepper steak with italian seasoning are great easy slow cooker recipes.
For more chicken, try this one pot baked feta chicken, or with already cooked chicken make a tasty honey mustard chicken wrap.
Give this slow cooker lemon pepper chicken recipe a try, I hope it becomes a favorite meal in your house! Don't forget to let me know in the comments how much your family enjoyed this easy dish. Happy slow cooking!
📖 Recipe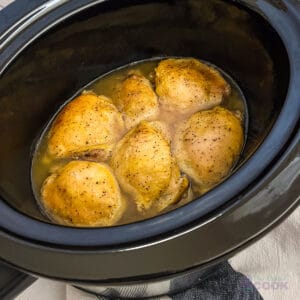 Slow Cooker Lemon Pepper Chicken Thighs
This flavorful 4 ingredient chicken recipe is perfect for busy days when there isn't a lot of time for prep.
Ingredients
2

lb

Bone-in chicken thighs

2

tablespoon

lemon-pepper seasoning

1

tablespoon

olive oil

2

teaspoon

lemon juice
Instructions
Juice lemon if using fresh. Trim chicken thighs if needed.

Combine all ingredients in slow cooker and stir to season chicken.

Cook on LOW for 6 hours, or HIGH for 3 hours, ensuring chicken reaches 165 F.
Podcast
Notes
​Using a different cut of chicken may impact cook time- a whole chicken will take longer, while chicken breasts will cook faster. Also be sure to adjust seasoning for the amount of meat you're cooking.
To convert this recipe to your instant pot, cook on HIGH pressure for 10 minutes followed by a natural release. For oven baking roast at 400 F for roughly 45 minutes.
Nutrition
Calories:
307
kcal
Carbohydrates:
2
g
Protein:
21
g
Fat:
24
g
Saturated Fat:
6
g
Polyunsaturated Fat:
5
g
Monounsaturated Fat:
11
g
Trans Fat:
0.1
g
Cholesterol:
126
mg
Sodium:
99
mg
Potassium:
292
mg
Fiber:
1
g
Sugar:
0.1
g
Vitamin A:
111
IU
Vitamin C:
1
mg
Calcium:
19
mg
Iron:
1
mg
Nutrition information is provided as a courtesy and is an estimate. It is recommended to use your preferred calculator with the actual ingredients you use for optimal accuracy.