Create delicious homemade focaccia bread with just three ingredients: store-bought pizza dough, olive oil, and sea salt.
There's nothing like the smell of freshly baked bread in your kitchen, but we don't always have the time or energy to make it from scratch. Luckily with this shortcut focaccia bread recipe, we don't need a ton of either. Focaccia dough recipes are very similar to traditional pizza crust recipes, so we can turn premade dough into great focaccia. Perfect for beginning bakers who want an easy homemade bread, it's also a tasty way to use up that pizza dough you bought if you didn't get around to making pizza with it.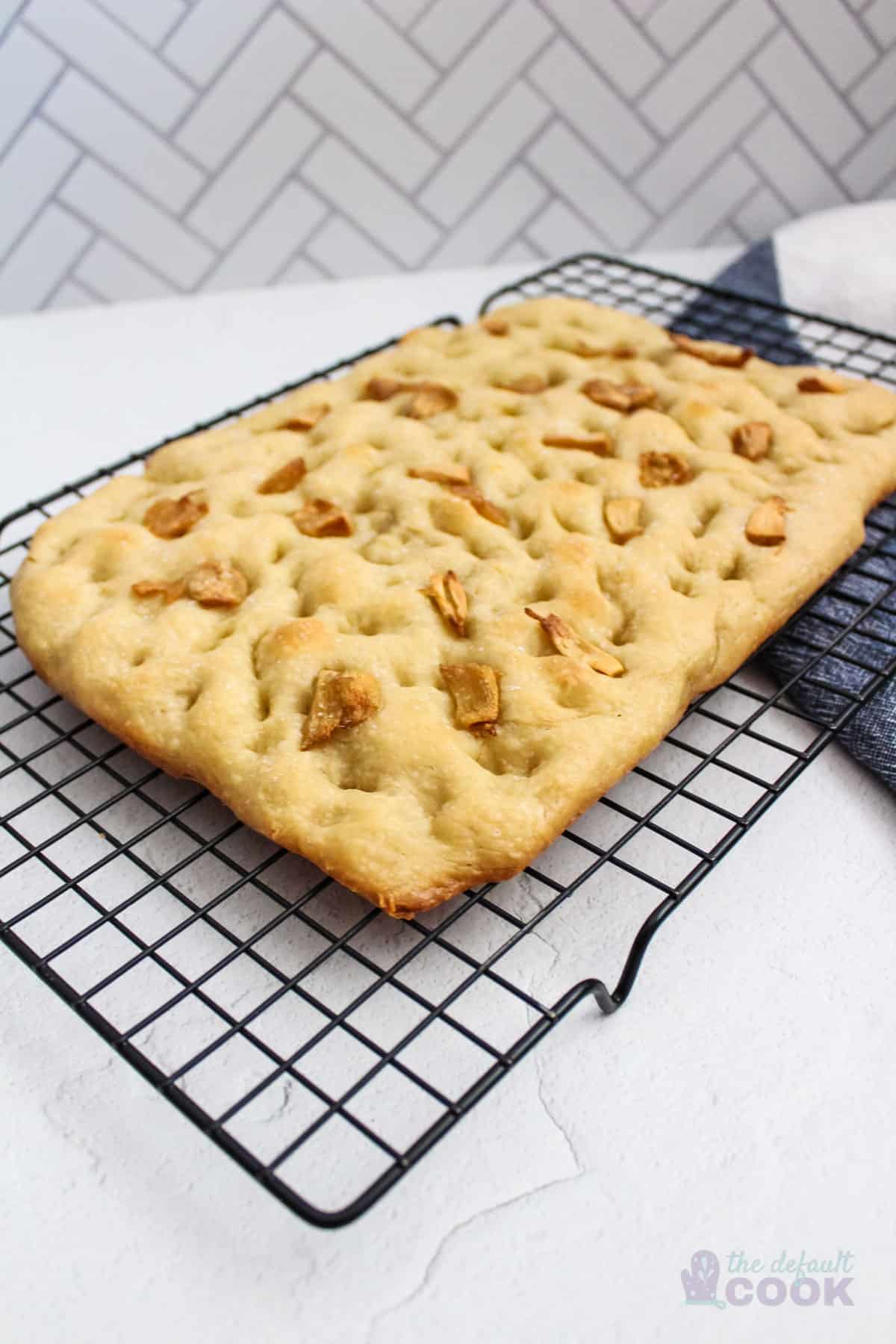 Disclosure: This post contains affiliate links, which means I receive a small commission, at no additional cost to you, if you make a purchase using this link.
Why you'll love this recipe:
Quick and Easy: There's only one rise time with this, and no complicated techniques. With just a few simple steps, you'll have freshly baked focaccia on your table.
Minimal Ingredients: Great food doesn't always require a long list of ingredients. By utilizing store-bought pizza dough, olive oil, and sea salt, you can create a flavorful focaccia with ease.
Minimal Equipment & Cleanup: Starting with premade dough means no large mixing bowl, wooden spoon, or dough hook. And no cleaning up a floured surface, we prepare everything right on the baking pan!
Versatile and Customizable: You can get creative with toppings and seasonings. Add your favorite herbs, cheeses, or even caramelized onions to personalize your focaccia.
Let's get started! Here's what you'll need: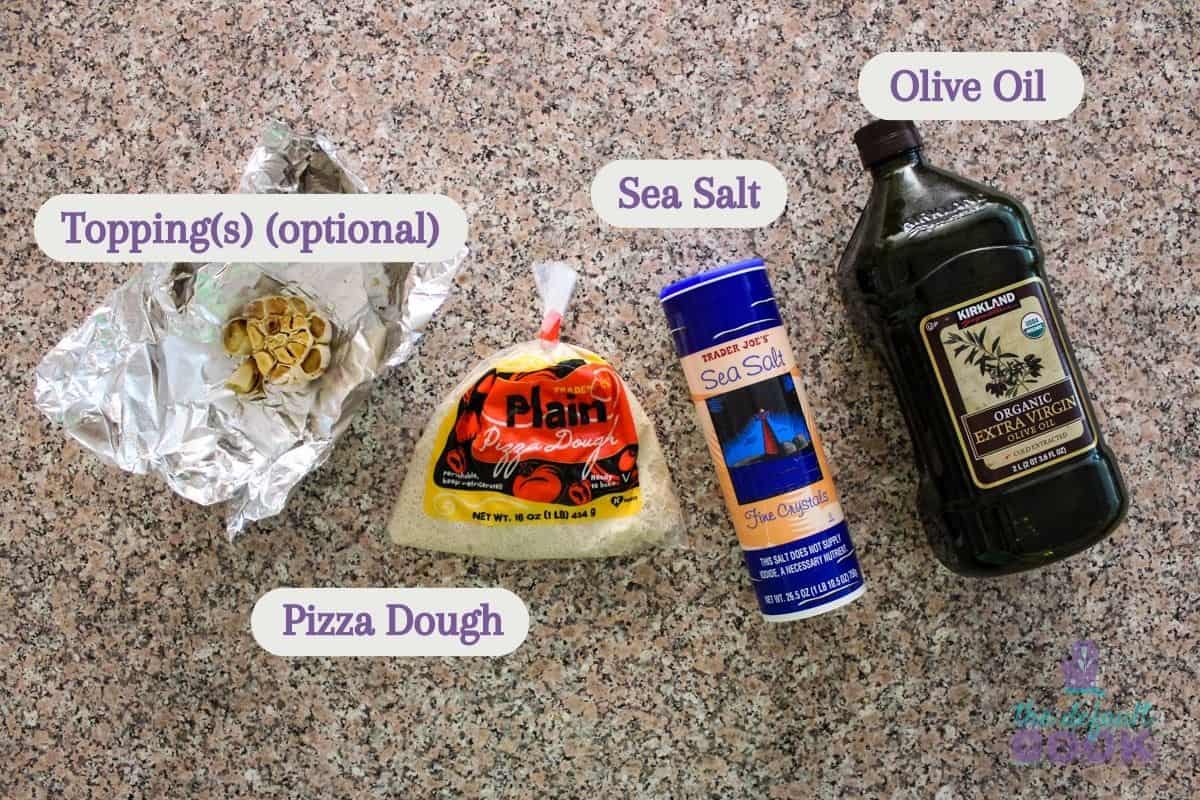 Ingredients:
Store-bought pizza dough- I like the Trader Joe's brand pictured here, but any uncooked pizza dough will work. You can even use your own pizza dough recipe if you prefer.
Olive oil- Extra virgin olive oil works best for its rich flavor.
Sea salt- A sprinkle of salt enhances the taste and texture of your focaccia.
Toppings- These are completely optional, I happened to have roasted garlic (I roasted an extra head when making these air fryer mashed potatoes) on hand and used that. You can go with anything from simple herbs like fresh rosemary or italian seasoning to treating this as a focaccia pizza crust by adding your favorite pizza toppings.
Equipment:
All we really need is a small baking sheet, and plastic wrap to cover it with during the rise. A nice to have tool is a pastry brush to help distribute the olive oil evenly.
How to Make this Focaccia Recipe:
Step 1: Shaping the Dough
Grab your ingredients and add about a tablespoon of olive oil to your baking pan, and grease it up really well. Plop the dough onto the prepared pan and spread it out as best you can.  If yours comes in a bag like the Trader Joe's pizza dough ball, I recommend turning the bag inside out to get the dough out more easily.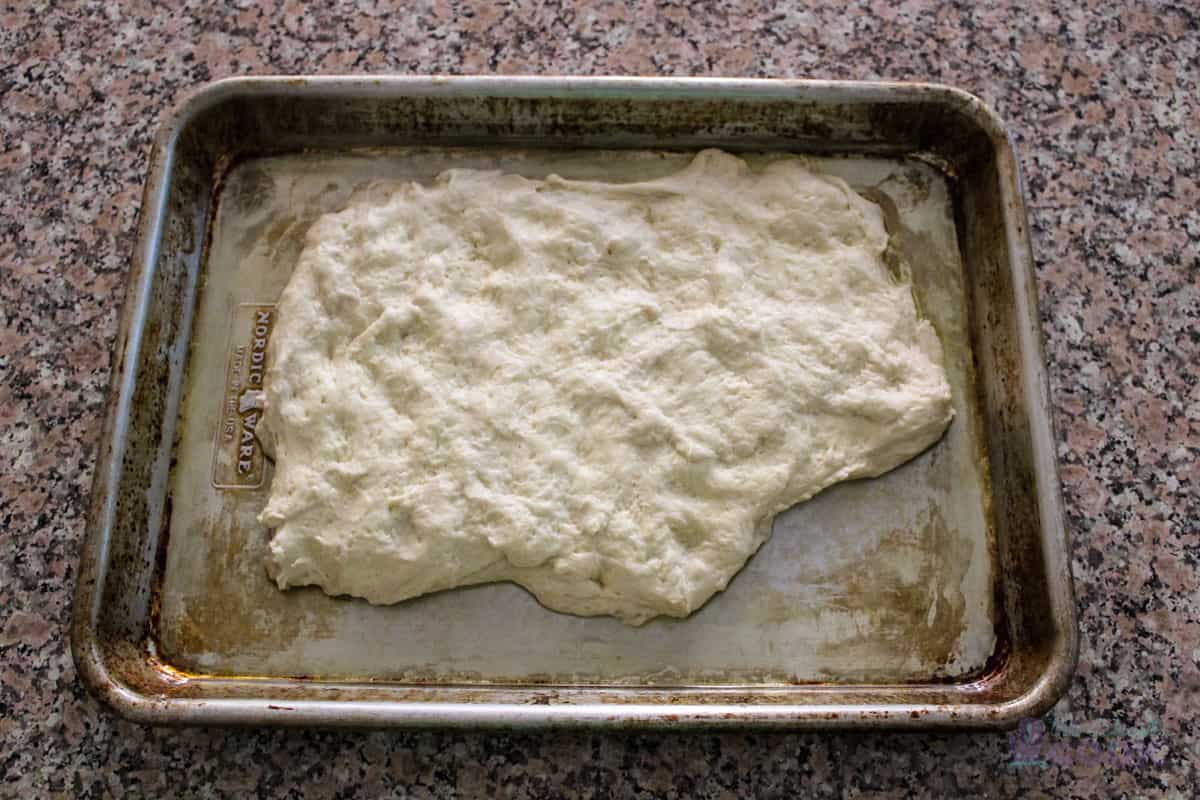 Step 2: Let Dough Rest
Cover the dough with plastic wrap so it doesn't dry out, and put it in a warm place like the window of your kitchen- or at least out of the way. Let the dough rise for about an hour, which will let it come fully to room temperature and rise a bit. It will also relax the dough, making it easier to work with.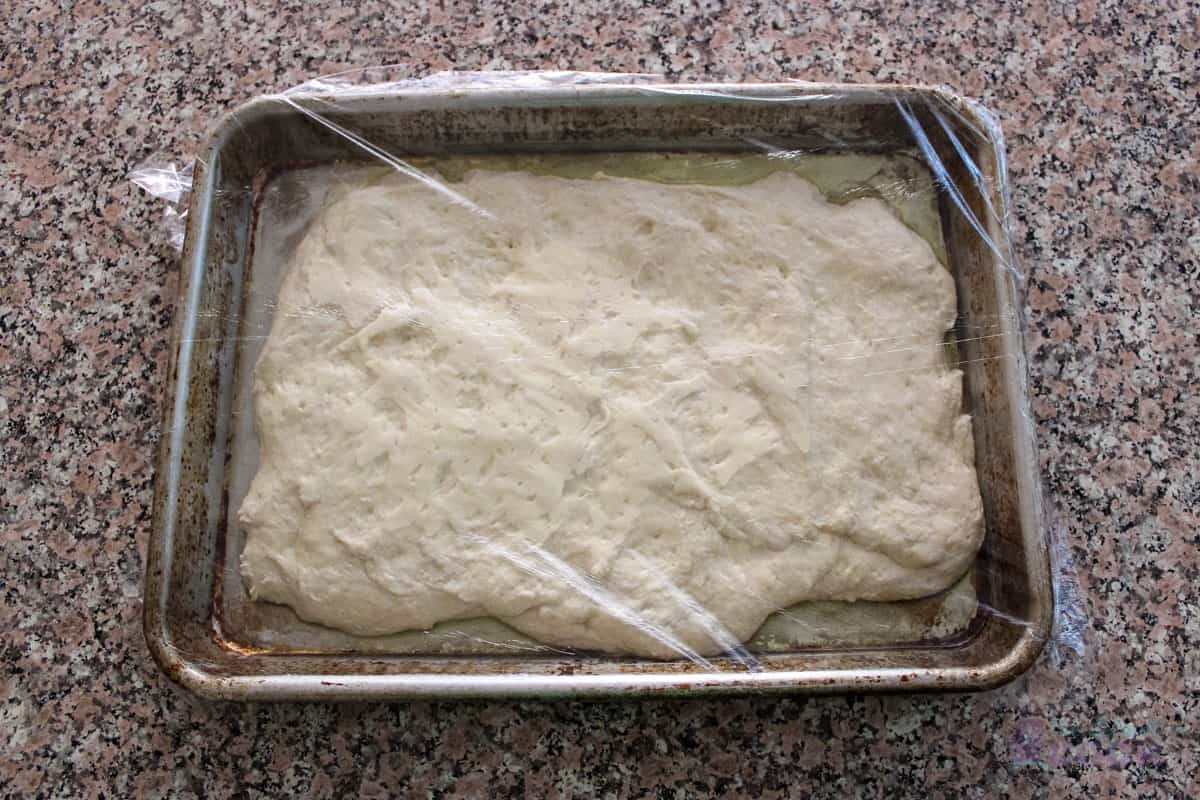 Step 3: Stretch, Oil, & Dimple
Preheat your oven to 400 and stretch the dough a bit more- after the rest time it should be able to stretch a little further. Then drizzle on 2-3 tablespoons of olive oil, and spread it out with either the pastry brush or your hands. Use your fingers to create deep dimples in the dough all over the surface of the dough.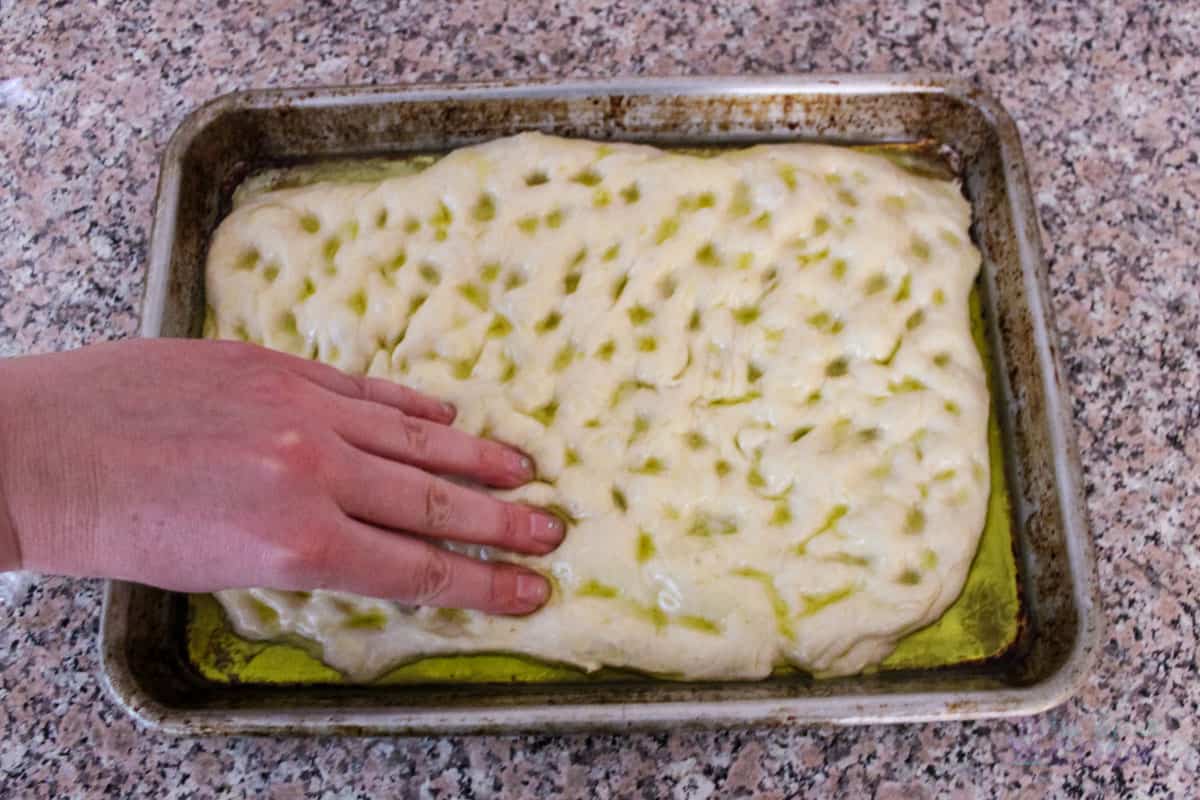 Step 4: Top & Bake
You've now transformed your pizza dough into focaccia dough! Optionally, add whatever toppings you like to it, pressing them in slightly- I used roasted garlic here. Then pop your focaccia pizza dough in the oven and bake for about 25 minutes- until the bottom edges are golden brown. Let it cool for 5-10 minutes for cutting, then enjoy!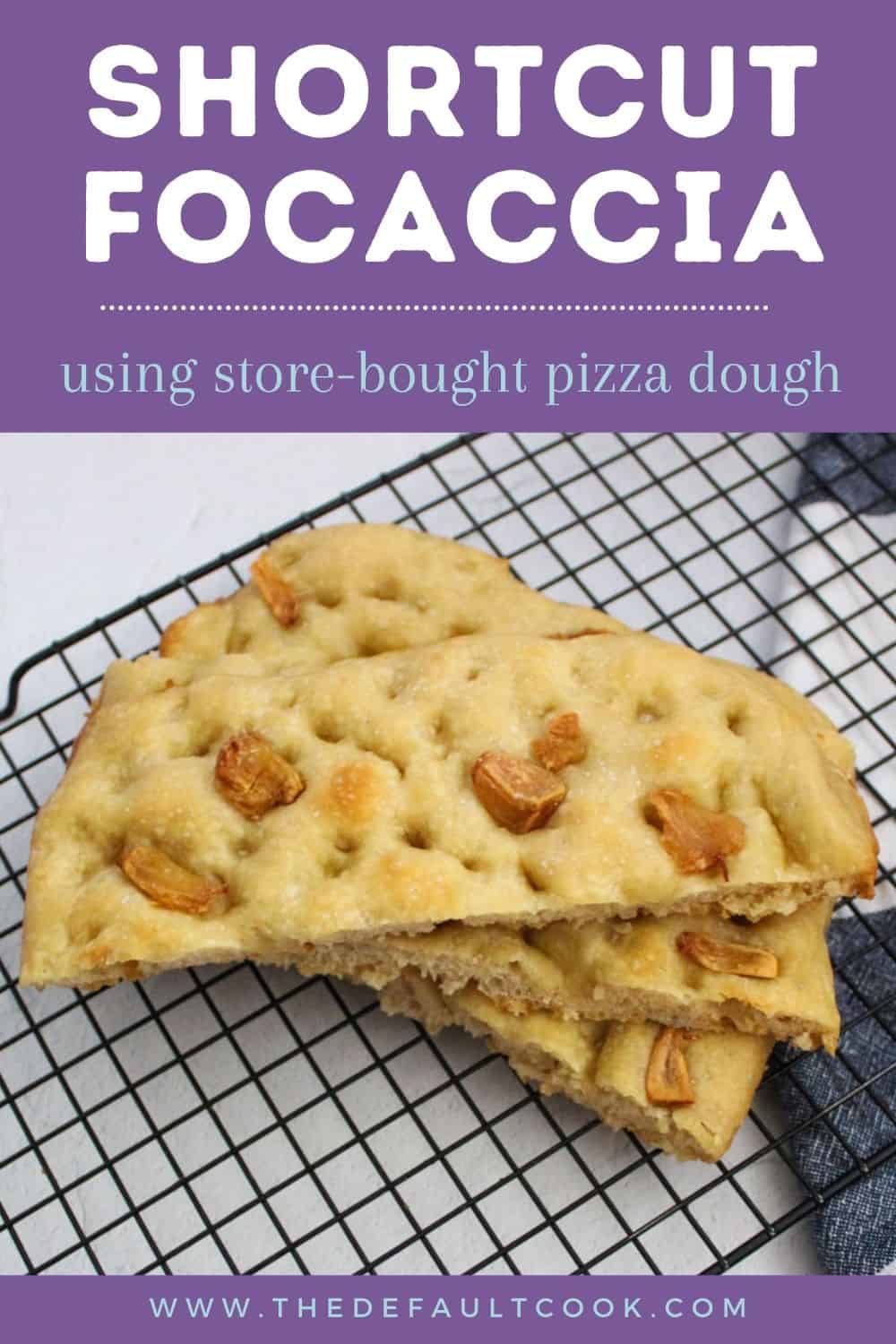 FAQs
Can I use flavored pizza dough for this recipe?
Absolutely! You can use an herb dough or garlic flavored dough, which will add an extra layer of flavor to your focaccia.
What toppings can I use?
The sky is the limit! You can add roasted garlic cloves, sliced heirloom tomatoes, olives, almost any of your favorite toppings will be good on focaccia. My favorite combination is probably cherry tomatoes, fresh basil, and balsamic vinegar. Adding fresh mozzarella to that combination essentially turns this into a focaccia pizza recipe where the dough has a more bread like texture but the flavor of a pizza without pizza sauce.
Can I make the dough from scratch instead of using store-bought pizza dough?
Sure! If you have a stand mixer it's pretty simple- here's a great beginner pizza crust recipe, though for focaccia you can skip the cornmeal bottom. The most important thing is to use warm but not hot water, to activate the yeast without destroying it.
Can I freeze store bought pizza dough?
It depends- the one I'm using here comes in a plastic bag and can be frozen, just thaw it in the refrigerator overnight or on the counter the day you want to use it. However if you have canned pizza dough it'll pop the can open when it expands in the freezer.
More easy recipes you may like:
This bread goes great as a side with a hearty dinner like sous vide tri tip, or dipped in a soup like this chicken potato chowder. You can even use it as sandwich bread, and of course it's delightful on its own as well.
Enjoy!
Happy Baking! I hope you love this recipe, if you do be sure to come back and leave a star review, and let me know what toppings you picked.
📖 Recipe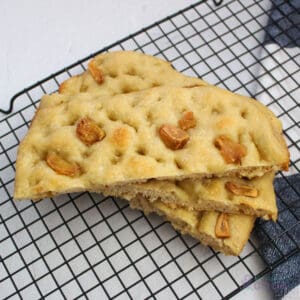 Shortcut Focaccia using Pizza Dough
Enjoy homemade bread with hardly any work by turning store bought pizza dough into delicious focaccia bread.
Ingredients
1

lb

pizza dough

¼

cup

olive oil

1

teaspoon

sea salt
Instructions
Grease pan with a tablespoon of oil and place dough on it. Stretch dough as best you can, then cover it with plastic wrap and set aside for 1 hour.

Preheat oven to 400. Remove wrap and stretch again.

Add 2-3 tablespoons oil on the top of dough and spread it around evenly, then dimple the top of the dough with your fingers. Optionally, add toppings.

Bake for 22-28 minutes until golden brown with slightly crisp edges. Allow to cool for 5-10 minutes, then cut and serve.
Notes
Most topping choices should be added before baking, however if you prefer some fresh herbs like basil can be added after.
Nutrition
Calories:
266
kcal
Carbohydrates:
36
g
Protein:
6
g
Fat:
11
g
Saturated Fat:
2
g
Polyunsaturated Fat:
2
g
Monounsaturated Fat:
7
g
Sodium:
934
mg
Potassium:
0.2
mg
Fiber:
1
g
Sugar:
5
g
Calcium:
0.3
mg
Iron:
2
mg
Nutrition information is provided as a courtesy and is an estimate. It is recommended to use your preferred calculator with the actual ingredients you use for optimal accuracy.