This slow cooker chicken potato soup is a staple meal in our home. Budget friendly vegetables slow cooked, then dairy added at the end to make it a creamy soup that tastes indulgent without using heavy cream. This one checks all the boxes: easy, delicious, and nutritious.
It's finally starting to cool down a bit and feel like fall, and nothing says fall weather like a good hearty soup. Especially one with potatoes and cheese- that combination tastes like comfort food!
This chicken corn chowder recipe is a hearty and easy meal that we love- especially during cooler weather- and I hope you'll love it too. I roughly adapted this recipe from the incredible Amanda over at The Chunky Chef, but with chicken for two reasons. First, I only have ham around when we buy a spiral for holidays because my husband doesn't like it. And second, rotisserie chicken at Costco is so budget friendly, and soups are a great way to use some meat from one.
This post may contain affiliate links, which means I receive a small commission, at no additional cost to you, if you make a purchase using this link.
Why You'll Love This Recipe:
Easy: We're just dumping our veggies and broth in the cooker in the morning, and then adding our dairy and rotisserie chicken when we get home. Prep wise we are cutting onions and potatoes, but you could grab some prechopped ones from your freezer section if you prefer.
Budget Friendly: This hearty soup leans on less expensive, simple ingredients like corn, onions, and leftover chicken.
Creamy: This soup has a great creamy texture, especially for one that doesn't rely on cream cheese or heavy cream
Let's get started! Here's what you'll need: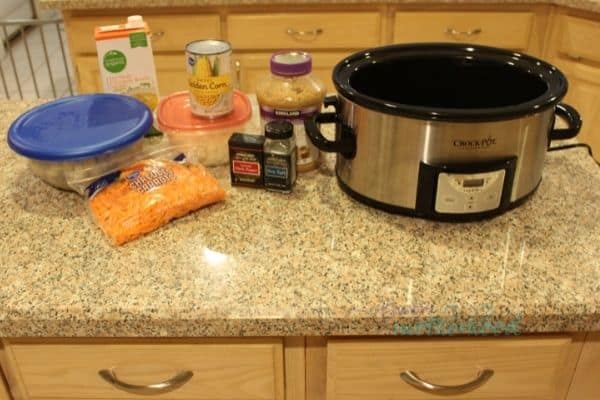 Ingredients:
Potatoes- You can use any potato type you like. If you use russet potatoes, I recommend peeling them. I usually use white or yukon gold potatoes which have much milder skin, and those I leave intact.
Corn- I use canned corn for convenience, but you can use frozen corn or fresh corn instead.
Shredded carrots- You can shred your own or dice up carrots into small bites, but I find buying shredded ones is a great time saver for a pretty minimal cost difference.
Diced onions- White onions or yellow onions are best for this recipe
Chicken broth- One carton is perfect for this recipe, or 4 chicken bouillon cubes with 4 cups water. You can also use homemade broth or chicken stock. I've used vegetable broth before too with no complaints!
Minced garlic- I typically reach for the pre-minced here to speed up the morning prep. You can also substitute garlic powder.
Sea Salt and Black Pepper- these are to taste, and with salt especially you'll want to vary it based on what kind of broth you used. Homemade generally is quite low in sodium, so you'll need a bit more.
Milk- This recipe uses 1% because that's what we keep in our home, but any dairy based milk will work here.
Corn starch- Our thickener- this gives us a nice creamy texture without adding a ton of cheese and cream.
Sour cream- Also key to our creamy texture, but we're not using a lot of it. You can substitute cream cheese or greek yogurt if that's what you have- just be aware cream cheese will take longer to melt and fully incorporate.
Shredded cheddar cheese- I like sharp cheddar for this recipe, you can use your favorite cheese.
Rotisserie chicken- any leftover chicken will do if you don't have rotisserie. You just don't want any strong contrasting flavors like bbq sauce on there.
Equipment:
You'll need a slow cooker big enough to hold everything.  I use this one, but any 6 qt or larger crockpot will do.  You'll also need a spoon or spatula to stir with, and a small bowl to make the corn starch slurry with milk at the end.
How to Make this Delicious Soup:
Step 1: Prep Vegetables
Cut up your onion (or onions) and potatoes into pieces that are small enough to fit on a spoon. You want to get bites with everything in it, which happens when the veggies are cut on the smaller side. You can see in the ingredient photo that I cut my onions and potatoes the night before and had them in food storage containers, because I am NOT a morning person. Potatoes can be kept in water, so they don't brown overnight. In fact, you could even keep them in the chicken broth, just be sure to keep them refrigerated in that case.
Step 2: Start the Slow Cooking
Add the potatoes, onions, carrots, corn, chicken broth or stock, garlic, salt, and pepper to the crock pot.Stir together, cover with the lid, and turn your slow cooker on low for 8-10 hours.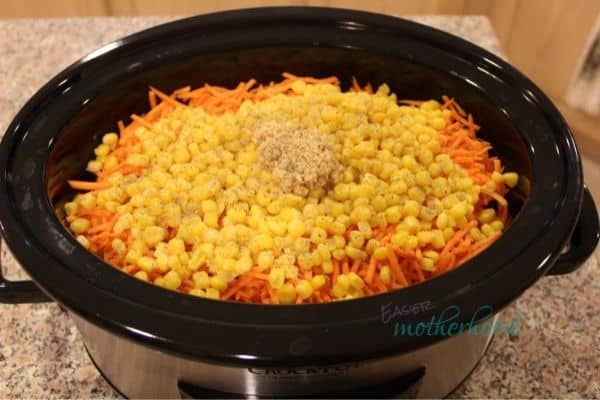 Step 3: Add Milk, Chicken, and Corn Starch
Add the rotisserie chicken and 1.5 cups milk, and turn your slow cooker from low to high. Meanwhile mix the remaining half cup milk with the corn starch in a small bowl or mug, then add and stir again. Let it cook on high for about 30 minutes to thicken, stirring occasionally.
Step 4: Finish with Cheese & Sour Cream
Stir in the cheese and sour cream, once melted turn off the crock pot. Sprinkle whatever toppings you like on top and serve.
Soup Topping Ideas
A good soup is made even better with tasty toppings! Try serving your creamy chicken soup with:
Corn chips
Avocado slices
Sour Cream dollop
Shredded cheese
Crispy bacon
Green onions
Other Cooking Methods
Don't have hours and still want to make this? No problem!
Stove Top Directions
In a large pot add the veggies, broth, and seasoning and cook on medium-high heat until the vegetables are tender- about 20 minutes. Then reduce the heat to medium-low and add the corn starch slurry, milk, and rotisserie chicken. Once thickened melt in your cheese and sour cream and serve.
Instant Pot Directions
Add the veggies, broth and seasoning to your pressure cooker and cook for 8-10 minutes on high pressure. After 5 minutes of natural release flip your valve and remove the lid. Add your milk, cooked chicken, and corn starch slurry and cook on saute mode until thickened to your liking. Then melt in your cheese and sour cream and serve.
Allergy Considerations
This recipe is naturally gluten free as written, but always double check your ingredients. I haven't tried dairy alternatives like coconut milk with this, but I have left out the dairy entirely before and had chicken potato soup instead of chowder.
Frequently asked questions:
Do I need to peel the potatoes?
It depends. The skin of russets can be unpleasant, so those I'll peel. Also if they're starting to green at the peel I'll remove those skins, but in general for gold or red potatoes I'll leave them on.
Can I freeze the leftovers?
I don't recommend it. Potatoes don't usually freeze and thaw well, and dairy can have some separation as well. However, this chowder is fantastic as regular leftovers from the fridge. Make sure to store in it an airtight container in the fridge and in portions you'll eat entirely- since we started with leftover chicken we don't want to reheat this more than once.
Can I make this without the corn starch?
If you're out of corn starch you can use arrowroot powder as a thickener, but that's not one everyone keeps on hand. Another way to make the soup feel thicker is to use an immersion blender and partially blend the vegetables after cooking, but before adding the chicken.
Can I use raw chicken?
Yes, you can use skinless boneless chicken breasts or thighs. Just add them with the veggies, making sure they're submerged in the broth. You can either cut them into bite size chunks of chicken before cooking or shred them with forks before adding the dairy.
Looking for more slow cooker ideas?
Try this beef stew, caprese chicken pasta, or foolproof ribs! Or bookmark this list of dump and go slow cooker dinners for 30+ easy ideas.
Enjoy!
I hope your whole family enjoys this comforting meal, and that it becomes one of your favorite soups! If you love it be sure to come back and leave a star review.
📖 Recipe
Crockpot Chicken Potato Chowder
Potatoes and veggies slow cooked in broth while you're away, with rotisserie chicken and dairy added before serving dinner make this cheesy soup convenient comfort food.
Ingredients
2

lb

potatoes

about 4 medium potatoes

15

oz

can corn

drained

8

oz

carrots

shredded

2

ea

onions, small

or 1 large onion

4

cups

chicken broth

2

tablespoon

minced garlic

2

cups

milk

3

tablespoon

corn starch

½

cup

sour cream

8

oz

cheddar cheese

shredded

2

cups

rotisserie chicken

½

teaspoon

sea salt

to taste

½

teaspoon

black pepper

to taste
Instructions
Dice onion(s) and potatoes and add to your crockpot, along with the corn, carrots, garlic, salt, pepper, and broth.

Turn crockpot on LOW for 8-10 hours.

Approximately 30 minutes to 1 hour before serving, add the cooked chicken. Stir the corn starch into the milk and add the milk as well. Change crockpot setting to HIGH for thickening.

Melt in sour cream and cheese. Serve with extra cheese on top if desired.
Podcast
Notes
To cook on high, lower cook time to 4-5 hours, or until potatoes are tender.
For stovetop cooking, boil vegetables in broth until tender, then add all but the sour cream and cheese and cook until thickened. Melt in cheese and sour cream then serve.
For instant pot cooking, cook vegetables in broth on high pressure for 8-10 minutes, after releasing pressure add in all but the sour cream and cheese and cook on saute mode until thickened. Last add cheese and sour cream and serve once melted.
Nutrition
Calories:
600
kcal
Carbohydrates:
50
g
Protein:
40
g
Fat:
27
g
Saturated Fat:
13
g
Polyunsaturated Fat:
1
g
Monounsaturated Fat:
5
g
Cholesterol:
138
mg
Sodium:
1484
mg
Potassium:
1057
mg
Fiber:
5
g
Sugar:
8
g
Vitamin A:
6952
IU
Vitamin C:
34
mg
Calcium:
431
mg
Iron:
2
mg
Nutrition information is provided as a courtesy and is an estimate. It is recommended to use your preferred calculator with the actual ingredients you use for optimal accuracy.