This Crockpot Chicken Potato Chowder is cooking in my slow cooker as I write this, and I can't wait for dinner.
It's finally starting to cool down a bit and feel like fall, and nothing says fall weather like a good soup. Especially one with potatoes and cheese- that combination tastes like comfort food!
This chicken potato chowder is a hearty and easy meal that we love, and I hope you'll love it too. I roughly adapted this recipe from the incredible Amanda over at The Chunky Chef, but with chicken for two reasons. First, I only have ham around when we buy a spiral for holidays because my husband doesn't like it. And second, rotisserie chicken at Costco is so budget friendly, and soups are a great way to use some meat from one.
This post contains affiliate links, which means I receive a small commission, at no additional cost to you, if you make a purchase using this link.
Let's get started! Here's what you'll need:
2 lb potatoes (about 4 medium potatoes), cut into bite-sized pieces
15.25 oz can corn, drained
8 oz bag shredded carrots
1 large (or 2 small) onion, chopped
4 cups chicken broth or stock
2 tablespoons minced garlic
salt and pepper to taste
2 cups milk
3 tablespoons corn starch
½ cup sour cream
2 cups (8 oz) shredded cheddar cheese
2-3 cups rotisserie chicken (about ⅓ of a Costco sized bird)
extra cheese, for garnish
You'll also need a slow cooker big enough to hold everything. I use this one, but any 6 qt or larger crockpot will do. You'll also need a spoon or spatula to stir with, and a small bowl to make the corn starch slurry with milk at the end.
Instructions
Cut up your onion (or onions) and potatoes into pieces that are small enough to fit on a spoon. You want to get bites with everything in it, which happens when the veggies are cut on the smaller side. You can see in the ingredient photo that I cut my onions and potatoes the night before and had them in food storage containers, because I am NOT a morning person. Potatoes can be kept in water, so they don't brown overnight. In fact, you could even keep them in the chicken broth, just be sure to keep them refrigerated in that case.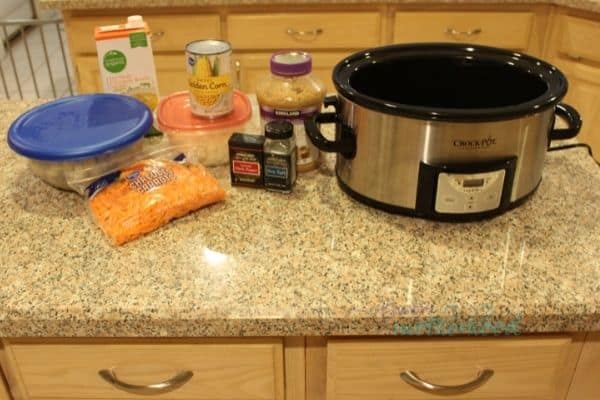 Add the potatoes, onions, carrots, corn, chicken broth or stock, garlic, salt, and pepper to the crock pot.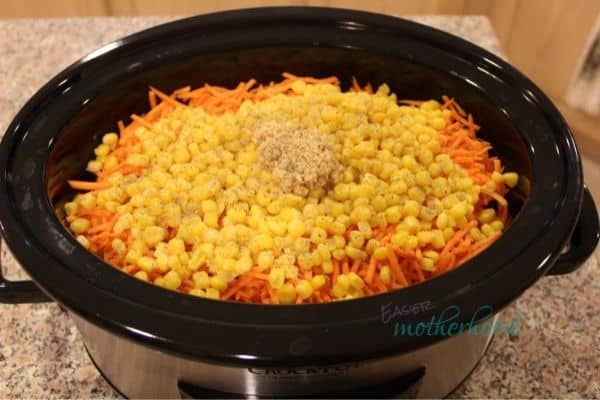 Stir together, cover with the lid, and turn your slow cooker on low for 8-10 hours.
Add the rotisserie chicken and 1.5 cups milk, and turn your slow cooker from low to high. Meanwhile mix the remaining half cup milk with the corn starch in a small bowl or mug, then add and stir again. Let it cook on high for about 30 minutes to thicken, stirring occasionally.
Stir in the cheese and sour cream, once melted turn off the crock pot. Serve with extra cheese to sprinkle on top.
Yum!
Frequently asked questions about crockpot chicken potato chowder:
Do I need to peel the potatoes?
It depends. If you use russet potatoes, I recommend peeling them. I usually use white or gold potatoes which have much milder skin, and those I leave intact.
Can I use regular, non-rotisserie chicken?
Absolutely! Any leftover chicken that doesn't have too strong of a competing flavor profile will work fine for this dish.
Can I freeze the leftovers?
I don't recommend it. Potatoes don't usually freeze and thaw well, and dairy can have some separation as well. However, this chowder is fantastic as regular leftovers from the fridge. We usually eat it for at least two dinners when I make it.
How long does crockpot chicken potato chowder take to prep?
Depending on how fast you chop, it takes 20-30 minutes to get everything into the slow cooker from the moment you walk into the kitchen. That's not bad, but I often cut the onions and potatoes the night before since that's most of the preparation. As mentioned above, potatoes will keep from browning if they're in water, and you could even keep refrigerated in the broth you'll be using and pour the whole container in the crockpot.
I personally don't recommend refrigerating the crockpot insert itself with the meal prepped in it. I used to do that, and that crockpot died an early death. While I can't be sure that was the cause, I don't do it anymore.
Turns out my sour cream is bad, anything else I can use?
I've been there too! Half a brick of cream cheese works great too, but will take a little longer to melt and stir into the soup than sour cream does.
I'm gluten-free, is this crockpot chicken potato chowder recipe GF?
As written and pictured, it is! Just be sure to double check your ingredients, I've heard there are brands of broth that contain gluten.
I'm dairy-free, can I substitute other products?
I haven't tried this with dairy alternatives like coconut milk, but I have left out the dairy entirely before and had chicken potato soup instead of chowder. It's a much lighter dish that way, but quite delicious. If you do try it with alternatives be sure to let me know how it turns out!
Yield: 6
Crockpot Chicken Potato Chowder
Potatoes and veggies slow cooked in broth while you're away, with rotisserie chicken and dairy added before serving dinner make this cheesy soup convenient comfort food.
Total Time
8 hours
20 minutes
Ingredients
2 lb potatoes (about 4 medium potatoes), cut into bite-sized pieces
15.25 oz can corn, drained
8 oz bag shredded carrots
1 large (or 2 small) onion, chopped
4 cups chicken broth or stock
2 tablespoons minced garlic
salt and pepper to taste
2 cups milk
3 tablespoons corn starch
½ cup sour cream
2 cups (8 oz) shredded cheddar cheese
2 cups rotisserie chicken
Instructions
Dice onion(s) and potatoes and add to your crockpot, along with the corn, carrots, garlic, salt, pepper, and broth.
Turn crockpot on LOW for 8-10 hours
Approximately 30 minutes to 1 hour before serving, add the cooked chicken. Stir the corn starch into the milk and add the milk as well. Change crockpot setting to HIGH for thickening.
Melt in sour cream and cheese. Serve with extra cheese on top if desired.
Notes
This chowder makes fantastic leftovers, but freezing is not recommended.
Nutrition Information:
Yield:
6
Serving Size:
1
Amount Per Serving:
Calories:

504
Total Fat:

17g
Saturated Fat:

7g
Trans Fat:

0g
Unsaturated Fat:

7g
Cholesterol:

104mg
Sodium:

1280mg
Carbohydrates:

58g
Fiber:

6g
Sugar:

13g
Protein:

34g
Nutrition information is provided as a courtesy and is an estimate. It is recommended to use your preferred calculator with the actual ingredients you use for optimal accuracy.
Looking for more slow cooker ideas?
Try my beef stew, caprese chicken pasta, or foolproof ribs!