This delicious slow cooker caprese pasta takes just a few minutes to prepare, only 4 ingredients go into the slow cooker! Ok, 6 if you dump the pasta and olive oil in at the end.
This slow cooker caprese pasta makes a great weeknight meal, and doesn't have to be started first thing in the morning. In fact, I usually start it during nap time, then make the pasta when we're about ready to eat.
One day when I was cruising the aisles of Trader Joe's, I picked up a jar of their pesto without really knowing what I was going to do with it. Food is definitely the category where I impulse-buy the most! I've used store-bought sauces in other slow cooker recipes, so decided to try and use it in my crock pot with some chicken. My husband inhaled his plate and then said "this is really good", so success! My toddlers were less enthused, because hey, it's not mac n cheese.
This post contains affiliate links, which means I receive a small commission, at no additional cost to you, if you make a purchase using this link.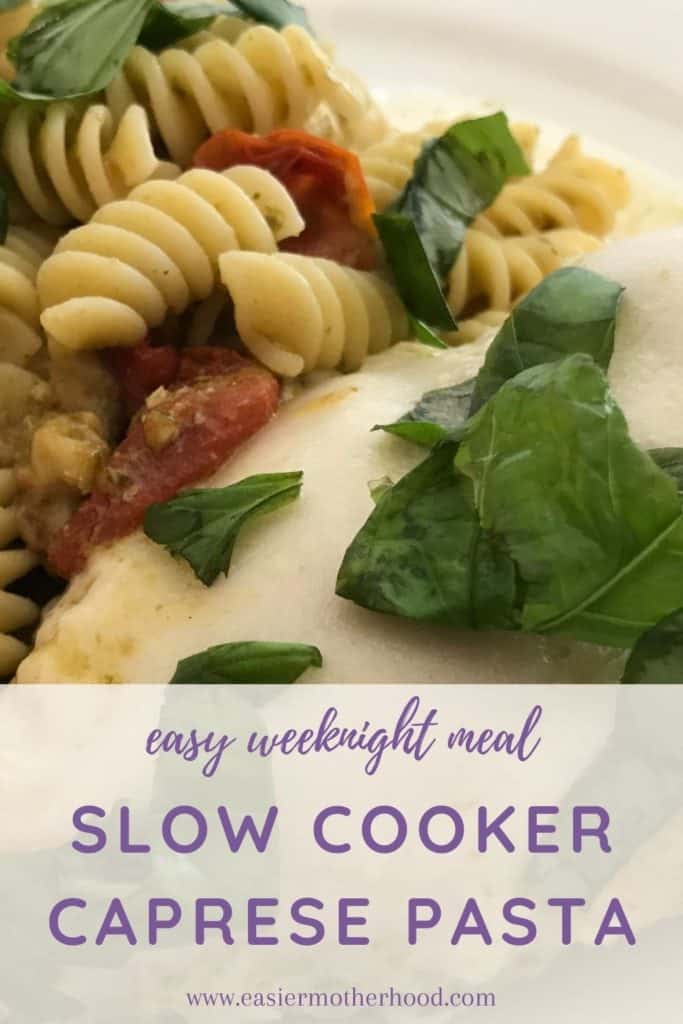 Let's get started! Here's what you'll need:
12 oz pasta (a little more or less is fine)
5.7 oz pesto- this is the size of the Trader Joe's Pesto all Genovese
10 oz grape or cherry tomatoes
4 oz (approximately) Mozzarella cheese
1 lb (approximately) boneless skinless chicken breasts
1 handful fresh basil (optional)
1 tablespoon olive oil (optional)
You'll also need a slow cooker, a pot to cook the pasta in, a strainer, and a spoon or spatula to mix things. You'll also need a knife and cutting board for the tomatoes, and potentially cheese. I also recommend using a food thermometer if you are cooking for the shorter time.
Instructions for Slow Cooker Caprese Pasta
Preparation
Prep time for this should be about 5 minutes, no more than 10. First, take every glorious 5.7 oz in that jar of pesto and spread it on the bottom of your crock pot. Next, place your chicken breasts in the slow cooker in a single layer. If your mozzarella cheese isn't pre-sliced, cut 2-3 slices for each breast. Place the mozzarella cheese over the chicken.
Next, cut the grape tomatoes in half and sprinkle them around the chicken.
Then, turn the slow cooker on.
Cooking time
I like to serve the breasts whole, so I only cook them 3-4 hours on low, or 2 hours on high. This cooking time may vary- my slow cooker runs a bit warmer than average, and I still check it with a food thermometer to ensure it is at a safe temperature before serving.
You may prefer your chicken shredded- in that case give it 6-8 hours on low. That additional slow cooking time allows the chicken to fall apart easier. This makes it easier to shred and mix into the sauce.
Serving
When it is nearly time to eat your slow cooker pesto pasta, make your pasta according to the instructions on the box. Drain your pasta, and if not adding it to the crock pot add a tablespoon of olive oil to prevent it from sticking.
Tip: you can add that tablespoon of olive oil to the pesto jar and shake it up a bit, then pour that into the pasta. That helps get those last bits of pesto in the jar!
If you cooked the chicken for shredding, fork shred it and mix up the sauce components. You can dump the pasta into the slow cooker and mix it together. Or, you can let your family top their pasta with the slow cooker pesto chicken mix.
If you cooked the chicken for serving whole, go ahead and remove the breasts from the slow cooker to a plate. Then you can either mix the pasta into the sauce in the crock pot, or keep it separate and let everyone choose their own amount of sauce.
Yum!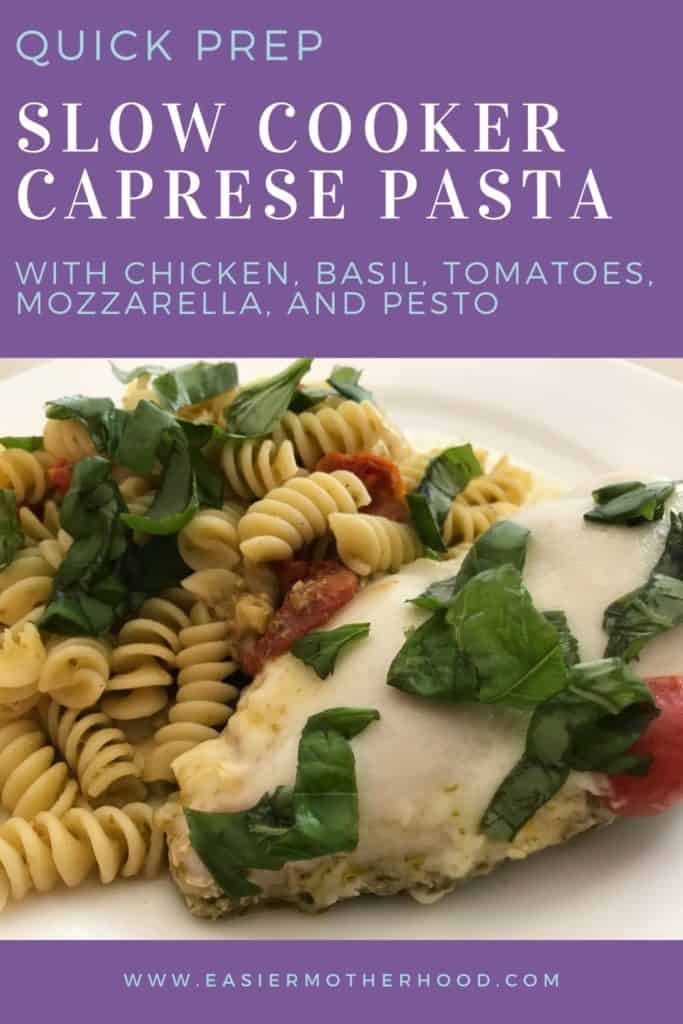 Questions about Slow Cooker Caprese Pasta
I work outside the home and need this to cook more than 8 hours. Will the crock pot chicken caprese be ok?
Maybe. It honestly depends on your slow cooker and how hot it runs. I know some moms use a timer or smartplug and a basic untimed crock pot to turn the slow cooker on after they've left. You still don't want it to sit out at room temperature for too long before turning it on though.
Alternatively, you could cook it in the oven instead- do the exact same steps just into a 9x13 pan, and bake it in the oven while you cook the pasta. With the oven set to 350 degrees, chicken breasts should cook through in 25-30 minutes, but check they've reached 165 degrees with a meat thermometer.
You really only cook this slow cooker caprese chicken for 2 hours on high?
My crock pot runs a bit warm, but yes. I don't open the lid during that time which helps it keep the heat and moisture in the slow cooker, and am sure to check the breasts with a food thermometer. Larger breasts or a cooler running crock pot may take a bit longer.
What kind of pasta should I use for this recipe?
I like to use rotini pasta because it holds the sauce really well and it cooks a few minutes faster than penne pasta. Any pasta you like will do, but I find it's best with one that has grooves or texture for the sauce to cling to.
Do I need to use fresh mozzarella cheese?
While it certainly doesn't hurt if you have fresh in your kitchen, it's not necessary. Fresh is ideal when not cooking mozzarella, like in a traditional caprese salad, but packaged slices taste great in this dish too.
I don't have a Trader Joe's near me- can I use another pesto?
Absolutely! Most grocery stores will have a pesto sauce available near the regular pasta sauces.
Is this slow cooker caprese pasta gluten free? Dairy free?
The good news is this dish can easily be made gluten free by using GF pasta. However, it will only be dairy free if you use a dairy-free pesto. Most pesto sauces in the stores, including the Trader Joe's Pesto alla Genovese that I use, contain dairy.
Yield: 4
Slow Cooker Caprese Pasta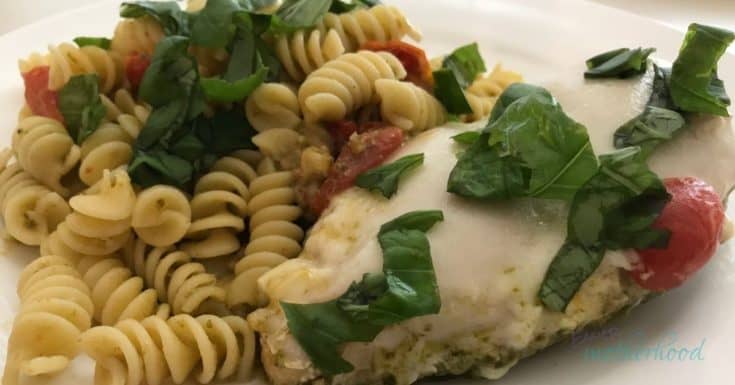 This easy caprese inspired pesto pasta dish preps in a snap- just add chicken, pesto, mozzarella, and grape or cherry tomatoes to your crockpot. When it's time to eat add in pasta and basil for a complete dinner perfect for busy weeknights.
Total Time
3 hours
5 minutes
Ingredients
12 oz pasta
5.7 oz pesto
10 oz grape or cherry tomatoes
4 oz Mozzarella cheese
1 lb boneless skinless chicken breasts
1 handful fresh basil (optional)
1 tablespoon olive oil (optional)
Instructions
Spread the pesto on the bottom of your slow cooker.
Place chicken breasts on top of pesto in a single layer.
Cover chicken with slices of mozzarella.
Cut grape tomatoes in half and sprinkle them around the chicken
Turn your slow cooker on LOW for 3-4 hours for whole breasts, or 6-8 hours for shredded. Fork shred if desired.
Boil pasta according to package directions and either serve as a side (use optional olive oil to prevent sticking) or add to crock pot and combine. Garnish with basil (optional).
Notes
Actual cook time may vary with slow cooker and chicken breast thickness- for food safety always verify chicken has reached 165 degrees F.
Nutrition Information:
Yield:
4
Serving Size:
1
Amount Per Serving:
Calories:

690
Total Fat:

34g
Saturated Fat:

9g
Trans Fat:

0g
Unsaturated Fat:

22g
Cholesterol:

129mg
Sodium:

490mg
Carbohydrates:

44g
Fiber:

3g
Sugar:

12g
Protein:

52g
Nutrition information is provided as a courtesy and is an estimate. It is recommended to use your preferred calculator with the actual ingredients you use for optimal accuracy.
Chicken in the crock pot doesn't have to be boring! Let me know in the comments what your favorite is.
Looking for another slow cooker meal? I love these 3 ingredient ribs!
Or maybe you prefer pasta. This is my favorite.