Dump and go slow cooker dinners are one of the best tricks up an overwhelmed moms' sleeve. Is there anything better than remembering at naptime you don't need to start dinner? Or walking in the house after a long day to a meal that's waiting for you?
I mean, yes, obviously. Taylor Swift could show up to bake cookies and drink wine with me. But as far as things that are LIKELY to happen this week? Dump and go slow cooker dinners are very high on the list of awesomeness.
In 2020 my old crock pot bit the dust. Rest in peace, you useful cooking appliance. So last year I asked for one for Christmas, and started creating some slow cooker recipes for Easier Motherhood. I even started moderating a slow cooker Facebook group.
A year later, I've finally put together a list of truly easy dump and go slow cooker recipes that I started curating before I got my new crock pot. So if you're looking to cook more and takeout less without exerting a lot of effort in 2022, this is just the list for you.
So, let's talk about what it takes for a crock pot recipe to qualify as "dump and go" for this list:
No pre-cooking. If a recipe calls for browning meat on the stove first, it's out. Using leftover meat intentionally is ok.
Under 30 minutes to prepare, including cutting up the meat and veggies. Most of these are far less than that, and I chop really, really slow in the morning while drinking my tea, so you're probably faster than I am!
Once the crock-pot is on, it needs to be hands off. Adding some dairy or thickener at the end is OK, as is shredding meat, but that's the only time the lid should need lifted before serving.
Any post-cooking has to be optional. A few dishes mention that you CAN broil or sear a meat before serving to get a little char on top, but that you don't need to.
While not related to ease, I also only included entree's on this list. There are a lot of great side dishes you can make in a crock pot too, but my goal here was a list of dinners. Let's be honest: sides are a lot easier to come up with on the fly than a full meal. Plus, many of these include vegetables to be one-pot dinners.
No time to scroll right now? Pin this list for later!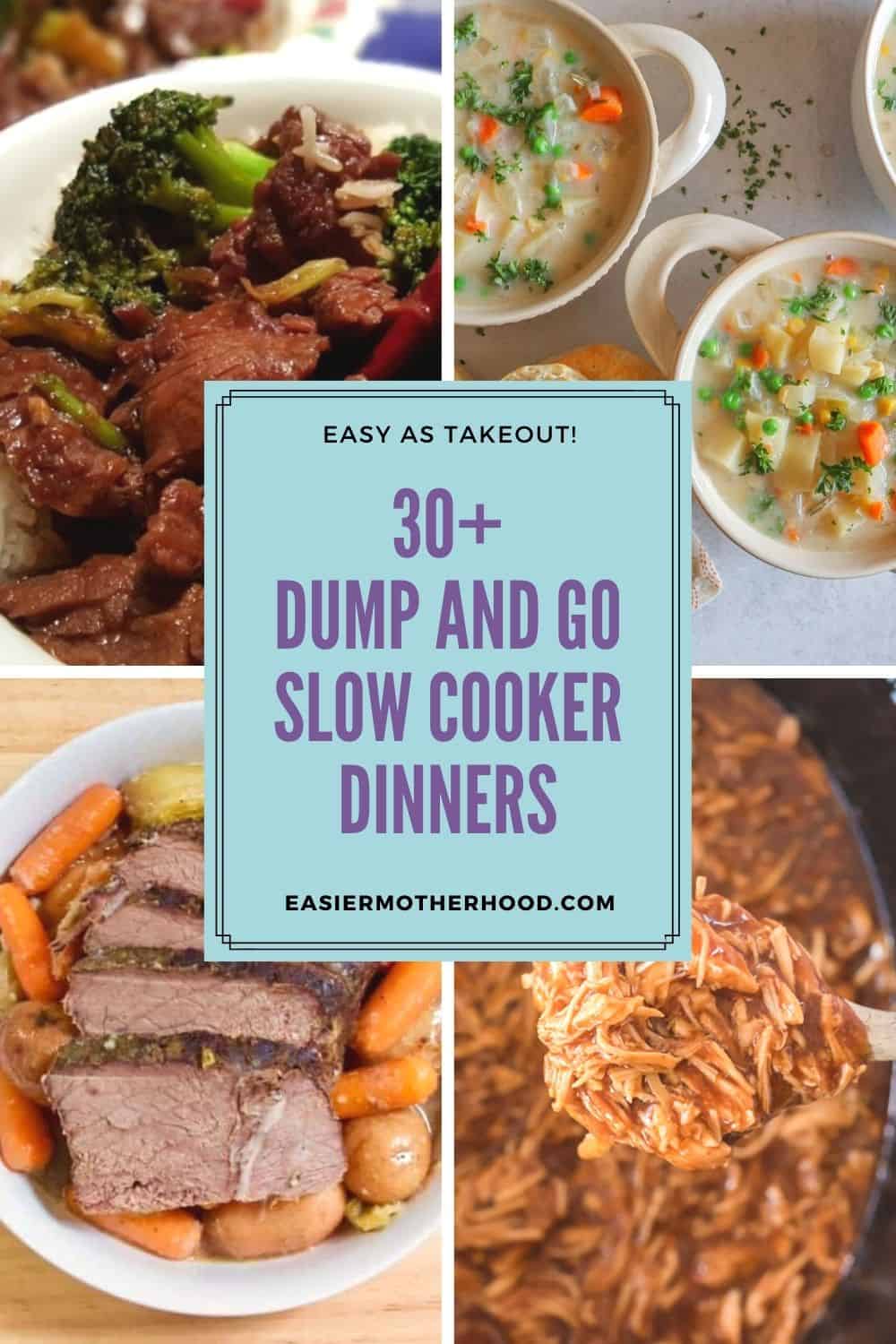 A quick side note on cooking frozen meat
It is the USDA's stance that you shouldn't cook meat in a slow cooker from frozen, because it may spend too long in the temperature danger zone on it's way to cooking, even if it reaches temperature by the end of cooking. Whether it will spend too long in that danger zone will depend on a variety of factors such as how hot your crock pot runs, the size and shape of your meat, if it is above liquid or submerged in it, etc. Some of these links disagree with that USDA recommendation, and like you, they can do what they want in their kitchen. I don't argue with folks about what they serve their families, but I would be remiss to not mention it at all.
This post may contain affiliate links, which means I receive a small commission, at no additional cost to you, if you make a purchase using this link.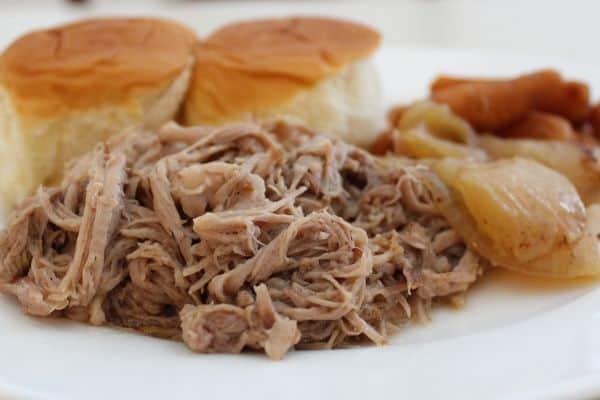 Is there anything easier than pulled meat in a slow cooker? My pulled pork recipe adds onions and baby carrots to make it a truly one pot meal, and the onions are only cut into about 6 pieces, so the prep is very minimal. It takes about 10 minutes to put together, and you can halve that if you prep your spices and cut the onions the night before. I don't know about you, but I move pretty slow in the mornings, so I like to prep what I can in the evening instead.
One thing I love about the recipe is that it doesn't have too much of a barbeque flavor, so it's easy to repurpose any extra meat into another meal that isn't straight up leftovers. Try adding some chili powder and cumin to the cooked pork to make them into filling for carnitas tacos later in the week!
Soup is SO good in the slow cooker. I almost always end up with a spiral ham around Christmas, even if I don't serve one that day. Once they go on sale, I just can't seem to help myself! I love using up some of the leftovers up with Amanda's cheesy ham chowder. Amanda is someone I actually am lucky enough to know from real life. She is not only a wonderful cook, but is also SUPER nice.
The prep takes me about 20 minutes when I'm fully awake, so I like to cut the veggies the night before. I am so NOT a morning person! Cut potatoes will store in water without browning, or you can even keep them in a bowl with the broth you're going to use in the fridge.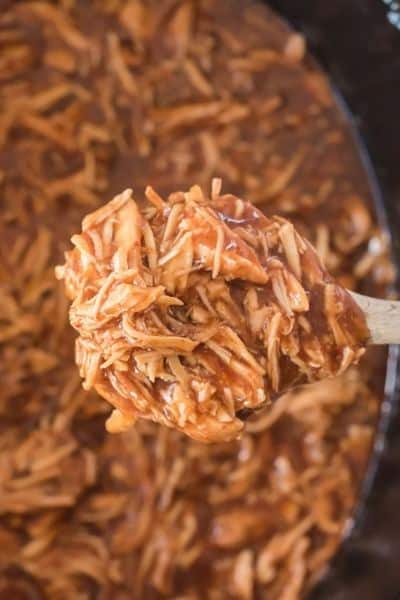 Pulled meat making it's second appearance here. So easy, and so yummy. Melissa's BBQ chicken is 6 ingredients that you can toss in your crock pot within 5 minutes. Turn it on in the morning, shred it when it's time for dinner, and boom! Done.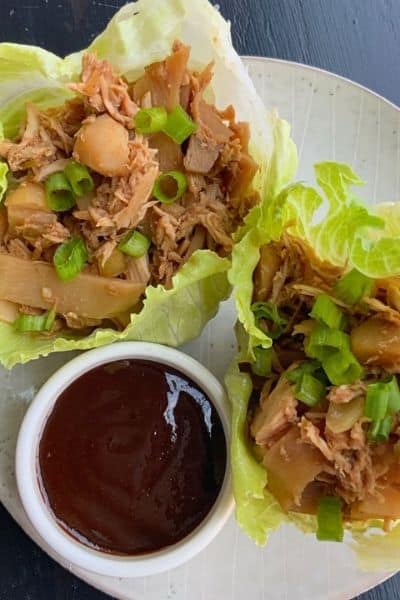 My husband and I love Asian inspired food, and I love the ease of this dish. You'll need a few ingredients that may not be pantry staples for you- like hoisin sauce- for Susan's lettuce wraps, but they should be easily found in most regular grocery stores- my Kroger store carries all of them. This recipe is the classic dump it in, walk away, and come back to a dinner that is ready and waiting for you to toss into lettuce. In other words, it's perfect for busy moms.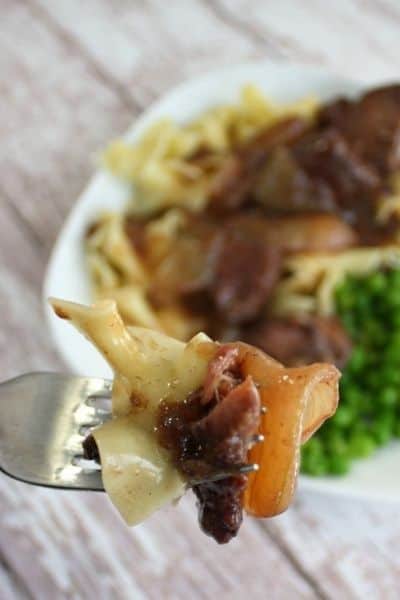 I know my readers are not all stay at home or work from home moms (who often have the flexibility to prep an easy crockpot meal during lunch), and this recipe cooks for 10-12 hours on low, making it a great option for a busy workday where you'll be out of the house for a long time. Marissa's onion beef with wine sauce is just stew meat, onion, onion soup mix, and red wine, cooked low and slow for a long time.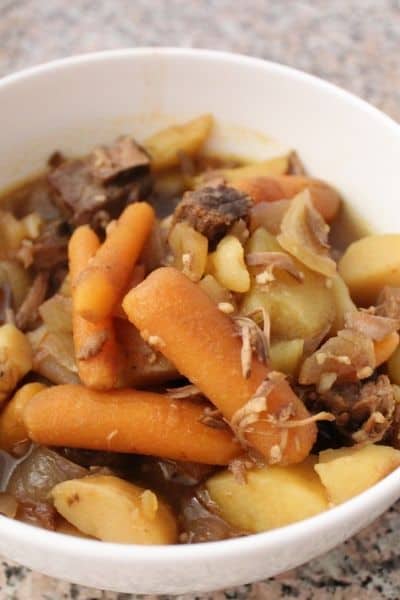 So most stew recipes would be disqualified from this list because they require browning the meat. Not this beef stew! I've made it both ways and found the flavor difference to be negligible. The broth, wine, tomato paste, worchestershire sauce and garlic add SO much flavor.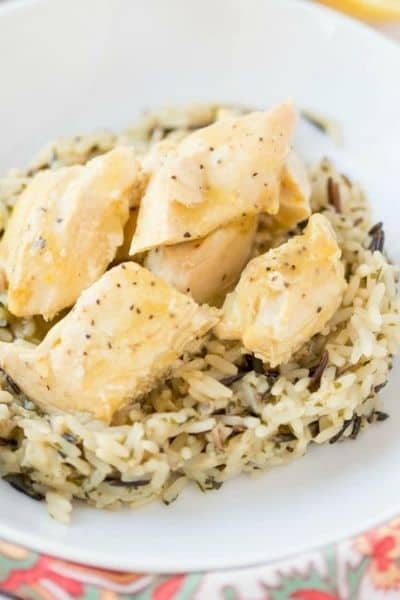 Just 4 ingredients go into Melissa's lemon chicken, making it a super easy dump and go dinner. Turn it on in the morning, shred or slice the chicken when it's time for dinner, and boom! Done.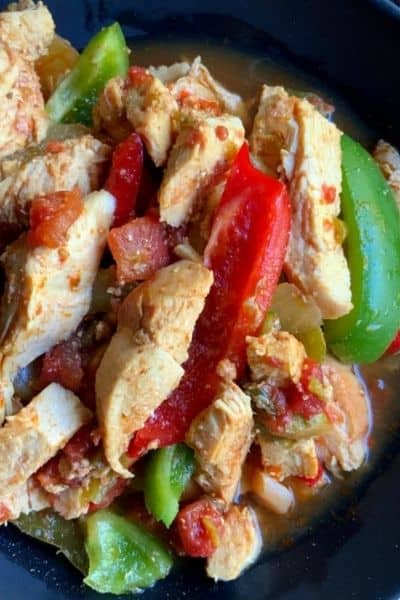 I usually make our fajitas in the oven, but Susan has a wonderful recipe that prepares fajitas in the slow cooker! The only cutting here are the onions and peppers, which you could buy already done if you prefer. This is a true dump and go, just shred or slice the chicken after cooking and serve with your favorite tortillas and toppings.
I'll be honest, this isn't a flavor combination I would have come up with. But Rebecca did, and I'm betting her slow cooker applesauce chicken is a huge hit with kiddos that like applesauce. You probably have everything you need to make it on hand too- no fancy ingredients here!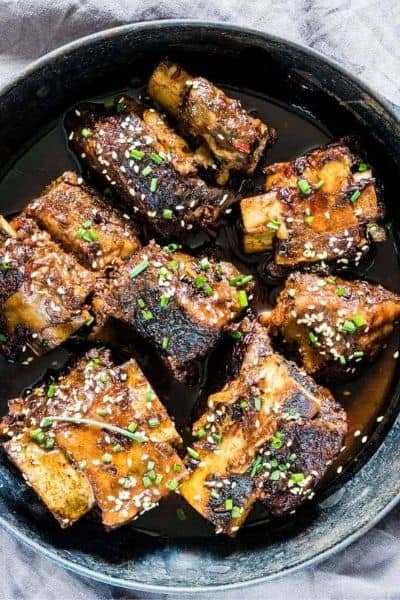 When I think short ribs, I think of fancy tapas restaurants. Bintu's slow cooker short ribs are surprisingly simple, and look like an elegant meal. The fact that they only take a few minutes to prep is a detail we can keep to ourselves- go ahead and let the family think you worked REALLY hard on them.
There is an optional step for thickening the sauce mentioned- you can broil (which it looks like happened for the photo) or add a cornstarch slurry to the crock pot near the end of cooking.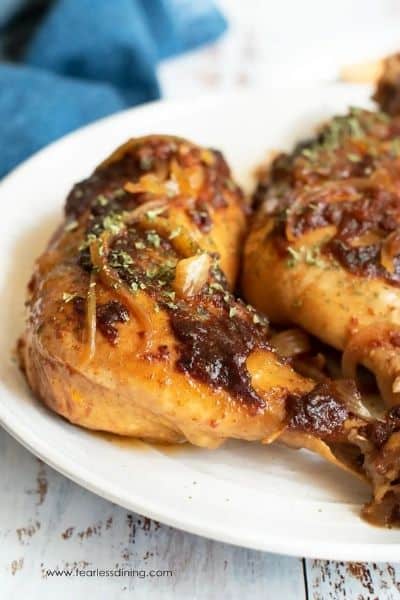 Sandi's slow cooker chicken leg quarters are so easy to make and they are full of delicious slow-cooked barbeque flavor. Just add everything to your slow cooker and turn it on! If you're in an extra hurry you can substitute store bought bbq sauce, but to keep it gluten free be sure to choose a GF sauce- I'm partial to this one.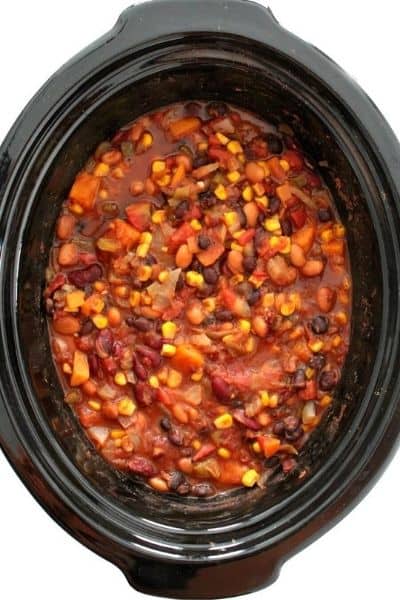 A great dish if you do meatless mondays (or any day). As a Cincinnati native, I love that Rebecca uses cocoa powder (which is mandatory in Cincinnati-style chili) in her vegan chili. The only chopping here is the onion and sweet potatos, everything else is just dump in the can or seasoning!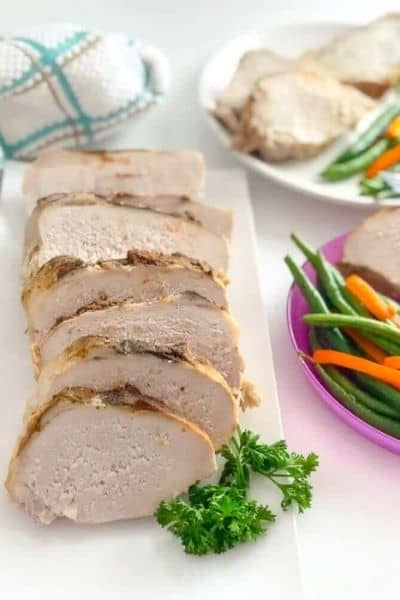 Kristy goes step by step here detailing how to cook a juicy and easy pork loin in the crock pot that is a hit with the whole family. This recipe makes a sizeable amount for dinner and is super simple to throw in your slow cooker with just a few ingredients.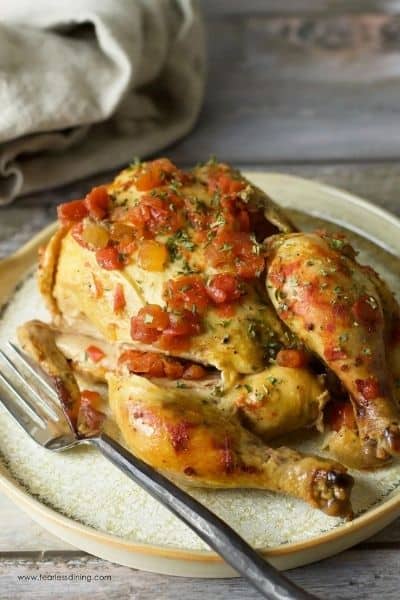 Cornish hens are basically tiny chickens, and Sandi cooks two cornish hens with just Rotel, salt, garlic powder, and water. You don't get much simpler than that, this meal then cooks itself while you are away so you can come home to a ready-made meal!
Jessica's Slow Cooker Creamy Chicken Pasta Recipe is a delicious combination of easy-to-find, simple ingredients such as marinara sauce, tomatoes, pasta, cream cheese, and chicken. A meal loved by both kids and adults, this creamy chicken pasta is perfect for the busy family who loves delicious, comforting food.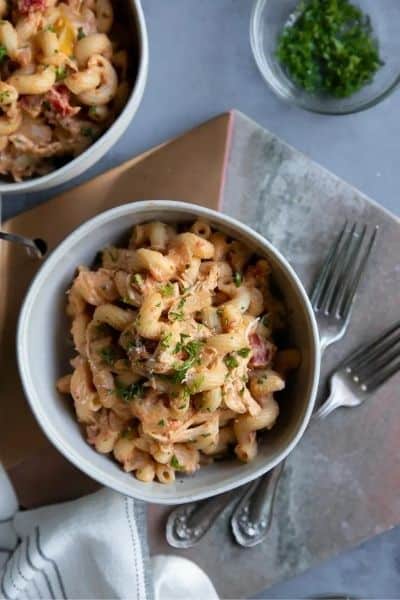 Kristy packs her chicken tortellini tomato soup with Italian flavors, and full of juicy tomatoes, tender chicken, wholesome vegetables and plump cheese tortellini all in each bite. If your family loves pasta night, they'll love this hearty soup.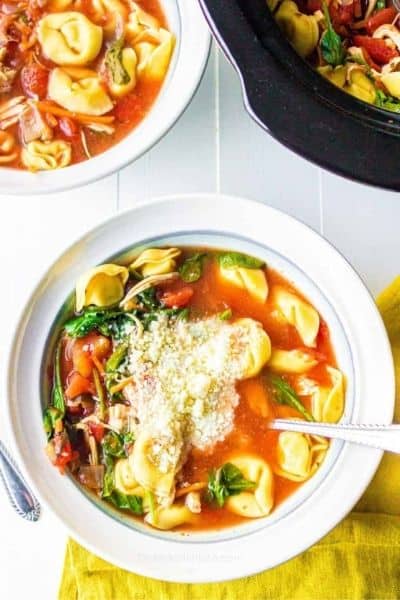 Sara's slow cooker ham and bean soup is made with a mixture of dried beans, vegetables, tomatoes and diced ham, all cooked together for a hearty and flavorful meal. It's a great way to use up leftover ham, and I love that in the slow cooker you don't need to soak the beans!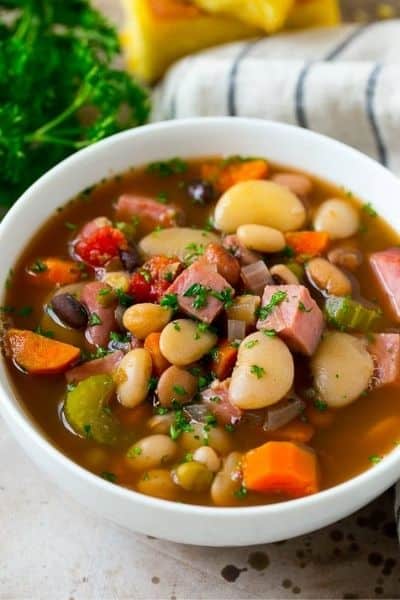 Chellie actually won a chili cook of with her White Chicken Chili. It features tender chunks of chicken, creamy white beans, cheesy broth, and just the right amount of heat. The instructions are so easy that it's literally dump everything but the sour cream and cilantro in the crock pot and turn it on. You do need to have chicken prepped ahead of time, I like to pick up a rotisserie every time I go to Costco and always have portions ready to go in my freezer for quick weeknight meals like this.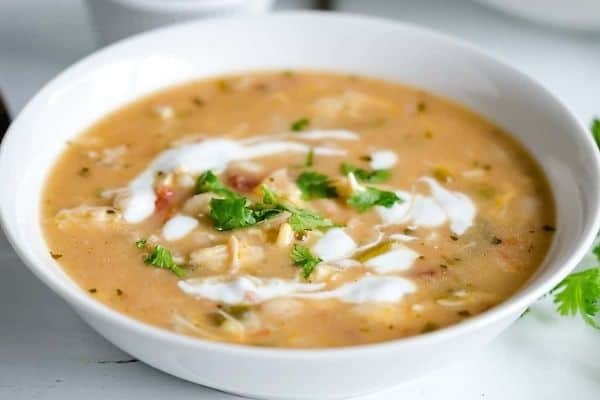 These chicken taco bowls are super easy to make in a slow cooker. Dump it in, turn it on, shred the chicken and serve it with rice and yummy toppings at dinnertime. If you love Tex Mex like Corinne does, you probably have all the ingredients on hand!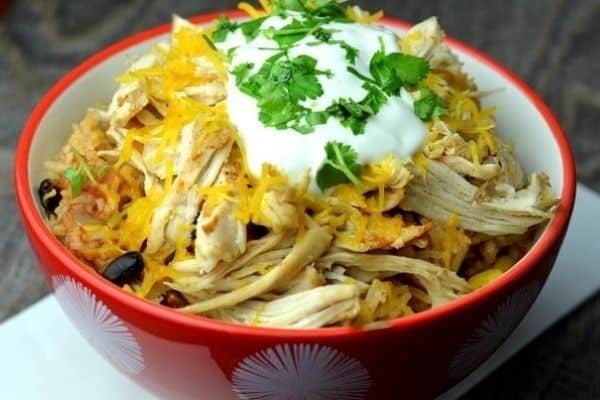 This freezer friendly dump and go taco soup is loaded with southwest flavors. It's an easy weeknight slow cooker dinner made with ground beef; Annie adds everything but the cream cheese to the crock pot in the morning and lets my favorite appliance do its magic. While my family isn't Keto, we do love tacos!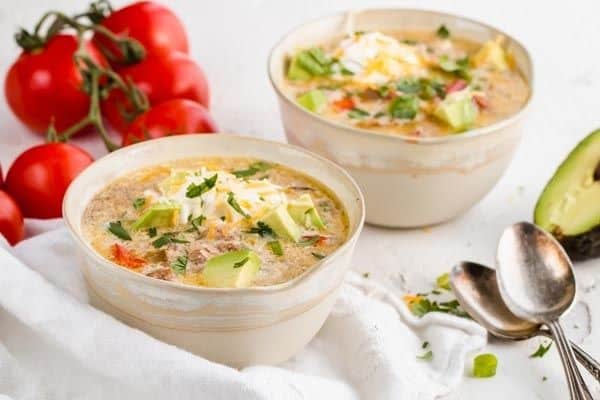 This slow cooker swiss steak with tomatoes is the ultimate comfort food and dump and go recipe! Terri's recipe requires no pre-cooking and is economical, tenderizing a cheaper cut of steak with the magic of a crock pot.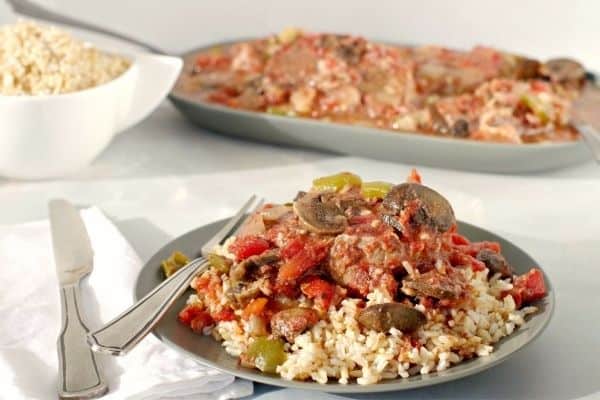 If you've ever googled slow cooker pot roast, odds are you've come across a variation of this Mississsipi Pot Roast. Traditionally it is just a cut of roast, 2 seasoning packets, some pepperchinis, and butter, but I love that Kalee and Kim add veggies to make it a full meal with no additional side dishes needed. Equally important, you'll have this pot roast in the slow cooker within 10 minutes!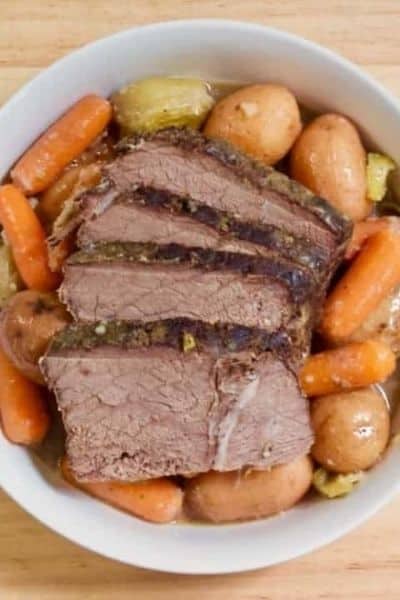 This slow cooker pineapple salsa chicken is so easy to make- prep is just slicing some onions and garlic, and dumping everything in your trusty slow cooker. Audrey's recipe goes great over rice and with a side of steamed veggies.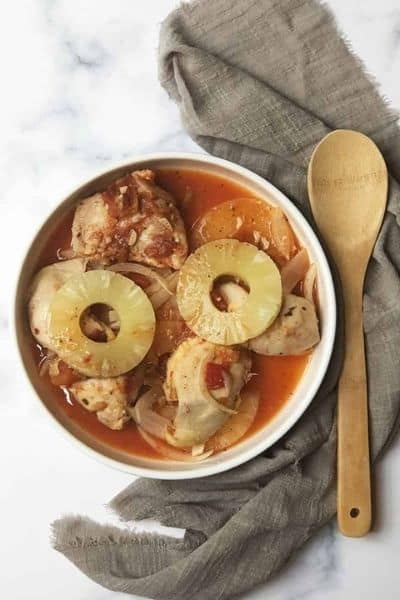 A not insignificant side note (since in case this is news to you, you're on a site with recipes AND kid crafts), Audrey has loads of fun toddler and kid activities.
This slow cooker vegan gnocchi soup also happens to be gluten free (but it doesn't change the directions at all to use regular gnocchi if you aren't GF) , and is an easy meatless option that is still hearty and comforting. I think Kayla had my sister in law in mind writing this one!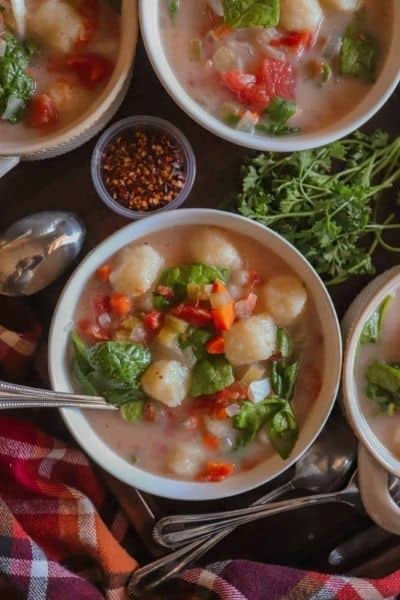 This honey garlic sauced chicken and potatoes uses, as the site name implies, just the crock pot for this recipe. Carmy adds everything but the green beans at the beginning, then throws those in a bit before dinner so they don't get overcooked. Honey based glazes are generally a win with kiddos, that plus the ease factor makes this a winner!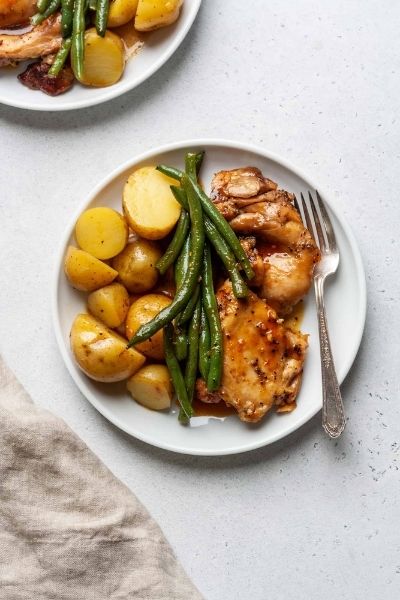 This slow cooker garlic lime chicken is packed with flavor, because it's impossible for anything with lime juice not to be. And if you have some extra lime juice, add it to your rice to really amp up the flavor. Robin uses bone in chicken thighs for both their budget friendliness as well as their resiliance- bone in thighs hold up well for extended cooking times if it's going to be a long day.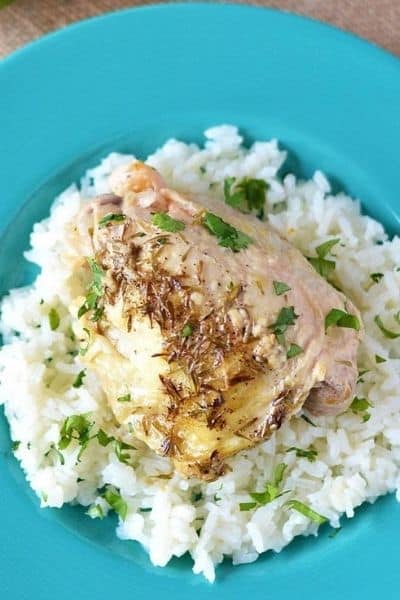 Audrey's crockpot chicken stroganoff is so hearty, if your family enjoys mushrooms and chicken this is a hands down winner! Prep is essentially slicing an onion and tossing everything in your crock pot. So approximately 5 minutes after coffee kicks in, 10 minutes before.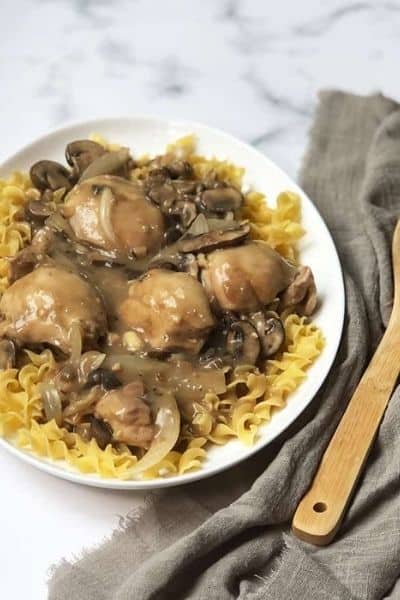 This slow cooker vegetarian pot pie soup is another great meatless dish that doesn't skip on the heartiness. Like any pot pie, Kayla's is best served with biscuits (which is why she put them in the picture, I'm sure of it), because YUM. In the morning just dump and go, and before dinner blend some of the soup to thicken it while those biscuits are in the oven.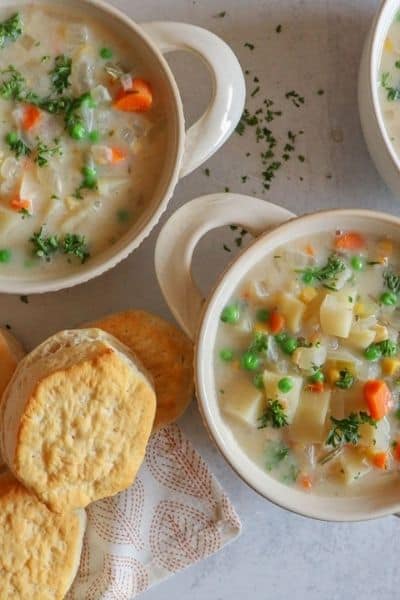 Have I mentioned that I'm in a commited relationship with carbs? We are now 28 recipes in, so I feel like that should have come up by now. By the way, thanks for still being here and reading through this list I put together for you. In case no one has mentioned it today, you're the best.
Chicken thighs are cooked low and slow with tomatoes, bell peppers, and mushrooms in this slow cooker chicken cacciatore. Amanda's recipe makes a light sauce that can be served over pasta, polenta, or even potatoes!
These slow cooker chicken legs hit the sweet and savory combination with jam and soy sauce. I'm adding apricot jam to my grocery list, er, NOW. That and the chicken legs themselves are the only things missing in my pantry- Melissa's recipe is truly no-nonsense, and with a fruit jam is sure to be kid-approved.
Stacie uses cream of mushroom soup and some spices to keep prep minimal in the morning for this cream cheese chicken. About an hour before dinner time go ahead and add the cream cheese, and serve with whatever sides you like. Since it already has cream of mushroom if that's a vegetable your family enjoys (it is at my house!) you could add some mushrooms with the cream cheese and just serve it with some rolls or toast to keep things simple.
Remember way back towards the beginning of this list that I mentioned we love asian flavors? Jill's beef and broccoli recipe brings them big time, calling for a few less common ingredients to amp up the authenticity. They're not exactly uncommon though, my kroger store carries everything but the chinese five spice.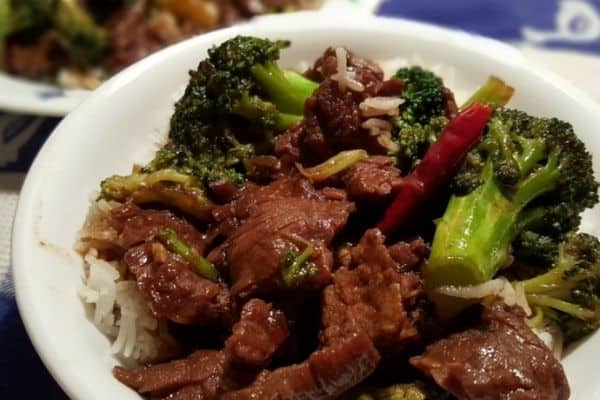 Full disclosure: this recipe requires stirring, so it technically does not qualify for this list. That's why I put it under a bonus heading. When I saw it I knew I couldn't just leave it out because it's so rare to find a good seafood recipe for the slow cooker. I mean, did you know you can make clam chowder in the slow cooker? Since Sarah mentions that you should stir it occasionally to avoid burning the sides, this meal is best for days you're home and can pop in periodically to give it a stir. It also uses bacon, if you don't have any leftover (is that a thing?) you can grab some pre-cooked to keep this a cook-free prep, or leave it out.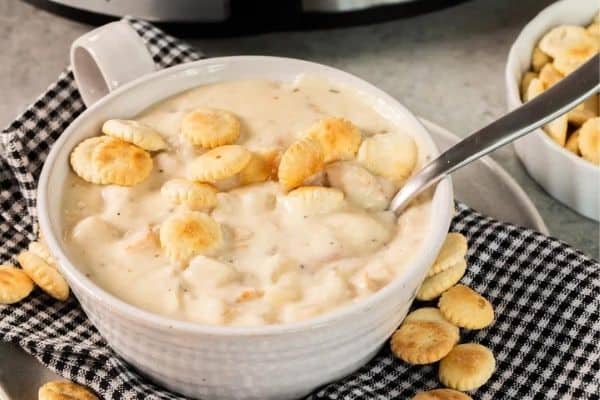 What is YOUR favorite Dump and Go Slow Cooker Recipe? Let me know in the comments!