The best pulled pork is not only a true dump and go slow cooker meal- it also creats meat that is the most tender pulled pork and so full of flavor you don't even need bbq sauce.
I have a close friend who is- according to her- a terrible cook. But when she saw me make this she said "that's it? I could do that!" And to this day this easy crock pot pulled pork is one of the few dishes she makes.
In other words, this dish is so easy even beginner or non-cooks can make it. Pulled pork is one of those true dump and go slow cooker meals that are absolutely perfect for busy days.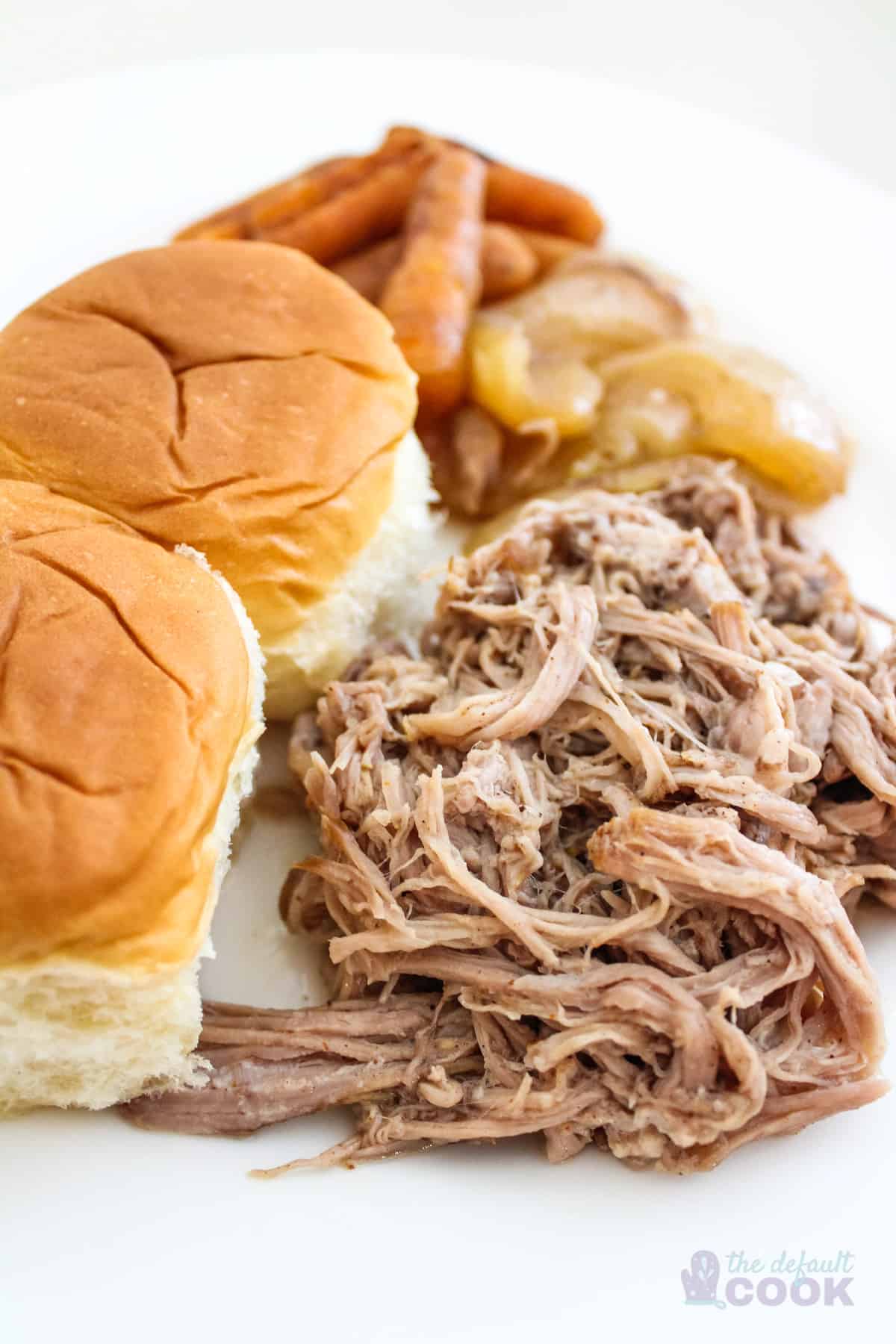 This post contains affiliate links, which means I receive a small commission, at no additional cost to you, if you make a purchase using this link.
Why you'll love this slow cooker pulled pork
Super fast to start- prep is just chopping (optional) onions and seasoning your roast.
Minimal finishing time- all you need to do in the evening is fork shred the roast, and dinner is done.
Flavor- you don't need to smother it in bbq sauce, though I won't stop you!
Simple- you probably already have all the ingredients in your pantry.
Versatile- the leftovers can be easily turned into something else, like these carnitas-style tacos!
Let's get started! Here's what you'll need: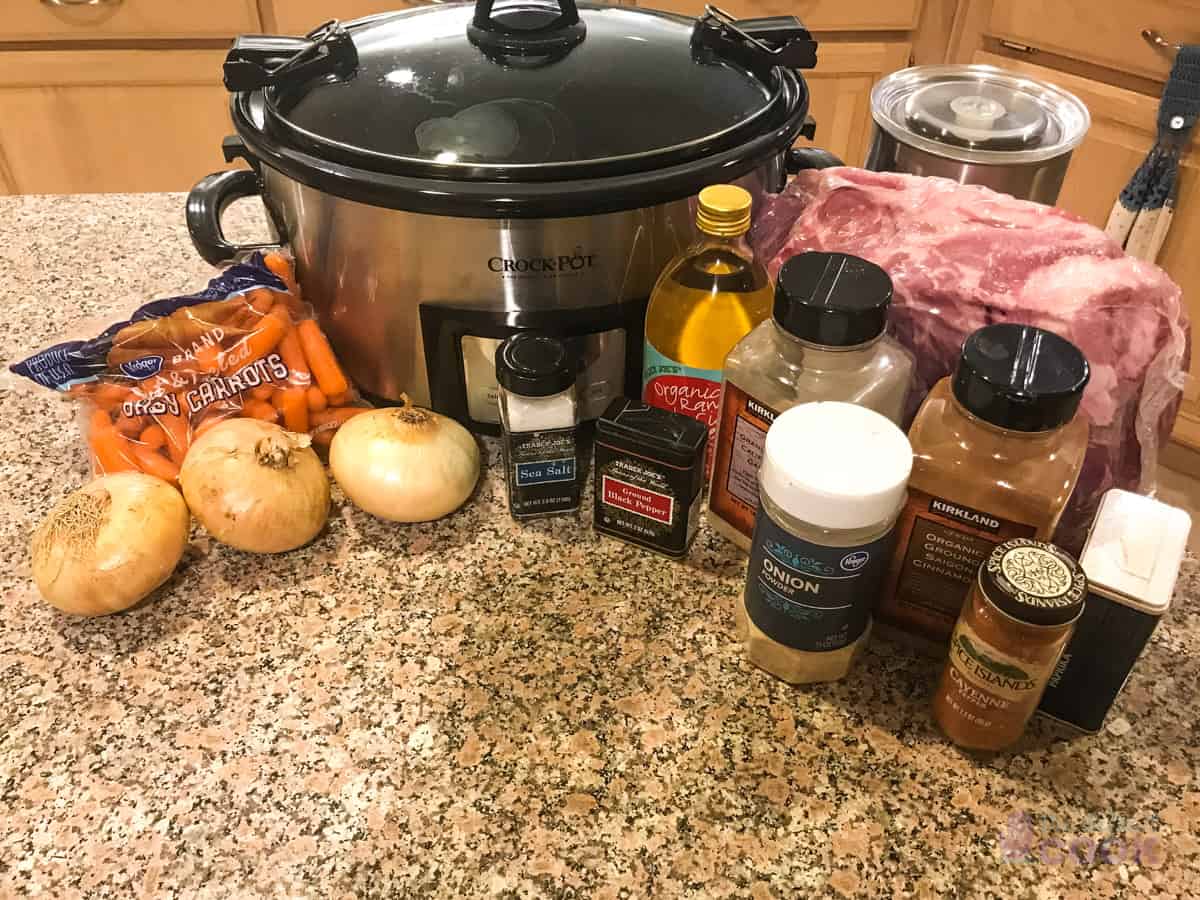 Ingredients
Pork Roast (rump or shoulder work best, but leaner cuts are fine too)
Baby Carrots (optional)
Onions (optional)
Apple Cider Vinegar
Spices

salt
black pepper
paprika
cayenne pepper
garlic powder
cinnamon
brown sugar
Equipment Needed
Crock pot or slow cooker (which is like saying kleenex or tissue, crock pot is just a specific brand of slow cooker)
Forks (for shredding)
Knife and cutting board (if adding the optional vegetables)
That's it!
Instructions
Step 1: Prepare the vegetables if you're using them.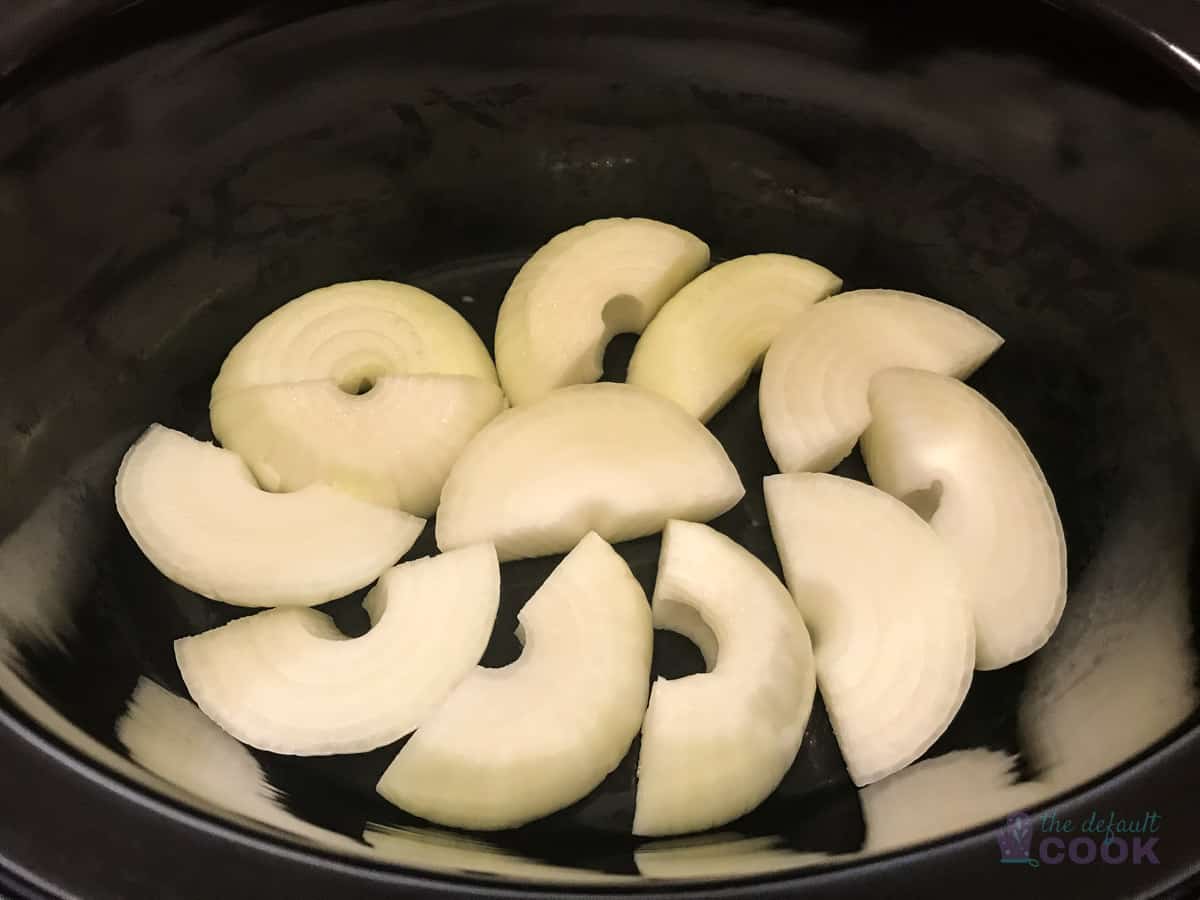 Cut the onions into half, then each half into 3-4 segments. Layer them on the bottom of the crock pot, and top them with the baby carrots. If there is a large fat cap on your meat go ahead and trim the excess fat off. We want some of it for flavor, but sometimes the underside is hiding quite a bit more than we need.
Step 2: Season the Roast
Season one side of the roast with half the seasoning, starting with the salt and pepper and working up to the brown sugar.  Then put the seasoned side down on top of the carrots (or on the bottom of the cooker if not using veggies).  Add the apple cider vinegar to the bottom of the slow cooker as well.  Season the other half which is now facing up right in the crock pot.
Step 3: Cooking
If you skipped the vegetables, add a ½ cup of water to the crock pot. Turn on LOW for 8-10 hours. Below is a photo of the shoulder after cooking. With no liquid added (aside from the 1 tablespoon of apple cider vinegar) you can see there is plenty in the crock pot that released from the vegetables and the roast.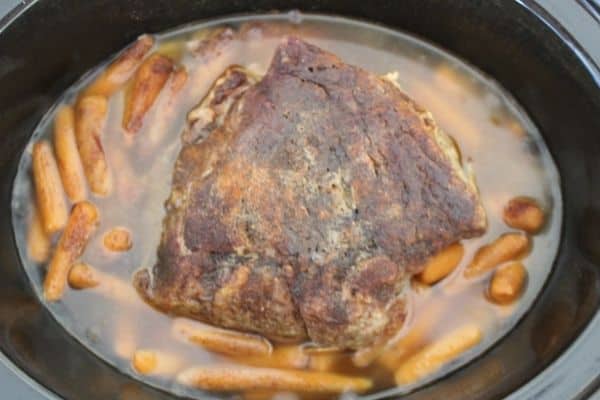 Step 4: Shred or "pull" the pork
Before serving, use 2 forks to shred the roast. I do this right in the crockpot, but if you've used a liner you may want to remove it to avoid piercing the liner with the forks.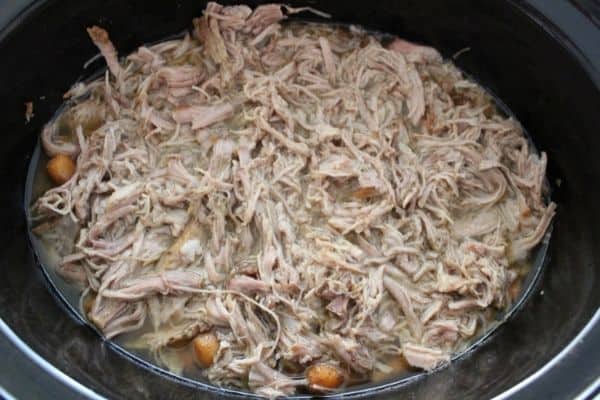 What to serve with your slow cooker pulled pork
I love to make this with the carrots and onions right in it so that it's truly a one pot meal with the meat and vegetables all cooked and ready. My favorite side dish to go with it are Hawaiian rolls, or buns to make pulled pork sandwiches and have either the veggies or a salad on the side. Potato salad is a classic at cookouts, and goes well with any shredded meat.
How to Reheat & Store Easy Crock Pot Pulled Pork
Best Way To Store Slow Cooker Pulled Pork
The best way to store easy crock pot pulled pork is in an airtight container in the fridge, where it is best consumed within 3 days.
Can I Freeze Pulled Pork?
Yes! You can absolutely freeze slow cooked pulled pork in a freezer safe container for up to 3 months. To avoid thawing and refreezing, portion it into sizes you'll use before freezing. Ideally store it in a freezer safe ziplock or silicone bag so you can get as much air out as possible, and make sure to include the juices from the slow cooker to help the pork stay moist.
How to Reheat Your Pulled Pork
The best method for this depends on what you want to use the leftovers for. If you want to make pulled pork sandwiches, then reheating in your crock pot on warm for about 2 hours works great. If you want to use them for carnitas tacos, reheating them on the stovetop with some additional spices is a quick and easy way to transform them.
Questions about Slow Cooking Pulled Pork
My roast is larger (or smaller) than the 3 lbs in the recipe. Will that be ok?
Yes!  A smaller roast is fine.  A larger one is too, as long as the lid of your crock pot still rests fully on the ceramic insert.  Just be sure to scale up your seasonings for a larger roast.

If you have a huge roast, you can cut it in half and freeze half before cooking- I do this a lot when shoulders go on sale at my local store.  They're generally like 8-12 pound roasts which don't always fit in my slow cooker without being cut.  Half gets made right away, and the freezer bound half I wrap in plastic wrap then put in a gallon ziplock for the next time I want to make pulled pork.
What is the best cut of meat for pulled pork?
The traditional and most common cuts are pork butt roast or pork shoulder, also called boston butt in some areas, and those are all basically different names for the same cut. Sirloin roasts also turn out very well as pulled pork, while they are considerably leaner than a boneless pork shoulder they still have a good amount of fat. Pork tenderloin or pork loin cuts are very lean, and may not "pull" and shred as well, but will still taste good. Those really lean cuts also don't have as many connective tissues, so they don't need as long of a cooking time as we use with a slow cooking process.
Can I convert this recipe for my instant pot?
Yes, though my favorite way is still the slow cooker, because with leaner cuts the faster cook time of a pressure cooker does seem to impact what I call shred-a-bility. To fit it in the instant pot and cook evenly the large piece of meat will need to be cut into chunks as well, so it's a bit more prep. Cut into one pound chunks you'll want to cook it on high for 60 minutes plus a natural pressure release.
I don't have Apple Cider Vinegar- what else can I use?
You can use a ¼ cup of apple juice, or a teaspoon of regular vinegar.  You could also use soda and cut back on the brown sugar. The carbonic acid in soda behaves similarly to the acid in vinegar, which is why so many similar recipes call for Dr Pepper.
Is this dish gluten free? Dairy free?
Yes on both counts!  If you add BBQ sauce be sure to check that, and of course most hawaiian rolls are not gluten free, but the crock pot dish itself absolutely is.
Other Slow Cooker Recipes You'll Love
Don't Forget To Come Back and Let Me Know if this is Your New Favorite Pork Crock Pot Recipe!
📖 Recipe
Crock Pot Pulled Pork
Pork roast cooks low and slow while you're away, and is easy to fork shred before serving. Perfect for a crowd!
Ingredients
3

lb

pork roast

1

lb

baby carrots

optional

2

ea

onions

optional

½

cup

brown sugar

2

tablespoon

cinnamon

2

teaspoon

garlic powder

1.5

teaspoon

paprika

1

teaspoon

salt

½

teaspoon

black pepper

¼

teaspoon

cayenne pepper

1

tablespoon

apple cider vinegar
Instructions
If using vegetables, half onions and slice each half into 3-4 segments and layer on the bottom of the crock pot. Top with baby carrots.

Add the apple cider vinegar to the bottom of the crockpot. Season top side of roast with half the seasonings. Place roast into crockpot seasoned side down. If not using vegetables, add ½ cup of water.

Season the other side of the roast with remaining seasoning, and turn crockpot on LOW for 8-10 hours.

Fork shred the roast, and enjoy!
Podcast
Notes
Seasonings are for a smaller roast, for a larger one use these amounts per side (but do not scale up vinegar).
Freeze any leftovers in smaller portions to avoid thawing more than you need for a meal.
Nutrition
Calories:
290
kcal
Carbohydrates:
21
g
Protein:
23
g
Fat:
13
g
Saturated Fat:
3
g
Polyunsaturated Fat:
1
g
Monounsaturated Fat:
3
g
Trans Fat:
0.1
g
Cholesterol:
65
mg
Sodium:
403
mg
Potassium:
562
mg
Fiber:
3
g
Sugar:
16
g
Vitamin A:
8045
IU
Vitamin C:
2
mg
Calcium:
80
mg
Iron:
2
mg
Nutrition information is provided as a courtesy and is an estimate. It is recommended to use your preferred calculator with the actual ingredients you use for optimal accuracy.