Enjoy the delicious and easy combination of tender chicken, crispy bacon, and tangy honey mustard in this tasty and pretty healthy wrap!
For a quick summer lunch or an easy dinner, honey mustard chicken wraps are the perfect blend of flavors. They're also very flexible, you can start with any cooked chicken you like from chicken strips or nuggets to deli slices or rotisserie chicken. Add some honey mustard and your favorite sandwich fixings, and just wrap it all up! It also reminds me of the snack wrap a certain fast food restaurant used to have, only better.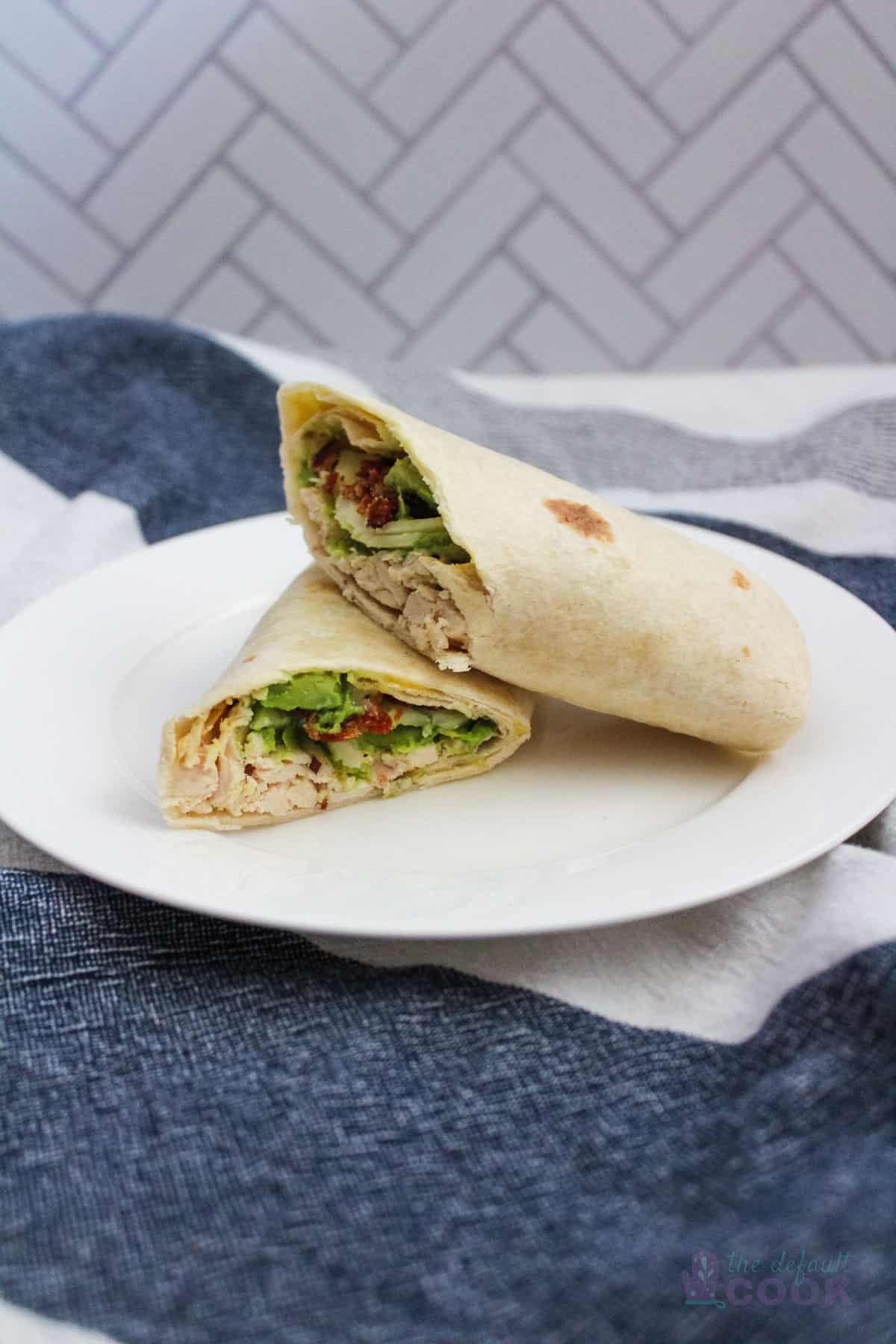 This post may contain affiliate links, which means I receive a small commission, at no additional cost to you, if you make a purchase using this link.
Why you'll love this recipe:
Quick and easy- Part of what makes this a great option is how simple it is, you can whip up this delicious wrap in no time.
Versatile- As long as you have some kind of pre-cooked chicken, honey mustard, tortilla, and something for crunch, you're all set. Feel free to swap things out based on what you have in your fridge, this wrap is very forgiving.
Flavorful- The combination of juicy chicken, smoky bacon, creamy avocado, tied together with honey mustard places a ban on boring lunches.
Let's get started! Here's what you'll need: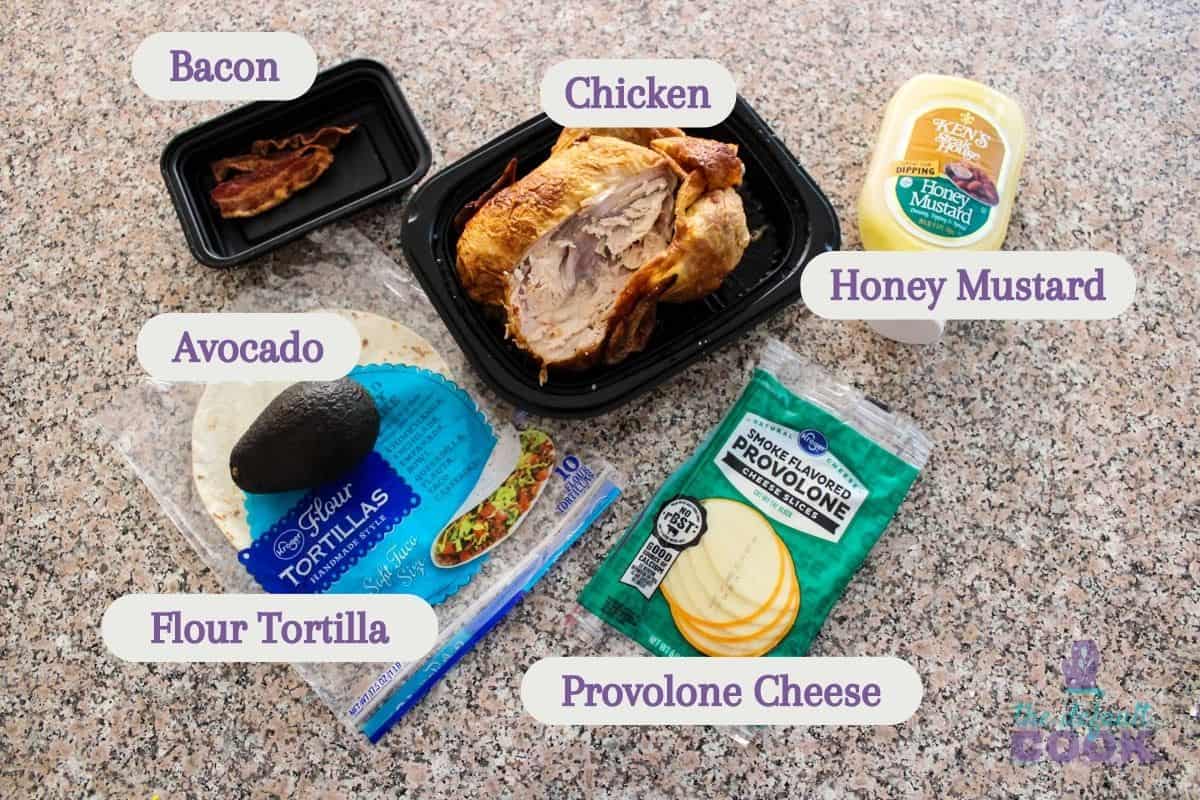 Ingredients:
Tortilla- Choose your favorite type, whether you prefer a classic flour tortilla, whole wheat, or some gluten-free wraps. You could even use lettuce wraps!
Chicken- I reach for rotisserie chicken breast here because it's easy and budget friendly, but deli slices are also super convenient. If you want some extra crunch you can use crispy chicken tenders.
Honey Mustard- You can't have a honey mustard wrap without creamy honey mustard sauce. I use store-bought dressing for ease but you can also whip up your own in a small bowl. Just add equal parts honey and either yellow mustard or dijon mustard to a creamy base (like plain greek yogurt, mayonnaise, or cream cheese) and add a bit of lemon juice or apple cider vinegar for tang.
Bacon- Crispy and irresistible, salty bacon brings a delicous crunch to every bite. For quick sandwiches I recommend leftover bacon or the pre-cooked bacon for easy prep.
Avocado- Creamy avocado makes almost everything better, but if you disagree feel free to skip it.
Cheese- I reach for provolone because the flavor isn't overpowering, but you can use swiss cheese, cheddar cheese, or whatever your favorite sandwich slice is.
Equipment:
The only tools we really need for this wrap are a knife and cutting board. If you're out of bacon and really committed you may also want a baking sheet and parchment paper- baking it at 400 until crisp is how I batch bacon to keep on hand. Your girl is not about to dirty a large skillet for one slice, or stand over a stove when I don't need to.
How to make this delicious wrap:
Step 1: Layer Ingredients
Lay your tortilla on a flat surface like your plate. Slice your avocado and if needed, mix up your dressing. Add your chicken, cheese, avocado slices, and bacon slice to the wrap. For ease of wrapping place your ingredients about ⅓ up the wrap. Placing them in the middle feels intuitive, but that's a great way to have things falling out the ends since the tortilla isn't as long anywhere else.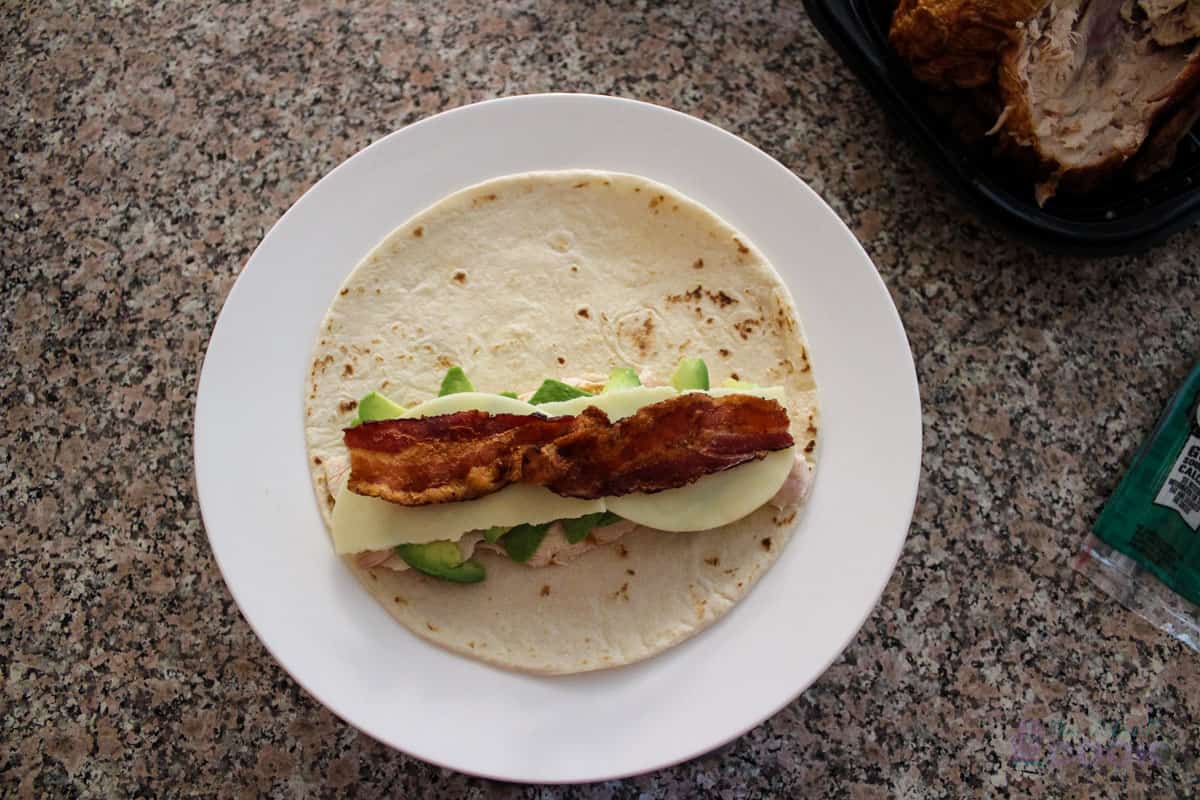 Step 2: Add Honey Mustard Dressing
Add your honey mustard to the wrap, spreading it above the other ingredients. Be sure to avoid the last half inch to inch of the wrap the way you would leave crust on a pizza dough, as it will press towards the edge when you go to roll. This image really shows the ragged edge- it ALMOST comes out when I roll it up, you want to leave at least this much space if not more.
Step 3: Roll Your Wrap
Starting with the edge closest to your fillings, roll your wrap tightly. Slice it in half carefully if eating right away, or wrap in plastic wrap to keep it tightly held if packing it for lunch.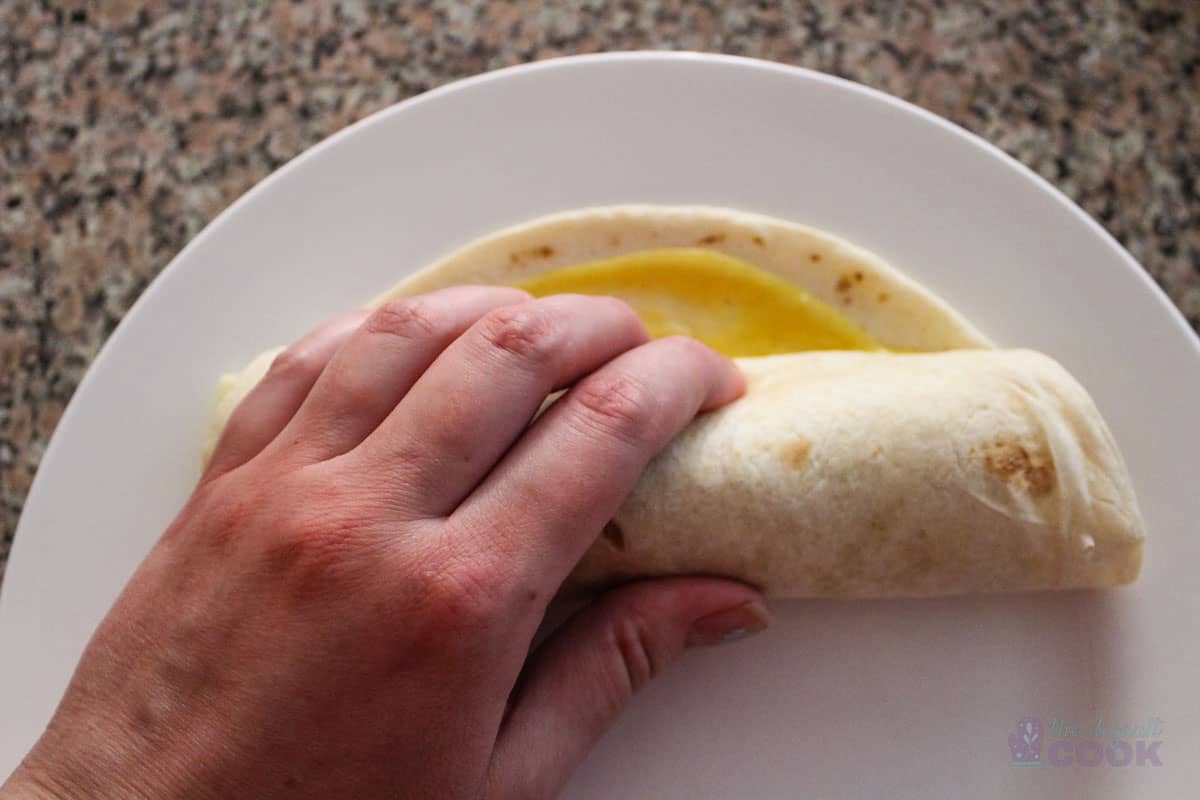 Step 4: Serve & Enjoy
Enjoy on its own or alongside your favorite side, like air fried french fries, or sweet potato fries.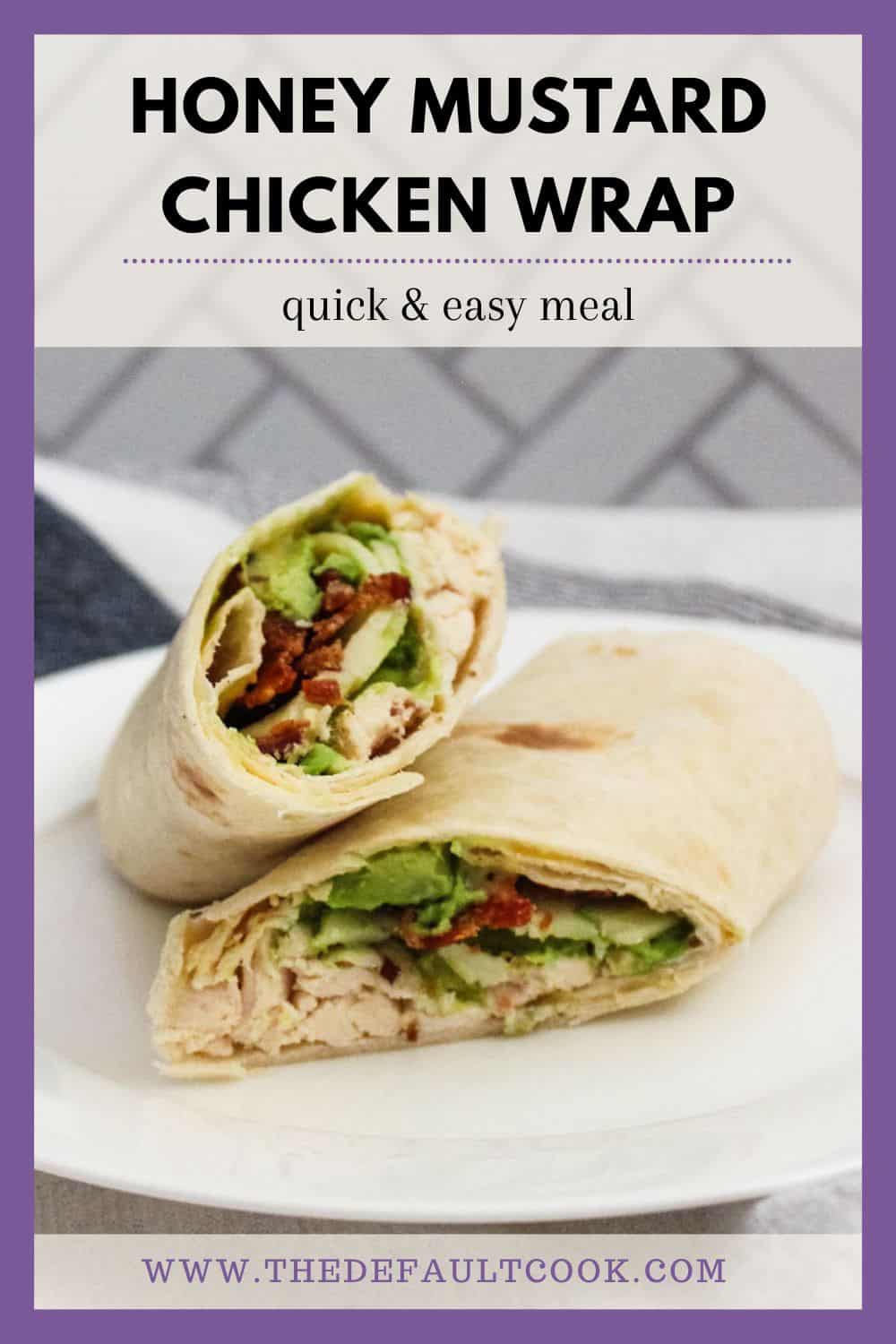 FAQs
My dressing still comes out of the wrap! What can I do?
While it does dirty another bowl, you can toss your chicken in the dressing to coat it, which will help it cling to the chicken and spread out less in the actual wrap.
Can I make this wrap ahead of time?
A little. Making it in the morning for lunch or an afternoon party? Perfect. Making it for meal prep and doing a batch for the week? The honey mustard is likely to make the tortilla soggy. If you want to make them in advance I recommend skipping the dressing and using it as a dipping sauce instead of including it directly in the wrap.
What other toppings can I use?
For crunch I like to add cucumber or butter lettuce when I have them, I've also added a roasted red bell pepper or fresh tomatoes when I had some extra. Feel free to experiment in the kitchen and make this your own!
Can I use a different type of sauce?
Of course! While honey mustard brings a unique flavor profile to this wrap, feel free to experiment with other sauces like ranch, barbecue, or spicy mayo to suit your taste.
More easy meals you may like:
​Looking for more uses for rotisserie chicken? Try this pesto pasta or potato chowder!
Need more lunch ideas? Here's over 50 you can probably wing it on!
Enjoy!
I hope you love this! If you do be sure to come back and rate the recipe below.
📖 Recipe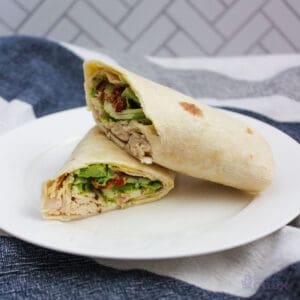 Honey Mustard Chicken Wrap with Bacon
This quick and easy chicken wrap leans on rotisserie chicken for a quick, tasty, and satisfying meal.
Ingredients
1

flour tortilla

1

slice

provolone cheese

1

tablespoon

honey mustard dressing

1

slice

cooked bacon

2

oz

rotisserie chicken

¼

avocado
Instructions
Lay tortilla on a flat surface. On bottom third layer chicken, bacon, avocado, and cheese.

Pour honey mustard sauce on middle of tortilla, spreading outward and avoiding the edges.

Wrap from the end with chicken towards the middle. Cut in half and enjoy.
Podcast
Notes
If packing for a lunch, wrap in plastic wrap tightly. If preparing more than a few hours ahead, omit the honey mustard and serve on the side for dipping (so it doesn't get the wrap soggy).
Nutrition
Calories:
390
kcal
Carbohydrates:
26
g
Protein:
28
g
Fat:
20
g
Saturated Fat:
7
g
Polyunsaturated Fat:
3
g
Monounsaturated Fat:
9
g
Trans Fat:
0.03
g
Cholesterol:
71
mg
Sodium:
765
mg
Potassium:
515
mg
Fiber:
4
g
Sugar:
5
g
Vitamin A:
254
IU
Vitamin C:
5
mg
Calcium:
202
mg
Iron:
2
mg
Nutrition information is provided as a courtesy and is an estimate. It is recommended to use your preferred calculator with the actual ingredients you use for optimal accuracy.