Roasted red bell peppers are the perfect addition to a salad or sandwich, and are delightful served as a healthy side dish, or blended into your favorite soup or pasta sauce. Best of all, they're a super easy recipe to make!
Have you ever bought red peppers just to find them in the back of your produce drawer a week or so later looking a bit wrinkled and less than fresh? Not to fret, we can turn them into beautiful roasted red peppers, and the best way to do that for just a few is to use your air fryer!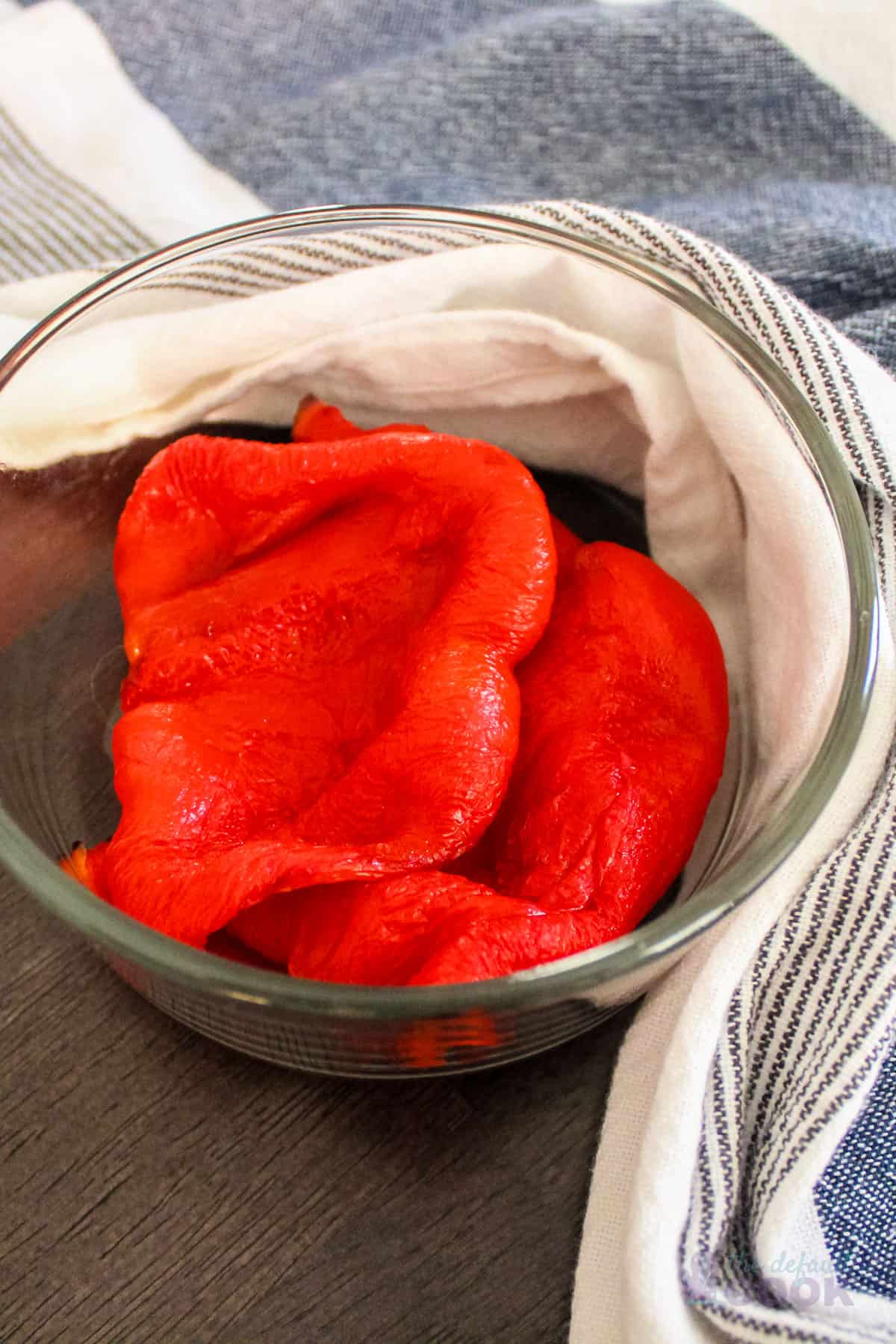 This post contains affiliate links, which means I receive a small commission, at no additional cost to you, if you make a purchase using this link.
Why you'll love these homemade roasted peppers:
One ingredient- I actually struggle to call this a recipe, it's more like instructions, since we're only using the peppers. Some recipes will call for olive oil, but it's not necessary.
Sweet and savory- Bell peppers are sometimes called sweet peppers, and roasting them really highlights those natural sugars.
Easy- The hands on time here is about 2 minutes.
Let's get started! Here's what you'll need: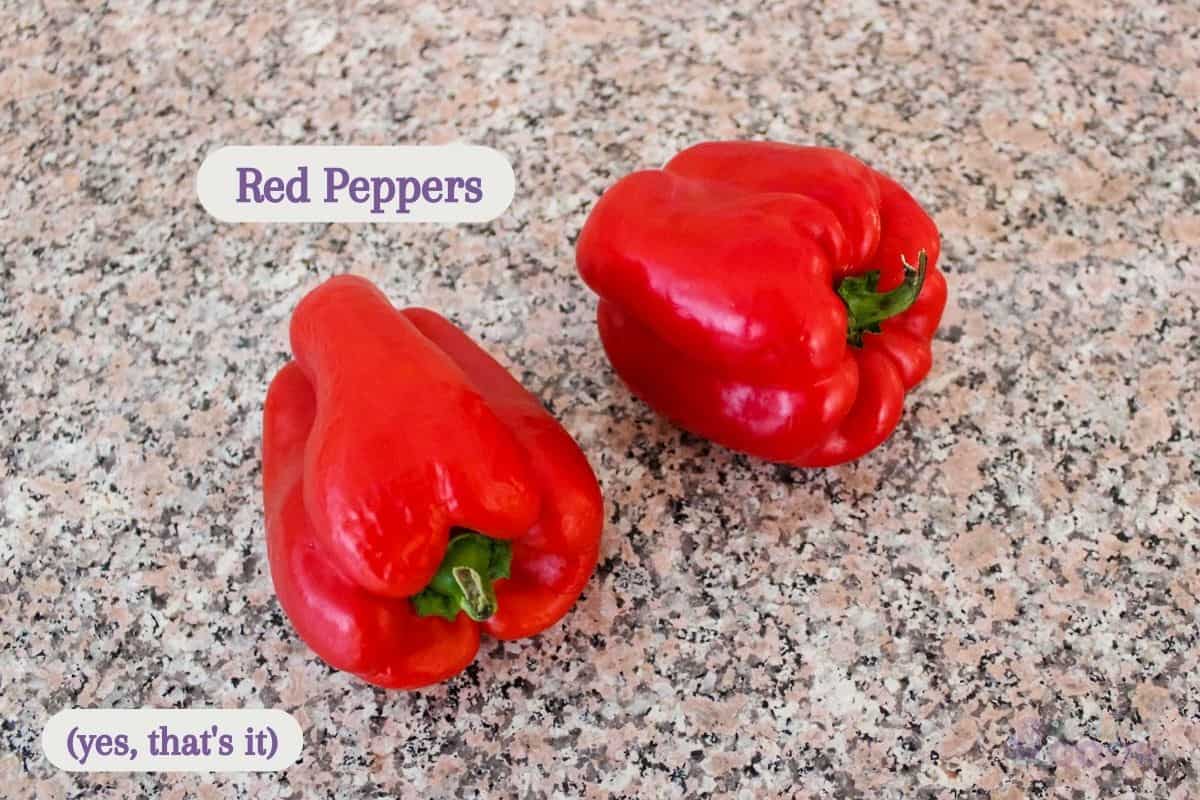 Ingredients:
Red Peppers: Why red? Because they're the sweetest, and it's in the title. But honestly, any bell pepper will roast up beautifully, and that's all you need. Coating them with some olive oil or avocado oil after cooking can help extend their shelf life a bit, but I generally just freeze them if not using in the next couple of days.
Equipment:
All we need here is our trusty air fryer, and a knife and cutting board to prepare the peppers. I also recommend tongs for flipping, because I burn my fingers every time trying to save myself from washing them, and it's not worth it.
How to make this easy air fryer recipe:
Step 1: Preparation
First things first, rinse your peppers and cut them in half from the stem to the bottom. Remove the tops of the peppers, along with the seeds and white membranes.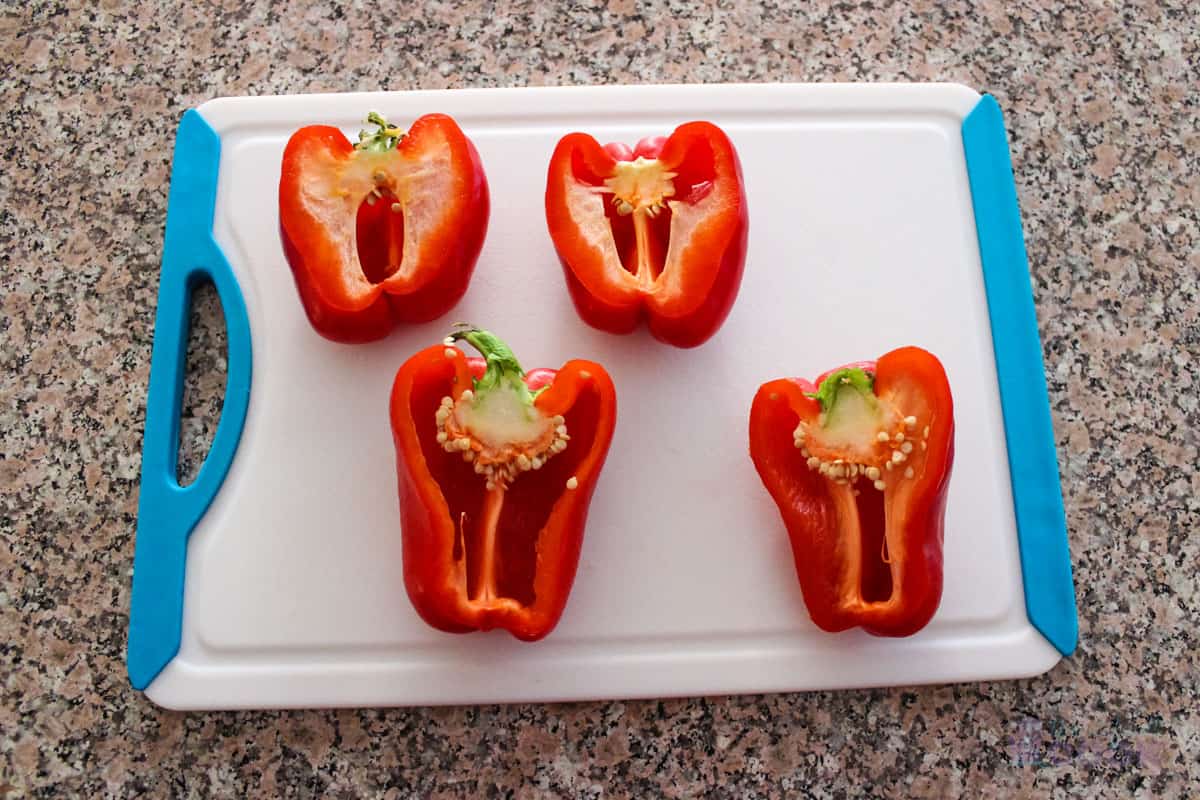 Step 2: Cook the first side
Place the 4 halves in a single layer in your air fryer. We're going to flip them so it doesn't matter which side you do first, but for whatever reason I always put the cut side up to start.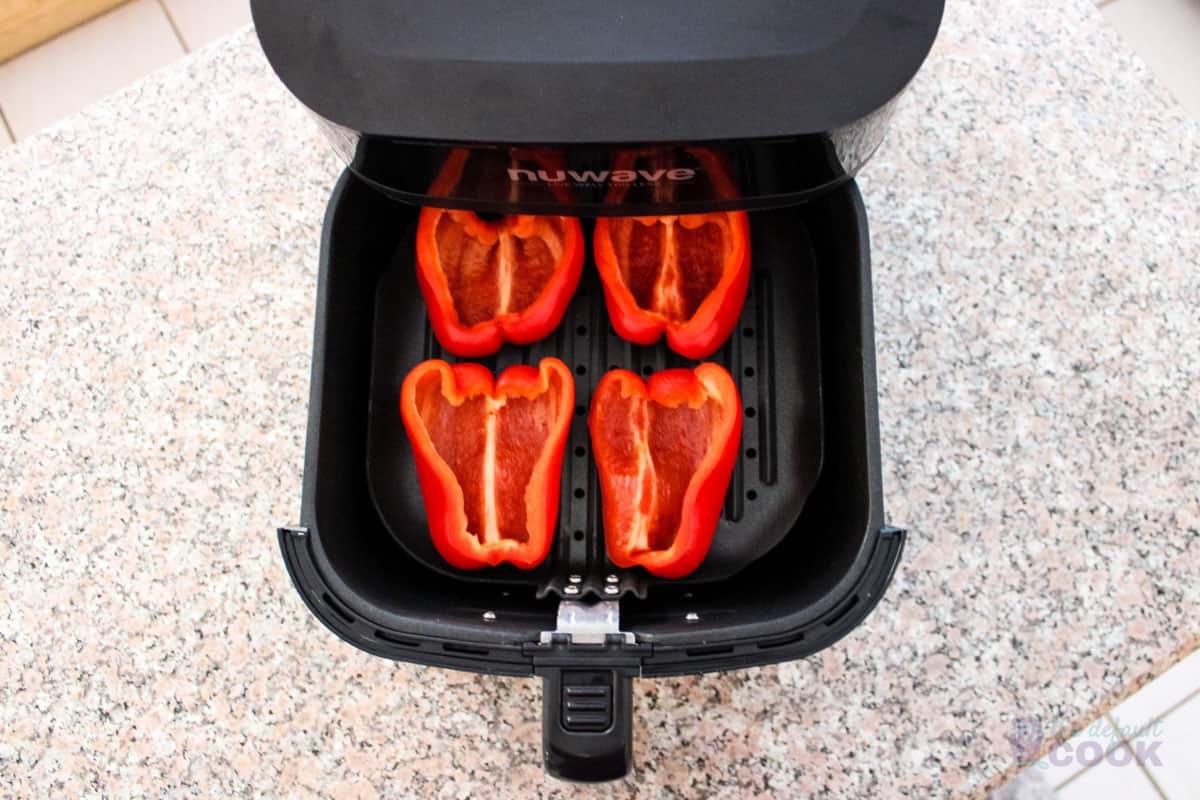 Turn your air fryer on and set it to 375 for 10 minutes.
Step 3: Flip and finish cooking
After the 10 minutes remove your peppers and flip them over with your handy dandy tongs. Return the peppers to the air fryer and cook for another 8 minutes. You can see mine have some black spots but not a ton- we're discarding the skin so as long as it's that nice crinkly texture that will separate easily that's what matters.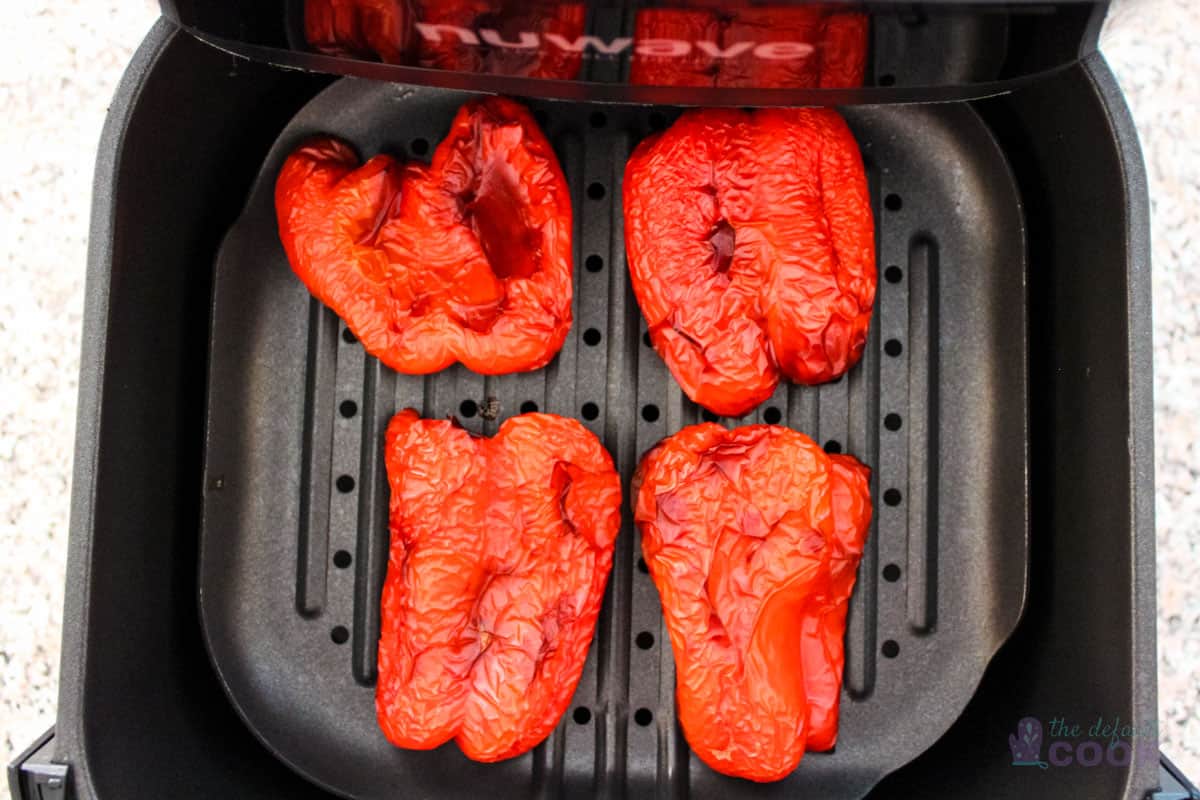 Step 4: Cool and peel
Once the peppers have finished cooking, open the air fryer to allow some of the heat to escape. Then put them back in and allow them to cool down before peeling. This step is because we want them to cool down in an environment that's slightly humid from their own moisture to make it easier to peel them.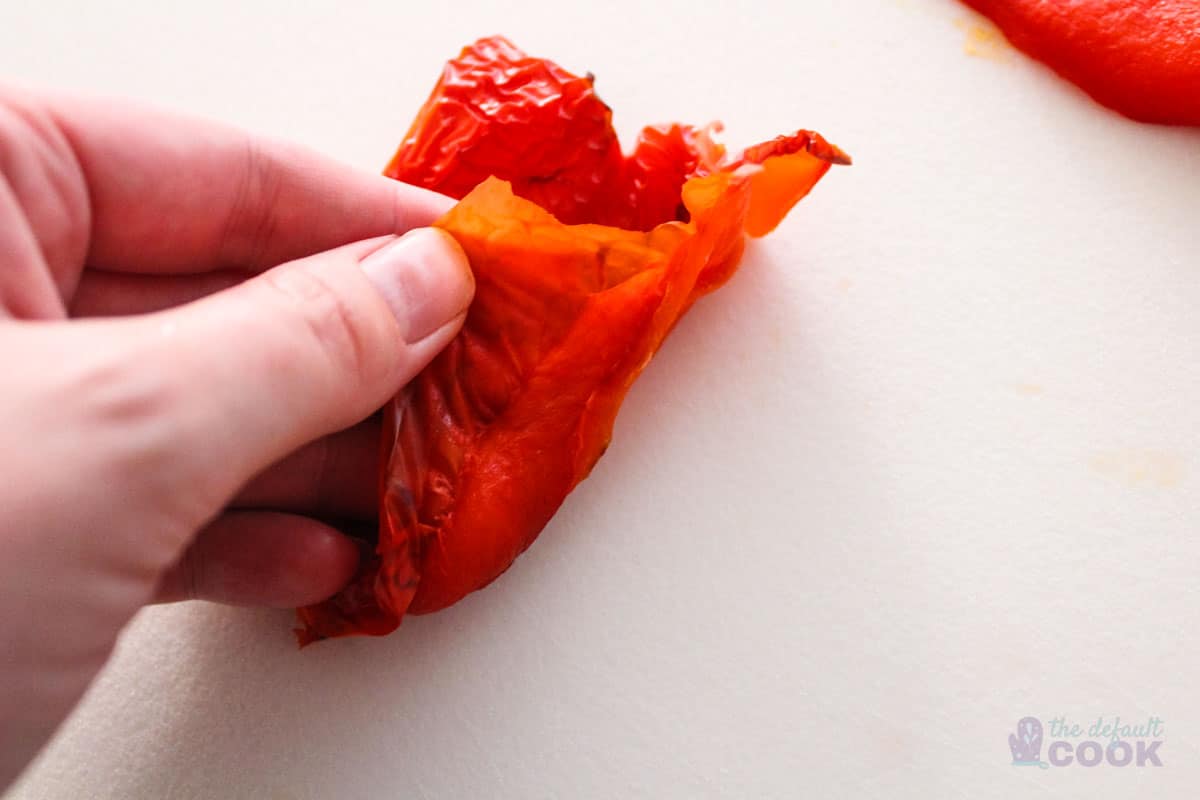 You could also transfer them to a bowl and cover it with plastic wrap, but we've established the lengths I'll go to in the name of washing fewer dishes. Once they're cooled to room temperature, the skin of the pepper should slide off pretty easily. Start at the edges and work towards the middle as seen above. You can use them right away, or store in an airtight container in the fridge for 3-4 days.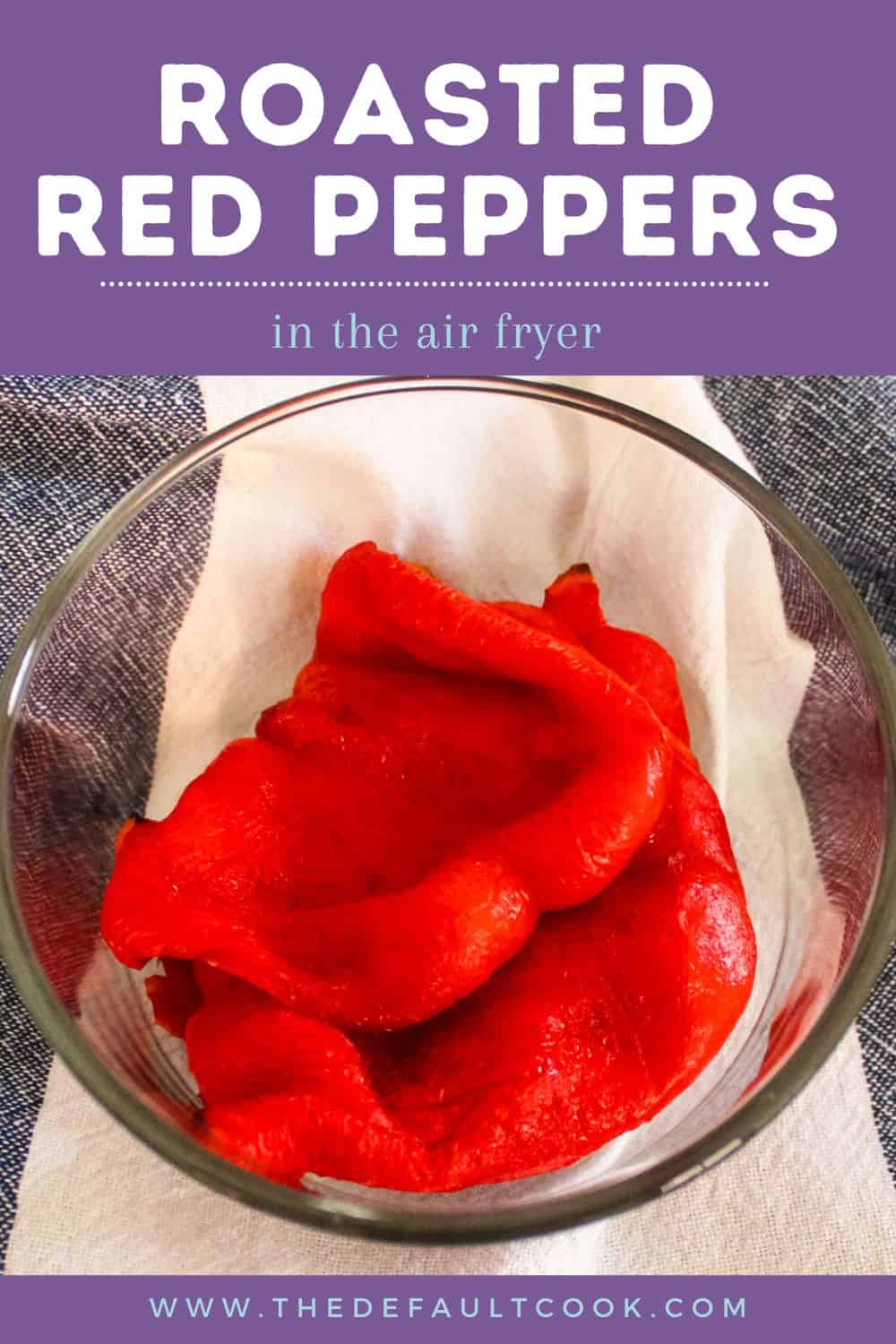 FAQs
Can I make these roasted red peppers in a traditional oven?
Of course, using a regular oven is a great option too! The roasting time will be 10-20 minutes longer, but if you have more red peppers than will fit in your air fryer basket, it'll be faster overall, so it's my favorite method for a large batch.
Why not roast them whole?
You can roast peppers whole, the only thing is that the seeds are a lot harder to remove after cooking. That's because they stick more to the flesh, and because you want to avoid rinsing them as it'll wash away the natural juices. When preparing the raw bell pepper halves you can rinse away seeds without impacting the final taste.
What types of peppers are best?
You can roast any sweet peppers, but red will be the sweetest because they're the ripest. Green bell peppers are actually just an unripened version of the exact same vegetable. Orange and yellow bell peppers are in between and sweeter than green, but not quite as sweet as red. Red peppers are also the highest in vitamin C, plus red and orange peppers also have beta carotene.
What else can I add?
These sweet red peppers don't need anything else, but depending how you plan to use them you can optionally add some oomph with other simple ingredients. If you're going to use them to top a caprese sandwich or ravioli, a little balsamic vinegar would be a simple way to develop more complex flavors. You can also add sea salt, italian seasoning, or whatever spices you think will complement the recipe you want to add your air fryer bell peppers to.
Do I have to peel the air fryer peppers?
It's an optional step, but the skin doesn't soften so it provides a contrasting texture that many people don't care for.
More easy air fryer recipes you'll love:
Want a vegetable side dish? Try these air fried zucchini and squash, or air fried broccoli and cheese sauce!
Just starting out with your air fryer? Frozen foods like pizza rolls are a great way to get your feet wet.
I hope you love these sweet bell peppers, be sure to let me know how they turned out for you!
📖 Recipe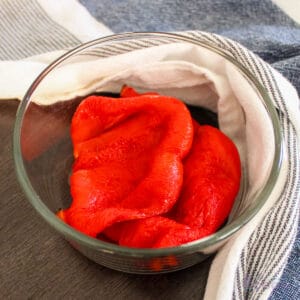 Air Fryer Roasted Red Peppers
Transform regular (and perhaps past-their-prime) red peppers into sweet and savory roasted peppers and use them to uplevel your next sandwich or pasta with about 2 minutes of hands on work.
Instructions
Rinse your peppers and cut them in half. Remove the stem and seeds.

Set your air fryer to 375 degrees for 10 minutes, and place peppers in one layer

Flip peppers and cook for an additional 8 minutes.

Open to allow hot air to escape and then close them back in the air fryer. Once cooled, slide the skins off and store the meat of the pepper in an airtight container in the fridge.
Notes
If short on time you can place them in an airtight container in the fridge without removing the skin, and instead remove it later.
Nutrition
Calories:
15
kcal
Carbohydrates:
4
g
Protein:
1
g
Fat:
0.2
g
Saturated Fat:
0.04
g
Polyunsaturated Fat:
0.1
g
Monounsaturated Fat:
0.01
g
Sodium:
2
mg
Potassium:
126
mg
Fiber:
1
g
Sugar:
3
g
Vitamin A:
1863
IU
Vitamin C:
76
mg
Calcium:
4
mg
Iron:
0.3
mg
Nutrition information is provided as a courtesy and is an estimate. It is recommended to use your preferred calculator with the actual ingredients you use for optimal accuracy.