Broccoli is a great side dish. It's a very nutritious vegetable that is high in iron, vitamin C, a variety of other vitamins and minerals, plus fiber. While it's great roasted in the oven, I wanted to experiment with using my air fryer to cook it since you generally need less oil with the air fryer.
Unfortunately, my inital results were pretty disappointing. The standard vegetable setting on my fryer burnt the florets, and cooking for less time meant the insides weren't tender. So I opted to turn down the temperature and introduce some liquid- both a bit of water, and a cheese sauce. Viola! Perfect air fryer broccoli and cheese, and a still pretty darn healthy side dish.
No time to read now? Pin this easy side dish for later!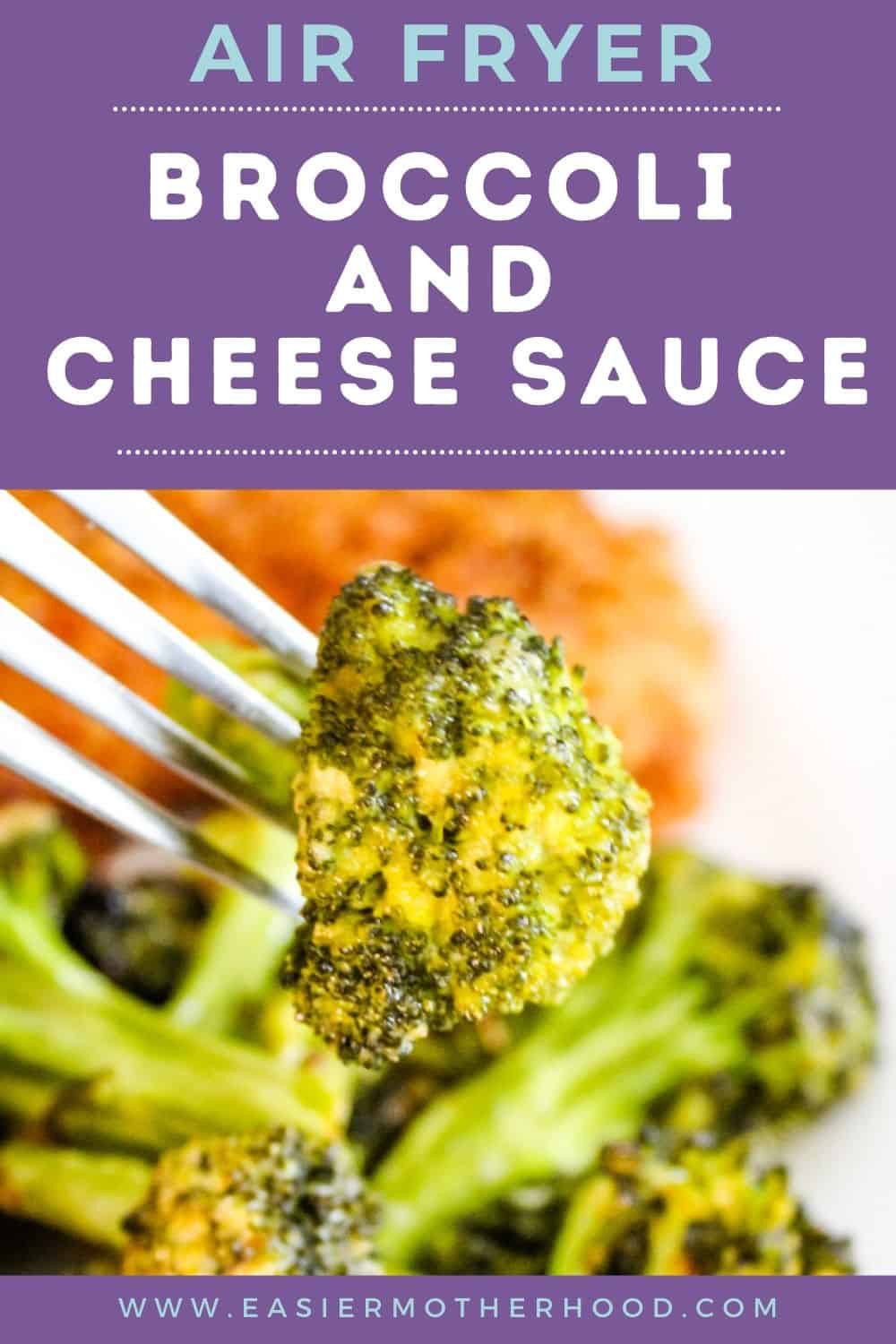 This post contains affiliate links, which means I receive a small commission, at no additional cost to you, if you make a purchase using this link.
Why You'll Love This Broccoli Recipe
Crispy outside, tender inside
Kid-friendly cheesy broccoli
Easy recipe
Simple 2-ingredient cheese sauce
Gluten free (no flour mixture or breadcrumbs here)
Let's get started! Here's what you'll need: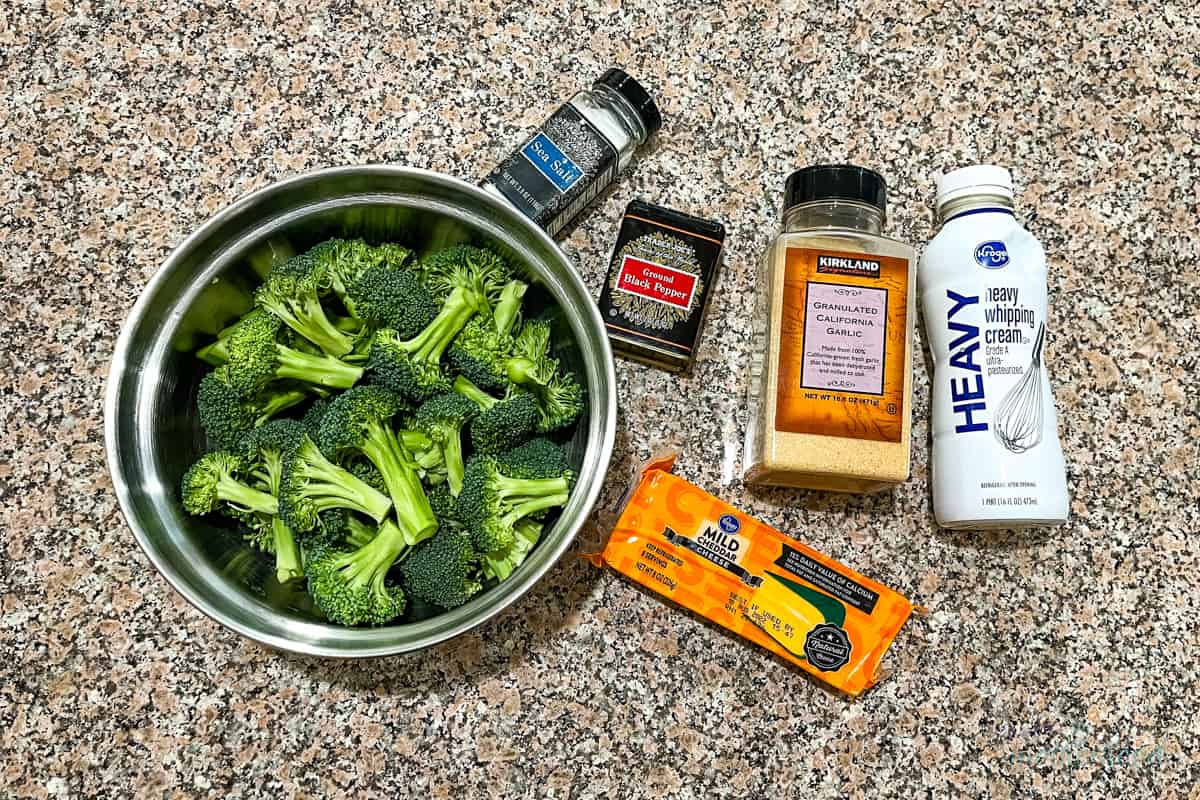 3 small crowns raw broccoli (approximately 1 lb)
4 oz mild cheddar cheese
⅓ cup heavy cream
1 teaspoon garlic powder
½ teaspoon salt
½ teaspoon black pepper
You'll also need your air fryer and a casserole dish that fits inside it (my air fryer set came with one), and a small saucepan and a spatula to make the cheese sauce. You'll also want a cheese grater, small bowl, cutting board and knife.
How to Make This Air Fryer Broccoli Recipe
Broccoli Preparation
Rinse your fresh broccoli, then cut each broccoli crown into bite sized florets. The stem can also be cut into similar sized pieces, discarded, or saved for making homemade broth.
I then put the florets in a mixing bowl you can see in the ingredients photo, but in hindsight there's no reason I couldn't have put them right into the casserole dish. I'm a fan of fewer dishes, and I'm betting you are too, so you can go ahead and skip the bowl. For best results, add one teaspoon of water in the bottom of the casserole insert. This helps the broccoli steam during the first part of cooking.
Go ahead and shred your cheese into a bowl though. Unless you want to operate on hard mode and grate it right into the pan later, which isn't a terrible idea if you're not also trying to photograph yourself doing it. Also if you have a box grater I would use that- mine wasn't handy so I reached for my parmesean grater instead and while workable, I wouldn't actively recommend it for softer cheeses.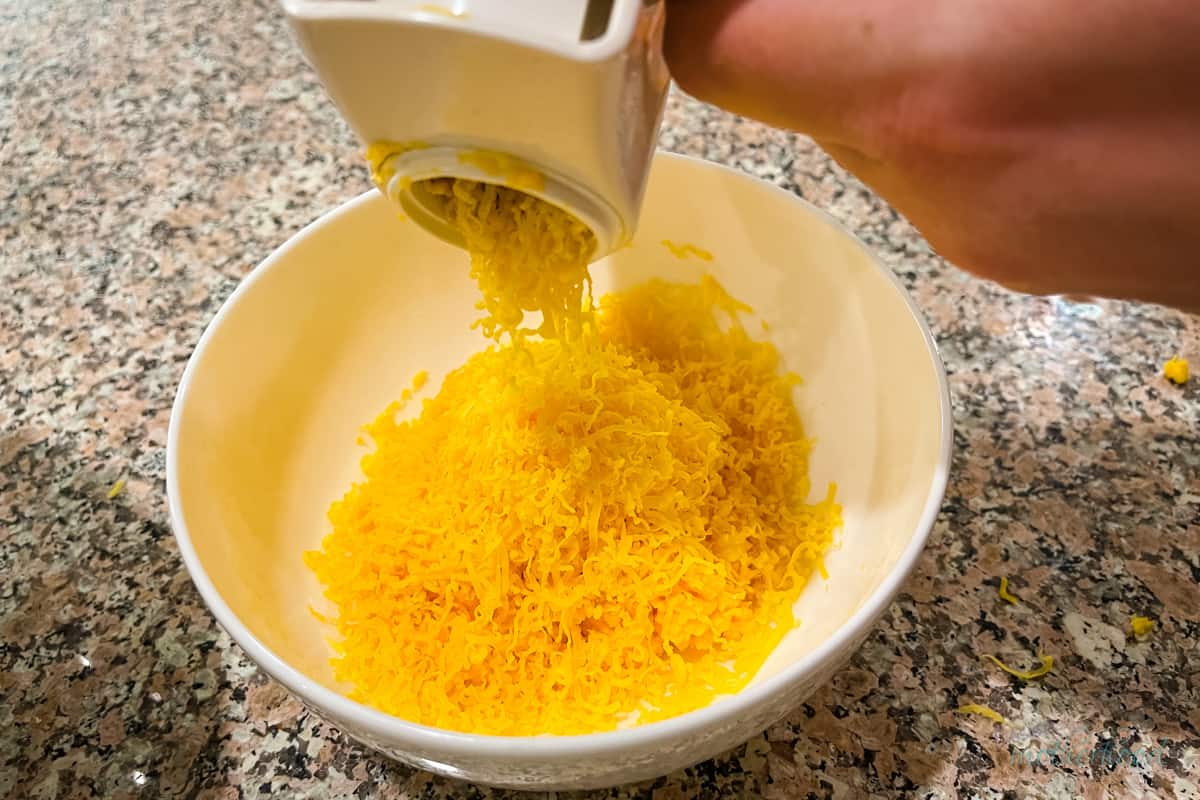 Preheat your air fryer to 350 degrees F.
Cheese Sauce Preparation
If your pan isn't nonstick, give it a quick coating of cooking spray, olive oil, or butter. To make the cheese sauce, add your heavy cream to your saucepan. Turn on the stove to medium-low heat and when the cream starts to bubble a bit add the grated cheddar gradually until all the remaining cheddar is combined, stirring as you go.
Drizzle the sauce over the broccoli and add the garlic powder, salt, and pepper. Stir to combine.
Cooking
Place the casserole insert into the preheated air fryer basket, and cook for 15 minutes, stirring halfway through. The exact cook time may vary slightly based on your model of air fryer, so check that the broccoli is fork tender, and the cheese and florets should have some crispy edges.
Serving
Serve hot. If you plan to keep the roasted broccoli warming in the air fryer for a while after cooking you may want to decrease the cooking time slightly, but broccoli can stand up to some residual heat better than say, summer squash.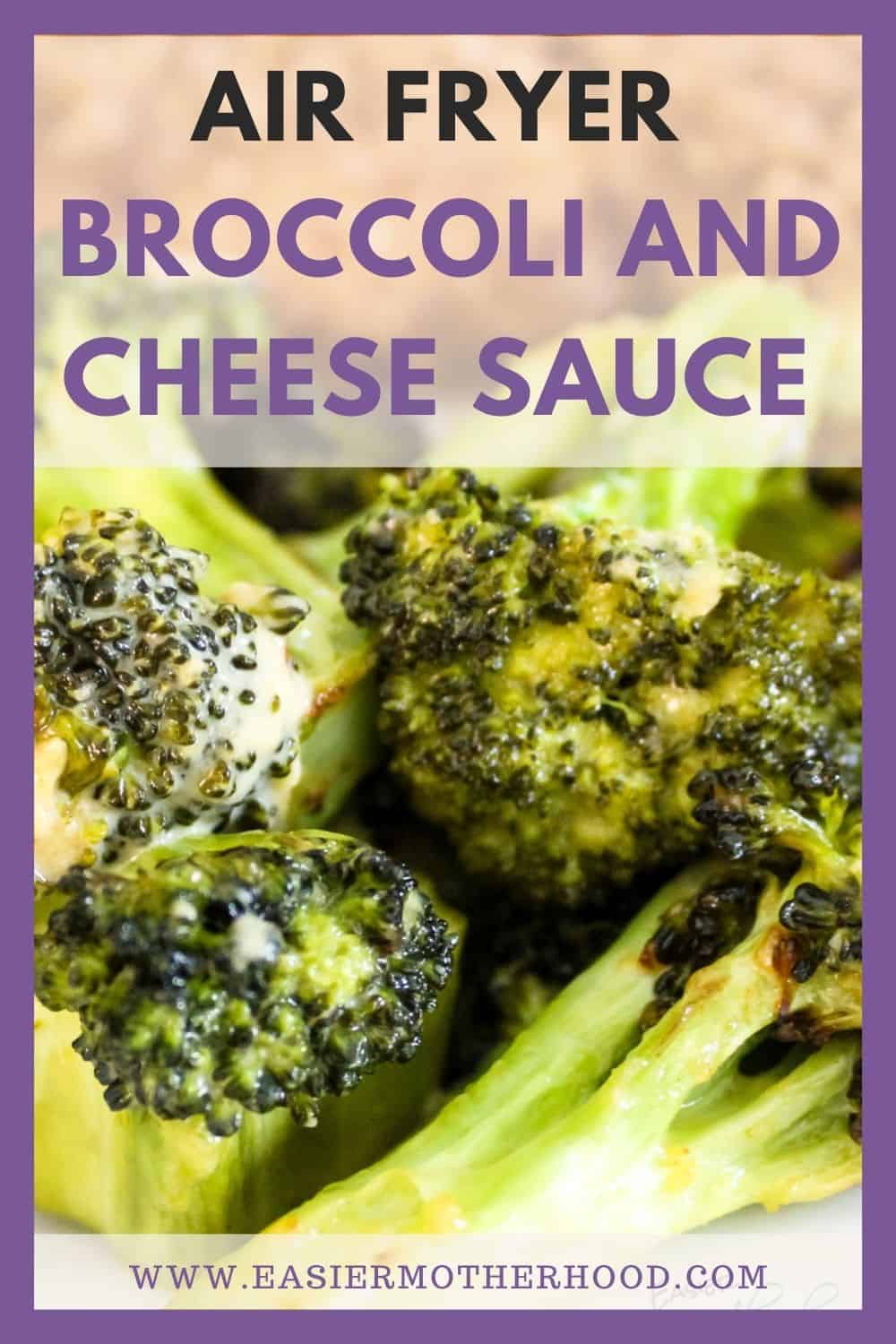 Common Additions and Substitutions
Change up the cheese
Parmesan cheese goes beautifully with broccoli. You can substitute part or all of the cheddar in this broccoli cheese casserole for parmesean. You could also use cream cheese for part of the cheese sauce, especially if that's a favorite of your family.
Add Breadcrumbs
You can optionally add panko bread crumbs or rice crumbs (if gluten free) to the dish during the halfway point as well- of course, the dish won't be low carb with that alteration- always consider your own dietary needs.
Mix up the Seasoning
You can add onion powder or your other favorite seasonings along with or instead of the garlic. Lemon is a great flavor with broccoli, especially if you're using parmesean cheese. You can garnish with a little bit of fresh lemon juice or some lemon zest.
Frequently Asked Questions
Can I use pre-shredded cheese?
Yes, but it may not melt as nicely. Shredded cheese from the grocery store has anti-caking agents in it to keep it from becoming a glob in the bag. That said it will still work, and I'm not above doing it in a pinch. Pro tip: fresh grated cheese like the green lid parmesean from Trader Joe's will do better than your standard bag of shredded cheese.
What about leftovers?
If you have any, you can store leftovers in an airtight container for up to 5 days. They're best reheated in the air fryer for 2-3 minutes, but 20-45 seconds in the microwave (depending on model, power, etc) works too.
Looking for more easy recipes?
If you're looking for more air fryer vegetable recipes, you've got to check out this air fryer zuchhini and squash. If you need a main course to pair with your broccoli, try these slow cooker ribs or this easy baked salmon!
Be sure to let me know how yours turned out in the comments, hopefully it's the best broccoli you've had in awhile!
📖 Recipe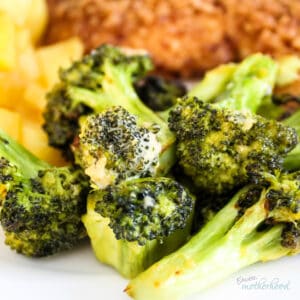 Air Fryer Broccoli and Cheese Sauce
This simple broccoli casserole cooks up in your air fryer with an easy 2 ingredient sauce.
Ingredients
1

lb

broccoli florets

4

oz

mild cheddar cheese

⅓

cup

heavy cream

1

teaspoon

garlic powder

½

teaspoon

salt

½

teaspoon

black pepper
Instructions
Add broccoli into casserole dish with 1 teaspoon water, and preheat air fryer to 350 F.

Warm heavy cream over medium heat, adding cheese slowly until fully melted and combined.

Add sauce and seasonings to broccoli and stir to coat well.

Cook for 15 minutes, stirring halfway through.
Notes
Parmesean can be substituted for all or part of the cheddar cheese.
Nutrition
Calories:
225
kcal
Carbohydrates:
9
g
Protein:
11
g
Fat:
17
g
Saturated Fat:
10
g
Polyunsaturated Fat:
1
g
Monounsaturated Fat:
4
g
Cholesterol:
51
mg
Sodium:
519
mg
Potassium:
411
mg
Fiber:
3
g
Sugar:
3
g
Vitamin A:
1283
IU
Vitamin C:
101
mg
Calcium:
269
mg
Iron:
1
mg
Nutrition information is provided as a courtesy and is an estimate. It is recommended to use your preferred calculator with the actual ingredients you use for optimal accuracy.