Pizza rolls are such an easy snack. While the microwave will do in a pinch, it isn't the best way. The oven gives better results, but takes awhile, and still isn't as crisp as the air fryer. That's why the perfect way to make this classic after school snack is to air fry pizza rolls- they're ready in the time it takes to pre-heat your traditional oven.
No time to read now? Pin it for later!
This post contains affiliate links, which means I receive a small commission, at no additional cost to you, if you make a purchase using this link.
Let's get started! Here's what you'll need:
While the only ingredient you NEED is the pizza rolls, for best results a bit of spray oil helps give you perfectly crunchy pizza rolls. However, sprays with a bunch of propellants and additives are bad for your air fryer. For serving, they're easily jazzed up a bit with your favorite dipping sauce and a sprinkle of parmesan cheese.
Frozen Pizza Rolls
Avocado Oil Spray
Pizza Sauce
Parmesan
You'll also need your handy dandy air fryer, and if you don't have cooking spray that's compatible with your air fryer you may want a bowl to lightly oil them first or a pastry brush to grease them with.
How to Make Frozen Air Fryer Pizza Rolls
Preparation
Preheat your air fryer to 375 before grabbing your pizza rolls from the freezer. You can use different brands- our house favorite are totinos pizza rolls - but any brand of pizza rolls benefit from air frying. If you're greasing your pizza rolls in a bowl or with a brush you can go ahead and do that while the air fryer preheats.
Once preheated, lay your pizza rolls in a single layer in the air fryer basket. If using avocado oil spray, spritz with your avocado oil and flip each roll over, then spritz again.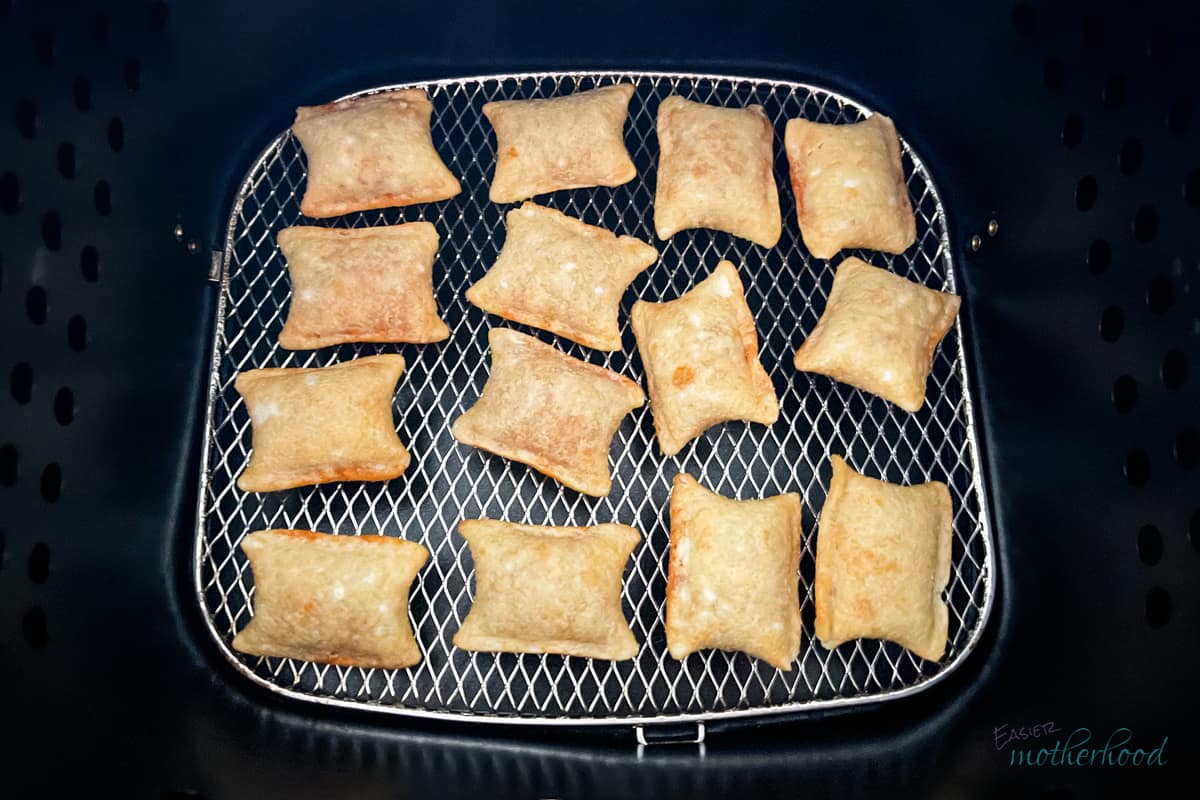 Cooking
Cook at 375 degrees F (190 C) for 6-8 minutes, shaking or flipping halfway through. Your finished rolls should be a golden brown.
Serving
Garnish with parmesan cheese and serve your pizza bites hot with your choice of dipping sauce. Store any leftover pizza rolls in an airtight container for up to 3 days.
Sauces to try with crispy pizza rolls:
Marinara sauce (or tomato sauce with spices added)
Ranch dressing
BBQ sauce
Sriracha or hot sauce
Pesto
Garlic butter
Frequently Asked Questions
Why not use PAM?
The propellants and additives in some cooking sprays, including PAM, can damage the nonstick coating on your fryer. Long term this damages your fryer, makes it harder to clean, and chips of coating could even end up in your food.
Avocado oil is safe for a high temperature, so that's why I reach for it. If your stores don't carry a suitable spray, you can get a mister that you fill with oil yourself. Regular olive oil is also suitable at this temperature, but extra virgin olive oil may smoke so is not recommended.
Can I skip preheating the air fryer?
Yes, I find they are a bit crispier when preheated and cook a little quicker, but it's a pretty marginal difference. Your cook time may be an extra minute or two.
Common Additions and Substitutions
Homemade pizza rolls
You can make your own homemade air fryer pizza rolls a few ways. Your cooking time might be slightly different, depending on what you use, and how much pizza roll filling your rolls contain. If you're using wonton wrappers or egg rolls with just a bit of mozzarella cheese and pepperoni in them those will take less time than a raw pizza dough on the thicker side.
Mini pizza rolls
Mini versions will cook faster since they're smaller. Shake them at the 3 minute mark and check them each minute after to make sure you get them in the sweet spot where they're crispy but not overcooked.
Other Easy Air Fryer Recipes You'll Love
If you're looking for a super healthy option, or just have an overwhelmed garden try this summer squash recipe.
Looking to up the vegetable content but keep the cheese? Try this brococoli with cheese sauce for your next side dish.
Don't forget to come back and let me know how this quick snack turned out for you!
Yield: 2
Air Fryer Pizza Rolls
The best pizza rolls come from your air fryer! Enjoy this tasty snack in just a few minutes whenever the craving hits.
Ingredients
14 Pizza Rolls
Avocado Oil Spray (optional)
1 teaspoon parmesan cheese (optional)
2 tablespoon pizza sauce (optional)
Instructions
Preheat Air Fryer to 375 F.
Place frozen pizza rolls in a single layer in your air fryer basket. Grease lightly with avocado oil.
Cook for 6-8 minutes, shaking halfway through.
Garnish with parmesan and serve with your preferred dipping sauce.
Notes
Greasing the pizza rolls is optional; if greasing use pure oil, not a cooking spray with propellants and additives (PAM is not to be used in air fryers).
Nutrition Information:
Yield:
2
Serving Size:
1
Amount Per Serving:
Calories:

380
Total Fat:

17g
Saturated Fat:

3g
Trans Fat:

1g
Unsaturated Fat:

12g
Cholesterol:

6mg
Sodium:

631mg
Carbohydrates:

49g
Fiber:

1g
Sugar:

4g
Protein:

9g
Nutrition information is provided as a courtesy and is an estimate. It is recommended to use your preferred calculator with the actual ingredients you use for optimal accuracy.