This creamy chicken pesto pasta is just 5 ingredients and cooks as a one pot dish in your instant pot for a fast, delicious weeknight dinner the whole family will love.
Some nights are so busy it feels like there is no time to cook.
Thankfully, instant pot pasta dishes can be about as fast as hitting a drive thru, and only dirty one pot. They're also a lot easier on the wallet than take-out, not to mention way better for us than fast food. On a busy weeknight I'm so grateful for my instant pot!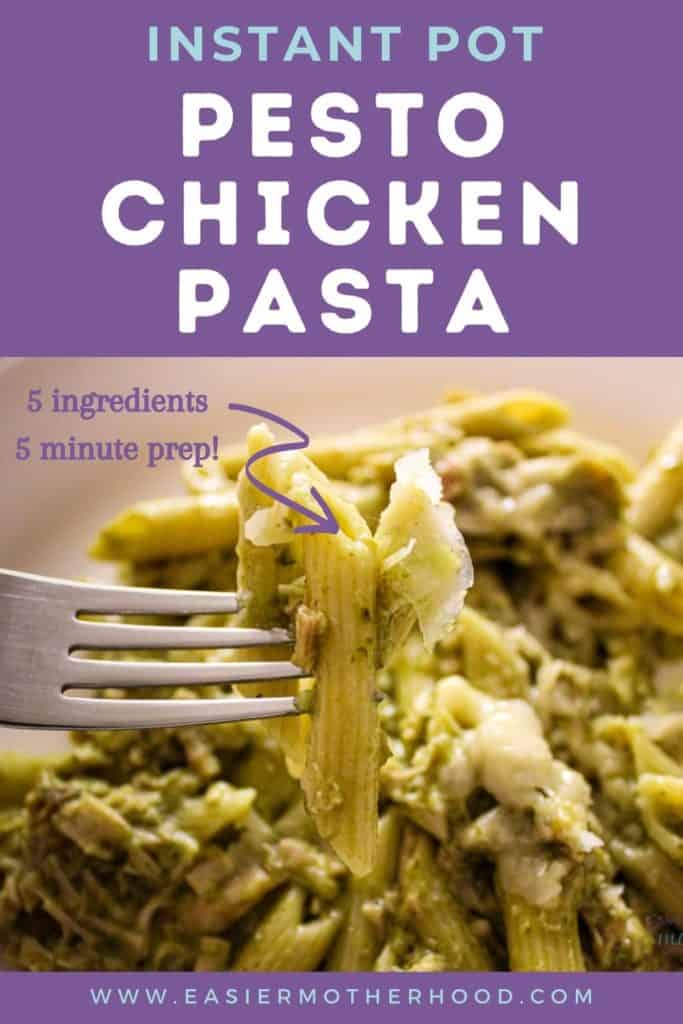 No time to read now? Pin this for later!
This post contains affiliate links, which means I receive a small commission, at no additional cost to you, if you make a purchase using this link.
Why You'll Love This Instant Pot Chicken Pesto Pasta
One-pot
5 Easy to find ingredients
5 minutes (or less) hands on time
Flavorful and cheesy
Let's get started! Here's what you'll need: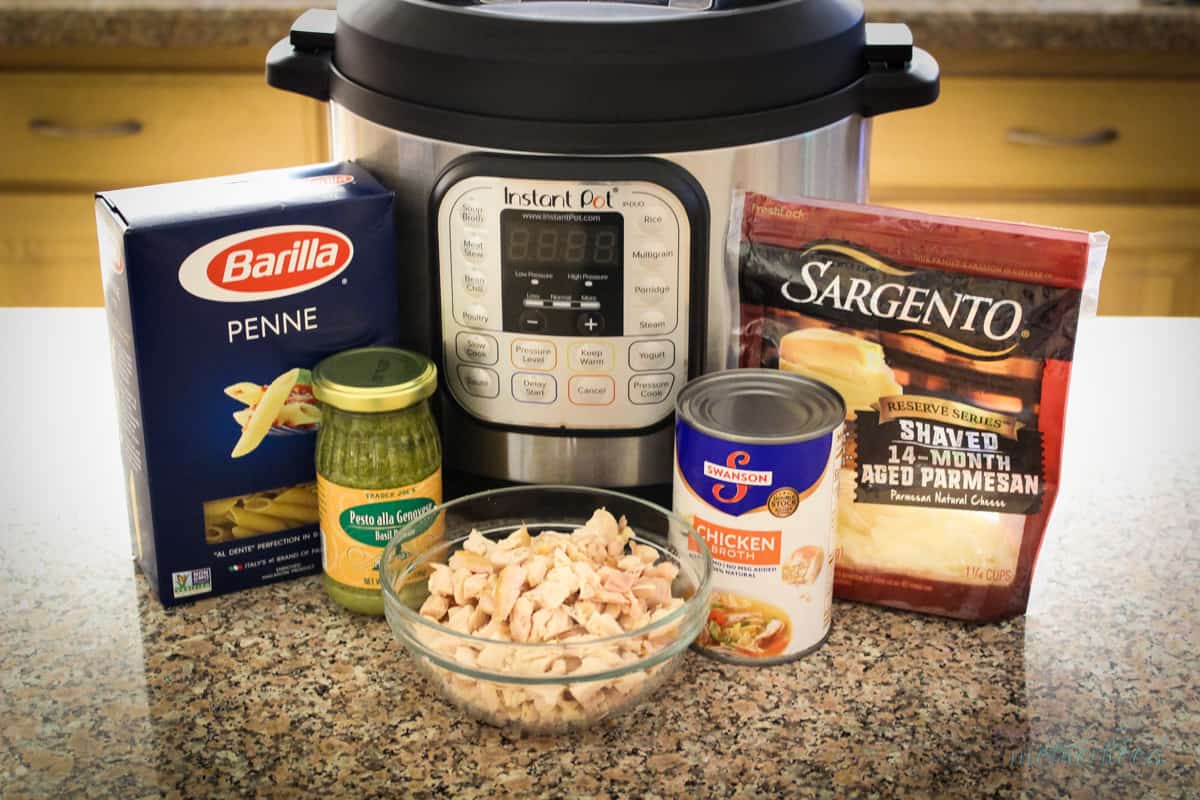 Penne pasta - you can use other types, but I find penne clings well to the sauce and cooks well in the pressure cooker.
1 can chicken broth - some cans are 14 oz, some 15, either way is fine as long as it's in that range.
Jarred basil pesto sauce - I like Trader Joe's pesto, but anything in the 6-7 oz range will do, and most brands at the grocery store seem to be in that size range.
Rotisserie (or leftover, or canned) chicken - I love using rotisserie chicken in meals, but any chicken without a strong, competing flavor will work great here.
Parmesan cheese- sadly I can't find the one pictured anymore, but it doesn't have to be shaved. The green lid grated parmesean at Trader Joe's is my new favorite.
Water- this can be replaced with more chicken broth if you'd like, but I only open one can and make up the needed liquid with water.
You'll also need your handy dandy Instant Pot, and a spoon or spatula for stirring.  And yes, that's 6 bullet points for a 5 ingredient dish- I don't count water as an ingredient, but the can of chicken broth is not quite enough liquid.  If you have a carton of broth instead of a can, you can measure out 2 cups and skip the water.
How to make this delicious dinner
Preparation
Add the chicken broth, water, chicken, and basil pesto sauce to your instant pot and stir. Then add the Penne and push the pasta down into the liquid- do NOT stir after adding the pasta!
Tip: to get all of the pesto out of the jar, you can add your water, some of the chicken broth, or even a little olive oil and shake the jar, then add that liquid to the cooker.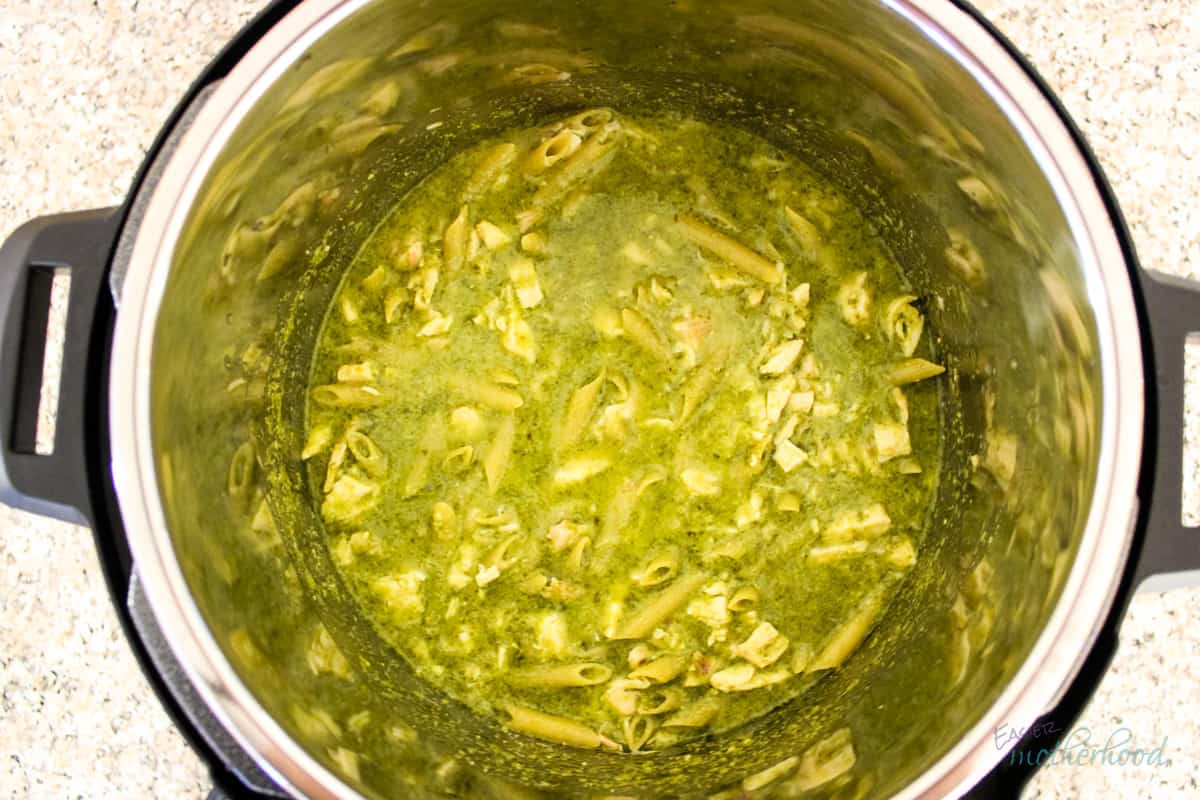 Cooking
Set your instant pot on high pressure for 3 (al dente) or 4 (soft but not overcooked) minutes. When it's finished, turn off or unplug so it doesn't "keep warm". Then wait 3 minutes and then release the pressure.
This 3 minutes is sort of in between a quick and natural release- we're giving it a bit of time so it doesn't sputter and splatter as much as a quick release, but not a full natural release that would result in mushy pasta. That's also why my cook time is a minute or two shorter than most instant pot pasta recipes call for- we're transferring a bit of that time from cooking time to release time.
Serving
Remove the instant pot lid and stir in your parmesan. You can garnish with more on top if you want, because cheese is delish. Then ring the metaphorical (or real, if you have one) dinner bell and eat! If you're out of parmesan and still want this to be a creamy pasta, you can stir in some cream cheese instead.
Yum!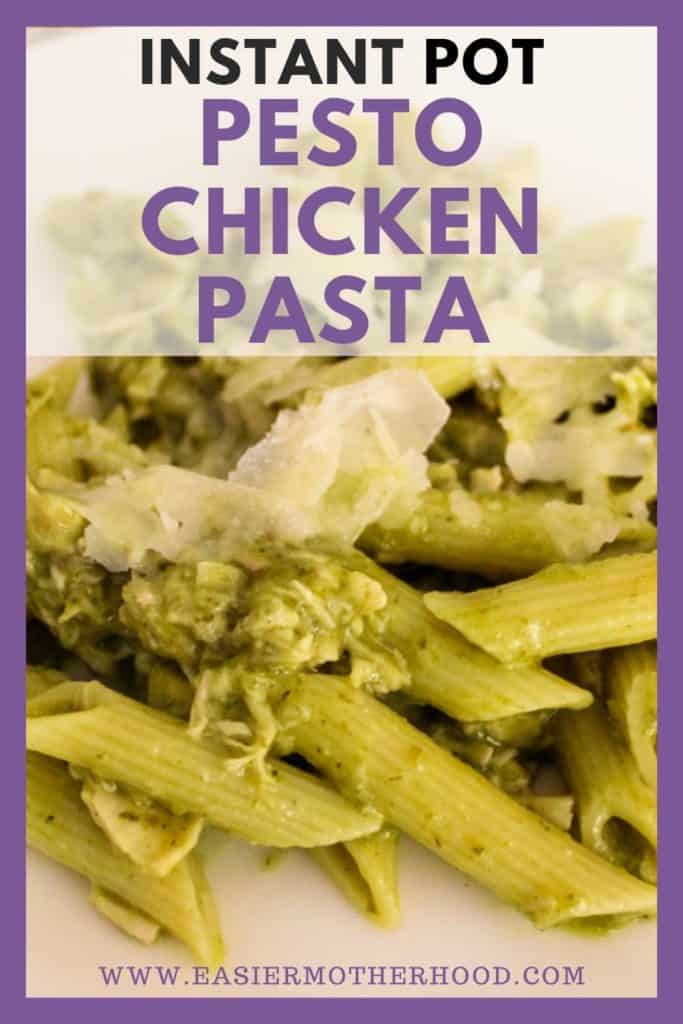 Storing & Reheating
Your chicken pesto pasta should be stored in an airtight container in the refrigerator for up to 3 days. You can also freeze it- parmesan is one cheese than handles freezing ok. Try to avoid exess air in the container for freezing, either by filling your container as completely as possible or using a flexible container like a ziplock or silicone bag and pressing the air out.
The pasta tastes best reheated on the stovetop with a bit of water, but can also be reheated in the microwave. It can also be served cold the next day as a pasta salad.
Questions about Creamy Pesto Chicken Pasta
Can I add vegetables?
Yes, veggies are a great addition to this easy recipe! Heartier veggies like bell peppers could be added before cooking to the top of the dish- the pasta needs to be submerged in liquid, but vegetables don't- and more delicate ones like fresh spinach can be stirred in at the end. Cherry tomatoes are a great addition, and can be added before OR after cooking.
Can I subsitute another pasta for the penne?
Yes, with a caveat. You'll want a thicker pasta with a similar cooking time, OR you'll want to reduce the cooking time. Following this recipe as written with spaghetti would give you overcooked noodles. That said, since we're not starting with raw chicken in this dish you can reduce the cook time. I've made this with rotini pasta and reduced the time by 1 minute.
Can I use raw chicken instead of leftover?
Yes, however, to ensure the chicken is cooked through and the pasta not overdone, you'll need to do one of two things. One option is to dice the chicken into small, bite size pieces that cook quickly. The second option is to saute the chicken in the instant pot with the saute mode with some butter or oil for about 2 minutes on each side (depending on thickness) before adding the rest of your ingredients. You can use either white meat like boneless skinless chicken breasts or dark meat like chicken thighs.
Can I make this on the stovetop?
Absolutely. Add everything but the parmesan to a saucepan, along with another ¼ to ½ cup of water since you'll be losing some liquid to evaporation. Cook over medium-high heat until the pasta is to your desired tenderness, then stir in the cheese.
Can I make this instant pot chicken parmesean pasta gluten free?
Yes. As with regular pasta substitutions, be sure the cook time on your gluten free noodles are comparable to regular Penne (approx 11-12 minutes) or to adjust the cook time.
Can't get enough of the pesto, chicken, and pasta combination?
Be sure to try my slow cooker caprese pasta!
Looking for more ways to use up leftover or rotisserie chicken?
Try adding it to this baked feta pasta or in this comforting crockpot chicken potato chowder.
📖 Recipe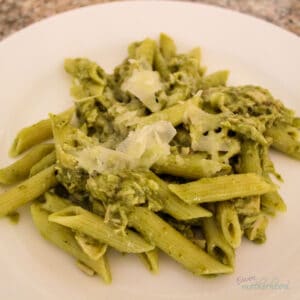 Instant Pot Chicken Pesto Pasta
This instant pot pesto pasta is only 5 ingredients and cooks as a one pot dish in your instant pot for a quick and tasty weeknight dinner perfect for busy nights.
Ingredients
8

oz

Penne pasta

14.5

oz

Chicken broth

6.7

oz

Pesto sauce

1

cup

Leftover chicken

½

cup

Parmesan cheese

¼

cup

water

can sub additional broth
Instructions
Add all ingredients except cheese to instant pot, adding the pasta last.

Set to high pressure for 3 minutes (al dente) or 4 minutes (soft). After cooking wait 3 minutes and release remaining pressure.

Stir in parmesan and serve. Garnish with additional cheese if desired.
Podcast
Notes
Thinner, faster cooking pastas will need less cooking time than penne.
Nutrition
Calories:
505
kcal
Carbohydrates:
48
g
Protein:
24
g
Fat:
23
g
Saturated Fat:
5
g
Polyunsaturated Fat:
1
g
Monounsaturated Fat:
1
g
Trans Fat:
0.01
g
Cholesterol:
48
mg
Sodium:
1167
mg
Potassium:
272
mg
Fiber:
3
g
Sugar:
3
g
Vitamin A:
1074
IU
Calcium:
208
mg
Iron:
1
mg
Nutrition information is provided as a courtesy and is an estimate. It is recommended to use your preferred calculator with the actual ingredients you use for optimal accuracy.
Be sure to come back and let me know how your instant pot chicken pesto pasta turned out!