Even your pickiest eater will go for at least a few of these 57 kid-friendly lunch ideas I've compiled for you here.
Summer is coming.
(I really hope you read that in Kit Harington's voice)
Which means if your kids went back to school, they're about to be home all day.  Again.
So you (and I) have to figure out what to feed them.  Every meal.  Every day.  Again.
I'm usually pretty good at meal planning and cooking dinner most nights, but I outright refuse to do anything complicated at lunch.  To be honest, with a 3 and 1 year old to keep an eye on, that's not really even an option.  I like easy, kid-friendly, simple meals for lunch.  Heck, sometimes dinner too.
Personally, I find it easy to fall into a rut and feel like you're out of ideas for easy and kid-friendly lunches, so I put together this list as an easy reference.  Because sometimes you don't need a whole *waves arms* detailed recipe, you just need a quick reminder of all the things you're capable of making without one.  To that end, this list of kid friendly lunch ideas is also available as a free printable (along with my meal planner and grocery shopping list) for my email subscribers, get it here!  With the printable, you can keep this list posted on your fridge or wherever is handy for you in your kitchen, and glance at it whenever you need an idea or two.  For me that's the inside of the door on my pantry, since my fridge isn't magnetic.
Before we get going, you should know
Occasionally while scrolling you might find yourself thinking things like "um, Anne, I can't make tomato soup without a recipe".  And from scratch, that's probably true.  Confession time: I've never made tomato soup from scratch.  Trader Joe's makes it, and I open the box and heat it up.  There are things I find aren't worth the effort for the time when a store bought option is both tasty and reasonably priced.
Also to be perfectly honest with you, some of the kid friendly lunch ideas below don't even really need a description.  That's actually the point- this list is meant to inspire you to say "oh yeah, I've made that before!" or "I could totally throw that together!" for things that aren't currently in your regular rotation.
Oh, and like most of my content, this post contains affiliate links, which means I receive a small commission, at no additional cost to you, if you make a purchase using this link.
How this kid friendly lunch idea guide is organized
This is a pretty extensive list of kid-friendly lunch ideas, so to help you in your scrolling endeavors I am letting you know right up front how it's organized.  The first section is sandwiches and wraps, then we move to variations of pizza.  Next we cover pastas, salads, and breakfast foods.  Finally, I detail a bunch of things you could put together on a snack tray to make a kids' charcuterie board with, along with some other ideas that don't fit cleanly into one of those categories.
Also, I want to take a moment to remind you that you are not a food wench- this list is for your kids too!  Depending on their age, go ahead and substitute the "you" in any instructions with the words "your kids" because if they're old enough to have a smartphone, then assembling a sandwich or operating the microwave is totally within their capabilities.
Ready?  Let's scroll!  Like, instead of roll.  Bad jokes and puns are not just reserved for dads.
Sandwiches & Wraps
Let's start with the standard fare.  Keep in mind that with sandwiches, you can mix it up by changing your standard bread up for a tortilla, bagel, hawaiian rolls, or even baking the components into a crescent sandwich.
Peanut Butter and Jelly (and variations)
The classic PB&J.  I have this listed first because my son eats it more than anything else for lunch.
There are a ton of variations of this to keep it interesting, of which my favorite is to use honey instead of jelly, and to make it as a wrap on a tortilla and roll it up.  You could also use Nutella or Marshmallow fluff as the sweet side, and of course you can use any nut or seed butter in place of the peanut butter for the savory.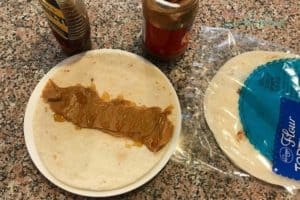 Deli Sandwich or Wrap
Here we have what I eat more than anything else for lunch.  Turkey and swiss, Ham and provolone, leftover pot roast and mozzarella.  Add some veggies and a condiment or two, and get to eating.
Grilled Cheese
This isn't super common for our house in the summer, but paired with some tomato soup grilled cheese is one of the ultimate comfort foods.  Plus, it's super easy, and super kid-friendly!  For adults you can do a variety of cheeses, or even layer some avocado inside to make it feel more gourmet and grown up.
BLT (Bacon Lettuce Tomato)
Another classic, and you certainly don't need a recipe for this kid-friendly lunch idea.  After all, it's in the name!  If your kids like avocado, that's a great addition to this sandwich to give it a little more fiber, nutrients, and healthy fats.
Tuna, Egg, or Chicken Salad Sandwich
Even though mayo-based salads aren't popular in my home, I can't mention the melts below without first listing the quintessential tuna salad sandwich.  If your kids don't like mayo you can try swapping in some whipped cream cheese; that's actually what I use in my deviled eggs.
Melts (i.e. Turkey Melt, Tuna Melt)
The standard deli sandwich can get REALLY boring if you eat it a lot.  Adding a little butter to a pan and cooking it like you would a grilled cheese gives it a different feel.  I skip the veggies for melts- warmed lettuce isn't nearly as appealing- and usually add an extra slice of cheese so that there is cheese touching each bread slice to keep it together better.
Sliders
I don't know about you, but I could eat a whole package of Hawaiian rolls.  Sometimes just mixing it up from a traditional sandwich to a few small ones on cute little rolls is the variety we need.
Salad Based Wraps
Caesar salad kit, meet my good friend tortilla.  I'd also like to introduce you to my friends avocado, and leftover chicken.  Another favorite is to make a BLT wrap- you can even use bacon bits to reduce the prep time.
Chicken Wraps
This style is less focused on the lettuce than salad based wraps, though you can definitely still include some.  Chicken is so versatile and you can do buffalo chicken, teriyaki chicken, broccoli cheddar chicken, really any sauce or topping that your kids like on some tenders, then wrapped up in a tortilla.
Chicken or Fish Sandwich
Whether your littles prefer them grilled, fried, or baked, it's easy to throw chicken or fish between some bread with a sauce they like.
Breakfast Sandwich or Wrap
Breakfast for lunch!  Start with some eggs and add whatever your kid likes: cheese, avocado, bacon, and/or ham are all great.
Burger
I find it so convenient that you can buy patties already formed to make burgers at home as fast as going through a drive through.  I love me some In-N-Out Burger, and they move their long lines efficiently, but on a crowded day it can still take half an hour!
Bologna Sandwich
I'll admit this is always one I forget about, but is pure nostalgia.
Spaghetti Sandwich
This is one I didn't grow up with but heard about from a friend in college.  It sounded a little odd to me at first, but when you consider that spaghetti is often served with garlic bread, serving it in bread actually makes a lot of sense.
Quesadilla
Plain cheese, or add some chicken or leftover taco meat for a kid-pleasing lunch.  If your kids like avocado this is a great place to offer it as a topping.
Hot Dog
This might be the ultimate kid friendly lunch idea, even picky eaters usually love them.  And yes, I understand that not everyone considers them a sandwich.  It's okay if you don't, I'm not going to fight you over it.
Pigs in a Blanket
Wrap a hot dog in a crescent roll and bake it.  This now has bread around every side, so it's a fully enveloped sandwich.  More importantly, kids love it, and it's mega easy.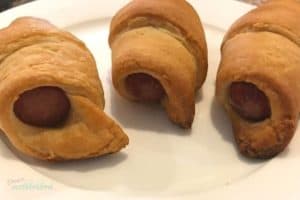 Crescent Roll Sandwich
Speaking of crescent rolls, you can wrap just about any sandwich components up and bake it.  This is one of my favorite ways to repurpose leftover meat from dinner, but you can use just about anything.  Turkey and swiss, ham and cheddar, even some pepperoni and half of a string cheese to make a pizza version.
Pizza Variations
Phew, that was a lot of sandwiches!  This next section of easy kid friendly lunch ideas is completely focused on pizza and all the ways we can make it.  Because man oh man, kids like pizza.
Frozen Pizza or Pizza Rolls
I personally keep one (or both) of these bad boys in my freezer at all times.  It doesn't get much easier, and I hear the rolls are especially good in an air fryer.  Maybe one day I'll get one and find out.
Pizza Pockets
This sounds like it would be just a hot pocket (and you can totally buy those!) but I like to take a can of ready to bake biscuits and roll them out or pull at the edges to stretch them some.  Then put some cheese and toppings on them and pinch the edges together to create a little ball and bake them (at the temperature on the biscuit package) seam side down until the biscuits are golden.  The pizza variation of the crescent roll sandwich is also something you could call a pizza pocket.  I don't put sauce inside, instead I use it for dipping.
Pizza Bagel
Split your bagel in half, then add some sauce and mozzarella or pizza cheese.  Then add some toppings if your kids like them, and stick in the oven (or toaster oven) at 400 degrees F until the cheese is bubbling.
English Muffin Pizza
Split your muffin in half, then add some sauce and mozzarella or pizza cheese.  Then add some toppings if your kids like them, and stick in the oven (or toaster oven) at 400 degrees F until the cheese is bubbling.
Flatbread or Naan Pizza
Just grab your flatbread from the package and add some sauce and cheese.  Then add some toppings if your kids like them, and stick in the oven (or toaster oven) at 400 degrees F until the cheese is bubbling.
Pizza Pasta
This kind of kicks off our next section, but it just felt like it belonged with pizza.  Take whatever pasta you like to use and add either marinara or pizza sauce.  Then mix in some cheese and toppings.  If the pizza sauce is too thick you can cut it with a bit of pasta water.
Pasta Based Kid Friendly Lunch Ideas
Pasta is another well loved kid food, and a versatile base to do a lot of different meals with.  It's also a great place to add in some leftover chicken or beef if you have it handy.  Feel free to mix and match here as well, say by putting frozen veggies in your creamy or pesto pasta.
Mac 'n Cheese
My picky son's favorite, this box of mac is always in our pantry.  It is a legitimate household emergency in our home to run out of it.
Spaghetti
Plain noodles with jarred sauce is always a hit here.  With younger kids remember this one is messy, so you may want to serve it on a day where a bath (or swimming pool) is already on the agenda.
Creamy or Cheesy Pasta
With this variation, instead of just adding jarred sauce to the pasta, you also add a cheese that makes it a bit richer and more filling.  For creamy style, go with a soft spreadable cheese like cream cheese or ricotta.  For a melty cheesy pasta that doesn't fully incorporate into the sauce, opt for a shredded cheese.
Ravioli or Tortellini
Pasta with cheese already inside it?  Yes, please!
Pasta Salad
There's approximately a million variations of pasta salad, which means it's SUPER flexible and you can almost always make due with what you have on hand.  Personally I dislike mayo so I tend to stick with Italian style- rotini, veggies, a meat (salami or pepperoni are generally a hit), and Italian dressing.
Caprese Pasta
Plain noodles with mozzarella, tomatoes, and basil.  No sauce, but a little olive oil will keep the pasta from sticking and a bit of balsamic vinegar complements it well.
Pesto Pasta
I almost feel silly writing a description here.   As you might guess, take some jarred pesto, and add that to your otherwise plain pasta.
Pasta with Frozen Veggies
Add some frozen veggies to the pot the last minute or two that the pasta is cooking so that they're nice and warm with the pasta.  After draining, you can stir in a bit of butter to keep things from sticking together.
Ramen
The quintessential college meal is also a favorite of picky kids.  You can add veggies and some protein- egg goes well with this, not just meat- to make it a little more nutritious.
Rice Noodles
Like Ramen, egg goes really well with with rice noodles.  Add some pad thai sauce and some crushed peanuts for a tasty change of pace from regular pasta.
Soups and Salads
There's a good reason that there are multiple national chains dedicated to these categories.  They make for great lunches!
Chicken Noodle Soup
Not just for when they're sick, the classic flavor profile of noodles with chicken, carrots, and celery in broth is probably the most kid friendly soup there is.
Tomato Soup
This is often served with Grilled Cheese from the Sandwich section, but is great by itself as well.  Crackers, cheese, and avocado cubes all go nicely in it.
Broccoli Cheddar Soup
The easiest way to get kids to eat vegetables?  With cheese, of course!
Ramen or Rice Noodle Soup
Remember those pastas we just talked about a minute ago?  Use a broth instead of water to boil them and don't drain it.  Ta-da, soup!  This trick also works well with the tortellini or regular pasta and frozen veggies.
Taco Salad
Just about everybody loves tacos.  After making them for dinner it's great to turn the leftovers into a taco salad for a kid-friendly lunch.
Cobb Salad
Chicken or deli meat, cheese, avocado, and hard boiled eggs on a bed of lettuce.  The classic dressing pairing is a vinaigrette, but whatever your kids like is the best choice.
BLT Salad
This is basically the sandwich without the bread and extra lettuce, and by the way that is how to sell it to your kid if they're not a fan of salads.  You can add some avocado, and ranch dressing goes great with this.
Garden Salad
Cucumbers and grape tomatoes on a bed of lettuce.  Other popular veggies (that will depend on your kids) are black olive slices, bell peppers, and onions.  Adding chicken or another protein to this salad style helps make it more of a meal.
Nuts and Berries Salad
This is a great vegetarian option for kids who don't like meat, while still getting them veggies and protein.  A little fruit makes it sweet, and a light flavored cheese is a nice addition.  If you happen to have a strawberry vinaigrette in your kitchen that goes particularly well.  Oh, and if your kids prefer mandarin oranges or another fruit to berries, then go for it!  Remember that regardless of their titles that none of these kid friendly lunch ideas are hard and fast recipes, because they're meant to be flexible and adapted to your family.
Breakfast for Lunch (or Dinner)
I love breakfast food.  If your kids do too, it's an easy way to vary lunch.
Scrambled Eggs
Packed with protein, these keep kids fuller longer so they might bug you a little less for snacks.  If your kid isn't a fan, try adding cheese at the very end of cooking.
Pancakes or Waffles
I love scratch made waffles as much as anyone, but for a quick meal frozen ones with some peanut butter and fruit on top are what's on the menu.
Oatmeal
Speaking of peanut butter, mixing a few tablespoons in at the end of cooking some rolled oats makes them irresistible to both my kids.  You can even add a few chocolate chips (melted a little goes a long way) for a meal that is still healthy but satisfies a sweet tooth.
French Toast
In case this isn't already in your repertoire, I use one cup of milk, two eggs, a bit of vanilla, and some cinnamon mixed together for a small batch of french toast batter that should coat 6-8 slices of bread.  A handy trick is to cut each slice into thirds or quarters so that they're easy to hold french toast sticks, which are convenient for dipping into syrup.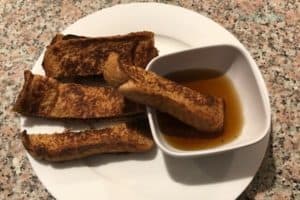 Muffins
These don't lend themselves to having a nut butter spread on them in the same way that pancakes and waffles do, so I might opt for a higher protein mix like this one at lunch.
Smoothies or Yogurt
Who doesn't like smoothies?  Well, my kids, honestly.  They seem to think the blender is going to murder me, and until I can convince them otherwise I will keep giving them the yogurt and fruit separately.  I'm a big advocate of picking your battles, and if they prefer me to have fewer dishes I'm certainly not going to fight that.  However, if yours like it blended together with a bit of milk or ice, you may be able to hide some veggies in there too.
Cereal
There are days where my one year old devours a ridiculous amount of food.  There are also days where all she wants for lunch are Cheerios.  And you know what?  Some days that's what she gets, and it's just fine.
Snack Tray, or Kids' Charcuterie Board
Remember begging your parents for Lunchables?  I completely understand now why my mom usually rolled her eyes.  Those things are on the pricey side for how little they are, and tasting them as an adult I was, uh, underwhelmed.  This section is dedicated to all sorts of things that you could put on a snack tray to make your own.  Nothing fancy, I promise!
Cheese
You can do slices of cheese, cubes of it, cheese sticks, string cheese, or even soft cheeses like cream cheese.
Crackers
There is SUCH a wide variety of crackers, you can even put multiple on the same snack tray.  Ritz crackers to put cheese on or dip in peanut butter are a totally different food group to kids than goldfish crackers are.
Meat Slices
You can't recreate a lunchable-style snack tray experience without some cold cuts, and this way you can pick out your kids' favorite.  In addition to the more traditional sandwich meats like turkey and ham, pepperoni and pre-cooked bacon are also popular choices.
Chips and Pretzels
Pretzels are great because they're just so dippable.  Chips well, kids just love them.  You might have good luck opting for veggie chips- my son loves carrot chips, and my niece loves apple chips.
Bread
From Hawaiian rolls to sandwich bread to slices of a fresh baked loaf from the bakery, whatever your kids like is a great choice.
Meatballs
If you have a small crockpot, then try throwing some frozen meatballs in sauce in one during the morning- they heat up beautifully that way.
Edamame
A high protein vegetarian food that most kids enjoy.
Hard Boiled Eggs
You can buy these ready made, or easily do them yourself.  I like to use a pressure cooker (using the 5-5-5 method) because they're SO much easier to peel that way.
Dips
Veggie dip, fruit dip (try yogurt or whipped cream cheese with honey), hummus, guacamole, and salsa are all great options.  You can also offer any nut butter or nutella as a dip for things like pretzels, crackers, and fruit.
Dippable Veggies
Kid-friendly options include grape tomatoes, carrots, cucumber slices, bell pepper slices, celery stalks, sugar snap peas, and even jicama sticks.
Fruits
Most fruits like apple slices, pineapple, grapes, strawberries, banana slices, and melon slices lend themselves to dipping as well.  Smaller berries like raspberries and blueberries, and dried fruits like raisins and fruit leathers are
Combo Idea- Ants on a log
I'm honestly including this because my husband looked at me like I had three heads when I mentioned it; I thought everyone knew what this was.  If you haven't heard of it, you start with a stalk of celery, then smother it in peanut butter and stick either some raisins (traditional) or chocolate chips (yummier) on top and it's a fun way to get kids who like peanut butter to eat celery.
Combo Idea- Caprese skewers
While I already listed cheese, and grape tomatoes, putting them together with some basil and balsamic glaze or dressing is delightful.  I call them skewers out of habit because skewering them makes for a super cute easy appetizer to take to a party and so that's what they've become in my head, but I don't actually do that when I'm just doing it at home.  Generally I toss everything in a bowl and just mix it up a bit.  Cucumber and avocado pair well with this if you want to add more to it.
Combo Idea- Meat and cheese rollups
My favorite lunch item growing up was salami slices with cream cheese, which were then rolled up into little salami logs.  It was also something that I could make by myself at a reasonably young age.
Miscellaneous Kid Friendly Lunch Ideas
There are a few kid friendly lunch ideas I came up with when making this list that just didn't fit nicely into any main categories.  I didn't want them to feel left out though, especially since no list of kid friendly lunch ideas is complete without chicken nuggets!
Chicken Nuggets
The ultimate kid friendly food, odds are you have some in your freezer at all times.  It can't just be me.  Obviously, these pair well with French fries, or can get tossed in one of the salads or wraps mentioned above.
Fish Sticks
Another freezer section classic.  These I don't always have, but I know plenty of parents do.
Nachos
This is a great way to use up extra taco meat if you have any.  If not, vegetarian is great too!  Just melt some cheese on tortilla chips, then add toppings like black olives, sour cream, salsa, and/or avocado.
Rice Bowls
Another great way to use leftovers, these are just leftover rice, leftover meat, and appropriate toppings or sauce.
Fried Rice
All fried rice really is composed of is leftover rice, soy sauce, some scrambled egg, along with some veggies and/or meat.  Mix it up, and know that a little soy sauce goes a long way- you can always add more, but can't take it out once it's in the pan.
Loaded Potato
Bake or microwave a potato or sweet potato, then add the toppings your kids like.
Phew!  That was a lot of easy, and kid friendly lunch ideas to write out!
Want all of them on a handy-dandy printable to stick on your fridge?  Get it here!
What's your favorite Kid Friendly Lunch Idea?  Did I miss anything your kids love?