These roasted lemon pepper chicken drumsticks are a delightfully tangy and savory meal that's easy to prepare. They're perfect for a quick weeknight dinner or in a flavorful weekend feast.
Dive into a world of flavor with these roasted lemon pepper chicken drumsticks, which are a great way to use budget friendly chicken legs. This dish brings together the tangy zest of lemon and the warm, spicy notes of black pepper to create a truly delicious dinner the entire family willl love.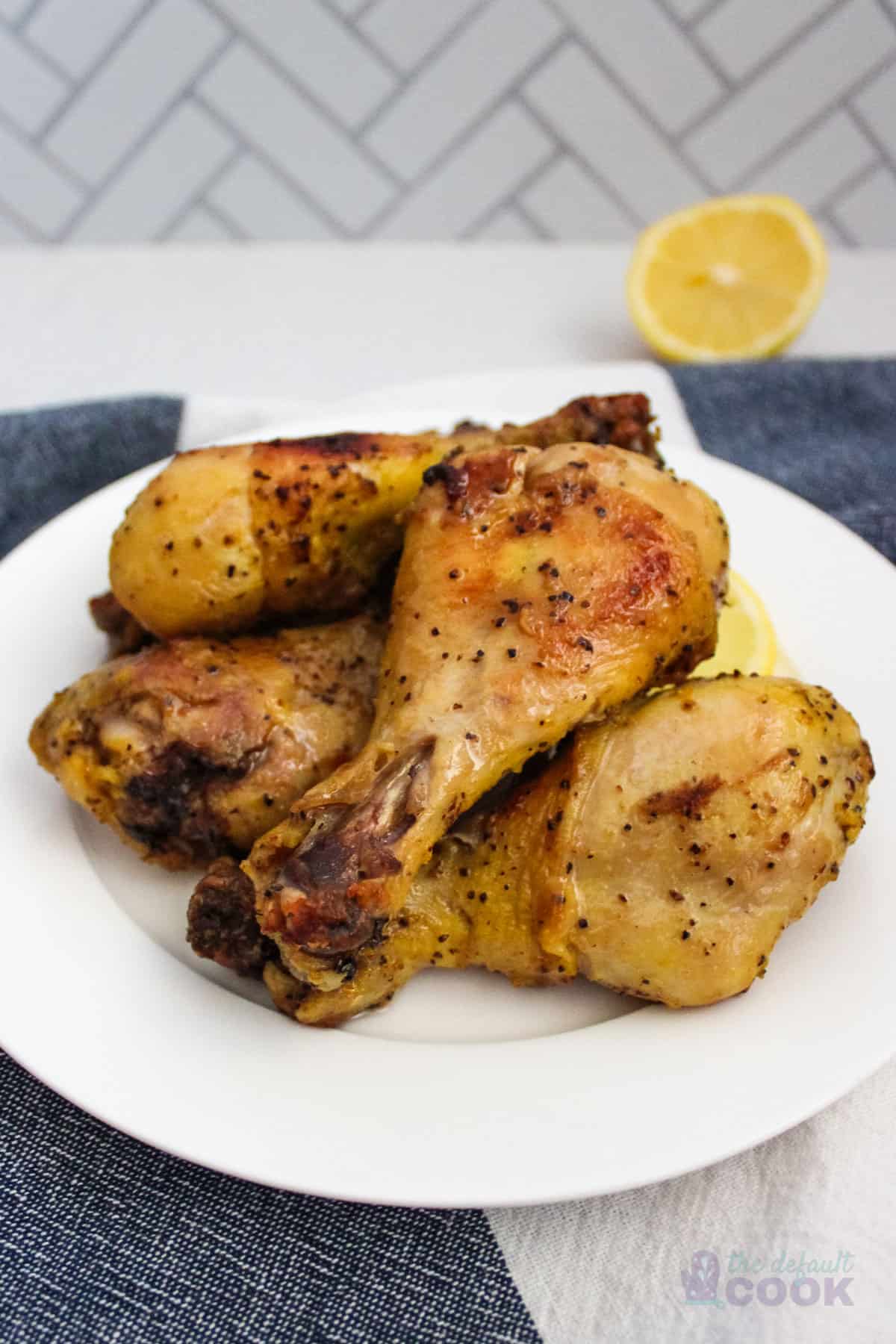 This post may contain affiliate links, which means I receive a small commission, at no additional cost to you, if you make a purchase using this link.
Why You'll Love These Roasted Lemon Pepper Chicken Drumsticks:
Easy to Make: this simple recipe uses just four ingredients to make a tasty chicken dish.
Low Prep: don't worry if you start a little late, there's only a quick bit of prep to do before cooking, so it is one of those simple chicken recipes we all love.
Simple Ingredients: there's nothing here you won't find at your local grocery store.
Let's Get Started! Here's What You'll Need: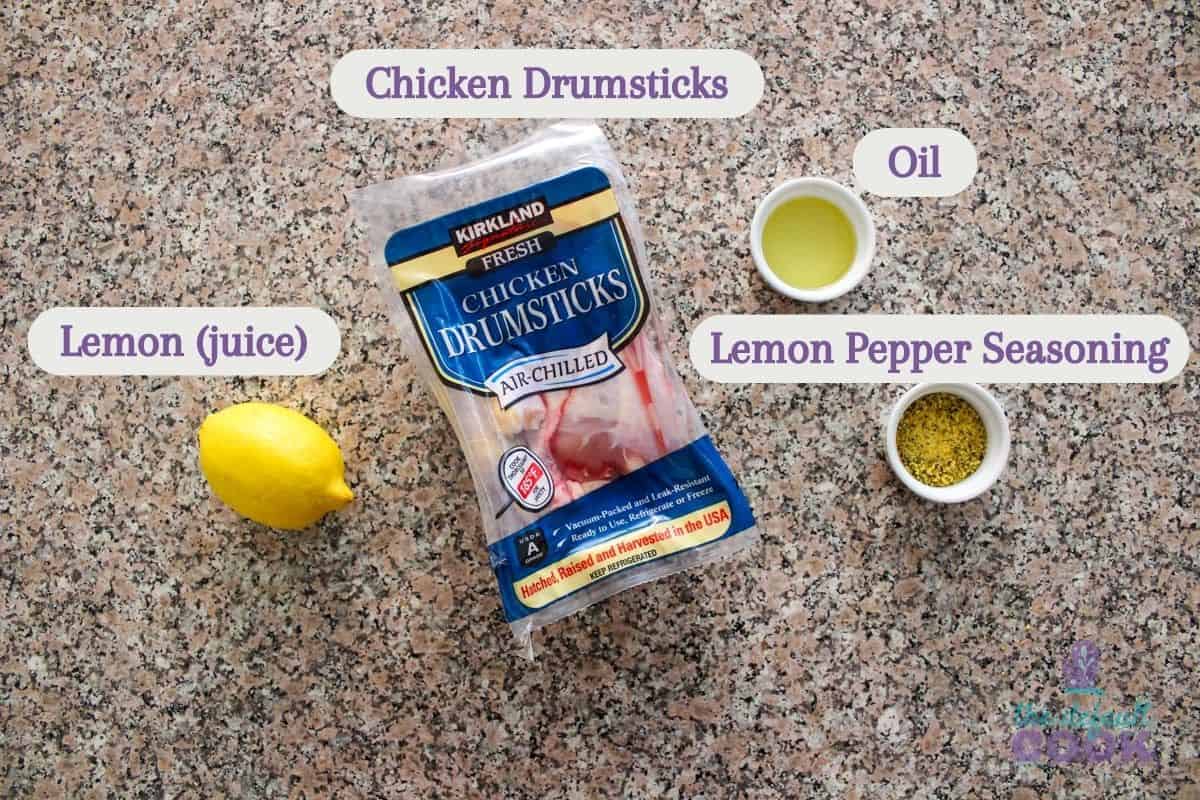 Ingredients:
Chicken Legs - The photos here are with 5 drumsticks, but this recipe will work with any quantity of chicken. Just adjust the amount of seasoning you use.
Lemon Pepper Seasoning - any brand will work for this, so use your favorite!
Avocado Oil - I reach for avocado oil, but you can substitute this for olive oil or canola oil if you have that handy.
Lemon Juice - fresh is best, but you can use bottled lemon juice if that's easier.
Equipment:
To prepare these tasty roasted lemon pepper drumsticks, you'll need a baking sheet to cook the chicken drumsticks evenly. Optionally, you can be lazy like me and line it with aluminum foil for an easy cleanup afterward. 
You'll also need a bowl to mix your ingredients, a spatula, and tongs for handling the chicken. Measuring spoons will ensure that you get the perfect amount of seasoning. If you're using fresh lemon, make sure you have a knife on hand.
How to Make These Lemon Pepper Chicken Legs:
Step 1: Juice lemon if using fresh and preheat the oven
First things first, preheat your oven to 425 degrees so it'll be ready when the chicken is! Then juice your lemon. Rolling a fresh lemon before juicing can make the process of getting fresh lemon juice easier and more efficient. The gentle pressure applied while rolling helps release the juices, to get the maximum amount of refreshing citrus flavor out of it. A lemon gives a lot more than the teaspoon of juice we need- you can freeze extra for other recipes later, or toss it in your water bottle.
Step 2: Combine all ingredients
Using a gentle stirring motion, ensure that all the ingredients are evenly and thoroughly coated in a medium-sized bowl.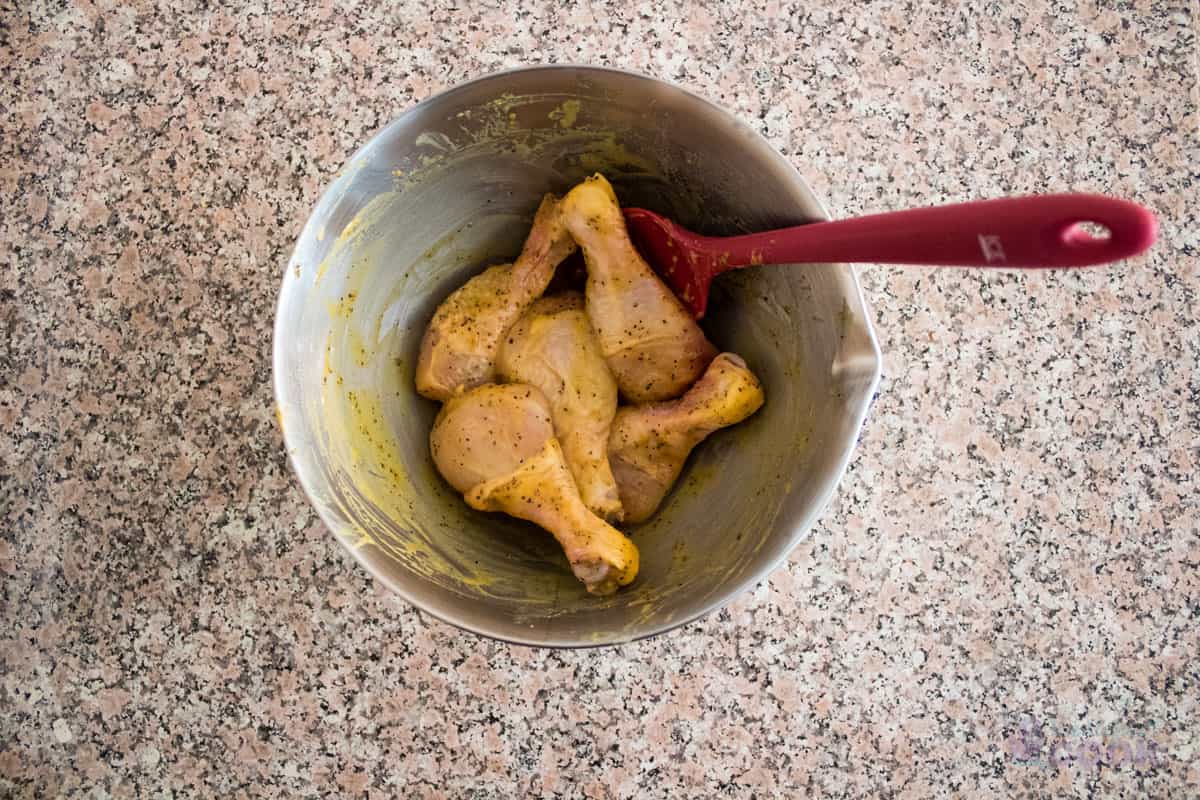 Step 3: Bake
To begin, carefully arrange the fresh ingredients in a single layer on a lined baking sheet. This will not only ensure easy cleaning but also prevent any sticking.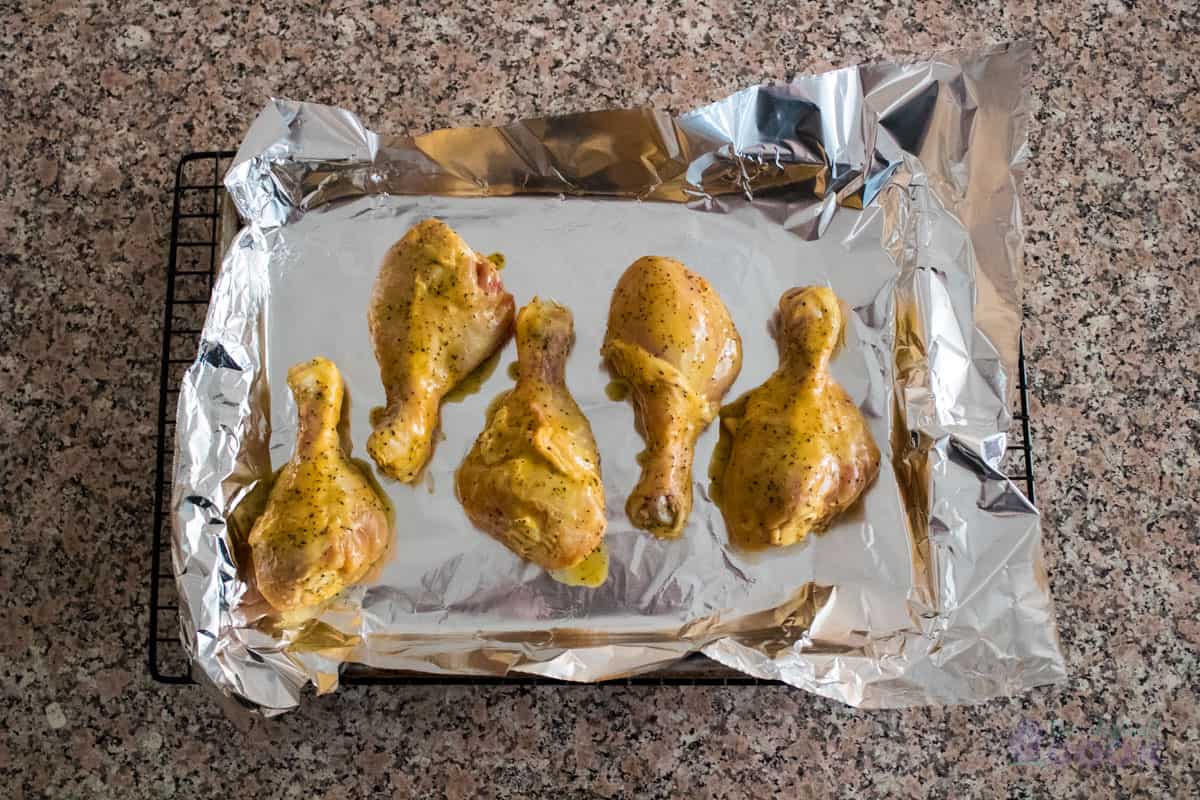 Once arranged on the baking dish, let the ingredients roast in the oven for 40 minutes. Be sure to keep an eye on them and remember to flip them gently after 30 minutes. You may have some dark material come out of the bone during baking (bottom right leg in below photo), which is fine.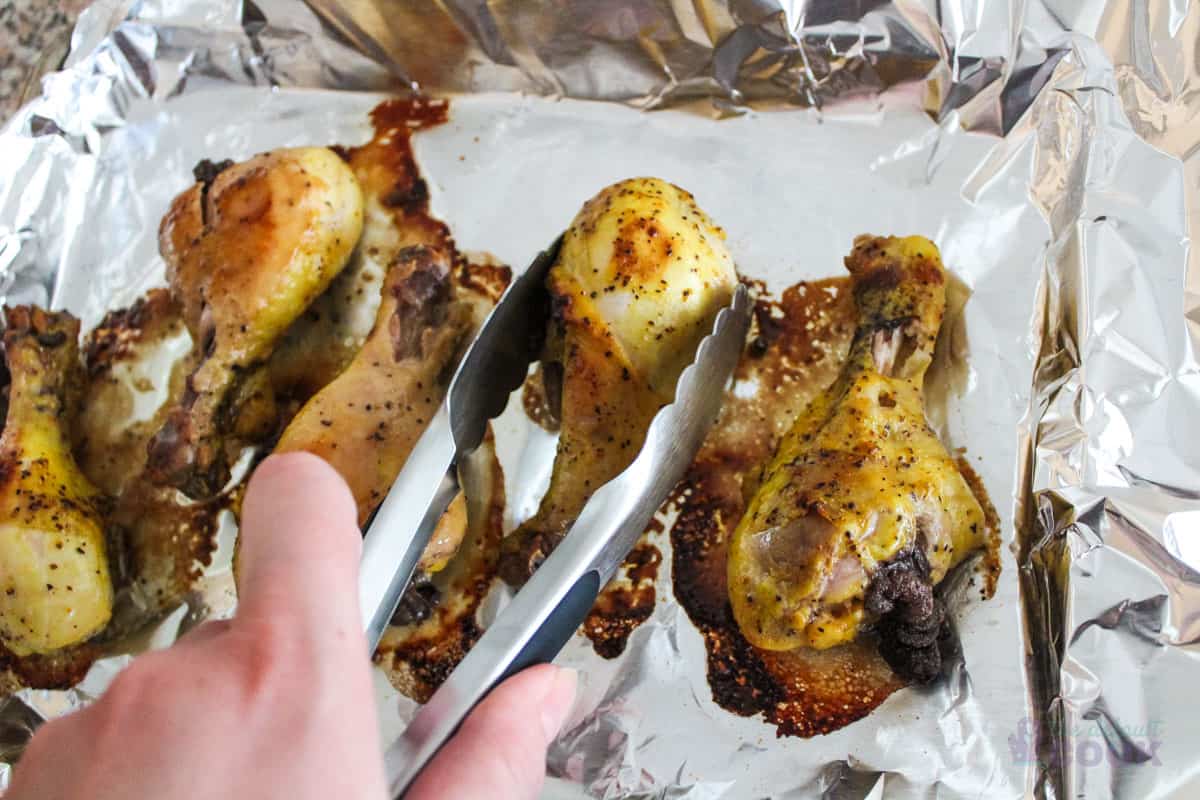 The chicken should be hot and have a lightly crispy skin once cooked. If you prefer crispier you can turn on your broil setting for 1-2 minutes at the end, but be sure to keep a close eye on them during that to avoid overcooking.
Step 4: Serve and enjoy!
Let them cool enough that you don't burn your mouth on the hot chicken, then dig in! Optionally you can squeeze a little more lemon juice on them if you like extra tang.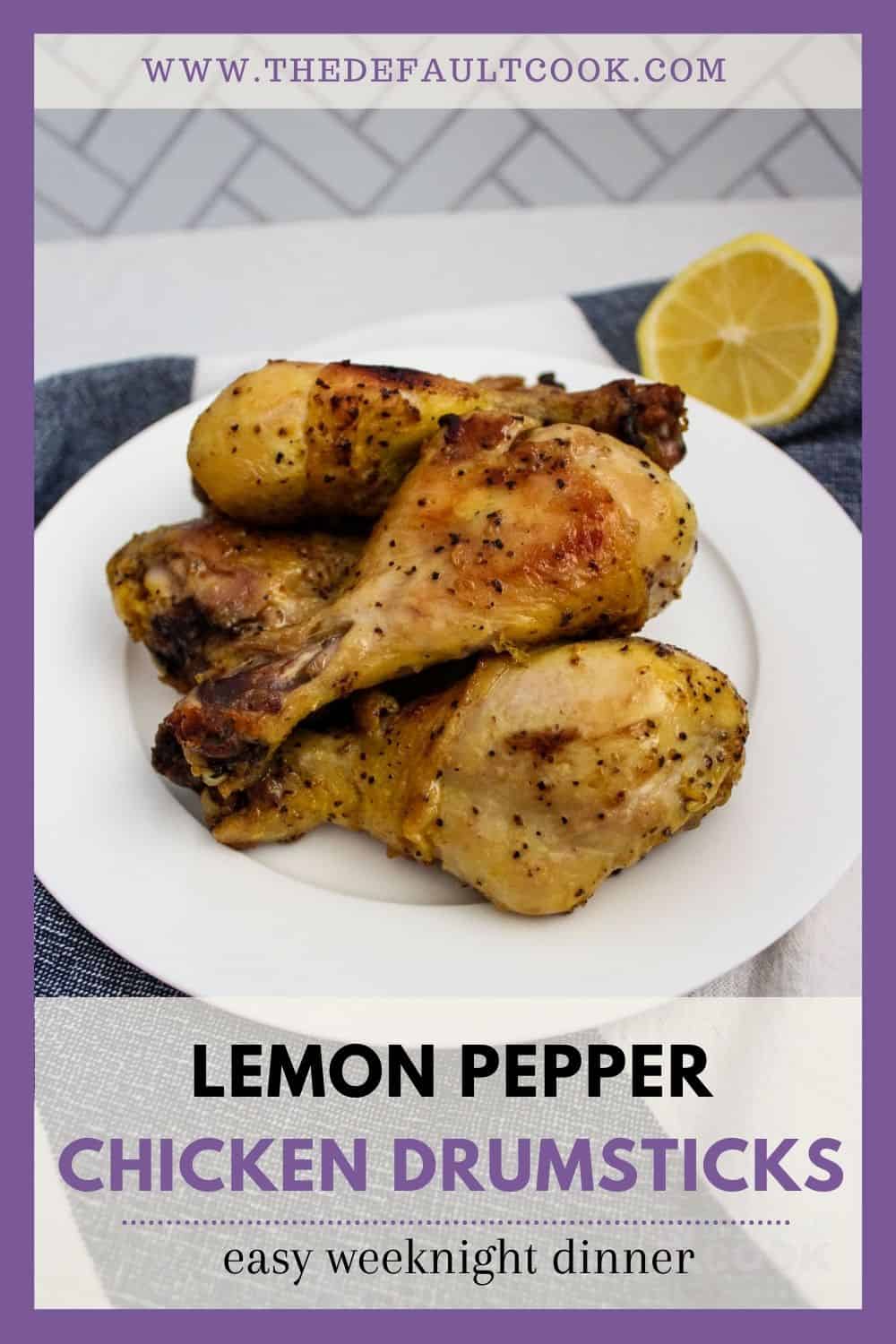 If you have any leftovers, be sure to store them in an airtight container in the fridge to keep your uneaten lemon chicken fresh for longer. This helps to create a barrier against air and moisture, preventing spoilage and maintaining the food's quality and taste. Don't leave your chicken out for too long at room temperature.
FAQs
Can I make this in my air fryer?
Yes, you absolutely can! If you prefer using an air fryer for this recipe, go ahead. The cooking process remains essentially the same when making air fryer lemon pepper chicken drumsticks. But cooking time will be reduced to about two-thirds of the original time, depending on your air fryer basket size. Be sure to check on your drumsticks regularly to ensure you get the best results.
Can I substitute chicken breasts or thighs for the drumsticks?
Absolutely, you can substitute drumsticks for other cuts of chicken, such as chicken breast, chicken wings, or even skin-on chicken thighs for the drumsticks. However, keep in mind that the cooking time may vary depending on the size and thickness of the chicken pieces.  You can even use the basic recipe to make lemon pepper chicken legs if you prefer this cut.

No matter what cut of chicken you use, make sure you cook it to an internal temperature of 165 degrees Fahrenheit for safe consumption. Adjust your cooking time as needed and monitor the temperature with a meat thermometer to ensure it's cooked perfectly.
Can I use this recipe for meal prep?
Yes! This recipe is excellent for meal prep. Roast a batch of drumsticks at the start of the week and pair them with a variety of sides for balanced and flavorful meals throughout the week. Or prepare the simple marinade and store it in containers or a plastic bag until you are ready to bake the meal.
Can I adjust the spiciness of this dish?
The lemon pepper season gives the chicken a ton of flavor or you can use something simple like garlic powder or onion powder. If you like it spicier, feel free to add some red pepper flakes or use a spicy version of lemon pepper seasoning. If you find the seasoning adds too much flavor, reduce the amount of lemon pepper seasoning used.
What side dishes go well with these drumsticks?
Roasted Lemon Pepper Chicken Drumsticks pair wonderfully with a variety of side dishes for a simple dinner. They're great with mashed potatoes, lemon pasta, French fries, coleslaw, or a fresh garden salad. If you need a low carb option, you might consider a cauliflower rice or a vegetable medley with things like Brussels sprouts with this easy chicken dinner.
More Easy Chicken Dishes You Might Like:
If you're looking for a one-pot dish with the sides in it, this Baked Feta Chicken is a great choice.
Picked up a rotisserie chicken? Try this Honey Mustard Chicken Wrap or Chicken Pesto Pasta- and if you still have chicken leftover freeze it for later.
Enjoy!
So, try these roasted lemon pepper chicken drumsticks and let us know how the whole family liked it in the comments below!
📖 Recipe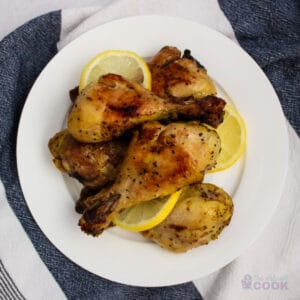 Lemon Pepper Chicken Drumsticks Recipe
These tangy, flavorful lemon drumsticks are an easy and delicious low-effort meal made with just 4 simple ingredients.
Ingredients
1

lb

chicken legs

approx 5 legs

1

tablespoon

lemon pepper seasoning

any brand

1

tablespoon

avocado oil

1

teaspoon

lemon juice
Instructions
Preheat oven to 425. Add all ingredients to a bowl and mix until the legs are evenly coated with the oil, juice, and seasoning.

Lay drumsticks on a baking sheet and place in oven for 40 minutes, flipping gently after 30. Enjoy!
Podcast
Notes
To make in the air fryer, reduce cooking time to about 25-30 minutes, flipping after about 20 minutes.
Nutrition
Calories:
173
kcal
Carbohydrates:
1
g
Protein:
11
g
Fat:
14
g
Saturated Fat:
3
g
Polyunsaturated Fat:
3
g
Monounsaturated Fat:
7
g
Trans Fat:
0.04
g
Cholesterol:
60
mg
Sodium:
55
mg
Potassium:
152
mg
Fiber:
0.4
g
Sugar:
0.04
g
Vitamin A:
68
IU
Vitamin C:
1
mg
Calcium:
13
mg
Iron:
1
mg
Nutrition information is provided as a courtesy and is an estimate. It is recommended to use your preferred calculator with the actual ingredients you use for optimal accuracy.