Experience the delightful harmony of sweet and savory with this easy and flavorful Sous Vide Chicken Teriyaki recipe.
Dive into a delicious but easy dinner with this juicy and flavorful sous vide teriyaki chicken. The combination of perfectly cooked chicken pieces married with the tangy sweetness of teriyaki sauce result in tender chicken that's bursting with flavor. Not only is it a treat for your taste buds, but it is also incredibly easy to prepare. Whether you are a seasoned cook or a beginner, this step-by-step guide will help you master the art of cooking Sous Vide style in no time.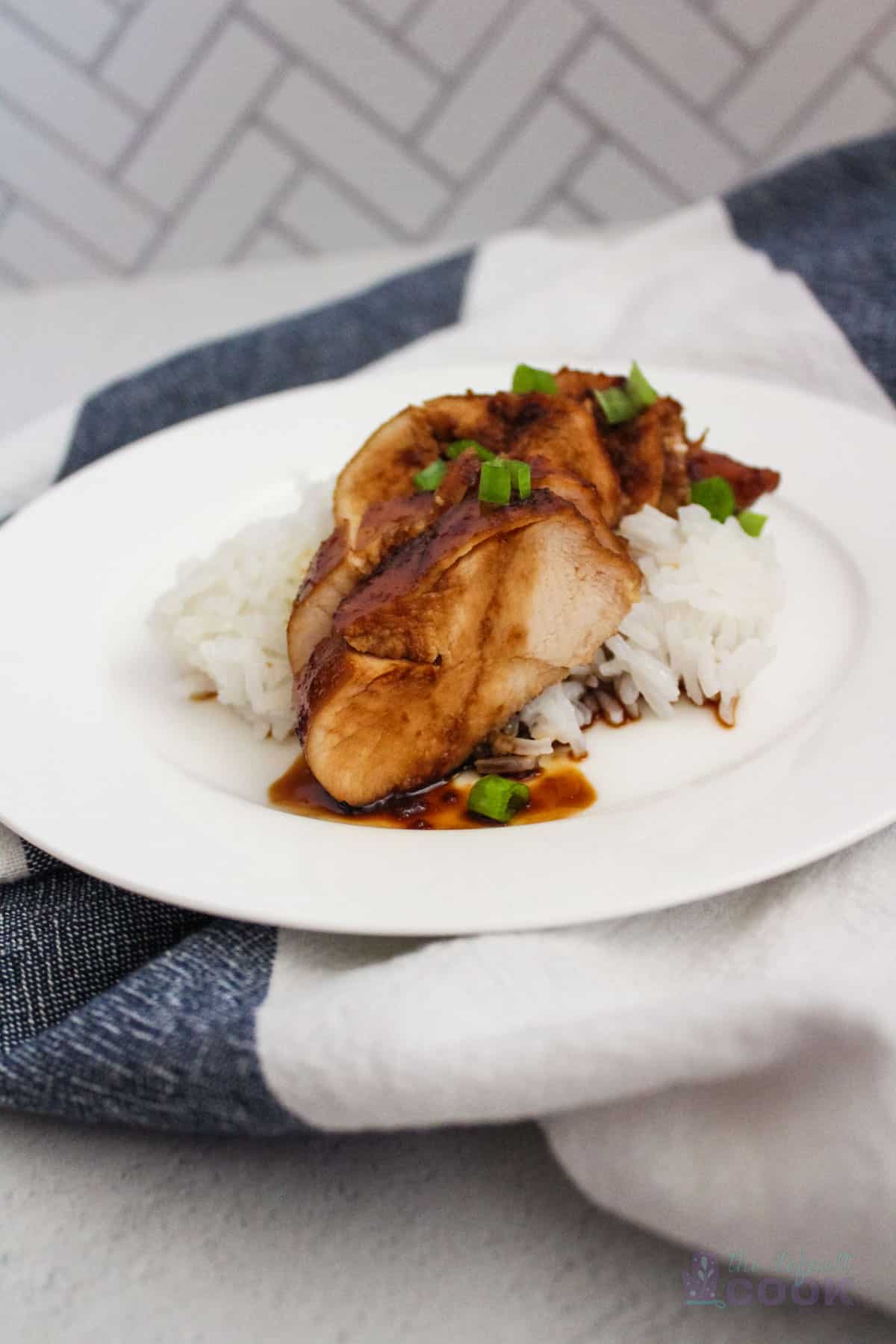 This post may contain affiliate links, which means I receive a small commission, at no additional cost to you, if you make a purchase using this link.
What is Sous Vide?
Sous Vide cooking technique is unique and originated in France, with the term translating to 'under vacuum.' This approach involves vacuum-sealing food in a bag (but don't worry if you don't have vacuum sealer- we're using zip top bags instead) and then cooking it to a precise temperature in a water bath.
The result? Perfectly cooked meals every time. Compared to traditional cooking methods, sous vide provides increased control over your results, ensuring that your food is cooked evenly, retains more nutrients, and is next level tender.
This method is particularly popular among chefs and food enthusiasts for its precision and consistency, but don't let that intimidate you! Sous vide cooking is incredibly simple, making it an excellent method for newer cooks looking to elevate their meals.
Why You'll Love This Sous Vide Chicken Teriyaki:
Tender and Juicy: Thanks to the sous vide method, the chicken is cooked evenly, ensuring it is tender, juicy, and perfectly cooked every time.
Consistent Results: No more overcooked or unevenly cooked chicken; with the benefits of sous vide cooking, you eliminate the guess work.
Healthy and Nutritious: As the food is sealed and cooked in its juices, nutrients are preserved better than in traditional methods, making your meal not just tasty but also nutritious.
Low Effort Cooking: Once the preparation is done, the sous vide machine takes over, freeing you up to focus on other tasks- perfect for those busy weeknights.
Let's Get Started! Here's What You'll Need: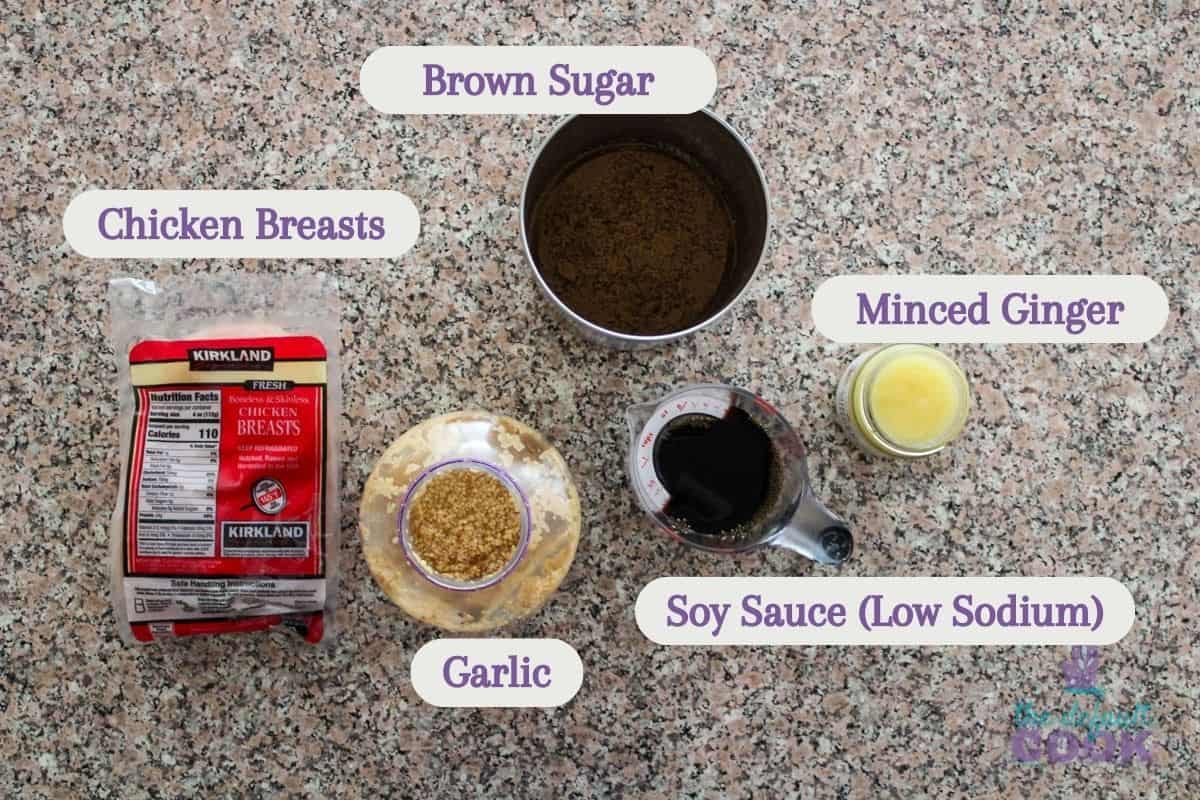 Ingredients:
Chicken Breasts - Boneless skinless are best for this recipe, but you can use any preferred chicken cut. Add 30-60 minutes for bone-in chicken to make sure it's cooked through.
Low Sodium Soy Sauce - you can use a soy sauce that isn't low sodium, but be aware of the saltiness of the sauce.
Brown Sugar - you can use honey or maple syrup as a substitute.
Ginger - you can buy fresh ginger, or I get this one for faster prep.
Garlic - crushed fresh garlic cloves, pre-minced, garlic paste, whatever works. The important part is to get the garlic flavor in the sauce.
Equipment:
This list might look a little intimidating, but aside from the sous vide machine it's all pretty common kitchen wares, promise!
Sous Vide Machine: A key component in this recipe, the sous vide machine ensures precise cooking temperature for your chicken.
Large pot: Or a sous vide container- this will hold the water where the bagged chicken will be immersed, with the sous vide machine attached to the side.
Gallon Zip Top Bag: This contains your chicken and teriyaki marinade during the sous vide cooking process, and doubles as our marinade bag. Make sure it's sealed well to prevent leaks!
Chip Clip: A handy tool to keep the bag in place during cooking and prevent it from floating around. You can also use sous vide magnets if you want to be fancier than me.
Pan or Skillet: After the sous vide process, we'll use this to brown the chicken and give it that delicious, caramelized exterior. You could stick these on a hot grill for the sear if you prefer.
Tongs: These will be used for turning the chicken as it browns in the pan or skillet.
Paper Towels: These are essential for patting dry the chicken before browning to achieve the perfect sear.
How to Make This Chicken Teriyaki Recipe:
Step 1: Marinate the chicken
For this quick teriyaki sauce, mix the marinade ingredients in a small bowl or a graduated measuring cup. First mix the soy sauce, brown sugar, and minced ginger. Set aside about a third of it for after cooking, and add the rest of to the chicken breasts along with the garlic.
Make sure the chicken breasts are fully coated with the marinade – leave them to soak in these flavors for at least 30 minutes, and up to overnight for a more intense flavor and juicy results.
Step 2: Remove Air & Sous Vide
To skip using a vacuum sealer, we'll use the water displacement method. Partially close the top of the bag, leaving about two inches open. Submerge the bag in the pot of water, making sure to keep the open section above the water line. Remove any air from the open end. Finally, seal the remaining part of the bag and secure it to the side using a chip clip, ensuring that the meat is fully submerged below the water line. Also make sure the sous vide chicken breasts are in a single layer within the bag so that they cook evenly.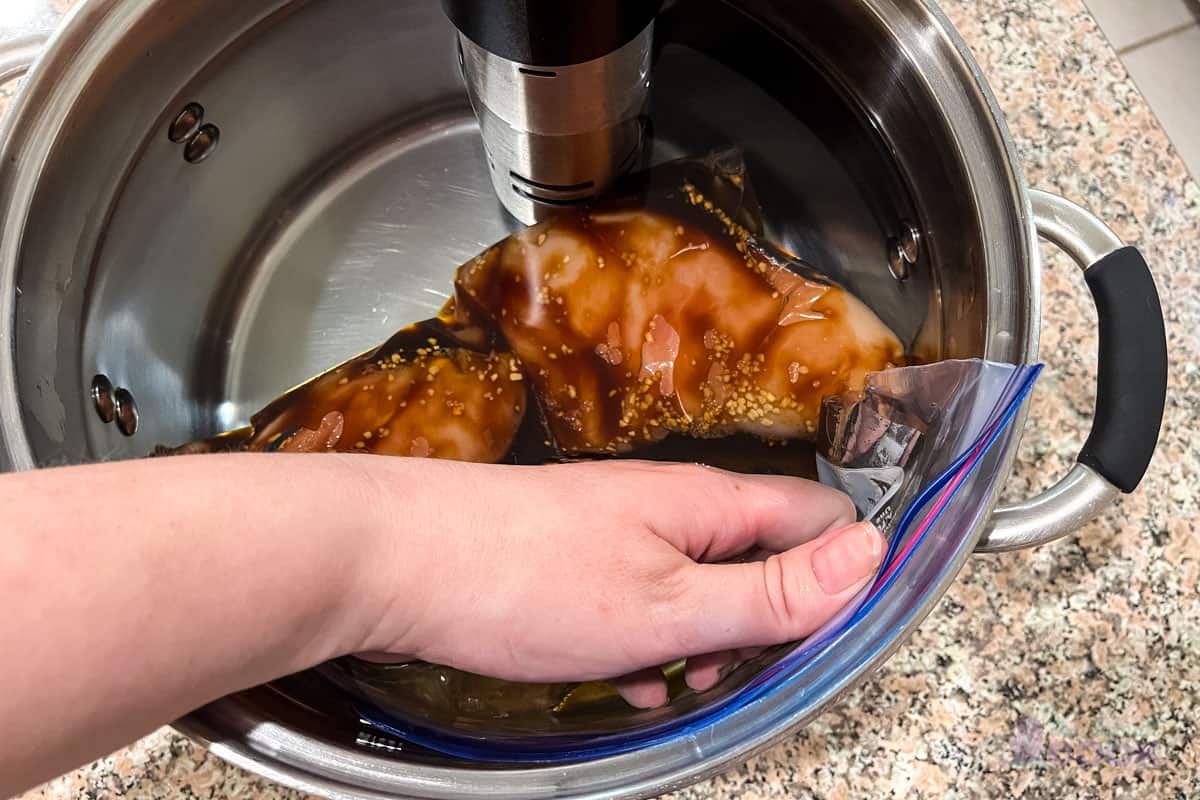 Cook at a water temperature of 150 degrees for a minimum cooking time of one hour (starting the time from when the water reaches 150). It's important not to exceed four hours, as the muscle may become overly tender and lose its desired taste.
Step 3: Pat Dry & Sear
To achieve a perfect sear, first we need to pat dry the chicken with paper towels. Water on the surface will make steam when it hits a hot pan, which actually cools it down.
If using a pan or skillet, turn the burner on medium heat and once the pan is hot add the chicken. After a quick sear on the first side, flip the chicken and add the reserved sauce to the pan. If you forgot to set some aside, you can instead create a delectable pan sauce by reducing the liquid from the sous vide bag- just watch that you don't burn the garlic.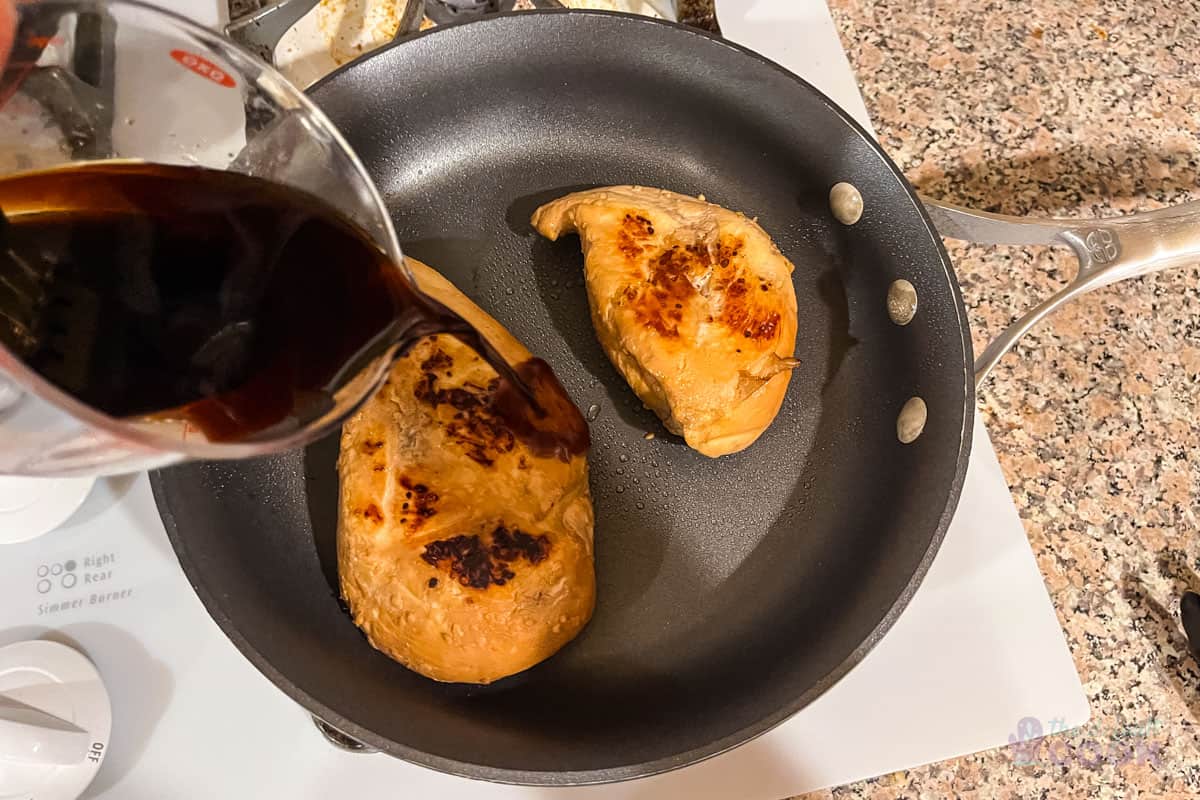 Step 4: Serve and enjoy!
Garnish with some green onions or sesame seeds and dig in! My favorite side dishes with this are rice and a simple vegetable like squash or carrots. If you have any, store leftovers in an airtight container.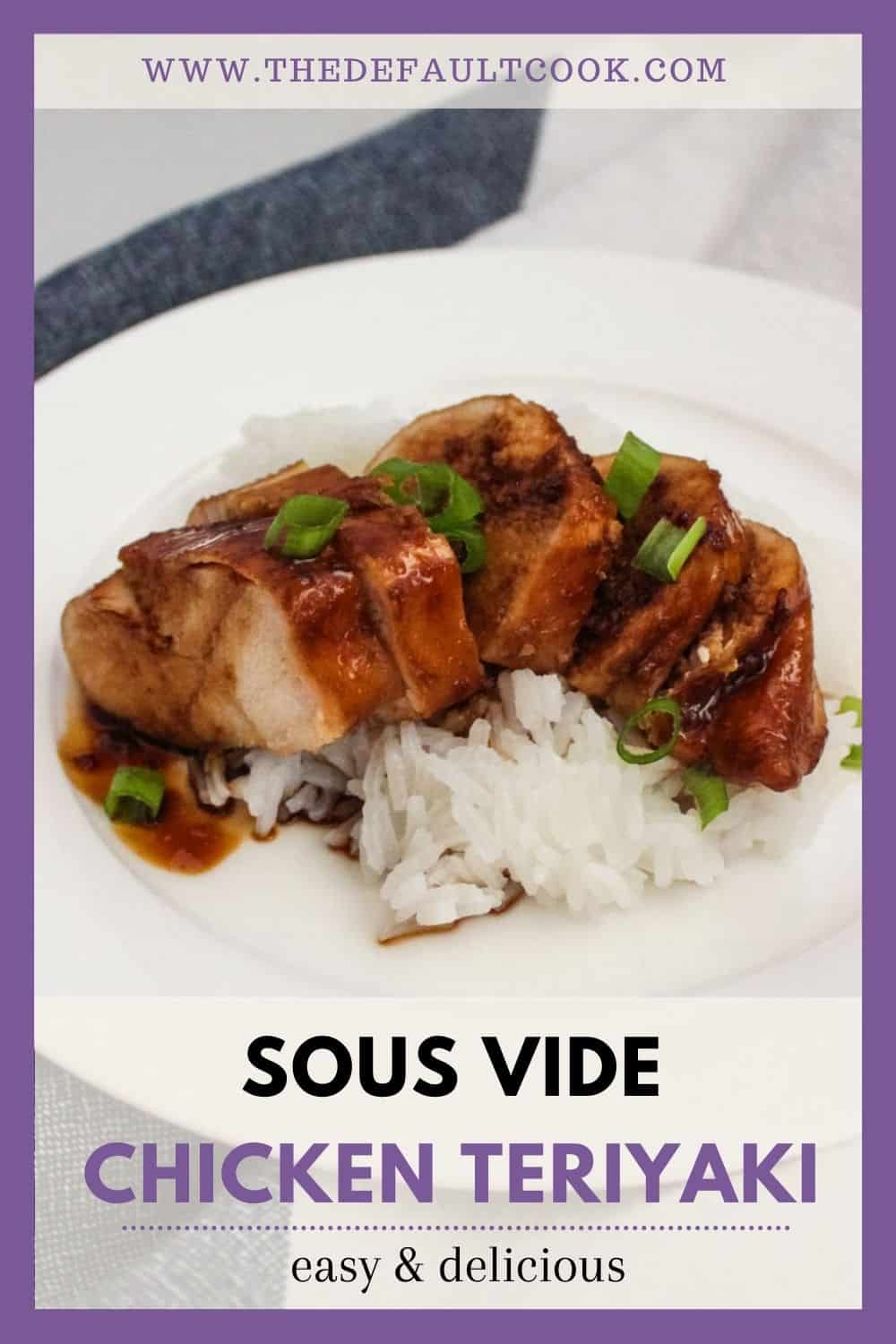 FAQs
Can I use my vacuum sealer instead of a zip-top bag?
Yes, you certainly can. A vacuum sealer can provide a more efficient seal than a zip-top bag. However, vacuum-sealed bag marinades can be slightly trickier than most foods because the process can sometimes suction the marinade away from the food. If you're experienced with vacuum bag sealing and have some handy tricks to get around this issue, go for it! The zip top bag method will be more straightforward if you're a beginner.
Is 150°F Safe for Chicken?
Cooking chicken breast to 150°F is safe, provided it is held at this temperature long enough. This is because eliminating bacteria is a function of time AND temperature. The commonly quoted safe temperature for chicken is 165°F for instant destruction of bacteria. 
However, by maintaining a lower temperature of 150°F for a longer duration, you can achieve the same effect - the destruction of bacteria, ensuring the chicken is safe to consume. This is why the minimum cook time is crucial when using the sous vide method at lower temperatures.
Can I substitute chicken thighs?
Yes, absolutely! You can certainly substitute skinless chicken thighs in this recipe. However, you might want to use a slightly higher temperature for sous vide cooking, around 160°F, to achieve the desired texture. The higher temperature will help render the fat in the thighs and provide a texture similar to traditionally cooked chicken thighs.
Can I cook this from frozen?
Yes! If your marinated chicken is frozen, you can still prepare it using the sous vide method. Simply add an extra hour to your cooking time, making it a minimum of 2 hours. This ensures that your chicken is thoroughly cooked, even from its frozen state. 
Remember, the key to sous vide cooking is precision in constant temperature and time, so adjusting them appropriately ensures consistently safe and delicious results.
More Sous Vide Recipes You Might Like:
If you've recently started experimenting with sous vide cooking, one of the things it's most used for is a perfect medium-rare steak. With a little more planning ahead it's great for tougher cuts like boneless short ribs too.
Enjoy!
I hope you love this Sous Vide Chicken Teriyaki recipe. Be sure to share your experience and tag me in your delicious creations. I love seeing your dinner time successes!
📖 Recipe
Sous Vide Chicken Teriyaki
This easy and delicious chicken uses a simple teriyaki marinade and the precision cooking of sous vide to give you juicy, tender chicken every time.
Ingredients
1

lb

chicken breasts

½

cup

soy sauce

¼

cup

brown sugar

1

teaspoon

ginger

minced

1

teaspoon

garlic

minced
Instructions
Combine soy sauce, sugar, and ginger and mix well. Place chicken in a zip top bag and add ⅔ of the sauce base. Add garlic to the bag and coat chicken well, marinating for at least 30 minutes.

Using the water displacement method, remove air from the zip top bag and place in your sous vide water bath. Ensure chicken is in a single layer and cook for a minimum of 1 hour once water bath reaches 150 F.

Pat chicken dry after cooking and sear in a hot skillet, adding the reserved ⅓ sauce base to the skillet after flipping the chicken. Serve hot.
Podcast
Notes
To substitute bone-in cuts, extend minimum cook time to 90 minutes. For thighs increase temperature to 160 for texture. Do not cook longer than 4 hours on account of texture.
Nutrition
Calories:
200
kcal
Carbohydrates:
15
g
Protein:
27
g
Fat:
3
g
Saturated Fat:
1
g
Polyunsaturated Fat:
0.5
g
Monounsaturated Fat:
1
g
Trans Fat:
0.01
g
Cholesterol:
73
mg
Sodium:
1756
mg
Potassium:
504
mg
Fiber:
0.3
g
Sugar:
14
g
Vitamin A:
34
IU
Vitamin C:
2
mg
Calcium:
24
mg
Iron:
1
mg
Nutrition information is provided as a courtesy and is an estimate. It is recommended to use your preferred calculator with the actual ingredients you use for optimal accuracy.