Make incredibly tender boneless short ribs at home with this easy sous vide method. The low and slow cooking gives you fork-tender meat with amazing flavor.
This delicious dish is practically hassel-free! While it does need started the day before you're going to eat it, almost all the time is hands-off.
When I first looked for a sous vide short rib recipe, I found the times were all over the place. I saw as few as 4 hours, some 12 hours, and several calling for a full two days. In my own kitchen I discovered around 24 hours is enough to make the short ribs tender and easy to cut, but not so long that they fall apart completely. The result? A boneless short rib that cuts like a steak, and for a lot less than a nicely marbled steak runs. Especially if you're able to pick it up on markdown, and it's a cut that I find discounted pretty routinely.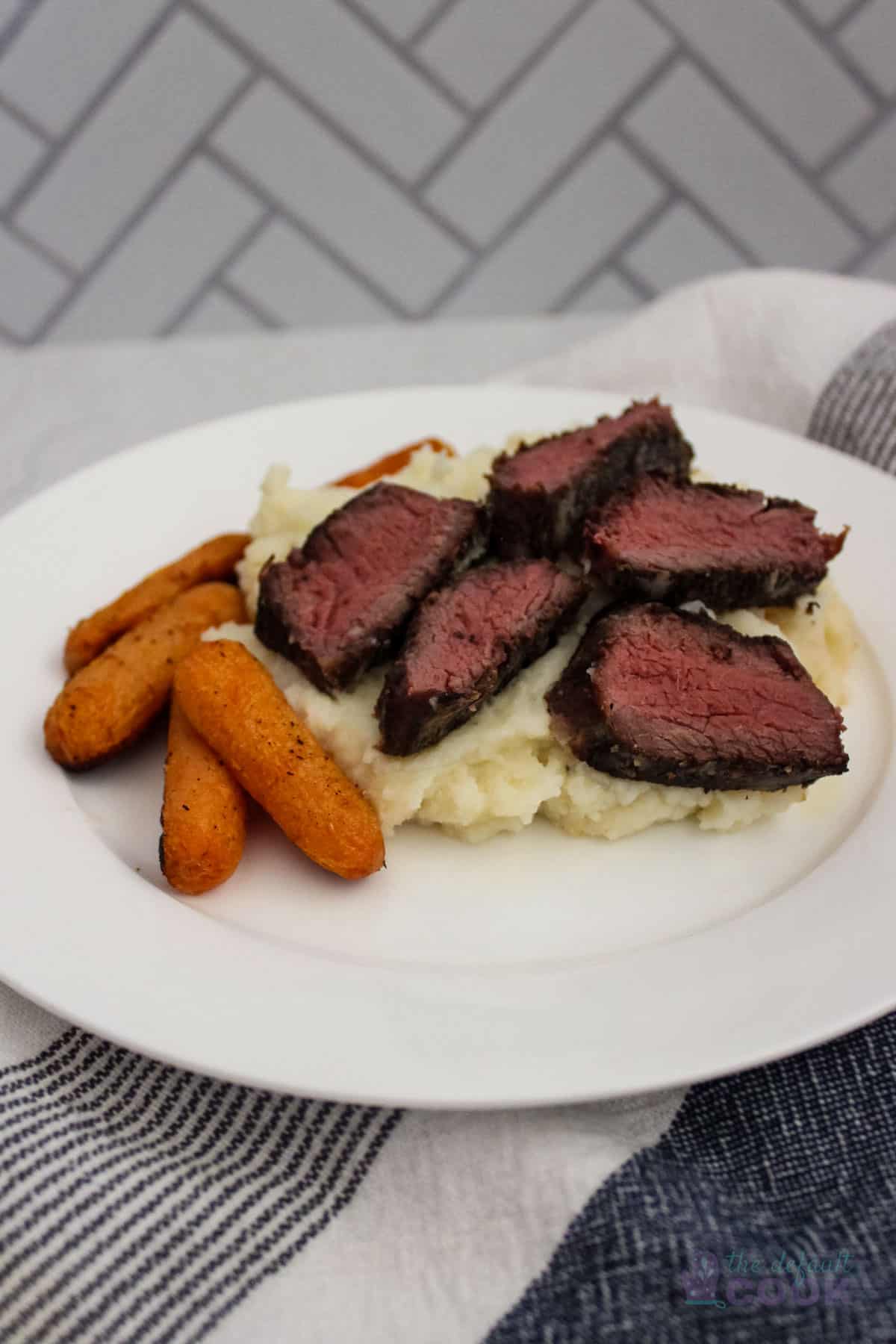 This post contains affiliate links, which means I receive a small commission, at no additional cost to you, if you make a purchase using this link.
What is Sous Vide?
Sous vide is essentially the process of cooking food in a precise temperature-controlled water bath. This cooking technique eliminates the risk of overcooking, as the food can't get hotter than the water's temperature. It also allows you to safely cook at lower temperatures because the meat is able to be held at that temperature for a long time, and the ability of bad bacteria to live on our food is a combination of temperature and time. Sous vide has been a staple in upscale restaurants for years, and nowadays there are reasonably priced home models so we can all benefit from this cooking method.
After cooking in the sous vide, most meats benefit from a final step- a sear to create that delicious crust. You can do this either on a grill or in a cast-iron skillet, and we'll cover that too.
What are Boneless Short Ribs?
Any beef short rib is one that has been cut, generally down to 3-6 inches in length. Bone-in short ribs can come from the belly, side, back, or shoulder, while boneless tend to come from the shoulder. Butchers will call this the "chuck" area, but boneless short ribs are the same muscle as bone-in short ribs. Country style short ribs on the other hand aren't actually ribs, but are strips of chuck roast cut to look like ribs. Back ribs are usually sold in a rack like pork ribs, but bigger. The good news? All of them benefit from low, slow cooking, so if you're not completely sure which one you have, it'll be fine.
Why You'll Love This Recipe:
Simple: Just the meat, a few spices, and butter is all you need.
Low Prep: Getting the air out of the bag may take a few extra minutes the first time you do it, but before you know it you'll be doing this whole prep in 5 minutes!
Buget Friendly: Sous vide cooking short ribs for one day takes them from a tough cut of meat to one with a steak-like texture.
Let's Get Started! Here's What You'll Need: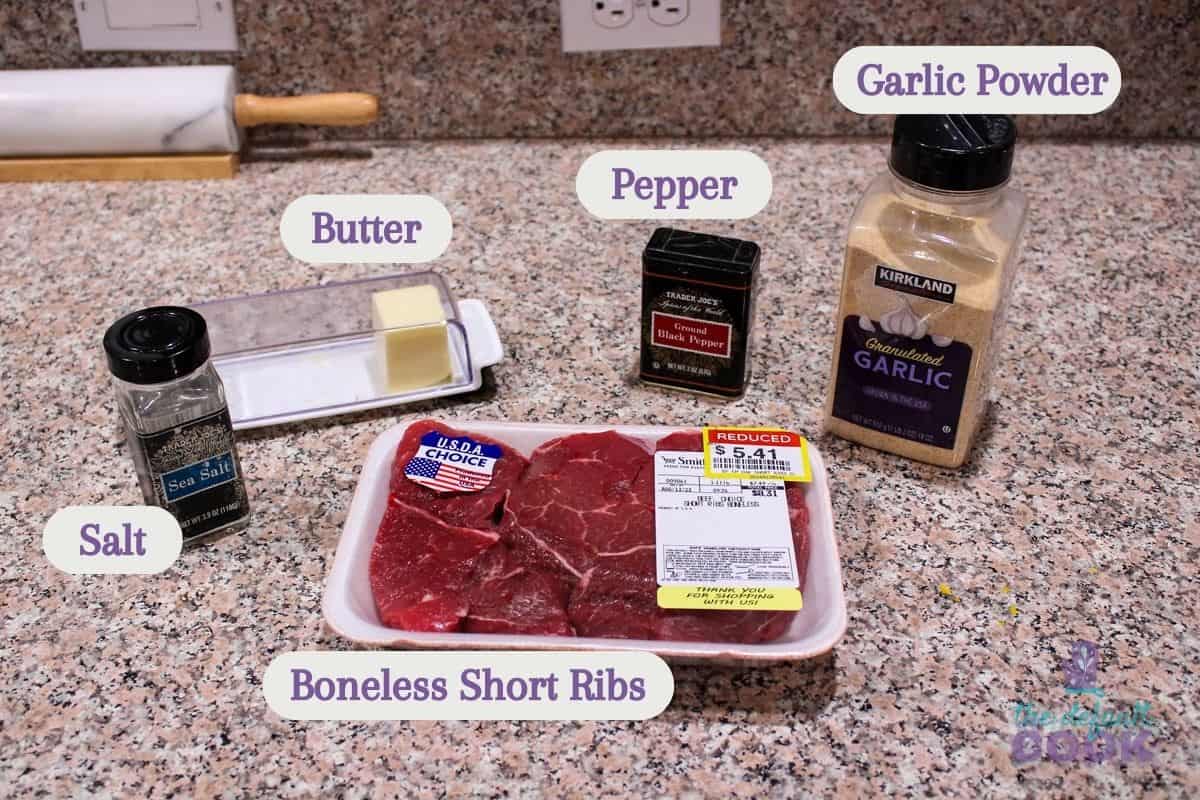 Ingredients:
Boneless Beef Short Ribs- You can't make short ribs without short ribs!
Garlic Powder- You can also use minced garlic cloves, or a spice rub if you have a favorite.
Sea Salt & Black Pepper- Salt and pepper really highlight the natural flavor of the meat. I recommend sea salt or kosher salt for the best flavor.
Butter and/or oil- if you're using cast iron, you'll need a fat for searing. If using the grill you can skip this, though adding it after the sear while the meat rests adds some richness to the dish.
Equipment:
To get started you'll need a sous vide machine, a large pot (or a sous vide container), a gallon ziplock bag (OR vacuum sealer and vacuum bag), and a chip clip to keep the meat in place. Additionally if your short ribs need trimmed you'll want a knife and cutting board. The next day to finish the meat you'll need tongs, paper towels, and a cast iron pan (OR grill). If you're using a large pot, you'll need aluminum foil to keep the sous vide water bath from evaporating, and you'll want some after the sear while the meat rests.
How to Make this Sous Vide Short Ribs Recipe
Step 1: Trim & Season
Open your package of short ribs and take a look at them to see if they need trimmed. If they do go ahead and trim off the silverskin if there is any- this connective tissue with a silvery sheen doesn't break down, so it's best to remove it. The ribs I have here didn't have any, but if you're not familiar with silver skin you can see it on my sous vide tri tip. Once you've trimmed them, or determined you don't need to, go ahead and season to taste with your garlic, salt, and pepper.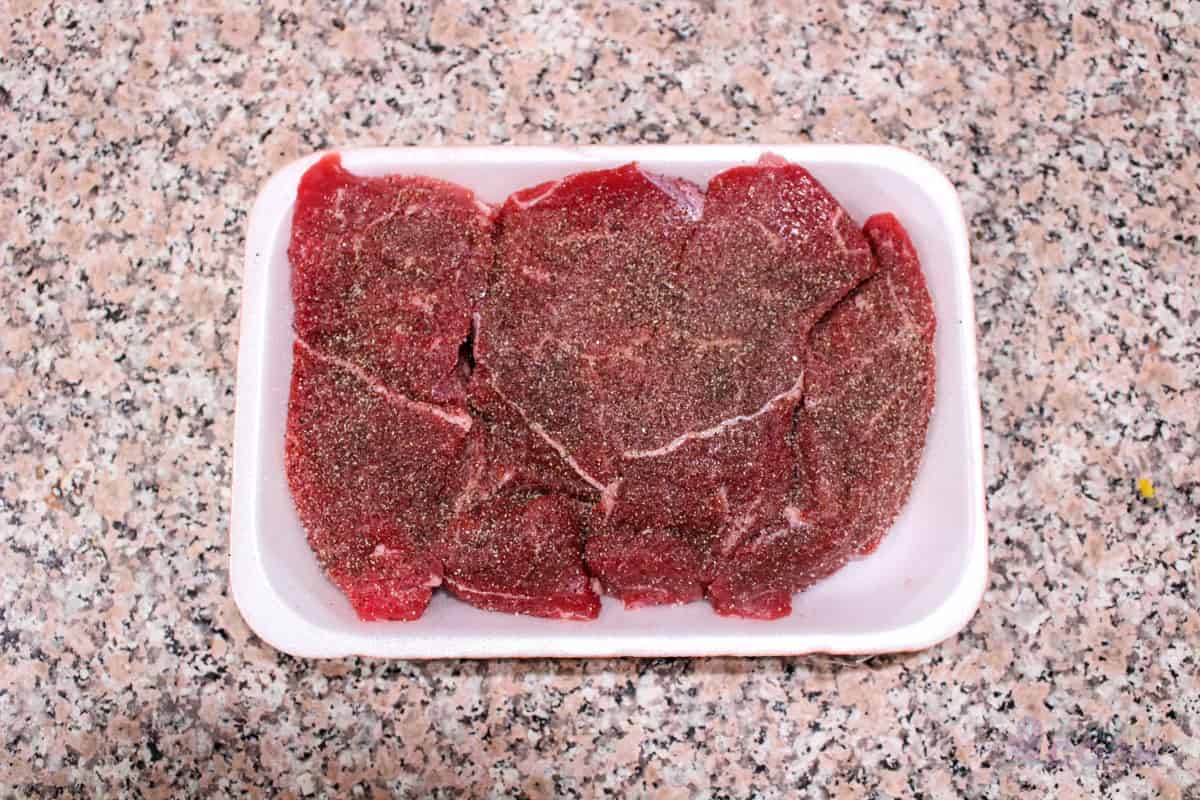 Step 2: Remove Air & Cook
Place your short ribs in the gallon zip-top bag, or into a sous vide bag. If you're using a vacuum seal bag follow the manufacturer's directions for sealing it. We'll cover the water displacement method here for the zip top.
Close the bag most of the way shut, leaving the last two inches or so open. Keeping the open section above the water line, submerge the rest of the bag in water and move any air out of the open end. Close the last bit of the bag up and secure it to the side with a chip clip, ensuring the meat is fully below the water line.
Set your sous vide immersion circulator to 132 degrees F, and cover the water. I use aluminum foil, but if you have a dedicated sous vide container they usually have lids that fit with a cutout for the circulator. Check the water level before going to bed and in the morning to ensure you don't need to add any more. Cook for 20-28 hours- until dinner time tomorrow!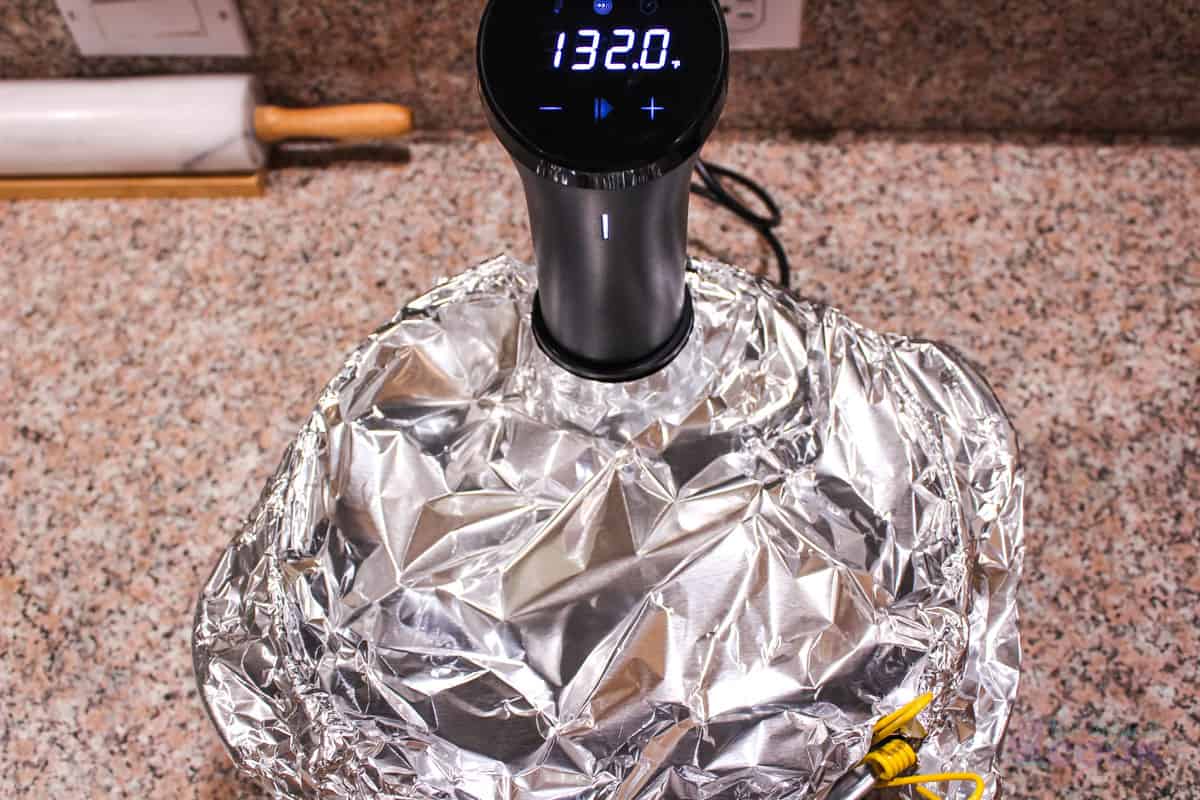 Step 3: Dry & Sear
About 15-20 minutes before you want to eat, go ahead and remove the cooked short ribs from your plastic bag and pat dry with a paper towel. This helps it get a good sear- if there is water on the surface of the meat that will create steam, which cools down our pan.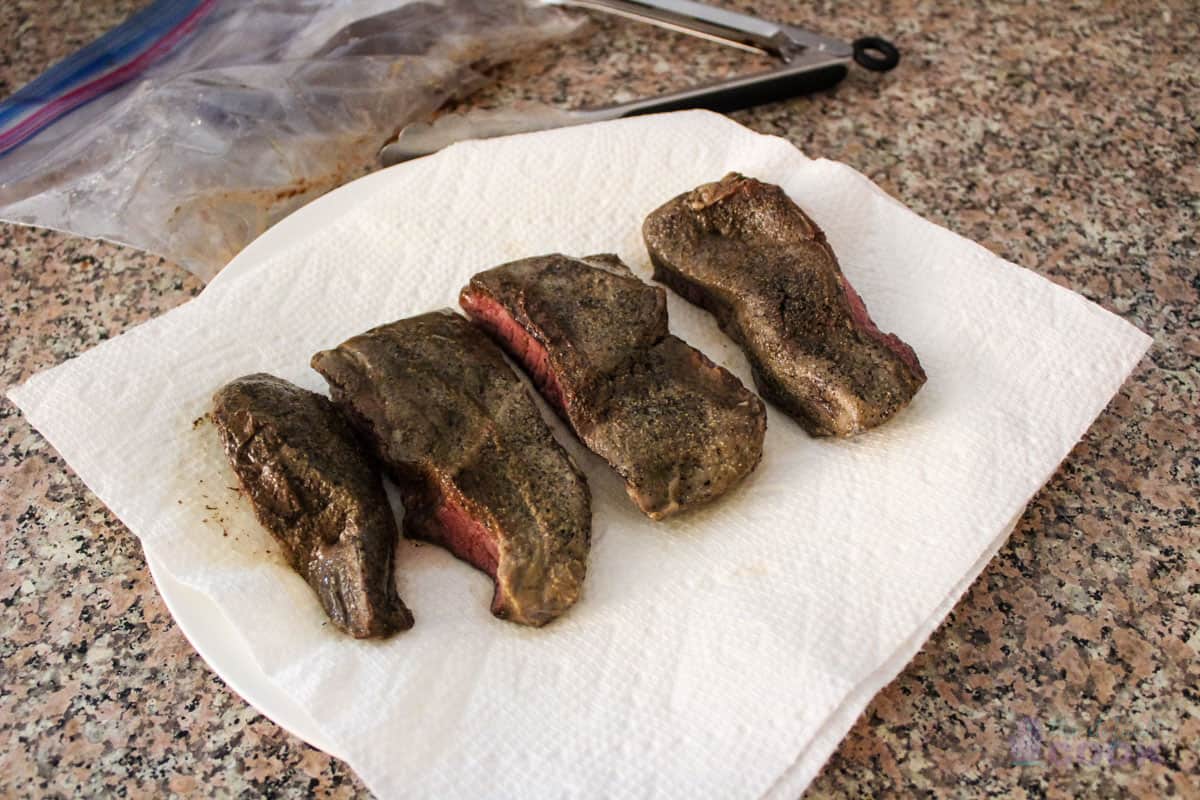 Meanwhile, heat your cast iron skillet or grill on medium-high heat. For the skillet, add butter and oil. Once the skillet or grill is nice and hot, add your short ribs and brown 1-2 minutes on each side.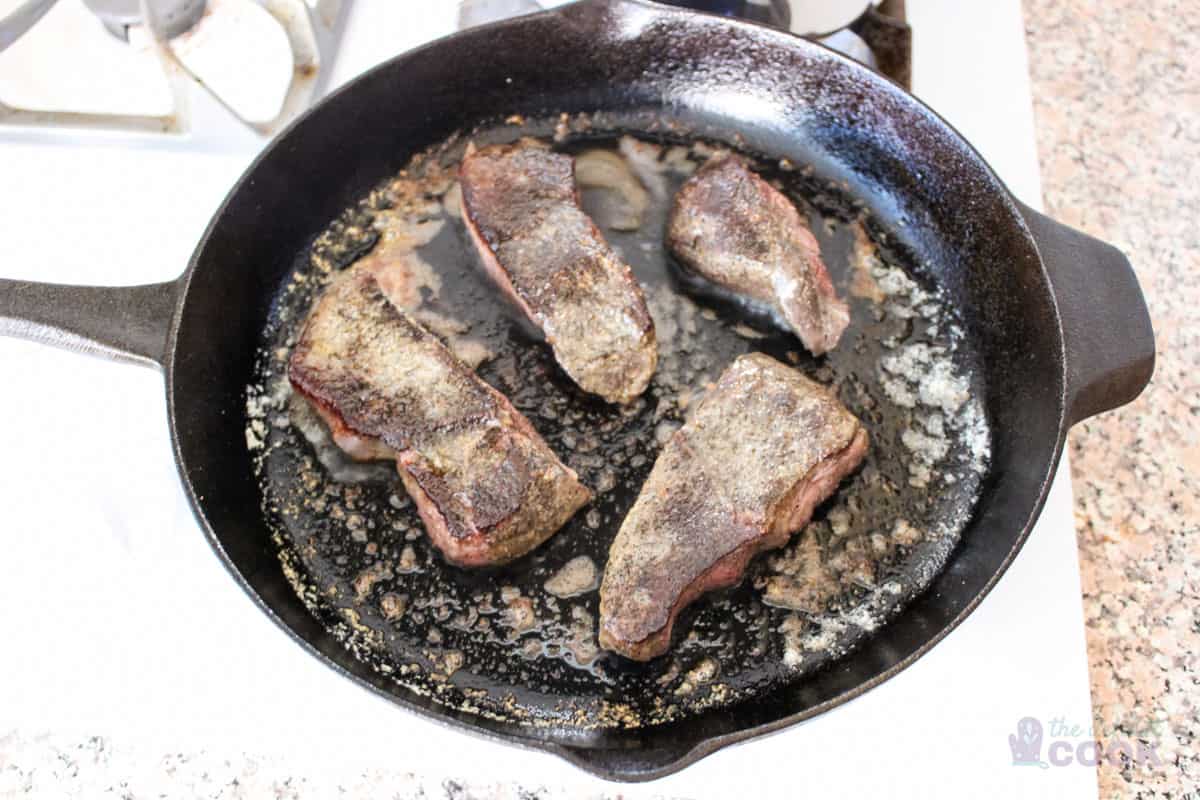 Step 4: Rest & Enjoy
Once you are happy with the sear on your boneless short ribs, place them on a plate. Cover it with aluminum foil and allow to rest for about 10 minutes. Optionally, you can add a pat of butter to each rib for extra richness. After resting, serve and enjoy your tender ribs! You can plate them up one per person, or slice them before serving.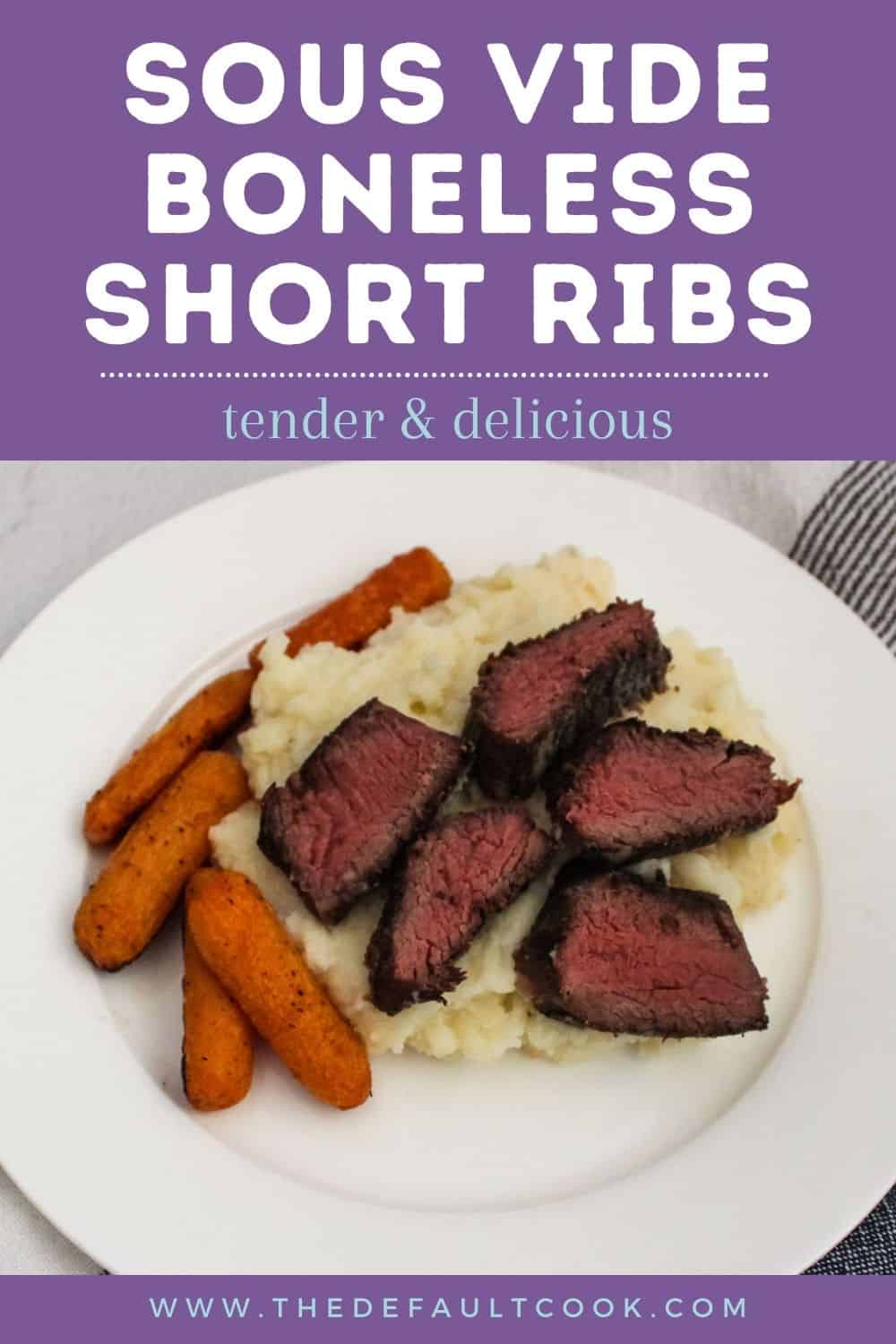 FAQ
Can I cook the ribs at another temperature?
Of course. However, for food safety do not cook them below 130 degrees F. When you have a long time in the sous vide bath like this it's important to stay above temperature danger zones, which begin on that cusp. The 132 cooking temperature will give you a nice madium-rare to medium, or you can use 135 for a more solid medium. For medium well I'd go with 145, and if you prefer it well done you can use 155. Keep in mind the higher the temperature the more moisture you'll lose from the meat, and the more water you're likely to have evaporate during the cooking process.
Can I use a marinade?
Sure thing! This recipe uses very simple spices but you can absolutely make it your own. Your favorite store bought marinade is fine, or you can whisk some brown sugar into some soy sauce and sesame oil for a simple DIY one. If using a red wine sauce you may have more breakdown due to the "braising" effect from the acid in wine. Alternatively, you can add a sauce after the cooking time.
My bag keeps floating- what can I do?
Make sure you have as little air as possible. You can also force the bag down by holding it with sous vide magnets, or a heavy dish. Take care nothing is touching the circulator itself.
Enjoy!
I hope this becomes your new favorite way to make boneless ribs- be sure to come back and let me know!
If you're looking for something to serve this with, mashed potatoes are always a hit. A simple vegetable like roasted zucchini is as well.
If you're looking for more sous vide recipes, try this tri-tip for a same day sous vide beef dish.
📖 Recipe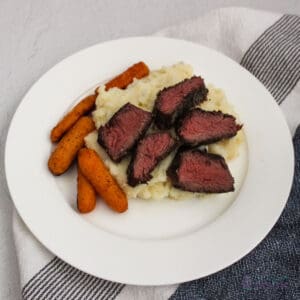 Sous Vide Boneless Beef Short Ribs
Making boneless short ribs with sous vide transforms them from a tough cut to a tender chunk that cuts like steak.
Ingredients
1

lb

boneless beef short ribs

1

teaspoon

sea salt

½

teaspoon

black pepper

½

teaspoon

garlic powder

2

tablespoon

butter
Instructions
Season the short ribs with salt, pepper, and garlic powder.

Place into zip-top or vacuum seal bag. For zip-top use the water displacement method to remove air from the bag and seal, for vacuum seal bags use your vacuum sealer.

Submerge short ribs below the water line and secure to the side of your container. Attach your sous vide device and set to 132 degrees for 20-28 hours.

Remove cooked ribs from sous vide container and pat dry with paper towels. Melt butter in a hot skillet and sear ribs on all sides for 1-2 minutes. Serve and enjoy!
Notes
132 is for medium rare. Set temperature to 135 for medium, 145 for medium well, or 155 for well done. For food safety do not cook below 130.
Nutrition
Calories:
248
kcal
Carbohydrates:
0.4
g
Protein:
22
g
Fat:
17
g
Saturated Fat:
9
g
Polyunsaturated Fat:
1
g
Monounsaturated Fat:
6
g
Trans Fat:
0.2
g
Cholesterol:
82
mg
Sodium:
700
mg
Potassium:
414
mg
Fiber:
0.1
g
Sugar:
0.02
g
Vitamin A:
176
IU
Vitamin C:
0.01
mg
Calcium:
13
mg
Iron:
3
mg
Nutrition information is provided as a courtesy and is an estimate. It is recommended to use your preferred calculator with the actual ingredients you use for optimal accuracy.