When you're craving that creamy four cheese pasta from Cheesecake Factory, this baked pasta copycat dish with an ultra cheesy sauce is sure to satisfy.
This simplified copycat recipe is dang close to the real Cheesecake Factory dish, and comes together in under an hour. Try this homemade version you can make any night of the week.
To be honest with you, when I first put this dish on my list to create, it looked a little different. A more ambitious version of me planned on making an exact replica dish. That would have meant shredding fresh cheese and simmering a sauce. So I didn't make it for two months. Then I remembered that as delcious as that would be, my readers, like me, like easy. So I tweaked it a bit, and now it's a close-enough dish that you can throw together on a weeknight. It's not quite instant pot fast like this pesto pasta, but it is delicious, decadent, and won't keep you in the kitchen all night.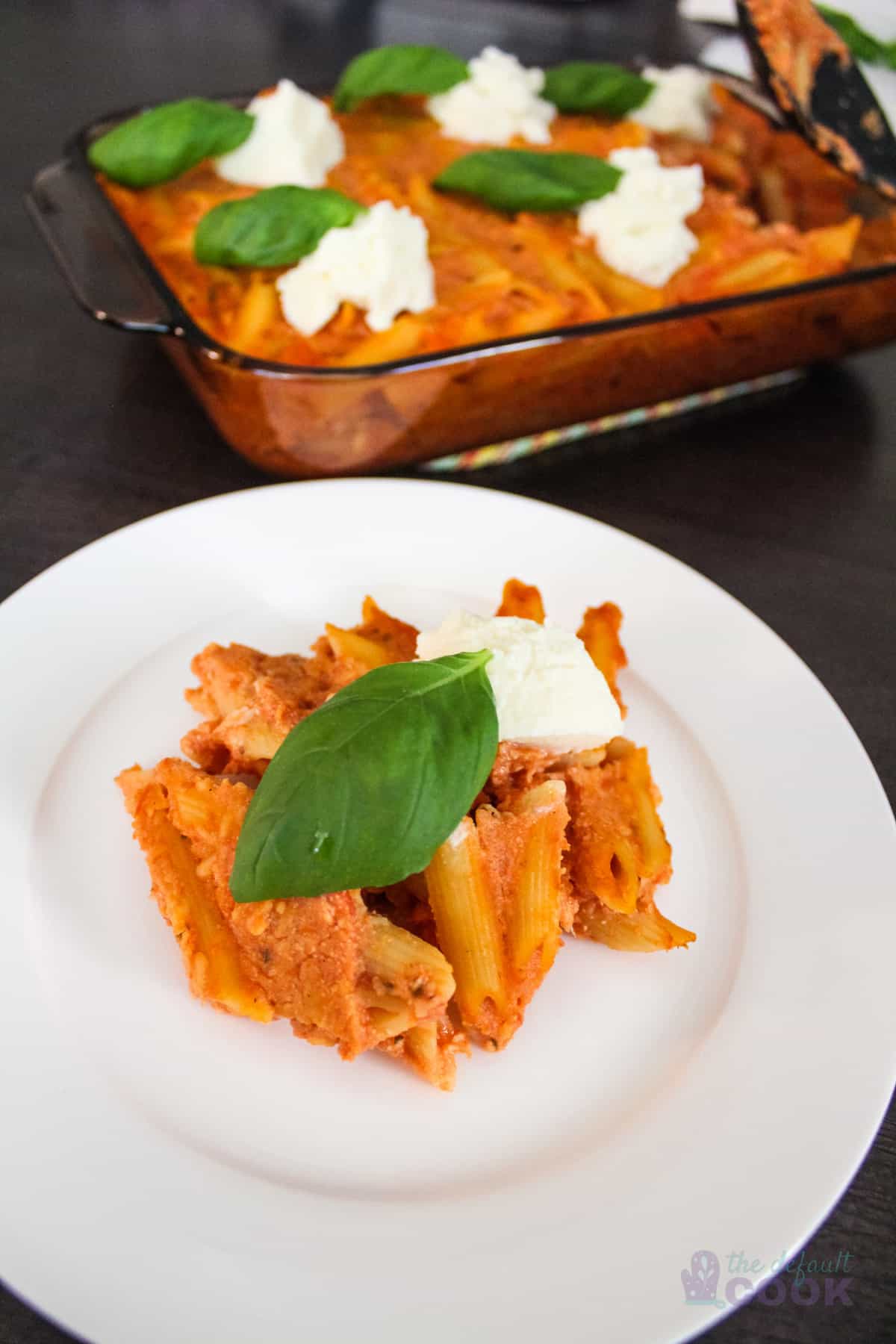 This post contains affiliate links, which means I receive a small commission, at no additional cost to you, if you make a purchase using this link.
Why you'll love this recipe:
Low prep- We aren't shredding anything today.
Kid friendly- Cheese and pasta is a dedicated food group to most munchkins, making this a great family dinner.
Budget friendly- Using a shredded cheese blend cuts down on the groceries we need to buy for this dish. It should cost you less than take out for 1 portion!
Let's get started! Here's what you'll need: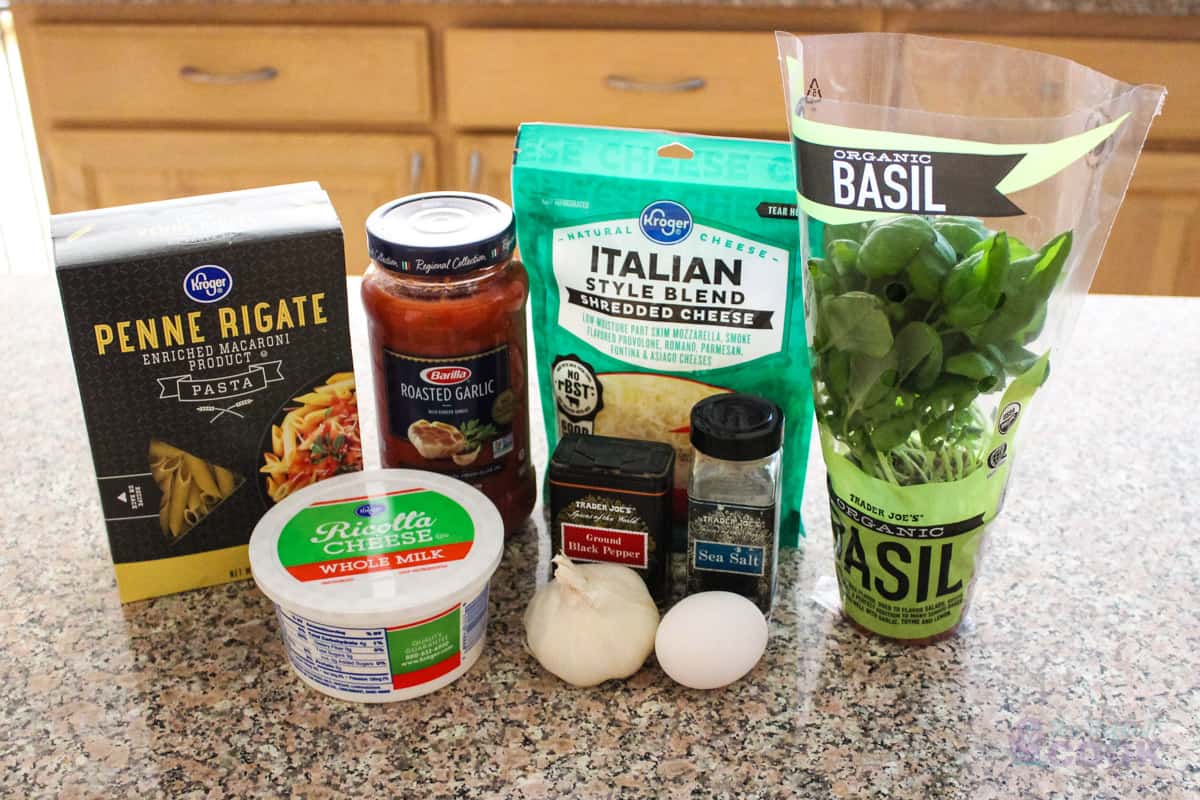 Ingredients:
Pasta- I'm using penne pasta to keep it close to the original dish. Plus it holds up well in the oven and we're going to bake this one. Ziti or macaroni elbows would also be good choices, especially if your kids are macaroni fans.
Marinara sauce- I used roasted garlic sauce to amp up the garlic flavor, but any spaghetti sauce you like is just fine here.
Ricotta cheese- the base of our cheese mixture, we'll use it in the sauce as well as on top to garnish the dish and stir in after cooking.
Italian blend cheese- The original dish uses (like the name implies) 4 different kinds of cheese. In addition to the ricotta they use mozzarella cheese, parmesan cheese, and romano cheese, so look for a cheese blend that includes those. Generally Italian blends and pizza blends have all three, plus some bonus cheese.
Large egg- This gives an extra creaminess to the sauce, but beyond that is undetectable.
Garlic- I'm mincing fresh because I had it, but you can use the pre-minced garlic or garlic powder.
Fresh basil- You can use dried in a pinch, but fresh definitely makes a difference here.
Salt & Black Pepper- Always.
Equipment:
You'll need a pan to cook your pasta in and a colander to drain it, along with a large mixing bowl that can handle piping hot pasta and has space for all the ingredients, plus a baking dish, some measuring cups, and a spatula. I used a 2 qt baking pan, and as you can see that was the full capacity of the dish, so if you don't have that exact size go for a larger one rather than smaller.
How to make this cheesy pasta:
Step 1: Mixing the Sauce
First things first, go ahead and get your pot of water on the stove. We can't make it boil faster, but we can make sure we get it going stat. Also go ahead and preheat your oven to 350 F so you don't forget later- like I have- and then grab all your ingredients.
While the water is thinking about boiling, add the following to your mixing bowl: 1 cup ricotta cheese, 2 cups italian cheese blend, your tomato sauce, garlic, and salt and pepper. Stir it together and taste to see if you need more salt or pepper. Once you're happy with it, crack in the egg and stir it again.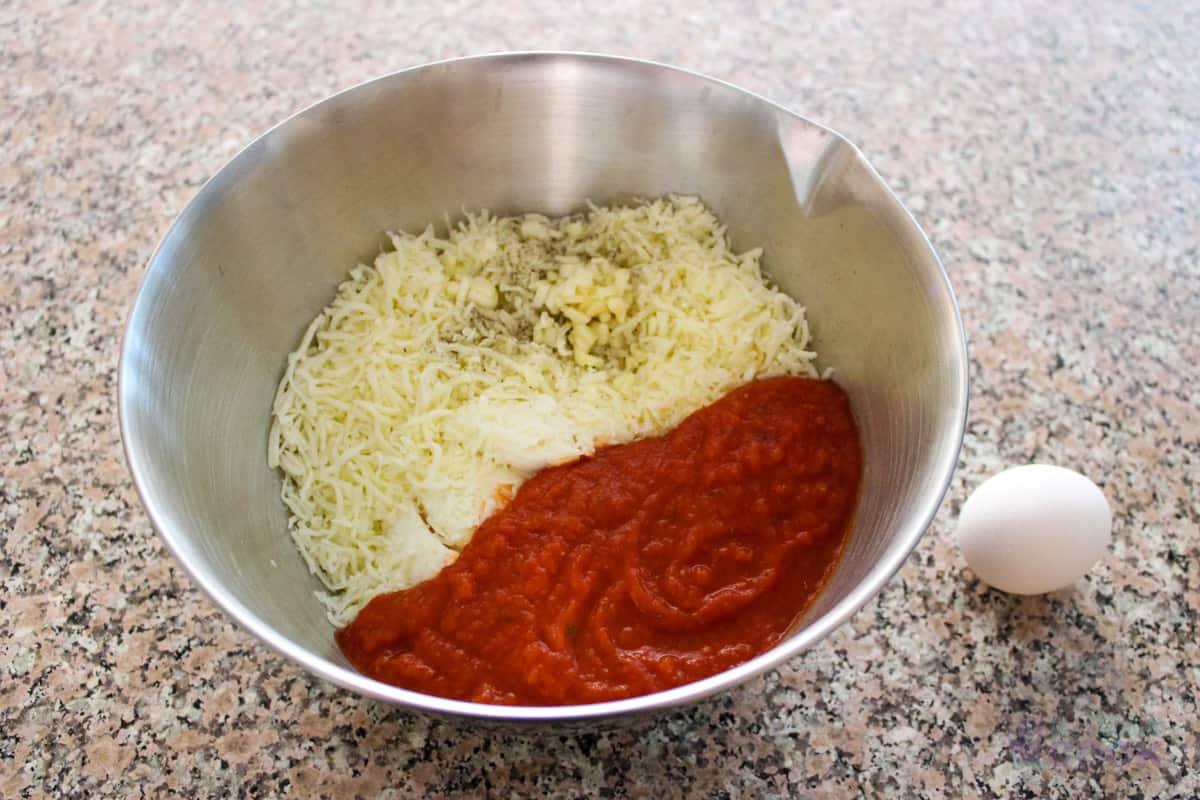 Step 2: Adding the Pasta
Once the water is boiling, add the pasta and cook it very al dente- about 2 minutes shy of the package directions. Since it's going to cook more in the oven, we don't want it overdone.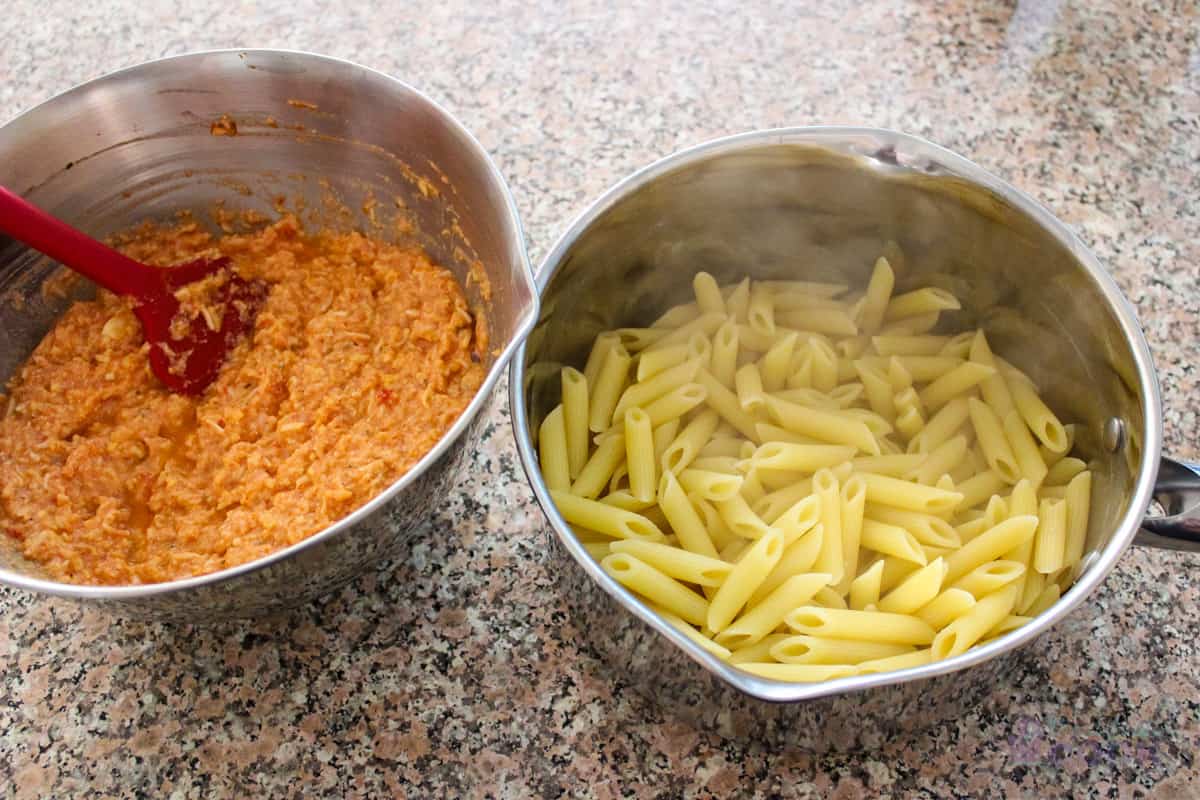 Drain the pasta, add it to your pasta sauce and give it a good mix.
Step 3: Baking the Dish
Transfer the contents of your large bowl to a baking dish and pop it in the oven. This cheese pasta bakes for 15-20 minutes. You can cover it with aluminum foil if you don't want the top layer to get that classic baked look, but I personally leave it off.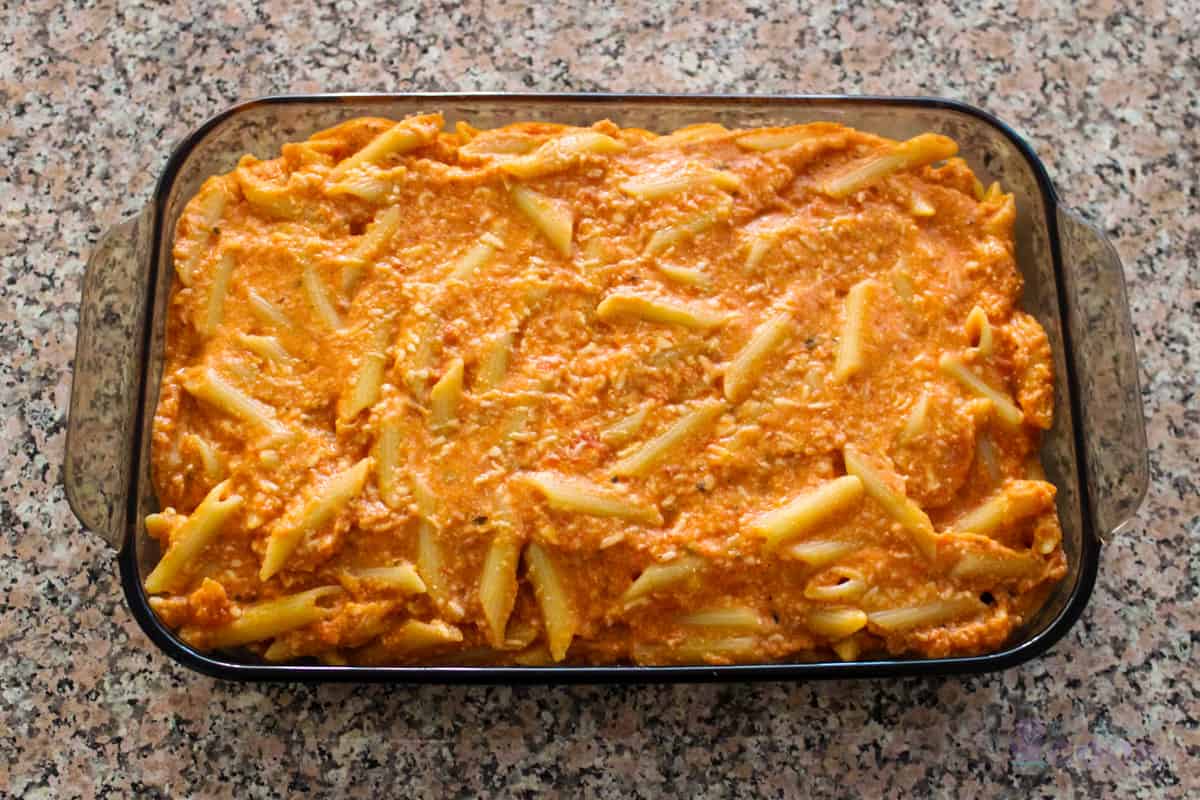 Tip: You can first grease the dish with a bit of cooking spray or olive oil if it is one that is prone to being hard to clean.
Step 4: Serve and enjoy
When you get it out of the oven you can add the remaining ricotta in dollops on the baked dish itself, or let everyone add some to their individual plates. Be sure to garnish with some basil leaves and enjoy!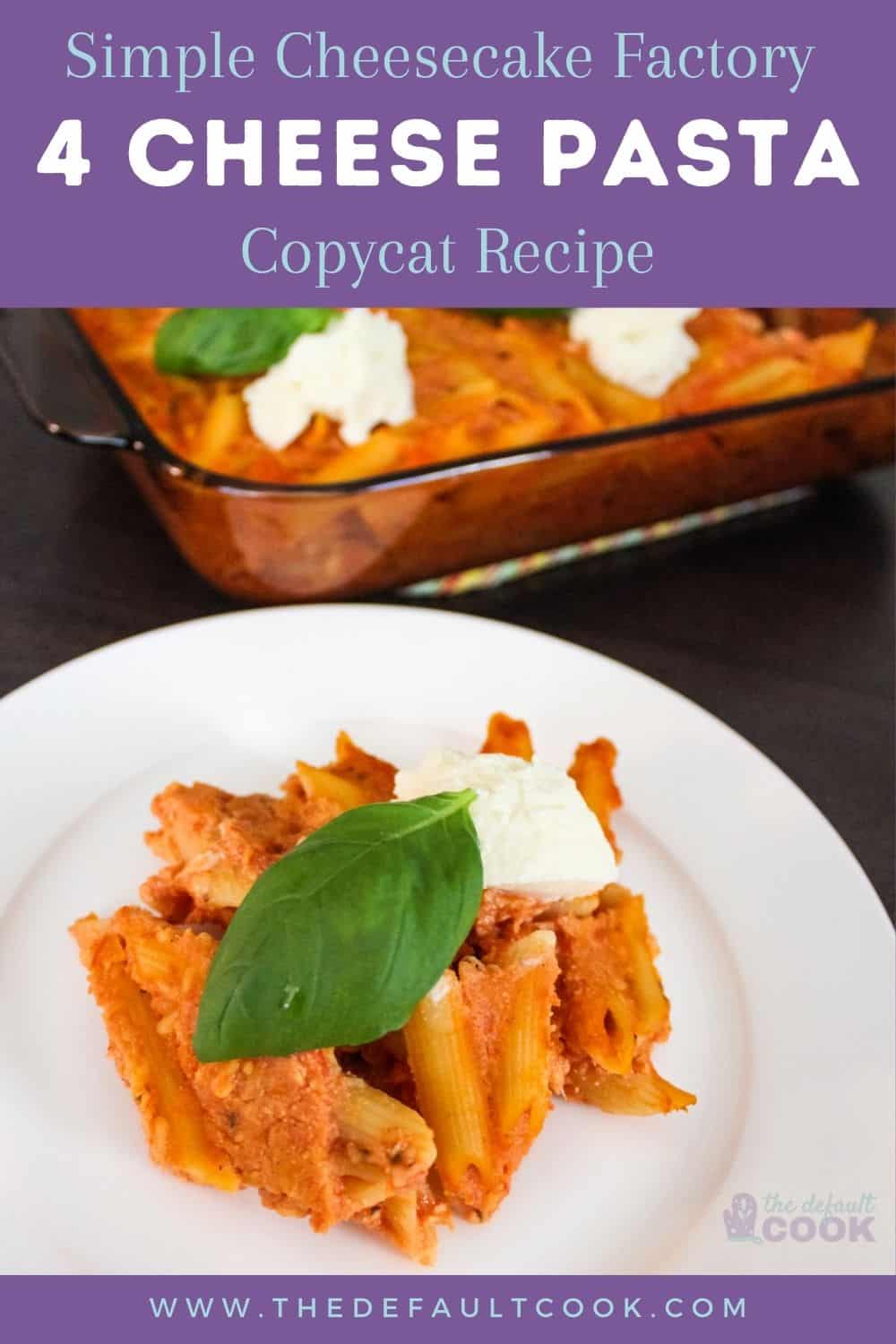 FAQs
What types of cheese can I use if I don't have ricotta?
Ricotta is definitely the best choice for this dish, but if you can't get your hands on it the closest substitue in terms of flavor is cream cheese. The difference is that ricotta is made only from milk, cream cheese also uses cream. It's also more dense, so will require a bit more arm strength to mix into your sauce. In terms of texture the two best substitues are soft goat cheese or sour cream.

If you're not a ricotta fan it's not something you taste strongly in the dish, but you may want to opt out of the dollop on top. You could also replace it with mozzarella ovoline balls or mozzarella pearls for a similar serving presentation.
What is the best pasta at The Cheesecake Factory?
While I obviously enjoy the Four Cheese Pasta, my husband and I jokingly call the restaurant "The Chicken Factory" since so many of their dishes- including our favorites- feature chicken breast. I think the best pasta they have is the Pasta da Vinci, he would tell you it's the Louisiana Chicken Pasta. For a vegetarian pasta this one gets my vote, but the fettuccine alfredo is another good choice.
Is fresh shredded cheese or pre-shredded cheese better?
It depends on what you're doing with it. I won't lie to you, fresh shredded melts more evenly and would be a bit better in this dish if you have the time and desire. You can substitue 1 cup mozzarella, ½ cup parmesean, and ¼ cup romano for the italian blend if you go that route. You can see in the photos that the cheese doesn't melt perfectly and you still have some shredded pieces in the dish. To me it's a worthwhile compromise to get dinner on the table before anyone gets hangry, but using freshly shredded is going to be an upgrade.
More easy pasta recipes you may like:
This 5 ingredient instant pot pesto pasta comes together faster than you can probably order and pickup takout.
Another decadent pasta is this Baked Feta Cheese Pasta.
If you want a vegetable side, try making this zucchini and squash, or broccoli and cheese while the pasta bakes!
Want more Cheesecake Factory Recipes? Let me know which ones you'd like to see easy versions of below!
📖 Recipe
Cheesecake Factory 4 Cheese Pasta (Copycat Recipe)
This simplified copycat recipe comes together for an easy weeknight meal that costs a fraction of takeout!
Ingredients
12

oz

pasta

CF uses penne

1

ea

egg

15

oz

ricotta

8

oz

italian blend cheese

pizza blends work well too

24

oz

tomato sauce

I used roasted garlic flavor

2

cloves

garlic, minced

optional

¼

teaspoon

salt

to taste

¼

teaspoon

pepper

to taste

2

tablespoon

fresh basil
Instructions
Cook pasta shy of al dente- about 2 minutes less than the box instructions. Preheat the oven to 350 F.

Meanwhile, mix italian or pizza blend cheese, 1 cup ricotta, pasta sauce, garlic, and salt and pepper in a medium or large heat safe bowl. Once seasoned to taste, crack in egg and stir again.

Add drained hot pasta to the sauce and stir. Transfer to a baking pan that is 2 qt or larger.

Bake for 15-20 minutes. Garnish with dollops of remaining ricotta and fresh basil, and enjoy!
Nutrition
Calories:
539
kcal
Carbohydrates:
58
g
Protein:
27
g
Fat:
22
g
Saturated Fat:
8
g
Polyunsaturated Fat:
1
g
Monounsaturated Fat:
3
g
Cholesterol:
44
mg
Sodium:
658
mg
Potassium:
570
mg
Fiber:
6
g
Sugar:
10
g
Vitamin A:
998
IU
Vitamin C:
6
mg
Calcium:
273
mg
Iron:
2
mg
Nutrition information is provided as a courtesy and is an estimate. It is recommended to use your preferred calculator with the actual ingredients you use for optimal accuracy.