An air fryer is such a great way to cook so many things, from frozen foods to vegetable sides to entrees. Ready-to-cook foods from the freezer section are probably what the air fryer is best known for, and it's for good reason. Air frying really gives you a great crisp that is second only to a deep fryer, but without all the hot oil and cleanup!
While we often make pizza rolls for a quick lunch or snack, one of my favorite appetizers at japanese restaurants is tempura breaded shrimp. The box of them at Costco practically jumped into my cart, and they make a great home appetizer, snack, or lunch.
No time to read now? Pin it for later!
This post contains affiliate links, which means I receive a small commission, at no additional cost to you, if you make a purchase using this link.
let's get started! here's what you'll need:
The only ingredient you really need is the Kirkland Tempura Frozen Shrimp- they even come with dipping sauce right in the box!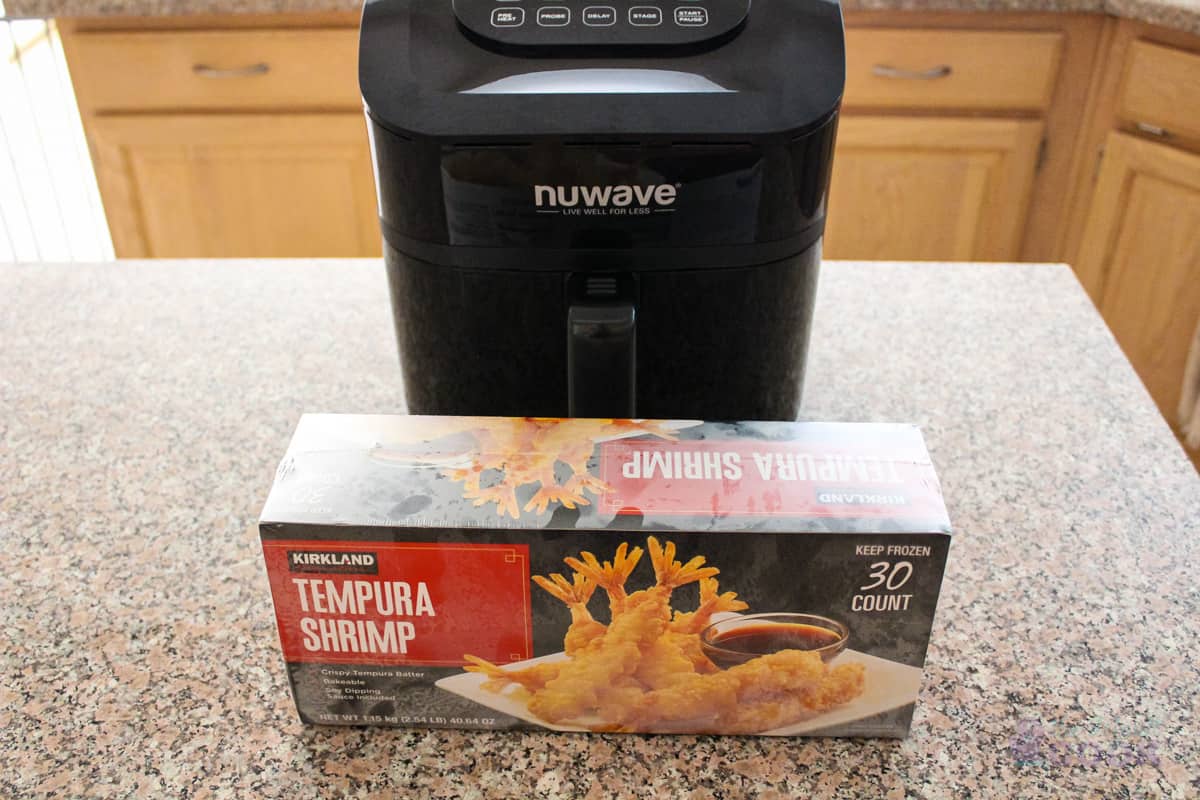 Equipment wise you'll need your air fryer, and something to flip them over with like tongs.
how to make costco tempura shrimp
preparation
Preheat your air fryer to 375 before grabbing your box of tempura shrimp from the freezer.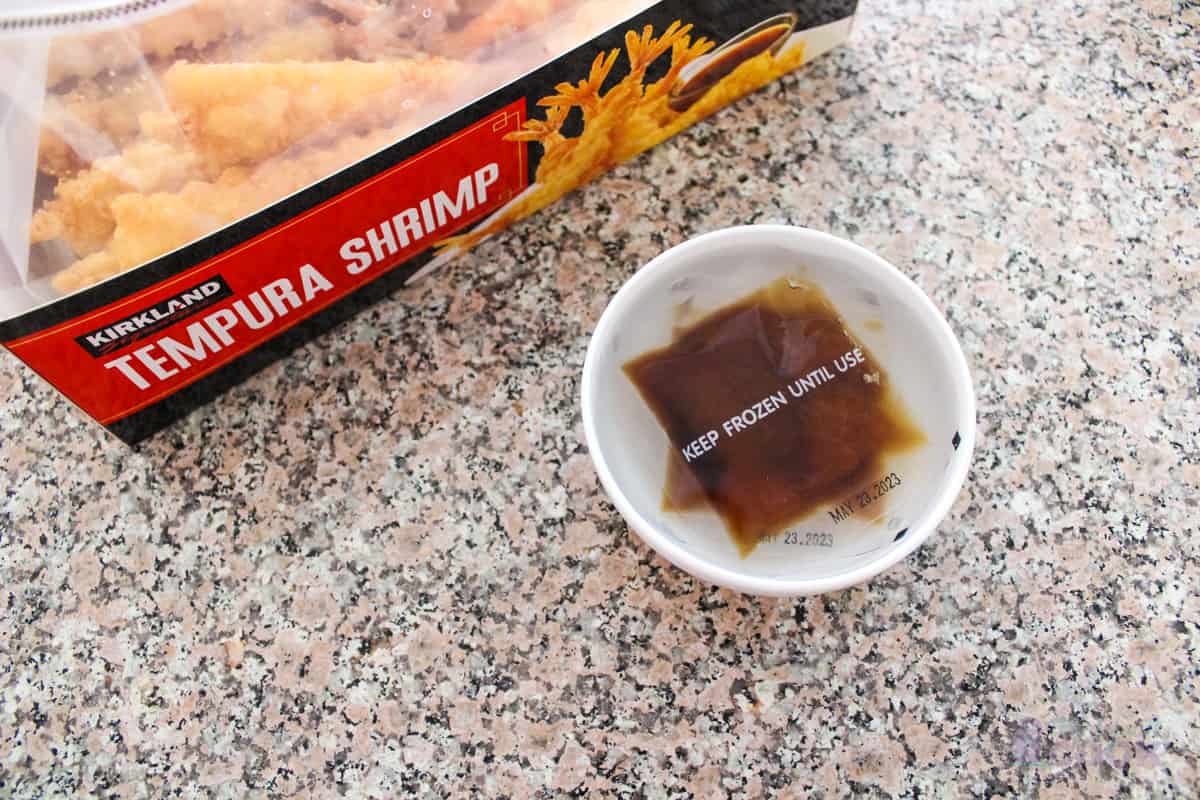 Pull out 1 packet of sauce for every 5 shrimp you're making- the box comes with 6 sauce packets for 30 shrimp. Submerge them in water to thaw out while your shrimp cook.
cooking
Once preheated, lay your shrimp in a single layer in the air fryer basket or air fryer grill paddle. I like to use the grill pan for shorter foods, mostly because I find it easier to clean. Cook at 375 degrees F (190 C) for 8 minutes, flipping halfway through. When finished the tempura batter should be a golden brown.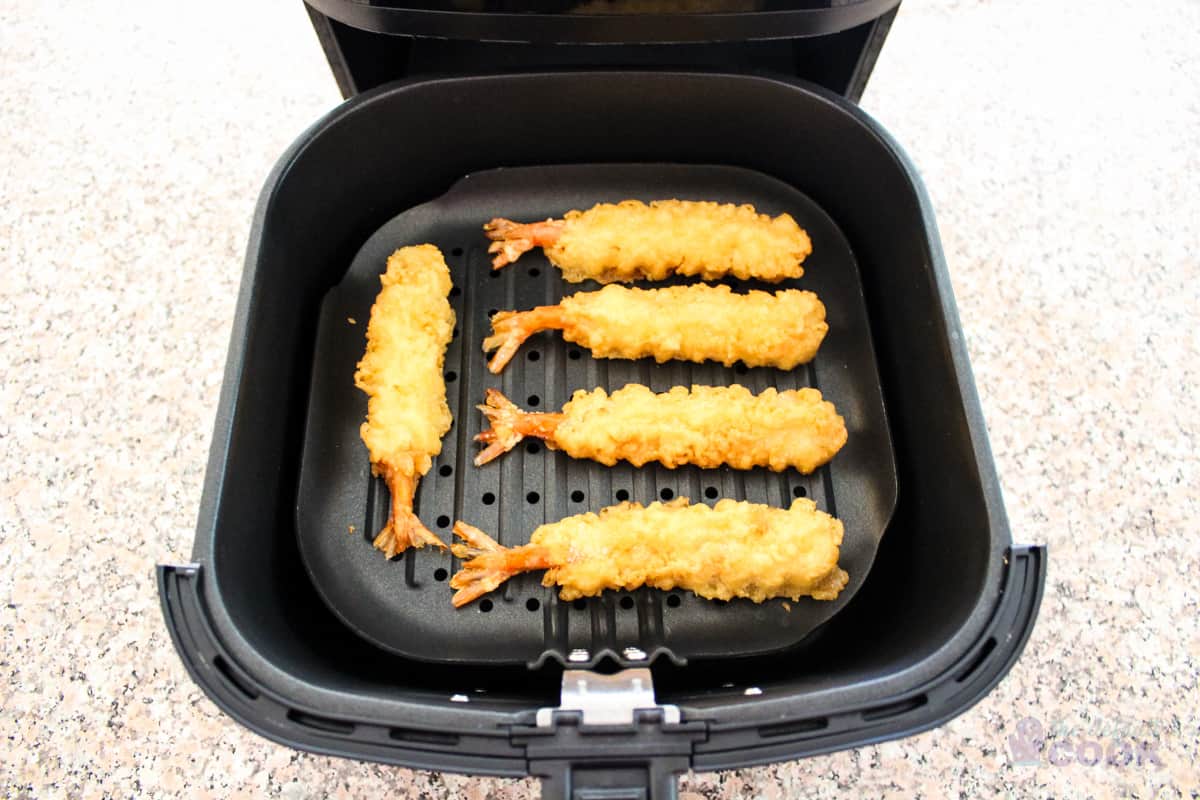 serving
Serve alongside the dipping sauce for an appetizer or quick meal. You can also use them as the star component of another meal like air fryer shrimp tacos, shrimp tempura rolls, or tempura udon soup.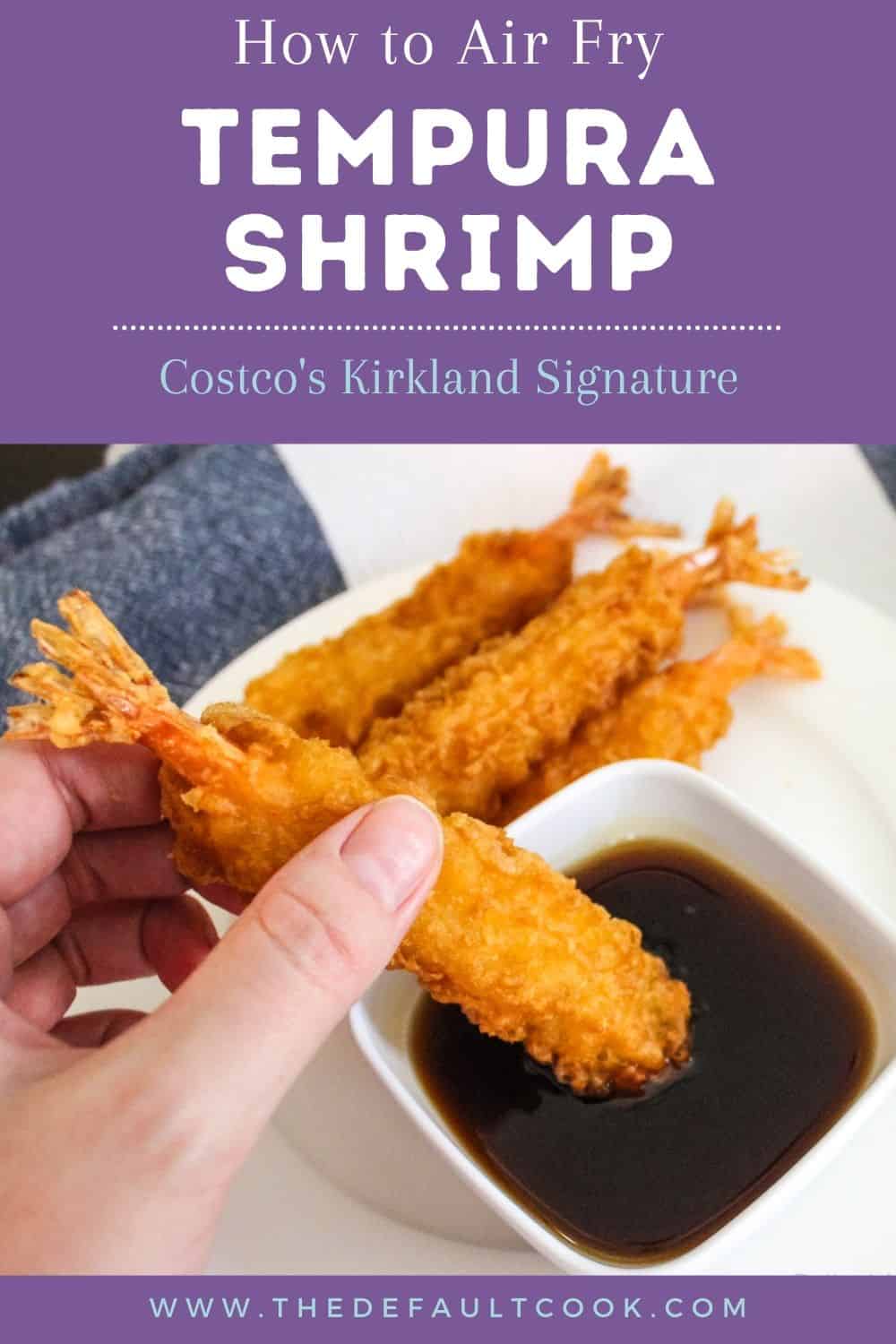 Store any leftover shrimp in an airtight container for up to 3 days.
frequently asked questions
can I make these in a conventional oven or convection oven?
Absolutely! An air fryer is essentially a convection oven, so the cooking instructions will be the same for that. For a conventional oven your cook time will be slightly longer (2-4 minutes), and you'll want to use the middle oven rack. In both cases for best results put the shrimp on a wire rack on a shallow baking sheet- this gives some air space under the shrimp so they can crisp better.
can I skip preheating the air fryer?
Yes, I find these delicious shrimp are a bit crispier when preheated and cook a little quicker, but it's a pretty marginal difference. Your cooking time may be an extra minute or two.
are the kirkland brand raw shrimp? can I use another brand?
No, while costco does sell plain raw shrimp that you can use in any shrimp recipe, these are fully cooked before being frozen. You can use any brand tempura shrimp like trader joe, or a different shrimp like costco panko shrimp. However, if they're substantially different in size (ie popcorn shrimp) the cook time will be different.
what's the difference between costco shrimp tempura and kirkland panko shrimp?
There are two main differences- the first is the batter. Tempura is a flour based batter, while panko uses bread crumbs. The second difference is shape- panko shrimp are often jumbo shrimp or frozen butterfly shrimp coated with a panko breading, while tempura shrimp are uncurled to a straight shape and coated with tempura batter.
other easy air fryer recipes you'll love
If you're looking for a healthy side, or just have an overwhelmed garden try this summer squash recipe. For a cheesy vegetable, try this broccoli with cheese sauce.
Want to make more easy costco meals in your air fryer? Their take and bake stuffed salmon cooks beautifully in it!
I hope you enjoy these crispy tempura shrimp! What's your favorite air fryer appetizer?
📖 Recipe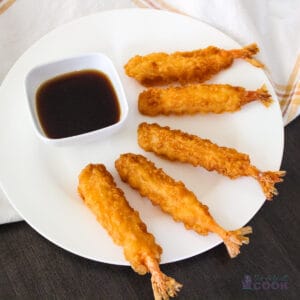 Air Fryer Frozen Tempura Shrimp (Kirkland/Costco)
Frozen shrimp make for an easy appetizer or quick lunch- in your air fryer they're ready in just 10 minutes!
Ingredients
5

ea

Kirkland Tempura Shrimp

1

ea

Sauce packet

comes with the shrimp
Instructions
Preheat the air fryer to 375. Meanwhile, thaw sauce packet in water.

Lay 5 shrimp in a single layer with space between each.

Cook for 8 minutes, flipping the shrimp over halfway through.
Notes
Nutrition facts calculated for 1 shrimp based on the back of the box for Kirkland signature tempura shrimp.  Sauce adds additional sodium and carbohydrate/sugar.
Nutrition
Serving:
33
g
Calories:
97
kcal
Carbohydrates:
11
g
Protein:
3
g
Fat:
4
g
Saturated Fat:
2
g
Cholesterol:
17
mg
Sodium:
153
mg
Potassium:
33
mg
Fiber:
1
g
Calcium:
11
mg
Nutrition information is provided as a courtesy and is an estimate. It is recommended to use your preferred calculator with the actual ingredients you use for optimal accuracy.