These delicious roasted sweet potato slices cook with the brown sugar on top so they get that caramelized yum factor.
Sweet potatoes just might be the perfect side dish, and there are so many ways to make them from sweet potato casserole to sweet potato fries. A huge perk is that they serve double duty as a starch and vegetable since they pack so much nutrition, which means we can serve it with almost any protein from pork tenderloin to roast chicken for an easy and healthy complete meal. It's great to roast the whole sweet potato and I do that a lot of the time, but sometimes I don't have an hour for them to cook. Enter these roasted sweet potato slices- the next time you buy sweet potatoes I hope you try these- they're sure to become one of your favorite ways to have them!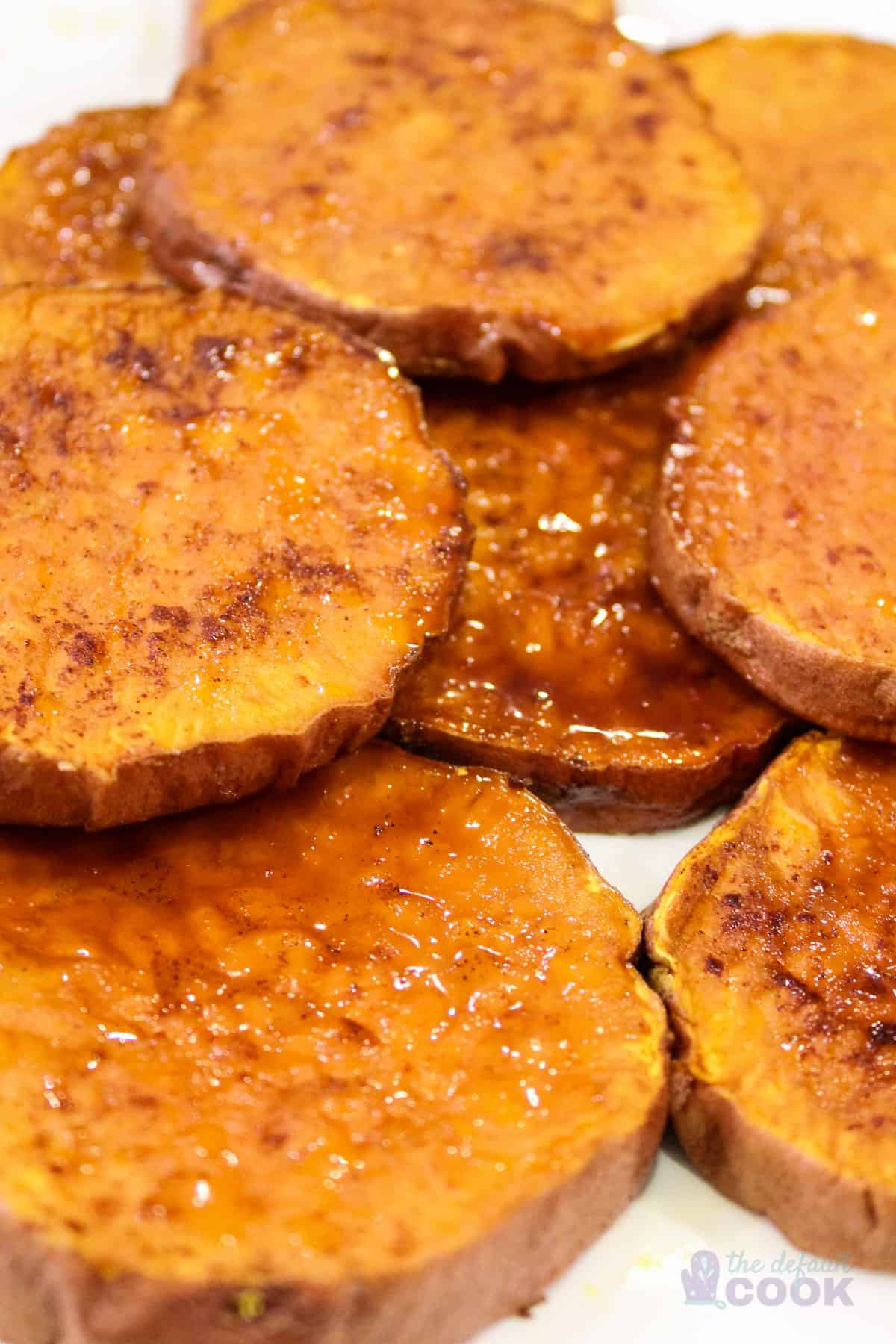 Why you'll love this easy side dish:
Fast - prep is just 5-10 minutes
Simple Ingredients - this is a great side dish, but honestly is a very basic recipe
Kid-friendly - the caramelized sugar makes for the best roasted sweet potatoes
This post contains affiliate links, which means I receive a small commission, at no additional cost to you, if you make a purchase using this link.
Let's get started! Here's what you'll need: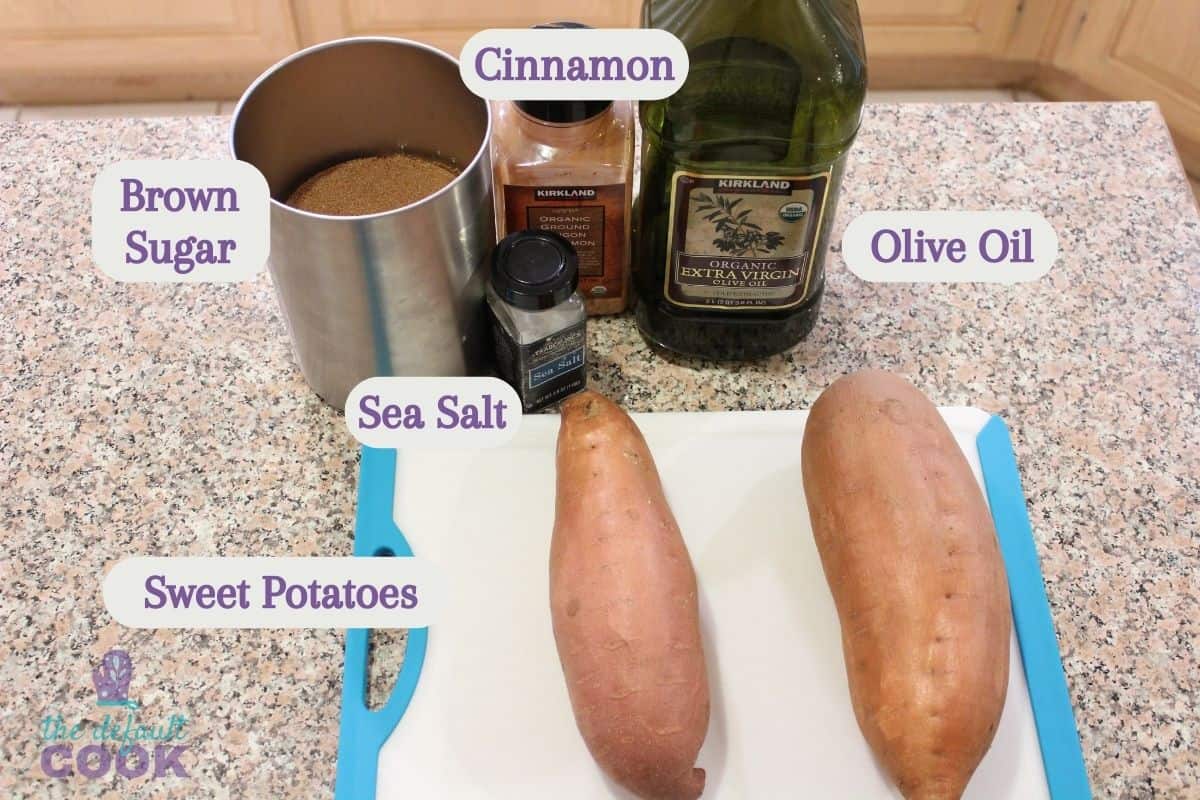 Ingredients:
Sweet Potatoes- there are different kinds of sweet potatoes, this recipe uses garnet yams, or orange sweet potatoes.
Olive Oil- you could also use avocado oil, melted coconut oil, or melted butter. I reach for oil because melting is an avoidable step, and I'm lazy.
Sea Salt- regular table salt is fine too.
Cinnamon- because it's tasty AND good for you.
Brown Sugar- this one is just tasty. You can substitute maple syrup if you prefer natural sugar, but it won't caramelize quite the same.
Equipment:
To make this sweet potato recipe you'll need a baking sheet- I love these ones (and yes, mine look a little beat up after a lot of use)- a cutting board, and a sharp knife. Optionally you can use parchment paper or aluminum foil for ultra-easy clean up.
How to make this delicious side dish:
Step 1: Slice Sweet Potatoes
First things first, go ahead and preheat your oven to 400 degrees F. Then rinse the potatoes and slice them into ½" thick rounds.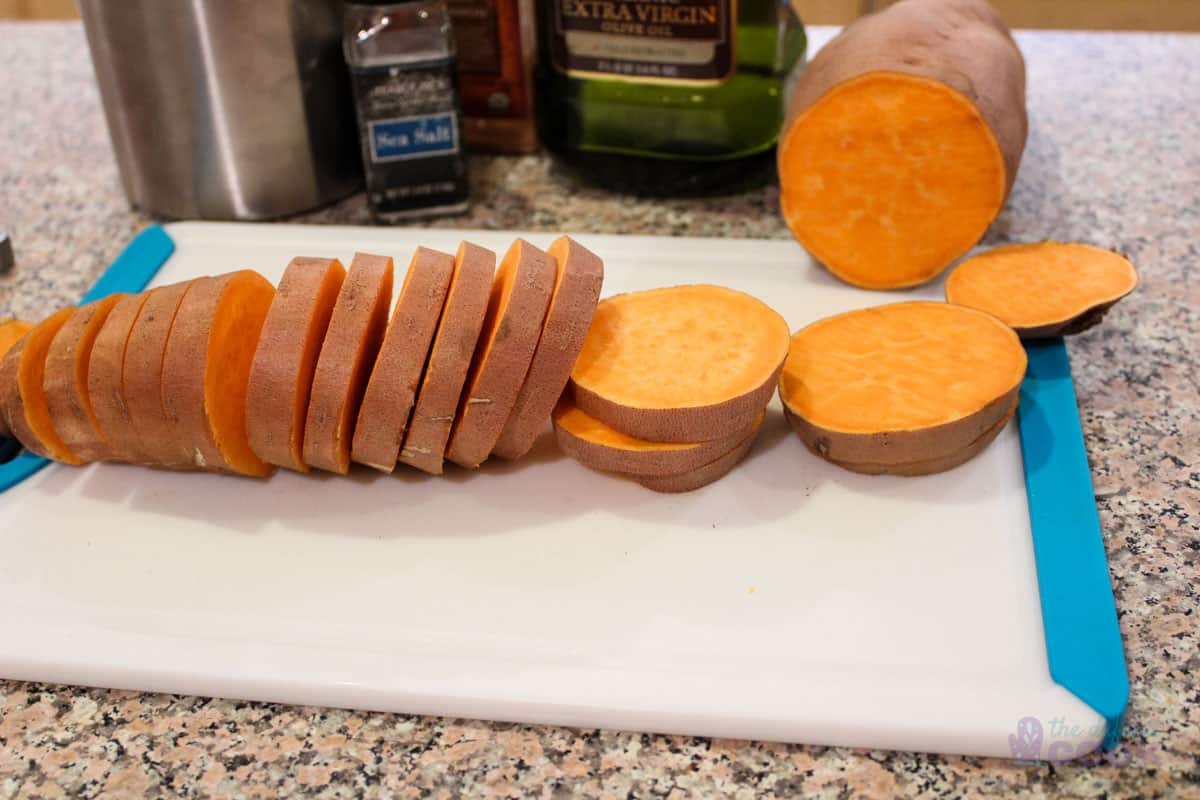 Step 2: Prepare on Baking Sheet
Spray your baking sheet with cooking spray or grease it with a little olive oil oil, then arrange the sliced sweet potatoes on the sheet in a single layer, ideally without them touching. Drizzle the oil lightly over them. Next sprinkle the sweet potato slices with salt and cinnamon, and finish them with some brown sugar. I just sprinkle the salt and cinnamon directly from their containers, the brown sugar I apply by putting about a tablespoon in one hand and sprinkling it on with my fingers.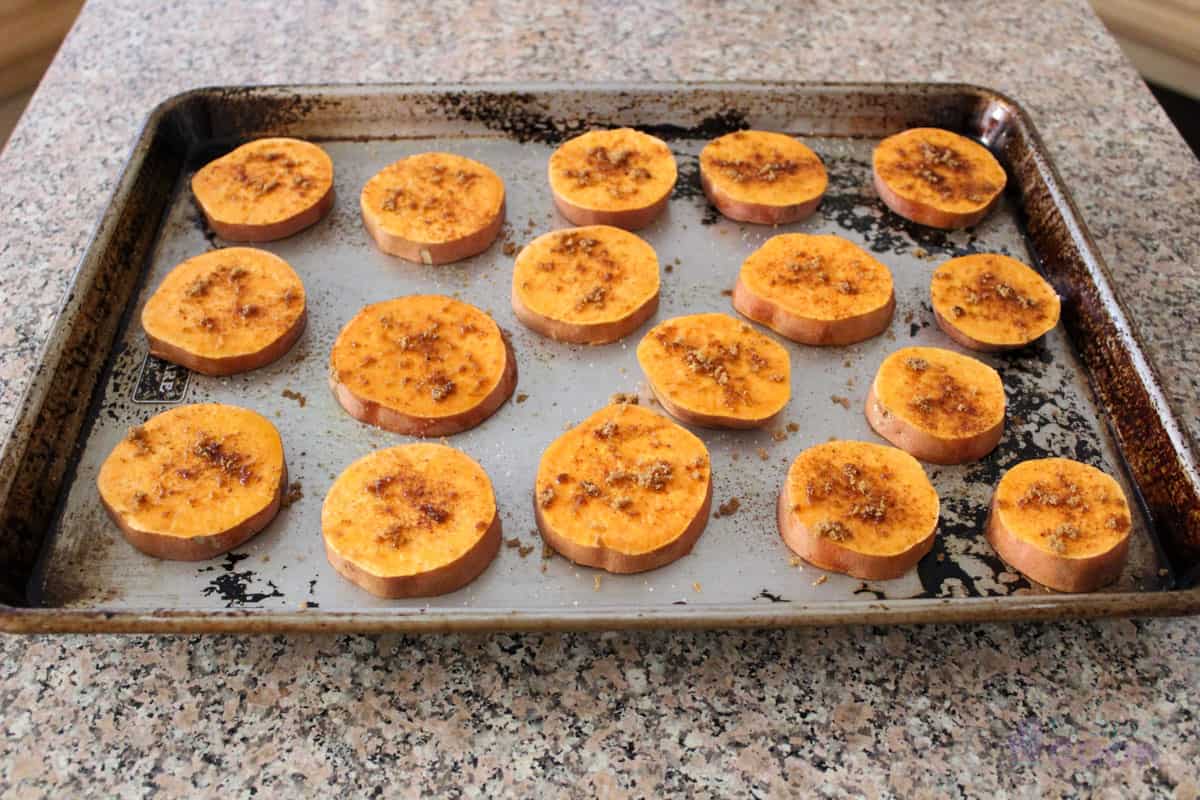 Step 3: Bake and Broil
Place the baking sheet in the oven, and set a timer for 20 minutes. Then turn up the oven to broil and give them 1-3 minutes (depending how close they are to the broiler- the closer they are the faster the sugar will bubble) to crystallize some of that brown sugar. If you have any leftovers, store them in an airtight container in the fridge for up to 5 days.
Yum!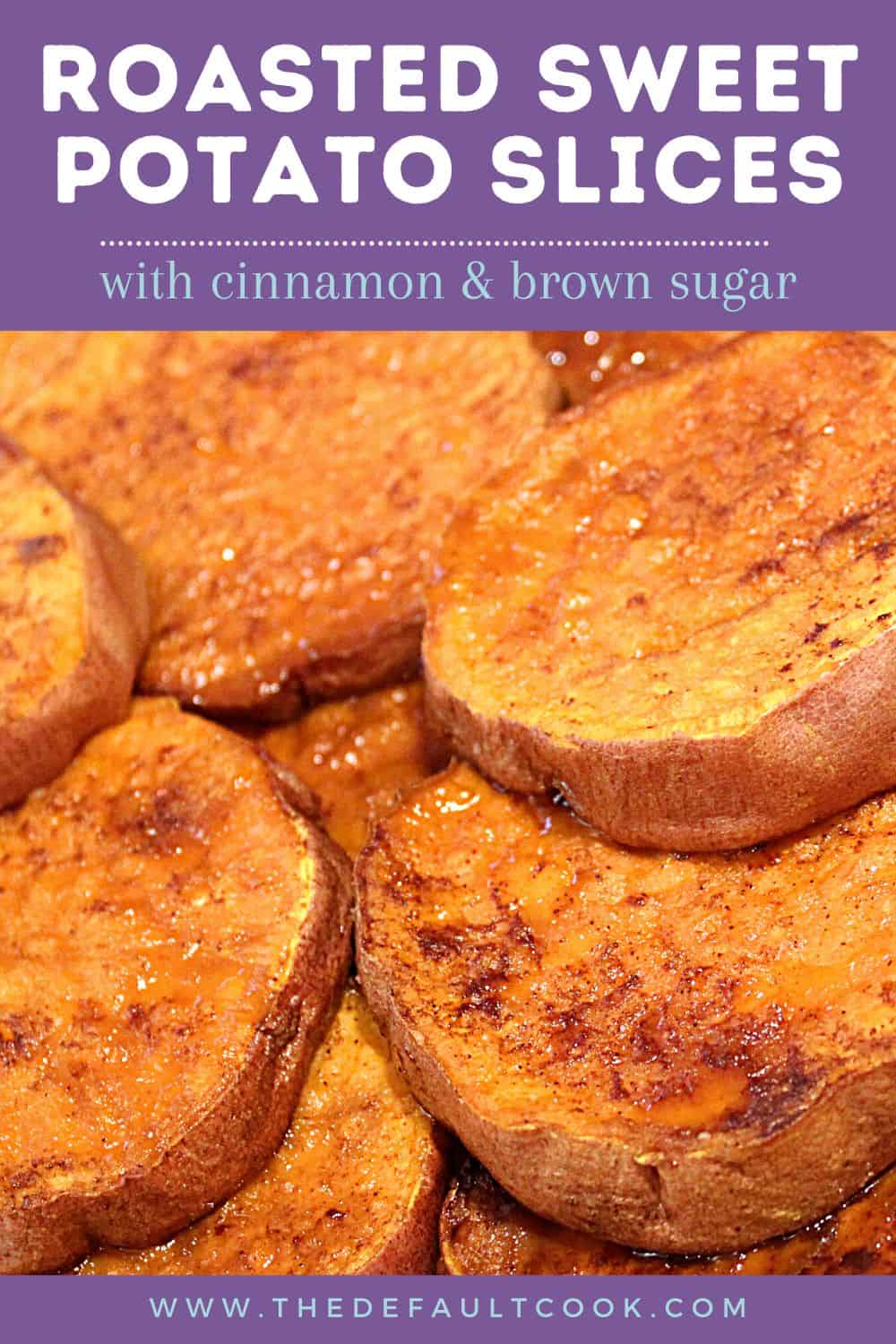 Variations of Roasted Sweet Potato Slices
Baby food: If you're roasting these for a baby, go ahead and leave off the brown sugar from their slices. Roasted sweet potato slices are a great early food, and they have plenty of natural sweetness for our littlest ones. You can keep the cinnamon, babies are able to have it once they're 6 months old.
Savory flavor: Instead of cinnamon and brown sugar, garlic powder and rosemary or italian seasoning go beautifully with these roasted sweet potato slices. If you like a little kick, chili powder and black pepper pair well with the earthy flavors in the sweet potato.
Cheesy: Just like savory, but top with some parmesan cheese.
FAQ
Can I cook these in the air fryer?
Absolutely! The air fryer is a great way to roast sweet potatoes, the only thing is that most of the basket style ones don't really have a broil setting, and may require working in batches. To make them in the air fryer reduce the cooking time to 12-15 minutes.
Do I need to peel the sweet potatoes first?
Nope! That's extra work and I am all about passing on extra kitchen work most nights. If your child doesn't like the skins you (or they!) can peel the skin off after cooking- it'll come off easily then.
Why is it so hard to cut the sweet potato?
Sweet potatoes are denser than regular potatoes, so they can be more difficult to cut. If you're struggling to get your knife through, microwave it for a minute or two before slicing to make it easier.
Other Kid Approved Recipes You'll Love
Enjoy!
I hope you try these soon, and if you love them be sure to come back and leave a 5 star rating.
📖 Recipe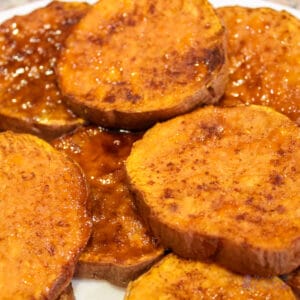 Roasted Sweet Potato Slices with Brown Sugar
These delicious roasted sweet potato slices cook up in half the time of traditional baking, and adds a boost of flavor with the brown sugar caramelizing on top.
Ingredients
1.5

lb

sweet potatoes

1.5

tablespoon

brown sugar

1

tablespoon

olive oil

¼

teaspoon

cinnamon

¼

teaspoon

salt
Instructions
Preheat oven to 400 F. Rinse and slice potatoes into ½" thick rounds.

Spray baking sheet and arrange the potato slices in a single layer. Lightly drizzle oil on slices, then sprinkle with salt and cinnamon, and top with brown sugar.

Bake for 20 minutes on the top rack of your oven. Turn oven to broil setting and cook for 1-3 minutes more.
Podcast
Notes
Broil time will depend on how close your pan sits to the broiler and individual ovens. For savory variations without sugar there is no need to broil.
Nutrition
Calories:
195
kcal
Carbohydrates:
39
g
Protein:
3
g
Fat:
4
g
Saturated Fat:
1
g
Polyunsaturated Fat:
0.4
g
Monounsaturated Fat:
3
g
Sodium:
240
mg
Potassium:
580
mg
Fiber:
5
g
Sugar:
11
g
Vitamin A:
24132
IU
Vitamin C:
4
mg
Calcium:
56
mg
Iron:
1
mg
Nutrition information is provided as a courtesy and is an estimate. It is recommended to use your preferred calculator with the actual ingredients you use for optimal accuracy.