One of the best frozen foods at Costco is the Cuisine Adventures French Onion Soup. It's a great and easy starter or half of a simple lunch!
During the winter months, soup is such a warm and comforting food to eat. And while I'll generally make my own like this crockpot chowder for dinner, at lunch time it's nice to reach for something even easier- like this bowl of french onion soup. Cooking this soup in your oven gives you the best result, but you can make it in the microwave or on the stove top in less time.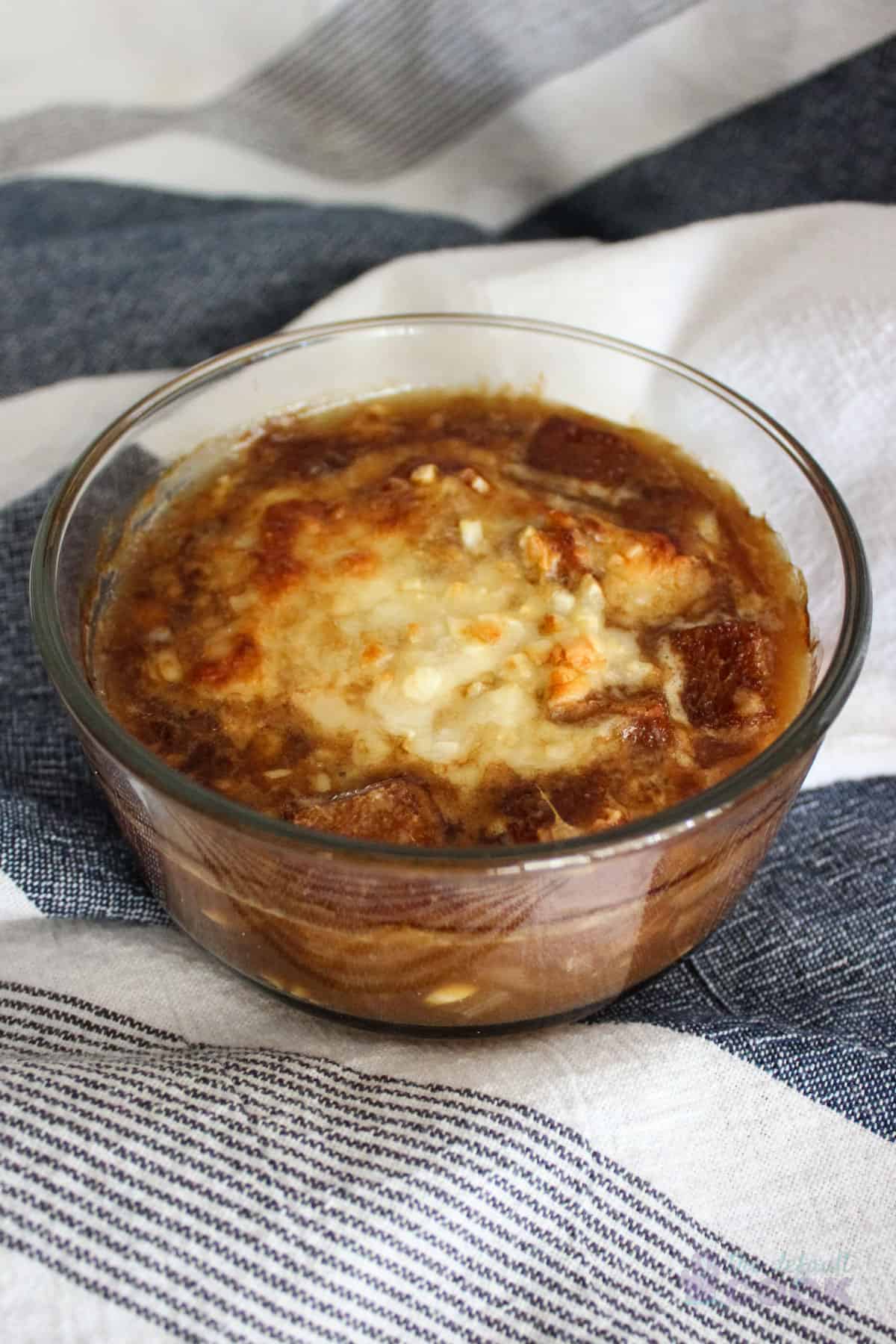 This post contains affiliate links, which means I receive a small commission, at no additional cost to you, if you make a purchase using this link.
Why you'll love this soup:
Individual portions- you can make however many you need.
Hands off- caramelized onions that we don't have to prepare!
Let's get started! Here's what you'll need: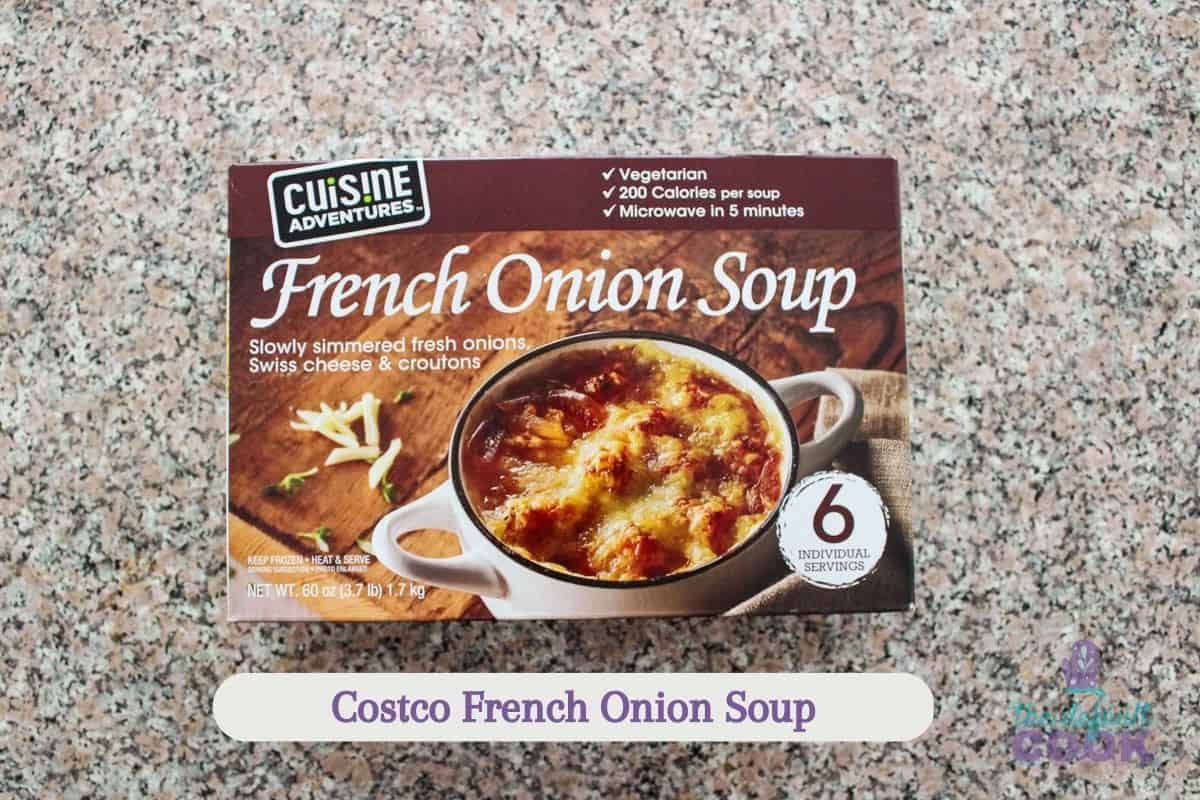 Ingredients:
All you need is the Cusine Adventures frozen French onion soup. However it is only 200 calories so you'll want something to go with it to make it a full meal- an easy choice is some crusty bread!
Equipment:
This varies depending on what preparation method you're going to use, but you'll either need a small saucepan, a microwave safe bowl, or an oven safe bowl. Generally oven safe bowls are microwave safe as long as they don't contain metal.
How to make Costco French onion soup in your conventional oven:
Step 1: Preheat oven
Preheat your oven to 400 F. Meanwhile, open your soup from it's packaging and place it in an oven safe bowl cheese side up. I'm using a 2 cup pyrex which has plenty of capacity for the soup- it's okay for the soup to start out taller than the bowl as long as there is enough overall space when it melts.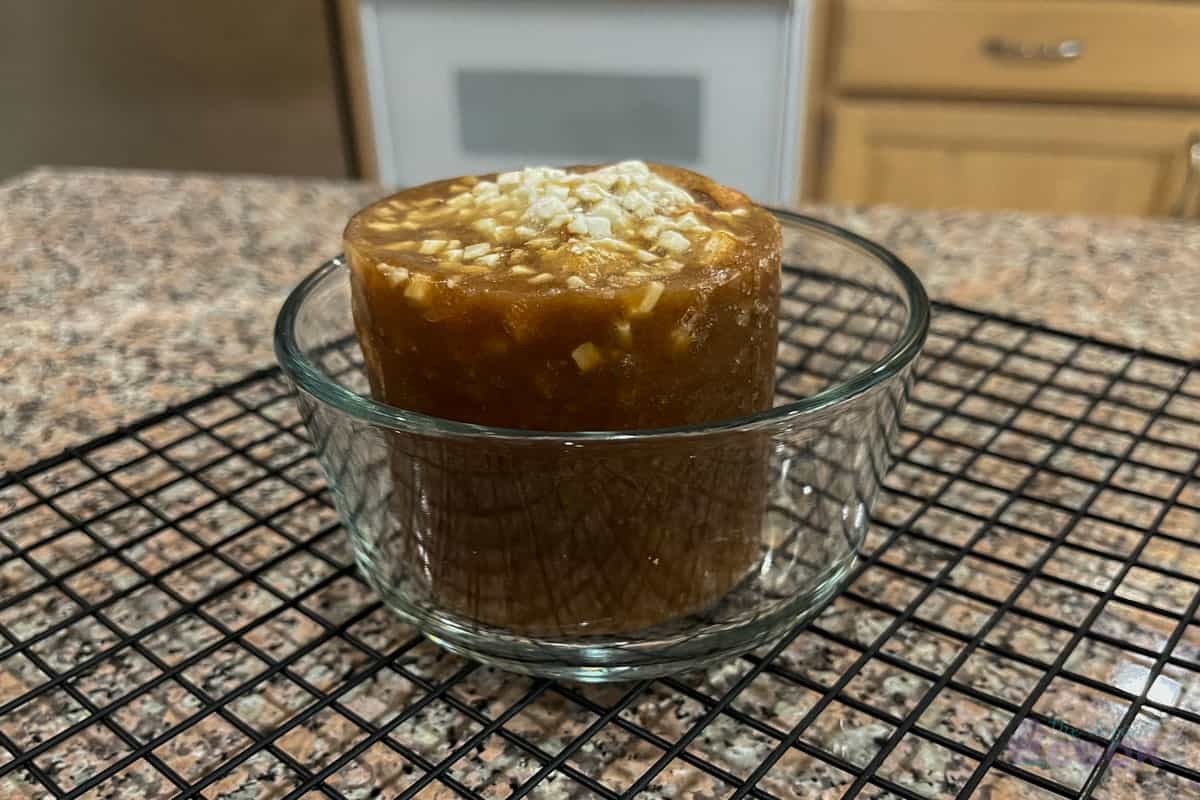 Step 2: Bake
Place your soup in the preheated oven for 40 minutes. When the cheese melts and is golden brown you want to carefully remove it and enjoy!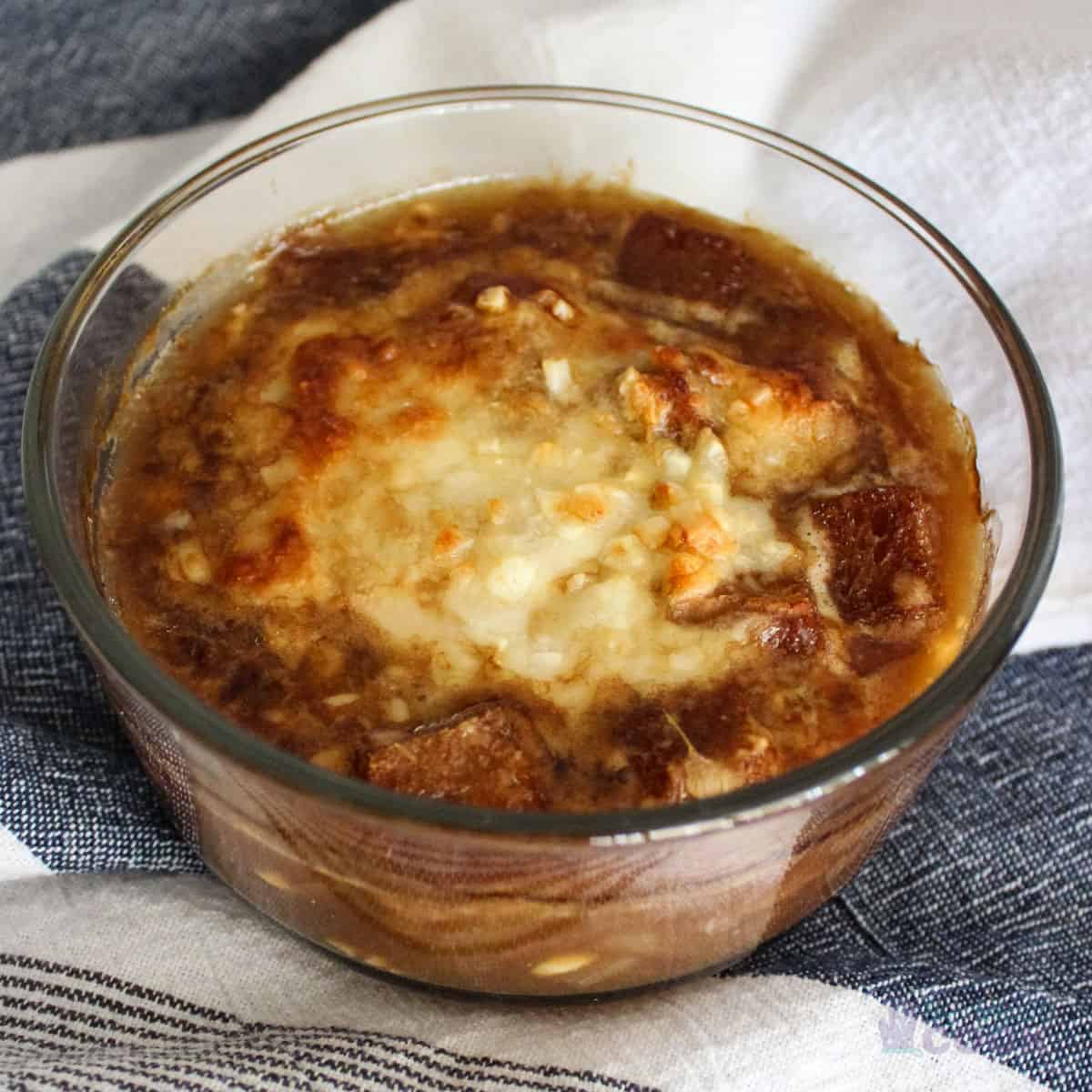 Need it faster?
For a quicker oven method, you can use a bowl that is both microwave and oven safe and microwave it for 3 minutes. This will mostly melt it, then you'll place it in the oven for about 20 minutes to brown. This gives you a similar result to the oven in half the time, as you can microwave while the oven preheats.
How to make this frozen soup in your microwave oven:
Step 1: Microwave 3 minutes
Unwrap your soup brick and add it to your microwave-safe bowl with the cheese side up, then microwave it on high for 3 minutes.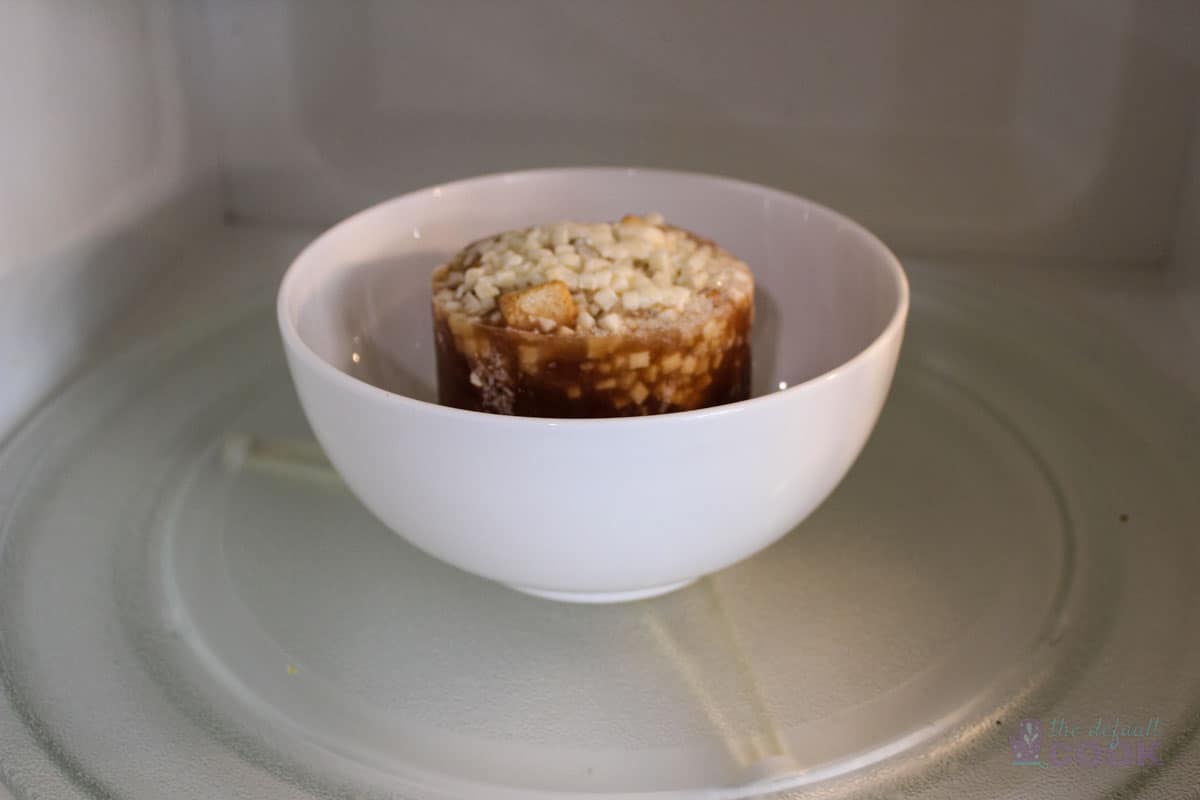 Step 2: Stir and microwave again
Stir your soup and microwave for an additional 2 minutes.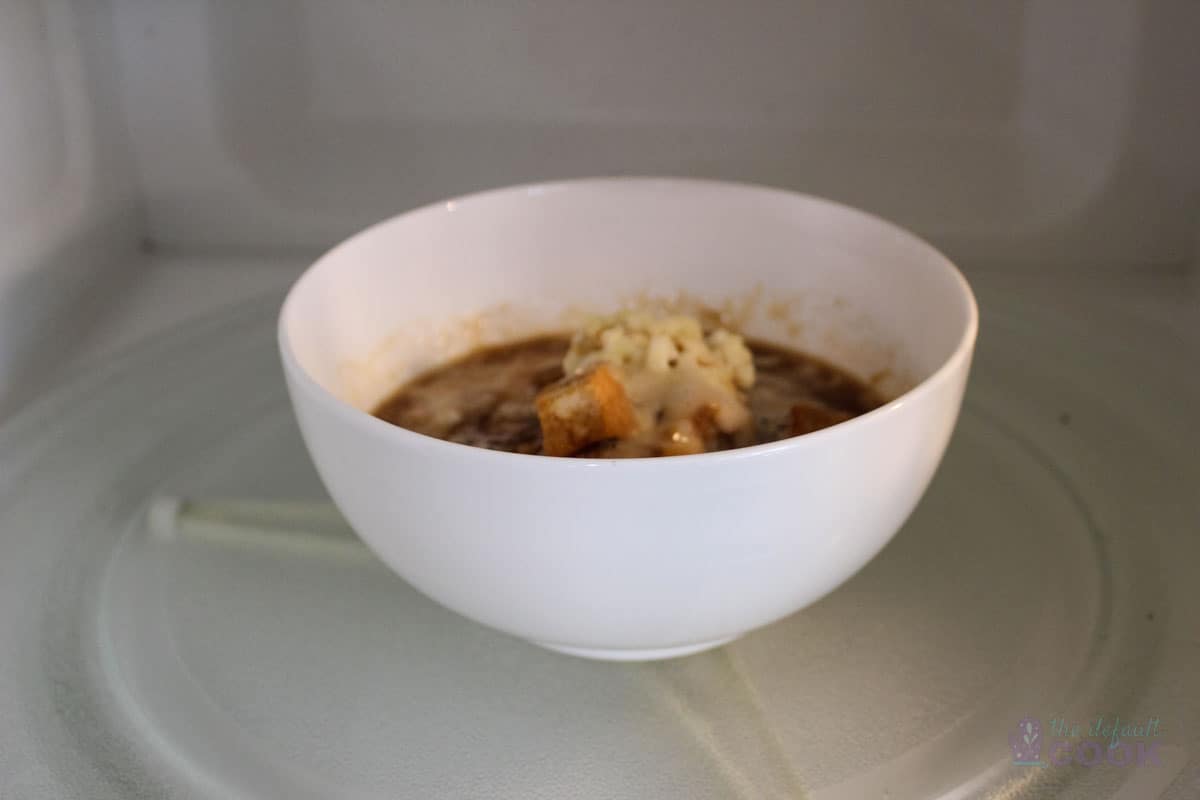 Step 3: Serve and enjoy
Time to eat! This method is by far the fastest, but also my least favorite in terms of texture and flavor.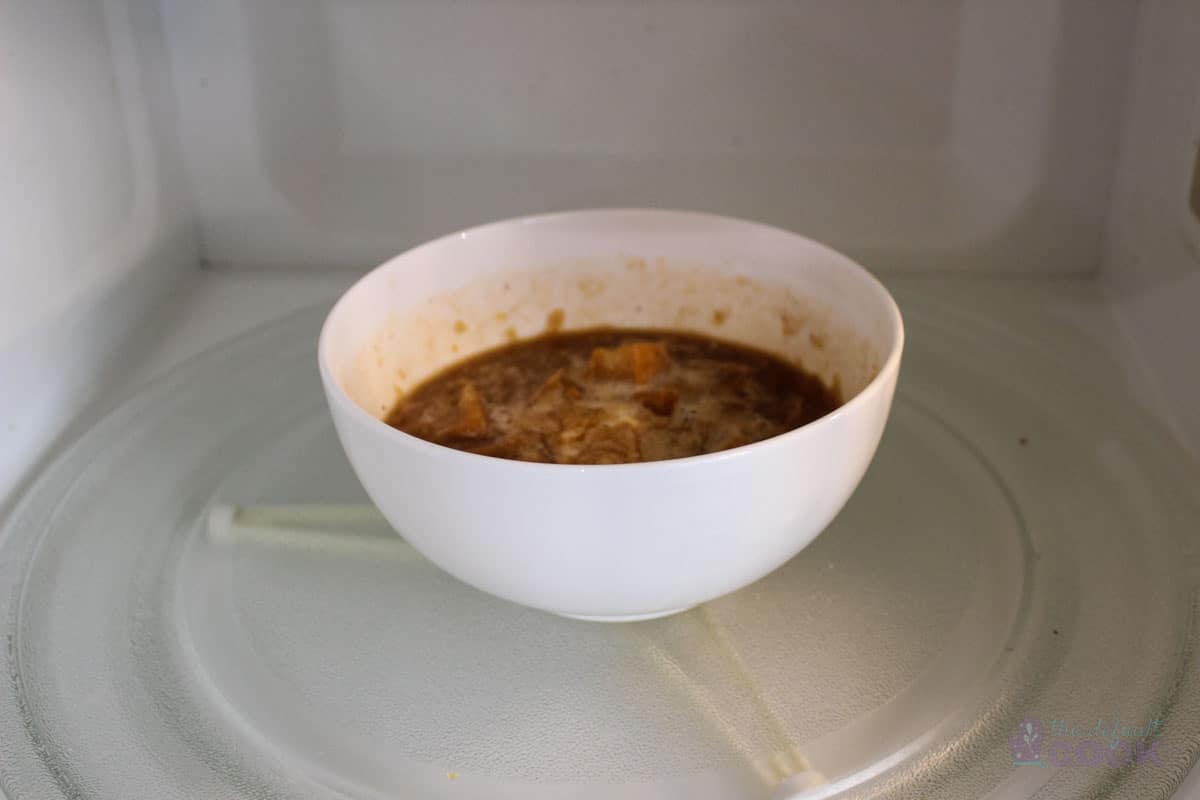 How to make this on your stove top:
Step 1: Place in small pot
Unwrap the soup and place it in your sauce pan. Put the burner on medium heat to start it melting and move the frozen soup around the pot occasionally.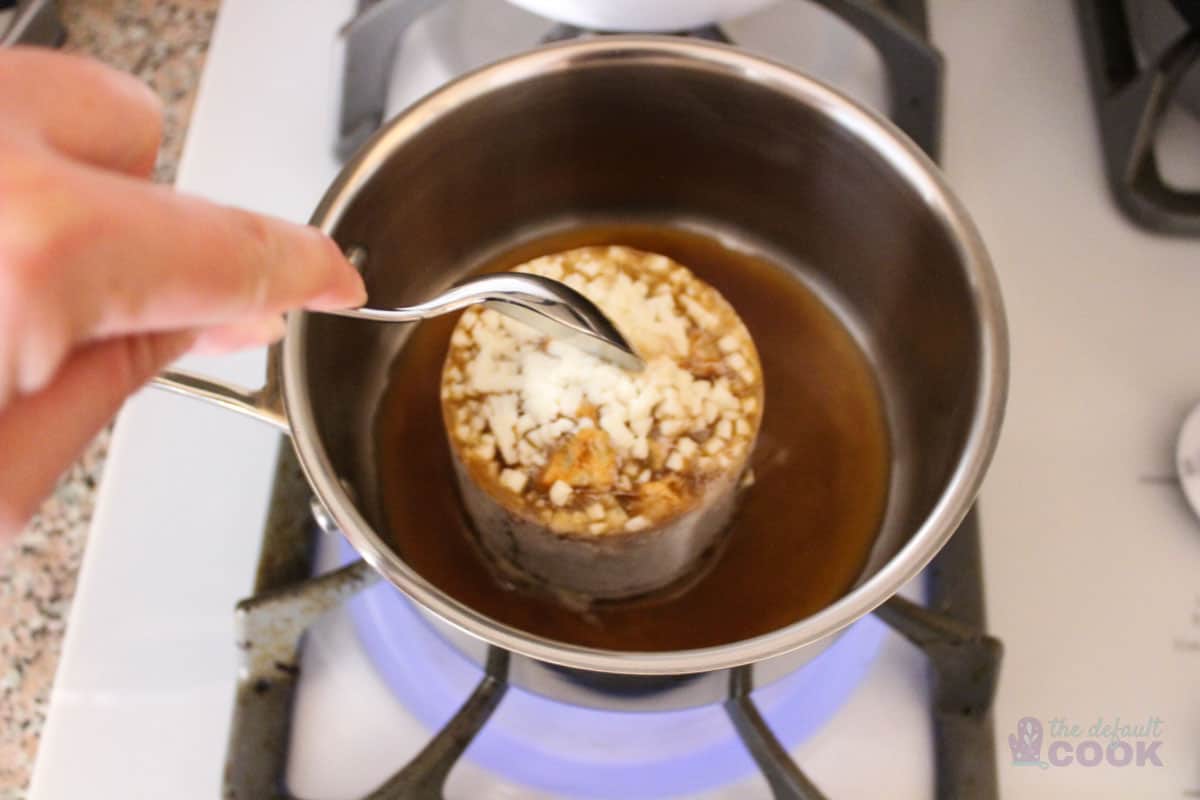 Step 2: Continue heating
Once some of the melted soup starts to boil decrease the burner to low heat, and increase your stirring frequency. Once the soup is fully melted and combined you're ready to eat- in total it takes between 15-20 minutes.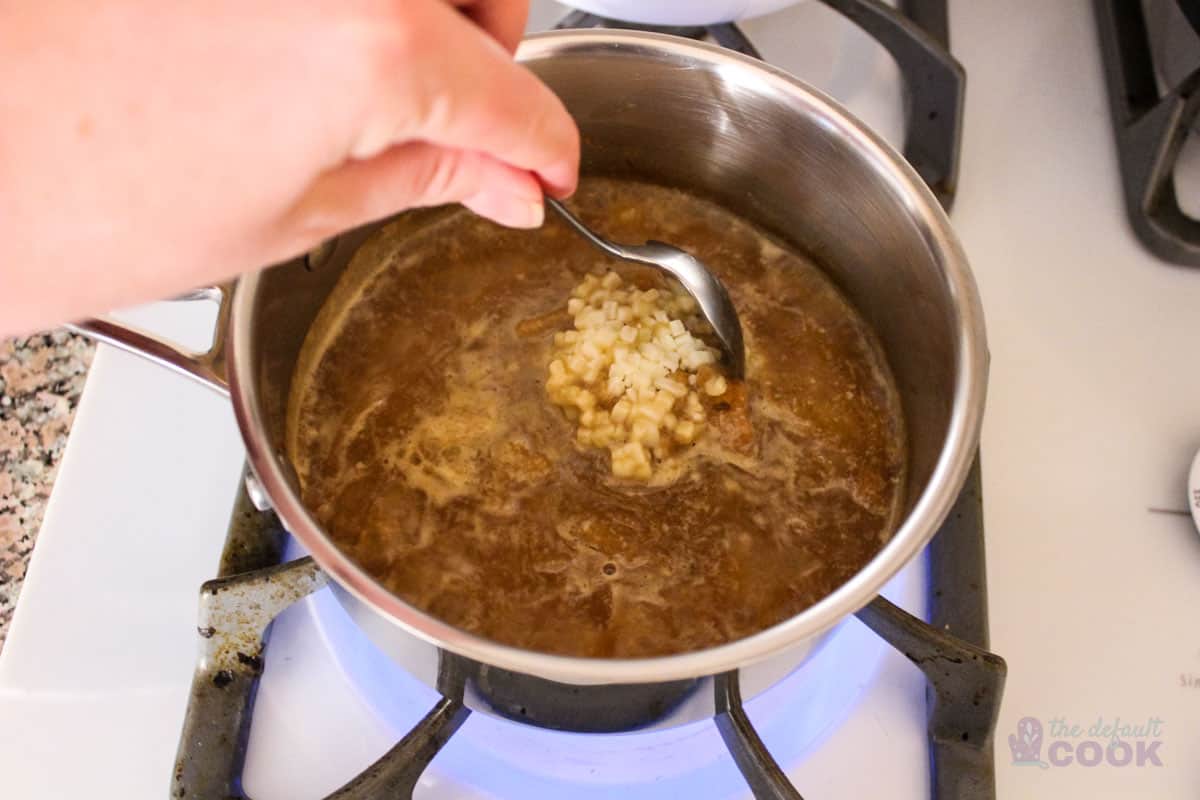 Step 3: Serve and enjoy
This method doesn't give you that lovely browned cheese on top like a traditional french onion soup, but I find the flavor is better than with the microwave method.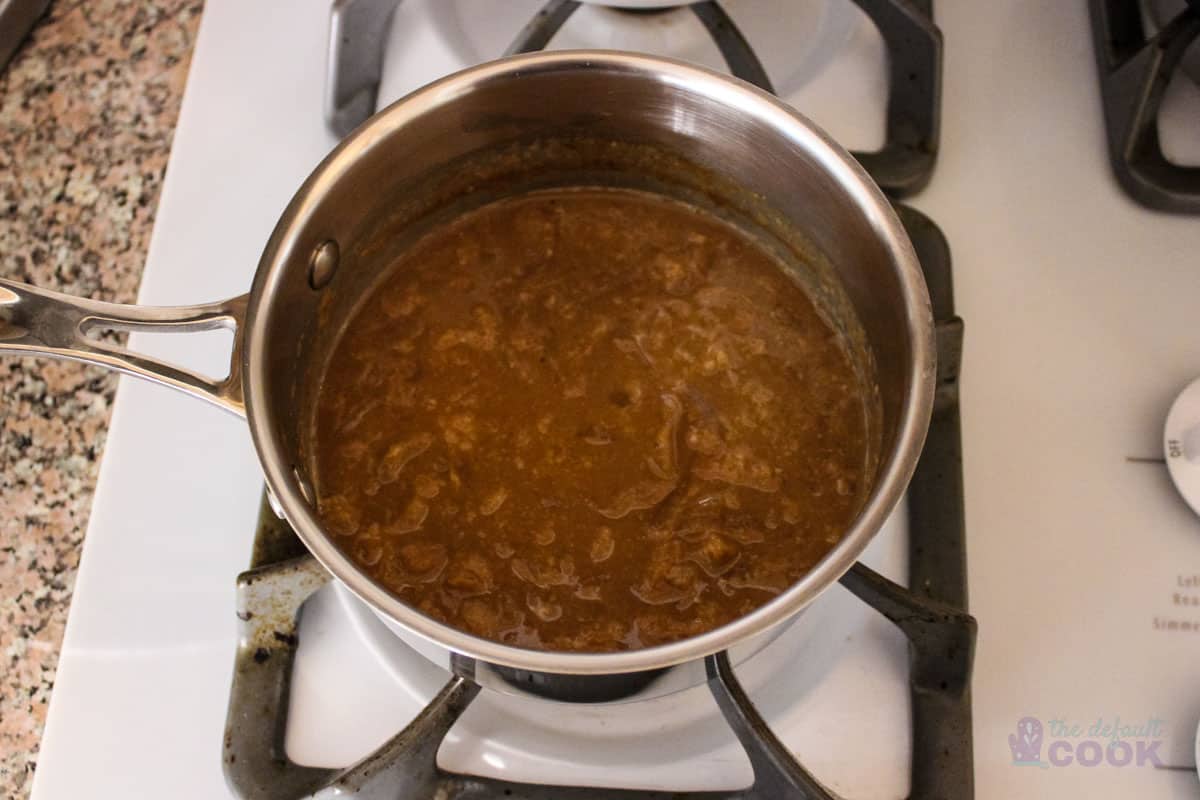 FAQs
I don't have a Costco, can I buy it anywhere else?
Trader Joe's french onion soup is the same Cuisine Adventures brand, just in a smaller pack. So if Mr. Trader Joe has a store in your area, you can get a 2 pack in their freezer section, rather than the 6 pack Costco sells.
Is this a seasonal item?
It may vary store to store, as some will rotate and temporarily remove products to make room for other seasonal items. In general though, I'm able to find the Costco cuisine adventures french onion soup year-round.
Is the soup vegetarian?
Yes. It contains cheese so is clearly not vegan, but while French onion soup can be made with beef broth or chicken broth, the Cuisine Adventures uses a vegetable soup base.
Can I make this in my air fryer or convection oven?
Yes! I haven't personally done that yet but oven safe dishes are generally air fryer safe as well since an air fryer is a countertop convection oven. Convection ovens and air fryers are faster, so you'll want to check on your soup frequently after 25 minutes.
Detailed list of Ingredients
The allergens listed are milk and wheat, and that it may contain soy.
The full ingredients list, directly from the carton is: Broth (water, fried onions [onion, canola oil], cooked vegetables [carrot, onion, celery], sunflower oil, salt, onion, and carrot powder, yeast extract, brown sugar, sugar, canola oil, roasted melted barley, flavor), Onions, Swiss cheese (milk, salt, bacterial culture, microbial enzyme, calcium chloride, cellulose), Croutons (enriched flour [wheat flour, niacin, reduced iron, thiamine mononitrate, riboflavin, folic acid], sugar, sunflower oil, yeast, salt, ascorbic acid), contains 1.5% or less: enriched flour (wheat flour, niacin, reduced iron, thiamine mononitrate, riboflavin, folic acid), yeast extract, garlic, salt, spices, cellulose gum.
More Costco foods you may like:
From the freezer section these tempura shrimp are a delicious appetizer or side- I've even paired a serving with this soup before for a grazing lunch.
For a full meal their frozen beef and sausage lasagna is a winner!
Their take and bake stuffed salmon is such a hit I've actually had a hard time finding it lately at my local Costco. They usually have their salmon milano, which I have easy copycat instructions for as well.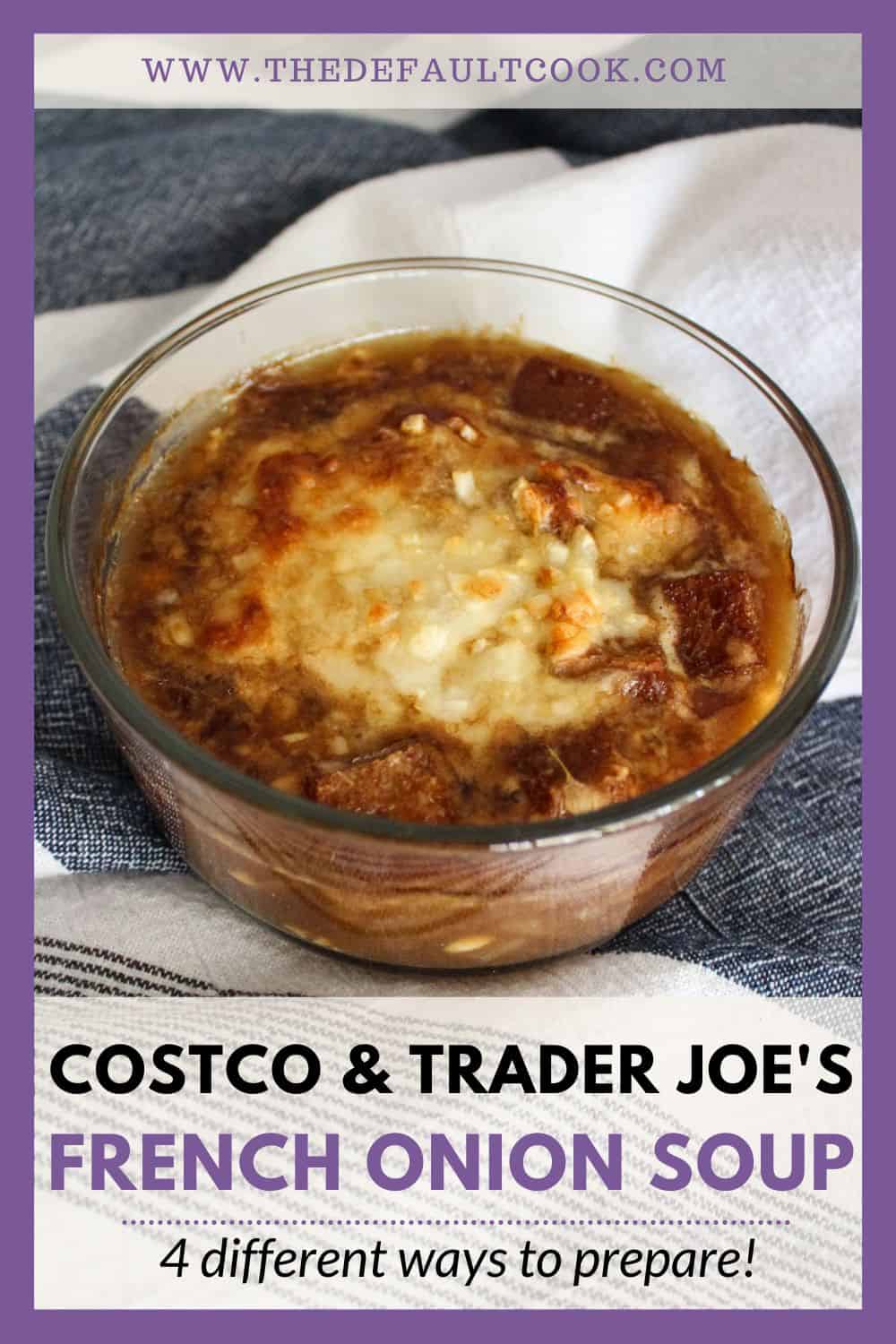 Enjoy!
📖 Recipe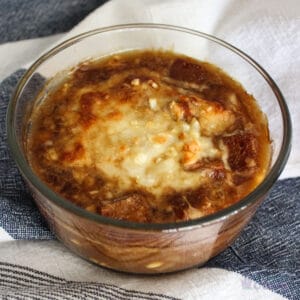 How to cook Costco French Onion Soup
This frozen soup is a Costco staple that makes a great soup without the prep. Packaged in individual portions it's perfect paired with a sandwich or crusty bread for an easy lunch!
Ingredients
1

ea

Cuisine Adventures soup portion
Instructions
Oven Instructions (recommended method)
Place unwrapped soup brick in an oven safe dish large enough to contain the full portion (soup is 10 oz). Bake in 400 degree F oven for 40 minutes, until cheese is melted and golden brown.
Quick Oven Method
Place unwrapped soup cube in an oven and microwave safe bowl and microwave for 3 minutes on high. Transfer to 400 degree oven for approximately 20 minutes until cheese is melted.
Stove Top Instructions
Place unwrapped soup brick in a small saucepan. Heat on medium, moving the frozen block around occasionally with a spoon as it starts to melt. Stir more frequently and reduce heat to low as the liquid boils around the frozen puck. Takes 15-20 minutes.
Microwave Instructions
Place unwrapped soup cube in a microwave safe bowl and heat on high for 3 minutes. Stir and microwave an additional 2 minutes.
Notes
For all methods, place soup cheese side up to heat.
For air fryers, follow oven instructions but reduce cooking time- start checking at 25 minutes.
Nutrition
Serving:
285
g
Calories:
200
kcal
Carbohydrates:
18
g
Protein:
12
g
Fat:
10
g
Saturated Fat:
5
g
Cholesterol:
25
mg
Sodium:
740
mg
Potassium:
250
mg
Fiber:
2
g
Sugar:
5
g
Calcium:
260
mg
Iron:
0.7
mg
Nutrition information is provided as a courtesy and is an estimate. It is recommended to use your preferred calculator with the actual ingredients you use for optimal accuracy.