Make hot and bubbly lasagna with hardly any effort cooking your Kirkland Signature Italian Sausage and Beef Lasagna.
Lasagna is a great and comforting dinner, but homemade lasagna takes a lot of effort when there are great frozen options of this classic italian dish available. Cooking frozen lasagna, purchased from a store like Costco, can be a delicious and convenient meal option.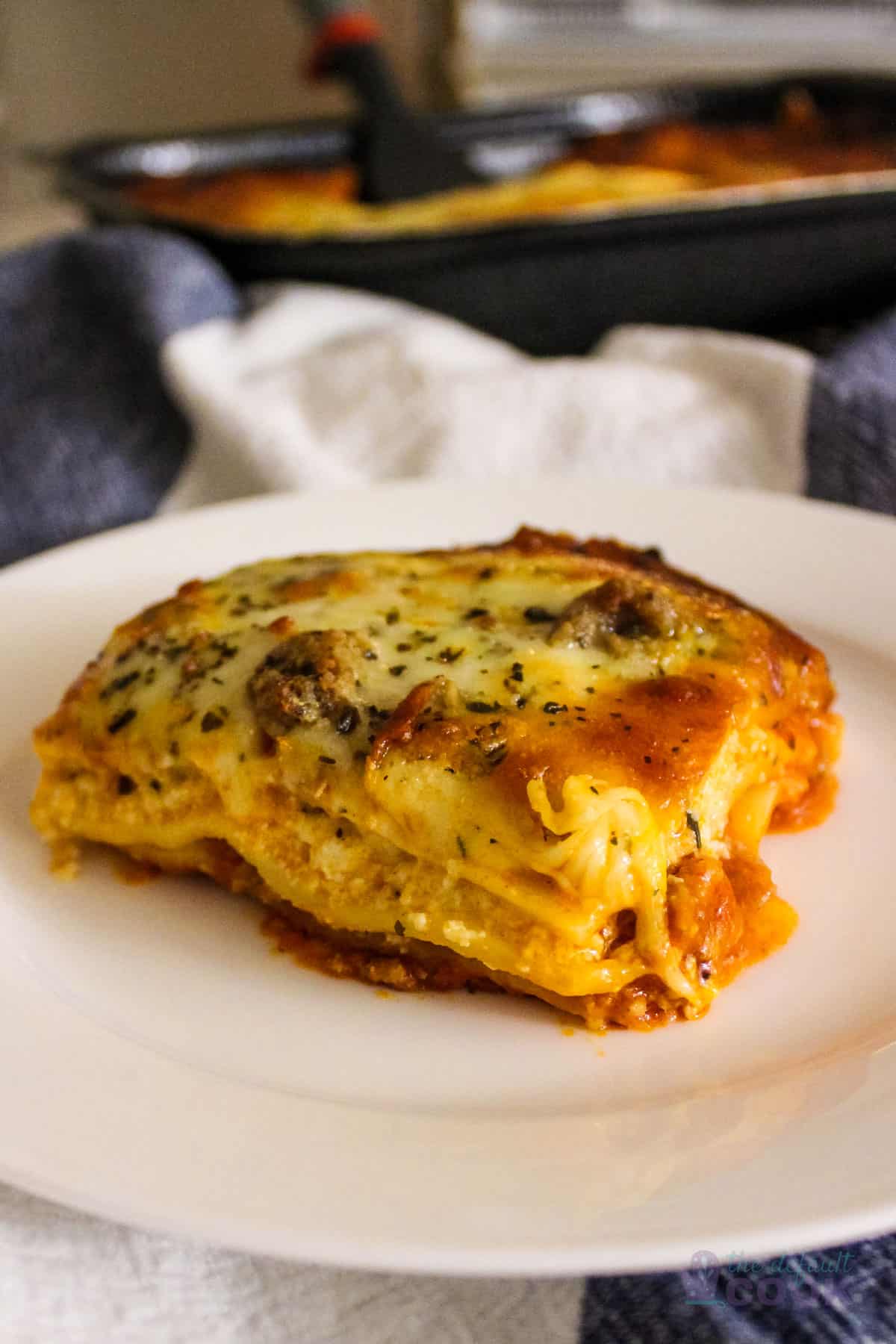 This post contains affiliate links, which means I receive a small commission, at no additional cost to you, if you make a purchase using this link.
Why You'll Love Kirkland Signature Lasagna:
Easy- It's oven ready, we just need to vent and cook it.
Cost-Effective- Grocery costs are up, but Costco's lasagna twin pack comes with two 3 lb pans of lasagna for under $20 (I paid $16.89 in late 2022) and each one easily feeds 4 people. Nutrition facts say 6 servings in each tray.
Flavorful- This frozen lasagna has a good flavor profile- I will say the kirkland italian sausage has a bit of kick to it, so you might want to remove the bigger pieces on top from a picky eater's serving.
Let's get started! Here's what you'll need: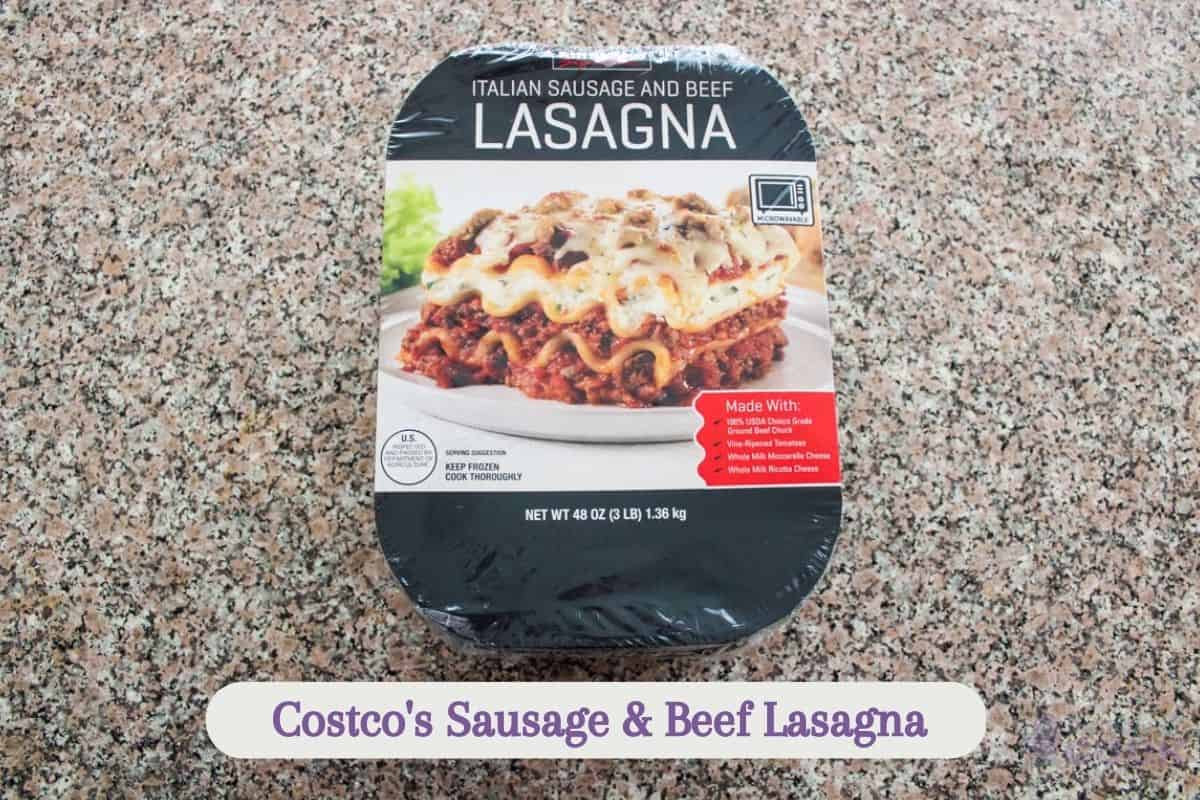 Ingredients:
1 48 oz tray Kirkland Lasagna (one of the two pans)
That's it! If you want to feel fancy you can garnish it with some basil- that can be a fun touch if you picked up some for another recipe like caprese ravioli.
Equipment:
You'll need a baking tray to place the lasgna on, a knife or something else sharp enough to pierce the plastic film, and a spatula to serve it with. A food thermometer is also handy to ensure your lasagna is fully cooked. If you have leftovers you'll also want either an airtight container or- if you have the fridge space- a wrap to cover the Costco tray with, I recommend either aluminum foil or press 'n seal.
How to make your Costco lasagna in the oven (recommended method):
Step 1. Preheat oven to 375°F
First thing first, we need to get our oven nice and toasty. Once you've set the temperature then go ahead and grab your baking dish and get the lasagna out of the freezer.
Step 2. Vent the frozen lasagna
Remove the shrink wrap and cardboard cover from the lasagna, and place one dish on a baking sheet. Then cut a 2" slit in the center of the plastic film.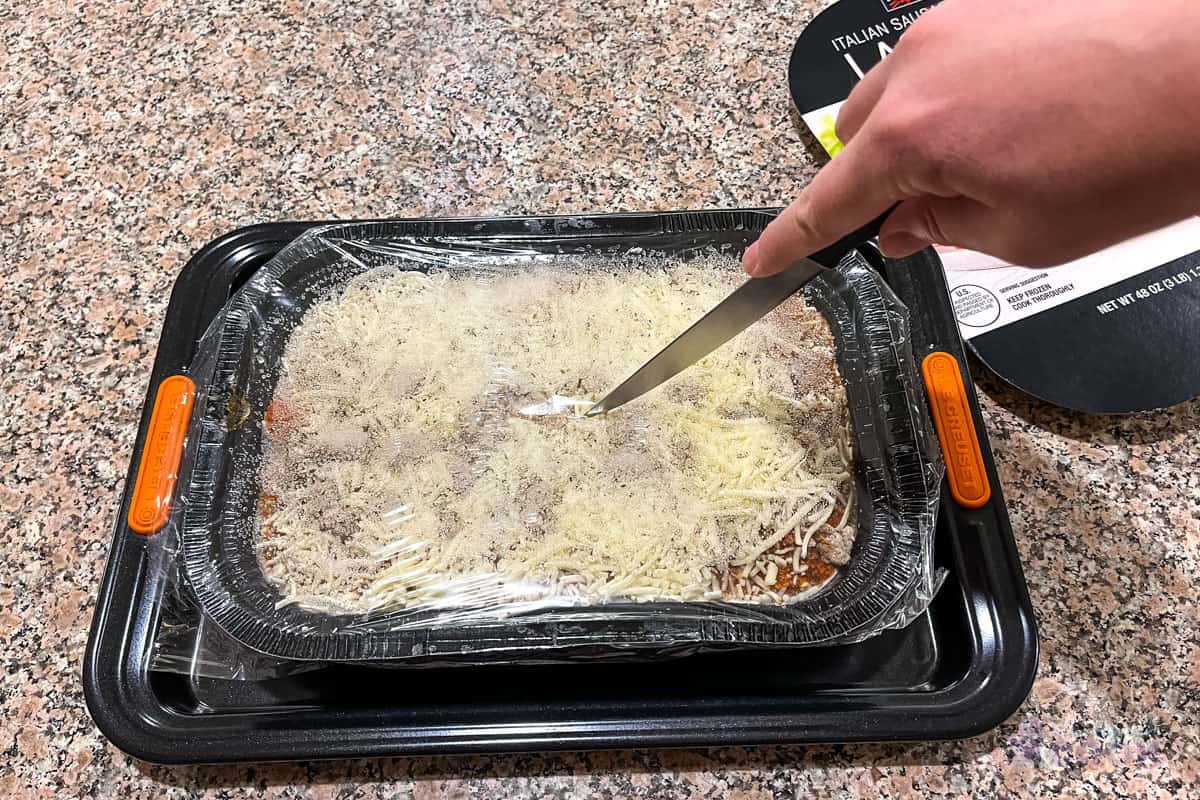 Step 3: Bake
Place the lasagna loaded cookie sheet on the middle oven rack of your oven and bake for 55 minutes for a conventional oven (30-35 minutes for a convection or air fryer oven). Then remove it and carefully remove the plastic film cover, and place it back in the oven for another 10 minutes.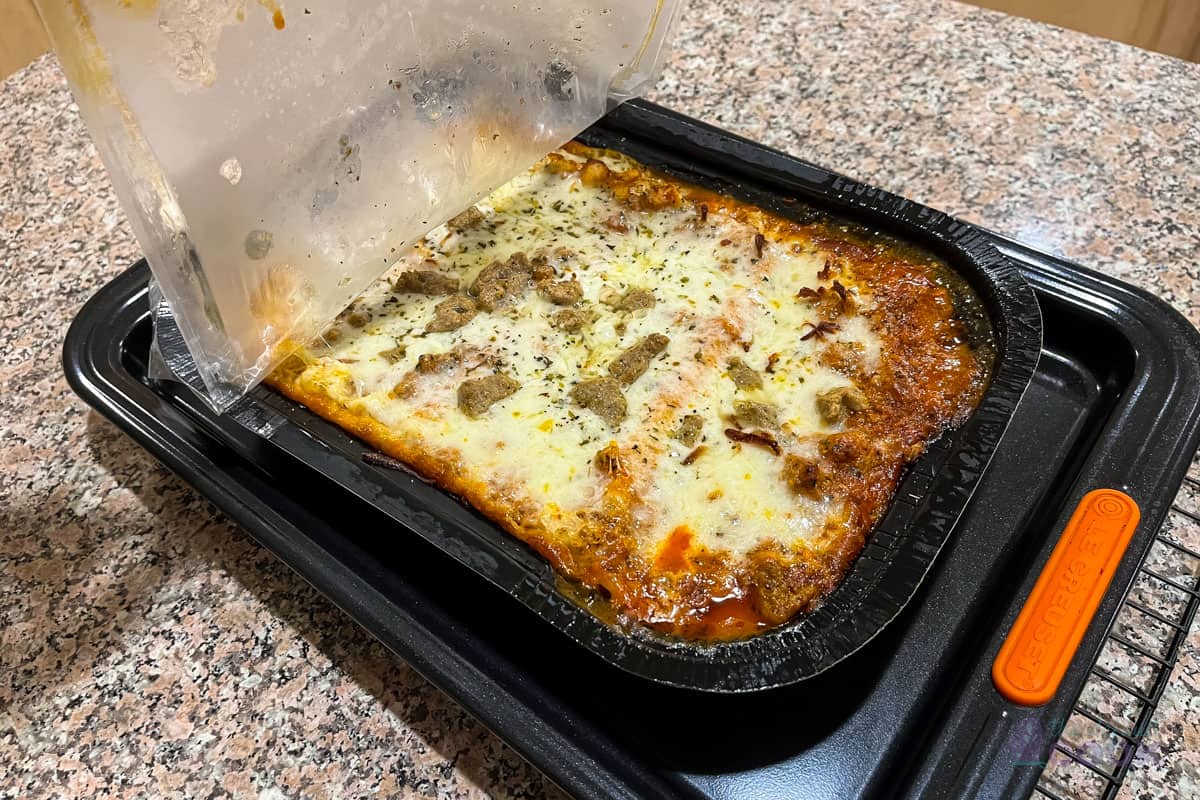 Step 4: Rest and serve
At this point your pan of lasagna should be piping hot, and at least 165 degrees F in the center, but since ovens and cook times can vary it's best to double check the internal temperature with a meat thermometer.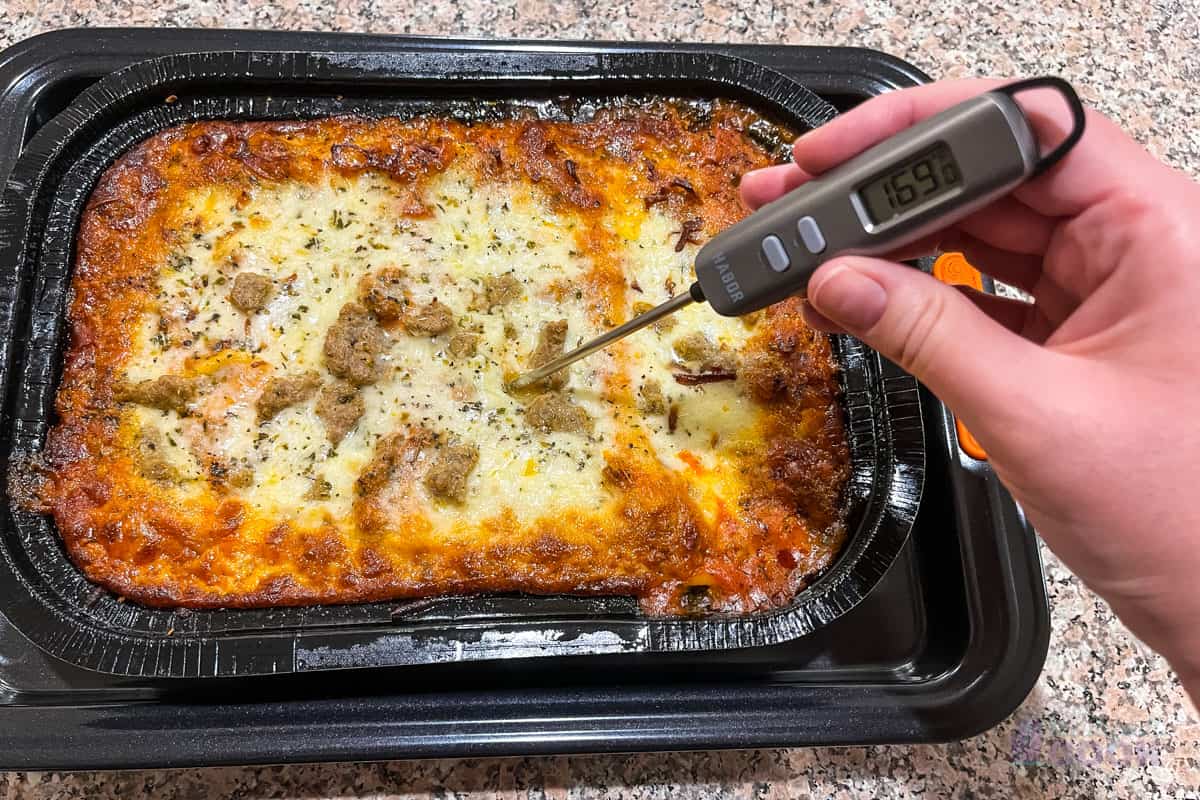 The lasagna also needs to rest for a few minutes. You can see in my photos here the marinara sauce is still a bit runny after the 5 minute rest time recommended on the box. The next time we made it I allowed it to rest 10 minutes and the meat sauce stayed together much better.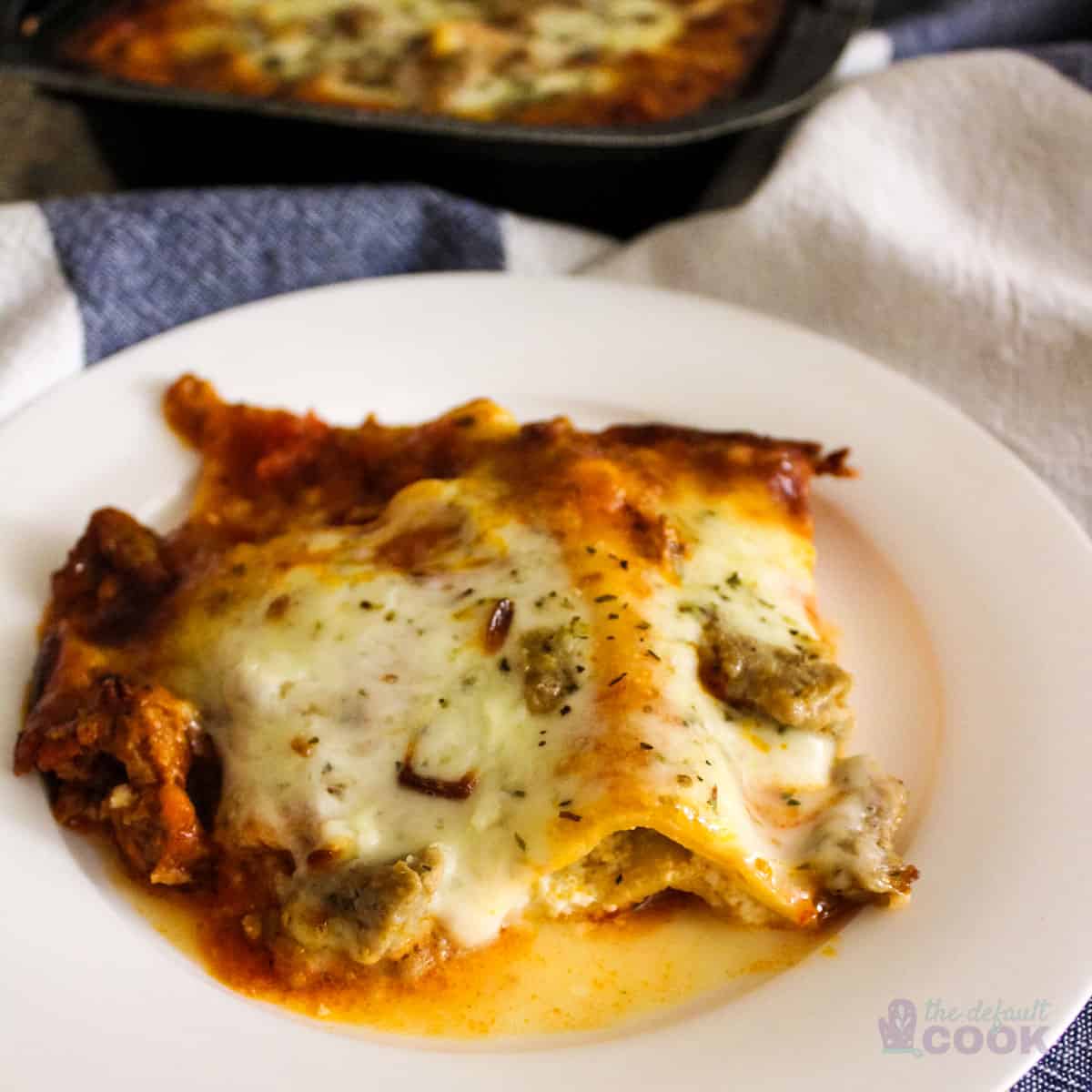 How to make your Costco lasagna in the microwave:
While the oven method has very little hands-on time, the total cooking time with resting is 75 minutes. Some nights that's a long time to wait!
Step 1: Prepare lasagna pan
Remove the sealed pan from the cardboard sleeve and cut a 2" slit in the plastic film cover.
Step 2: Cook on high
Place the Costco pan in the center of the microwave and cook on high for 10 minutes.
Step 3: Remove film and cook on low
Carefully remove the film cover from the pan and return to the microwave at 50% power for 14 minutes.
Step 4: Rest and serve
Again the box instructions say to allow it to rest for 5 minutes in the microwave, but if you can stand to wait a couple of extra minutes that will allow the sauce to stay together better. Microwaves vary so be sure to check that the lasagna is piping hot in the middle (165 F) before serving.
How to reheat your lasagna leftovers in the oven:
Three pounds of lasagna can be a crowd pleaser, but if you're not serving an entire family you'll probably have extra. Be sure to store leftovers in an airtight container, or you can cover the disposable pan you cooked it in with some press 'n seal and keep the whole dish in the fridge.
How to reheat in the original dish
To reheat it in the original dish simply remove the plastic wrap and recover it with aluminum foil, and vent the aluminum foil with a 2" slit the way you did the original film. You could alternatively poke it with a fork a few times to create some vent holes. Pop it in the oven at 350 for half the cook time, 25-30 minutes. This is a great method if you're feeding 2-3 people and using about half of it each time, or only have one portion left.
How to reheat in another dish
Since we don't want to reheat leftovers again and again, you may want to reheat individual portions. To reheat in your own dish place it in an oven-safe dish and cover with foil, poking a few holes in the top to vent. Smaller portions will reheat faster, in about 20 minutes. If you're using a glass dish for leftovers, use a new dish for reheating- the sudden temperature of going from a cold fridge to a hot oven can cause glass to break.
How to reheat your leftover lasagna in the microwave:
For the microwave regardless if you're reheating one plate or several I find it's best to reheat one portion at a time. Place a serving on a microwave-safe plate, then cover with either a microwave-safe cover or parchment paper. A paper towel will absorb too much of that delicious sauce. Microwave for one minute to start, then in 30 second increments until it reaches your desired temperature.
FAQs
Can I make this in the air fryer?
If your air fryer is large enough, yes! Mine is a basket style so that's not an option, but an air fryer is essentially a countertop convection oven, which will work great. Reduce your cook time by about ⅓, so you'll want to check it 30-35 minutes in.
What is in Kirkland Lasagna?
The Kirkland Signature Italian Sausage and Beef Lasagna contains vine-ripened tomatoes, cooked lasagna noodles, cooked pork sausage, whole milk ricotta cheese, whole milk mozzarella cheese, tomato puree, choice ground beef, romano cheese, parmesean cheese, spinach, red wine, garlic, and other spices. The allergens listed on the package are wheat, milk, and eggs.
Are these cooking instructions good for fresh lasagna as well?
If you have homemade frozen lasagna that's about the same size, then these instructions should work well for that. However if the lasagna wasn't frozen or has thawed then the cook time will be about half. These instructions are NOT for the Costco beef lasagna- that is one 6 pound tray and cooks for a solid 2 hours.
More Costco foods you'll love:
If you're a salmon fan, be sure to try their take and bake stuffed salmon or salmon milano!
Like shrimp? Their tempura shrimp are especially delish in the air fryer.
Want another frozen Costco dish to pair with your lasagna? Try their French onion soup!
Enjoy!
📖 Recipe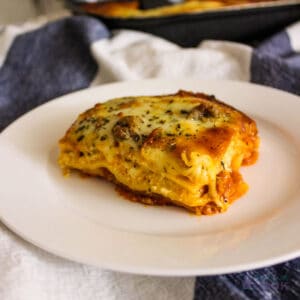 How to cook Costco Lasagna
Freezer lasagna is one of those classic frozen foods that saves you a lot of time in the kitchen, and Costco's version is a flavorful choice. The best way to make it is in the oven, but you can cook it in the microwave as well.
Ingredients
1

tray

Kirkland Signature Italian Sausage & Beef Lasagna

3 lb
Instructions
Traditional Oven Instructions
Preheat oven to 375 and remove outer shrink wrap and cardboard sleeve.

Place one tray lasagna on a baking sheet and vent a 2" slit in the middle of the film. Bake on middle oven rack for 55 minutes.

Carefully remove plastic film cover and return to the oven for an additional 10 minutes. Rest 10 minutes before serving.
Microwave Instructions
Remove outer shrink wrap and cardboard sleeve and vent a 2" slit in the middle of the film.

Place in microwave and cook on high for 10 minutes.

Carefully remove plastic film cover and reduce microwave power to 50%, then cook an additional 14 minutes. Rest 10 minutes before serving.
Podcast
Notes
Convection or air fryer ovens will cook approximately 20 mintues faster.
Nutrition
Serving:
226
g
Calories:
410
kcal
Carbohydrates:
30
g
Protein:
23
g
Fat:
22
g
Saturated Fat:
10
g
Cholesterol:
80
mg
Sodium:
890
mg
Potassium:
584
mg
Fiber:
3
g
Sugar:
7
g
Calcium:
254
mg
Iron:
2
mg
Nutrition information is provided as a courtesy and is an estimate. It is recommended to use your preferred calculator with the actual ingredients you use for optimal accuracy.