These simple and tasty 4 ingredient dessert pops combine bananas and peanut butter with cocoa powder and a bit of maple syrup. They're quick, easy, and perfect for a sweet treat in the summer time.
Looking for a delicious and healthy treat that your whole family will love? Look no further than these Chocolate Banana Peanut Butter Pops! This easy blender recipe only requires four simple ingredients, making it the perfect kid-friendly dessert that doesn't rely on processed sugars. Perfect for those hot summer days!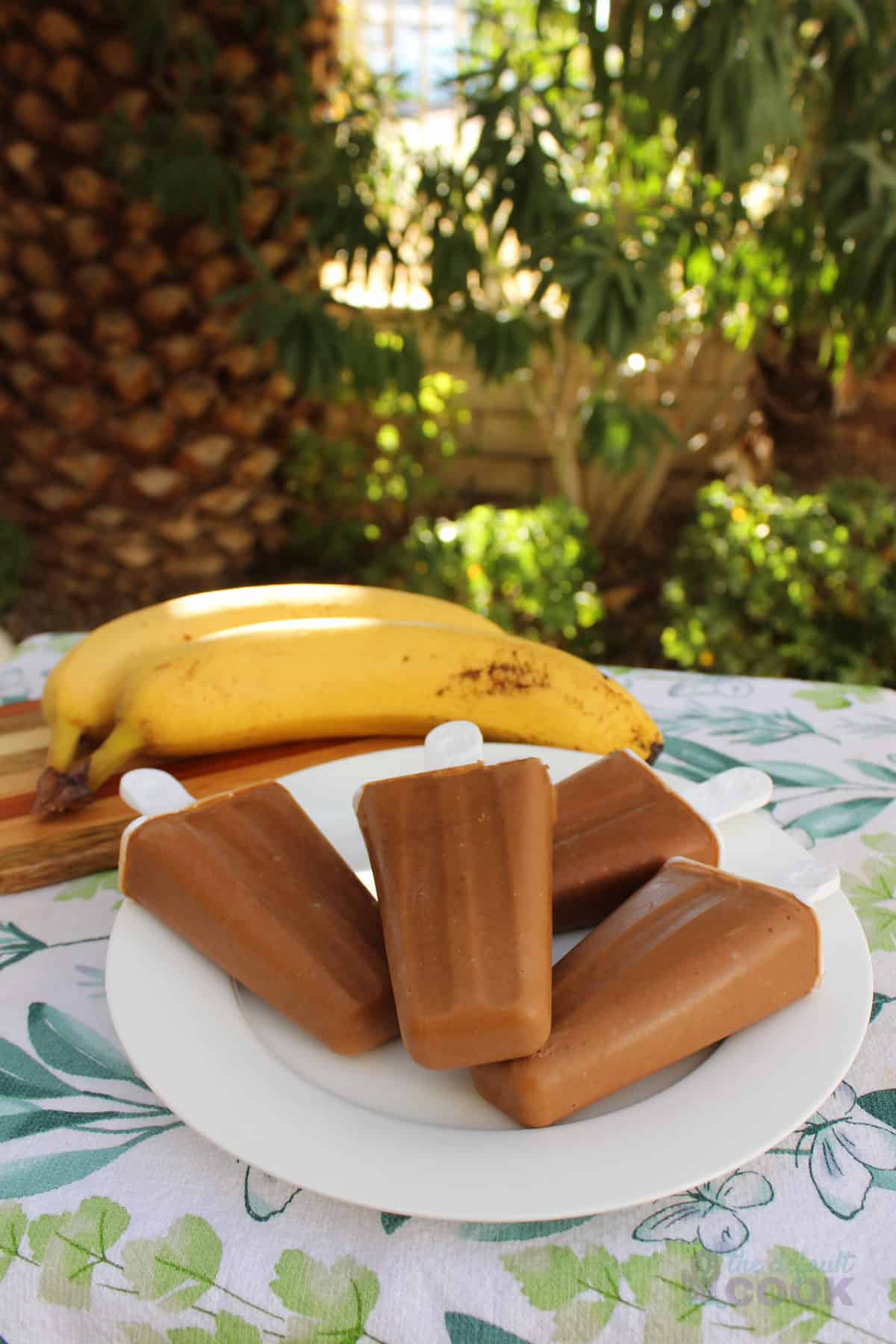 This post contains affiliate links, which means I receive a small commission, at no additional cost to you, if you make a purchase using this link.
Why you'll love this recipe:
Easy and quick: With just four ingredients and a blender, these pops are incredibly easy to make and can be ready to freeze in just a few minutes.
Kid-friendly: These pops are perfect for kids since they're sweet and fun to eat, and they don't contain any added processed sugars.
Healthy: Made with just bananas, peanut butter, cocoa powder, and a touch of maple syrup, these pops are a healthier alternative to store-bought popsicles.
Customizable: If you can't use peanut butter, you can easily swap it out for another nut or seed butter, like almond or sunflower seed butter.
Let's get started! Here's what you'll need:
Ingredients:
Ripe bananas - The main ingredient in this recipe, ripe bananas provide natural sweetness and creaminess to the popsicles. The riper they are the more the starches will have broken down to sugar, so if your bananas aren't ripe enough you might want to increase the maple syrup to your taste. I would avoid using green bananas.
Peanut butter - The creamy and nutty flavor of peanut butter complements the sweetness of the bananas and chocolate. It also adds a boost of protein to give this snack a bit more staying power. You can use different nut butters such as almond butter or cashew butter depending on your family needs. For a nut-free option, you can use sunflower seed butter. If you want to avoid any processed sugar at all be sure to use a natural peanut butter, you can see I'm just using store brand.
Unsweetened cocoa powder - Adds rich chocolate flavor to the pops without adding any processed sugars. Make sure to use unsweetened cocoa powder, not hot cocoa mix or sweetened cocoa powder.
Pure Maple syrup - Provides a touch of sweetness to the pops. You could also substitute honey (for kids over 1), or another liquid sweetener of your choice, such as agave nectar or brown rice syrup.
Equipment:
You'll need a blender or food processor, measuring cups and spoons, a spatula, and a popsicle mold. I like this one that has reusable popsicle sticks, but you can of course use traditional wooden ones. I've also had success using plastic kids spoons when I can't find all of the reusable sticks the mold came with.
If you don't have popsicle molds you could also freeze it in a regular pan or airtight container and scoop it like ice cream. In that case I'd probably line the pan with parchment paper or plastic wrap for easy clean up and to protect the top from freezer burn.
How to make chocolate banana popsicles:
step 1: measure ingredients and blend
Add all four bananas to the blender, along with your peanut butter, cocoa powder, and maple syrup. Blend until smooth- you may need to stop midway and use your spatula to push the mixture down the walls of the blender. Since there is no liquid in this popsicle recipe it's quite thick and I often need to do that.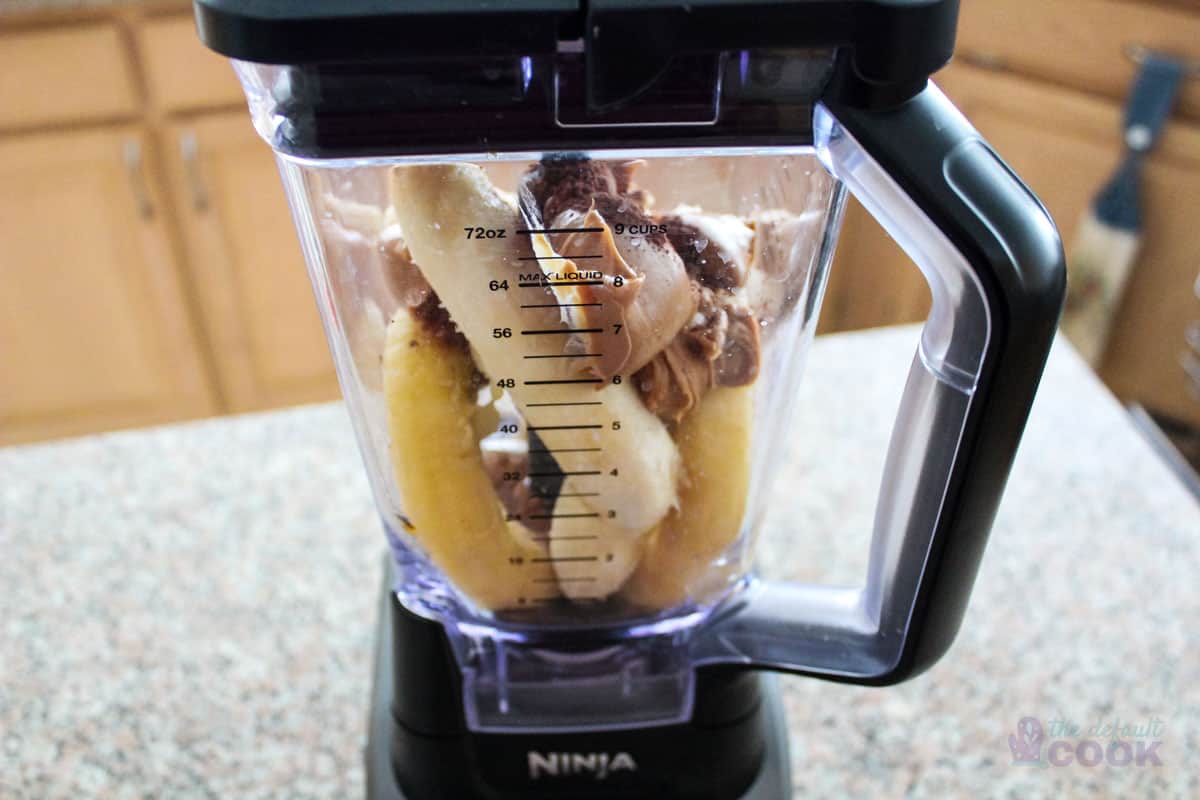 step 2: pour mixture into molds and freeze
The exact volume of this recipe will depend on the size of your bananas, but this recipe makes about 2 cups of popsicle mixture, which fills this 6 popsicle mold well. Carefully pour the mixture into the mold, and pick up an inch or two off the counter and set back down repeatedly. This helps settle the mixture into the crevices and reduce air bubbles. You can also wipe away any excess around the edges with a dish cloth or paper towel.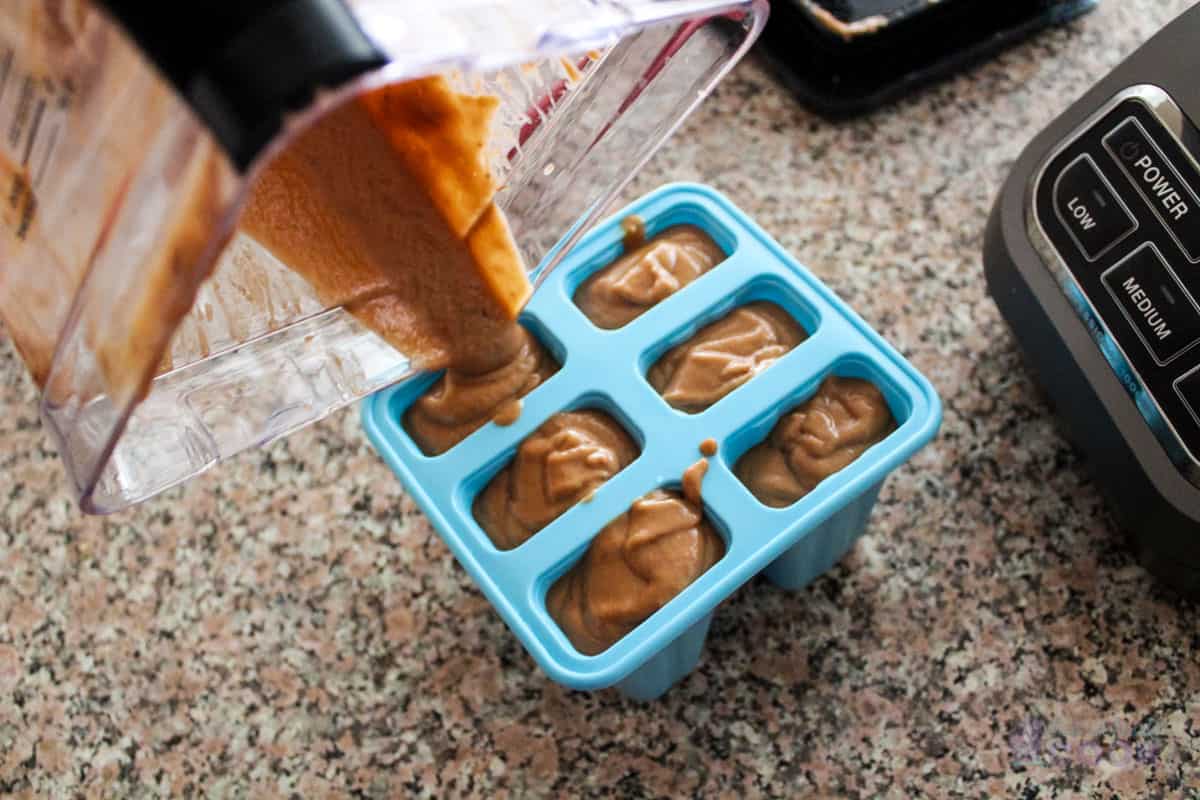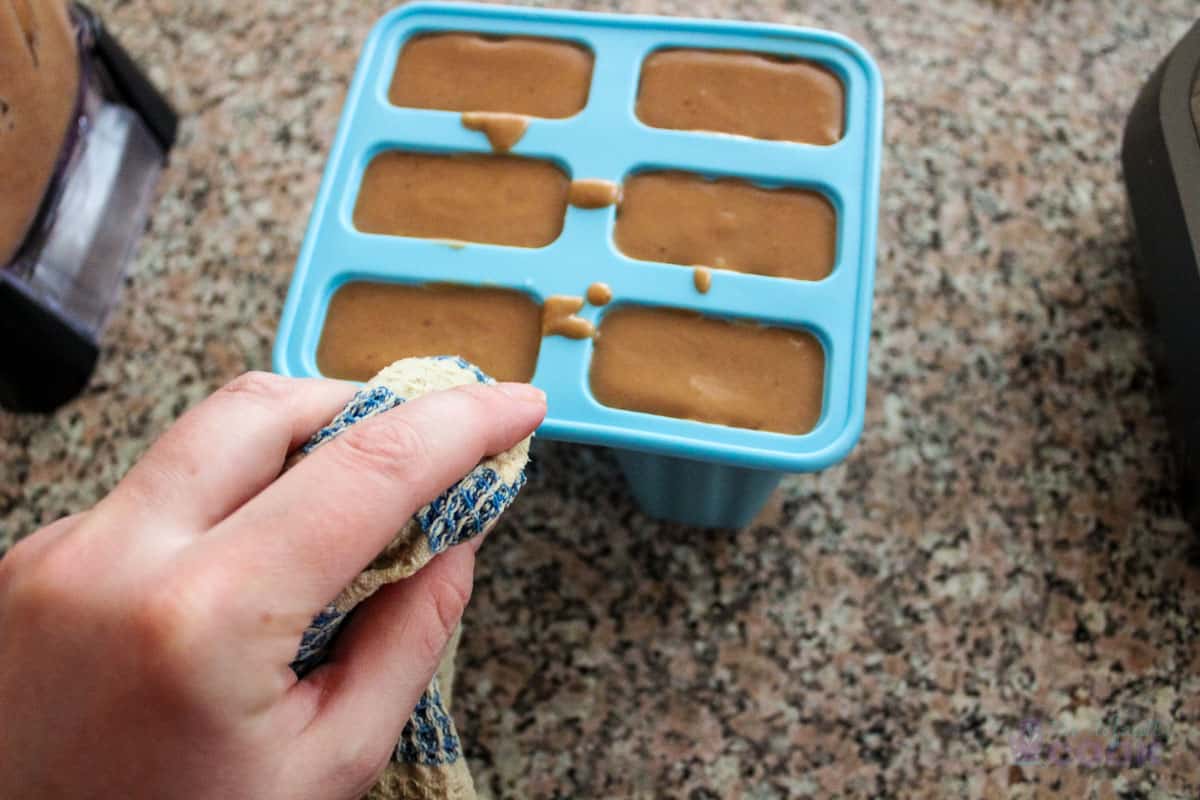 Then just add your popsicle sticks and freeze!
Tip: If you have any extra you can serve it at room temperature as a pudding- especially if you have a kid helping who doesn't want to wait for their banana treat to freeze.
With room temperature bananas (which are easier to blend, resulting in a slightly more creamy texture) the freeze time for these frozen banana popsicles is about 6-8 hours, or overnight. With frozen bananas the freeze time is cut down to 3-4 hours.
FAQ
I don't have any cocoa powder, what can I use instead?
If you don't have any cocoa powder you can replace it along with the maple syrup with melted chocolate. In a microwave-safe bowl melt some chocolate (you can use a bit of coconut oil or avocado oil to help it stir well) in 30 second intervals in the microwave until it's smooth, then add the chocolate mixture to the blender along with the bananas and peanut butter.
Do the bananas need to be frozen?
No! While you can use frozen bananas, I actually recommend using fresh bananas. They blend more easily that way so you don't have to scrap the blender down as much, and they end up with a slightly smoother texture in my experience. They do of course take longer to freeze, but the hands-on effort and time is less.
How ripe do my bananas need to be?
Ideally, overripe. As bananas ripen the complex sugars break down into simpler ones, which is why ripe or overripe bananas taste so sweet. So if you have bananas that you were thinking about making banana bread with, those are perfect to turn into banana chocolate popsicles.
Other recipes you'll love:
If you've got a load of overripe bananas to use (sometimes you can find them in a produce markdown bin), you might want to make banana bread muffins as well.
Or if you want another healthy treat that takes less bananas, try these four ingredient banana oat "cookies" or these oatmeal bars.
Looking for another fruit forward sweet treat? Try these caramelized peaches that come together in minutes, or this instant pot apple butter you can spread on just about anything!
Enjoy!
I hope you enjoy these Chocolate Banana Peanut Butter Pops as much as my family does. If you do, please be sure to come back and rate it. Happy blending!
📖 Recipe
Chocolate Banana Peanut Butter Popsicles
These 4 ingredient popsicles are primarily banana, and prep in 5 minutes! The perfect frozen treat for summer.
Ingredients
4

ea

overripe bananas

⅓

cup

peanut butter

1

tablespoon

cocoa powder

unsweetened

1

tablespoon

maple syrup
Instructions
Add all ingredients to blender and blend until smooth. You may need to pause and push ingredients back down to where the blades are, as the mixture is thick.

Pour mixture into popsicle molds and lightly tap on the counter to reduce air bubbles. Insert popsicle sticks and freeze for 6-8 hours, or overnight.
Podcast
Notes
If avoiding any processed sugars, be sure to check your peanut butter ingredients.
Nutrition
Calories:
97
kcal
Carbohydrates:
6
g
Protein:
3
g
Fat:
7
g
Saturated Fat:
2
g
Polyunsaturated Fat:
2
g
Monounsaturated Fat:
4
g
Sodium:
62
mg
Potassium:
103
mg
Fiber:
1
g
Sugar:
4
g
Vitamin A:
0.4
IU
Vitamin C:
0.1
mg
Calcium:
12
mg
Iron:
0.4
mg
Nutrition information is provided as a courtesy and is an estimate. It is recommended to use your preferred calculator with the actual ingredients you use for optimal accuracy.