These easy "cookies" are actually a healthy snack, but they look like a cookie and have great natural sweetness for a toddler friendly treat you don't have to limit.
No one wants a cookie the way a 2 year old wants a cookie. With these though, my toddler can have breakfast cookies, afternoon snack cookies, whenever cookies since they're healthy cookies. Because while the shape is certainly a cookie, these are essentially a flour-free, egg-free version of these soft baked breakfast bars, which I'm happy to let her have almost any time of the day.
Since there's no raw flour or eggs in the dough, it's also a great recipe to have them help with- this raw cookie dough is safe to eat as is, if a little sticky!
No time to read now? Pin this for later!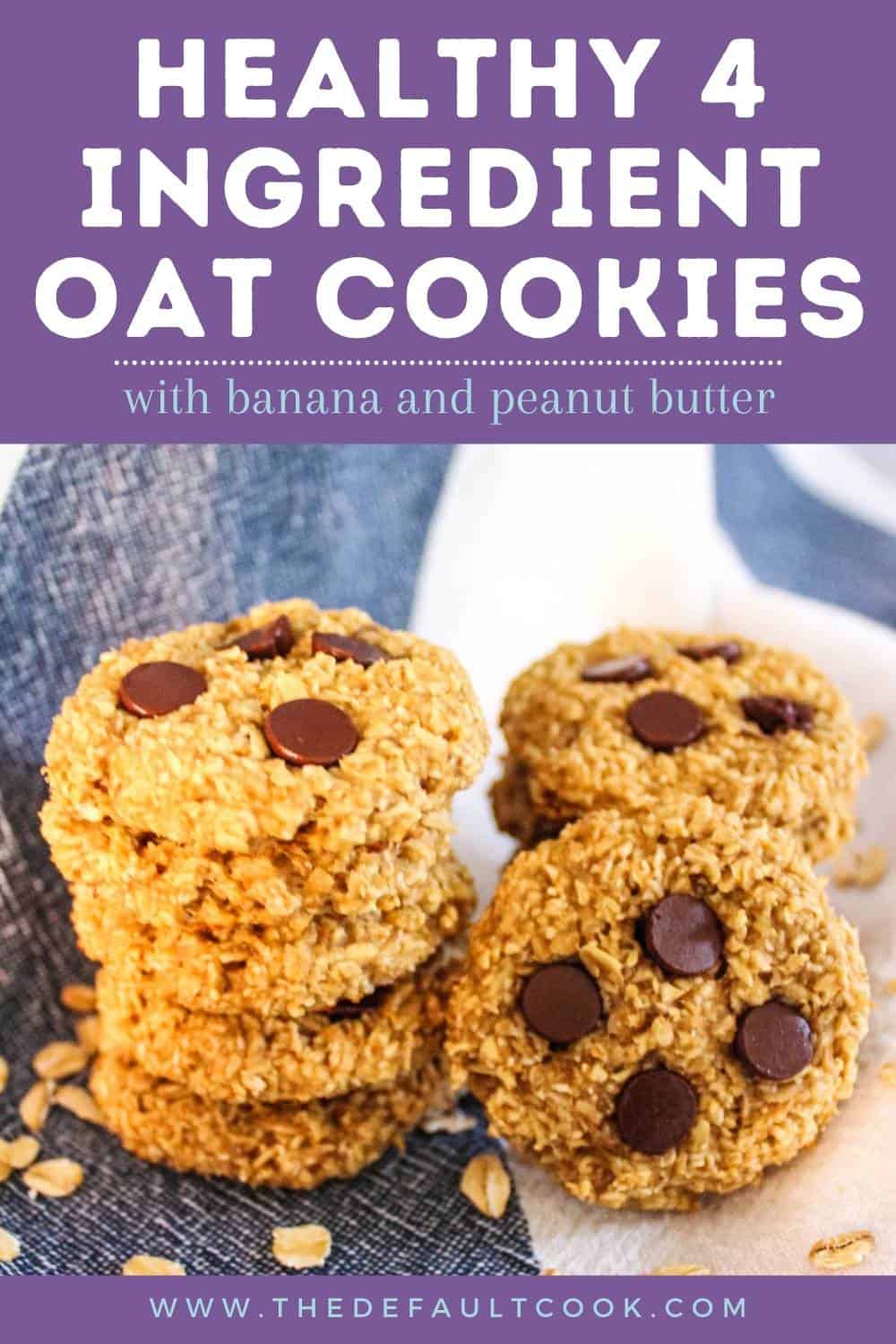 This post contains affiliate links, which means I receive a small commission, at no additional cost to you, if you make a purchase using this link.
Why you'll love this recipe
Simple ingredients- and only 4 of them (5 if you want to add chocolate)
A great way to use up that lone overripe banana on your counter
Portable for on-the-go snacking
Raw "dough" is taste safe for little helpers (no eggs or flour)
Let's get started! Here's what you'll need:
Ingredients:
Banana- specifically, a ripe banana, because ripe bananas have broken down way more of their starches into sugars, which is why they taste sweeter than firm bananas.
Rolled Oats- but you could use quick oats too. This recipe doesn't bake long enough to soften steel cut oats, so I don't recommend using those. This recipe is also naturally GF, but if you're sensitive be sure to use certified gluten-free oats.
Creamy Peanut Butter- I won't stop you from using crunchy, but creamy is easier to mix here. I typically use store brand which has some added sugar, if having no added sugar is important to you you'll want to use a natural peanut butter.
Maple Syrup- I always use real maple syrup when cooking with it. You could also use honey instead if you don't have any.
Chocolate chips (optional)- I know most recipes include these and consider the maple syrup optional, but I'm reversed. The syrup blends throughout the cookie to sweeten the whole thing a bit and I find it not sweet enough without it- even more so if the sweetness of chocolate is there to contrast the oatmeal. While they look more like a traditional cookie with some semi-sweet or dark chocolate chips, I personally have better success with my toddler eating them without it.
Equipment:
You'll also need a mixing bowl, cookie sheet, and optionally a blender and/or parchment paper. Plus an oven to bake them in, of course.
How to Make this Healthy Treat:
Step 1: Mix the wet ingredients
First, smash your banana. I just took a fork and went to town. Also go ahead and preheat your oven to 350.
Next, add in your peanut butter and maple syrup, and stir until it is well combined.
Step 2: Prepare your rolled oats
Then we have an optional, but impactful step. I take those oats and chop them up in my blender for about 10 seconds. Not so fine that they become an actual oat flour, but enough that it's less visually obvious that it's oatmeal, and I find the texture is a bit smoother. Alternatively you could substitute oat flour, however you'll want to use less since that's more dense.
Step 3: Combine oats and wet ingredients
Pour the oats into the mixing bowl, and stir to combine.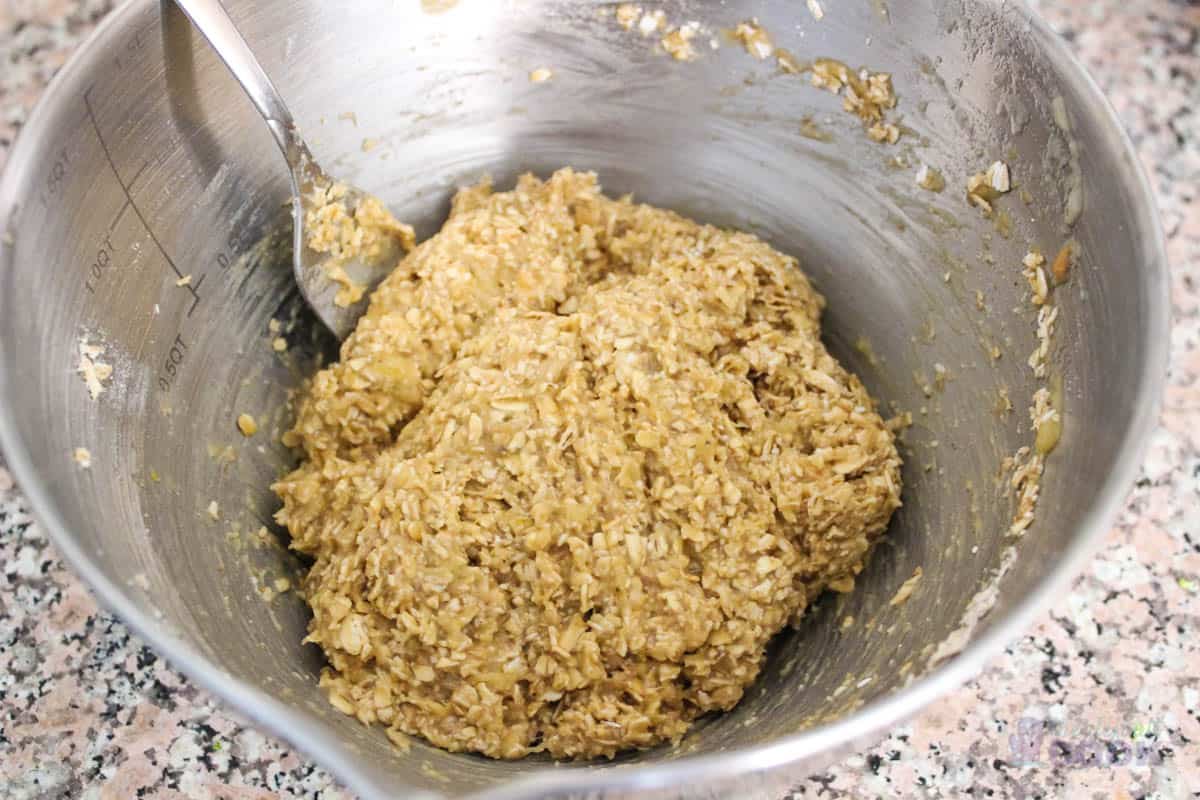 Step 4: Shape your "cookies"
Taking about 1 tablespoon of cookie batter, roll it between your hands and then press it flat between your palms. Since these aren't traditional cookies, they don't spread out when baking- so we have to create that cookie shape ourselves! While they can be baked as balls, they cook more evenly this way too.
If you want to add chocolate chips, go ahead and press about 4 in on the top of each cookie.
Step 5: Bake!
Place on your baking sheet and stick in the oven for 8-10 minutes, until just golden brown on the edges. Move to a cooling rack from the baking sheet to fully cool, and store in an airtight container. Your healthy dessert can be kept at room temperature for 2-3 days, or in the refrigerator for a week.
Tips
Measure your oats before blending- a cup of rolled oats will compact a bit after blending. If you make this often (like I do!) you can blend a few cups and store it in an airtight container to avoid dirtying your blender each time. Just take 2-3 tablespoons of oats back out of your cup- I find a cup reduces to about ⅞ of a cup after blending.
FAQS
What can I use instead of Peanut Butter?
Any nut or seed butter should work fine, though I wouldn't skip it entirely- the thick, creamy texture helps hold these together. Almond butter or cashew butter would be delicious, and if nut allergies are in play sunflower seed butter is a great nut-free option.
Can I sweeten it more? My kids still won't eat it!
Sure thing! Before you add the oats to the liquids, you can stir in a tablespoon of brown sugar. Stir well to see that it dissolves (it's easiest mixed in after the banana and maple syrup, but before the peanut butter) before stirring in your oats. Brown sugar and oats go together like peanut butter and jelly, and it's still pretty light in sugar compared with other treats.
Is there anything else you'd add for more-than-4 ingredient oatmeal cookies?
Vanilla extract is always a nice addition if you have it handy, but like the chocolate chips isn't necessary. If I had to add something else it would probably be a mix in, like blueberries, almond slices, or cacao nibs.
Other easy recipes you may like
Have an abundance of overripe bananas? Try these banana bread muffins- they use 5 mashed bananas for a fruit-loaded muffin.
Want soft-baked bars instead of cookies? I've got you- these also rely on maple syrup and the sweetness of the bananas for the sugar, so it's another perfect snack with peanut butter flavor.
Looking for more traditional cookie recipes? Try these copycat girl scout lemonades, or if you want something traditional in Greek families this koulourakia is the perfect accompaniment to tea or coffee.
I hope you enjoy these 4 ingredient cookies!
📖 Recipe
4 Ingredient Banana Oatmeal Cookies
These healthy "cookies" are the perfect anytime snack with natural sweetness- plus some optional chocolate.
Ingredients
1

cup

rolled oats

1

ea

banana

approx 4 oz, peeled

2

tablespoon

peanut butter

1

tablespoon

maple syrup

⅓

cup

chocolate chips

optional
Instructions
Preheat oven to 350 F. Fork mash banana in a mixing bowl, then stir peanut butter and maple syrup into it.

Blend oats for 10 seconds (optional), then add oats to wet ingredients, stir until fully combined.

Shape into 12 cookies and place on baking sheet. Top with chocolate chips if desired.

Bake 8-10 minutes, until edges are just golden brown. Enjoy!
Podcast
Notes
These cookies will not spread like traditional cookies, so when forming them be sure to flatten between your palms.
Nutrition
Calories:
46
kcal
Carbohydrates:
6
g
Protein:
1
g
Fat:
2
g
Saturated Fat:
0.4
g
Polyunsaturated Fat:
0.5
g
Monounsaturated Fat:
1
g
Sodium:
12
mg
Potassium:
44
mg
Fiber:
1
g
Sugar:
1
g
Vitamin A:
0.1
IU
Vitamin C:
0.01
mg
Calcium:
7
mg
Iron:
0.3
mg
Nutrition information is provided as a courtesy and is an estimate. It is recommended to use your preferred calculator with the actual ingredients you use for optimal accuracy.