These delightful lemon shortbread cookies with a lemon glaze are a recreation of the unavailable Lemonades girl scout cookie.
I love girl scout cookies. I love eating them, I love supporting the girl scout cookie program by buying some, and I especially love eating them. What I don't love is that sometimes your favorites go away.
This girl scout cookie season I ordered some of the lemon girl scout cookies (Lemon-ups) and when they came in, they weren't what I remembered. Sure enough, I checked their website and what I was recalling were Lemonades, not the new cookie Lemon-ups. And while Lemonades were still listed on their "meet the cookies" page as opposed to discontinued (like the old Savannah Smiles), they're not available in my region. That's because the Girl Scouts of the USA have two cookie makers- ABC Bakers makes Lemonades, while Little Brownie Bakers make Lemon-Ups.
So what's a former girl scout to do? Just go without their favorite lemon cookie?
I don't think so. The nutrition facts and ingredients of the real thing are still available, so armed with that information and the memory of my tastebuds, I embarked on a quest to recreate them. Now you can recreate them too!
No time to read now? Pin it for later!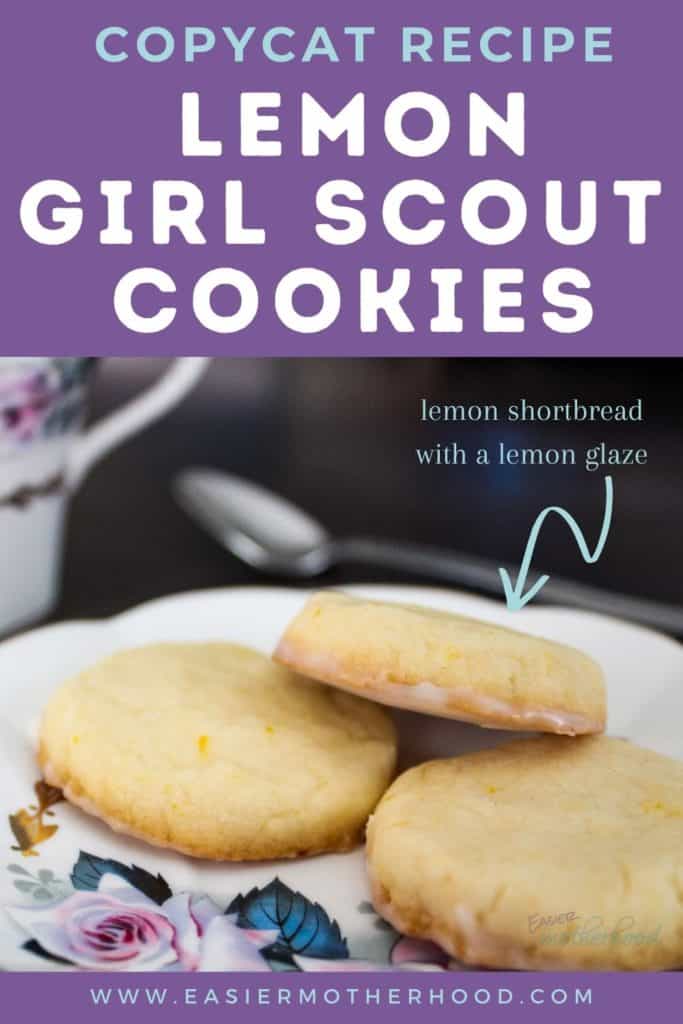 This post contains affiliate links, which means I receive a small commission, at no additional cost to you, if you make a purchase using this link.
Lemon Ups Vs Lemonades
So what's the difference between Lemonades and Lemon Ups? Lemon Ups were released in 2020 and replaced Lemonades as the lemon cookie for girl scouts in the markets served by Little Brownie Bakers, one of two girl scout bakers.
Many people think the cookies are very similar aside from the design. Lemonades have a lemon design imprinted on them, while Lemon-Ups are designed with inspiring messages. While they're both lemon cookies, the Lemonades are a shortbread, while the Lemon-Ups are described as crispy cookies.
Why You'll Love These Copycat Girl Scout Cookies:
You can have them in any market, any time of year

They're light and delicious with tea or coffee

Made with simple ingredients you probably have on hand
Let's get started! Here's what you'll need:
Cookie Ingredients:
8 tablespoons butter (1 stick)

½ cup powdered sugar

1 cup all purpose flour

¼ cup corn starch

⅛ teaspoon salt

1 teaspoon vanilla extract

Zest of 1 lemon

1 tablespoon fresh lemon juice
Glaze Ingredients:
1 cup powdered sugar

½ teaspoon lemon juice

⅛ teaspoon vanilla extract

1 tablespoon hot water (approximate)
I highly recommend using a stand mixer with the paddle attachment for this recipe. Since shortbread contains no eggs there is a lot less liquid than many cookie types, and it makes it quite a lot of work to mix by hand. You can also use a large bowl and a hand mixer.
You'll also need measuring cups and spoons, a cookie sheet, and I like using a silicone baking mat with cookie outlines.
How to Make Lemon Shortbread Girl Scout Cookies
Step 1: Preparation
First things first, it's really important to start with softened butter. Before doing anything else, take a stick out of the fridge if you haven't yet.
Also, go ahead and zest your lemon. While we add the juice first, it's approximately a hundred times easier to zest a whole lemon than one that's been cut. Safer too.
Step 2: Making the dough
In your mixing bowl, cream together the butter and sugar, then add the lemon juice and vanilla extract and mix until the liquids are incorporated. Then add your lemon zest.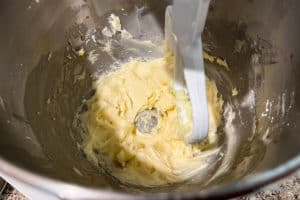 In another bowl, mix together the salt, corn starch, and all purpose flour. Slowly add the dry mixture to the wet ingredients with the mixer on low speed.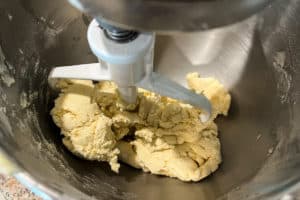 Once the dough is fully combined, work by hand on a floured surface until it is formed into a smooth ball that will crackle a bit when worked with.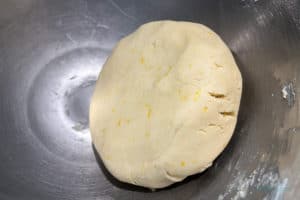 Refrigerate for 15-30 minutes to make it easier to work with.
Step 3: Forming the cookies
Take the dough and press it out as evenly as you can, and divide into four sections. Then divide each section in half to make 8 smaller sections. Finally, separate each ⅛th dough section into thirds. Now you have exactly 24 cookie dough balls that are close to the same size. Roll each in your hand and then press between your palms to flatten slightly, and place on your baking sheet.
You could also roll the entire dough into a long log shape, then cut circles off of it. But I like having exactly 24 cookies that fit in my 24 spaces on my baking mat so that I don't have to do a second batch in the oven.
Step 4: Baking
Bake at 350 for 10-12 minutes. When you start to see them be golden brown on the edges, they're done. Remove them from the oven and transfer to a cooling rack. While the cookies are baking or cooling, go ahead and make your glaze.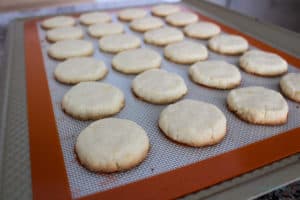 Step 5: Glazing
To make your glaze, combine the confectioners' sugar, lemon juice, and vanilla extract in a small bowl and stir with a small whisk or fork. Then add a tablespoon of hot water and mix well. You might need a smidge more water, but don't add too much at one time- the glaze goes from being pretty solid while mixing to a super liquidy glaze very quickly.
Dip each cookie in the lemon glaze and place back on the cooling rack upside down while the glaze sets. The less liquid you used the faster it'll set.
Step 6: Storage
Store these cookies in an airtight container on the counter for up to 5 days. In the fridge they'll last up to two weeks, and in the freezer up to 6 months. I like to put wax paper or parchment paper between the layers in case the glaze gets a little melty, and so I can get them in a container before it's completely set.
Questions about Lemonades Girl Scout Cookies
How do I soften butter quickly?
One of the best ways to quicken softening is to cut the butter up into pats and place in the mixing bowl. Smaller chunks of butter will come to room temperature faster than a whole stick will. You can also warm the bowl a bit with your hands. While it's tempting to use the microwave, melted butter just doesn't act the same in baked goods.
Can I freeze these cookies?
Yes! Once baked you can freeze them for up to six months. Or, you can freeze the cookies before baking and transfer them to a freezer bag. To bake you can thaw the dough first, or bake from frozen for about 2 minutes longer.
How does this recipe differ from the official Girl Scout Lemonades cookie?
Well, for one, it's available to anyone with the internet. The official cookie recipes are basically top secret.
In terms of ingredients, the official girl scout cookie recipe is vegan, where mine is not. The girl scout bakers use palm oil while I bake with butter. It also uses baking soda, but since shortbreads don't usually have a rising agent I skipped that. Both recipes use sugar, flour, and cornstarch.
I don't have cornstarch- any substitutions?
You can use an equal amount of all purpose flour in place of the cornstarch. The cornstarch gives the cookies a bit more volume so they'll be slightly thinner and denser using only flour, but still excellent. In fact some people prefer their shortbread that way, but since the original ingredients include cornstarch I wanted to stay as true to that as possible.
Looking for more baked goods?
Try my super banana-y banana bread muffins, or these healthy peanut butter banana oat bars.
Don't forget to come back and let me know how your cookies turned out! Or let me know your favorite girl scout cookie- Peanut Butter Patties, Classic Thin Mints, Lemonades, or something else?
Yield: 24
Lemon Girl Scout Cookies
These tangy lemon shortbread cookies with a sweet lemon glaze are perfect when you can't get the official Lemonades.
Additional Time
15 minutes
Ingredients
8 tablespoons butter (1 stick)
1 ½ cup powdered sugar
1 cup all purpose flour
¼ cup cornstarch
⅛ teaspoon salt
1 + ⅛ teaspoon vanilla extract
1 teaspoon lemon zest
1 tablespoon + ½ teaspoon fresh lemon juice
1 tablespoon hot water
Instructions
In a mixer, cream together softened butter and ½ cup powdered sugar. Add 1 tablespoon lemon juice, 1 teaspoon vanilla, and lemon zest, then mix to combine.
Blend flour, cornstarch, and salt together. Add dry ingredients slowly to mixer. Form dough into ball or puck and refrigerate 15 minutes.
Form dough into 24 cookies, bake at 350 for 10-12 minutes until golden brown on the edges. Cool.
While cookies bake or cool, create your glaze. Whisk remaining sugar, ½ teaspoon lemon juice, ⅛ teaspoon vanilla, and hot water. Dip cooled cookies in glaze and allow to set upside down before storing.
Notes
Start with as little water as possible for the glaze- the powdered sugar tends to collapse into the liquid rather suddenly, and the more water added the longer the glaze will take to set.
Nutrition Information:
Yield:
24
Serving Size:
1
Amount Per Serving:
Calories:

85
Total Fat:

4g
Saturated Fat:

2g
Trans Fat:

0g
Unsaturated Fat:

1g
Cholesterol:

10mg
Sodium:

42mg
Carbohydrates:

12g
Fiber:

0g
Sugar:

7g
Protein:

1g
Nutrition information is provided as a courtesy and is an estimate. It is recommended to use your preferred calculator with the actual ingredients you use for optimal accuracy.