These simple soft baked peanut butter and banana oat bars are a great breakfast or snack option for kids and parents alike. They make oatmeal portable so you can take it along to the park for an easy snack that has great staying power for hungry bellies!
My kids love peanut butter oatmeal. It's a healthy breakfast that I feel great about giving them. It's also messy. My daughter especially ends up with it all over her hands, face, clothes- heck, even in her hair. So I wanted to find something that I could give them instead and feel just as good about, but have it be less mess.
The more I looked at peanut butter oatmeal bar recipes, the more I saw a common criticism in reviews: dryness. So I decided to add a banana to give these bars a boost of moisture and softness, as well as some natural sweetness. One of the best things is they only use one banana, so these are great if you don't have enough ripe bananas for banana bread muffins, but still want something to do with an overripe one.
These bars are the perfect healthy snack recipe for kids (or adults) on the go. They've got healthy fats from the nuts, whole grains from the oats, and are made with simple ingredients you probably have in your kitchen right now. I love that leftovers make for a super quick breakfast, and hope your family loves these healthy oatmeal bars as much as mine does!
No time to read now? Pin it for later!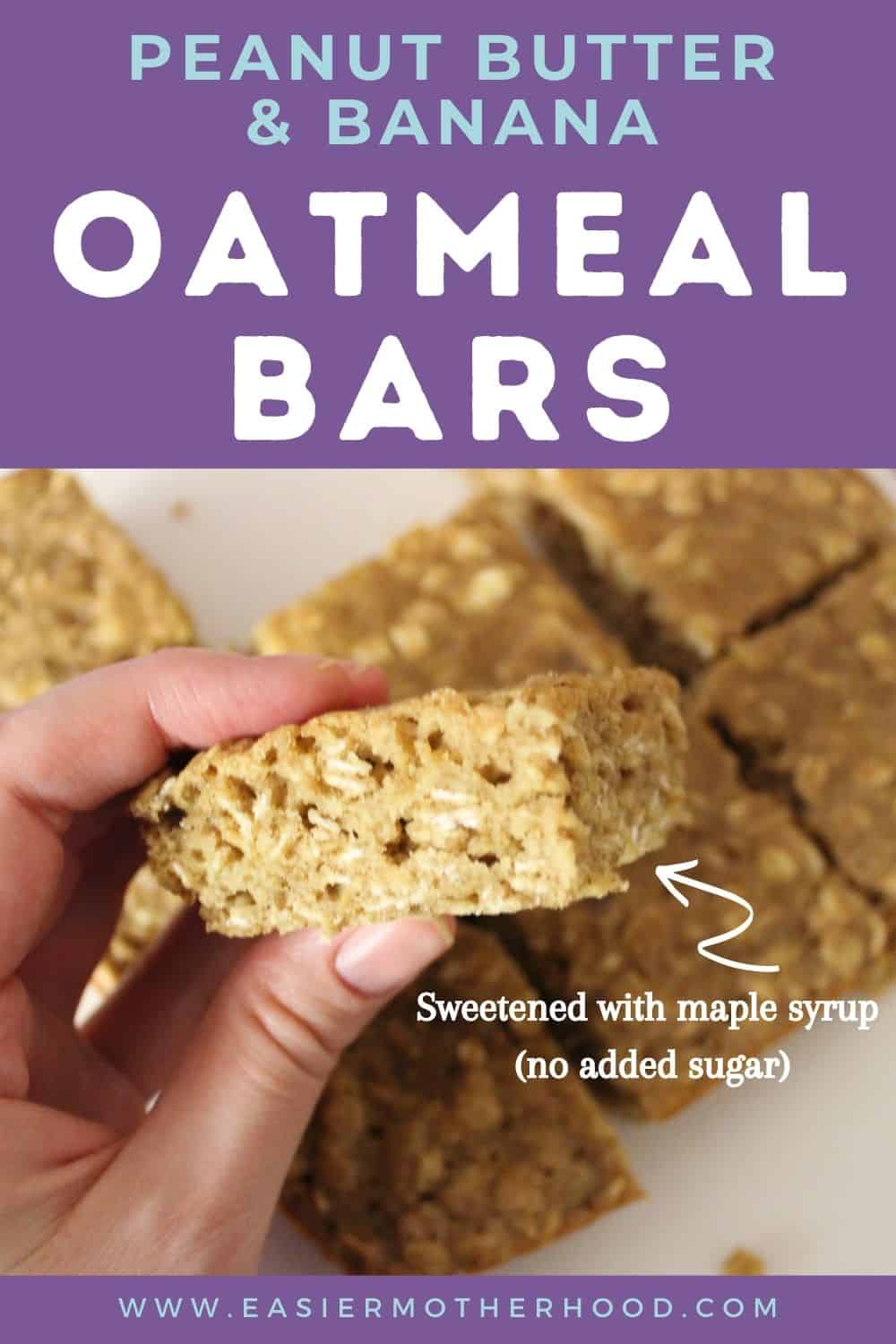 This post contains affiliate links, which means I receive a small commission, at no additional cost to you, if you make a purchase using this link.
Why you'll love these soft baked oatmeal bars
Portable- these are great snacks to take to the park or school; you may need to use sunbutter to be allergen-friendly.
No extra sugar- they use maple syrup and a banana to sweeten them instead of sugar- though there is some in the peanut butter I use.
Less mess- way less cleanup after breakfast than traditional oatmeal with toddlers.
Filling- the main ingredient is rolled oats, so these bars have great staying power.
Kid-friendly- this flavor combination is a huge hit with the littles.
Let's get started! Here's what you'll need:
Equipment Needed to Make Oatmeal Bars
8"x8" baking pan
2 bowls- one of which needs to be microwave safe
Spatula
Fork (or whisk)
Parchment paper (optional)
Ingredients For Your Peanut Butter and Banana Oat Bars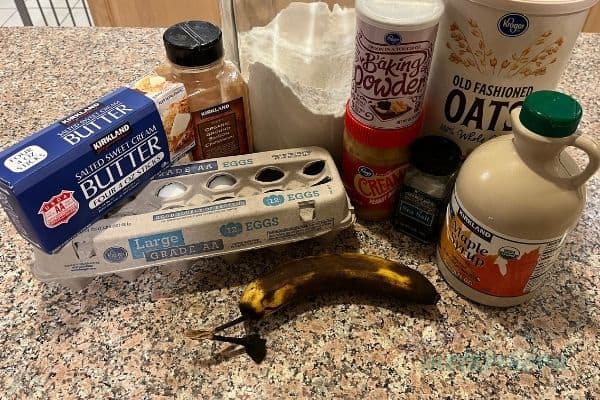 Dry Ingredients
Rolled oats- the star of the show, for best results use regular rolled or quick oats, not instant oats
Flour- all purpose is perfect here
Cinnamon- my favorite baking spice
Baking powder- for a little bit of rise
Salt- to highlight the other flavors
Wet Ingredients
Butter- salted, if you use unsalted you'll want to increase your salt slightly
Eggs- go ahead and pull these out before you start so they can get close to room temperature
Creamy peanut butter- but if you want to use crunchy peanut butter I can't stop you
Maple syrup- I get my real maple syrup at Costco, you can use your favorite
Vanilla extract- makes baked goods better
Overripe banana- for natural sweetness and moisture
I also recommend using cooking spray to grease the pan.
Instructions to Make Peanut Butter and Banana Oat Bars
Step 1: Preheat your oven to 325 F. Add the dry ingredients (rolled oats, flour, cinnamon, baking powder, and salt) to a bowl and stir them together.
Step 2: Put the butter in your microwave safe bowl and melt it. Add the eggs and vanilla, and whisk them with a fork (or whisk) into the butter. Then add the banana and mash that until it's well combined with the eggs and butter. Add your peanut butter and maple syrup, then stir until smooth.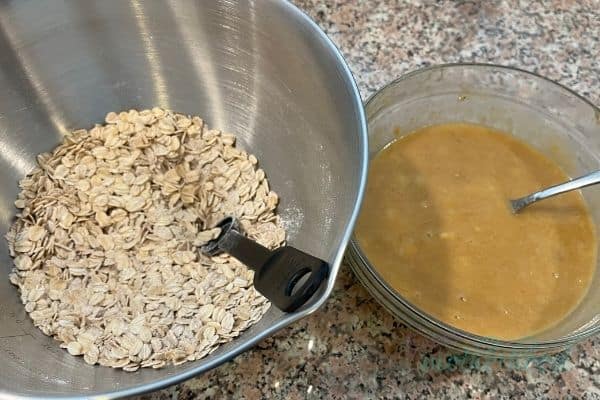 Step 3: Combine the wet and dry ingredients and mix until well combined.
Step 4: Prepare your 8x8 pan- you can use parchment paper to make it easier to remove, I find that a generous spray of cooking spray works fine on it's own. Pour the batter into the pan and spread evenly.
Step 5: Bake for 30 minutes. Once cooled, cut into squares.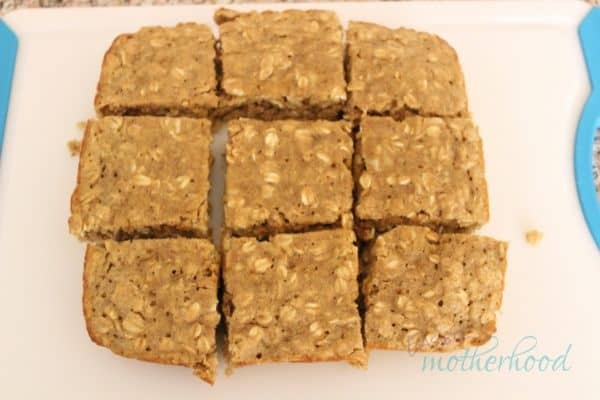 What to serve with your oatmeal breakfast bars
I love these because they really don't need a side. They have a complex carbrohydrate in the oats, eggs, and fruit. It's really a pretty complete breakfast! But since 1 banana into 9 bars isn't a lot of fruit, that's what I usually offer alongside these.
How to Reheat & Store Peanut Butter and Banana Oat Bars
Best Way To Store Oatmeal Breakfast Bars
The best way to store peanut butter and banana oat bars is in an airtight container in the fridge, where it is best consumed within 5 days.
Can I Freeze These Soft Baked Bars?
Yes! You can absolutely freeze these in a freezer safe container for up to 3 months. To avoid thawing and refreezing, portion it into sizes you'll use before freezing. I typicallly use a freezer safe ziplock or silicone bag so they fit in the nooks and crannies of my freezer- there usually aren't many left from the batch!
How to Reheat Peanut Butter and Banana Oat Bars
I generally serve them straight out of the fridge- especially if they're being taken for an on-the-go activity and will probably get lukewarm in my purse or diaper bag. They're also great reheated in a toaster or conventional oven for 3-5 minutes, or the microwave for 15-20 seconds.
Frequently Asked Questions
I don't have real maple syrup, what else can I use?
While nothing will give quite the same flavor profile as real maple syrup, if you prefer to avoid added sugar you can use honey instead. If I was out of maple syrup, then my preference would be to use brown sugar. In that case, only warm your butter enough to soften it and cream the butter and sugar together first before adding the eggs.
If not adding any actual sugar is important to you, then be sure to check your peanut butter as well. I use a store brand with 1 gram per tablespoon, but you should use what you like for your family.
I have a banana but it isn't over ripe yet- will that be OK?
Firm bananas are a pain to mash sufficiently for good mixing, and the sugars haven't developed in them, so it definitely won't taste as sweet (and these aren't overly sweet to begin with). The banana experts over at Chiquita recommend baking them in the peels on a baking sheet lined with parchment paper in a 300 degree oven for 15-20 minutes, rotating them halfway through. Alternatively, you can peel the banana (so it doesn't explode) and microwave it 30 seconds at a time. The sugars don't develop as well in the microwave, but it's better than using an underripe banana.
How do I get the bars out of the pan?
If you used parchment paper you can just lift them out by the paper. If you only used cooking spray, allow the pan to cool a bit and then flip it over onto a cooling rack, then flip it from the cooling rack to the cutting board. Here's a visual: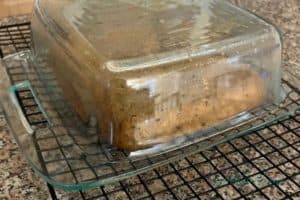 What allergen substitutions do you recommend?
Peanut butter is a pretty common allergen, if you need or prefer to avoid it another nut or seed butter like almond butter, cashew butter, or sun butter will work fine instead.
To make this recipe dairy free, use coconut oil instead of butter, or this butter alternative.
If you want to make the peanut butter and banana oat bars gluten free, substitute a gluten free flour, this is the one I prefer when my GF relatives are staying with us. Also check the packaging of your oats- because while oats themselves are naturally gluten free, many are processed in facilities where cross contamination with wheat products isn't a concern.
Other Kid Friendly Recipes You'll Love
Don't Forget To Come Back and Let Me Know How Your Peanut Butter and Banana Oat Bars Turned Out!
📖 Recipe
Peanut Butter and Banana Oat Bars, Soft-Baked
These easy soft baked oatmeal bars are a great on-the-go breakfast or snack.
Ingredients
Ingredients
1

cup

rolled oats

⅓

cup

flour

1

teaspoon

cinnamon

½

teaspoon

baking powder

⅛

teaspoon

salt

2

tablespoon

butter

2

eggs

3

tablespoon

peanut butter

2

tablespoon

maple syrup

½

teaspoon

vanilla

1

medium overripe banana
Instructions
Preheat your oven to 325 F. Add the oats, flour, cinnamon, baking powder, and salt to one bowl and stir them together.

Melt your butter in another bowl, and beat in the eggs, vanilla, peanut butter, maple syrup, and mashed banana.

Stir your wet ingredients into the dry until just combined. Add batter to a greased 8x8 baking pan.

Bake for 30 minutes. Cut into squares once cooled.
Notes
For chewier, stickier bars, reduce flour to ¼ cup.
Nutrition
Calories:
124
kcal
Carbohydrates:
17
g
Protein:
4
g
Fat:
4
g
Saturated Fat:
1
g
Polyunsaturated Fat:
1
g
Monounsaturated Fat:
2
g
Trans Fat:
0.003
g
Cholesterol:
37
mg
Sodium:
97
mg
Potassium:
144
mg
Fiber:
2
g
Sugar:
5
g
Vitamin A:
67
IU
Vitamin C:
1
mg
Calcium:
38
mg
Iron:
1
mg
Nutrition information is provided as a courtesy and is an estimate. It is recommended to use your preferred calculator with the actual ingredients you use for optimal accuracy.