You're going to love this quick and easy banana bread.
This quick and easy banana bread probably should have been my first recipe here on Easier Motherhood, because I make it almost every week. Given the choice, my 3 year old will pick this for breakfast every day. The rest of us love this banana bread too, but like a bit more variety.
So, what makes it quick?
Most banana bread recipes require a full hour of bake time. I don't know about you, but my hangry children can't wait that long to eat. Frankly, neither can I.
That's why I make it in either muffins, or mini-loaves. This recipe makes 12 muffins, or 4 mini loaves. Doing that cuts the bake time in less than half! 25 minutes in the oven is much, much more doable.
So, let's get started! First, let's cover what you'll need. I'll be upfront with you: this banana bread recipe uses more bananas than most out there.
This post contains affiliate links, which means I receive a small commission, at no additional cost to you, if you make a purchase using this link.
Ingredients for quick and easy banana bread
5 bananas, about 2.5 cups mashed
2 eggs
¾ cup brown sugar
½ cup butter (1 stick, or 4 oz)
1 teaspoon vanilla (can reduce to ½ teaspoon if using baker's extract)
2 cups flour
1 teaspoon baking soda
½ teaspoon salt
1 tablespoon cinnamon
½ teaspoon nutmeg (optional)
1 teaspoon baking extract, chocolate extract, or cocoa powder (optional)
Cooking spray (optional)
You'll also need either mini-loaf pans or a muffin pan, two good size bowls (one for dry ingredients and one for wet), a spatula, and your measuring utensils. A mixer is not *technically* required but is *highly* recommended, creaming butter and sugar together is quite an arm workout without one. I use my stand mixer, but a hand mixer is still a hundred times easier than mixing by hand.
Baking or chocolate extract aren't in every grocery store, but don't worry if you don't have it as it's completely optional. Baker's extract is a blend of chocolate and vanilla extracts, and I bought it at Costco on a whim for baking because it was a fraction of the cost of full vanilla extract. Of course I loved it for baking, and then Costco stopped carrying it- luckily I'm able to find it on amazon.
Instructions to make quick and easy banana bread
Cream the butter and sugar together
First, sit that stick of butter in your wet ingredient bowl. I generally cut mine into 4-8 pieces and toss it in the bowl half asleep, then find myself a source of caffeine before getting everything else out. It doesn't need to be full on softened, but if it is straight out of the refrigerator cold when you try to mix it the sugar will come right back at you out of the bowl. Yes, I know this from experience. Yes, more than one experience.
While the butter is softening, I like to get my dry ingredients mixed and ready, preheat the oven to 325 F, and spray the muffin pan (or mini loaf pans) with cooking spray.
Don't add the creamed butter and sugar to your chosen caffeine source. Or sneak a taste of it straight. If you do, you may no longer be making banana bread and your family may riot.
Add the two eggs and vanilla (and baker's or chocolate extract, if using)
Mix, and remind yourself that raw eggs are not to be consumed. Therefore, you can't allow yourself to sneak a taste of that glorious creamed butter-sugar mix anymore.
Add the bananas
If you want to use a third bowl and fork mash them first, you are more than welcome to do so. I like to mash mine before freezing any, so any frozen ones I'll have done that way. Fresh bananas I just toss in the mixer one by one. This results in some banana pieces in the bread, but they're not large chunks.
Now your wet ingredients are ready. It will probably look like one of these two pictures. I don't know why the bananas sometimes seem to blend in perfectly and other times seem to separate a bit. In my experience they look the same after mixing with the dry ingredients and baking. Most importantly, they always taste delicious!
Combine the dry ingredients
As I mentioned, I like to do this while making my tea and letting the butter soften for a few minutes before mixing. Add the flour, baking soda, salt, and cinnamon to the bowl and stir. If you're using the optional nutmeg and/or cocoa powder, mix those in as well. This photo does not show cocoa powder since I was using baker's extract in the wet ingredients.
I use a rather large bowl so I can combine the wet and dry ingredients in this bowl. My stand mixer bowl would probably work fine too, but this one is wider at the bottom which I prefer.
Yes, a tablespoon of cinnamon is a lot. It's not overpowering with this strong of a banana flavor though, plus cinnamon is good for you.
Add the wet ingredients to the dry and gently combine
A lot of sweet breads get a bad rap for being overly dense. The reason for this is generally overmixing. I use my stand mixer to beat the living daylights out of the butter and bananas BEFORE adding them to the dry ingredients, but mix as little as possible and by hand when combining them. Give a few full, slow stirs to initially mix it, and then carefully combine from there.
The way I've explained it to my son is that we're going on a treasure hunt for flour, and when we find some we mix it in, and then look for more flour. Once we make three passes in a row of scraping the bottom and don't find any flour, it's time to put the batter in the pan.
Spoon the batter into the pan(s), and put it/them into your 325 F oven.
Set your timer for 25 minutes, and do your best to enjoy a hot beverage. You deserve it, you just made breakfast!
When the timer goes off, stick a toothpick in the tallest muffin/loaf and make sure it comes out clean. If not, give it another 2-3 minutes. Even with particularly large bananas, I've never had it take over 30 minutes of bake time.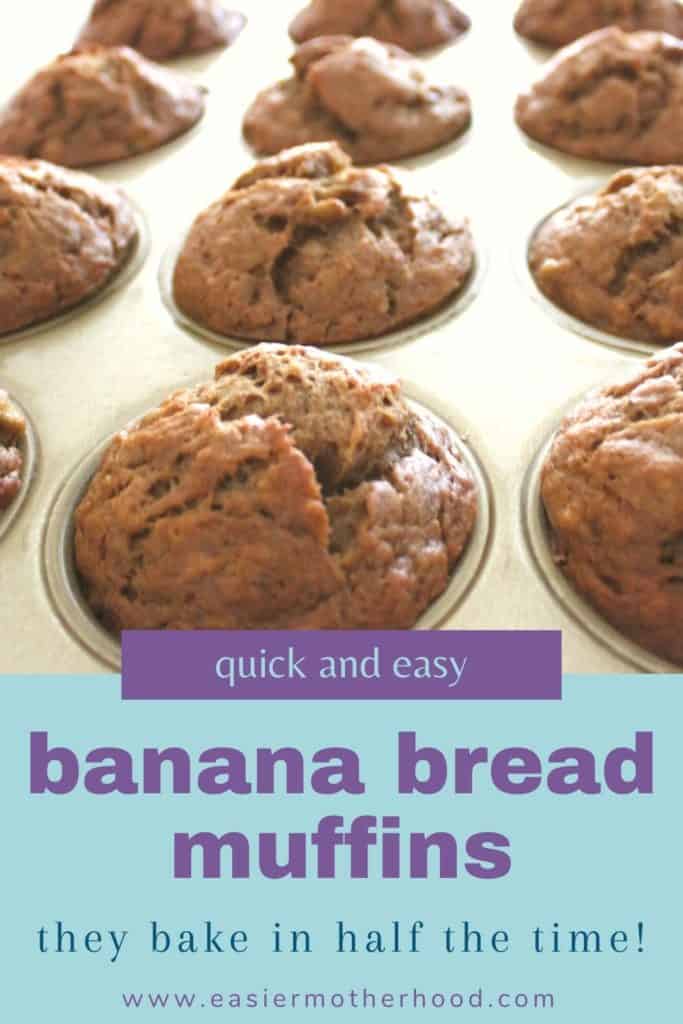 Frequently asked questions about quick and easy banana bread
How ripe do my bananas need to be?
The riper, the better, but as long as they're not super-firm and have some brown spots on the peel you should be fine to use them. You can also speed up the process a bit.
If they get plenty ripe before you're ready to use them, you can put them in the fridge or freezer until you're ready to bake with them. You can chill them in their peel, or mash them with a little lemon juice- that's my personal preference since a container takes up a bit less fridge/freezer space.
How can I ripen my bananas faster?
According to Chiquita (who know a bit about bananas!), you have a two options to quickly take bananas from yellow to overripe. The first is baking them in a 300 degree oven for 15-20 minutes, rotating them halfway through. Leave the peels on, and line your baking sheet with foil or parchment paper. This is their preferred method.
If that's too long (and with hungry kids it may be!) you can also microwave them 30 seconds at a time. With this method you'll need to peel them first so they don't explode. It also doesn't allow the sugars to develop as well as the oven method, so your bread won't taste quite as sweet. I've done this for 1 or 2 of the bananas when I don't have enough overripe ones. That wasn't enough to make a taste difference in my opinion.
5 bananas is a LOT. Can I use less in this easy banana bread?
You can. I've used as few as 3 bananas before. However, one of the things I like best about using more bananas is that it makes mixing the dry and wet ingredients easier without overmixing it. Reducing the bananas reduces the volume of wet ingredients, so I seem to find pockets of dry ingredients longer when combining them. Plus aside from the eggs the bananas are the healthiest thing about this quick and easy banana bread recipe, so I like to make it chock full of bananas.
How do you store quick and easy banana bread? For how long?
I store them in the fridge for up to a week. If I'm making a bigger batch, then they can keep in the freezer up to 3 months. Longer in the freezer won't hurt you or your family, but they may not taste as good if you find them in the back of your freezer a year later. Not that I know that from experience.
Can I add nuts or chocolate chips?
Absolutely! One of the fun things about muffins and mini-loaf pans is that you can even do some plain and some with mix ins. Just add your preference towards the end of your mixing the wet and dry ingredients together, or to the finished batter after scooping some of it out for plain banana bread.
Happy baking, and let me know in the comments what you make the most often for breakfast!
Looking to use some time in the morning to set dinner up for success too? Try my Slow Cooker Beef Stew or Crock Pot Ribs.
Yield: 12
Banana Bread Muffins
These banana bread muffins bake in half the time of a traditinal loaf, so you can get these on the table before everyone is hangry, plus leftovers make a great grab-and-go breakfast or snack!
Ingredients
5 ripe bananas, about 2.5 cups mashed
2 eggs
¾ cup brown sugar
½ cup butter (1 stick, or 4 oz)
1 teaspoon vanilla (can reduce to ½ teaspoon if using baker's extract)
2 cups flour
1 teaspoon baking soda
½ teaspoon salt
1 tablespoon cinnamon
½ teaspoon nutmeg (optional)
1 teaspoon baking extract, chocolate extract, or cocoa powder (optional)
Cooking spray (optional)
Instructions
Preheat your oven to 325 F and prepare wet ingredients. Cream together butter and sugar. Add eggs, extract(s), and mix again. Add 5 bananas and mix well.
Prepare dry ingredients: combine flour, salt, baking soda, cinnamon, nutmeg (if using), and cocoa powder (if using).
Gently stir wet and dry ingredients, mixing just to combine. Spray muffin or mini loaf pans with cooking spray (or insert cupcake liners) and divide batter into the pan or pans.
Bake at 325 F for 25-30 minutes (up to 35 for mini loaf pans) until a toothpick inserted comes out clean.
Notes
If adding mix-ins like chocolate chips or walnuts, add them when wet and dry ingredients are partially but not yet completely mixed.
Nutrition Information:
Yield:
12
Serving Size:
1
Amount Per Serving:
Calories:

242
Total Fat:

9g
Saturated Fat:

5g
Trans Fat:

0g
Unsaturated Fat:

3g
Cholesterol:

51mg
Sodium:

279mg
Carbohydrates:

37g
Fiber:

2g
Sugar:

16g
Protein:

4g
Nutrition information is provided as a courtesy and is an estimate. It is recommended to use your preferred calculator with the actual ingredients you use for optimal accuracy.