Trader Joe's freezer section croissants rise and bake fresh, so you get to skip the hard prep work, and still enjoy a flaky and buttery croissant with a rich and gooey chocolate center.
If you've never tried Trader Joe's chocolate or almond croissants, you're missing out on one of life's little pleasures. These frozen croissants start out small, but leaving them on a baking sheet overnight at room temperature allows them to rise. The next morning just coat them with an optional egg wash and pop them in the oven for a decadent treat perfect for holidays or lazy sunday mornings.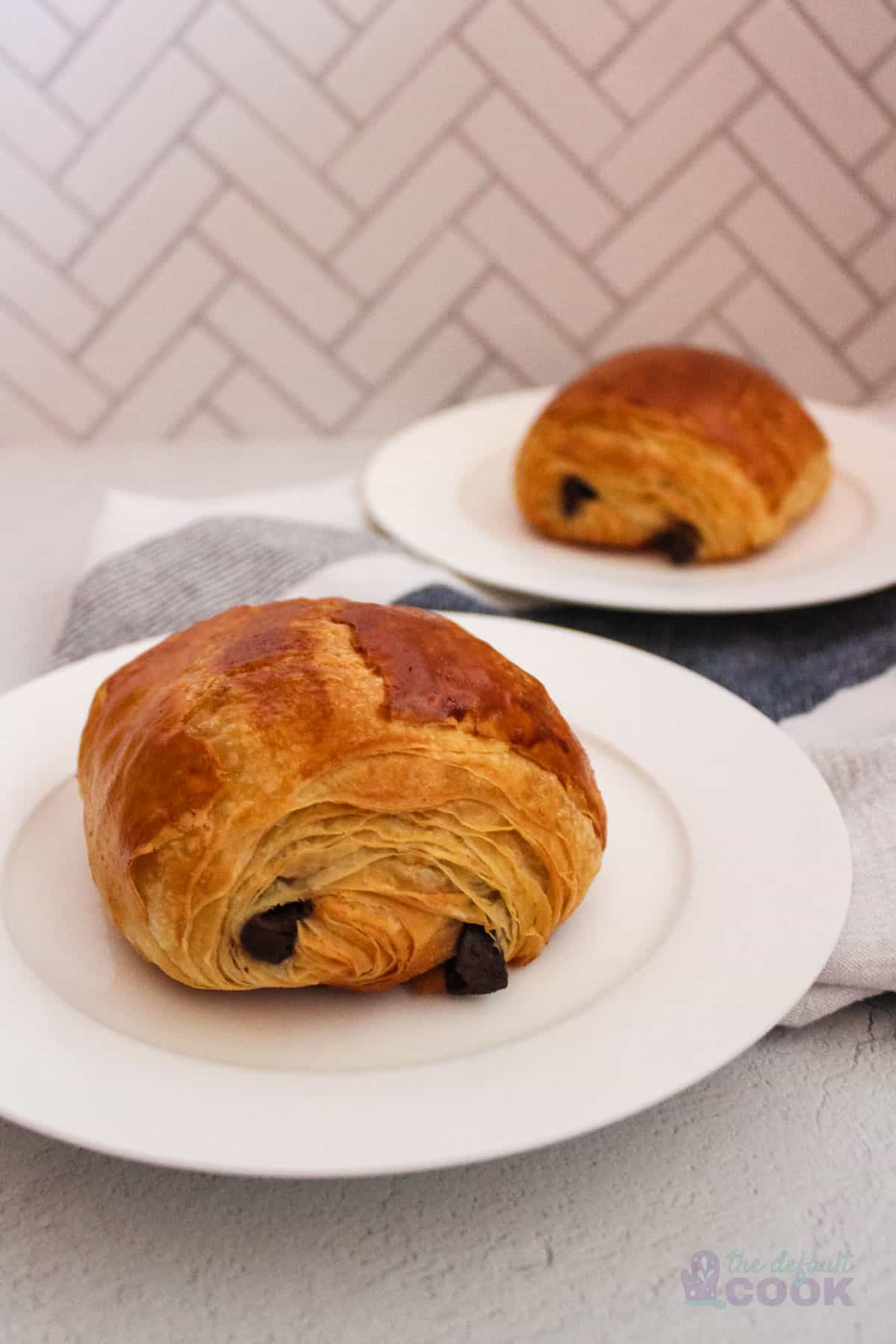 This post contains affiliate links, which means I receive a small commission, at no additional cost to you, if you make a purchase using this link.
Why you'll love these Trader Joe's chocolate croissants:
Easy- All you need to do is let them rise and bake- it's essentially no-prep aside from the very optional egg wash.
Delicious- each croissant contains two good size rods of semisweet chocolate, and is a delightfully flaky pastry.
Fresh- Most store bought croissants, au chocolat or otherwise, are already cooked. That's fine in a pinch, but freshly baked are just better.
Let's get started! Here's what you'll need: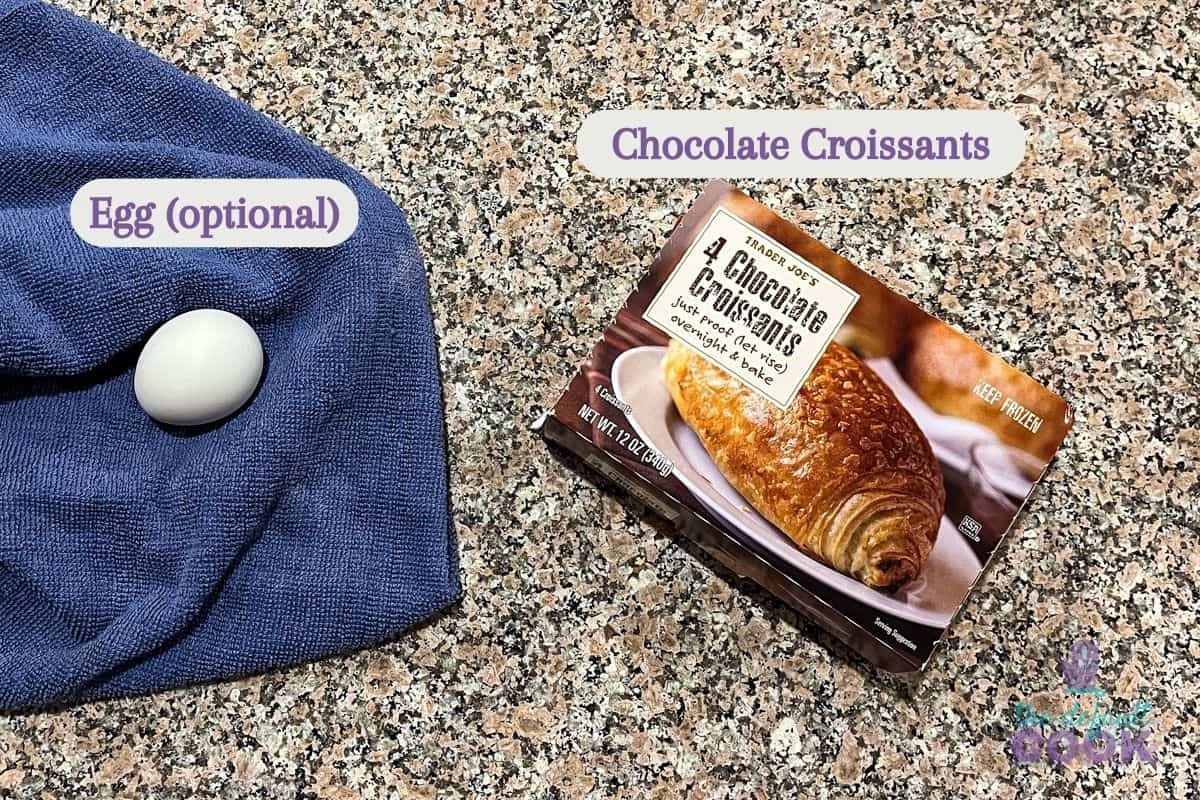 Ingredients:
Trader Joe's Chocolate Croissants- They also sell frozen almond croissants, which have the same directions. The mini croissants are very different- those don't require proofing and cook faster since they're smaller.
Egg (optional)- for an egg wash. You'll also want a bit of water for your egg wash as well. This is optional so if you don't have any eggs feel free to skip this entirely rather than substituting. Alternatively you can sprinkle them after baking with powdered sugar which looks lovely, and is actually recommended for the almond croissants.
Equipment:
Baking Tray- Despite the small size of the croissants when frozen, you'll want to use a standard kitchen baking sheet (a half-sheet)
Parchment Paper- optional, but it makes cleanup a breeze, and I find keeps the bottoms from getting overly crisp.
Pastry Brush- optional like the egg, but exceptionally handy if you're doing the egg wash. You'll also need a small bowl and fork to whisk the egg for the egg wash.
How to Make Trader Joe's Frozen Chocolate Croissants
Step 1: Proof (let rise) Overnight
The only downside to these croissants is that they are not a game time decision- you want to lay them out the night before. Line a baking sheet with parchment paper and grab your box of buttery croissants. Place each croissant seam side down on the parchment paper with at least 4 inches between each one, as they'll each become about the size of the box all of them fit in!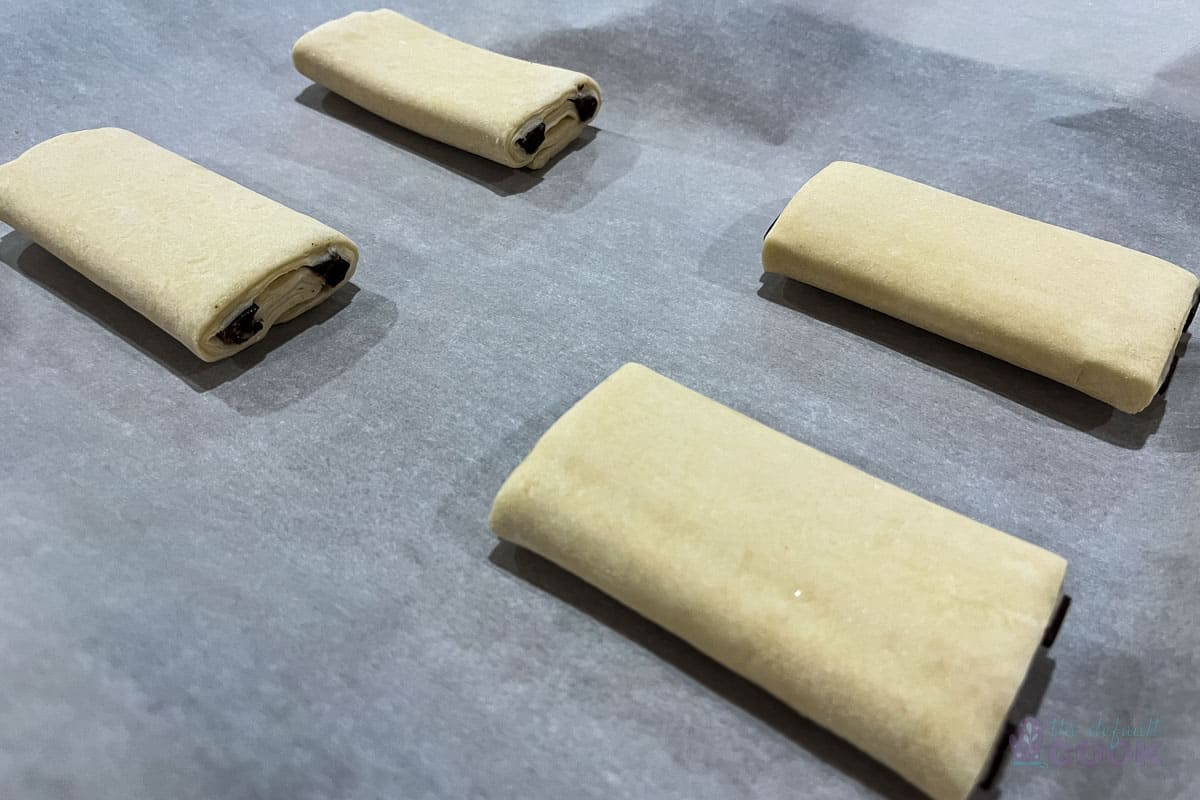 Step 2: Egg Wash (optional) & Preheat Oven
In the morning set your oven to 350 degrees F. While that heats up, go ahead and whisk your egg with a tablespoon or two of water, and glaze your now fluffy croissants with a light coating.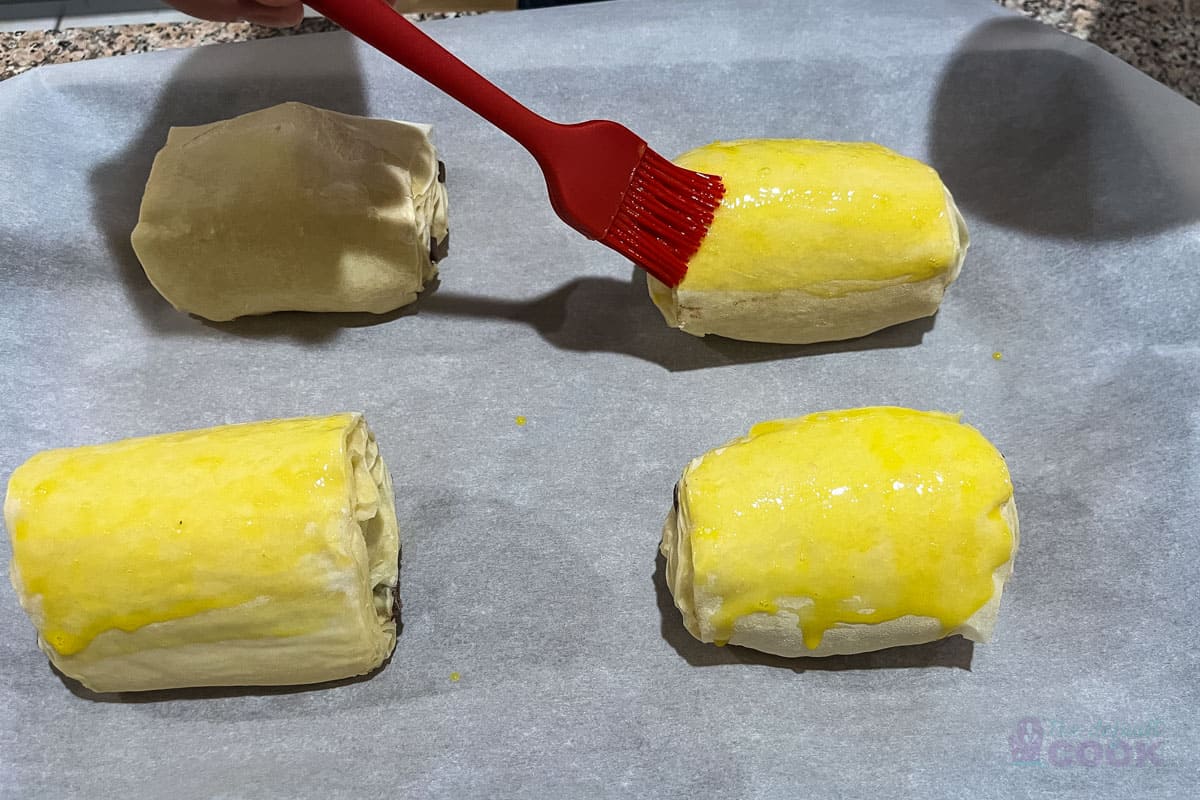 Step 3: Bake Trader Joe's Croissants
Pop those beauties in the preheated oven and bake them 20-25 minutes, until the tops are a golden brown color. Once they have pull them out and let them rest about 10 minutes before digging into them- you don't want to burn your fingers or mouth!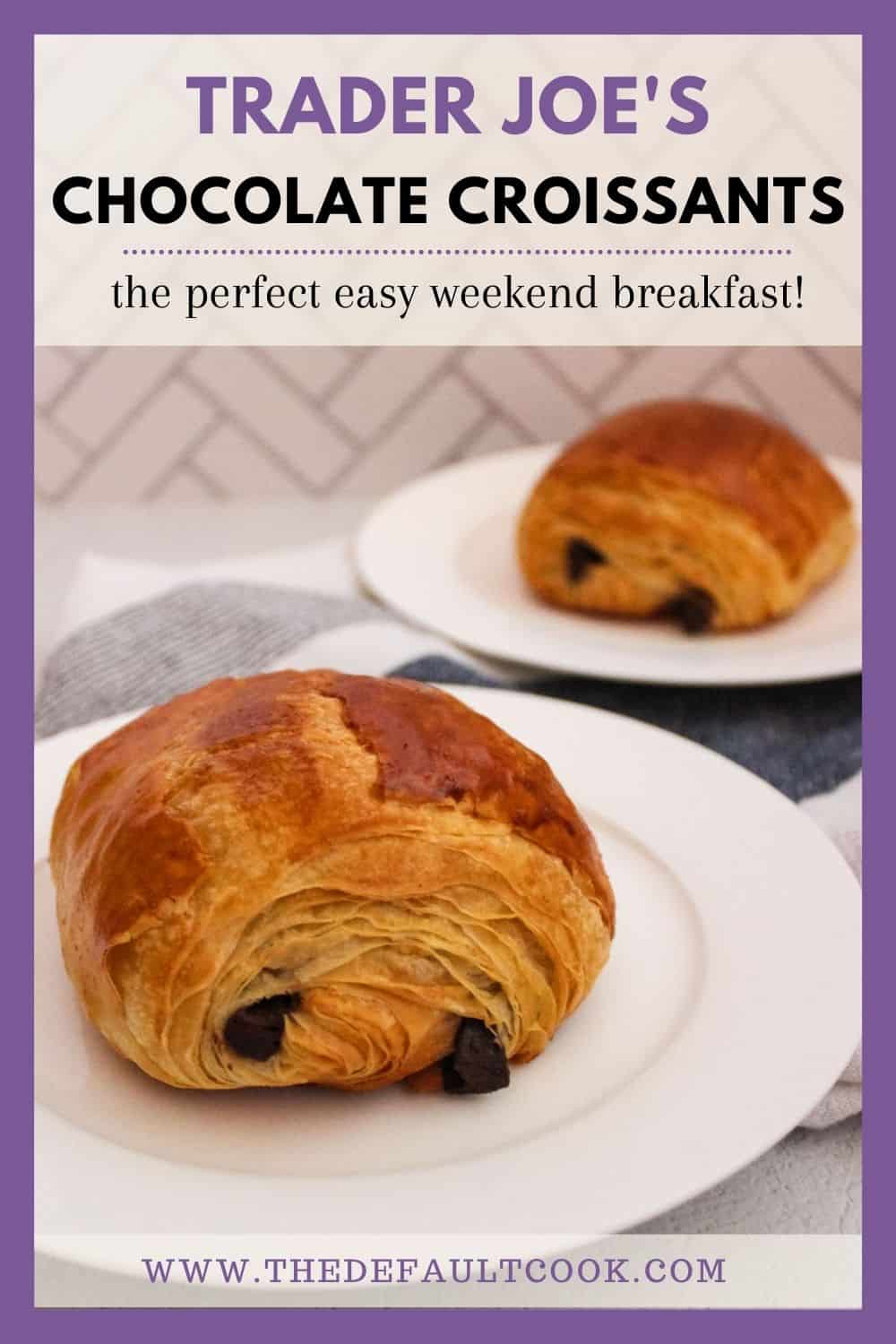 FAQ
Can I make these in the air fryer?
Absolutely! The only downside is that if you have an air fryer basket you probably will only be able to fit one or two at a time when baking. They'll cook faster though- start checking them at the 14 minute mark, still using the 350 setting.
Is there a way to make them rise faster?
Yes, but we're not talking lightspeed. With most breads you can proof in the oven at a low temperature, but with croissants it's butter that makes them so light and flaky, so they need to proof at a temperature that butter doesn't melt at to keep those gorgeous layers. Some fancy ovens (not mine!) have a proofing setting, and if yours does you can use that. If not, you can set it to the lowest setting on your oven, and then turn it off, open the door for 30 seconds to let most of the heat out, and then put them in and close the door with the oven off. Rising this way will still take about 2 hours, so it's faster but not super fast.
What should I serve with chocolate croissants?
The easy answer is a hot beverage- either coffee, tea (maybe some matcha), or hot chocolate. For breakfast they go great with bacon, or a whole brunch spread. While delicious on their own, they're not super filling, so without any sides you might be tempted to eat the entire box!
Enjoy!
I hope you enjoy these Trader Joe's chocolate croissants as much as my family does. If you found this guide helpful, please be sure to leave a star rating below!
📖 Recipe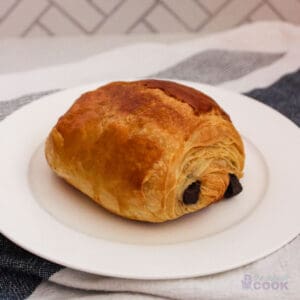 Trader Joe's Chocolate Croissants Instructions
Preparing these frozen croissants is a delicious way to enjoy the parisian treat freshly baked, without all the work!
Ingredients
1

box

Trader Joe's Chocolate Croissants

1

egg

optional, for egg wash
Instructions
Line baking tray with parchment paper and place croissants seam side down onto the pan, with a few inches between each pastry. Allow to rise overnight (8-10 hours).

Preheat oven to 350 F. If (optional) egg wash is desired, beat one egg with a tablespoon of water and coat the top of each croissant.

Bake for 20-25 minutes, until tops are golden brown. Allow to cool for about 10 minutes, then enjoy!
Podcast
Notes
For a pretty presentation without egg wash, you can dust croissants with powdered sugar after baking instead.
Nutrition
Calories:
320
kcal
Carbohydrates:
36
g
Protein:
6
g
Fat:
18
g
Saturated Fat:
11
g
Trans Fat:
0.5
g
Cholesterol:
40
mg
Sodium:
250
mg
Potassium:
117
mg
Fiber:
2
g
Sugar:
11
g
Calcium:
19
mg
Iron:
3
mg
Nutrition information is provided as a courtesy and is an estimate. It is recommended to use your preferred calculator with the actual ingredients you use for optimal accuracy.