Hand shaped Koulourakia cookies are traditional at Greek Easter and delightful with tea or coffee, with a delightful orange, buttery flavor!
These traditional Greek Easter cookies are a traditional treat at every Greek event I've ever been to. My husband's grandmother ALWAYS had some of these when we'd visit to go with a cup of coffee or tea in the morning. They were also present at Easter sunday (of course!), weddings, Christmas, and Greek festivals. In fact, the adaptation I had to make to this family recipe was to scale it down, because the untouched Greek recipe I have won't fit in a standard Kitchenaid mixer.
They're also super easy to make. While I consider myself pretty skilled in the kitchen I'm not the most seasoned of bakers, and the first time I made this it came out beautifully- though I learned a few things through that batch (and the ones I've made since) to share with you here. One disclaimer though: while they're easy, they're not super fast. The batch makes a lot of cookies, and we're shaping these traditional greek cookies by hand. These koulourakia cookies are fun to make on the weekend or with a friend, not on a busy weeknight. For a spring cookie where you don't need to shape each by hand, try my copycat Girl Scout Lemonades.
No time to read now? Pin these Greek butter cookies for later!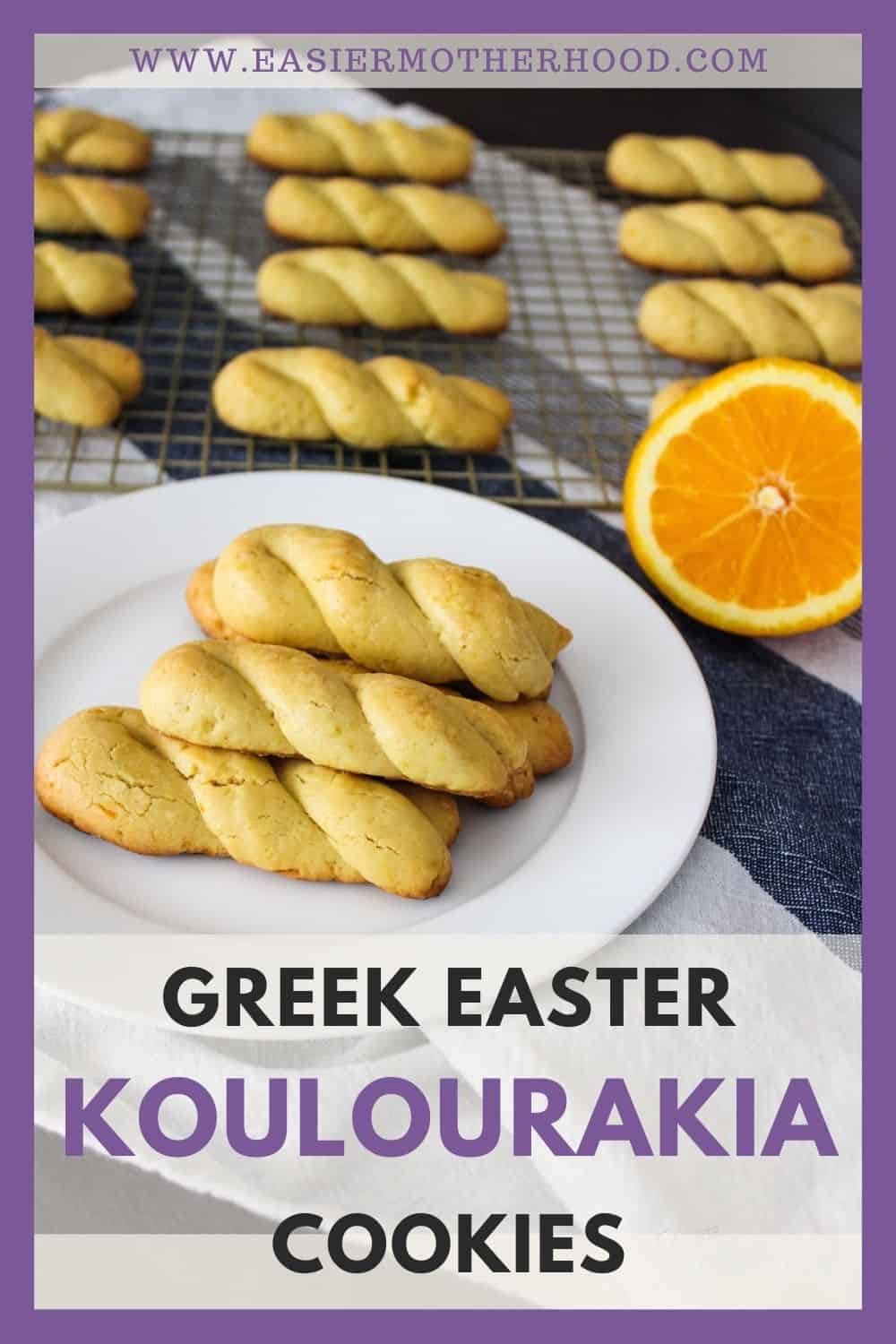 This post contains affiliate links, which means I receive a small commission, at no additional cost to you, if you make a purchase using this link.
Why you'll love this Greek household treat:
Fresh orange juice and orange zest
Lightly sweet, pairing perfectly with a morning coffee or afternoon tea
Crisp outsides with tender insides
No rest, rise, or chill time is needed
Let's get started! Here's what you'll need: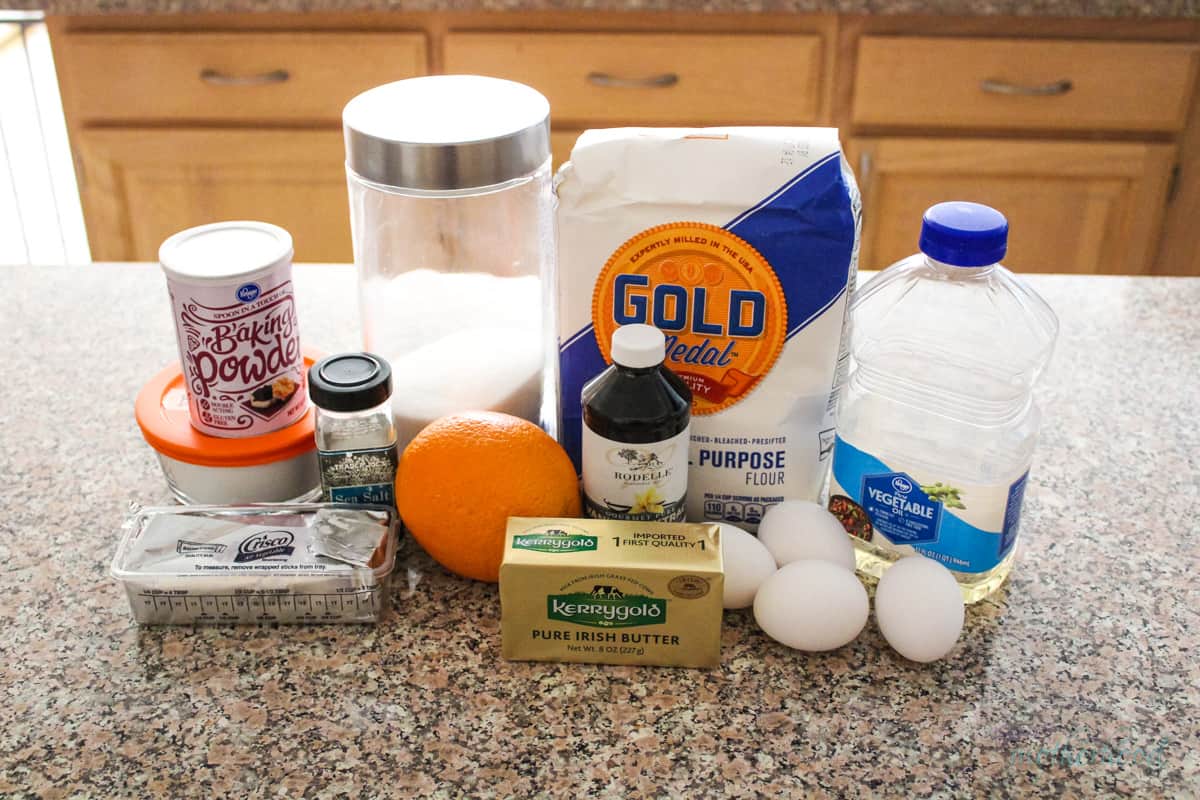 Ingredients:
All purpose flour- the main component of these delicious cookies
Butter- I use salted butter, and you'll want it to be at or near room temperature (you should take it out of the fridge now)
Eggs- no separating today- we'll use the egg whites and egg yolks in both the batter and for the egg wash
Vegetable Oil- adding oil in addition to butter makes the cookies more moist, and in a dense cookie dough like greek koulourakia it makes a big difference. Some recipes call for olive oil instead, which would be a good substitution.
Crisco or Vegetable Shortening- a little goes a long way here, but whipping in one tablespoon of shortening really gives the butter and oil more volume to keep the cookies from tasting too dry or dense
Orange- the Portokaliou part of the recipe, we'll be using both the zest and juice of the orange (and if you only have one orange you may need some additional orange juice)
Granulated sugar- for a mild sweetness that compliments the orange
Baking Powder- a mix of baking soda and cream of tartar
Baking Soda- a leavening agent that helps the cookies puff up a bit
Salt- to balance the sweetness
Vanilla extract- to enhance the other flavors and contribute hints of vanilla, it especially compliments the orange in this recipe
You can also use sesame seeds, and they're often found on these traditional greek cookies. They're an optional ingredient added after the egg wash just before baking, but we prefer them without the seeds so I skip them.
Equipment:
This recipe is one where a stand mixer will make your life WAY easier, and the quantities here are close to the maximum capacity of my Kitchenaid. I don't have a super fancy artisan one so if you have the one most people put on their wedding registry, you're all set. If not, a hand electric mixer with a large bowl can be used instead.
Other stuff you can plan to get dirty are your measuring cups and spoons, a spatula, citrus zester, and a work surface where we'll portion and roll out the dough balls. Oh, and you'll want at least 2 cookie sheets so you can work in batches. We're making a bunch of cookies! Parchment paper or a baking mat can be used, but aren't necessary.
How to Make This Easter Cookies Recipe
Step 1: Preparation
First things first, it's really important to start with softened butter. Before doing anything else, take a stick out of the fridge if you haven't yet. If you didn't take it out awhile ago, go ahead and slice it up into pats so that it warms up faster in your mixing bowl. Go ahead and add your vegetable oil and shortening to the bowl as well. Once softened, cream butter and oils together until they're whipped.
Also, go ahead and zest your orange and juice it.
Step 2: Mixing the Liquid Ingredients
Add your sugar, citrus zest, orange juice, and vanilla extract and mix until well combined. It should look gorgeous at this point.
Add three eggs one at a time, mixing between eggs. It won't look quite as smooth with the eggs mixed in, but should look consistent across the bowl.
Step 3: Add in Dry Ingredients
Add the first cup of flour along with the salt, baking powder, and baking soda and stir on low speed. Slowly add 5 more cups of flour a little bit at a time. You may need to add another half cup or so, but it is better to error on the side of less flour, as the cookies will pick up a bit more on your floured surface when shaping them. If there is too much flour in the dough it will crack and can fall apart, making it hard to work with. The soft dough is ready to shape when it is still very glossy and easy to form into balls, and tears just a bit when pulled with your thumb as shown in the bottom right photo.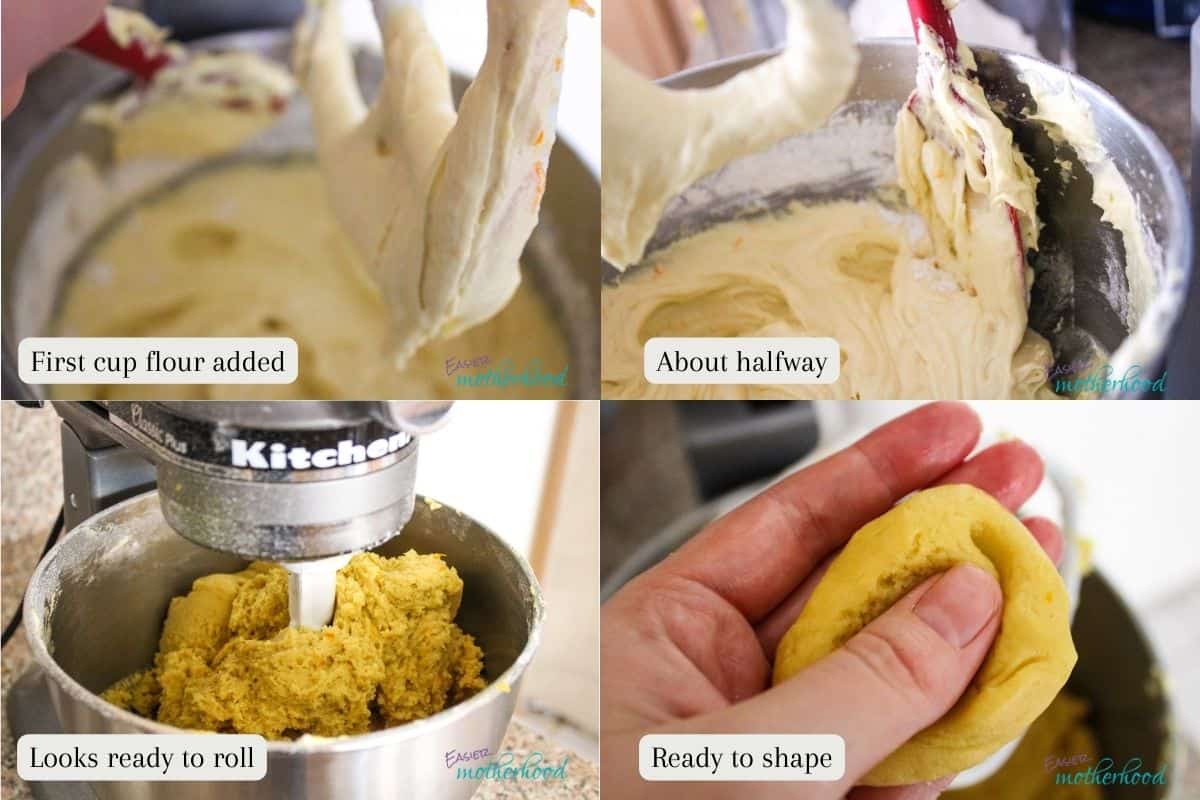 Step 4: Forming the cookies
Pull off a small piece of dough and roll it to about 1" diameter (the family instructions specify "walnut sized") ball in your palms. Then roll your dough balls out into a 6-8 inch long cords. There's no need to get out a ruler- just stretch your fingers out and aim for about the span of your thumb to pinky finger.
There are a variety of shapes for traditional Easter cookies, but the most common is the twist shown here. To make this one, take your 6-8 inch long rope of dough and make a U shape with it, then twist the two ends two times over.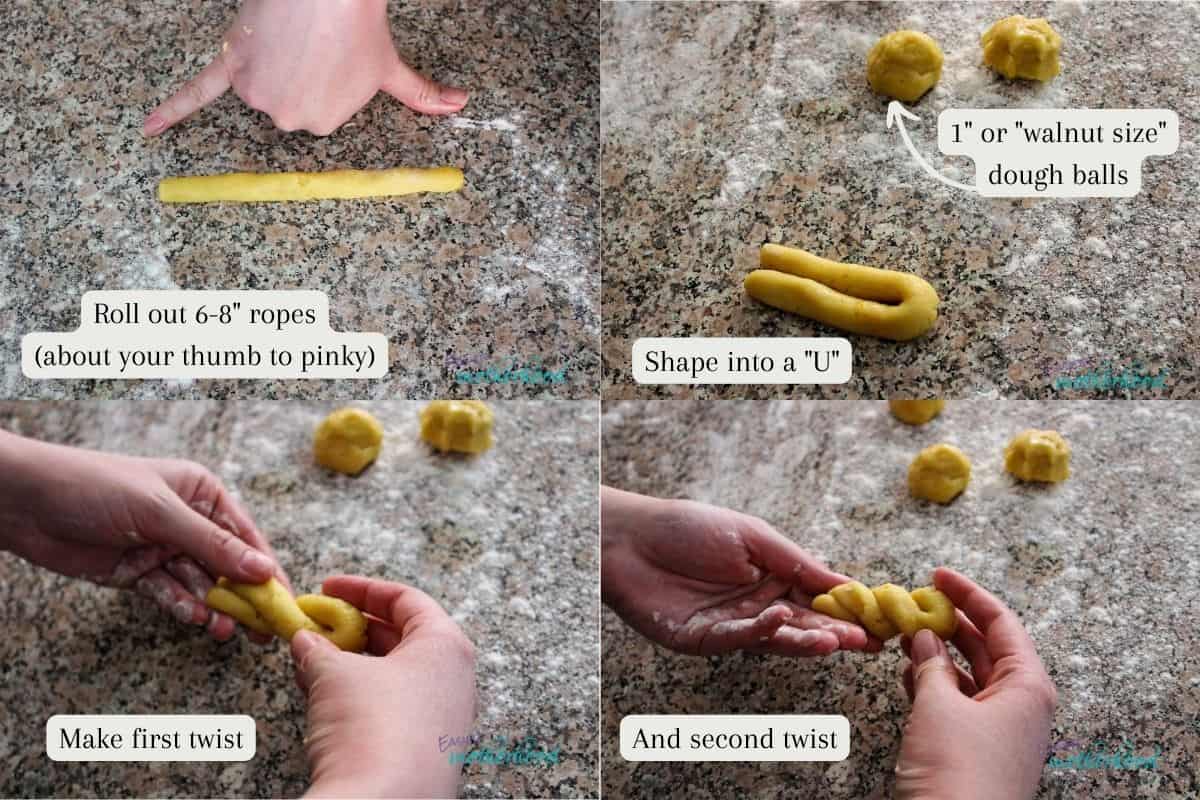 Different shapes include an S, a wreath or circle, a round pinwheel, and the above shown twist.
Step 5: Baking
Make an egg wash with an egg and a little water- about a tablespoon- and coat each cookie with the egg glaze. Place on your baking sheet with about an inch between cookies and bake at 350 for 20-25 minutes. When you start to see them be golden brown on the edges, they're done. Remove them from the oven and transfer to a cooling rack.

Step 6: Storage
Store these cookies in an airtight container on the counter for up to a week. For longer storage in the fridge they'll last up to three weeks, and in the freezer up to 6 months.
Questions about Koulourakia
Is this a traditional Koulourakia recipe?
Yes, I scaled this recipe down from my husband's great-aunt's recipe, which has been passed down through his family and was printed in their Greek Orthadox church cookbook years ago. The biggest change I made was not scaling down the orange zest, so they have a bit stronger of an orange flavor than the original.
There are different variations of koulourakia. This recipe is not a lenten koulourakia recipe- a fasting koulourakia would not include eggs or butter, and olive oil wouldn't be suitable either. This version is both an Easter koulourakia, or koulourakia paschalina, as well as an orange koulourakia, or koulourakia portokaliou.
Why did my dough crack?
There are two main reasons for cracking- the first and most common is too much flour. The second is allowing the dough to dry out before forming the cookies. If you have to leave the dough be sure to cover it with plastic wrap to keep the moisture in as much as possible, but ideally you don't want it to have any significant rest time.
Are they supposed to be dry?
If you haven't had koulourakia before and compare these to say, a chocolate chip cookie? Then yes. Koulourakia is definitely a denser cookie that isn't overly moist.
📖 Recipe
Greek Easter Cookies (Koulourakia)
This traditional Greek Easter treat pairs perfectly with a cup of coffee or tea
Ingredients
7

cups

all purpose flour

between 6-7 cups total

8

oz

butter

salted

¼

cup

vegetable oil

1

tablespoon

crisco

4

eggs

½

cup

orange juice

1

zest of orange

1.125

cup

granulated sugar

1 cup + 2 tablespoons

3

teaspoon

baking powder

¼

teaspoon

baking soda

¼

teaspoon

salt

¾

teaspoon

vanilla
Instructions
Cream oil, crisco, and butter together in a large mixing bowl.

Add the sugar, orange juice, orange zest, and vanilla extract and mix.

Add 3 eggs one at a time, mixing between each egg.

Add 1 cup flour, salt, baking soda, and baking powder and mix together. Slowly add 5 to 5.5 more cups of flour for 6 to 6.5 cups total.

Break off a 1" round ball from the dough and, on a floured surface, roll the dough out to form a rope 6-8 inches long. Form the rope into your desired shape- the traditional twist first forms the rope into a U and then twists the open ends twice. Repeat.

Mix remaining egg with 1 tablespoon water and glaze the egg wash on the shaped cookies. Bake at 350 for 20-25 minutes, or until edges are golden brown. Cool and enjoy!
Notes
It is better to error on the side of less flour- the dough will crack and not shape well with too much.  Ready to form dough will have enough flour to not stick to your hands and tear when pulled, but little enough that it still is shiny and leaves oil on your hands.
Nutrition
Calories:
101
kcal
Carbohydrates:
19
g
Protein:
2
g
Fat:
2
g
Saturated Fat:
0.4
g
Polyunsaturated Fat:
1
g
Monounsaturated Fat:
0.4
g
Trans Fat:
0.04
g
Cholesterol:
1
mg
Sodium:
50
mg
Potassium:
31
mg
Fiber:
1
g
Sugar:
5
g
Vitamin A:
14
IU
Vitamin C:
1
mg
Calcium:
23
mg
Iron:
1
mg
Nutrition information is provided as a courtesy and is an estimate. It is recommended to use your preferred calculator with the actual ingredients you use for optimal accuracy.