Juicy caramelized peaches are a quick and easy dessert that's both dinner party fancy and Tuesday-night easy.
If you ever find yourself in a situation where you have too many peaches, I can't recommend caramelizing some of them highly enough. These skillet peaches are probably the easiest dessert you can make with fresh peaches. They also might just be the perfect ice cream topping- especially in the summer since it's hot and peach season! This dish is best served hot, but it would make a great bonus topping on these peach cobbler cinnamon rolls if you have leftovers and are on a peach kick.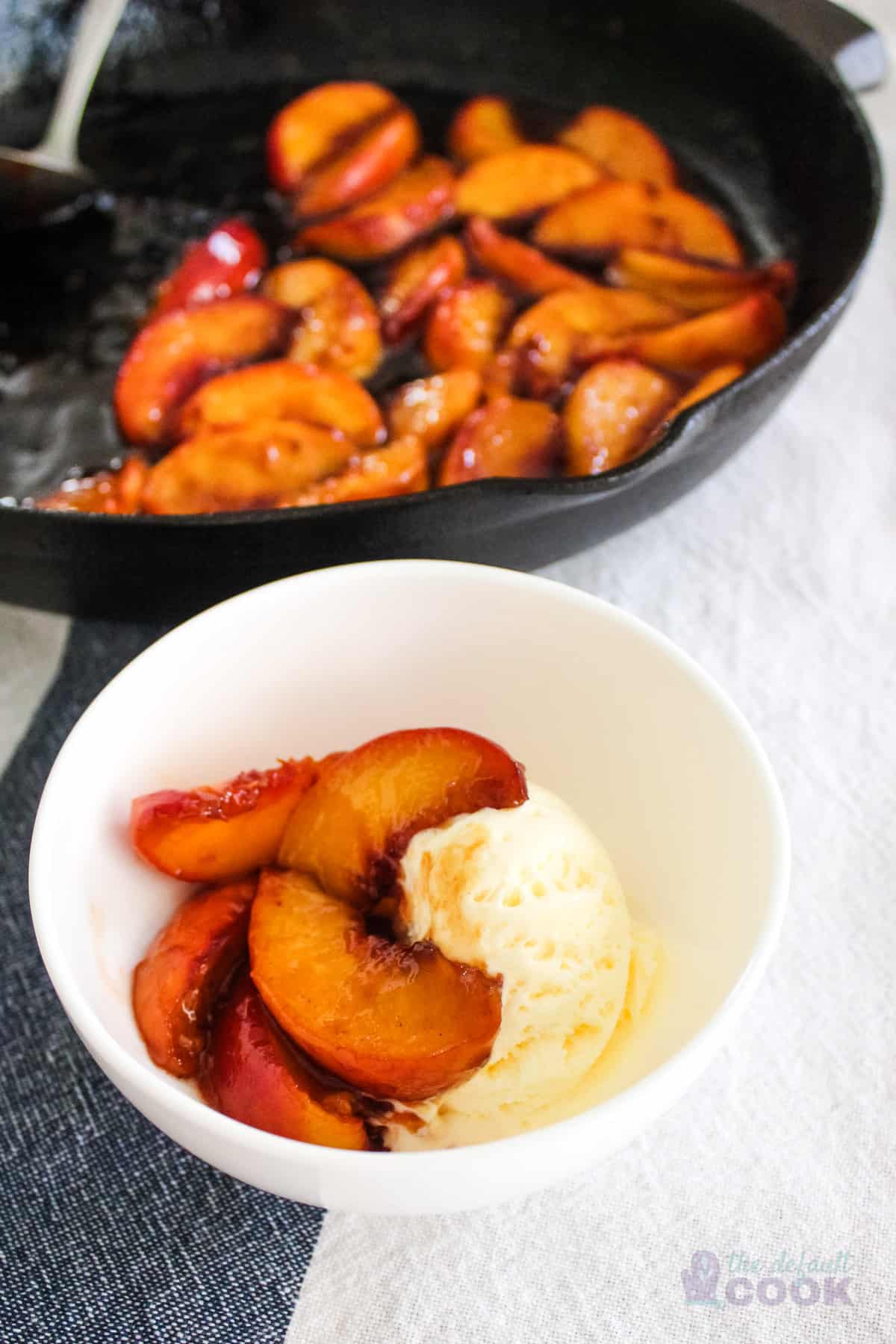 This post contains affiliate links, which means I receive a small commission, at no additional cost to you, if you make a purchase using this link.
Why you'll love this recipe:
Simple- there are just 6 ingredients in this dish, and that includes the pinch of salt!
Fast- only about 5 minutes prep, and ready to eat in less than 20 minutes.
Delicious- with buttery peaches cooked with sugar and spices, what's not to love?
Let's get started! Here's what you'll need:
Ingredients: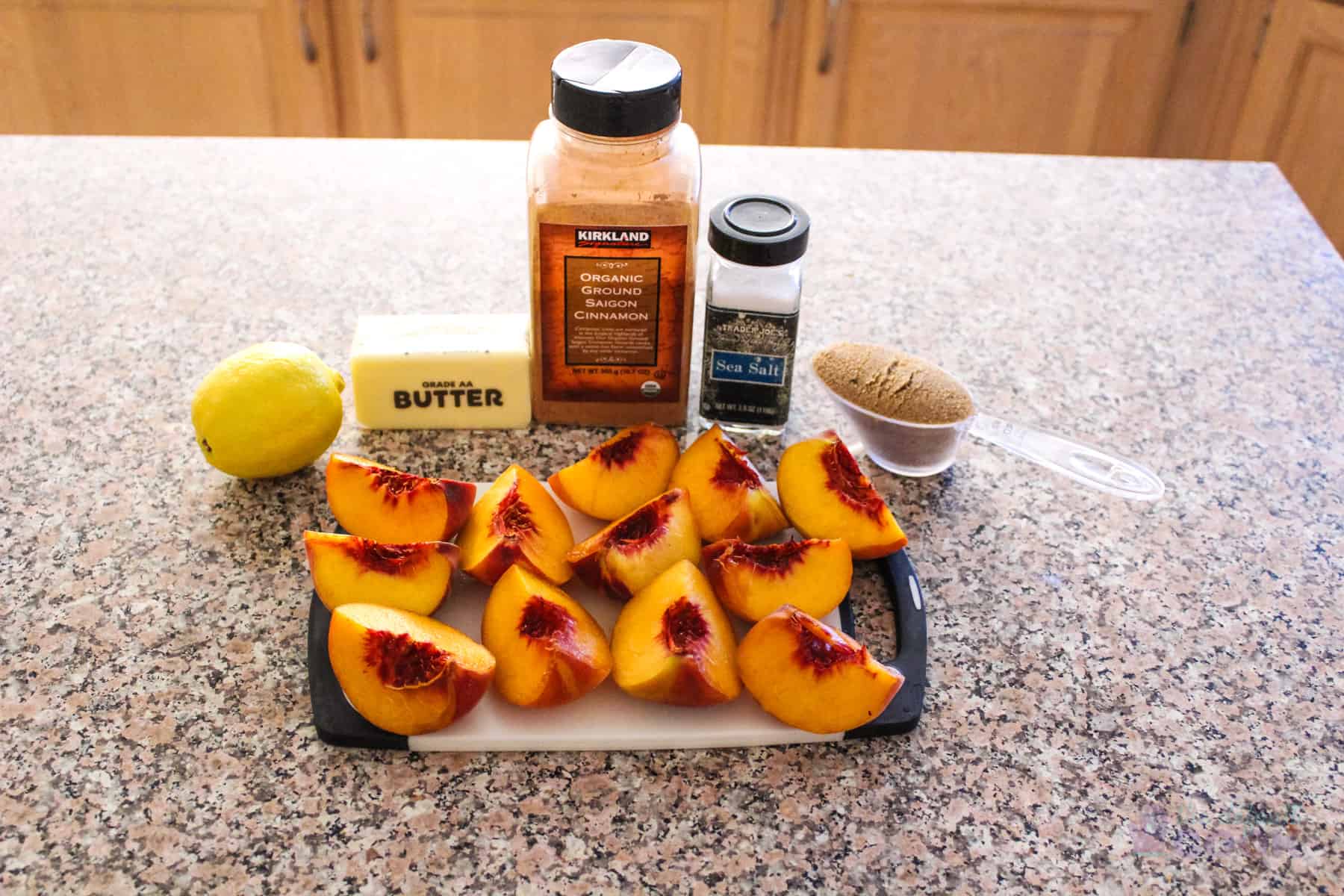 Fresh peaches- while you can use canned in a pinch, I prefer fresh in this dish for the texture.
Brown sugar- while you can use white sugar if that's what you have on hand, the molasses in brown sugar gives a deeper flavor. If you're trying to reduce processed sugar you could substitute maple syrup or honey for half the sugar.
Lemon juice- I hadn't cut the lemon in the photo yet, but we're just using a wedge!
Butter- 2 tablespoons is all we need here, but if you want to make these vegan or dairy free, you can substitue coconut oil. I used regular butter, if you are working with unsalted butter add another pinch of salt to your bowl.
Salt- a pinch helps balance the sweetness.
Cinnamon- goes well with most fruit dishes, and this is no exception.
Equipment:
This dessert is straightforward- all you'll need is a large skillet or frying pan, a paring knife (any non-serrated knife will work) and cutting board, mixing bowl, and a spatula.
How to make this delicious treat:
Step 1: Slice peaches
Go ahead and slice your peaches and toss them into a medium bowl. Depending on the size of yours and how thick you like them, you may go for more or less slices. I quarted my peaches and then sliced each quarter into thirds, so 12 peach slices per peach, or 36 slices total.
Step 2: Prepare your pan and peaches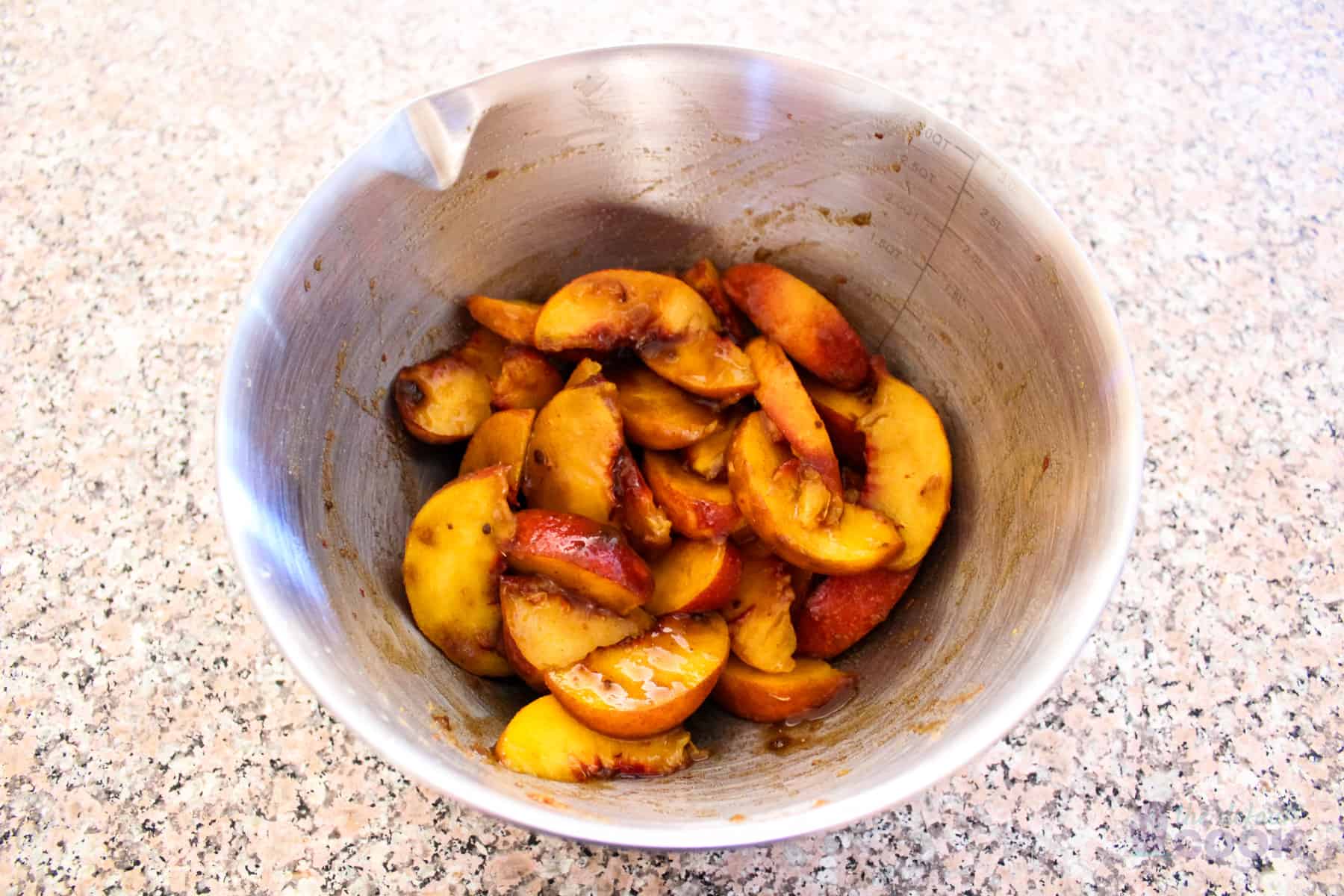 Place your butter in your cast iron skillet and turn it on medium-high heat to melt the butter. Meanwhile, add the remaining ingredients to your mixing bowl with the sliced peaches and stir until the fruit is well coated with your sugar and seasoning.
Step 3: Caramelize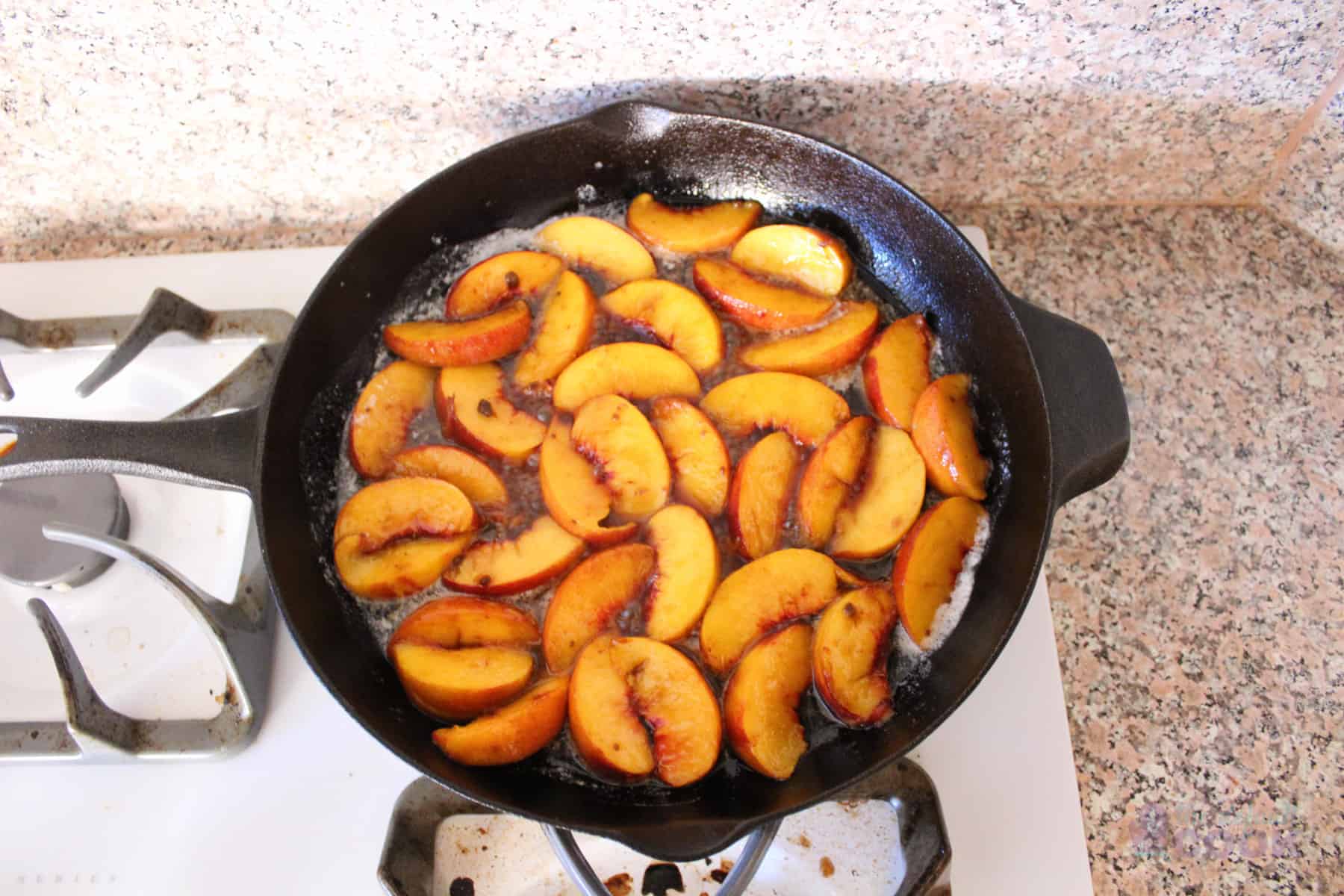 Add the peaches to your now hot pan and spread them out into a single layer. If there's a little overlapping it will be okay, but you want to use every bit of your pans real estate. Let them cook on medium heat for 5-7 minutes. When cooking the butter should melt and your glaze reach a mild simmer- if it starts to boil aggressively reduce your burner from medium to low heat. Then work through the pan one side to another flipping them over, and let cook another 5 minutes.
Step 4: Serve and enjoy
Serve them hot, ideally over some vanilla ice cream, or under some fresh whipped cream! If you have leftovers they'll keep in the fridge for up to 5 days in an airtight container.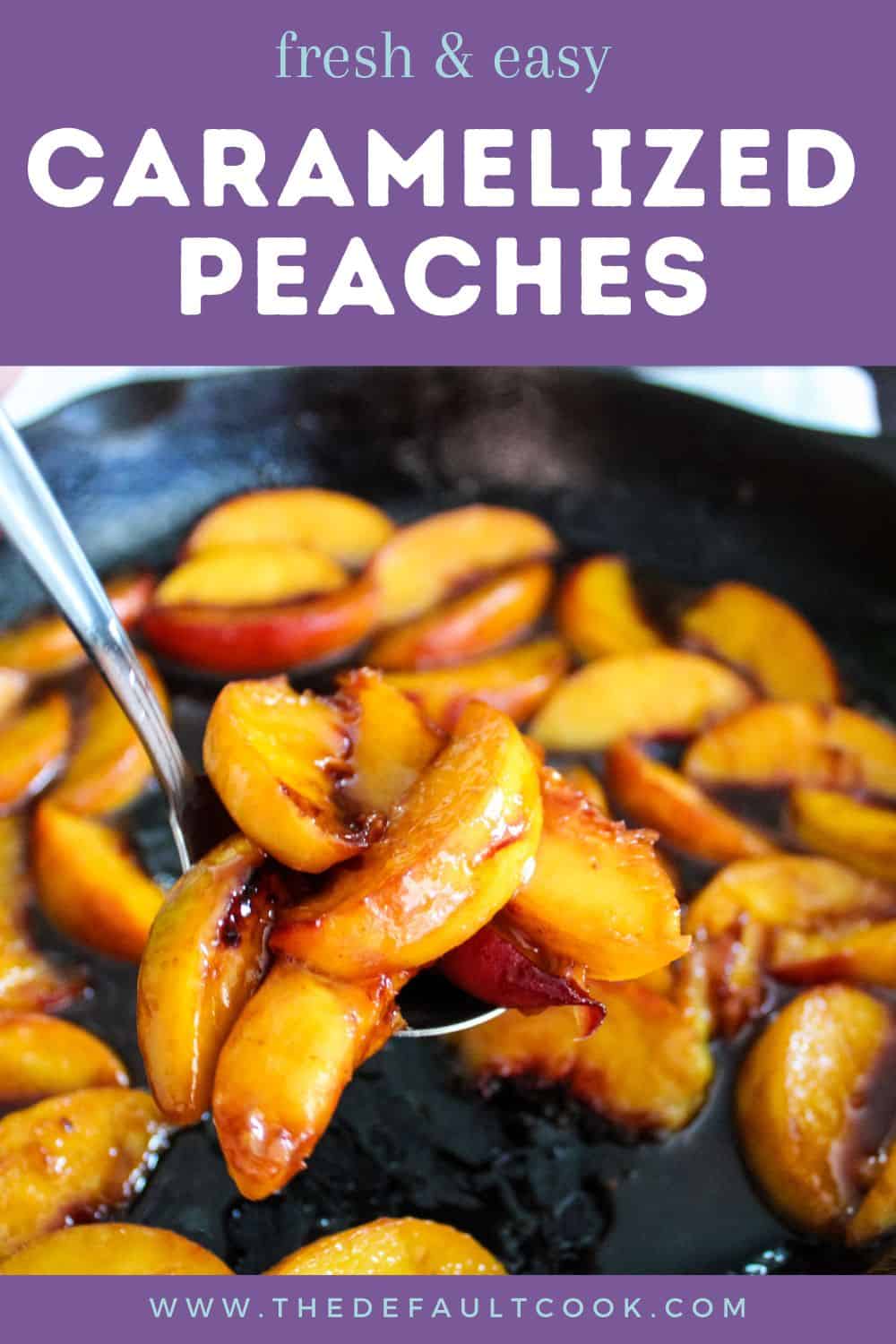 FAQs
Do I need to slice the peaches?
Yes, but you don't need to get exactly 12 slices per peach! I find smaller slices are easier to eat and maximize the contact between the juicy peaches and glaze, plus they cook faster. You might prefer thicker slices and can do that or even use peach halves- when cooking those start with the cut side down. The cook time will be a bit longer, they're ready when tender and you can cut them with a spoon.
Can I make these in the oven or air fryer?
Yes. A cast iron skillet is my preference, but you could grease a baking sheet with the melted butter and cook them in a 400 degree oven for about 20 minutes, flipping halfway through. For an air fryer the glaze can't go directly in an air fryer basket, but with a pan that nests inside or an oven-style air fryer you can make them. Start with a 375 degree air fryer for 8 minutes and then flip or stir- the size of your dish will impact the total cook time, you want them to be fork tender.
More easy recipes you may like:
Looking for a decadent peach breakfast dish? Try these peach cobbler cinnamon rolls!
Perhaps cookies with some fruit flavor are more your taste- these lemon shortbread cookies are delicious, and these orange greek easter cookies are perfection with a cup of tea or coffee.
Enjoy!
Let me know how you liked them below, and if you had them with traditional vanilla ice cream or served them on some delicious french toast.
📖 Recipe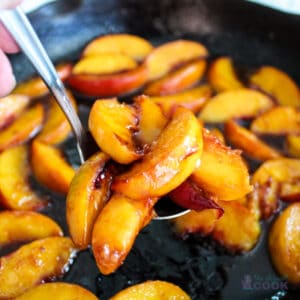 Caramelized Peaches Recipe
A quick and easy dessert you can serve right from the skillet- decadent peaches cooked with brown sugar and butter with a hint of cinnamon.
Ingredients
3

ea

fresh peaches

⅛

ea

lemon

1 wedge

2

tablespoon

butter

¼

cup

brown sugar

¼

teaspoon

cinnamon

⅛

teaspoon

salt

just a pinch or to taste
Instructions
Cut peaches into slices and discard pits.

Melt butter in cast iron skillet. Meanwhile add remaining ingredients including peaches to a medium bowl and stir.

Add peaches to skillet and spread into a single layer. Cook for 5-7 minutes.

Flip peaches and cook another 5 minutes. Serve and enjoy!
Podcast
Notes
This recipe is best served hot with ice cream.
Nutrition
Calories:
69
kcal
Carbohydrates:
9
g
Protein:
0.1
g
Fat:
4
g
Saturated Fat:
2
g
Polyunsaturated Fat:
0.1
g
Monounsaturated Fat:
1
g
Trans Fat:
0.2
g
Cholesterol:
10
mg
Sodium:
81
mg
Potassium:
14
mg
Fiber:
0.1
g
Sugar:
9
g
Vitamin A:
118
IU
Vitamin C:
0.03
mg
Calcium:
10
mg
Iron:
0.1
mg
Nutrition information is provided as a courtesy and is an estimate. It is recommended to use your preferred calculator with the actual ingredients you use for optimal accuracy.