This pressure cooker apple butter is sure to be your new favorite way to use up apples that are past their crunchy prime. Spreadable and sweet, this flavorful spread is great on toast, pancakes, or paired with cheeses like brie!
Fresh apples are on repeat on my grocery list- like bananas and avocados, it's part of the produce I pick up every week without fail.
But sometimes we don't get through all of them while they're still well, fresh.
Enter this easy instant pot apple butter recipe! It transforms those less than crisp apples into a sweet condiment you can use in place of jelly or jam.
No time to read now? Pin it for later!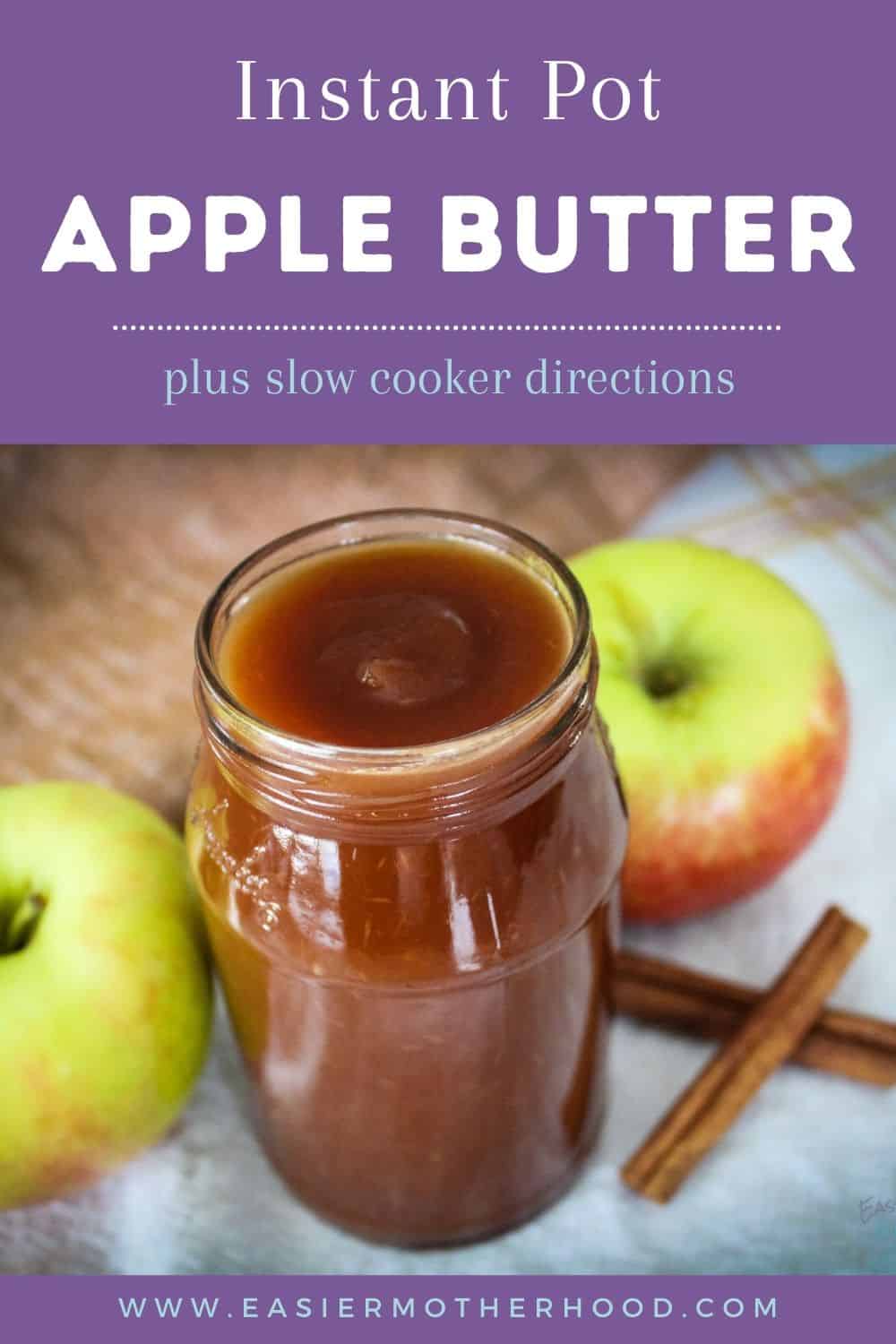 This post contains affiliate links, which means I receive a small commission, at no additional cost to you, if you make a purchase using this link.
Is it apple butter, or apple sauce?
While you can make instant pot applesauce, this smooth apple butter is definitely not to be confused with apple sauce. Apple butter is cooked longer to carmelize the natural sugars and reduce the liquid for a thicker, spreadable condiment. It generally has more added sugars as well, but the main difference between the two is the consistency. There is no actual butter in apple butter, though it pairs well with it on toast!
Why you'll love this delicious homemade apple butter:
Simple ingredients- if you have the apples you probably have everything else you need too!
Hands off- while this recipe isn't super fast, the amount of time it needs you in the kitchen is minimal.
Classic fall flavors- this is a great way to use up those apples after a day of apple picking with the kids, and a jar of apple butter makes a great gift during the holiday season.
Let's get started! Here's what you'll need:
Ingredients:
Apples- In my opinion the best apple varities to use are your favorite apples that you already enjoy eating, so whatever you normally buy. I used honey crisp, as we prefer sweet apples, but you can use different types of apples. If you only have a few older apples you can check your grocery store for discounted produce- mine has a markdown bin for overripe fruit and the apple bags usually include about 2 pounds of apples for $1.
Brown sugar- Using a mixture of sugars gives us the complexity of the molasses that makes brown sugar well, brown sugar, but you can use all granulated if you're out.
Granulated sugar- I like to use a mixture of both sugars, but if you prefer to use all brown sugar you can absolutely substitute it for this.
Lemon juice- the acidity from the lemon brightens this apple butter, and is a natural preservative to give us a bit longer to enjoy it. Either fresh lemon juice or the bottled stuff is fine.
Water- to create pressure in the instant pot we need a bit of water to start. You could also use apple juice or apple cider (NOT apple cider vinegar) to add a bit more oomph, but I wouldn't add it to your grocery list for a fraction of a cup- the actual apples do the heavy lifting here.
Cinnamon- every apples favorite spice!
Nutmeg- optional, but generally where you add cinnamon, nutmeg pairs well, and this dish is no exception.
Vanilla extract- adds a bit more complexity to the apple butter.
Salt- to bring out the flavors a bit, and complement the sweetness.
Equipment:
You'll of course need an electric pressure cooker (aka instant pot), and you'll need a blender as well. Beyond that just a knife and cutting board to cut the apples and a spatula for stiring. Oh, and an airtight container to keep your finished apple butter in- mason jars are a common option, but I usually just repurpose old jam jars.
How to Make the Best Apple Butter
Step 1: Prepare the Apples and Instant Pot
I'm lazy, so we will NOT be peeling anything today. Also, the apple peels have a lot of nutrition in them. Just quarter your apples and remove the cores.
Next add the liquids to the inner pot, we'll be adding the juice of one lemon, or approximately 2 tablespoon if you are using the squeeze bottle stuff instead. Then add enough water to get to the ½ cup minimum liquid we need in the pot, along with your vanilla.
Note: If making this in the slow cooker instead, you can reduce or even omit the water- for crockpot apple butter we don't need enough water to create pressure, but a few tablespoons makes it easier to coat the apples with the sugar and spices when mixing.
Step 2: Cook the Apple Mixture
Add the apples, sugars, and spices and stir it all together. Seal your lid and make sure the vent is on sealing, and set to high pressure for 60 minutes. In the meantime, think about taking a shower, or look for the immersion blender you're sure is around your kitchen somewhere.
Note: If making this recipe in the slow cooker instead, cook on low for 6-8 hours, or on high for 3-4 hours.
Step 3: Vent and Blend
Allow a 10 minute natural release before venting the remaining pressure from your cooked apples. CAREFULLY blend them up, remembering that those suckers are HOT. You may want to use a splatter guard or wear silicone oven mitts and keep your face away from the pot when blending. I didn't find the aforementioned immersion blender, so removed the insert and let it cool a few minutes before transferring to my blender, and luckily this amount of apple butter easily fit in my Ninja in one batch. You could also use a food processor if you need to, or if you prefer chunkier apple butter a potato masher.
Step 4: Slow Cook (or Saute)
If you removed the apple mixture from the instant pot (or slow cooker) to blend it, go ahead and return it to the your instant pot (or crockpot). Turn on the slow cook function and stir occasionally for about 3 hours, until you reach your desired consistency. I look for where the apple butter forms soft peaks where the spatula is removed, but the ideal thickness comes down to your personal preference.
Alternatively you can use the sauté button and stir more regularly for 30-60 minutes, but while this takes a fraction of the time it's much more hands on. You won't want to leave it unattended during that time and it will pop up at you while hot, so that's not my preferred method.
Step 5: Cool and store
Remove the insert to a cooling rack to cool your apple butter a bit faster. Once it's not super hot to the touch you can transfer it to glass containers, but let it cool to room temperature if transferring to an airtight plastic container and before putting it in the refrigerator or freezer. I have not canned this recipe, but you can freeze it easily- just be sure to leave space at the top of your container for the apple butter to expand. Your delicious apple butter will last two weeks in the fridge and up to 6 months in the freezer.
FAQ
Can you make this in the slow cooker?
Absolutely! In fact I have, and include slow cooker instructions on the recipe card below. It takes all day, but like this recipe is mostly hands off.
Can you make this on the stove top?
Yes, you can put all the ingredients in a covered pot and simmer it the same way. I would estimate 2 hours before blending and another 2 after, but to be fully transparent with you I haven't personally done it that way.
Can I use maple syrup instead?
If you're trying to limit added sugar, you can use maple syrup in its place. However I would wait to add it at the slow cook step since maple syrup has a bit of carmelized flavor already. I'd also stick to sweeter apple varieties, a tart fruit like granny smith apples would compete with the maple syrup instead of complimenting it.
Now what do I do about dinner?
While you've got your instant pot out, try this Chicken Pesto Pasta for dinner. It uses just 5 ingredients and is ready in about 15 minutes (IP cook time is 4).
What other instant pot recipes do you want to see? Let me know below!
📖 Recipe
Instant Pot Apple Butter
This low effort apple butter uses your pressure cooker to convert less-than-crisp apples into a farmers market quality spread!
Ingredients
3.5

lb

Apples

I used Honeycrisp

⅓

cup

water

2

tablespoon

lemon juice

juice of 1 lemon

1

teaspoon

vanilla

½

cup

brown sugar

½

cup

granulated sugar

2

teaspoon

cinnamon

¼

teaspoon

nutmeg

⅛

teaspoon

salt
Instructions
Add lemon juice, vanilla, and water to the bottom of the instant pot insert.

Add the apples, sugars, and spices, then stir together.

Cook on high pressure for 60 minutes. Allow a 10 minute natural pressure release then vent.

Blend the contents of your instant pot.

Set the instant pot to the slow cooker setting, stirring occasionally until your desired consistency is reached.
Podcast
Notes
You can use the saute function to reduce the apple butter to your desired thickness instead of the slow cook function.  This will reduce the time but is more hands on.
To convert to a slow cooker recipe, leave out the water and cook on low for 6-8 hours (or high 3-4 hours) in place of the pressure cooking step.
Nutrition
Calories:
46
kcal
Carbohydrates:
12
g
Protein:
0.1
g
Fat:
0.1
g
Saturated Fat:
0.02
g
Polyunsaturated Fat:
0.02
g
Monounsaturated Fat:
0.004
g
Sodium:
10
mg
Potassium:
53
mg
Fiber:
1
g
Sugar:
10
g
Vitamin A:
24
IU
Vitamin C:
2
mg
Calcium:
6
mg
Iron:
0.1
mg
Nutrition information is provided as a courtesy and is an estimate. It is recommended to use your preferred calculator with the actual ingredients you use for optimal accuracy.