I wish I could give you an easy yes or no. But the short answer is "it depends".
If you're asking about plain wooden or metal toothpicks, then the answer is generally yes. Reusable metal picks are oven safe by themselves, and plain wooden toothpicks absorb moisture from food which prevents them from burning. They may get charred on the ends, but you can reduce that by soaking them in water first.
Toothpicks aren't just a short-term stand in for dental floss when you get food in your teeth, they're a super handy kitchen tool!
What all can you use toothpicks for in the kitchen?
Holding food in place
Garnishing food or drinks
As a serving utensil (like with cocktail weenies)
Testing baked goods for doneness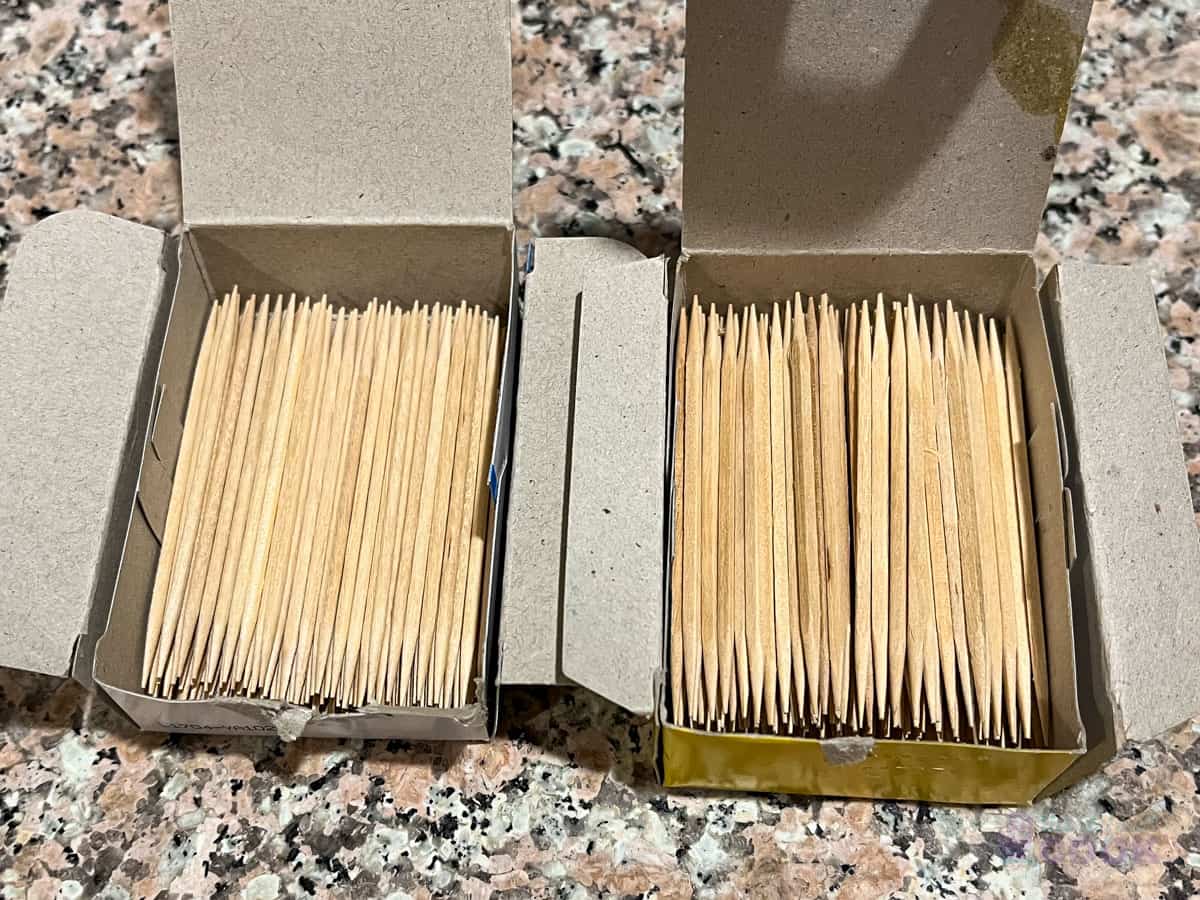 This post contains affiliate links, which means I receive a small commission, at no additional cost to you, if you make a purchase using this link.
Why Would I Want to Use Toothpicks in the Oven?
Toothpicks are great for holding foods together that would otherwise lose their shape during the cooking process. If you're making stuffed chicken breasts for example, the filling tends to want to escape. Securing the chicken breast around the stuffing mixture with toothpicks helps keep the dish together.
Toothpicks can be used to secure bacon wrapped around vegetables, or to keep the skin of a chicken breast in place while it's roasting. They're also great for holding together burritos or enchiladas while they cook in the oven. They can also be used to prevent aluminum foil from sagging into a baking dish if a food item needs to be loosely covered.
What Kind of Toothpicks Can Not be Used in the Oven?
It's important to note that not all toothpicks are safe for use in the oven. For example, toothpicks made of plastic or with plastic decorations or coatings should never be used in the oven. The decorative elements can melt into it, ruining your food.
Additionally, some wooden toothpicks have been dyed, and these should also be avoided in the oven. Like plastic toothpicks, you don't want the dye to end up in your food unless the package clearly states they used food grade food dye or food coloring.
What is the Best Way to Use Toothpicks in the Oven?
If you're using plain wooden toothpicks, the best way to use them in the oven is to soak them in cold water for about 15-30 minutes before using them. This will prevent them from charring and help keep your food moist since they won't need to pull as much moisture from the food itself. Alternatively, you can use reusable metal picks, which are oven safe by themselves.
Can You Put Toothpicks in Microwave Ovens?
No, toothpicks should not be used in the microwave. The way that microwaves heat things up can cause the toothpick to catch fire, creating a safety hazard.
Can You Put Toothpicks in an Air Fryer?
Yes, you can put toothpicks in an air fryer. The same rules apply as with the oven - use reusable metal or plain wood toothpicks, and avoid toothpicks made of plastic or with plastic decorations or coatings. Additionally, ensure the toothpicks are secure- air fryers circulate hot air quickly, and if one gets loose it could end up in the air fryer element, which would be a fire hazard. If you hear something knocking around in your air fryer, stop it immediately and check that there are no stray toothpicks.
How High of a Heat Can Toothpicks Take?
Wood or paper burns above 450, but since a toothpick inserted in food will draw moisture from the food, it would take a good amount of time at that high heat for them to catch fire, and most dishes are cooked at 400 or lower. For a shorter cook time toothpicks can handle the oven temperature of a conventional or convection oven and even the high termperatures of a broiler.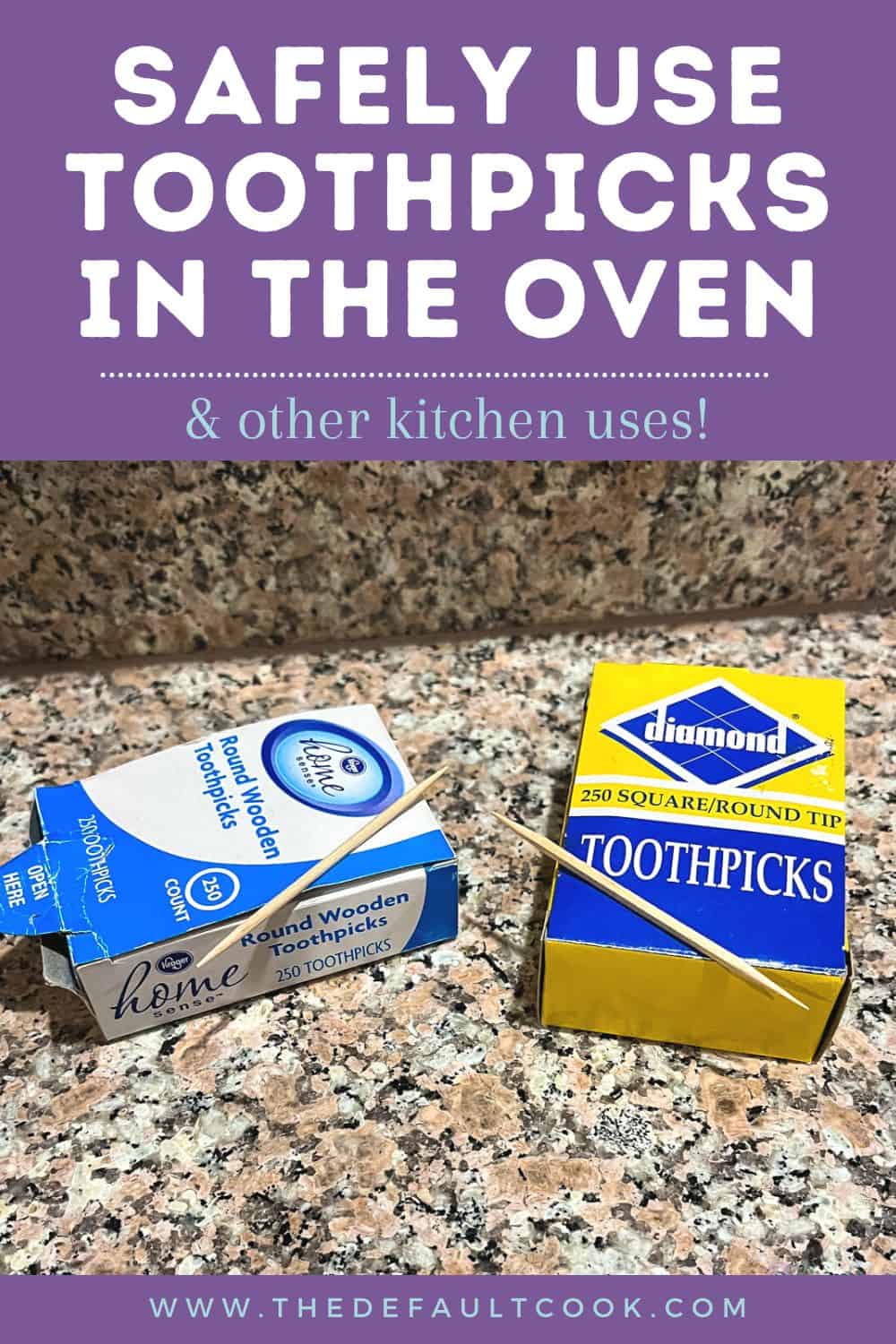 Can You Deep Fry Foods with Toothpicks?
Yes, you can deep fry foods with dry wooden toothpicks or metal toothpicks. If using wooden, ensure they are dry toothpicks. For deep frying you want to avoid soaking toothpicks beforehand as water will spatter in hot oil. It's important to handle the toothpicks carefully to avoid burns and to remove them from the food before serving.
What Can I Use a Fancy Toothpick for?
Serving! If you only have storage for one type of toothpick, I would recommend regular wooden toothpicks or reusable metal toothpicks. That said, the frilly types of toothpicks are great for small hors d'oeuvres types of food items like cocktail weenies, bites of cheese, stuffed mushrooms, and other one bite appetizers.
What Else Can I Use if I'm Out of Toothpicks?
Depending on what you're cooking, some good options are bamboo skewers, metal skewers, or kitchen string in the oven. Metal cocktail skewers are essentially fancy metal toothpicks, so those are a great alternative. A wooden skewer is generally thicker and longer than a toothpick, so you may want to thread several items onto it.
How Do You Do The Toothpick Test?
The toothpick test is meant for testing if a baked good is done or not. To test your food, insert a clean toothpick in the center of the cake or other baked good. If it comes out clean, it's done! Some people like to use a dry spaghetti noodle or a sharp knife if they're out of toothpicks. Alternantively, you can use your finger to lightly touch the top of the baked good. If it bounces back with a bit of spring in its step, it's done, and if it still feels wet to the touch, it needs more time.
Where Do I Find Toothpicks?
You can typically find regular wooden toothpicks in the cleaning or paper goods aisle at grocery stores. Decorative toothpicks you can usually spot near plastic cutlery and paper plates. Sometimes they can also be found on endcap displays or by baking accessories like cupcake liners. You can also order them online.
So the next time you go to bake something and need a toothpick to secure it, grab that no-frills toothpick and get cooking!