These Cheesecake Factory stuffed mushrooms are a savory two bite appetizer that is sure to go fast at any gathering! Cheesy and flavorful, they're a delicious treat guests are sure to rave about.
One of the best appetizers at Cheesecake Factory is definitely their stuffed mushrooms, which are actually on their small plates menu. That makes sense to me, since appetizers are meant for sharing, and with only 6 mushrooms, I will share them, but I don't like to. The obvious solution is to recreate them at home, and make plenty to share! These are fabulous for any party, and easy too. They can also be prepared in advance, which is handy since hollowing out the mushrooms can take a bit of time.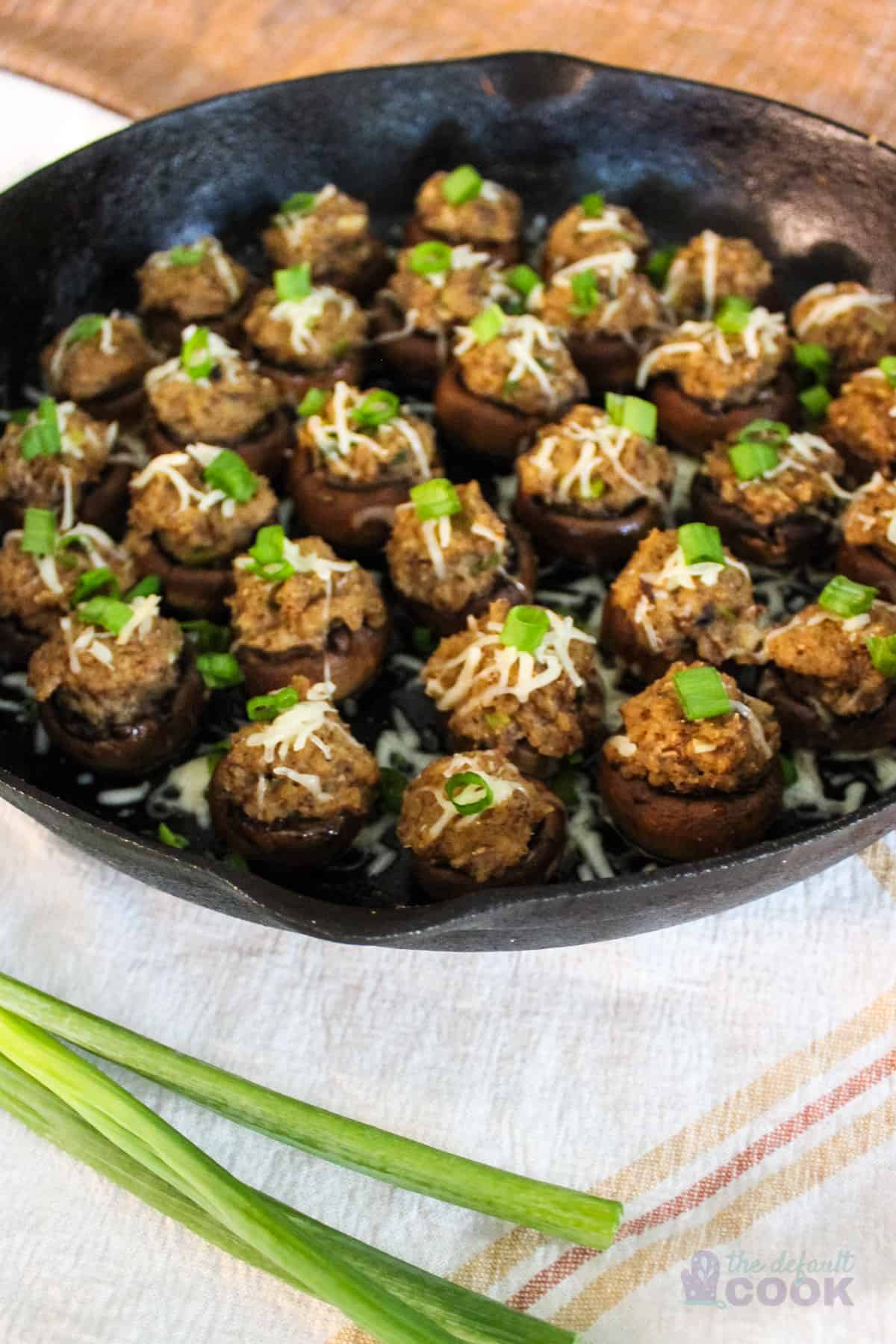 This post contains affiliate links, which means I receive a small commission, at no additional cost to you, if you make a purchase using this link.
Why you'll love this recipe:
Savory- mushrooms are pretty flavorful on their own, but stuffing them takes them to a new level!
Finger food- perfect for any party (just like these crescent roll sandwiches)
Simple ingredients- like this four cheese pasta, we're using a cheese mixture to minimize prep.
Let's get started! Here's what you'll need:
Stuffed mushrooms take small mushroom caps and remove the stems, then fill them with a mixture of mushroom stems, cheese, green onions, and other goodness. Let's take a look!
Ingredients: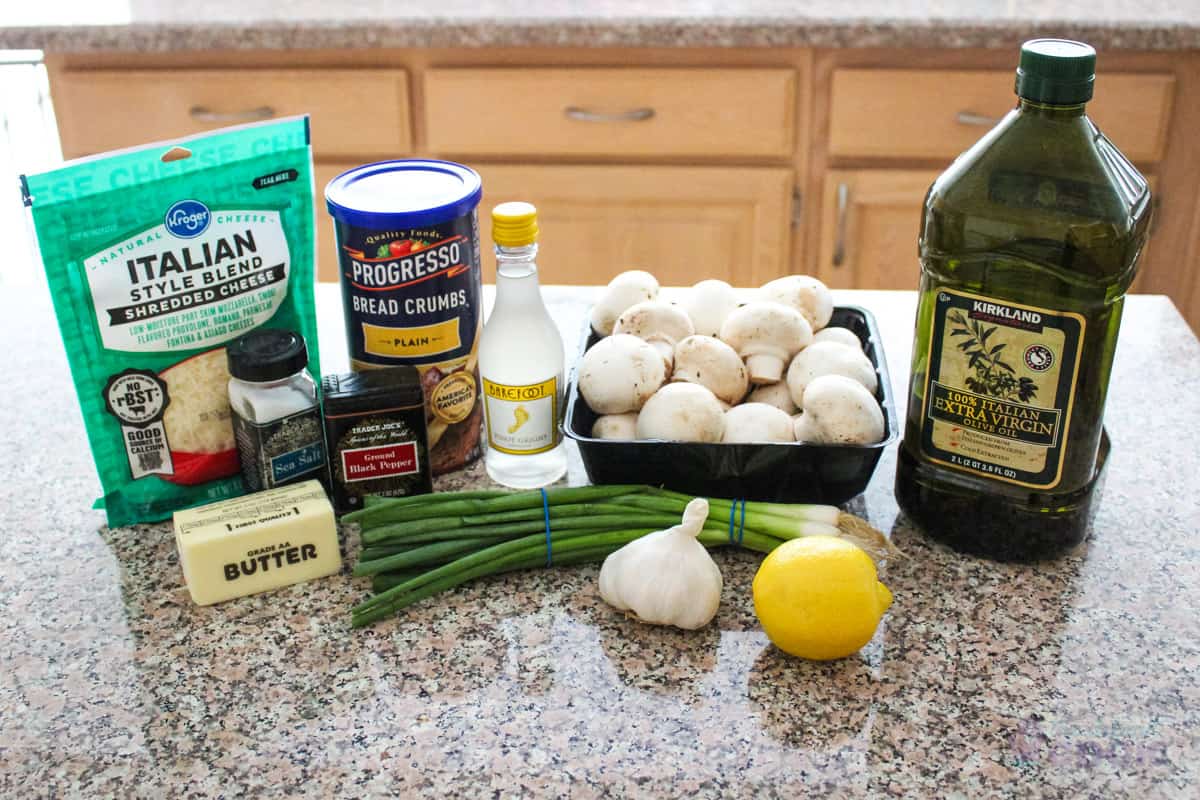 Mushrooms- the heart of the dish, there are a few types of mushrooms that do well. I used white button mushrooms, but baby Portobello mushrooms would be lovely as well. As long as the shape is round and easy to remove the stems, they'll work, though larger mushrooms may need longer to bake.
Bread Crumbs- I opted for plain, but the ones with Italian seasoning would be delightful as well.
Cheese- The Cheesecake Factory menu mentions fontina and parmesan cheese, but I feel like they have some mozzarella cheese in the mixture as well. I like to use an Italian blend that has all of them.
Garlic- If you have fresh it's well worth the extra minute or two to use it, but pre-minced will taste good too.
Lemon Juice- Ideally fresh, but the lemon concentrate you get at the grocery store will do fine- we just need some to brighten up the dish.
White Wine- any variety, pick one you enjoy drinking too since we're not using a ton in the recipe. If you don't use it in your kitchen you can substitute some broth or water, but increase the lemon juice by a tablespoon to make up the acidity.
Salt and Black Pepper- always, and feel free to adjust these to taste.
Equipment:
You'll need a large skillet (I like my cast iron, heavy skillet) for this dish, along with a knife, cutting board, and spoon. A grapefruit spoon is particularly helpful in getting stubborn stem pieces out of mushroom caps, and a food processor or blender makes mincing the stems a minor step instead of a chore. If you decide to use the optional olive oil a pastry brush is helpful too.
How to make this delicious appetizer:
Step 1: Hollow the mushrooms
Wash your mushrooms with cold water and pat them dry. Then holding each mushroom in your hand, use your thumb to pop the stem out. Use a spoon to remove any stubborn stem, as well as the gills (the soft brown part inside the cap).
Step 2: Combine most of the filling
Reserve stems and toss those in a food processor or blender, which is the best way to mince them. The first time I did this I chopped them by hand because I didn't want to dirty my food processor. That was a mistake you don't need to make.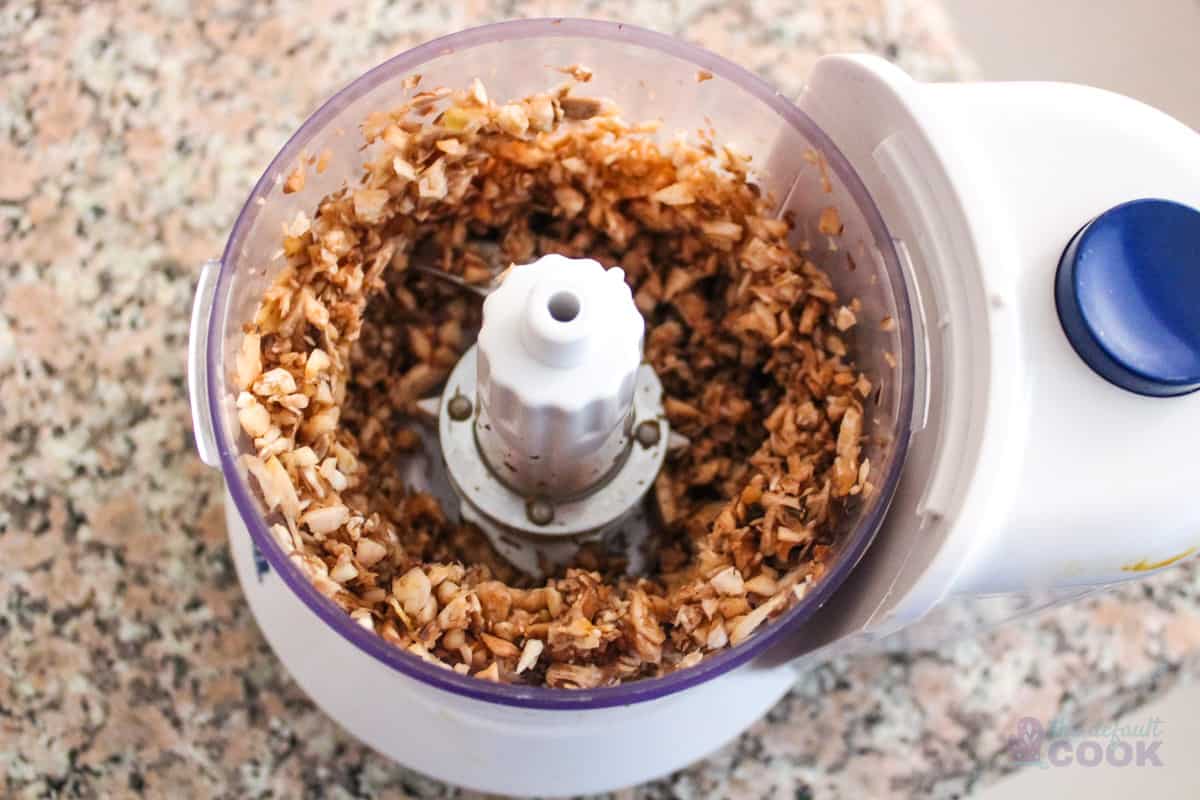 To the mushroom stems, add the lemon juice, 1 cup of cheese, and ½ cup of the wine.
Optionally at this point you can coat the mushroom caps with olive oil. I've done it both ways and I don't find it really impacts the taste, but I think they look nicer after baking with the oil.
Step 3: Cook the filling
Mince your garlic cloves (or grab your garlic jar from the fridge- no judgement!) and slice your green onions. Save the top ⅓ of the green onions for garnishing along with the remaining ¼ cup cheese. I find it helpful to move the garnishes out of sight- ie, back in the fridge- to avoid accientally throwing them in the pan.
Melt butter over medium heat, and add your garlic and green onions to the melted butter. Sauté garlic and onions until they're fragrant and the garlic is starting to brown just a touch- about 2 minutes. Then add the mushroom mixture and your breadcrumbs and stir until the cheese melts and everything is well combined. If you need another dash of wine to get it the right consistency that's fine. It shouldn't crumble apart, but should still be solid and easy to form.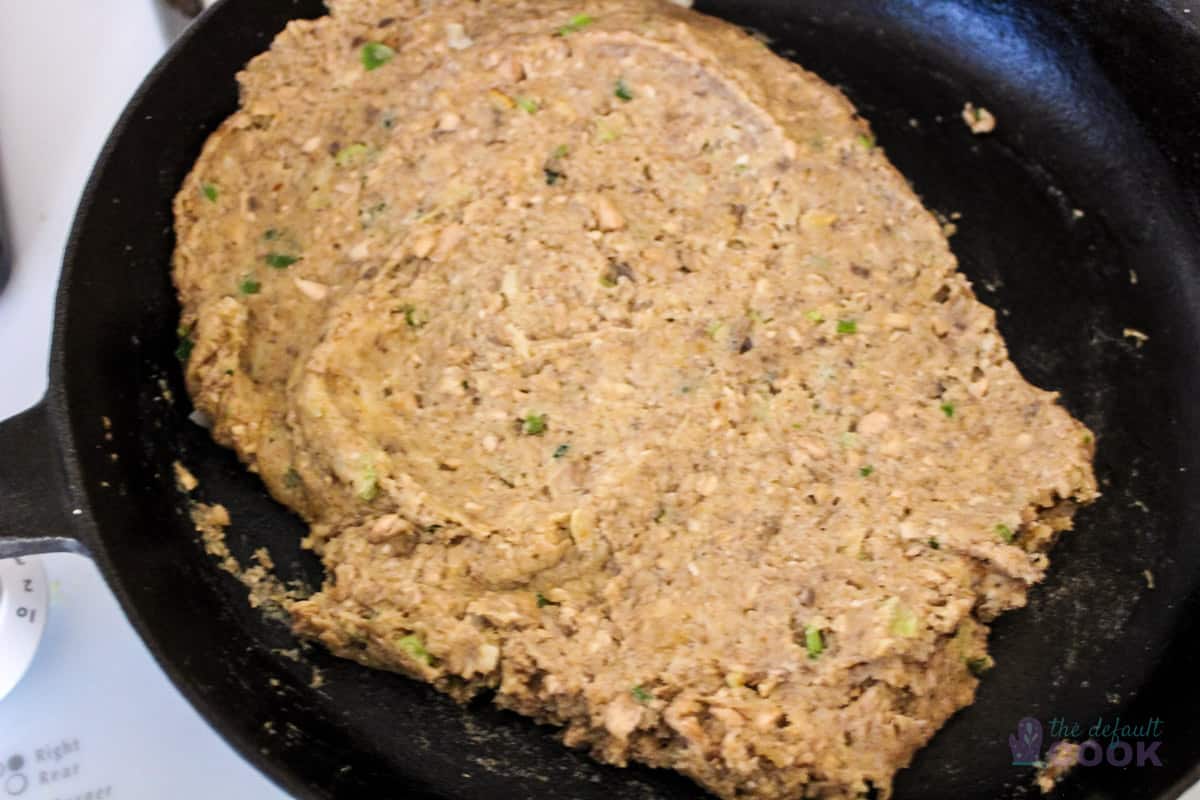 Step 4: Stuff mushrooms and bake
Preheat your oven and fill the mushroom tops with the stuffing mixture. It's possible you'll have a bit of extra filling- this is the definition of a first world problem and I recommend fixing it with a spoon or crackers.
Add the last tablespoon of butter, any remaining olive oil, and two tablespoons of white wine to the pan. Once that's melted and combined arrange your stuffed mushrooms in the skillet so as many fit as possible. They'll shrink down a bit when cooking, so it's okay if they're touching, but they should be in a single layer. You can also put any extras in another baking dish and cook them on another rack.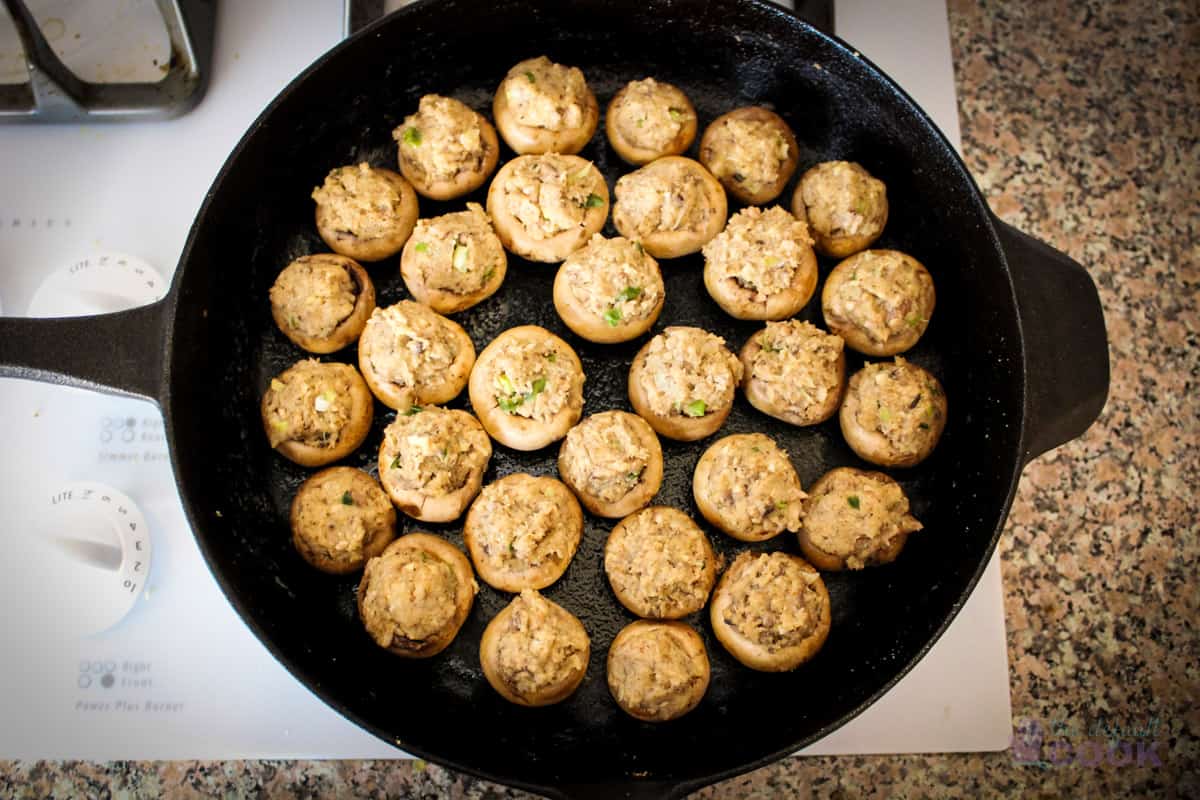 Pop them in the oven for 8-11 minutes. Check on them at 8, but slightly larger mushrooms will take a bit longer. Or, if you prepped them ahead of time and had them in the fridge those will take a bit longer as well.
Step 4: Serve and enjoy
Garnish with the green onions and cheese. These are best served warm, if you're bringing them to a gathering I recommend preparing them at home and then baking them at your hosts. If you have any, store leftovers in an airtight container for up to 5 days- they make a great side dish on a fridge clear-out night.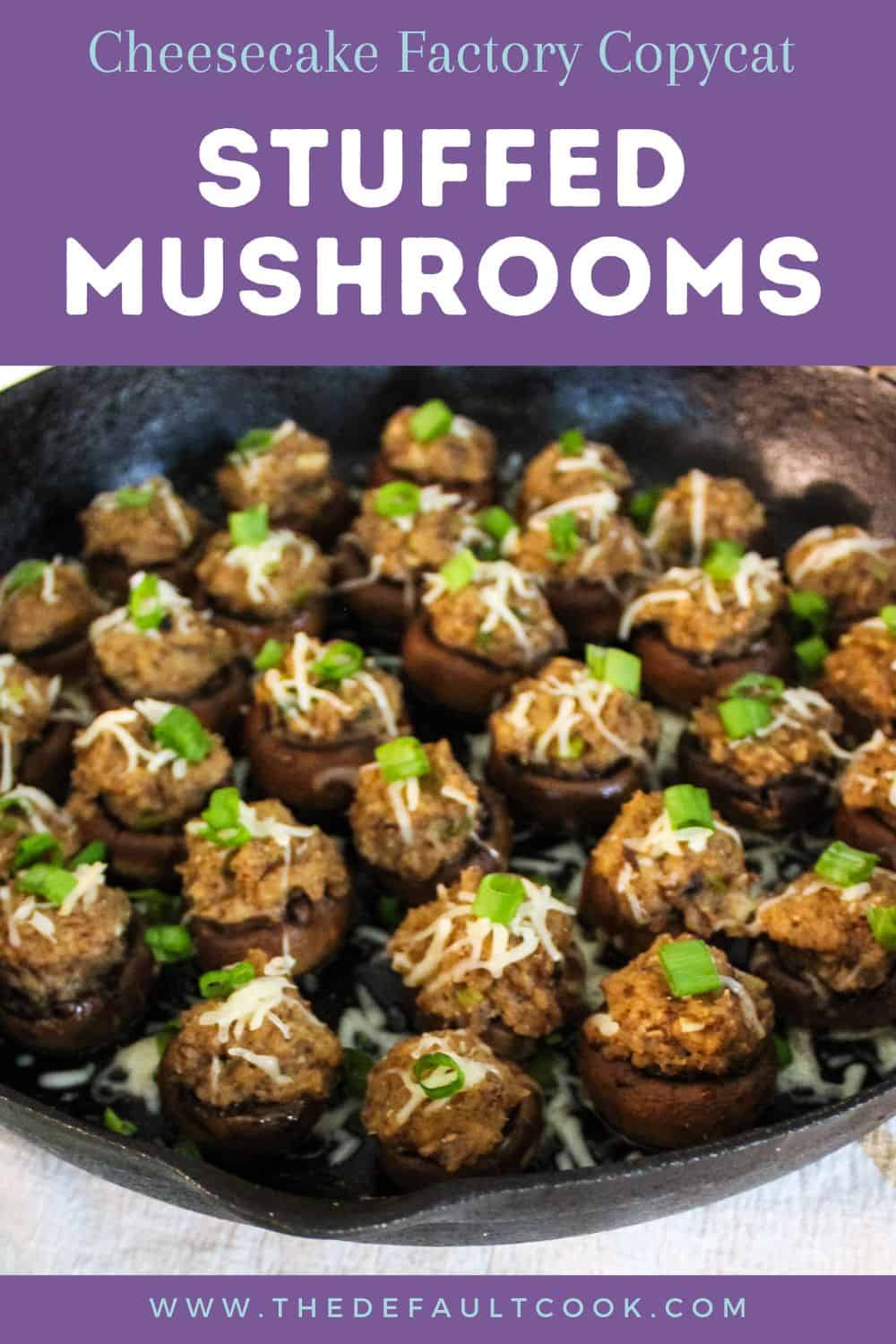 FAQs
What other fillings could I use?
For this copycat I'd recommend sticking to the italian blend or going even closer and sticking with just the parmesean and fontina mentioned on the menu. That said, there are lots of delicious options if maintaining the copycat feel isn't a priority for you. Cream cheese, sauteed onions, or sausage are common additions.
Can I make this in the Air Fryer?
Yes! You'll want to reduce the cook time a bit and check on them after 5 minutes. If using an oven-style air fryer the directions are otherwise the same, but for baskets you'll likely have to work in batches. You'll also either need a shallow baking pan that fits the air fryer basket, or to skip the butter wine sauce in the pan.
More great appetizers you may like:
For another two-bite app that'll disappear, try these avocado deviled eggs!
If you're looking for essentially zero prep, go with these tempura shrimp from the freezer section.
Or for the ultimate kid-friendly app, try using your air fryer for pizza rolls.
Enjoy!
If you make and love this recipe, be sure to come back and let me know below!
📖 Recipe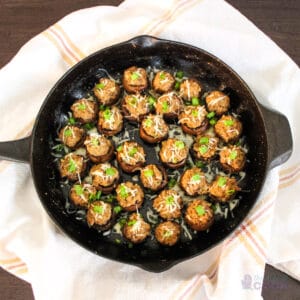 Cheesecake Factory Stuffed Mushrooms (Copycat Recipe)
These delightful stuffed mushrooms are the perfect two-bite appetizer! Mushroom caps filled with a mixture of mushroom stems, cheese, breadcrumbs, and spices are a savory treat sure to disappear fast.
Ingredients
24

oz

mushrooms

1 ¼

cup

Italian cheese blend

divided (1 cup and ¼ cup)

¾

cup

breadcrumbs

⅝

cup

white wine

divided (½ cup and 2 tbsp)

½

ea

lemon

juice only

3

ea

green onions

3

tablespoon

butter

divided (2 tablespoon and 1 tbsp)

2

tablespoon

olive oil

optional

3

cloves

garlic

½

teaspoon

salt

to taste

½

teaspoon

black pepper

to taste
Instructions
Wash and pat dry mushrooms. Remove the stems by popping them off with your hands, and use a spoon to remove any remaining stem and the gills.

Use a food processor or blender to finely chop the stems. Combine them in a bowl with 1 cup cheese, the lemon juice, and ½ cup white wine. Coat empty mushroom caps with olive oil (optional).

Slice green onions, reserving the top ⅓ (green ends) for garnish. Melt 2 tablespoon butter in a large skillet. Add green onions and garlic and cook 2 minutes, add mushroom stem mixture and breadcrumbs, then stir until cheese is melted and the filling well combined. Preheat oven to 350 F.

Stuff mushrooms with the filling. Add remaining butter and white wine to pan. Once butter is melted, arrange stuffed mushrooms in the pan and bake for 8-11 minutes. Garnish with remaining cheese and green onions, and serve warm.
Podcast
Notes
This dish can be prepared ahead, but wait to bake until just before serving.
Nutrition
Calories:
54
kcal
Carbohydrates:
3
g
Protein:
2
g
Fat:
3
g
Saturated Fat:
1
g
Polyunsaturated Fat:
0.2
g
Monounsaturated Fat:
1
g
Trans Fat:
0.05
g
Cholesterol:
4
mg
Sodium:
78
mg
Potassium:
83
mg
Fiber:
0.4
g
Sugar:
1
g
Vitamin A:
36
IU
Vitamin C:
1
mg
Calcium:
17
mg
Iron:
0.3
mg
Nutrition information is provided as a courtesy and is an estimate. It is recommended to use your preferred calculator with the actual ingredients you use for optimal accuracy.