These mayonnaise-free avocado deviled eggs are a fun twist on the classic appetizer, and sure to be a hit at your next get together. A healthy and delicious appetizer!
Two-bite appetizers aren't often something you describe as "healthy". And most of us don't think of fun when we think of an egg recipe.
But these healthy deviled eggs skip the mayo, instead using Greek yogurt and avocado for that creamy, fluffy filling. They're basically the party version of a healthy breakfast!
No time to read now? Pin it for later!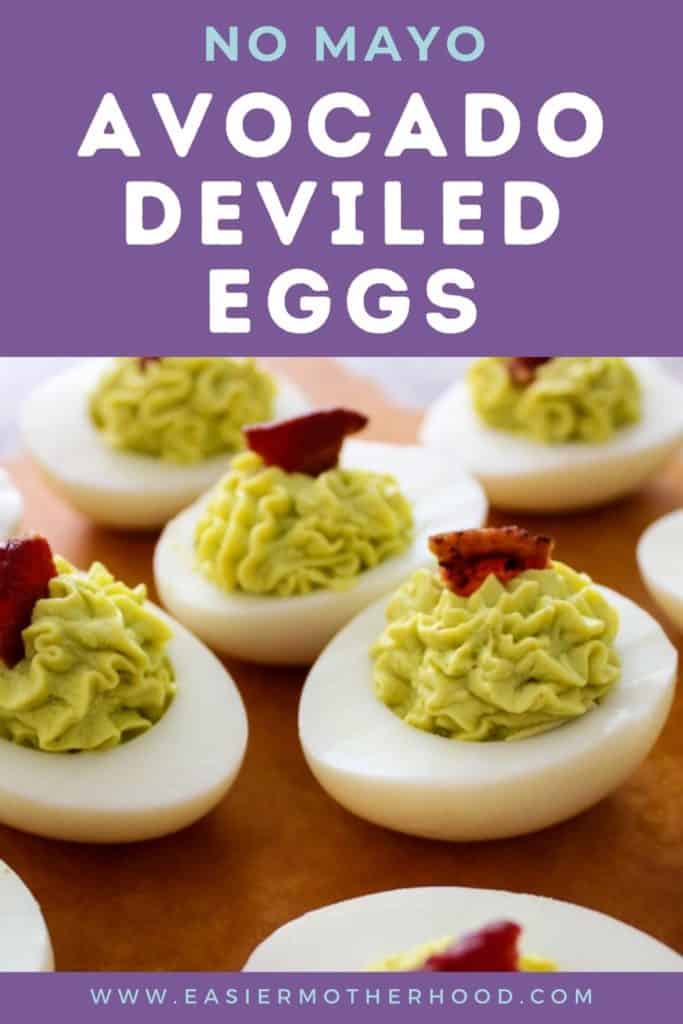 This post contains affiliate links, which means I receive a small commission, at no additional cost to you, if you make a purchase using this link.
Why You'll Love These
Healthy Avocado Deviled Eggs
Easy

Nutritious

Make-ahead friendly
Let's get started! Here's what you'll need: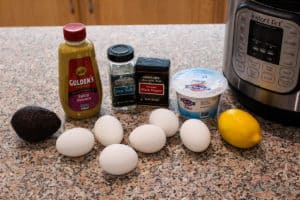 6 hard-boiled eggs

½ medium ripe avocado 

3 tablespoon Greek yogurt 

(you could substitute sour cream)

1 teaspoon mustard

- spicy brown or dijon mustard are both good choices

1 teaspoon lemon juice 

1 slice crispy bacon (optional- for garnish)

Salt and pepper to taste
If you haven't already hard boiled your eggs, I recommend the 5-5-5 method with an instant pot. The pressure causes the shells and whites to pull away from each other a bit, making them far easier to peel than traditional boiling.
If you don't have an instant pot, here's the next best method I perfected over the years before I had an IP. Start with a pot of water and eggs in it at room temp, bring to a boil and simmer low- not rolling- for 6 minutes. Then turn off gas or remove from heat and leave covered 10 minutes, and ice bath for another 5 minutes.
Starting with hard-cooked eggs, you'll need a cutting board or plate, bowl for mixing, a fork, and spoon.  Optionally you can use an electric mixer or food processor, a ziplock, scissors, and frosting tip.
Instructions
Step 1: Mash your Mayo Replacement
Dice or mash the avocado in the bowl, then add your greek yogurt and mix well. I just use a fork because it's less dishes to clean after, but if you want an extra silky smooth filling you can use an electric mixer.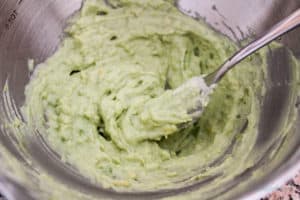 Step 2: Make the No Mayo Filling
Slice your eggs in half carefully and set aside the white halves. Add the egg yolks, mustard, lemon juice, salt, and pepper to the bowl and mix well.
If you're making these ahead, go ahead and put the filling into a ziplock or other container where you can minimize air contacting the filling. Plastic wrap pressed down into the filling in a food storage container works well.
Step 3: Fill the Eggs
Fill the egg whites with your prepared filling. You can do this one of two ways. First, you can just spoon your mayo free filling into the egg whites. This is what I do if they're just for my family or close friends.
But if I want them to look extra fancy for a Christmas party or something, then I will opt for method number two. I snip off the corner of a ziplock and place a frosting tip in that corner, taping it on the outside to secure it in place. Then fill the ziplock and use it as a piping bag to fill the egg whites.
Step 4: Garnish and Eat!
I garnished these with a single slice of bacon I broke up, though bacon bits would be lovely as well. If you want to keep them vegetarian you can always skip the garnish, or go with the traditional paprika to give them a Christmas color palette!
Frequently Asked Questions
What is the best way to make these ahead?
I love making these the day before! I fully prepare the filling and the egg whites, then store the filling in a ziplock and the egg whites in the carrier I'll be taking with me (or another container if they'll be served at my house). This way the only thing I have to do day-of is pipe the filling into the egg whites, and we're ready to go.
How long do leftovers keep?
Once the filling is piped into the eggs, I'd eat them within a day or two being stored in the refrigerator in an airtight container. The lemon juice significantly slows the avocado browning, but it doesn't stop it entirely. They do beautifully during an event though so no worries there! Last time I served these was for the Super Bowl, and the one egg remaining at the end of the game was still a vibrant green.
Can I make this recipe dairy free?
Absolutely! The yogurt gives these a bit more fluff than avocado alone, but you can use a bit more avocado and have the filling be a bit thicker. Alternatively, you can use about a tablespoon of oil in place of the yogurt.
How much Salt and Pepper is "to taste"?
Yours might be different, but I use approximately ¼ teaspoon of each for this recipe. Start light and don't be afraid to taste the filling mixture to check it- remember you can always add in more as you go, but once it's mixed in you can't take it out.
Looking for more party food?
Don't forget to come back and let me know how it turned out for you!
📖 Recipe
Avocado Deviled Eggs Recipe (no mayo)
This easy, healthy, two-bite appetizer is sure to disappear quickly at your next get together!
Ingredients
6

ea

eggs

hard boiled

½

ea

avocado

medium

3

tablespoon

Greek yogurt

1

teaspoon

mustard

1

teaspoon

lemon juice

1

slice

bacon

optional, for garnish

¼

teaspoon

sea salt

season to taste

¼

teaspoon

pepper

season to taste
Instructions
Mash your avocado and Greek yogurt together.

Slice eggs lenghwise and set aside the whites. Add yolks, mustard, lemon juice, salt, and pepper to avocado-yogurt mixture and mix until smooth.

Fill whites with prepared mixture and garnish with bacon pieces.
Podcast
Notes
To keep this dish vegetarian, omit the bacon garnish- traditional paprika is a lovely substitute.
Nutrition
Calories:
55
kcal
Carbohydrates:
1
g
Protein:
4
g
Fat:
4
g
Saturated Fat:
1
g
Polyunsaturated Fat:
1
g
Monounsaturated Fat:
2
g
Trans Fat:
0.01
g
Cholesterol:
83
mg
Sodium:
98
mg
Potassium:
82
mg
Fiber:
1
g
Sugar:
0.3
g
Vitamin A:
133
IU
Vitamin C:
1
mg
Calcium:
18
mg
Iron:
0.5
mg
Nutrition information is provided as a courtesy and is an estimate. It is recommended to use your preferred calculator with the actual ingredients you use for optimal accuracy.