This delicious and creamy vanilla matcha latte recipe makes it easy to create your own latte without stepping foot in a coffee shop!
Confession time: I've never been a coffee person.
But I am a caffeine person. Especially after having kids, that morning or afternoon beverage feels pretty critical.
I find with matcha, the energy sticks around longer for better overall energy levels, plus there are a variety of health benefits to drinking matcha. This green tea latte recipe covers how to make your vanilla matcha latte both iced or hot, so you'll be able to prepare it to your preference.
No time to read now? Pin it for later!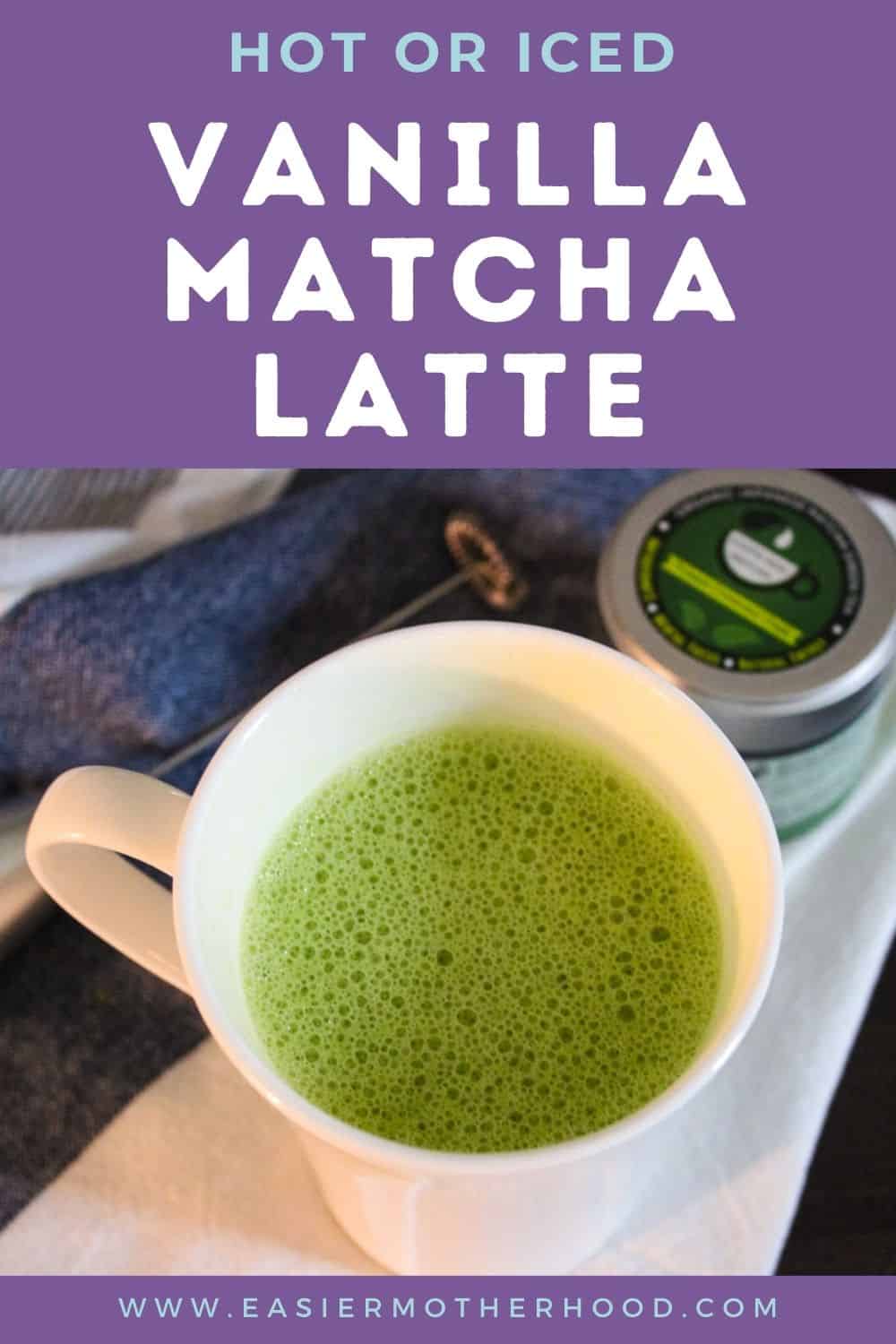 This post contains affiliate links, which means I receive a small commission, at no additional cost to you, if you make a purchase using this link.
What is a matcha latte?
A matcha latte is matcha green tea powder that's been mixed into a small amount of hot (but not boiling) water, and milk. It can be served hot or over ice, and is often sweetened and sometimes flavored.
Let's get started! Here's what you'll need:
The traditional way to prepare matcha is blended with a bamboo whisk. I don't have one, instead I use this milk frother which works beautifully, but you could also use a small whisk.
You'll also need a cup or small bowl you can blend in (I like a glass mug), and whatever equipment you use to heat water and milk in your kitchen- be that a teapot, microwave, or small saucepan.
How to Make your Vanilla Matcha Latte
Step 1: Make a matcha shot (and heat your milk over medium heat, if making a hot latte)
Add your matcha powder and hot water to a cup and mix with your whisk or frother until your matcha has a nice froth.
Notes: Like an espresso shot, the matcha shot is concentrated. You'll use just enough warm water to get your matcha powder into suspension- about 2 tablespoons. Boiling water is too harsh on the delicate matcha tea leaves and will scorch them, making the tea taste somewhat bitter. The maximum temperature you should use is 176 degrees (80 celcius). If using a regular tea kettle you can pull it off the stove for a few minutes with the lid off before using, or add the water to your mug before the matcha and swirl it around to cool.
Step 2: Add your vanilla and sweetener
Add a few drops of vanilla extract to your matcha shot, and syrup or honey if you're using it. Mix to combine.
Step 3: Add your milk
To make an iced vanilla matcha latte, add ice to your serving glass and pour about half the milk over the ice. Add the matcha shot, and then pour some of the remaining milk into the glass that had the matcha shot in it. Swirl to get as much of that matcha goodness as you can and add it, along with the rest of the milk, to your serving glass. Stir and enjoy your iced matcha latte!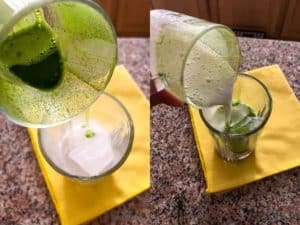 For a hot vanilla matcha latte, froth your hot milk and add it to the vanilla matcha shot.
If your whisking cup is large enough for the full latte, just pour the milk right into the cup with the matcha shot. Simply stir and serve! If the cup isn't large enough, then you can add the matcha shot to the milk cup instead. I like to add a bit of the hot milk to the matcha shot cup and swirl so as much of the matcha gets transferred as possible.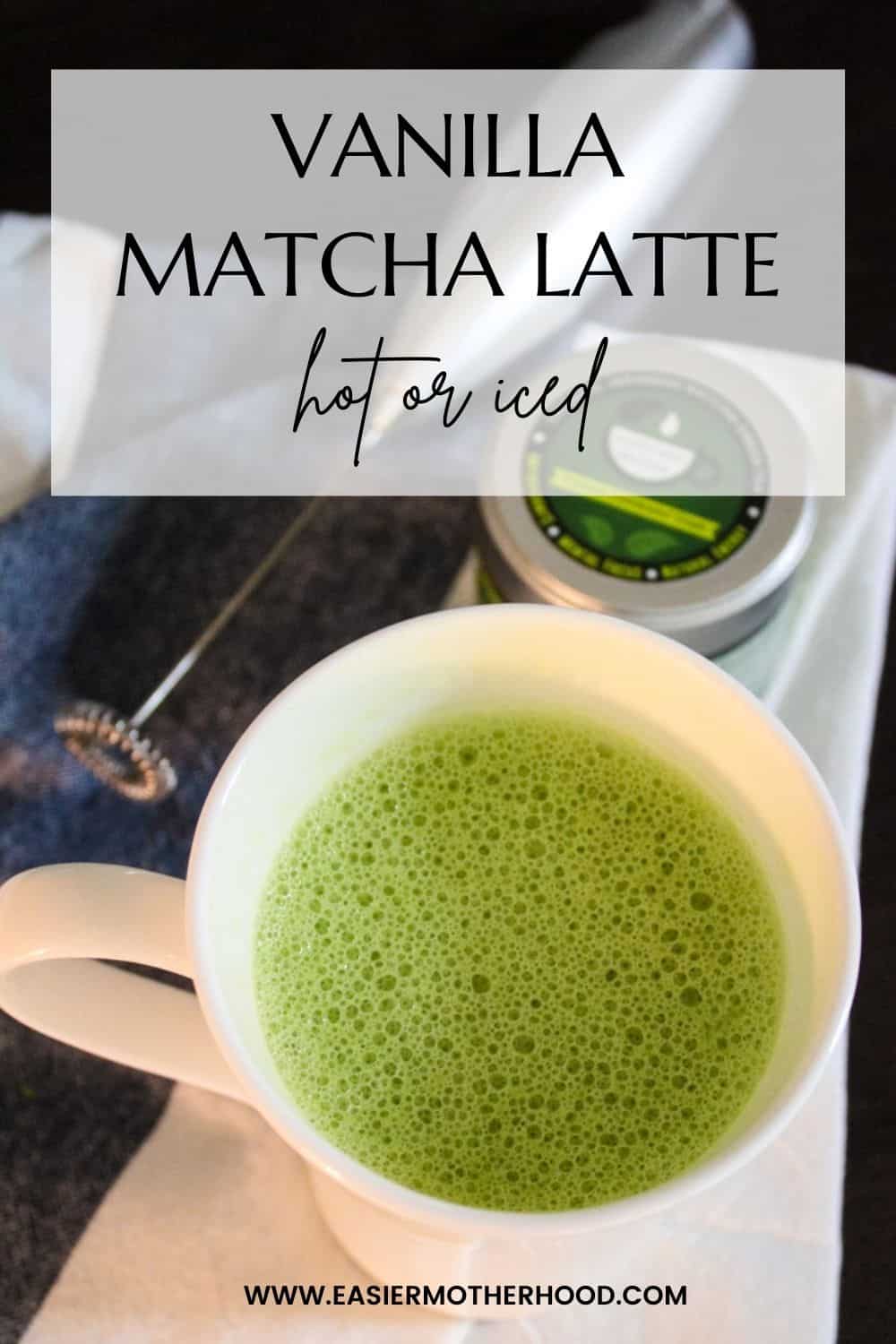 Frequently Asked Questions about Matcha Lattes
What are matcha grades?
There are two primary grades of matcha- culinary and ceremonial. Ceremonial is stone ground into a fine powder, so it blends into beverages better. When shopping for a matcha for tea or lattes, I highly recommend getting a ceremonial matcha as they are higher quality.
I've personally tried 4 ceremonial grade matcha powders. My favorite is Kyoto Dew, followed closely by Akira. If you're new to matcha and have a Trader Joe's, their single serve packets have good flavor, and while they don't blend quite as well as my favorites, they are far superior to the culinary I've tried.
What is the best milk for matcha lattes?
This is completely a matter of taste. I like the Califia Coconut Almondmilk blend for the combination of flavors and that it has some monk fruit extract, so when I use that milk I don't need to add sweetener.
If you want your drink to be a vegan latte then stick with a plant based milk and maple syrup or agave nectar for sweetening. Nut milks like almond milk, cashew milk, coconut milk are all good choices along with oat milk, and soy milk.
Why is there powder in the bottom of my cup?
Matcha does not dissolve, even though it initially looks like it does. Matcha is actually a suspension of the powder in your beverage, so as it sits the powder will fall out of the beverage. The longer you take to drink it, the more powder will be at the bottom. If it's too strong for you at the end you can always add a bit more milk or water and give it a quick mix.
Can I use vanilla syrup instead of extract?
Absolutely. Especially if you already have it for coffee, it can be easier to use flavored syrup instead of a sweetener and the vanilla extract. I've made this with torani and it was delicious, just a little sweeter than I personally prefer.
Other Recipes You'll Love
Now that you've had some caffeine- we can cheers our matcha drinks to that!- you can actually think about dinner, right?
If it's morning and you have a few minutes to get your crock pot going, try my chicken potato chowder or pulled pork. If it's lunchtime you still have time for this slow cooker caprese pasta.
Late afternoon? This instant pot pesto chicken pasta is my go-to when I didn't plan anything, or I grab some meat and my homemade taco seasoning- it's always a good day for tacos!
Looking for other matcha recipes? Let me know which ones so I can put them on my to-create list!
Don't forget to come back and let me know how your homemade lattes turned out for you!
Yield: 1
Vanilla Matcha Latte
This versatile latte can be made hot or iced, with your choice of milk and liquid sweetener.
Ingredients
½ teaspoon ceremonial grade matcha powder
1 cup milk
1-2 oz hot water (max 176 degrees)
2 drops Vanilla extract
Maple syrup or honey to taste, optional
Instructions
Heat water and, if serving hot, milk.
Whisk together the hot water and matcha powder.
Add vanilla and sweetener to matcha shot.
For a hot latte, froth hot milk and combine with vanilla matcha shot. For an iced latte pour cold milk and matcha shot over ice. Stir and enjoy.
Notes
Boiling water scorches matcha powder and results in a more bitter taste. For iced lattes warm water can be used instead of hot- cold water may not froth as well and be harder to avoid clumps of matcha.
Nutrition Information:
Yield:
1
Serving Size:
1
Amount Per Serving:
Calories:

262
Total Fat:

5g
Saturated Fat:

3g
Trans Fat:

0g
Unsaturated Fat:

2g
Cholesterol:

20mg
Sodium:

121mg
Carbohydrates:

43g
Fiber:

0g
Sugar:

43g
Protein:

8g
Nutrition information is provided as a courtesy and is an estimate. It is recommended to use your preferred calculator with the actual ingredients you use for optimal accuracy.