This healthy smoothie is perfect when you want a light breakfast AND a caffeinated beverage to jump start your day.
It's no secret I'm a fan of matcha. I love it in everything from lattes to brownies, and I haven't disliked anything I've made with it yet.
This is the first smoothie recipe I've made with it, and I wasn't disappointed! While it's a decidedly light breakfast on its own, it has a lot more staying power than a strawberry matcha latte with the additional fruit, and the caffeine from the matcha adds an earthy touch as well as the energy boost and health benefits that green tea matcha powder provides.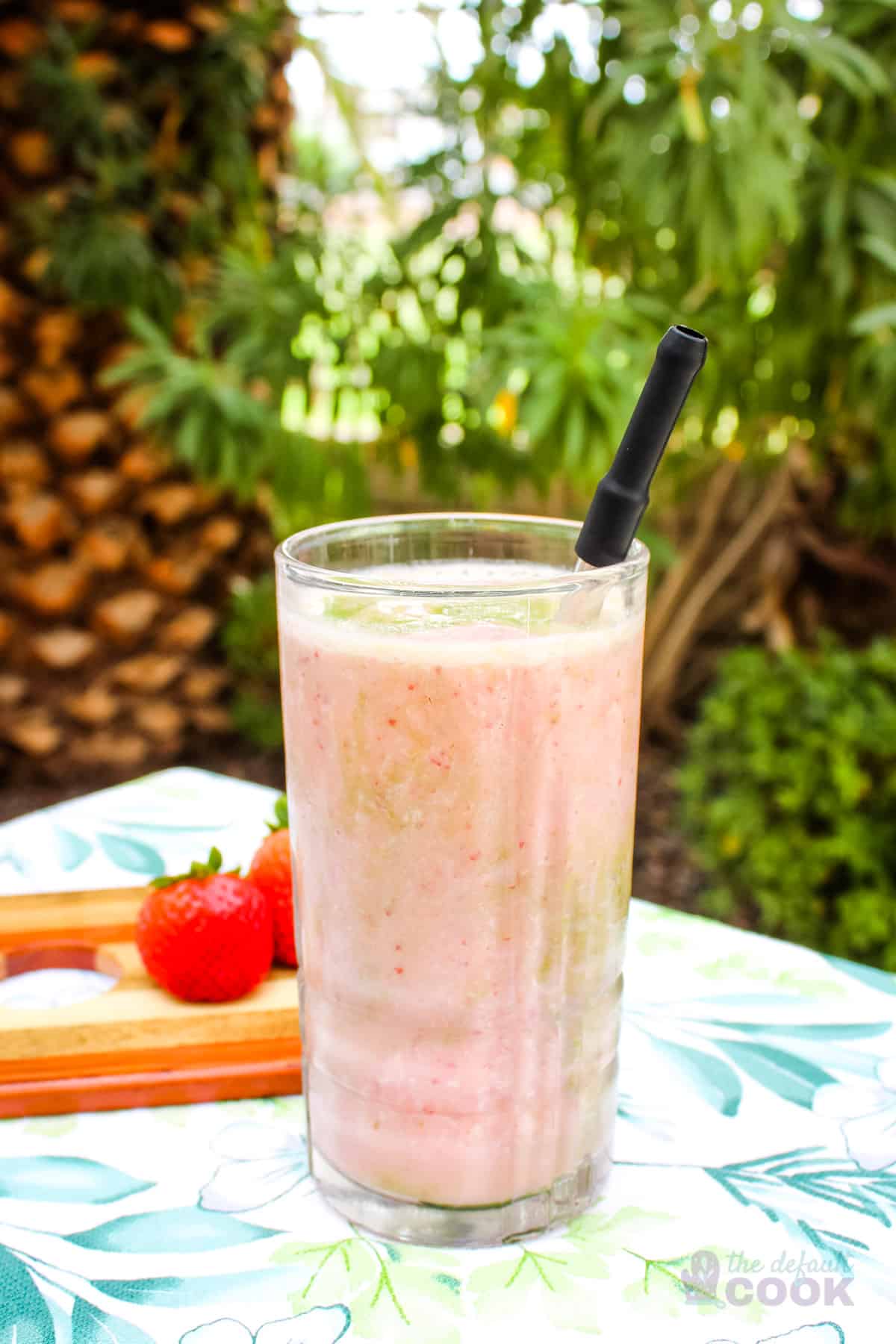 This post contains affiliate links, which means I receive a small commission, at no additional cost to you, if you make a purchase using this link.
Why you'll love this recipe:
Simple- just 5 ingredients (plus water and ice)
Fast- while we're adding the matcha shot at the end, we're not doing dedicated layers so this fruity smoothie will be ready to drink in 5 minutes.
Multi-purpose- breakfast with fresh fruit and caffeine in one delicious cup? Yes, please!
Let's get started! Here's what you'll need:
Ingredients:
Strawberries- You'll want them to be frozen, otherwise the smoothie will be a little watery.
Banana- This doesn't need to be frozen unless you want your smoothie to be a thicker consistency.
Almond milk- you can use oat milk, coconut milk, regular milk, or whatever floats your boat here.
Matcha powder- you can use either culinary or ceremonial green tea powder in this recipe.
Maple syrup- for some natural sweetness. You can use honey instead if you prefer it.
Equipment:
You'll of course need a blender for the main part of the smoothie. You'll also need either a matcha whisk or milk frother plus a small cup or bowl to mix the matcha shot. Plus a spoon or straw to stir it in at the end.
How to make it:
Step 1: Make your Matcha Shot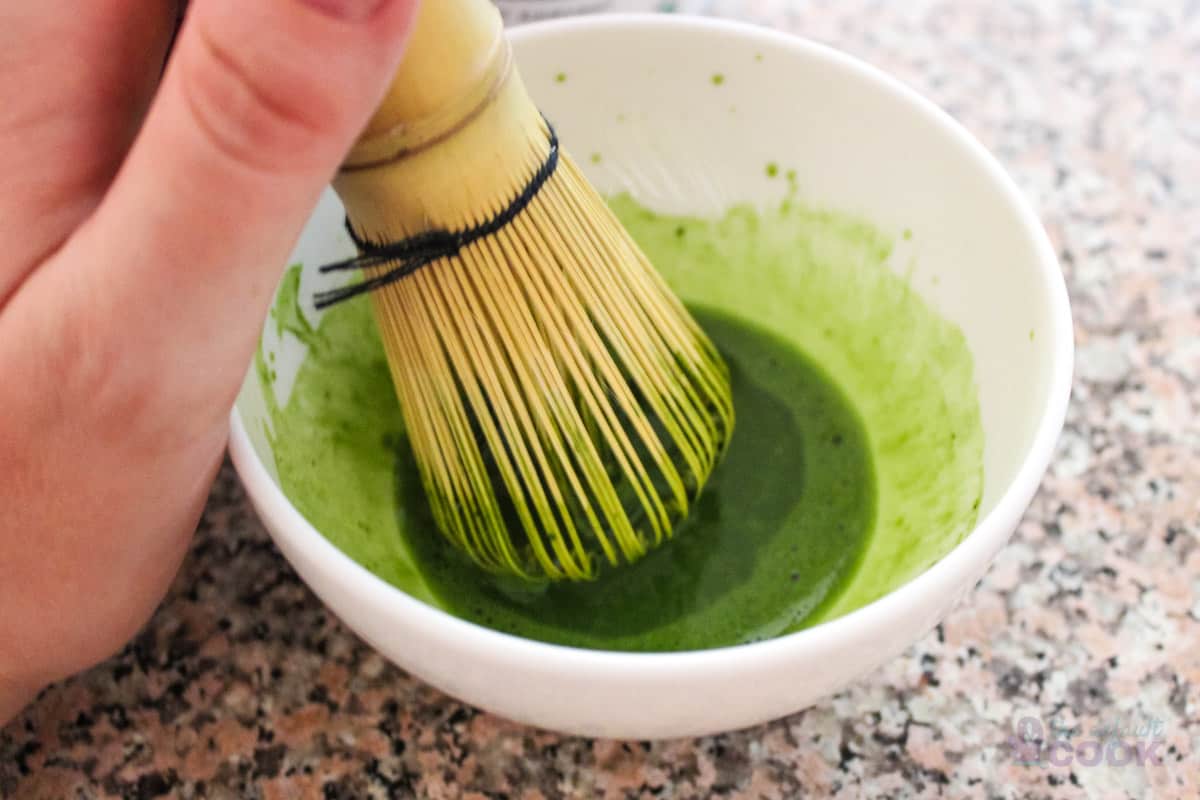 Gather your ingredients and if you want a chilled glass go ahead and put one in your freezer. In a small bowl or glass, combine your matcha powder and room temperature water. Whisk together until there are no clumps of matcha powder remaining and set it aside for now. If you're using a traditional bamboo whisk like I am here you want to mix in a W pattern, but a milk frother works just fine too.
Step 2: Blend baby, blend!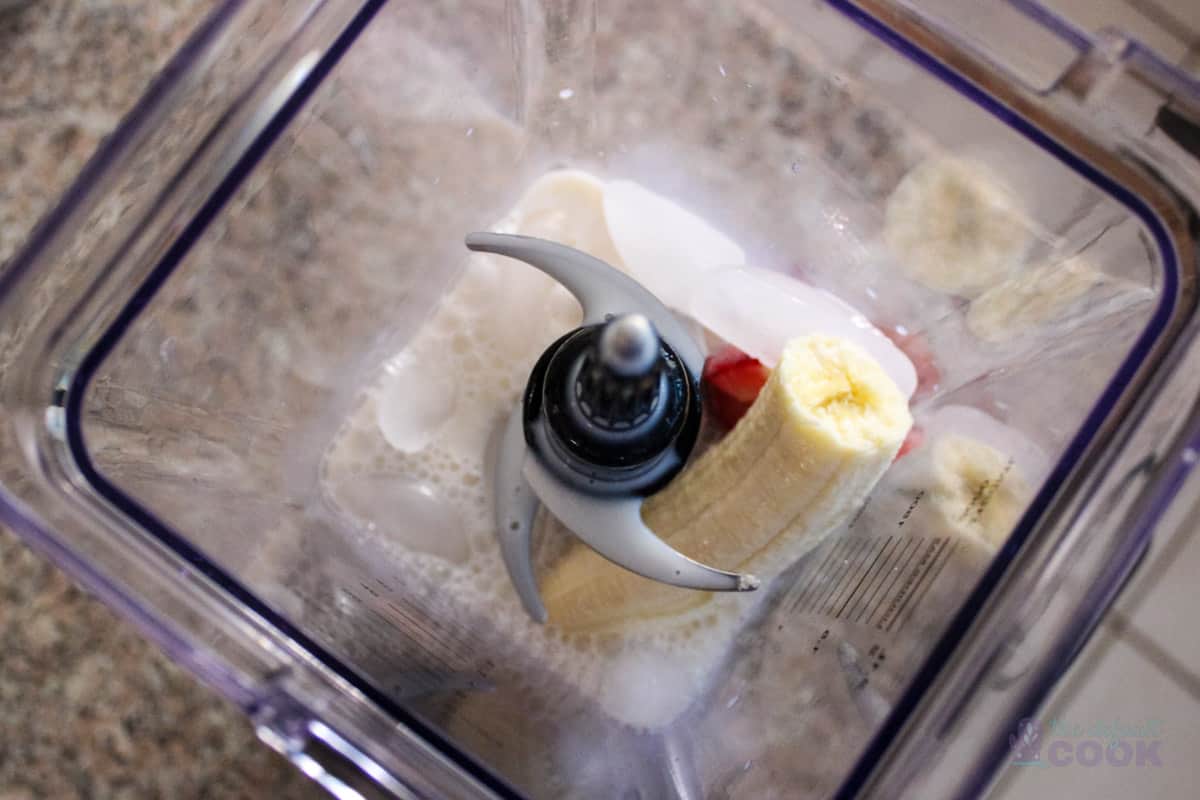 Add the remaining smoothie ingredients- the half banana, frozen strawberries, your milk of choice, ice, and sweetener to your blender (or a bowl large enough to have some mixing space if you're using an immersion blender) and blend until smooth. At this point you have a matcha strawberry smoothie that's missing the matcha- so if you need to siphon some off for your child(ren) now's a good time.
Step 3: Serve and Enjoy!
Pour into a glass or mason jar for serving. Be sure to leave an inch or so of space for your matcha shot on top. If you have more than your glass holds you can grab a refill once you've had some of it, put it in a pouch for your toddler (#momlife), or freeze the rest for later.
Add your matcha shot to the top of the glass and give it a stir- then enjoy!
Common substitutions and adjustments
Transforming this recipe into smoothie bowls
The main difference between a traditional smoothie and a smoothie bowl is thickness, and the way that's typically accomplished is by using all frozen ingredients. To make this a strawberry matcha smoothie bowl, you'll want to use frozen milk or substitute yogurt for the milk, and use all frozen fruit. Freezing your milk into cubes for smoothie bowls ahead of it spoiling is a great way to use it up, and of course freezing works great for ripe bananas too.
The other typical difference seen between bowls and drinkable smoothies is toppings. When making a bowl you're not concerned about getting things through a straw, so you can also add whatever toppings you want like chia seeds, additional fresh strawberries, nut slices, matcha granola, or coconut flakes.
Adding protein
To make this smoothie more filling, you can substitute yogurt for the milk. You could also add another protein rich ingredient like peanut butter, almond butter, or protein powder.
More banana
Half a banana is enough to give the smoothie some creaminess and mild banana flavor- if you really like banana or want it to be a more prominent component of the smoothie you can use a whole one.
More matcha recipes you may like:
My go to is this simple vanilla matcha latte recipe, and if I just have a few berries to make a strawberry puree I might make this one instead. These brownies are absolutely decadent and a personal favorite of mine.
Need ALL the matcha drinks? Find 13 more here!
Enjoy!
Let me know how you liked this below, and let me know what other fruity smoothies you'd like to see next time!
📖 Recipe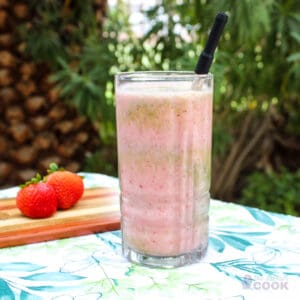 Strawberry Matcha Smoothie Recipe
This light breakfast or afternoon snack is the perfect pick-me-up with natural sugars and some caffeine to boot!
Ingredients
1

cup

frozen strawberries

½

ea

banana

1

cup

unsweetened almond milk

1

tablespoon

maple syrup

1

cup

ice

1

teaspoon

matcha powder

1

tablespoon

water

room temperature
Instructions
Whisk matcha powder and water, then set aside.

Add almond milk, banana, frozen strawberries, ice, and maple syrup to blender and blend until smooth.

Pour smoothie into a glass leaving about an inch of space at the top, then top with matcha shot and stir to combine.
Notes
For a thicker smoothie, substitute yogurt for the milk and/or use a frozen banana.
Nutrition
Calories:
200
kcal
Carbohydrates:
39
g
Protein:
5
g
Fat:
4
g
Saturated Fat:
0.1
g
Polyunsaturated Fat:
2
g
Monounsaturated Fat:
2
g
Sodium:
341
mg
Potassium:
477
mg
Fiber:
5
g
Sugar:
26
g
Vitamin A:
255
IU
Vitamin C:
90
mg
Calcium:
355
mg
Iron:
1
mg
Nutrition information is provided as a courtesy and is an estimate. It is recommended to use your preferred calculator with the actual ingredients you use for optimal accuracy.