These decadent green tea brownies are a cross between a brownie and a blondie, with a delicious and earthy caffeinated flavor boost from the matcha powder.
If you've been enjoying matcha for a bit, you might think there's no need to use culinary for anything. After digging into the difference between culinary and ceremonial grade matcha and experimenting with various beverages, I decided it was time to bake with the culinary grade matcha. And WOW did it knock my socks off.
None of the bitterness that I could detect when using culinary in lattes is found in these amazing fudgy brownies. The earthy undertones are still there for matcha lovers, but as a sweet treat with a chewy texture. Try these gooey matcha brownies the next time you want dessert!
Looking for matcha drinks instead? Try my vanilla matcha latte, or strawberry matcha latte!
No time to read now? Pin it for later!
This post contains affiliate links, which means I receive a small commission, at no additional cost to you, if you make a purchase using this link.
Let's get started! Here's what you'll need:
All purpose flour- do not pack the flour when measuring it, and level off the top of the measuring cup
Salted butter- if you prefer to bake with unsalted butter then double the salt in this recipe from ¼ teaspoon to ½ tsp
Brown sugar- make sure to pack this ingredient when measuring it
Granulated sugar- this is responsible for the classic crinkle tops on brownies
Eggs- take these out when you first start so they have some time to come to room temperature
White chocolate chips- half we will melt into the batter, the other half will be delightful chunks throughout your brownies
Matcha powder- I used this pure leaf culinary grade, but any finely ground matcha powder will work- just avoid latte mixes that are already sweetened
Vanilla extract- to add depth of flavor and highlight the other ingredients in the dish
Salt- just a bit to temper the sweetness and balance the brownies
You'll also need an 8x8 pan and parchment paper for baking, and for preparing the batter you'll need a small saucepan, a whisk, a mixer and mixing bowl, a spatula, and a sifter.
How to Make It- Step by Step
Preparation
Step 1: Melt butter in small saucepan over low to medium heat and brown slightly (and yes, you can melt it in the microwave instead). While it's melting, lightly butter your 8x8 dish and add your parchment paper. Once hot and just starting to go from yellow to dark yellow/brown, melt half the white chocolate chips (3 oz) into the butter and set aside to cool.
Step 2: Whisk the sugars, salt, vanilla and eggs together in a large bowl- this is made easier with an electric mixer. Note this is not all of the dry ingredients- flour doesn't get mixed in until the end.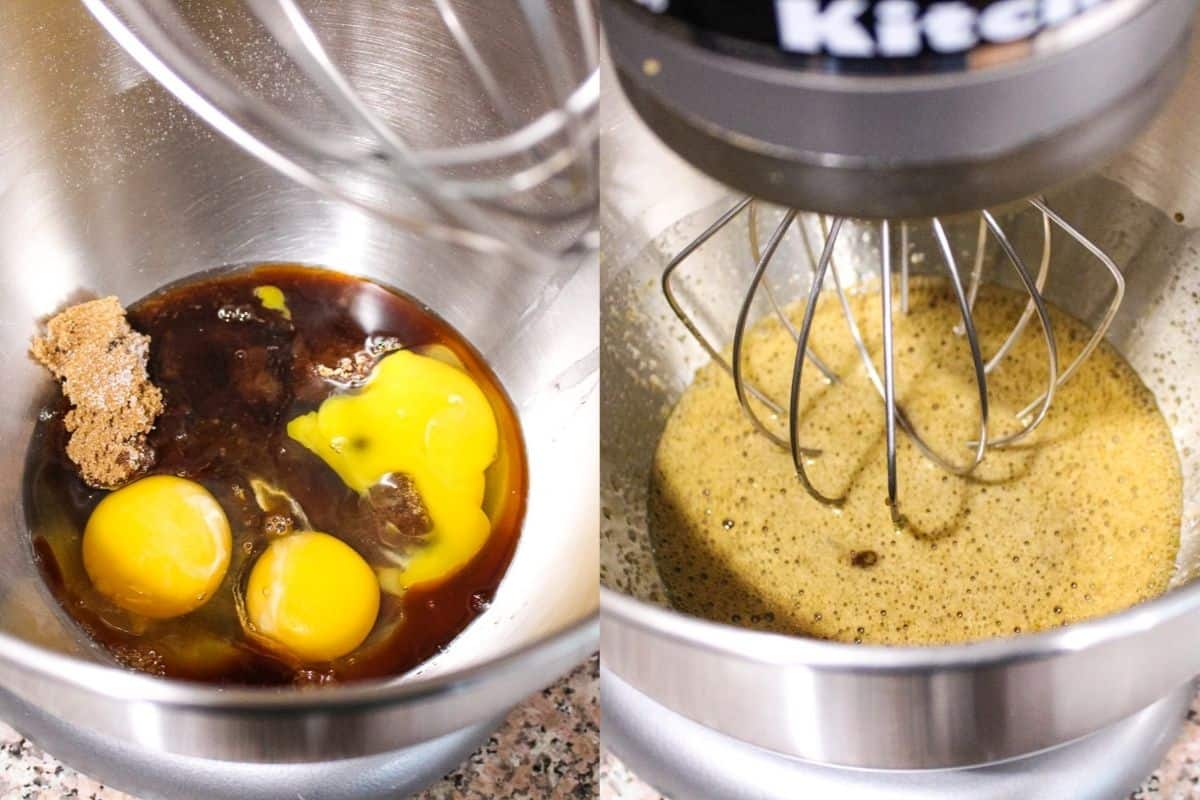 Step 3: Sift the matcha into the chocolate mixture and whisk. When sifting, you can force through any clumps with the back of your measuring spoon. Then add the saucepan contents to the sugar mixture and mix well in your large bowl.
Step 4: Sift the flour into the large bowl and stir just to moisten. Picture Moira Rose telling you to "just fold it in". I explain it as going on a treasure hunt for flour when cooking with my kids. Once it is close to combined and you can still see a tiny bit of flour, add the remaining white chocolate chips and give a few final stirs.
Step 5: Plop that brownie batter goodness in your prepared pan and spread it out evenly.
Cooking
Bake at 350 for 30-40 minutes, or until a toothpick inserted in the middle comes out clean and the edges just begin to brown. For metal cookware 30 minutes should be enough, with glass bakeware the baking time is closer to 40 minutes.
Serving
Allow to cool completely, removing from the hot pan with the parchment paper handles after a few minutes and moving to a cooling rack.
Once cooled, cut into 9 or 16 slices depending on your preference. I cut into 9 and then may cut those into small pieces if I want a smaller portion, especially in the evening when I know too much caffeine could keep me awake at night. For a decadent sundae with your white chocolate matcha brownies try serving them with green tea ice cream!
Saving for Later
Store leftovers in an airtight container on the counter for 2-3 days, in the fridge for up to a week, or you can freeze them for up to 3 months.
FAQs
Can I use dark chocolate instead of white?
You can, but you won't get that beautiful vibrant green color and a deeper chocolate will overpower some of the matcha flavour, particularly in the batter. If you want to use another chocolate or omit the chunks of white chocolate mixed in you can. I should note many people who don't care for white chocolate haven't tried a good quality one- look for a white chocolate that has cocoa butter as one of the first ingredients- the chips should have a slightly yellow hue.
What's the difference between matcha brownies and matcha blondies?
Blondies don't contain cocoa powder (like this recipe) and use brown sugar, while brownies use white sugar which forms that classic brownie crust on top when the crystals bake. These matcha white chocolate brownies are a bit of a blend since it doesn't contain cocoa powder like regular brownies, and uses both types of sugar, but they for sure have the fudgy texture of brownies.
Can I use ceremonial matcha?
Of course, though using culinary there was no bitter matcha flavor here! Ceremonial matcha has a natural sweetness to it that would lend itself to baking as well, but honestly there is enough sugar and additional flavors in these brownies that I think the biggest impact using first harvest green tea leaves would be a brighter color, and the dish would have a bit more caffeine. You can learn more about the differences between ceremonial and culinary japanese green tea powder here.
Looking for more matcha recipes?
Let me know what other baked goods you'd like to see on the site! You can enjoy these brownies with a vanilla matcha latte, strawberry matcha latte, or regular green tea.
Yield: 9
Matcha Brownies with White Chocolate
These delicious matcha brownies are a great way to enjoy matcha and mix up your usual brownies!
Ingredients
1 cup all purpose flour
½ cup (1 4 oz stick) salted butter
½ cup brown sugar
½ cup granulated sugar
3 eggs
6 oz white chocolate chips, divided
2 tablespoon matcha powder
1 teaspoon vanilla extract
¼ teaspoon salt
Instructions
Melt and slightly brown butter in small saucepan. While still warm, add half the chocolate chips and whisk together.
In a separate bowl, whisk the sugars, salt, vanilla, and eggs together.
Sift the matcha into the melted white chocolate and butter mixture and whisk to combine.
Add the contents of the saucepan to the mixing bowl.
Sift flour into the mixing bowl and stir just to moisten, adding remaining chocolate chips towards the end.
Transfer the matcha batter to the prepared baking pan and bake at 350 for 30-40 minutes, until an inserted toothpick removes clean.
Move the brownies to a cooling rack. Once cool, slice and serve.
Notes
This recipe uses culinary matcha, but you can use ceremonial grade if you prefer.
Nutrition Information:
Yield:
9
Serving Size:
1
Amount Per Serving:
Calories:

265
Total Fat:

8g
Saturated Fat:

5g
Trans Fat:

0g
Unsaturated Fat:

3g
Cholesterol:

68mg
Sodium:

114mg
Carbohydrates:

43g
Fiber:

0g
Sugar:

32g
Protein:

5g
Nutrition information is provided as a courtesy and is an estimate. It is recommended to use your preferred calculator with the actual ingredients you use for optimal accuracy.