This delicious and creamy strawberry matcha latte recipe makes it easy to create your own delicious iced latte without the drive thru!
I have been loving matcha drinks lately. First thing in the morning I prefer a hot vanilla matcha latte, but in the afternoon it's fun and delicious to add some fresh strawberries for an iced strawberry matcha latte! It's fast to make and the perfect afternoon pick-me-up for lasting energy.
No time to read now? Pin it for later!
This post contains affiliate links, which means I receive a small commission, at no additional cost to you, if you make a purchase using this link.
So what's a matcha latte?
It's a matcha green tea powder that's been mixed into a little bit of hot water, and then diluted with milk. Matcha tea can be served hot or over ice, and is often sweetened and sometimes- like here!- flavored.
Let's get started! Here's what you'll need:
1 cup milk of choice

2-3 tablespoon hot water (not boiling)

2 strawberries

Ice cubes (about 6)

Maple syrup or honey to taste, optional
Traditionally, matcha is blended with a bamboo whisk, also called a matcha whisk. I don't have one, instead I use this milk frother which works beautifully, but you could also use a small whisk.
You'll also need a cup or small bowl you can blend your matcha shot in (I use a glass mug), a knife along with a muddler or food processor to prepare the strawberries, a serving glass, mixing spoon (or a straw), and something to heat up water- either a teapot, microwave, or small saucepan.
How to Make this Strawberry Matcha Latte Recipe
Step 1: Prepare your fresh strawberry puree
Cut the tops off of your ripe strawberries and quarter them. You can either muddle them right in your serving glass (my toddler likes to do that part) or put them in a food processor or blender (which yields a smoother puree). Then add your maple syrup or other sweetener and mix them together to form your strawberry sauce. How much sweetener is to taste- between a teaspoon and tablespoon or so depending on your preferences.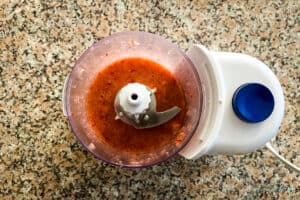 Does that sound like too much prep? For me too some days. Often I'll make a bigger batch of strawberry syrup and freeze into ice cube size portions so I have them when I feel like transforming a regular matcha latte into a strawberry one.
If you're out of real strawberries, you can substitute strawberry preserves instead, but most will still need blended a bit to break down the strawberry chunks so they don't clog your straw.
A note on straining: you can, and I have, but if using a good blender (I have a Ninja) then I find it goes through a regular straw fine. A larger boba-style straw will accomodate less finely blended strawberries, and of course skipping the straw is an option as well. My fine mesh strainer doesn't allow enough of the fruit through, so on the occasions I do strain it I use cheese cloth and squeeze out as much as possible.
Step 2: Make a matcha shot
Heat your water to at least 130 but no more than 176 degrees. Boiling water will scald the matcha powder and give it a bitter taste.
Combine matcha powder and hot water in a cup and mix with your whisk or electric frother until your matcha has a nice froth.
Step 3: Assemble your beverage
Add ice cubes to your strawberry mixture, and add your milk to the glass. Then top with your matcha layer. You'll briefly have this pretty layered effect where you can see three clean layers: fruit at the bottom, a milk layer, and the matcha mixture. They don't stay distinct layers for long though, just a couple of seconds before the matcha sinks into the rest of the drink.
While it looks super pretty when first poured, it tastes best mixed together, so go ahead and give your tea latte a gentle stir and enjoy!
Common Substitutions and Additions
Adding heavy cream or ice cream
You can make this beverage an extra creamy latte by combining the fruit puree with beaten heavy whipping cream or coconut cream. Some folks like to serve it with a scoop of vanilla, strawberry, or green tea ice cream as well, to make it more of a dessert latte- especially on those hot summer days.
Changing up the fruit
You can swap your 2 fresh strawberries for about an ounce of another fresh fruit. Blueberries, peaches, raspberries, or blackberries would all be delightful!
Frequently Asked Questions
Is this drink like the Boba Guys famous strawberry matcha latte?
I don't live in a city with a Boba Guys tea shop so I can't say for certain, but they do make their strawberry puree in house, so this drink will be closest to theirs when you use fresh strawberries. Their website gives milk selections of organic whole milk, oat milk, or almond milk. At home, you could also opt for cashew milk, coconut milk, or soy milk as delicious options.
What are matcha grades?
There are two main grades of matcha- culinary and ceremonial. Ceremonial is stone ground into a fine powder, which allows it blends into beverages better. Culinary grade is usually more bitter, as well. When choosing a matcha for tea or lattes, I recommend picking a ceremonial matcha- this one is my favorite.
Why is there powder in the bottom of my cup?
Matcha doesn't dissolve, it is actually a suspension of the powder in your beverage, so as it sits the powder will fall out of the beverage. Stirring as you drink helps prevent this from happening.
Can I use frozen strawberries?
Yes! You can use frozen strawberries- or any other fruit if you're substituting- instead of fresh. They are more difficult to muddle so I would certainly puree them with a food processor or blender. Frozen fruit also has a higher water content so you may want to slightly reduce the amount of ice you use in your drink.
Other Recipes You'll Love
No strawberries on hand? Try this vanilla matcha latte instead!
Ready to think about dinner now that you've got some caffeine in your system? This homemade taco seasoning goes great with whatever protein you have on hand- and every day is a good day for tacos!
Got some time before it needs to be ready? You can prep now and relax later, with one of these 32 dump and go slow cooker recipes.
Don't forget to come back and let me know how your iced matcha turned out for you!
Yield: 1
Strawberry Matcha Latte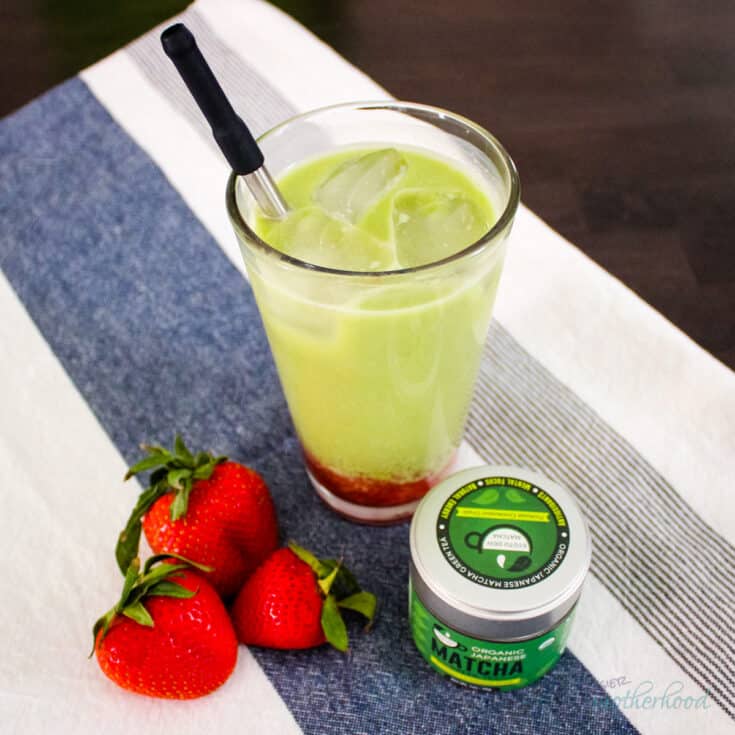 This easy fruit latte will have you skipping the drive thru for your afternoon pick me up!
Ingredients
½ teaspoon ceremonial grade matcha tea powder
1 cup milk of choice
2-3 tablespoon hot water (not boiling)
2 strawberries
6 Ice cubes
Maple syrup or honey to taste
Instructions
Muddle or blend strawberries and sweetener into a puree. Meanwhile, heat water for matcha shot.
Whisk together warm (not boiling) water with matcha powder.
Assemble beverage: puree, ice, milk, then matcha shot. Stir and enjoy!
Notes
If unsure of how much sweetener to use, start with 1 tsp. If not using sweetener, add a teaspoon of water or milk for blending purposes.
Nutrition Information:
Yield:
1
Serving Size:
1
Amount Per Serving:
Calories:

251
Total Fat:

5g
Saturated Fat:

3g
Trans Fat:

0g
Unsaturated Fat:

2g
Cholesterol:

20mg
Sodium:

129mg
Carbohydrates:

46g
Fiber:

1g
Sugar:

43g
Protein:

8g
Nutrition information is provided as a courtesy and is an estimate. It is recommended to use your preferred calculator with the actual ingredients you use for optimal accuracy.