This Mango Matcha Latte puts a tropical twist on the classic matcha green tea drink. Sweet mango puree combines with earthy matcha powder and your favorite milk for a delicious and energizing afternoon pick-me-up.
Ok, it doesn't have to be just for the afternoons, it's actually a great way to start the day- I'm just not always awake enough to handle blender noises in the morning! It's quick to make and I find the simple ingredients to make a better iced mango matcha latte than the super sweet ones I got from the drive thru this summer. If you're a longtime matcha fan or just discovering matcha drinks, this is sure to be one you'll love.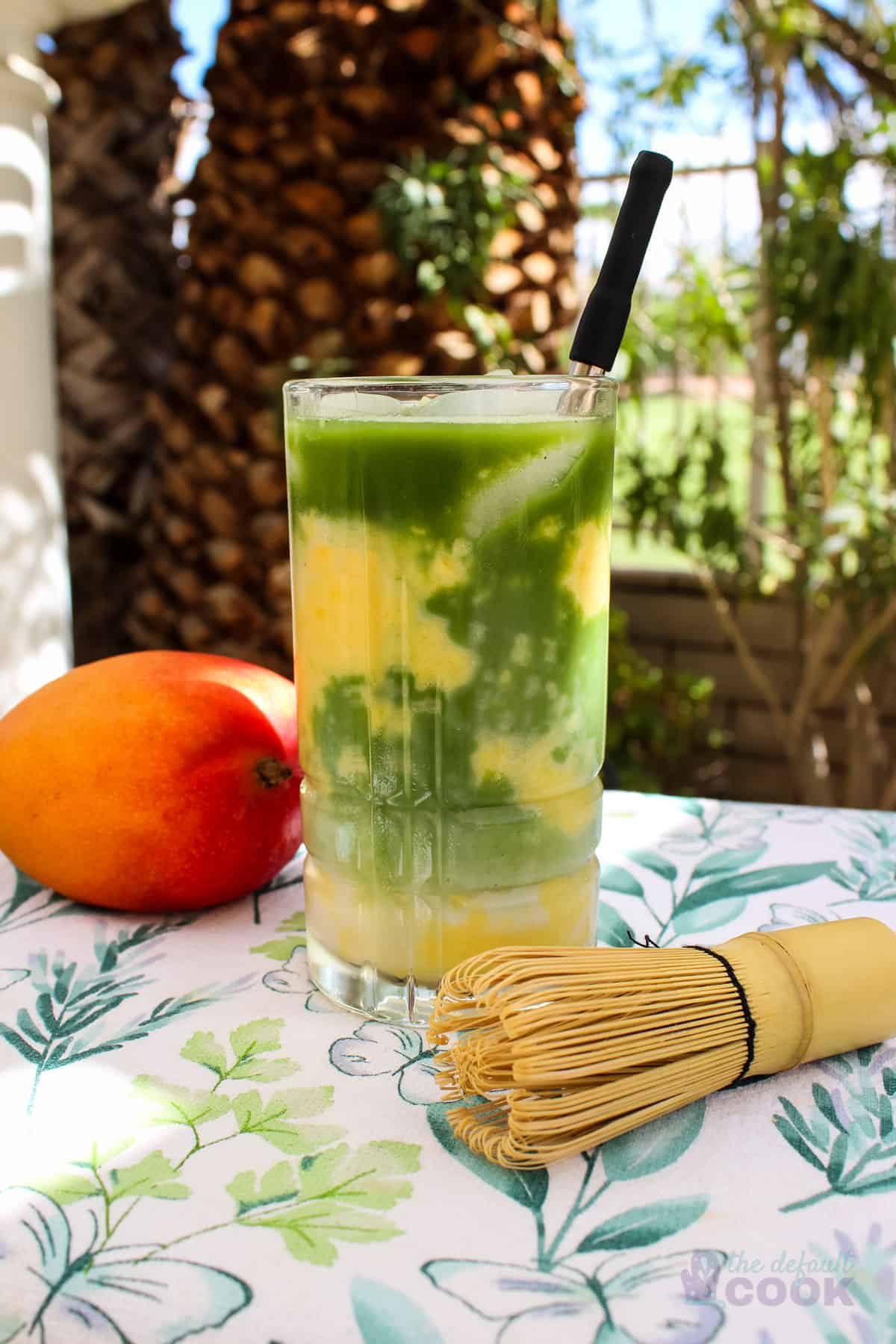 This post contains affiliate links, which means I receive a small commission, at no additional cost to you, if you make a purchase using this link.
Why You'll Love This Recipe:
Simple: just 4 ingredients (plus water and ice)
Fast: this latte recipe is ready to drink in 5 minutes.
Flavorful: this fruit forward recipe uses a good amount of mango that balances out the slight bitterness of matcha powder, and with only natural sweetness isn't overpoweringly sweet.
Let's Get Started! Here's What You'll Need: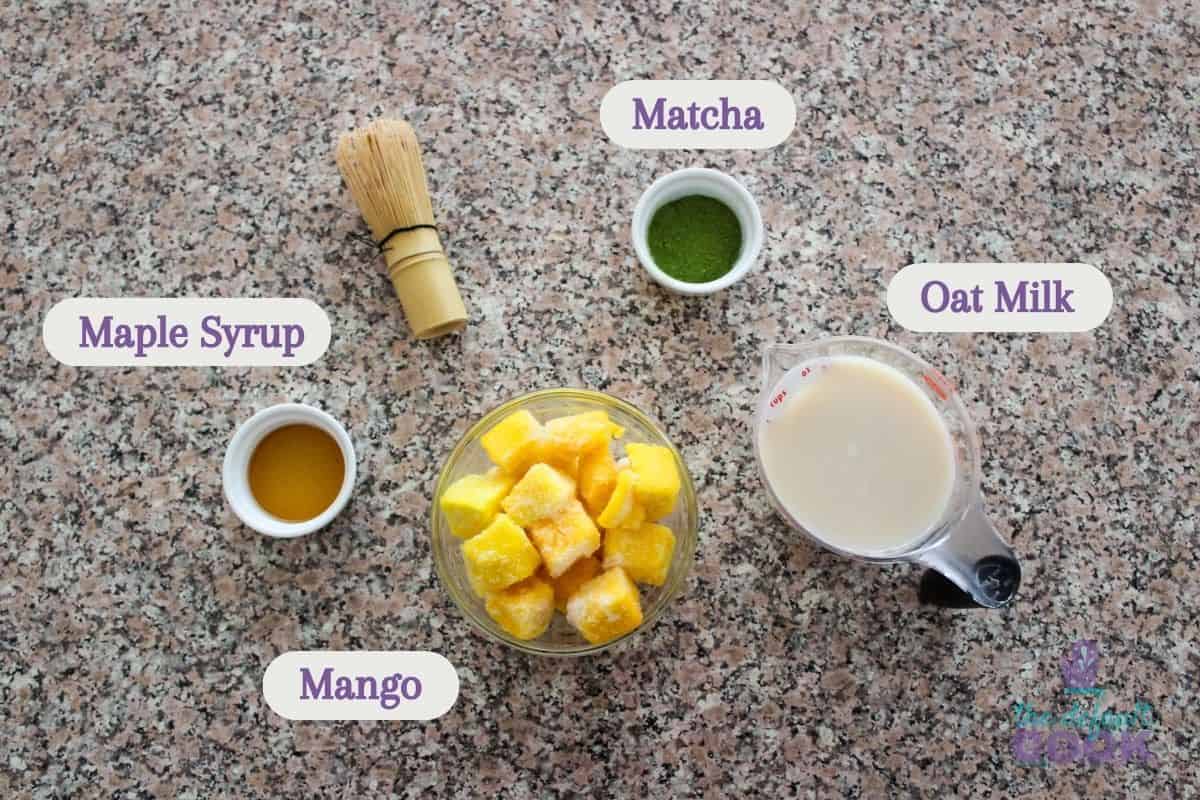 Ingredients:
Ceremonial grade matcha tea powder- You can use culinary grade if you prefer, which is a little more bitter but way more economical. With traditional lattes I find the difference to be very noticeable, but with a cup of mango it won't be a substantial difference in flavor.
Milk of choice- I'm using oat milk which keeps this recipe plant-based. While I'm not vegan I find the earthiness of matcha pairs best with plant milks like oat or almond milk, but you can use your favorite!
Mango chunks- These can be fresh mango or from a bag in your local freezer section. If you decide to make this as a frozen blended drink you'll want the mango to be frozen, but for a layered latte either way is fine.
Maple syrup- You can also use agave syrup, honey, or any liquid sweetner you prefer.
Warm water- For mixing with the matcha. Be sure the water is not boiling as that scalds the tea leaves, but if it's truly cold water it takes more volume to mix well which waters down our drink. In summer tap is usually warm enough.
Ice cubes- To fill your glass! Or if you prefer blended, to well, blend.
Equipment:
You'll need a blender to make the mango puree, and a whisk to blend the green tea powder with the water. I've used a traditional bamboo whisk and an electric milk frother, both work well. You may need measuring cups, especially if your blender doesn't have great measurements on the side you can use. If you're using a fresh mango you'll also want a sharp knife and cutting board. Aside from that you really just need a glass to drink it from!
How to Make this Iced Matcha Latte
Step 1: Prepare Your Puree
If you need to slice your mango, go ahead and do that. There is a long pit in the middle so if you're not familiar with cutting a mango check out this tutorial. Next put your mango and maple syrup in the blender. If you have a budget blender like I'm using here, you might need to add a bit of your milk or some water to get it to catch. Then blend until your puree is smooth.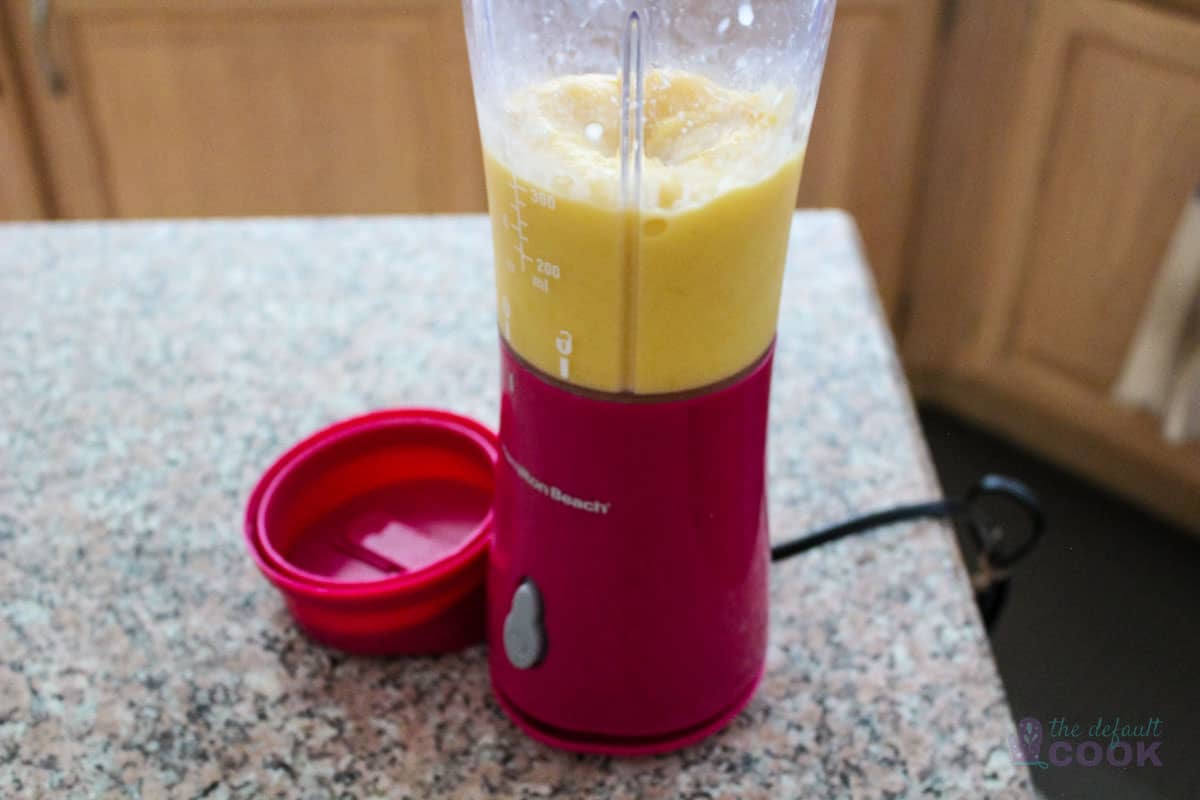 Step 2: Whisk Matcha
Whisk together your warm water and matcha powder until it's slightly frothy on top. Make sure you aren't seeing any solid bits of powder that are darker than the rest of your matcha shot.
Step 3: Layer and Enjoy!
Grab your glass and add the mango puree to the bottom, then add some ice, your milk, and top it with your matcha layer. Give it a little swirl with a straw and enjoy!
How to Make as a Mango Matcha Smoothie
Using frozen fruit makes this drink thicker, so you can blend everything together to serve it as a smoothie. Like with the layered latte, you'll whisk your matcha seperately. Add all your other ingredients, including your frozen mango, to a high-speed blender along with a cup of ice. My little hamilton beach is great for fresh fruit with some liquid added, but I have to bust out the ninja to make a morning smoothie. Once you've blended everything, transfer it to a glass and enjoy!
FAQs
What's the difference between ceremonial and culinary grade matcha?
Ceremonial matcha is generally considered the best matcha. It is from the first harvest of the season, and having less sunlight it has a lighter color and more delicate taste. Culinary grade matcha is any later harvest, which is a darker green and more bitter flavor- so it's best used in recipes where there is enough sugar or other powerful flavors to balance it. Mango is powerful enough that while I can taste the difference (I've made this both ways) it's good with both. That's nice because while ceremonial might be my flavor preference, culinary is my wallet's preference!
What makes matcha different from other green tea lattes?
At a coffee shop a green tea latte may or may not be matcha. Regular green tea is brewed like any black or herbal tea, and the tea bag discarded. With matcha the ground up green tea leaves are mixed with hot water and consumed. Because you get the nutrients from the entire leaf, matcha has more caffeine, amino acids, and antioxidants than regular green tea.
What else can I add to this latte?
More fruit flavors are always good options- pineapple in particular pairs well with juicy mango. If you want to give it a bit more staying power you can add any of your favorite protein powders into your blender.
​How much matcha should I use?
This will vary a bit based on your preference, but a good default amount is half a teaspoon of matcha powder. If you prefer it earthier (or more caffeinated!) you can always increase it to ¾ or a full teaspoon.
Can I make this ahead?
I don't recommend making the rest of the drink ahead, but you can absolutely make the mango puree ahead of time. Once blended, store in an airtight container in the fridge for up to 4 days.
More Matcha Recipes You May Enjoy:
For a more standard latte, try this vanilla matcha latte. Or if you need more drink options, here's 13 of them!
Ready to try baking with it? These matcha brownies are an indulgent treat.
I hope you love this mango matcha latte! If you do be sure to come back and leave a rating or review!
📖 Recipe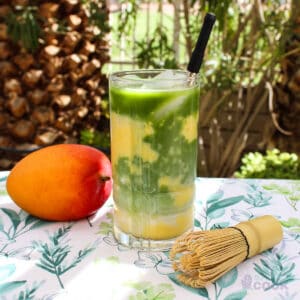 Mango Matcha Latte
This fruit forward matcha latte is the perfect morning or afternoon pick me up. Just 4 ingredients, it's delicious over ice or blended into a frozen drink.
Ingredients
⅔

cup

mango chunks

or ½ a fresh mango

1

cup

oat milk

or milk of choice

1

teaspoon

maple syrup

½

teaspoon

matcha
Instructions
Layered Iced Matcha Latte
Blend together the maple syrup and mango fruit.

Whisk matcha powder together with about 2 tablespoon of warm water.

Add mango puree to glass and top with ice. Add milk, then top with your matcha shot. Enjoy!
Blended Frozen Matcha Latte
Blend together the maple syrup, mango fruit, ½ cup of ice, and milk.

Whisk matcha powder with 2 tablespoon water and add to blended beverage. Enjoy!
Notes
If making blended, use frozen mango for best results.
Nutrition
Calories:
219
kcal
Carbohydrates:
45
g
Protein:
6
g
Fat:
3
g
Saturated Fat:
0.1
g
Polyunsaturated Fat:
0.1
g
Monounsaturated Fat:
0.1
g
Sodium:
115
mg
Potassium:
319
mg
Fiber:
4
g
Sugar:
38
g
Vitamin A:
1782
IU
Vitamin C:
40
mg
Calcium:
365
mg
Iron:
2
mg
Nutrition information is provided as a courtesy and is an estimate. It is recommended to use your preferred calculator with the actual ingredients you use for optimal accuracy.